This article may contain affiliate links; if you click on a shopping link and make a purchase I may receive a commission. As an Amazon Associate, I earn from qualifying purchases.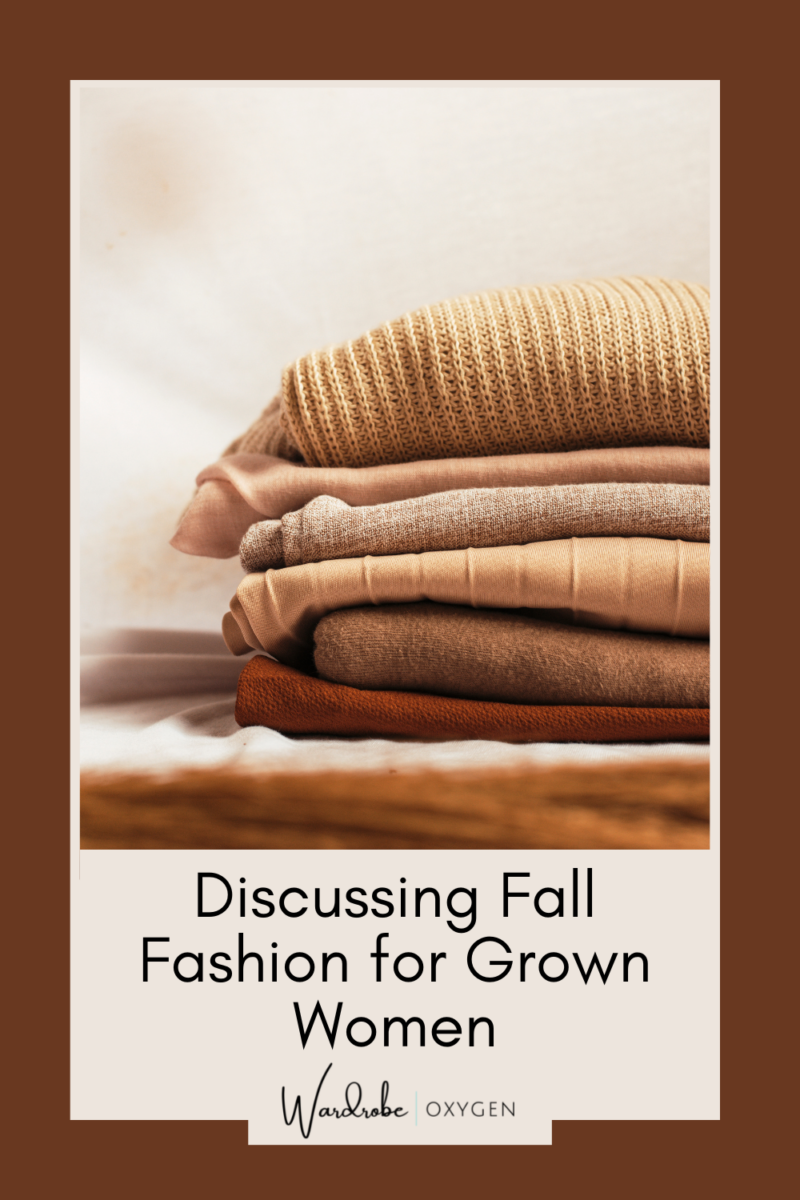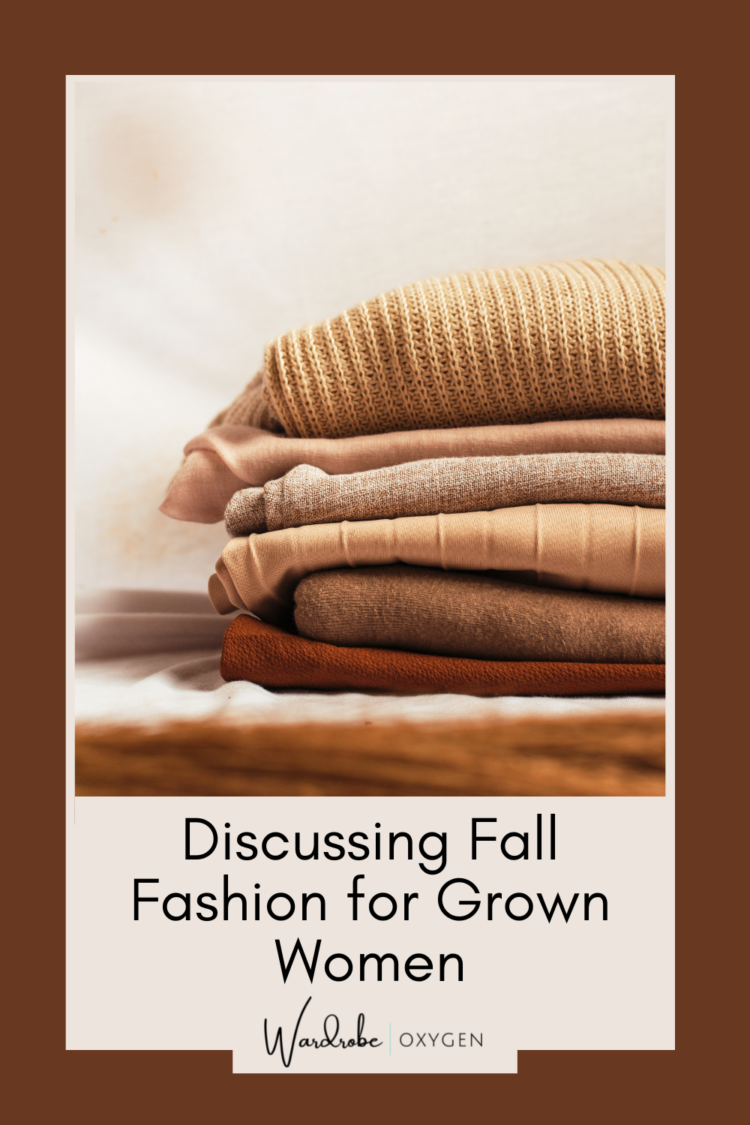 One way I have spent my time in this covid fog (I got covid and I was very sick for almost two weeks) is scrolling through New Arrivals at my favorite retailers. I was looking for inspiration for future style articles here on Wardrobe Oxygen but also getting a temperature gauge on what fashion is truly available this fall versus what style experts and designer runway collections are showcasing. Because as we all know, there is a huge difference between what some "expert" says we need and what we can actually find where we live, on our budget, and in our size. And I'm pleased to report that there is a lot of great fashion for fall.
Not only that, fashion this fall is incredibly varied. There is no specific cut of denim, hemline length for skirts, or fit of jackets that is deemed "now." Fashion this fall is an amalgamation of the '70s through Y2K, with hints of previous trends. It's neutral, it's colorful, it's soft, it's hard… it's whatever the eff you want it to be.
I started making collages of items that inspired me, to show how this fall fashion is whatever you want it to be. It can be a mix of vintage and new, thrifted and bought at the mall, recreated with your sewing machine, or modifying something currently in your closet with help from creative styling from your neighborhood tailor. What I've seen that has caught my eye: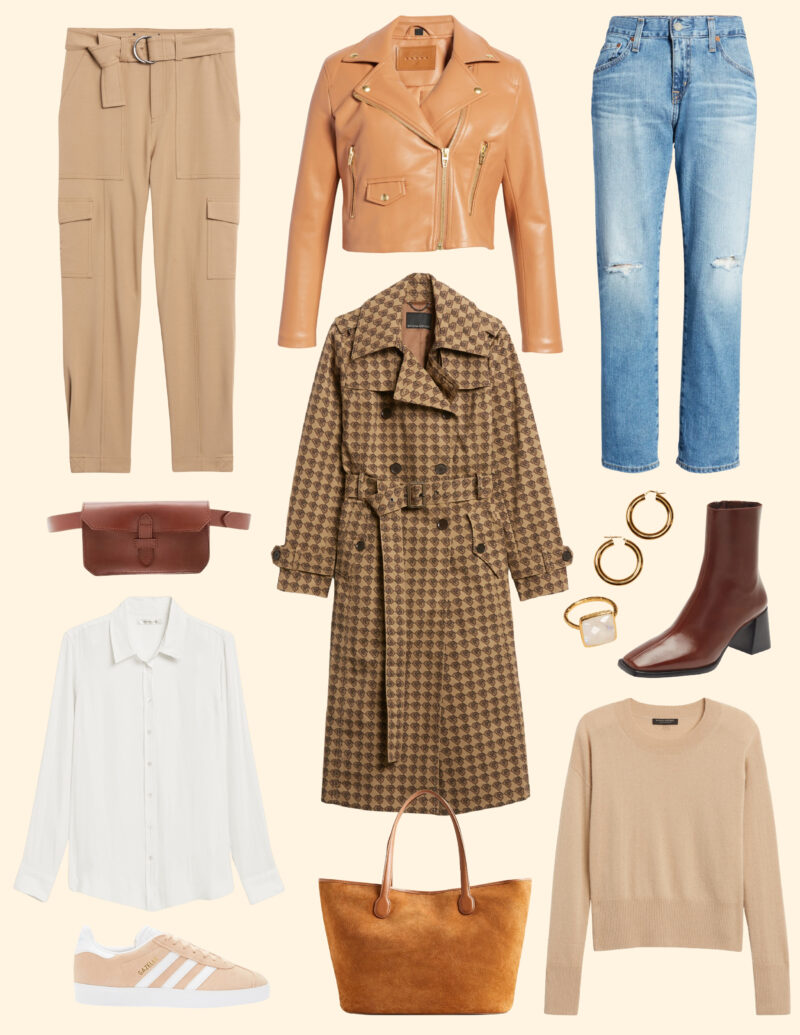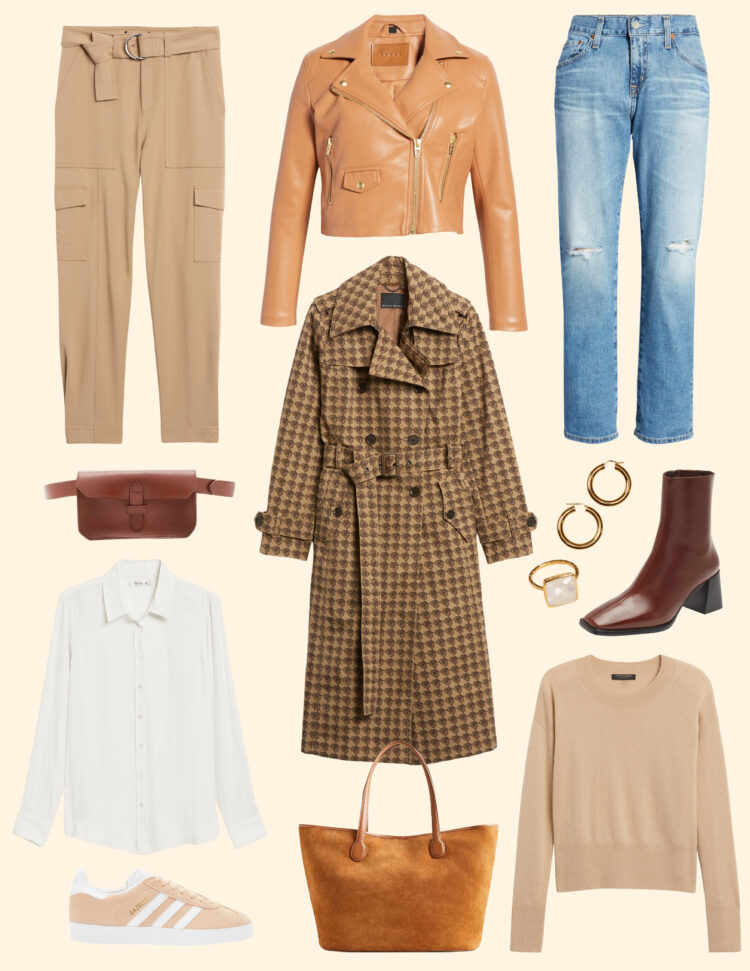 cargo pants | belt bag | poplin shirt | sneakers | faux leather jacket | trench | suede tote | jeans | boots | earrings | ring | sweater
Keeping it simple and classic with shades of beige, camel, white, and brown. You may already own similar in your wardrobe, and are able to find similar concepts thrifting or on consignment. The mix of textures, leathers, and dressy with casual keeps this from being boring. Add a warm red lip for a pop of color; I am a fan of this one.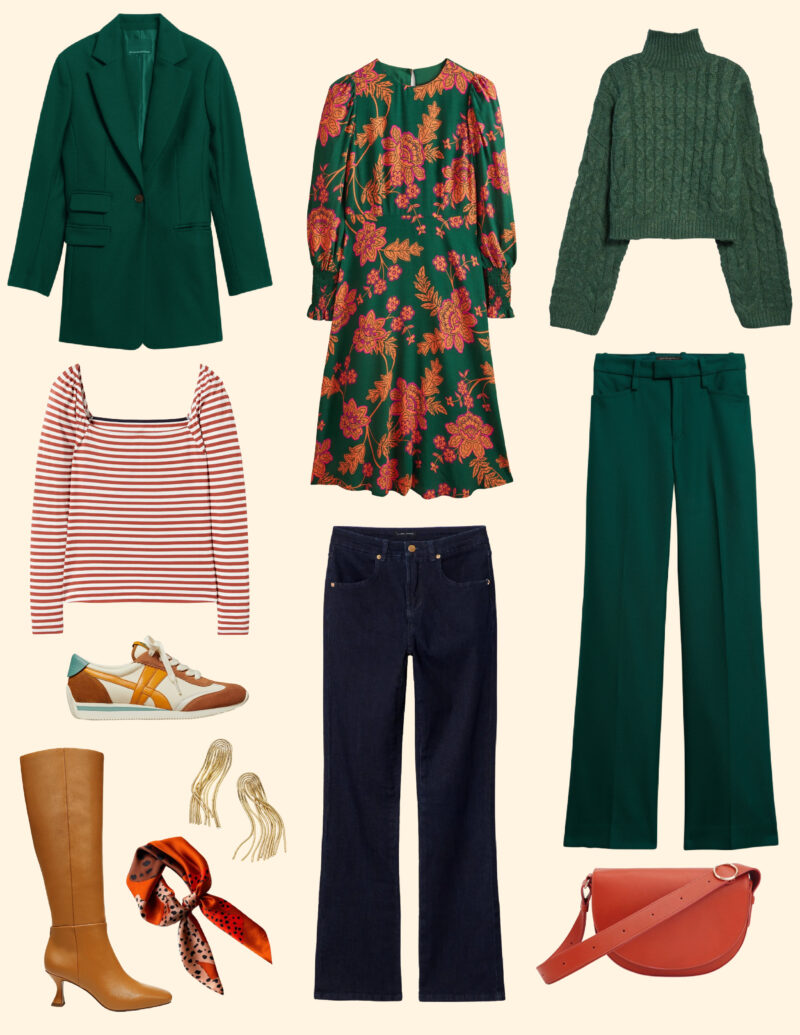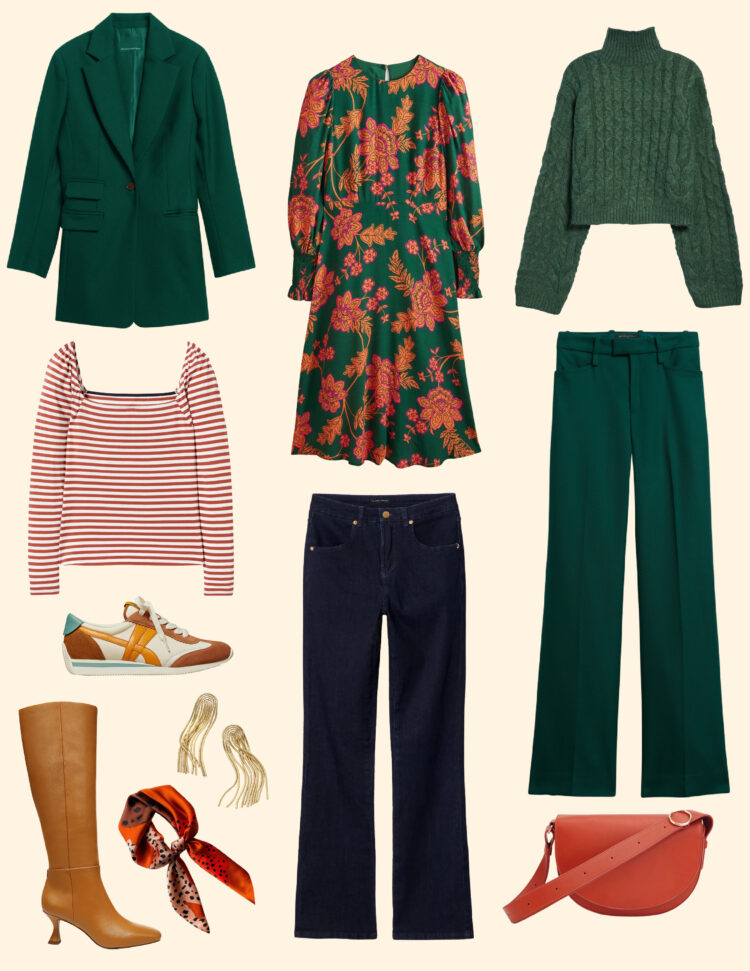 blazer | dress | sweater | striped top | jeans | pants | sneakers | boots | fringe earrings | scarf | bag
Green and orange, my two favorite colors and two colors that are hot this fall. I am all about a non-neutral suit. I've owned ones for years and find they get worn far more than black or gray, and are more likely to be broken up and worn as separates. Consider tying the scarf around the waist as a belt (or even just around two belt loops to the side of the closure) for a pop of color, and don't be afraid to rock your trousers with sneakers this season!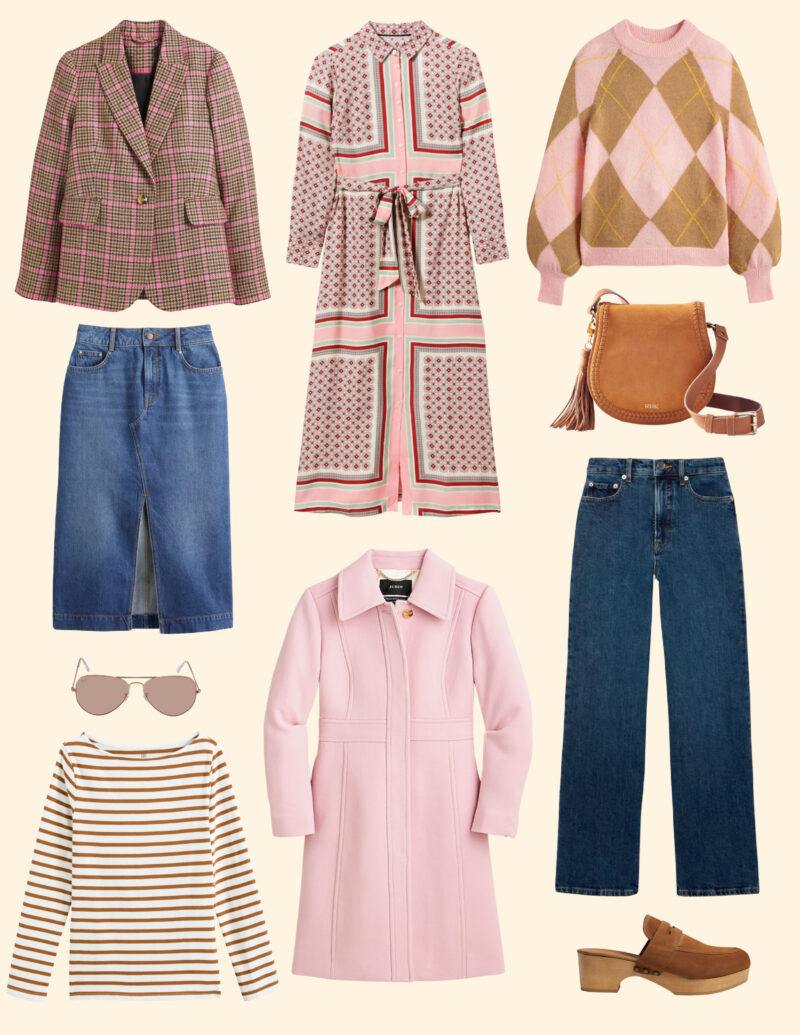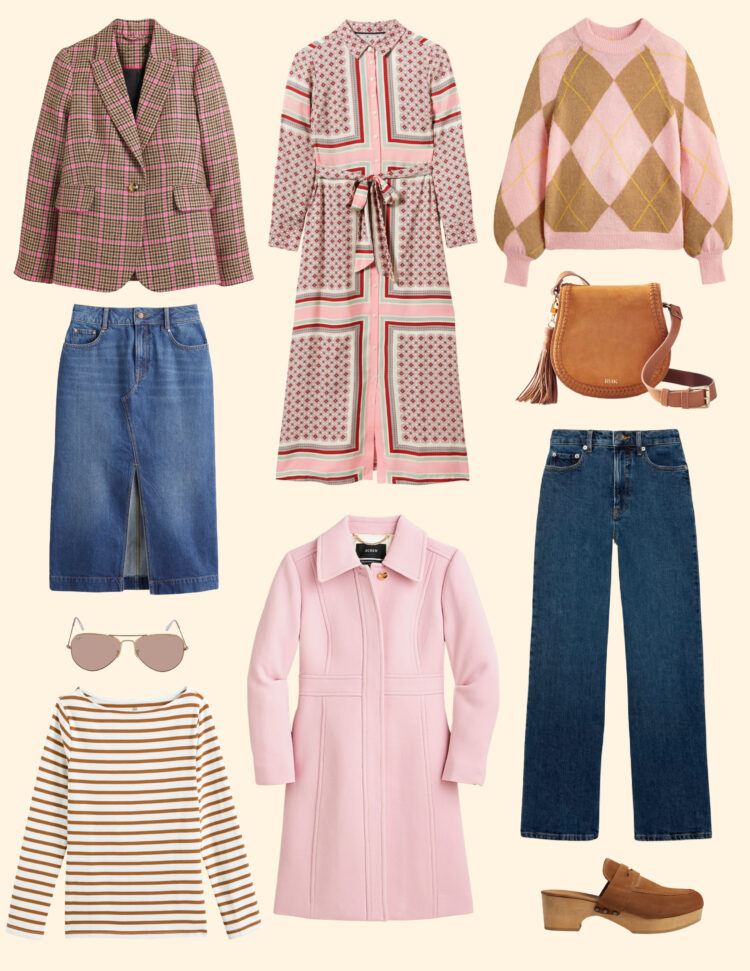 blazer | dress | argyle sweater | denim skirt | bag | sunglasses | coat | wide leg jeans | Breton stripe top | suede clogs
While Valentino Pink is a thing this year, so are pretty much any shade of pink. Pastel pink and blush look great with this fall's soft neutrals, but can also be a great contrast to black, navy, and brights like red, hot pink, and plum. This season most any trend is back, from the '70s to Y2K so if you liked a silhouette or style from the past, don't be afraid to bring it back. To keep it not feeling like a costume, be sure fit is crisp (visit your tailor) and consider mixing casual with dressy (silk with denim, sneakers with dresses, a t-shirt with a blazer).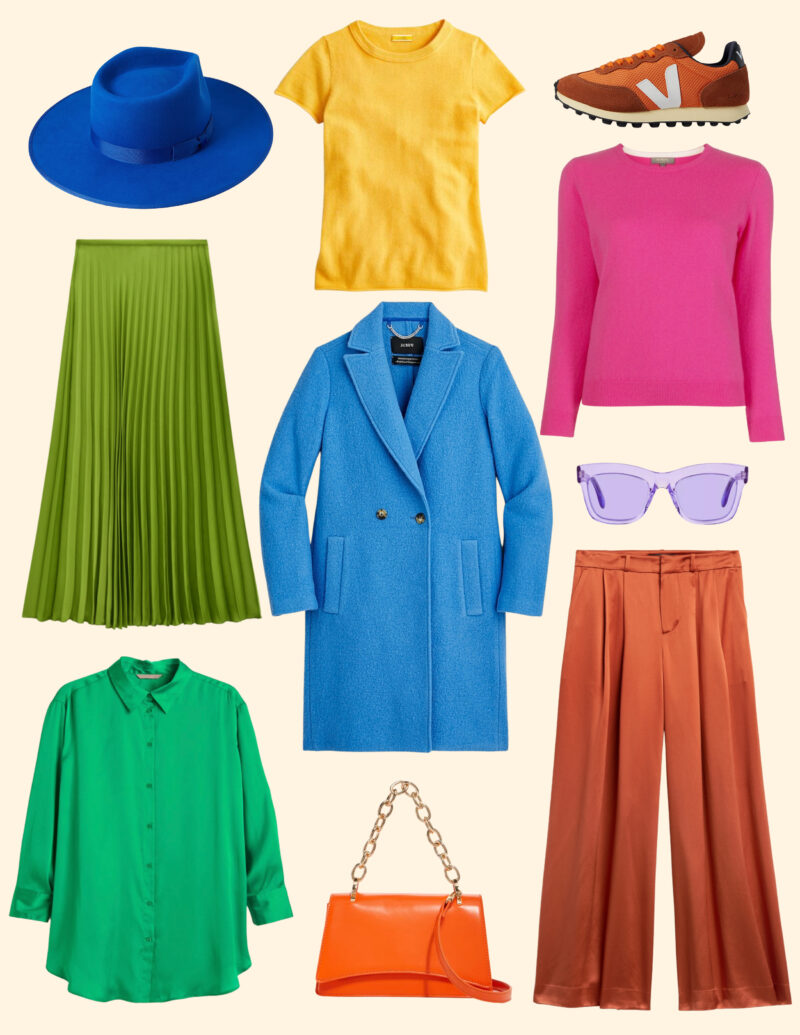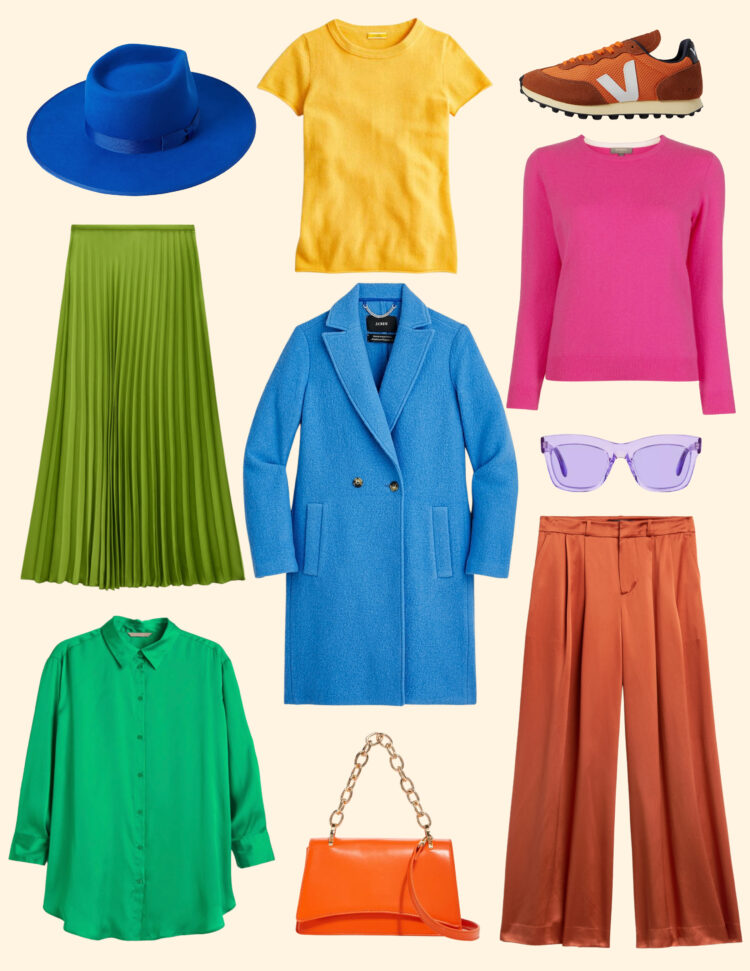 hat | cashmere tee | sneakers | skirt | coat | sweater | sunglasses | blouse | bag | pants
If you're over the muddy neutrals and earth tones, you'll be thrilled to see color is back this fall. While some retailers have been slow to change, you'll see many of your favorite brands and department store are embracing color. Outerwear, work fashion, cocktail dresses, accessories, activewear, and casual looks are all getting the treatment in highlighter colors, watercolor brights, jewel tones, and primary colors.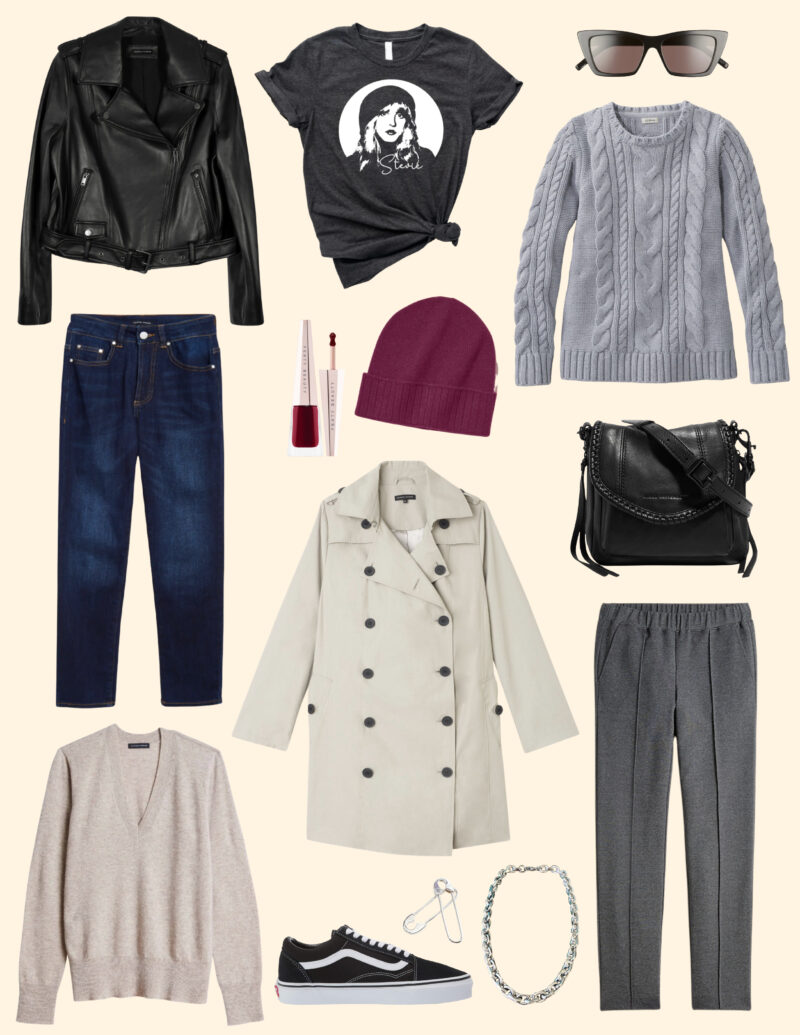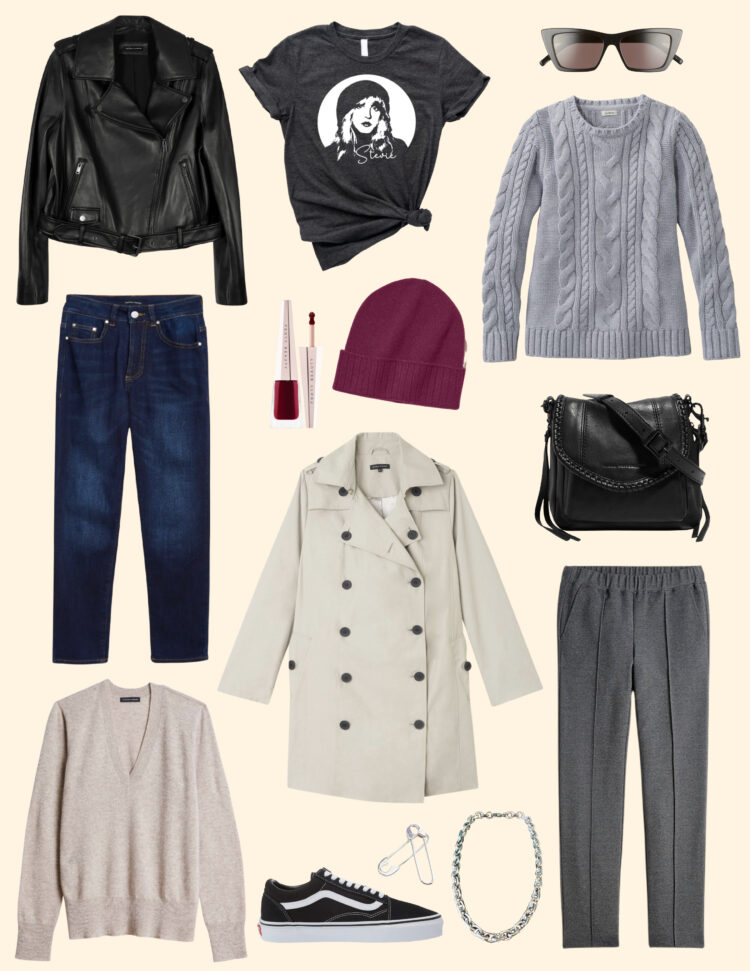 leather jacket | graphic t-shirt | sunglasses | jeans | lipcolor | cashmere beanie | cotton cableknit sweater | cashmere v-neck | trench coat | sustainable leather crossbody | sneakers | earrings | necklace | pants
While fashion has a long way to go in regard to size inclusivity, it has made strides in the past couple of years in offering comfortable, luxe, and stylish offerings beyond a size 14. No need to be rockabilly or twee, there are elegant staples and for this capsule, I thought of everyday elevated essentials for my fellow GenX folk. While this is a neutral palette, most of these pieces come in a range of colors.

But What About [Insert Viral Trend]?
The world is full of clickbait news. We live in a 24/7 news cycle existence, with more and more sources of information competing for your short attention span. Commonsense is boring, we have been trained to seek out drama, whether it's what 45 is up to right now or what is "hot or not" in fashion.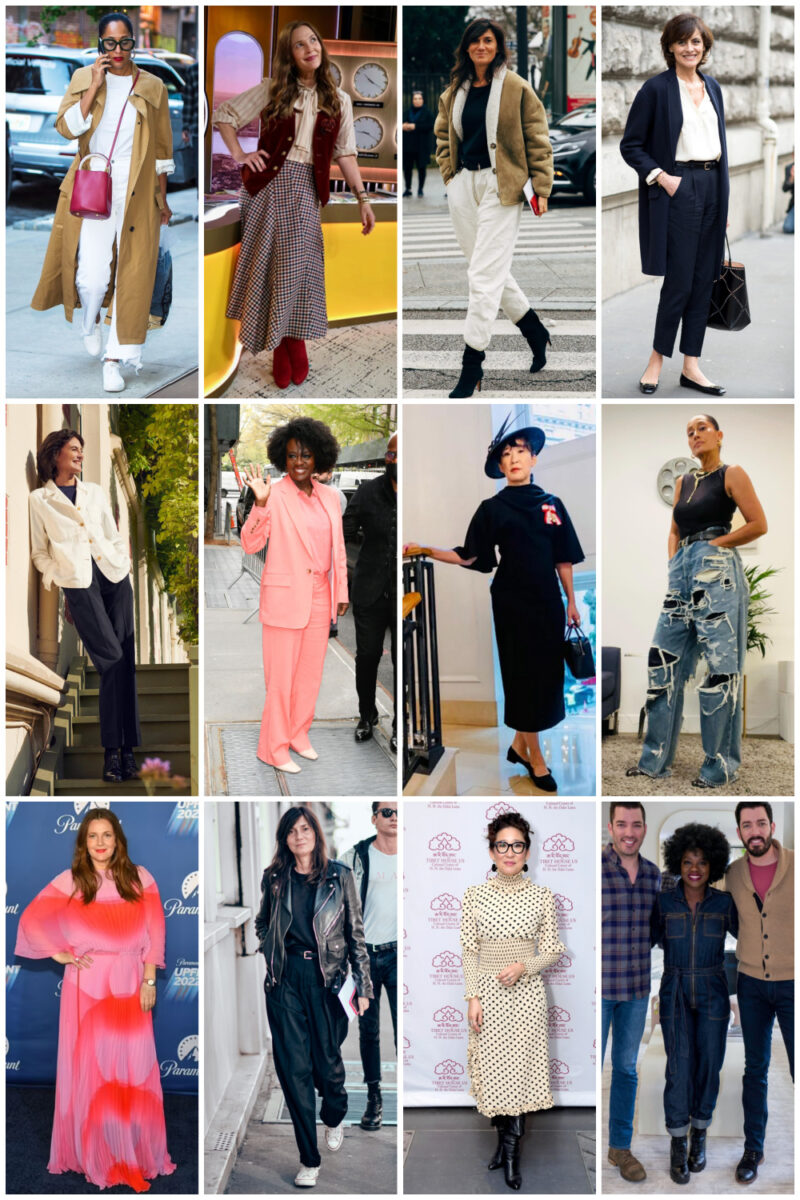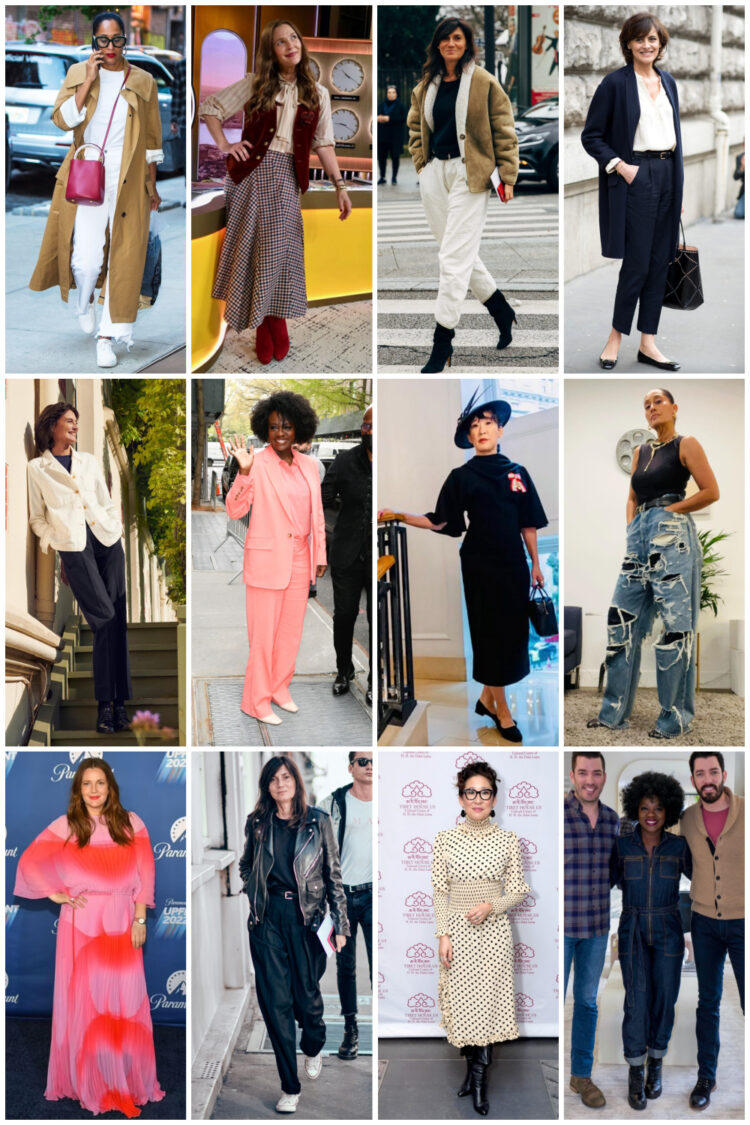 Sure, MiuMiu has lowrise microminis and GenZ is embracing Indie Sleaze, but that doesn't mean the whole world is. It doesn't even mean that those in the fashion world are. You're not seeing true style icons over the age of 35 rocking lowrise jeans. Emmanuelle Alt still has the side part, Viola Davis isn't wearing indie sleaze, Inès de la Fressange wears comfortable flat shoes, Drew Barrymore doesn't show a ton of skin even on the red carpet, Sandra Oh rocks vintage style and pants even when it's not "trendy," and I haven't seen Tracee Ellis Ross wear a single pair of lowrise jeans. No one in their right mind would consider any of these women unfashionable.
TikToks and articles stating some trend is dead and another trend is a must… the creator doesn't care about you, they care about going viral. Eff that noise, my fellow grown-ass women. You don't need to toss or buy a single thing to be stylish, current, chic, or happy.
The Biggest Lesson for Fall Fashion
Everything goes this fall. Seriously. Is your style more Patagonia than Prada? Folks will have to pry your skinny jeans off your dead body? Love a boho vibe? Feel most at home in head to toe leather? You can do it all and more this fall and look chic AF.
The key to making it work is making it work. Put in a bit of effort with tailoring, going out the box with mixing colors, having that fun with fashion you possessed when you were younger. Let go of those style rules that you can't wear this because of your shape or that because of your age.
Try a new leg silhouette, consider a new style of footwear. Get bold with a new lipstick color, or add a new-to-you color accent into your existing closet. Try tucking in a top if you have not done it in years; if you need some inspiration check out:
The biggest way to feel modern this fall is to take a risk. Go slow and see how it feels. Stop worrying about looking as slim and as tall and as youthful as possible. Stylish people don't focus on that, they focus on color and proportion and texture and joy.
Make mistakes, learn as you go, know that one bad outfit won't change your life, but letting go of society's "rules" can. That no dress, color, or style rule will make you look ten pounds lighter or ten years younger, but holding onto those rules can age you faster than grown-out roots.
Reduce the number of effs you have, but still give a sh*t. You deserve to wear what makes you comfortable, makes you happy, makes you feel the most like yourself. I know it's not easy due to price, size range, and accessibility but removing the rules we women have been raised to follow can increase the chance and this fall, fashion is making it even more possible.