This article may contain affiliate links; if you click on a shopping link and make a purchase I may receive a commission. As an Amazon Associate, I earn from qualifying purchases. 
Do you already have an article on work clothes for suffocating summers? Am already dreading summer in the South.
I wrote about office-appropriate sandals here, and casual polished summer clothes here, but I have never addressed how to dress in a professional manner come summer. Not only is the heat difficult, but you also have to deal with frigid overly air-conditioned offices. Here's what I do to beat the heat while still looking appropriate at the office: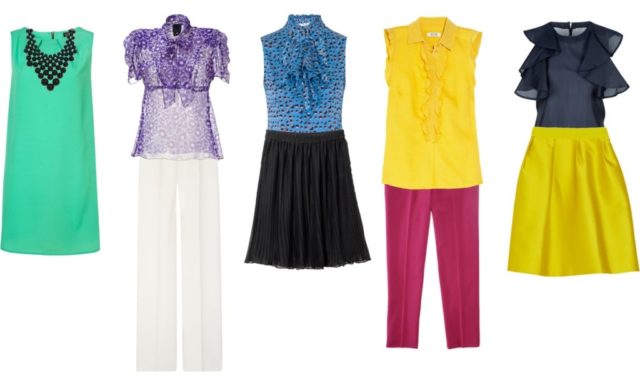 Click image for item details

Dresses
Seems so simple… because it is! No need to tuck in a shirt, no lined trousers, and a silhouette that doesn't cling to the majority of your body. A dress can let you go sans sleeves on your trip to the office, then easily cover up (if necessary due to dress code or air conditioning) with a cardigan you had tucked in your bag.
Not all dresses are created equal – some can be of heavy synthetic fabric lined with more synthetic fabric, and others can end up looking like a crumpled paper bag by noon. Even others would be perfect at a backyard barbeque, but are completely inappropriate in the workplace.


Cotton Dresses. Cotton is a natural choice – it's breathable, it doesn't cling, and will catch a refreshing breeze on a hot summer day. However, cotton can be sheer, can wrinkle and can easily look casual. A stiffer cotton – sateen, twill, cotton with a hint of Lycra, or a high quality version will hold up better throughout the day. When it comes to cotton, I usually look for a non-fitted silhouette – a swing or a-line style, or one with a seamed bodice and fuller skirt will hold up better in the heat and humidity and won't stick to your legs. A lining can also help with cotton looking fresh, but it will make the dress hotter. A fuller style will offset the lack of breeze to keep you cool.
Shift Dresses. Be they short sleeved or sleeveless, a shift dress is a great summer piece. While it is usually tailored to a female shape, it is looser and straighter of a cut than a sheath. A shift dress in cotton, gabardine, Ponte de Roma (ponte), or even tropical weight wool can look professional, stylish, and help you beat the heat by letting there be air between you and your clothing.
Matte Jersey Dresses. Oh matte jersey, how I love you! Matte jersey won't cling even if you're drenched in sweat, it doesn't show sweat, is thick enough to not need a lining, and it dries quickly. While it is a synthetic, it doesn't seem to be as suffocating as a traditional poly/lycra blend. A matte jersey wrap dress can look quite sophisticated even on the hottest of summer days – I had a ¾ sleeve one for years that I would wear all four seasons – it was a faux wrap that wouldn't flip up on windy days, was black so it worked with black pumps or boots in winter or nude sandals come summer, and literally no one could see me sweat.
Be wary of jersey knit dresses – they can cling to your body, leaving little to the imagination by time you hike it in the heat from parking lot or bus stop to the office. Even if you think you look professional in your home, a bit of heat and humidity can make a simple jersey dress quite scandalous.
Maxi dresses are hard to make work in many office environments – I have only done it a handful of times and each time I felt a bit too casual or flamboyant. Such dresses are best kept to those who work in a creative field.
Just because you pair a sundress with a cardigan or put a tank top or tee shirt underneath, it doesn't mean it's work appropriate. This means tissue-weight flippy floral cotton styles from Forever 21 and Old Navy, dresses with spaghetti or halter straps, strapless frocks, bodycon dresses, or anything that would look best with sand between your toes and a Pina Colada in your hand.
Pants
Pants are a given no matter the time of year or occasion, however many office-appropriate pants are downright torture on a hot summer day. Lining plus pockets plus heavy fabrics can mean feeling like a suffocated soggy mess by time you reach your office. There are some styles that will look professional yet still help you beat the heat.
Cropped Pants. These aren't the cropped pants of a few years ago – this season's cropped pants are stylish, sleek, and office appropriate. Crisp fabrics, straight lines, chic with pumps or delicate sandals, cropped pants can replace your heavy suiting trousers once the temperature rises. I have these cropped pants from Halogen that are a cotton twill that hold their shape through sitting and humidity, and come in rich colors that will give your wardrobe staples have a new life. They aren't lined, which helps with the heat, but they still look crisp and professional. Wear pants like these with a sleeveless top and slingback peeptoes, slip on a cardigan or blazer once you enter the office.
Wide-legged Pants. An office-appropriate version of a maxi skirt, the full-legged pant has made a return to the stores, and just in time for summer.
A sailor-inspired trouser in stretch cotton twill or refined denim looks great with a boatneck sweater and statement necklace; pair with a short-sleeved blazer or a twinset for a classic look.
Fluid wide-leg, or palazzo pants have returned but this time they are sleek and more sophisticated. The leg is tailored so you don't look like a clown, and they can easily be paired with a sleeveless silky blouse and skinny belt for a professional ensemble. While white or ivory may seem like a natural choice, such colors usually need lining and can show sweat stains. A darker color will let you breathe with just one layer; prints have also returned and a subtle Ikat or textured print can look corporate with a simple blouse or shell.
Skirts
Skirts are like dresses – not every skirt will be comfortable or appropriate for the office come summertime. While I love pencil skirts in the colder months, I find such a silhouette suffocating come spring and summer. It's also uncomfortable to have a blouse tucked into a lined skirt in the heat – three layers across your midsection can get creased, sweaty, and icky pretty fast.
Come summer, I like my skirts how I like my pants – either crisp cotton, or fluid. This season has a bunch of micro-pleated skirts – be they chiffon or jersey, such a style can look professional while still feeling breezy. Pair such a skirt with a lightweight short-sleeved sweater or cotton blazer for a work-appropriate ensemble. A-line skirts are great come summer – they don't cling to the skin and can handle a slightly heavier fabric without feeling too hot. A crisp cotton or twill a-line skirt looks office-ready with a cotton voile blouse or a lightweight sweater set.
Blouses
I don't know why everyone wears knit tees in the summer – they cling in the heat and can make you feel pretty uncomfortable. The best bet is to choose fabrics that will float away from the body without adding bulk to your frame. A blouse in tissue-weight cotton, lightweight linen, silk, or chiffon will let your body breathe while still looking professional. Such fabrics can be transparent – instead of adding layers, consider getting an underwire camisole in black, navy, or nude to wear under such blouses. Also if you choose a darker color or a print, your underpinnings are less likely to show. Many find silk to be difficult in summer because it shows sweat – tissue-weight cotton or voile is a good alternative that can still float and breathe.
I am not much of a fan of the classic sleeveless cotton button-front shirt. Rarely do shirts of this style look good on a woman's figure – they are too stiff in the body or else cling to the frame, they rarely flatter the arm, and the neckline usually seems too severe without sleeves. There are always exceptions, but a standard sleeveless button-front shirt can quickly look like Dowdy Soccer Mom or Parks and Planning Department Employee if not the right fabric, cut, and color.
An alternative to a blouse is the shell. A shell is like a half-shift, with a similar silhouette but ending between your waistband and mid-hip. While most any sleeveless top in a store may be called a shell, such a piece is usually of a straighter cut so that you have air between you and your garment. This year, I am seeing more shells in crisp cotton or linen – just to or just past the waistband, they look great with gathered skirts, wide-leg trousers, and crisp cropped trousers. Add a scarf or bold necklace to pull the look together.
Peasant tops are a popular choice come summer since they float away from the body and are of lightweight fabrics; problem is they rarely look professional. Even out of silk, such blouses have smocking, laces, and often have embroidery or beading which can make it look costume-y in the workplace. Keep such blouses for the weekend, or at least Casual Friday.
Follow Me | Twitter | Facebook