This article may contain affiliate links; if you click on a shopping link and make a purchase I may receive a commission. As an Amazon Associate, I earn from qualifying purchases.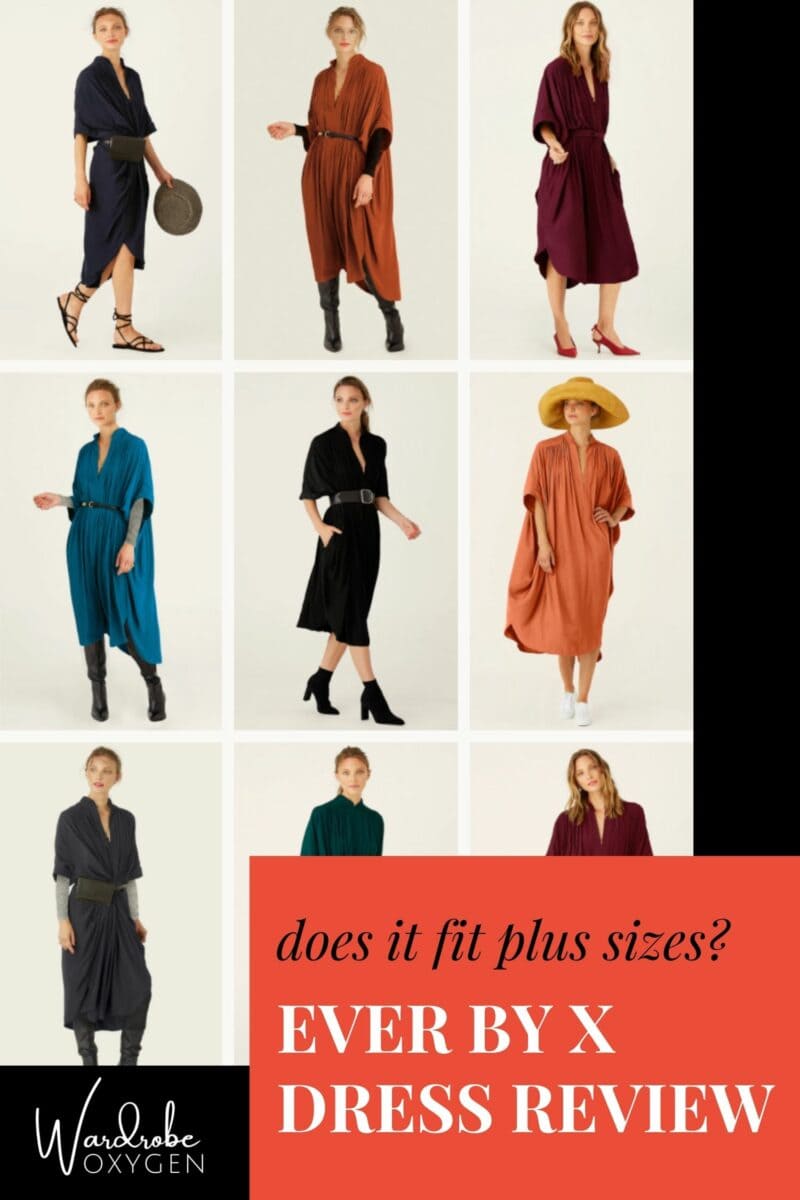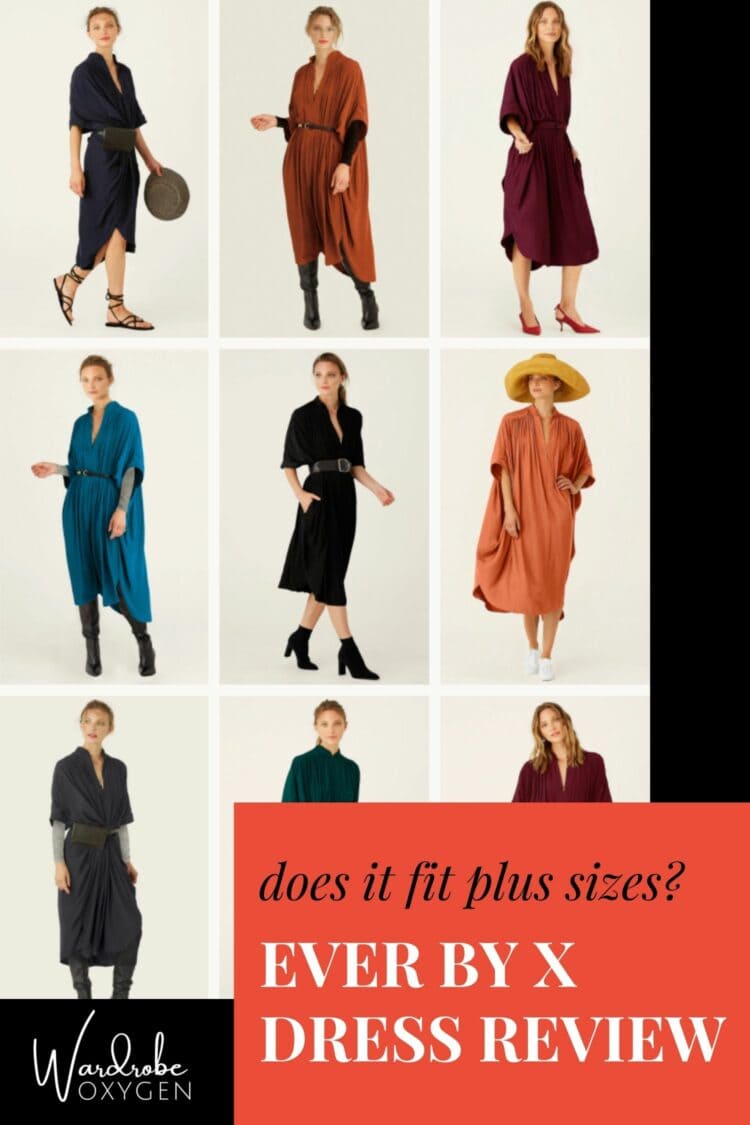 When I did an ever by X dress review one of the biggest questions I got was does the ever by X dress fit plus sizes? Ever by X is a sustainable fashion brand that offers just one dress out of vegan silk that claims to fit US sizes 6-24. I showcased it on my body, but you wished to see it on a different body that was a different size and shape from me. My friend Carrie offered to model the ever by X dress and share her thoughts. Spoiler alert, Carrie liked the dress so much I gifted her my ever by X dress!
What is the ever by X dress?
The ever by X dress is strategically designed to not just fit sizes 6-24, but to be styled in a multitude of ways. If you check out my ever by X dress review you can see the eight different ways I realistically styled it for a range of situations and weather. The ever by X dress comes in three lengths: petite, midi, and grande. Petite is for those who are under 5'4″, midi is the standard length, and grande is for those over 5'7″ or anyone who wants more of a maxi-style dress.
ever by X is an Australian woman-owned sustainable fashion brand. Pieces are made in small batches with deadstock fabric to reduce waste. The dress itself is a sustainable design to assist you in having plenty of style with a smaller closet.
Does the ever by X Dress fit Plus Sizes?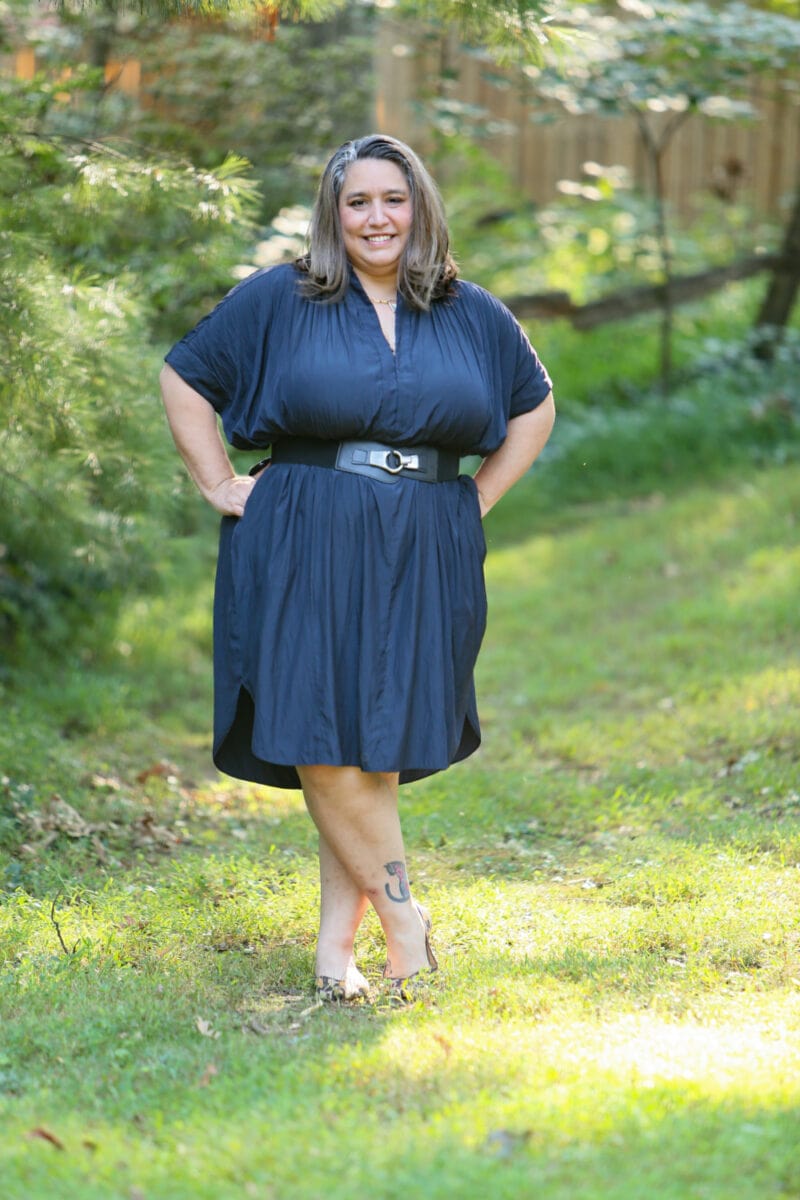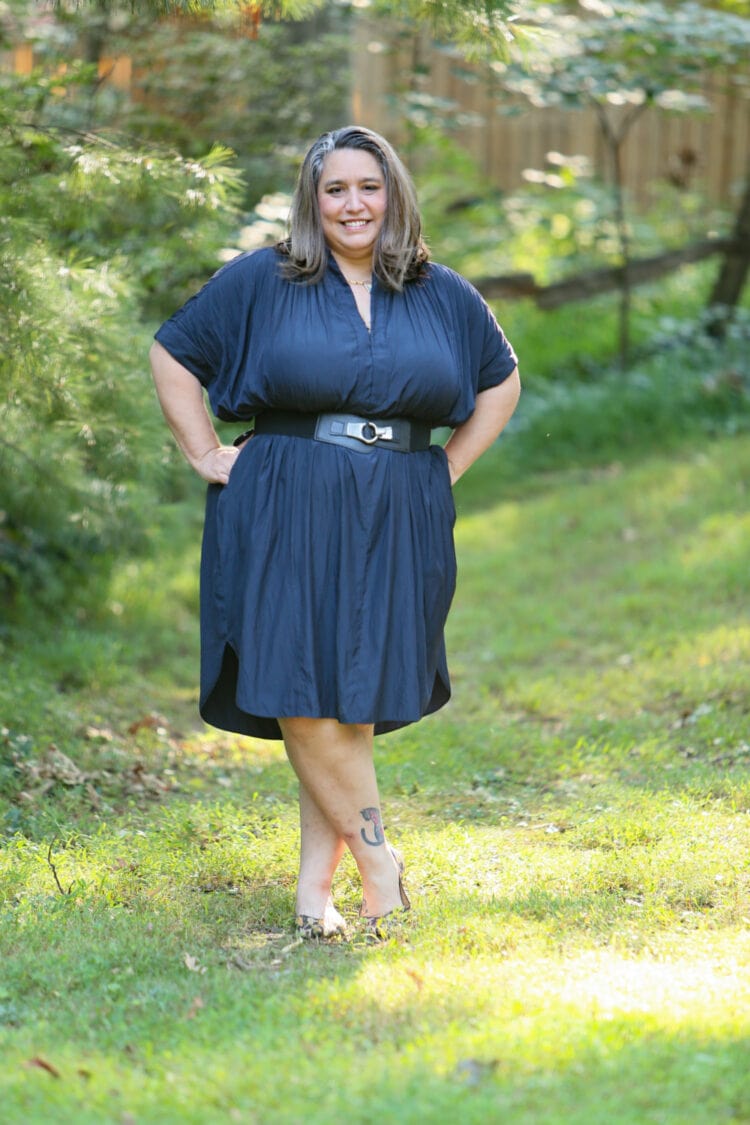 While I know from following the brand on Instagram that ever by X had a recent photo shoot to update their site with their new lengths, new colors, and with models in a range of sizes, shapes, and skintones, it's currently hard to shop the line not knowing how it fits on a range of body shapes. I know you saw me wear it, and I recommend checking out Lilli at Frocks & Frou Frou who has also reviewed the ever by X dress. But I know the more variety of bodies, the easier it is to know if an item may fit your unique shape.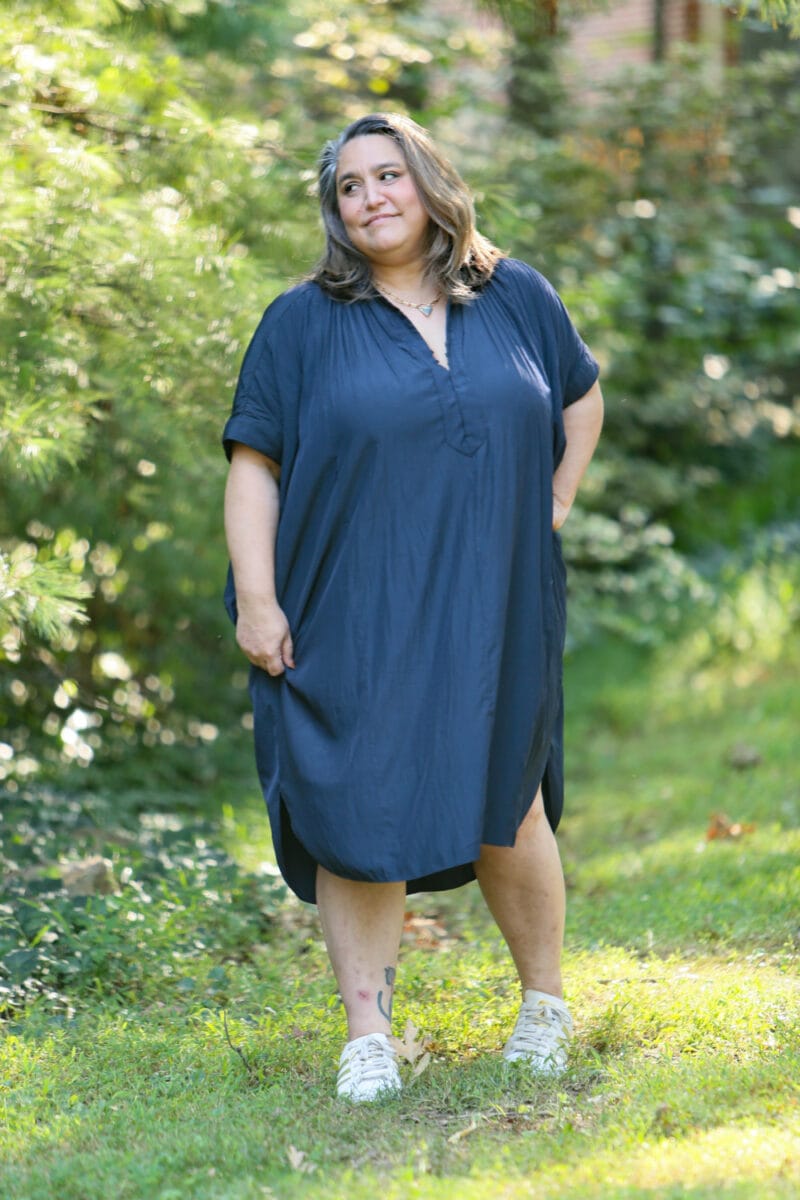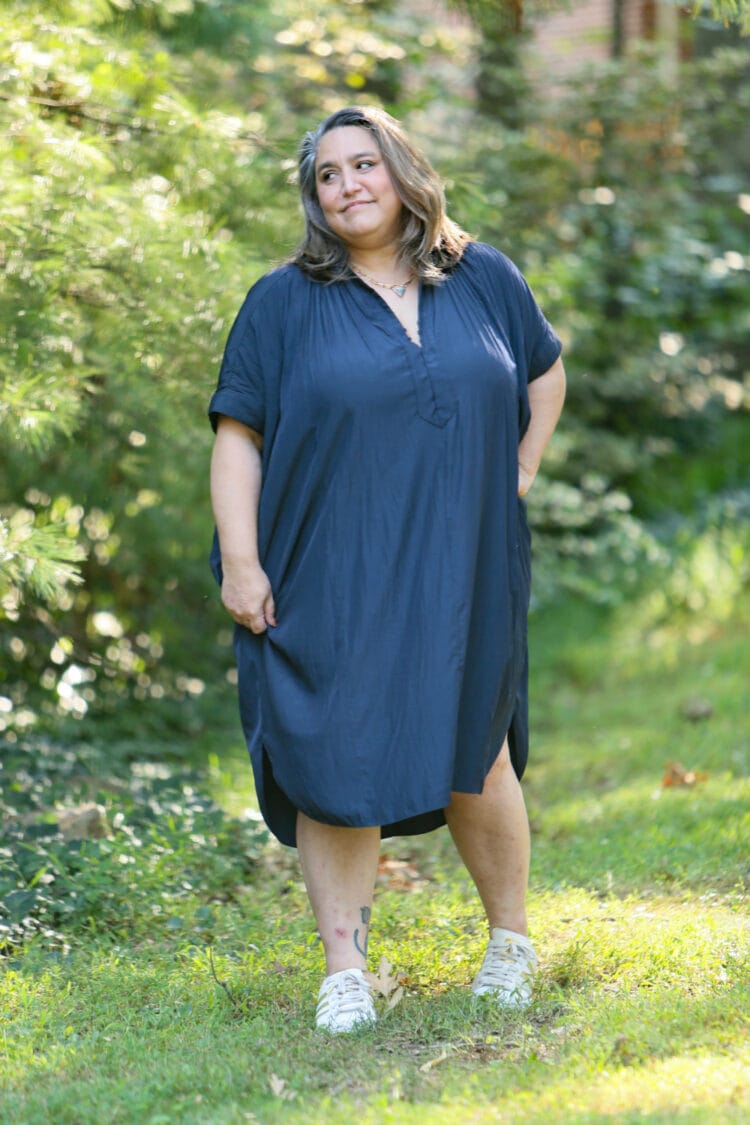 Some of you may know Carrie, she is the talented person behind Woodnote Jewelry and is also the Community Manager for the Wardrobe Oxygen Community on Facebook. I met Carrie through Wardrobe Oxygen, she started as a commenter and we became virtual, and then IRL friends. We've both been invited to Universal Standard events and we went together to see Lizzo in concert! Carrie "gets" the Wardrobe Oxygen community, shops a lot of the same retailers I do (or I recommend) and I couldn't think of a better person to share her thoughts on if the ever by X dress fits plus sizes.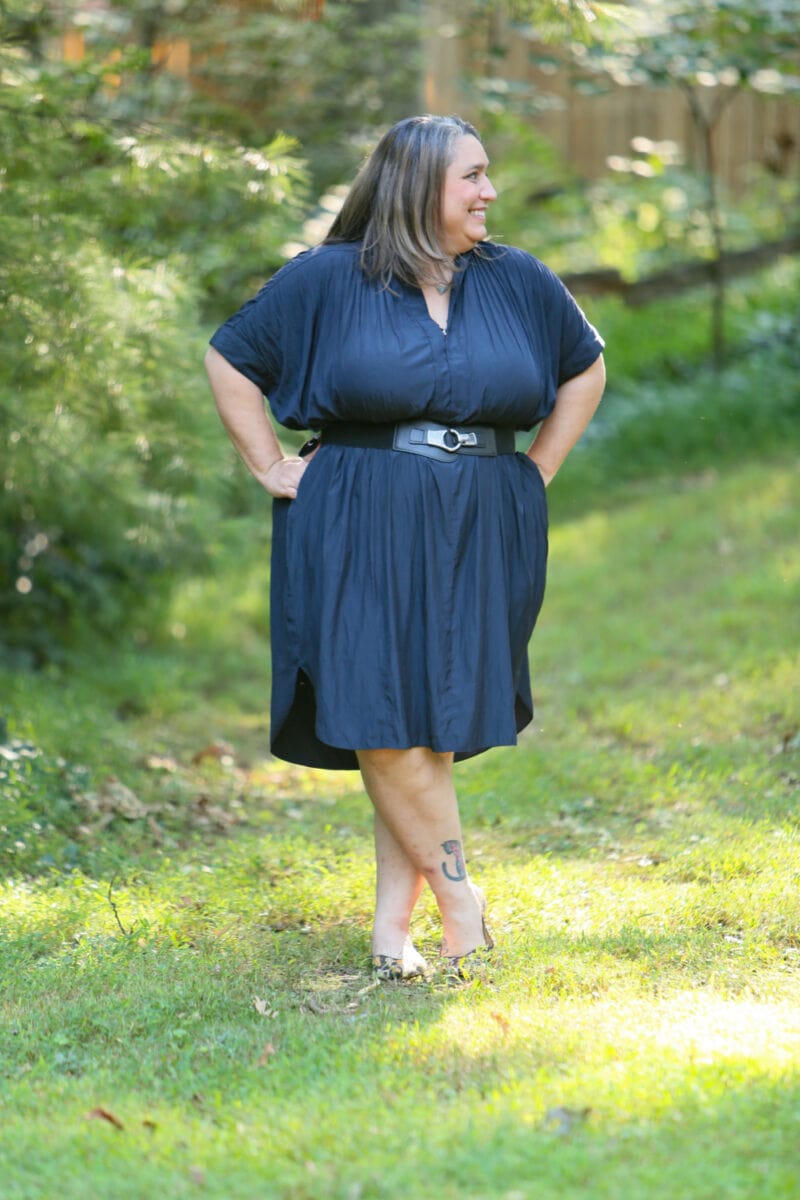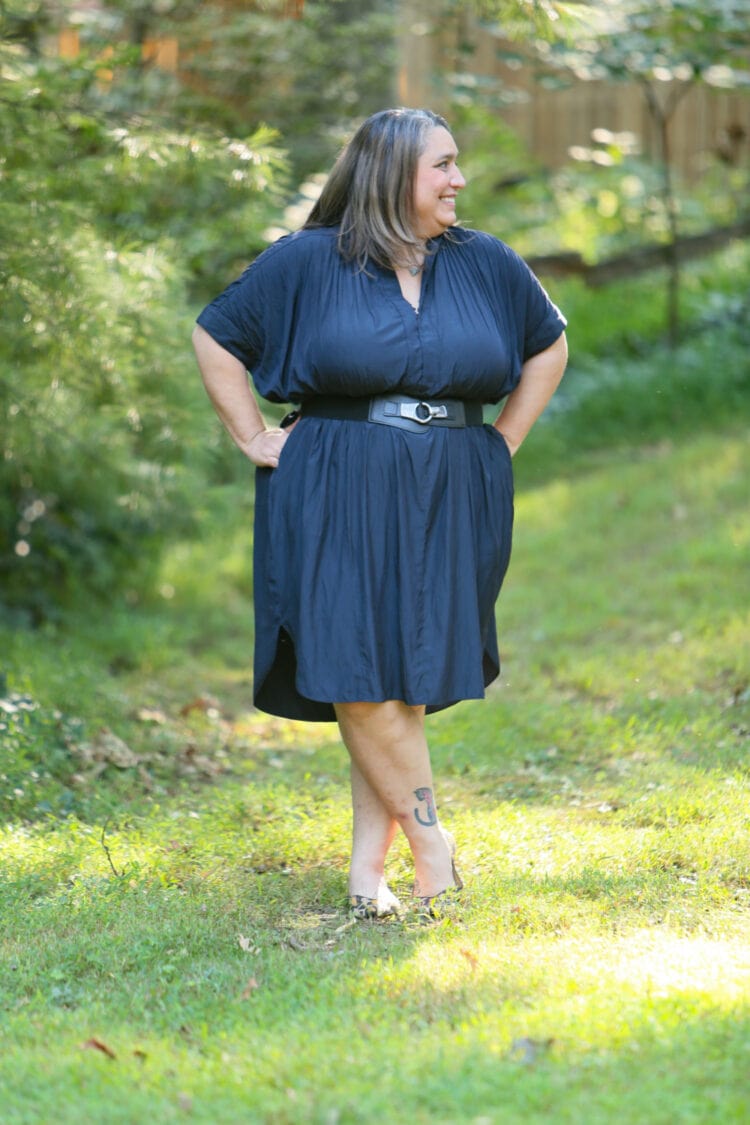 Carrie is 5'5″ tall. She wears a Medium in old styles of Universal Standard but takes a Large in some of their new fits. For Torrid, Carrie wears a 22 or 3X. Carrie would likely have done better with the midi instead of the petite, but since I am a 5'3″ shortie it's what I had available for the shoot. That being said, Carrie has worn the dress multiple times since this shoot.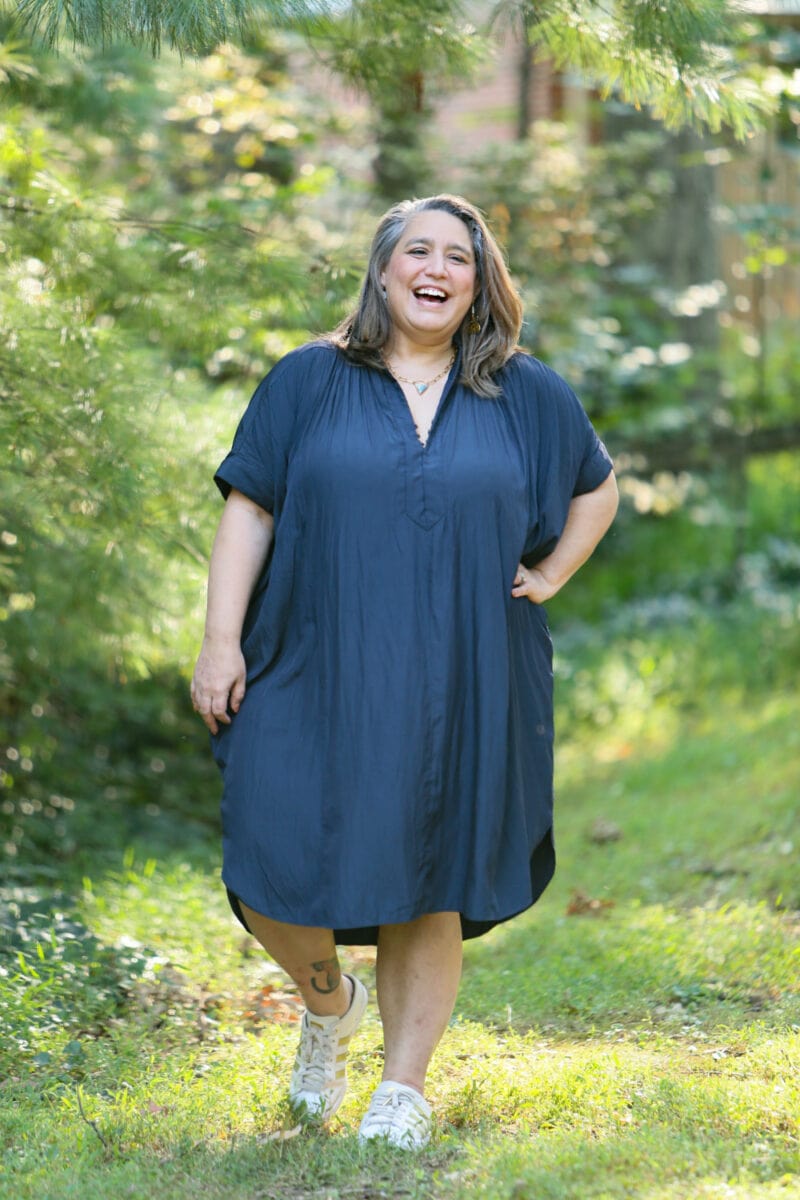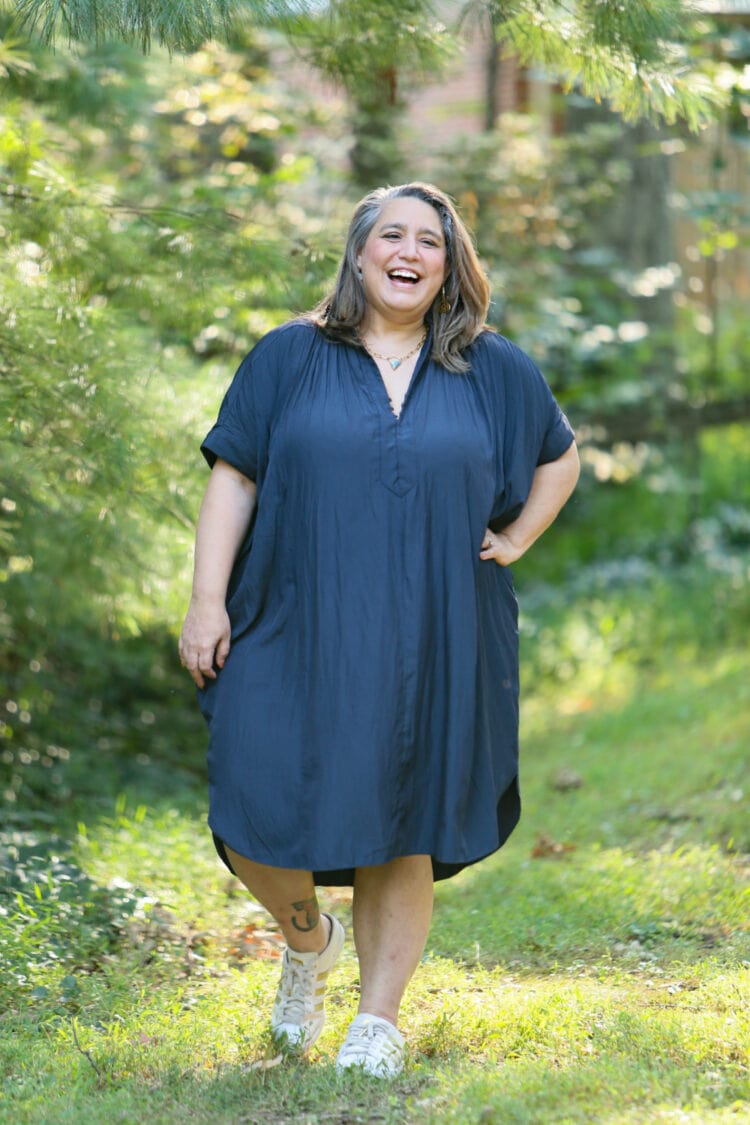 For this shoot, Carrie styled the ever by X dress in two ways: open and loose like a caftan, and cinched with a wide elastic belt from her own closet. She found the self-belt lacking and preferred the style offered by a wider stretch belt. Below I share some other wide stretch belts in plus sizes that would also be great with this dress:
Shop Plus Size Stretch Belts:

Is the ever by X dress as versatile for Plus Sizes?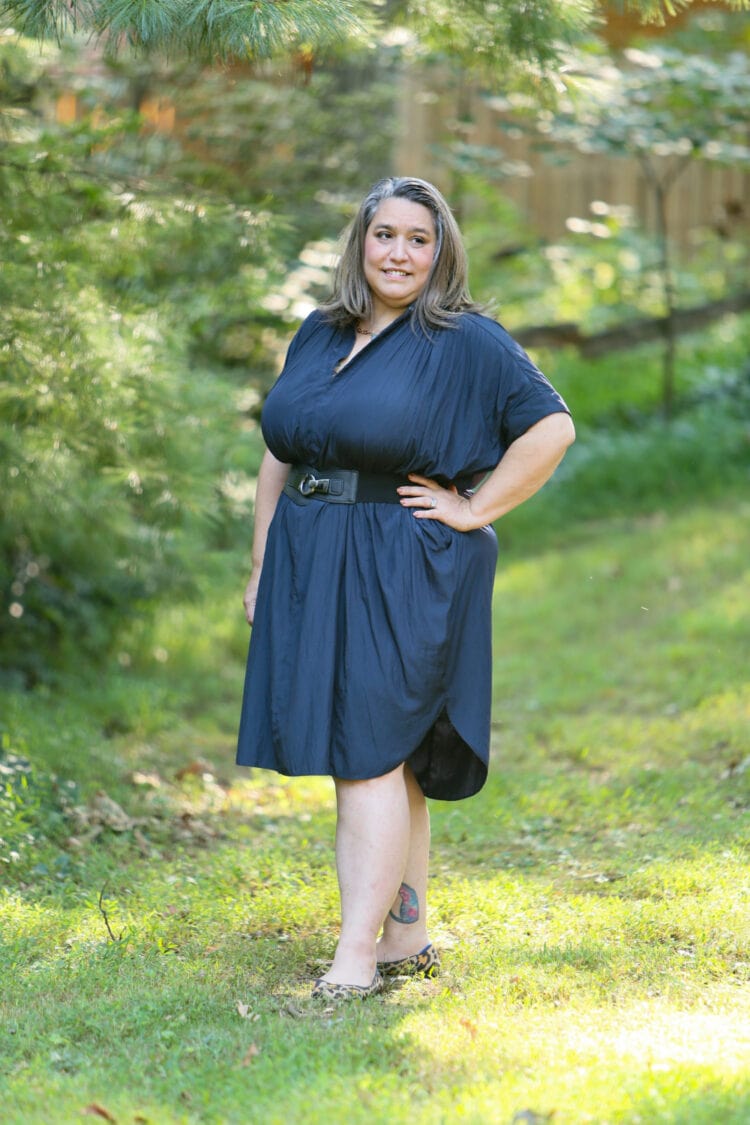 I knew just by trying on the dress that while it would work for a range of body sizes and shapes, it wouldn't be as versatile for larger sizes. If you go back to my post, you can see that I buttoned the neck, but it was snug on me. The self-belt may not be long enough to do all the creative twists and ties, and cape-like styles may not be as cape-like due to lesser volume.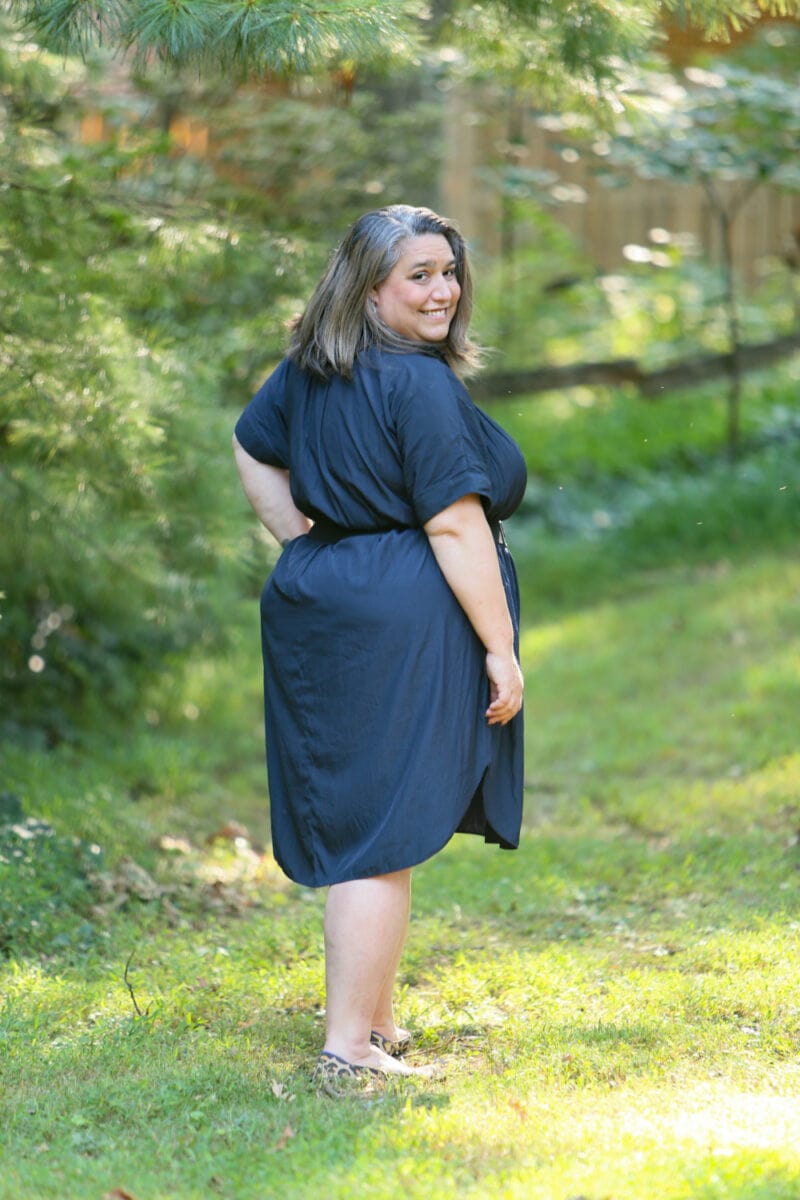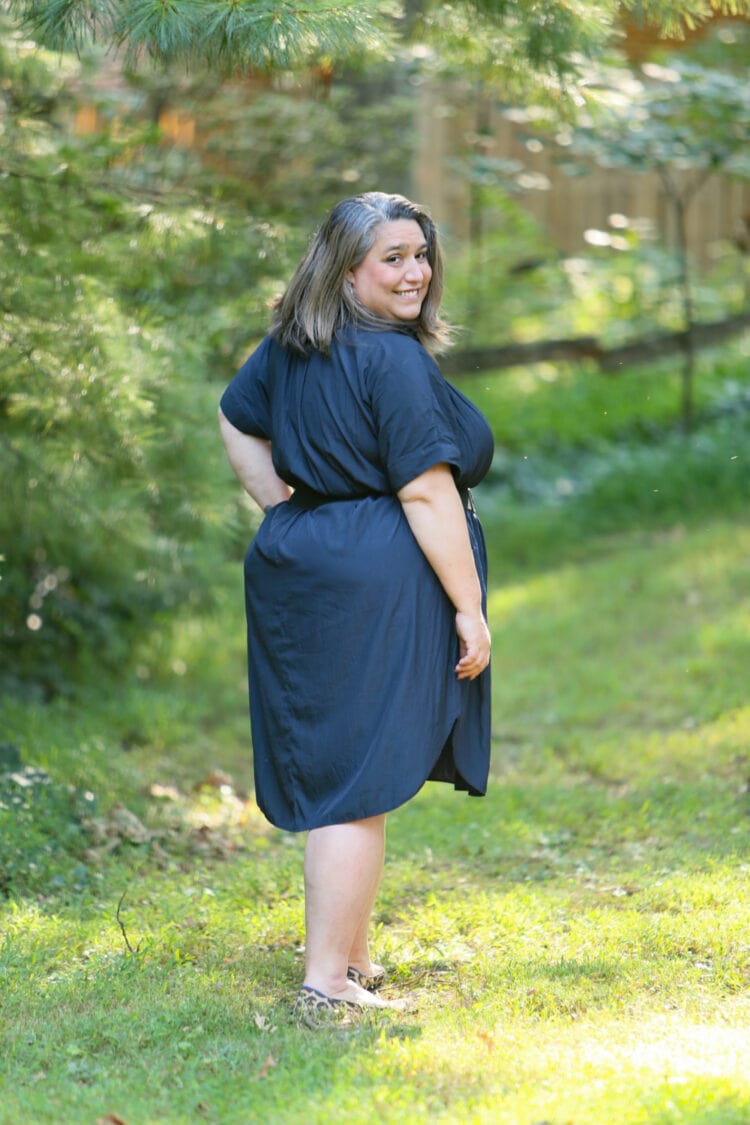 However, the dress is designed to look great on a range of bodies. The sleeve style is comfortable and cool looking on larger arms, the neckline is open enough for comfort but won't expose a large bust, and it can be worn open or belted, with the self-belt or a belt or scarf you already own.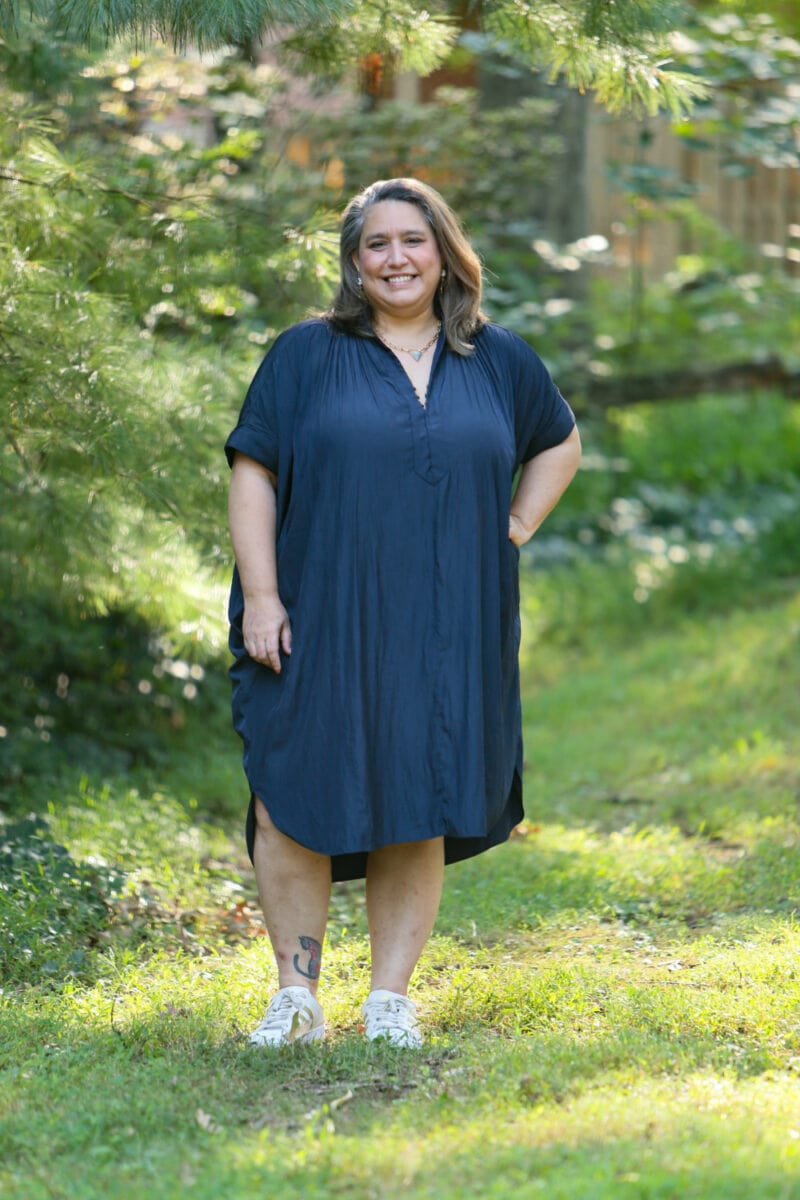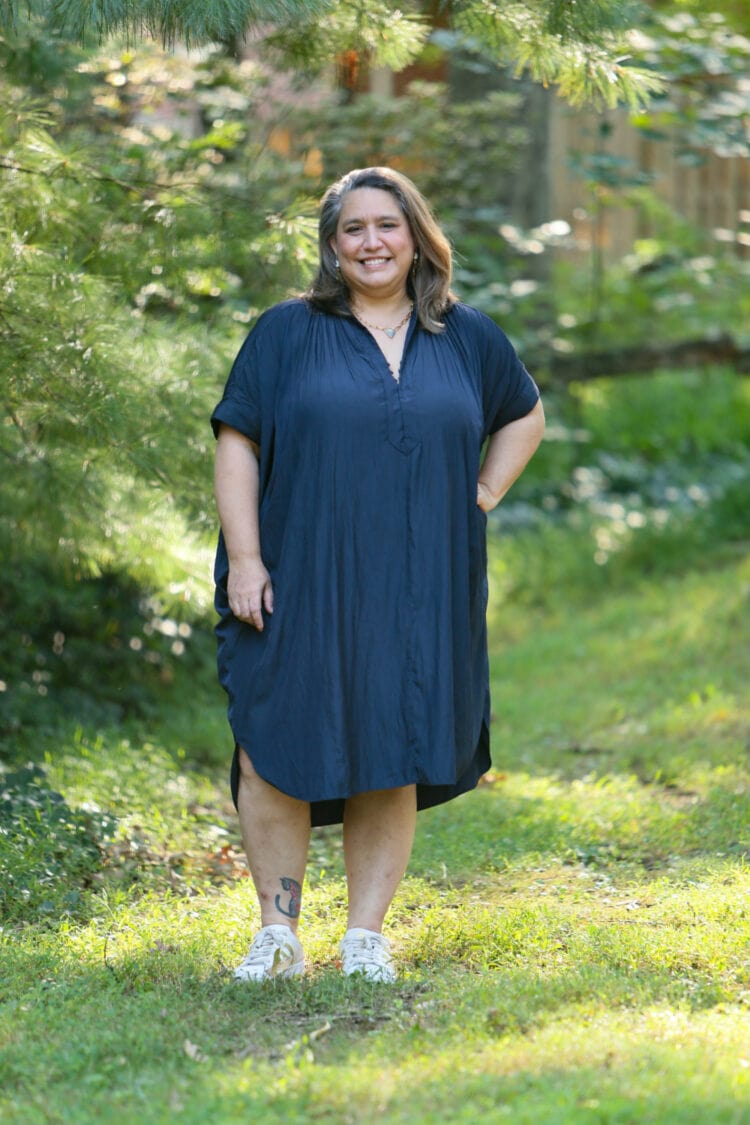 About the ever by X dress Carrie shared with me: "I'm not self-conscious about my arms in this dress which is a nice change. It doesn't feel tight on me anywhere, but I also don't feel like I have some of the drapey options that smaller women do. At 5'5 the petite works for me, but I'm definitely on the line!"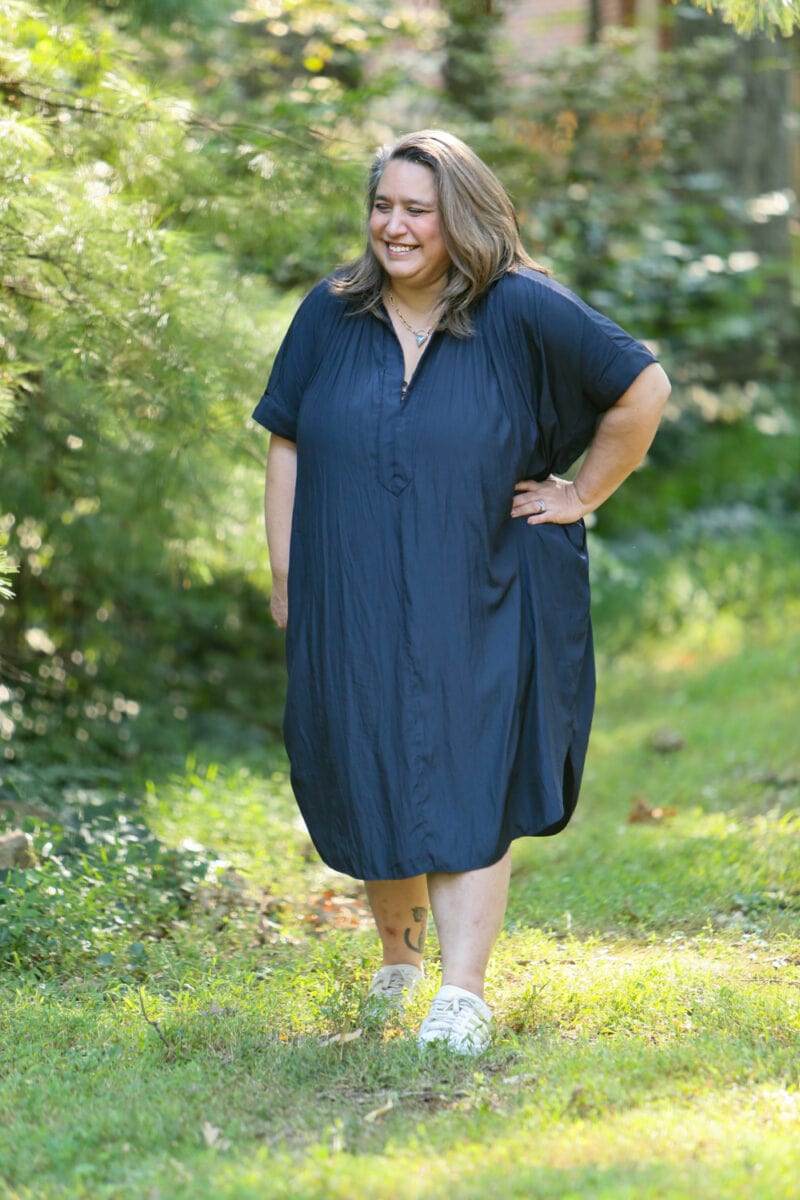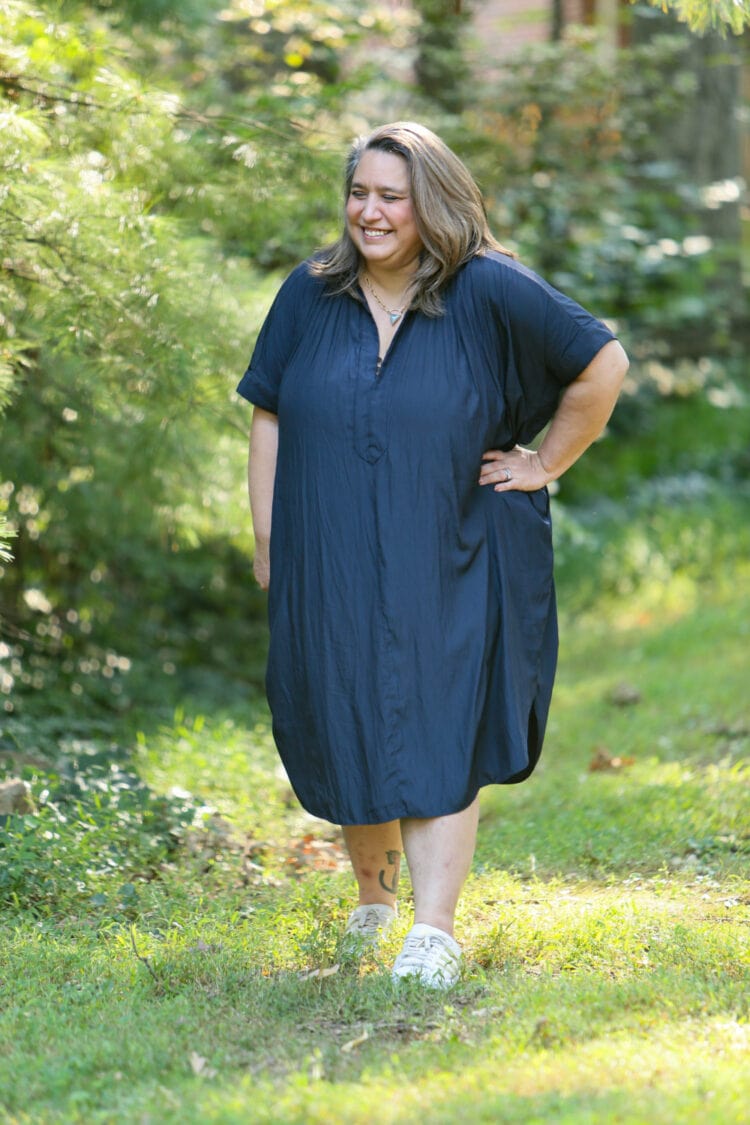 I asked Carrie to followup and share how she has styled the ever by X dress: "I haven't styled it other ways yet – I wore it belted to dinner with my folks and felt very chic but super comfortable; I wore it open to when I sold jewelry at a vineyard on a hot and humid day – no sweat stains, super comfy, and felt like a cool lady!"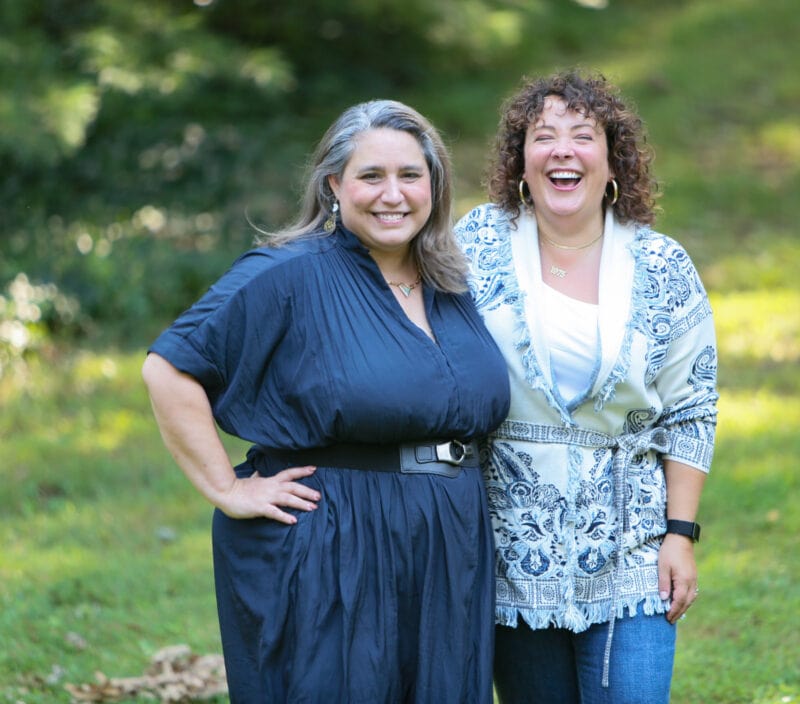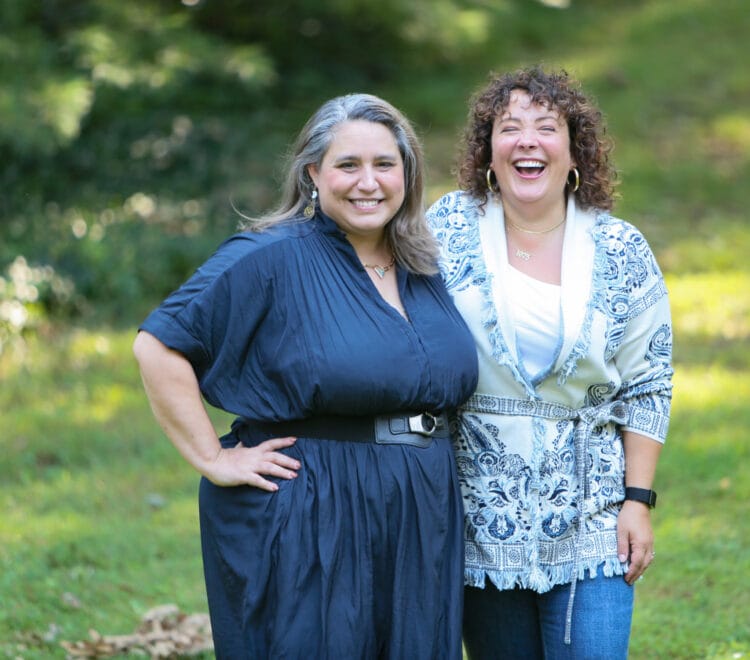 Thank you to Carrie for being an ever by X dress model, and for being such a wonderful part of the Wardrobe Oxygen Community! As always, I am here to be a resource for you. If there is a brand. you are curious about, let me know in the comments. You never know it may be the next brand I and/or another member of the #WO2Fam will review for you!