This article may contain affiliate links; if you click on a shopping link and make a purchase I may receive a commission. As an Amazon Associate, I earn from qualifying purchases.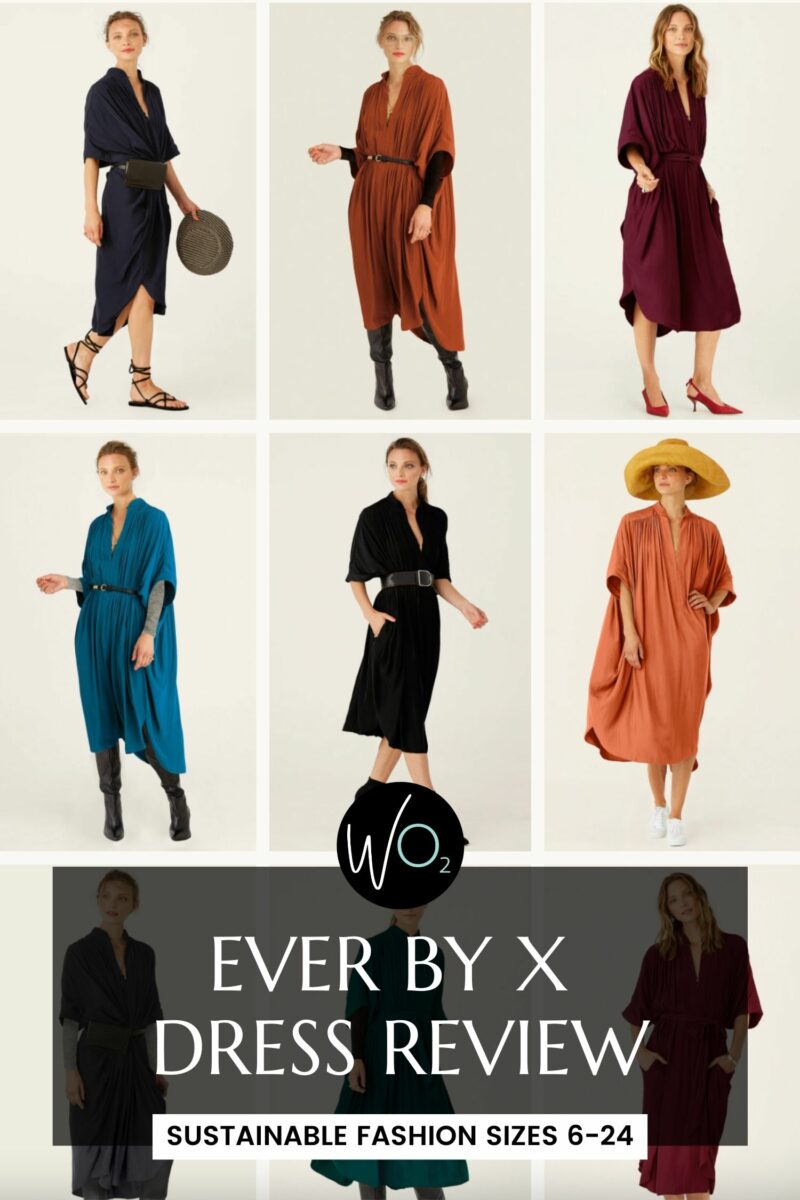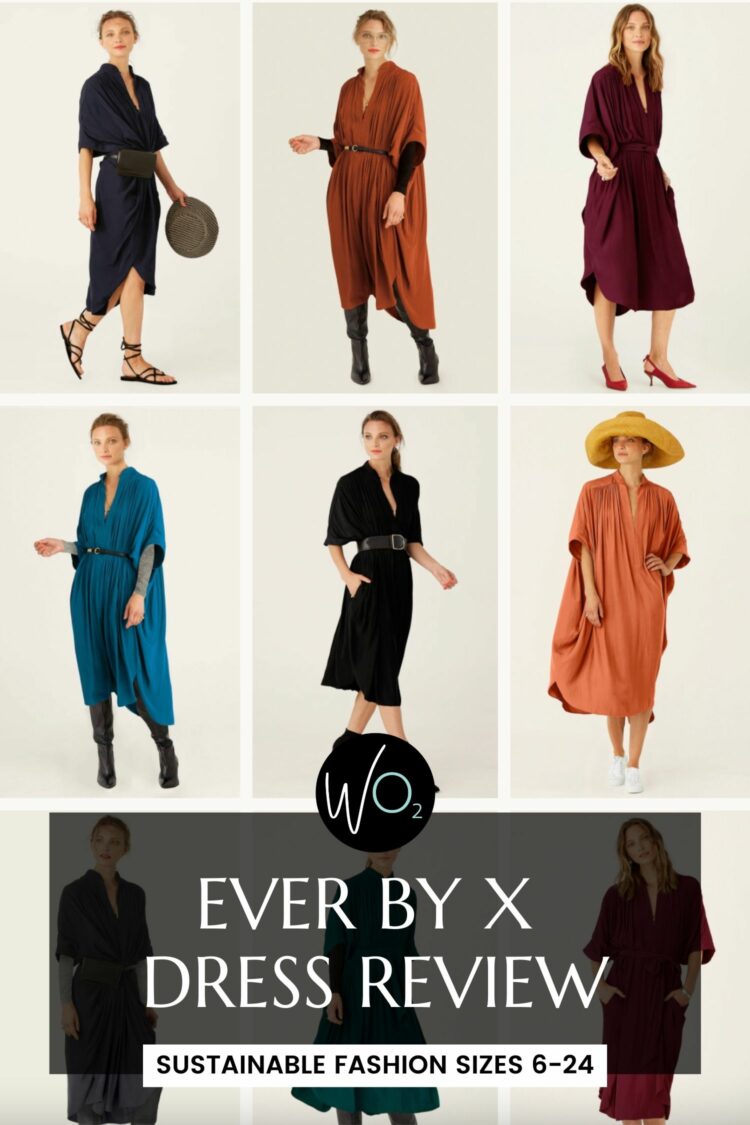 It seems the past few months, every time I opened Facebook, I was served an ad for the ever by X Dress. A Sydney, Australian woman-owned slow fashion brand that offers just one dress, ever by X makes this dress from a sustainable versatile fabric and a silhouette that should fit US women sized 6-24. So many Wardrobe Oxygen readers also received these ads and were curious, I decided to get one for myself to provide an honest ever by X dress review.
This is a long review; hang in there because below I not only share my experience with this dress and size/delivery details, I also show how it looks on my 5'3″ busty size 14 body. I style it eight different ways and also have a photo of how it looked after several hours of wearing it in the heat with a total of 33 different photos from all angles.
Disclosure: I received a dress free from the brand in exchange for an honest review. I was not paid for this review nor will I receive any commission for any ever by X dresses purchased from this review. I chose to do this review as a PSA, as this brand is new to the US and I am always on the hunt for stylish sustainable fashion in extended sizes.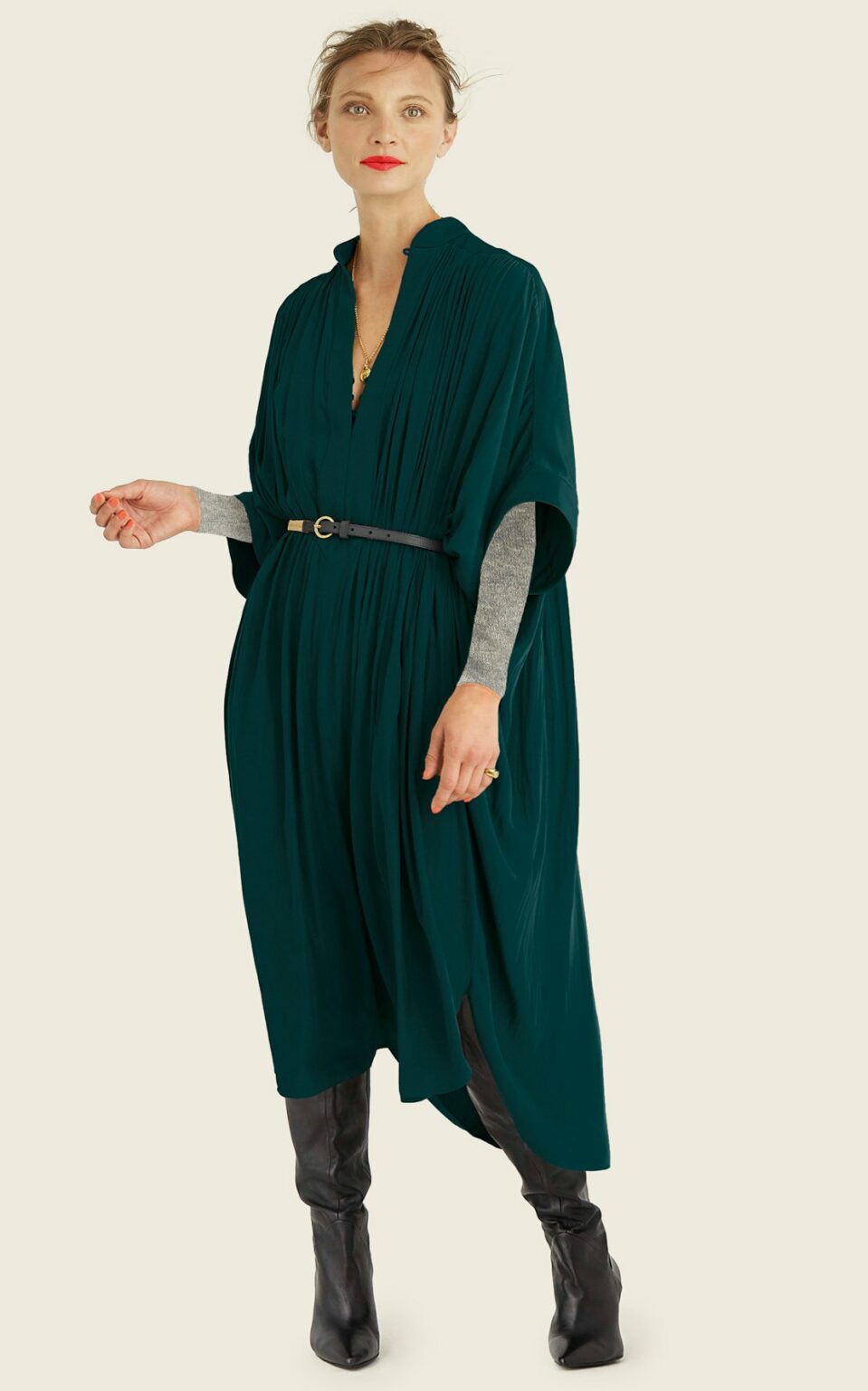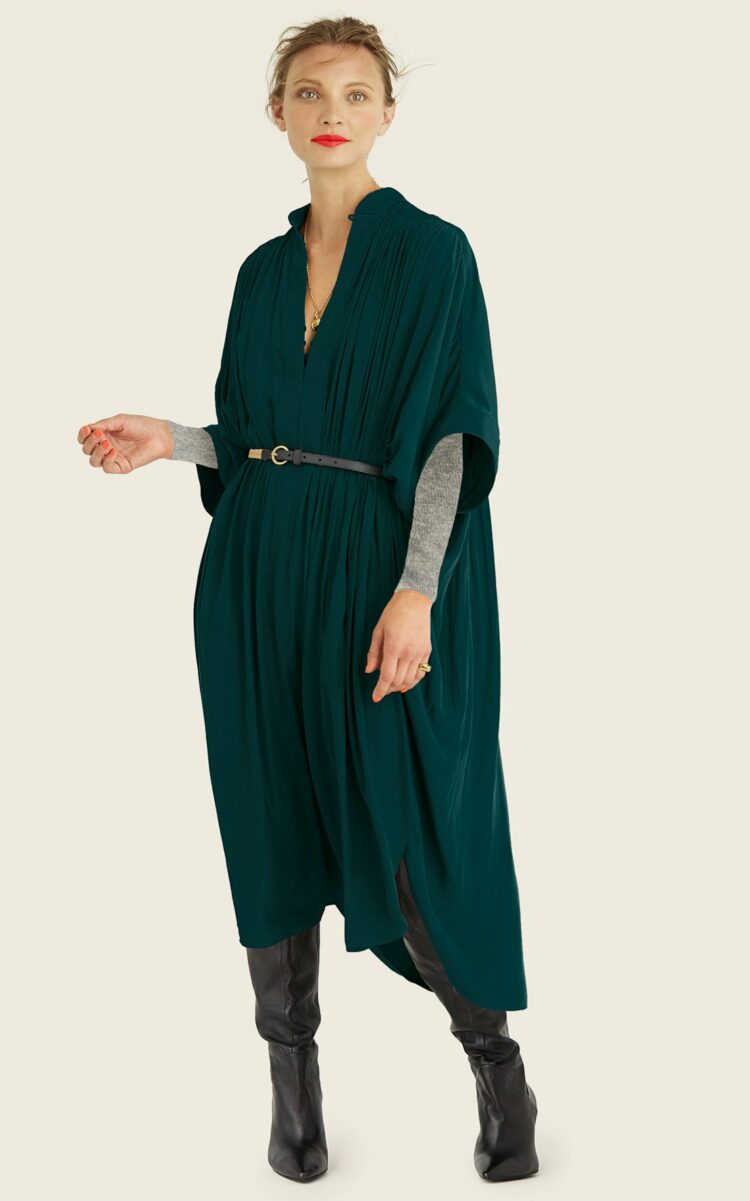 What is ever by X?
ever by X was created at the end of 2019 by Kerryl Bullen, an Australian mom who was in search of the perfect versatile dress. Unable to find it, she decided to make it herself. Yep, amid the bushfires in her country and just before the pandemic, this relatively new mother of twins started a fashion business!
I think this is very important to state; this is not only a small business but a very new one. I have learned over the past year of featuring small businesses that it takes time to master production, shipping, and customer service. To ensure variety, diversity, and ethics in our wardrobes, we need to have patience and grace for small businesses and artisans and provide plenty of feedback so they can grow and flourish.
Every dress is limited edition; there are never ever by X sales. The focus of ever by X is to keep a dedicated team in Surrey/Redfern steadily working by making dresses in line with demand and this business method ensures this to the best of the brand's ability.
The One Dress by ever by X is made from upcycled and recycled fabric. The fabric is the leftover from other designers' collections, saving quality textiles from landfills. Dresses are crafted in small batches to reduce waste, and the company as a whole is carbon net-zero. Ever by X is a 100% Sydney, Australian family-owned and operated small business.
What is The One Dress by ever by X?
From the ads I saw on social and investigating the ever by X site and social platforms, it looked like The One Dress by ever by X was a caftan made from a vegan silk fabric like cupro with a self-belt that helps it be styled at least seven different ways. I was immediately skeptical; I am not one for gimmicky clothing.
Remember the "universal dress" from about a decade ago? It was essentially a maxi skirt with two long strips of fabric you could twist and tie to make a variety of looks. I caved in and bought one off Etsy during the height of its popularity thinking it could be a cocktail dress for a wedding, a sundress for vacation, and a cute going out look. Maybe two of the looks could be worn with a bra and essentially it looked like the same darn dress, but with a few different knots, sometimes with one strap and sometimes with two. In less than one season, my "universal dress" that was never worn was sold on Poshmark.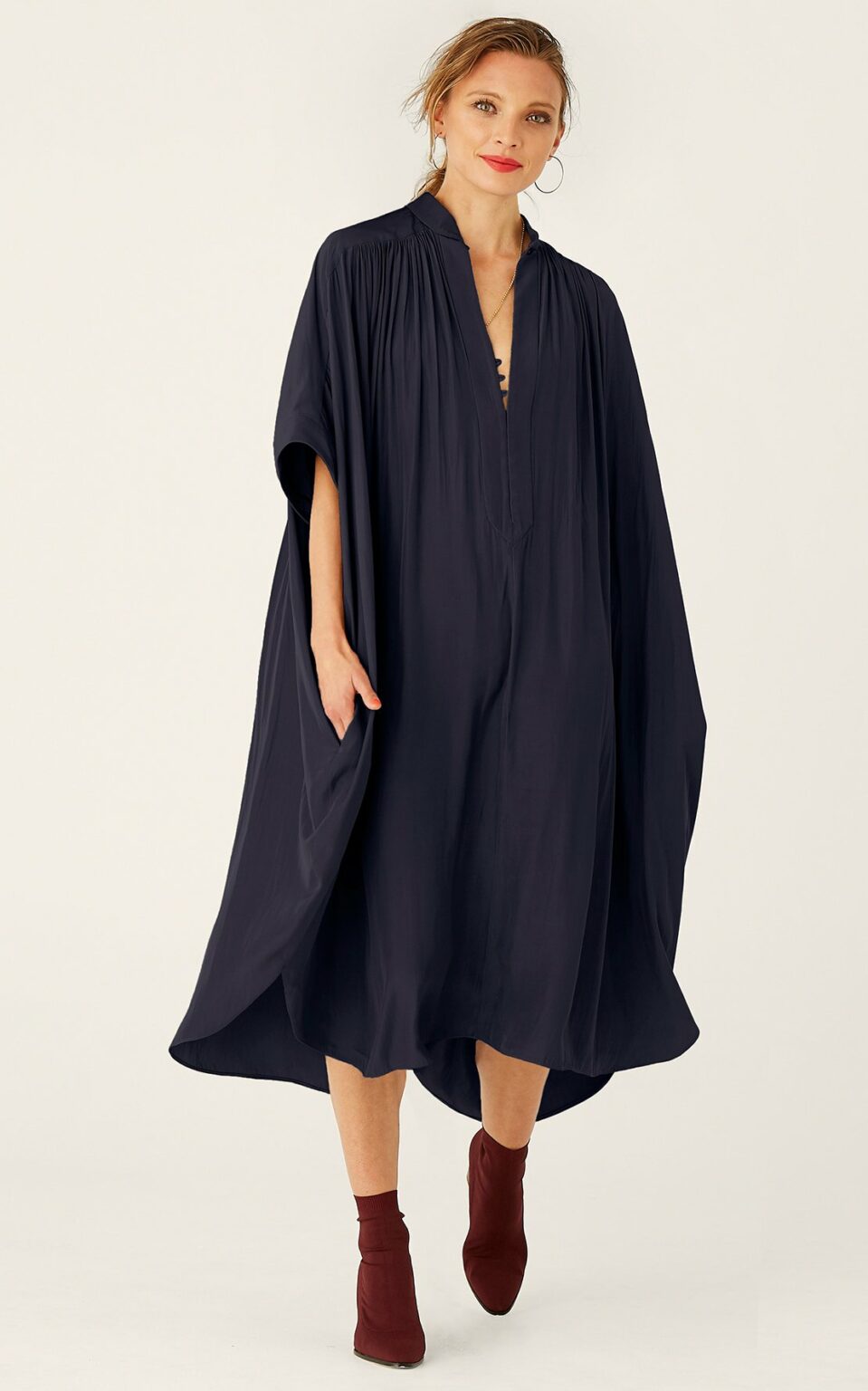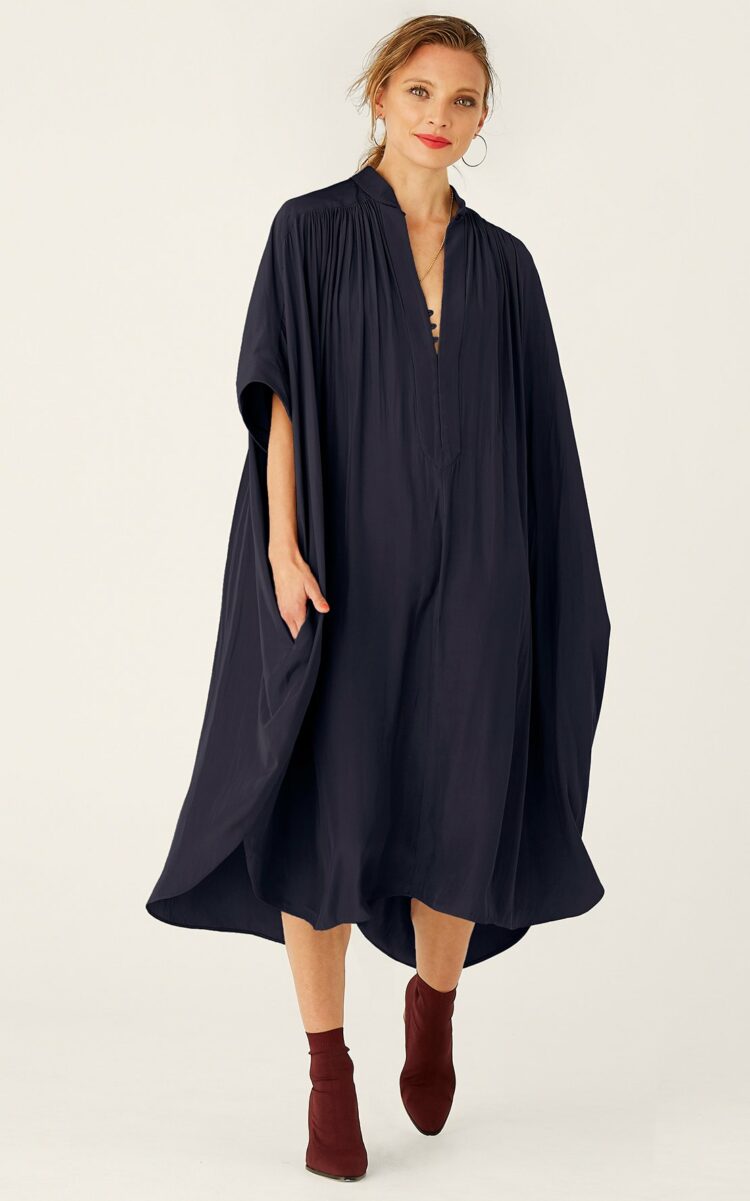 I saw the ads and assumed The One Dress from ever by X was essentially like the "universal dress;" a dress that could work maybe one or two ways, but it's just going to look like the same darn dress, just one time with a belt and one time without. So many Wardrobe Oxygen readers were curious, I reached out to Kerryl at ever by X and asked if I could receive a free dress in exchange for an honest review, expecting to be underwhelmed.
The dress arrived packed into a pouch of the same fabric as the dress. It was about the size of a thick paperback novel, but the dress came out without many creases. The fabric was what I thought it would be – sort of like a cupro or vegan silk that had a sheen, a hint of stretch, and completely opaque.
The dress has a stand/Mandarin collar with a single button there, and then a keyhole and several more buttons just above the cleavage point. The buttons are smoke-colored and pearlized; instead of buttonholes, the dress has fabric loops. The loops and buttons are on the inside of the dress so the buttons never show and the loops only show if you choose to unbutton them.
The dress has dolman sleeves, a shirttail hem, and two small slits in the seams near the center of the dress and two more slits closer to the sides of the dress. The dress comes with a self-belt sash of the same fabric as the dress.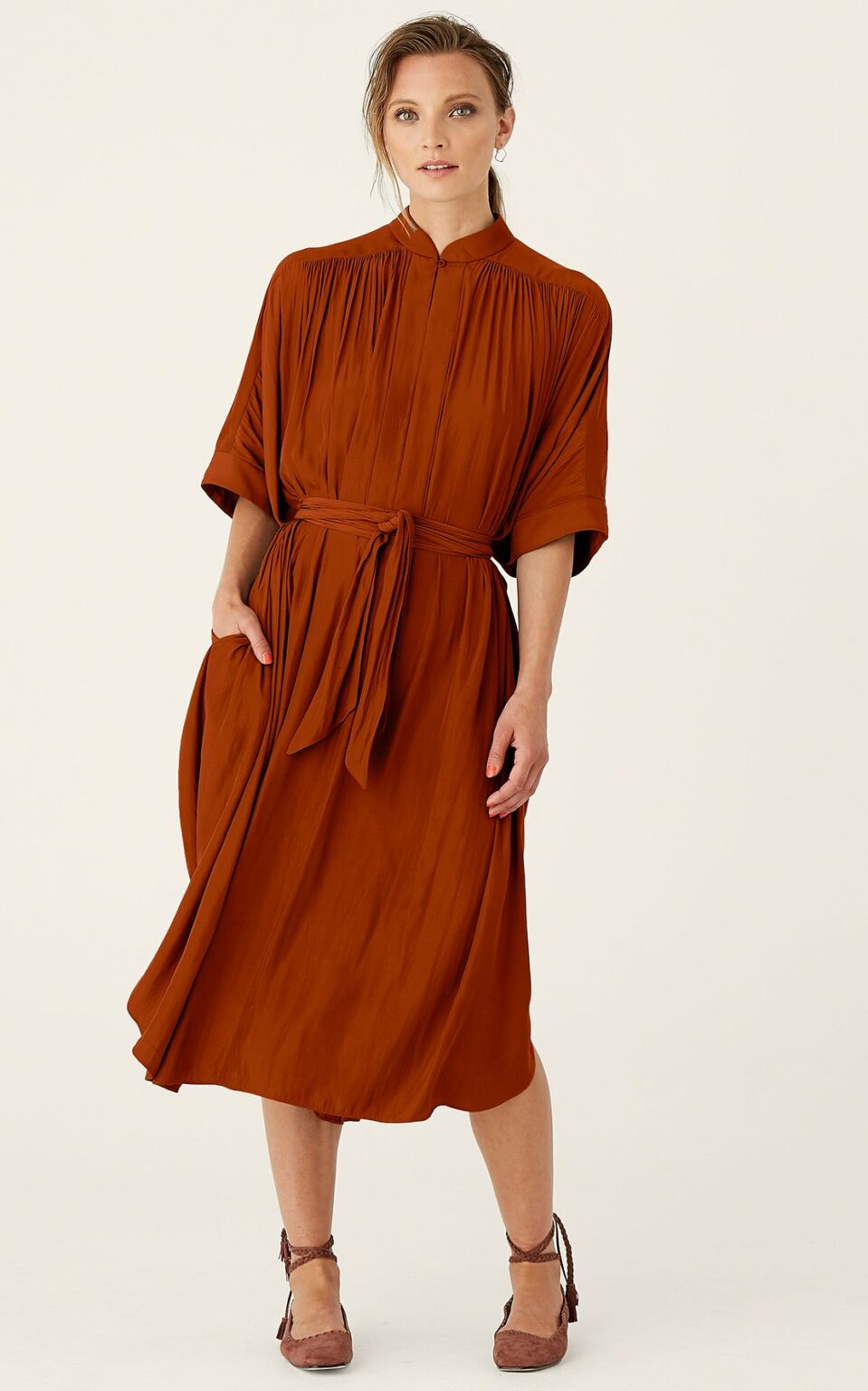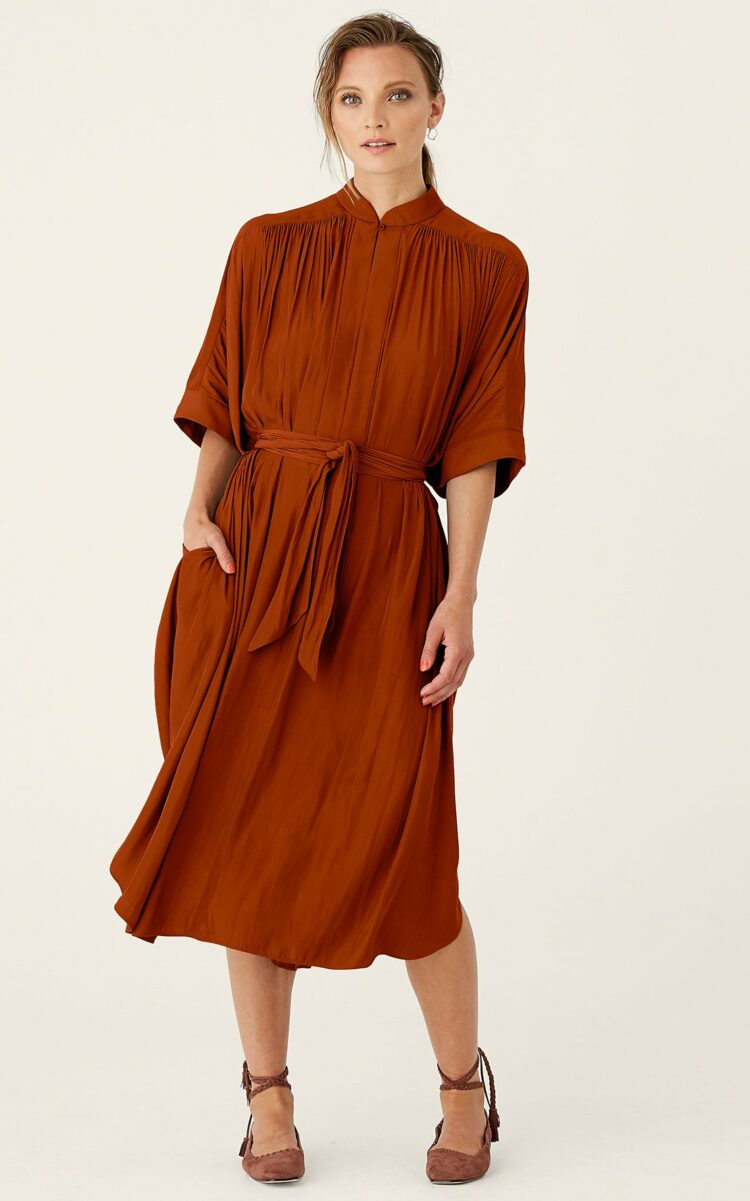 Shopping the One Dress by ever by X
The One Dress by ever by X comes in only one style and this style is to fit a range of sizes. However, the One Dress is available in three lengths/cuts with different measurements:
Petite: This version is designed for bodies 5'4″ and shorter. It is a little over 42″ in length/115 cm, and just under 38″/96cm wide when laid flat. The sash is a little over 7 1/2 feet in length. It fits AUS &and US sizes 6-24 and the neck opening is just under 18″
Midi: This version is the original fit of the dress. This version is a hair over 47″ long/120cm and when laid flat it is almost 41″ wide/104cm. The sash is the same length as the one for the petite dress and the neck opening is also the same. It fits AUS and US sizes 6-26.
Grande: This version of the dress is for those 5'7″ and taller and those who want more of a maxi dress effect. This is a style that is coming out October 2021. It is a bit over 55″ length/140cm, but otherwise has the same measurements as the Midi version. It too is made to fit sizes 6-26.
To reduce waste, there are only small batches of these dresses made at a time. You will see on the site that colors may be sold out or there is only X number of that color still available. ever by X has standard colors they sell regularly as well as limited-edition colors that when they're gone they're gone for good. However, if you follow the brand on social you'll be notified when new colors are made available.
ever by X accepts all major credit cards, PayPal, and AfterPay. The brand ships internationally. Shipping to the United States is $17 and will arrive in around 10-20 business days if it is in stock. There are options for rush shipping; I encourage you to contact ever by X directly prior to purchase if you need your order by a certain timeframe to make sure it is possible.
Returns are accepted as long as you email the brand quickly (within a couple days of receipt) and it is in new condition. Return shipping is the responsibility of the customer; full return details are on the ever by X site but I find them extremely reasonable for a small sustainable fashion brand.
My ever by X Dress Review
Being 5'3″, I chose the petite version of The One Dress for my ever by X dress review. Since ever by X wanted to send one to me quickly, I had to go with what petite colors were in stock. The company had Black, Deep Navy, Charcoal Grey, and Deep Teal Green in stock in petite and I chose Deep Navy.
I was slow to getting around to trying The One Dress by ever by X. Photoshoots are not a ton of fun when it's over 100 degrees outside with high humidity and to properly showcase the dress I knew I had to do a lot of switching up of the dress and accessories. It sat in the corner of my bedroom mocking me.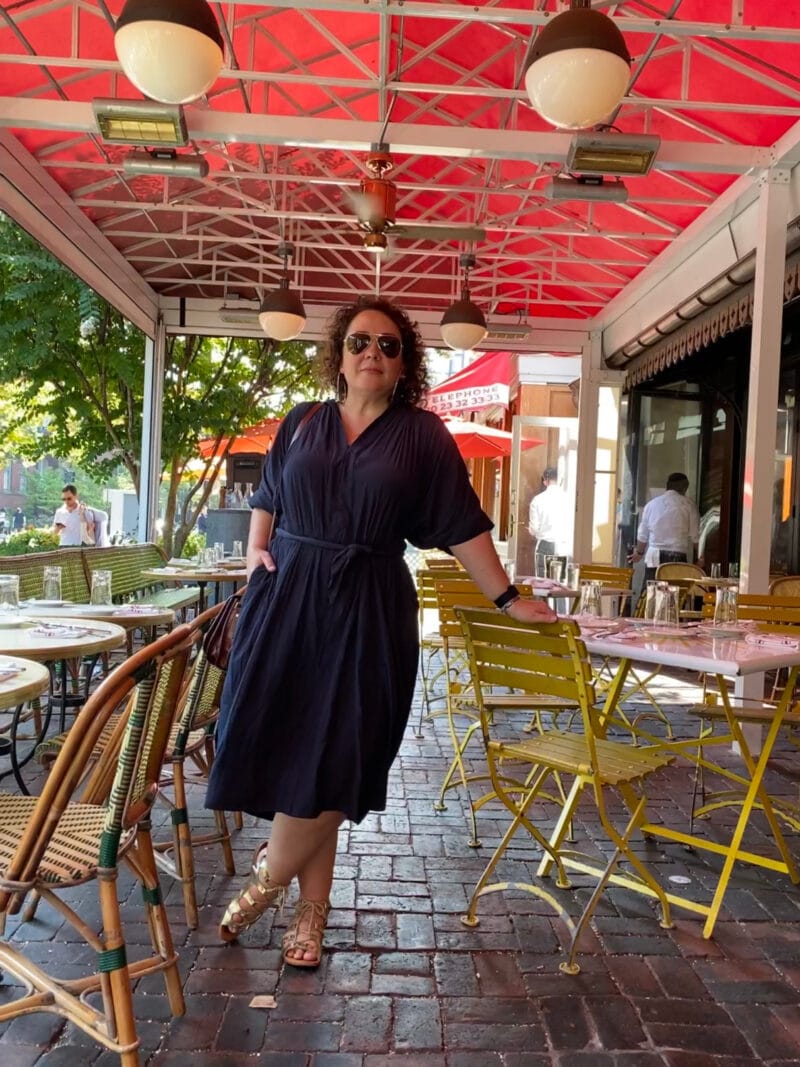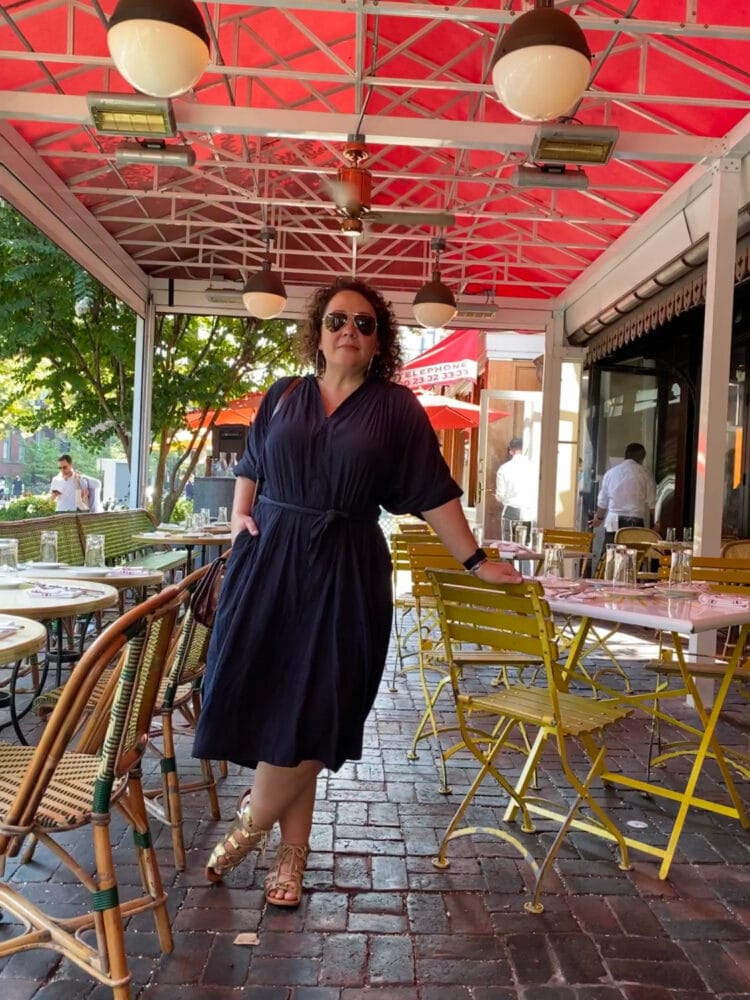 Then one day, I was to meet friends for an outdoor lunch at a chic restaurant on one of the hottest days of the year. Struggling with what to wear, I tried the ever by X dress. I pulled it on, didn't mess with the slits or any creative styling, just wrapped the self-belt around twice and tied in the front. I loved the result.
The lightweight fabric with a hint of sheen with the relaxed silhouette looked very… GOOP Girl. A rich person who can drop $800 on a linen shift made sustainably by unicorns on a mountaintop, has a glass water bottle with a crystal in it to energize her beverage, and her organic skincare costs about $800 a month. I may not be in any way a GOOP Girl, but I was feeling the vibe on this sweltering summer day.
I paired it with some gladiator sandals and a brown saddle bag and wore it for several hours on a covered patio and was comfortable. When I went inside to use the bathroom, my hair and face were wet from sweat, but there weren't any sweat stains on my dress. That night I washed the dress on the gentle cycle, hung it to dry, and it was completely dry just a couple of hours later.
When I went to Fire Island for a week, I packed my ever by X dress. After a day at the beach, I'd come back and shower and put on the dress sans belt. The breezy dress was comfortable in the heat and on sun- and wind-worn skin. It was opaque and had a high enough neck that I could wear it with a casual wireless bra (or braless) that I didn't feel exposed around my relatives. I even wore it to sleep in one night.
My husband accidentally put the dress in the dryer after our vacation; I was thrilled to find it still looked exactly the same. I wouldn't do that again, but it's nice to know the fabric can survive a tumble. While I don't think this dress can replace all the other frocks in my closet, I like this dress and this is a positive ever by X dress review.
How to Style the ever by X Dress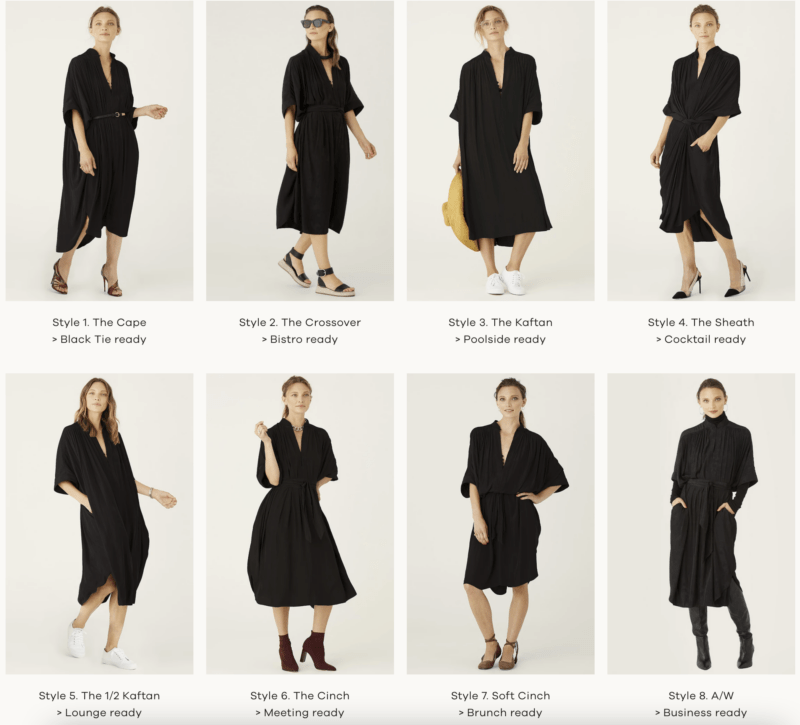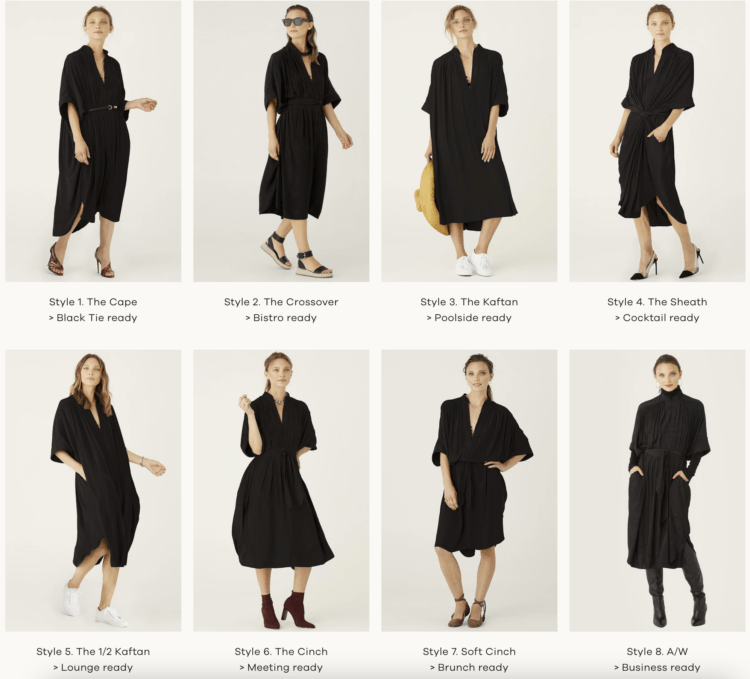 The One Dress by ever by X is sold as being able to be styled over seven different ways. If you look at the options they really are variations of the same thing but showing how this dress can go from work to poolside to running errands to a dinner out on the town. And I agree, I found this dress to be quite versatile even without getting hyper-creative with twists and knots.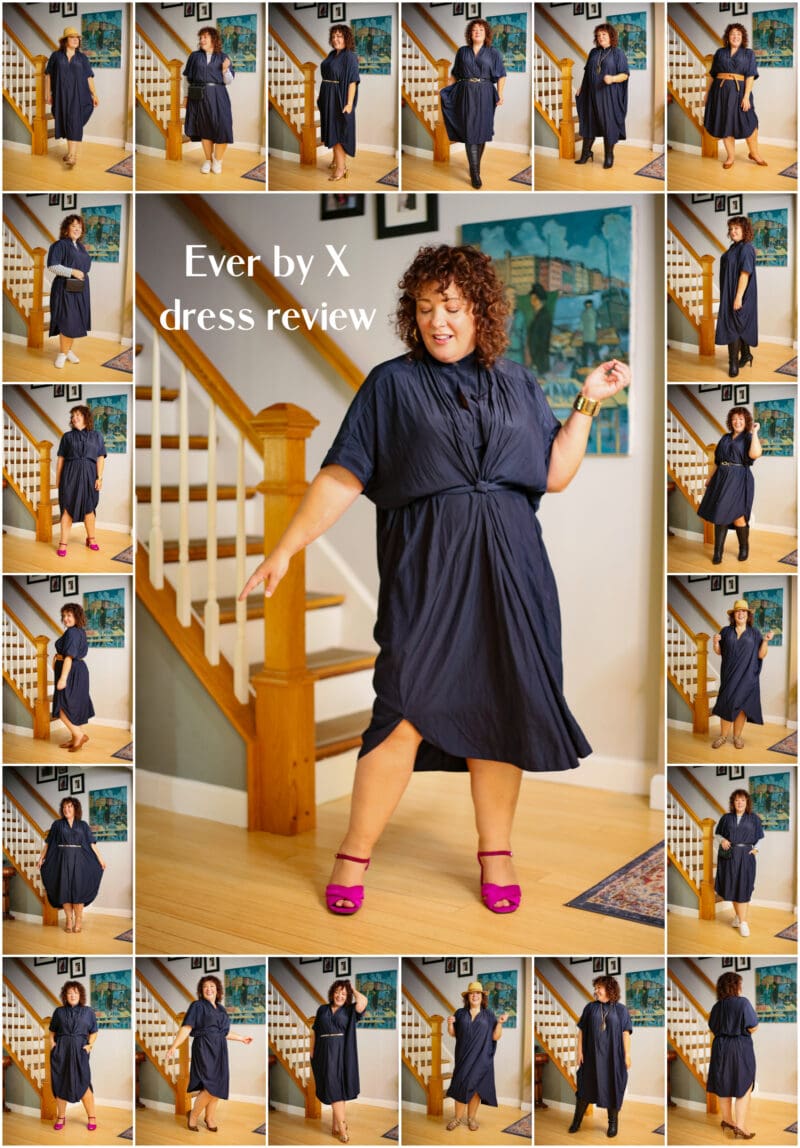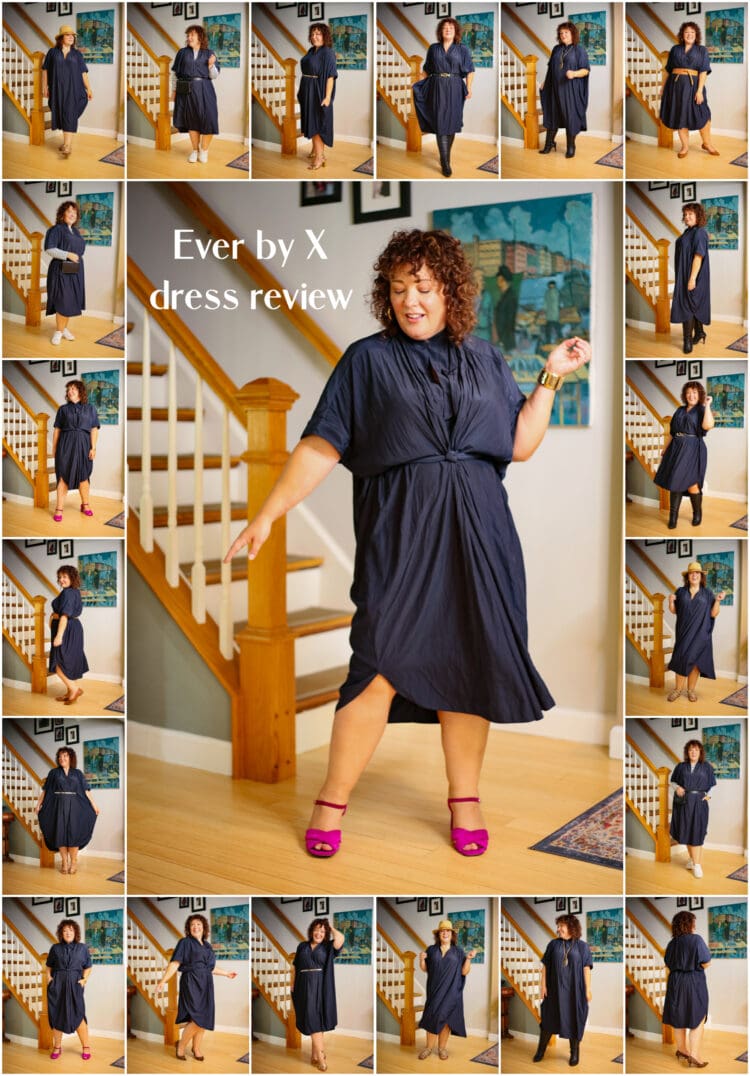 To see these looks up close with detail, click on any of the thumbnails below. It will open up and there will be arrows to navigate through my eight styles. Click on the images in the slideshow to see them larger. Use your mouse to "drag" the photo up and down to see it in its entirety on your laptop or desktop. Click the X or outside the slideshow (or swipe up on your mobile device) to return to this screen:
I was able to style it in eight different ways and that was me challenging myself within an hour. If I had more time with the dress, I probably could have thought of even more ways to style it.
My tips:
Play with belts and scarves. You don't need to use the self belt with the ever by X dress. Try a skinny belt, a wide belt, a metal belt, a chain belt, an elasticized belt. Try a long oblong scarf, the self belt off a different dress or even a coat. The width, weight, and textile of your belt can make a major impact.
Don't style it over things that cause static cling. I initially thought I'd do a video styling the ever by X dress. I was going to wear my short Universal Standard Next to Nothing bodysuit under it for modesty as I moved around the dress to knot and twist. The dress clung to the activewear fabric so took it off and changed my plan. If you want to wear this dress over layers, consider layers, especially on the bottom half, with a bit of slip so the dress can keep its fluid, breezy way.
Have fun with shoes. I found this dress looked cute with sneakers, with Birks, with heels, with boots. I found it more versatile than a lot of other dresses in my closet due to the draping and fabric. If a certain shoe looked wonky with your jersey t-shirt dress, don't automatically dismiss it for this dress. Try chunky, try delicate, try a heel, go with a flat.
Shop Belts That Would Work Great WIth the ever by X Dress:

This is a dress that requires a bit of creativity and out of the box thinking to get beyond 1-2 looks. I personally enjoyed this exercise after so many months of just throwing on a top and a bottom and heading to the laptop. It reignited my style creativity and also made me dig into the back of my closet to find items I had not worn since 2019 that worked for 2021 thanks to this dress.
My Issues with the ever by X Dress
While some readers have bought the dress and haven't liked the fabric (one compared it to a hairdresser's cape), I like it. But I have a few other issues with the ever by X Dress:
The Self Belt Design: The belt is made from two layers of the fabric, sewn together. This is pretty standard for such a dress, but with such soft fabric the belt instantly turns into a crinkled rope of fabric, even if you're not twisting or knotting it. I think one layer of stabilizer in the belt would give a bit more structure while still making the belt as versatile for the different styling options.
The Self Belt Length: While the dress may fit a range of clothing sizes, the belt is too short to have all the styling options for larger bodies. At a size 14, when I twist the self belt twice around my body, I have just enough to do a double knot. I had a friend who is a size 22 try the dress and she couldn't double the belt. I fear a longer belt would be too long on a size 6/8 woman, so maybe the brand could offer different belt lengths, like when you order it, if you're a size 6-12 you get this length of belt, and 14-22 gets one 6-8″ longer?
The Neck Button: I can juuuust button the neck without strangling myself. I think if I were five pounds more it wouldn't be possible. My friend who is a larger size could not close the button. While the dress itself fits a range of sizes, issues like the neck and belt need to have more accomodation for such sizes. I don't know how to make this possible without having a gaping neck for smaller bodies.
The Button Loops: Maybe they will stretch with use, but it's so hard to unbutton and button the buttons! I don't mind so much for the ones in the placket since they don't get opened and closed often and the snug fit keeps them securely closed, but the neck button can make you feel a bit panicky if you're trying to take off the dress and your hands are sweaty or you're tired.
I think these details are something that ever by X could easily accommodate over time as they improve upon their product. I know Kerryl has been actively updating the concept of this relatively new dress (for example, the Grande dress which came out since I received my Petite version). I wouldn't be surprised if in the future some of the details are modified.
What I Love about the ever by X Dress
This fabric is so incredibly easy care. For best results, wash in a lingerie bag on the gentle cycle and hang dry. But if you don't use a bag, if your husband accidentally puts it in the dryer, if you wear it to the beach and it gets sandy and salty and you rinse it off with a hose and hang it up to dry… it will look beautiful. I love that it's dry in about two hours, and I can just throw it over the shower curtain bar or on a hanger, no need to lay flat or roll out moisture or all the other complicated things with a lot of similar-looking fabrics.
I love this dress is not trendy. This is something you can wear if you are 22 or 72, whether you style it with Birkenstocks or stiletto heels, wear it with a turtleneck and boots in winter or flip flops and a sunhat in summer.
I know I am not the only person whose body fluctuates with her cycle, mood, and the seasons. This is a dress that changes with you and fits when other pieces in your closet may be too loose or too snug.
I love that I can wear this with a wireless bra and some slip shorts and feel almost naked but be comfortable enough to head to the grocery store or meet a friend for coffee or sightseeing on vacation. And I love that it has more style and design than a standard caftan, working with my curves and making me look pulled together not straight out of bed.
A lot of "effortless fashion" is made of delicate fabrics that need to be babied. It's often available only in smaller clothing sizes. Or it is very utilitarian. I love that the ever by X dress is easy care, fits up to 24 (a friend size 20/22 has one; stay tuned for her review with photos)
Friend to Friend… Some Real Talk
While I do not believe this dress will look drastically different with the switch of the self belt, I do think it is a versatile dress… IF you are the type to already wear a dress of this sort. This dress will not change your life; no dress will.
But let's say you have the Universal Standard Geneva and the Crepe Geneva and you wear them all the time. Or you really dig shirtdresses and caftans and are looking for an alternative to cotton and linen. Or you pride yourself on a small but hardworking wardrobe and this dress fits perfectly into your current wardrobe and aesthetic. Then this may be a great choice for your closet.
Maybe this is a comfortable pricepoint for you; if so you will get a well-constructed dress from a unique fabric that will be travel-ready, WFH-ready, and ready to glam up a bit for an anniversary dinner or your neice's wedding. This is a great dress, but it is not going to change your life, your style, your shopping habits, or anything else.
It is important to shop with thought and care. Choosing sustainable fashion brands, especially ones like ever by X that use deadstock or fabric that would otherwise be in a landfill is smart and stylish. But the greatest thing you can do for both your style and the environment is to only buy what you need and what you know will be worn again and again. I believe the fabric and construction of the ever by X dress is up to the challenge of being worn over and over; it's whether you know you will be the kind to give it that kind of life.
ever by X Promo Code
ever by X (as a small dressmaker) NEVER goes on sale or offers promo codes… however Kerryl (in rewarding our interest) extends the wardrobe Oxygen community an exclusive blink-&-you'll-miss saving of $20 on ONE color dress… this is only for WO2 readers!
How to save $20 on The One Dress Project by ever by X:
Follow ever by X on Instagram. It's a chill and inspiring account that won't blow up your timeline with a bunch of Reels and randomness. I've gotten so many ideas on how to style the dress through this account!
Head over to ever by X and pick the One Dress right for you. Black is not included, but other colors are! Note that when colors are down to the last couple (such as Oceania), the code will not work. If your color isn't accepting the code try a different color!
Enter this promo code at checkout: Oxygen
Shop within 5 days of this posting; this promo code is a limited-time offering!
I want to Hear from You!
Have you tried The One Dress by ever by X? Seen the ads and have been curious? Any additional thoughts? Your comments on this post will help make this ever By X dress review more useful to other potential customers.