This article may contain affiliate links; if you click on a shopping link and make a purchase I may receive a commission. As an Amazon Associate, I earn from qualifying purchases. 
I can't help but think of the jingle for for the now-defunct Citizen's Bank of Maryland when I see today's evening for day fashion trends. Daytime, nighttime, Saturday too… current trends are encouraging fabrics and embellishments that had previously been reserved for after 5pm.
How does one wear evening fabrics for daytime without looking inappropriate?
Intention
I think intention makes the difference between looking as though you're walking the runway or the walk of shame in last night's cocktail dress. Knowing that a lace pencil skirt is NOT the same as one of wool gabardine, and not trying to wear it as such. Being very aware of how fabrics change when they hit the light, when you walk in them, and balancing formal fabrics with those that complement or downplay their formality.
Fabric Choice
A luxe fabric will look ridiculous if paired with the wrong type of fabric. Unfortunately there is no black and white rule about what to wear with evening fabrics. A crisp white shirt will look splendid with a pair of hot pink shantung cropped pants, but will be utterly awkward with a beaded chiffon midi skirt. That same crisp shirt in black could easily look too casual and scruffy for those pants. Here's some suggestions on pairings with formal pieces:
With glitzy skirts (sequins, beading, metallic lace or brocade):
1. Crisp white shirt – tightly woven cotton ironed to perfection. Sleeves crisply rolled or left cleanly buttoned at the right place on the wrist. Just a couple buttons unbuttoned – not too low, just enough to elongate the neckline. So accomplish the white shirt, it needs to be very white, very crisp, very well tailored. Steer clear of ruffles, pintucks, or anything resembling a tuxedo – you need to downplay the formality of the skirt.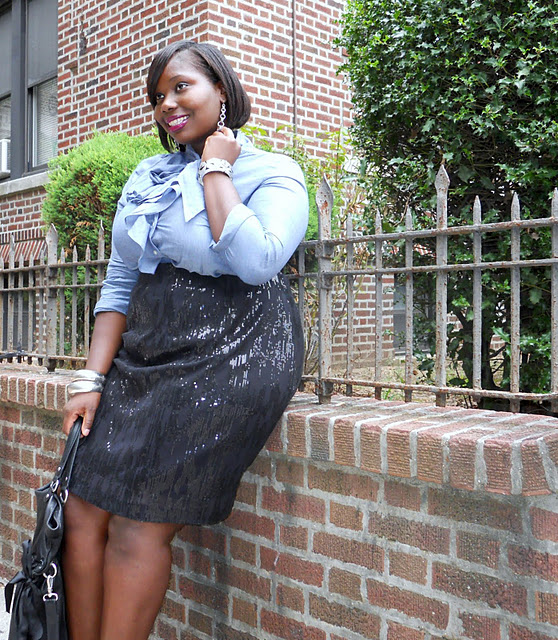 2. Denim or dark chambray – if the shirt has a crisp shape and body to it, denim or chambray can be an amazing pair with formal fabrics. Denim has been a popular pairing with glitzy fabrics since the Studio 54 days – it is just important how to do it. Keep it crisp, keep it free of fancy washes, embellishments, or unusual silhouettes. If it is denim, have it fit to a tee; if it's chambray it can be a bit more relaxed in shape but not sloppy. Choose a medium to darker shade – faded denim and chambray can easily look messy and dated. If you roll the sleeves, roll them evenly; always iron so it's not too drastic of a contrast with the skirt.
3. Cashmere and merino – Cashmere is a natural pairing with formal fabrics – it's a luxe fabric, but unlike sequins and silk it doesn't reflect light. Merino is a tightly woven wool knit that is a more budget-friendly option (and easier to care for). A classic silhouette such as a fitted crewneck or turtleneck is a wonderful choice with formal fabrics. As with denim, steer clear of fancy silhouettes, embellishments, or baggy shapes. The key to making this look day-worthy is having a day-worthy sweater – something hanging off the shoulder, with a deep neckline or details like puffed sleeves will be too evening-like to work.
With flouncy skirts (lace, chiffon, tulle):
1. Cashmere or merino – same rules apply here.
2. A tailored jacket – I love wearing my tiered ivory lace skirt with a fitted black suiting blazer – it really tempers the cutsey factor of the dressy fabric. The jacket should be a very classic fabric – gabardine, worsted wool, linen. It should fit well – no boyfriend shapes with such a skirt. Again, you are balancing the flounce of the skirt with a structured piece on top.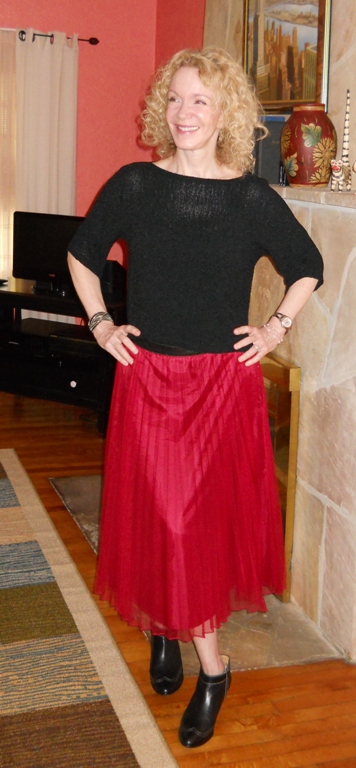 3. A boxy top – A great way to keep that skirt from making you look like a prima ballerina is to balance it with a boxy lightweight sweater or knit. This tempers the froth, and makes the combination look purposeful, not as though you just dashed to the office after a performance of Swan Lake.
With Dressy Pants (silk, shantung, velvet):
1. Crisp white shirt – again, it's a perfect piece to balance such busy-ness on the bottom.
2. Merino or Cashmere – keep it simple, keep it crisp. Turtleneck, crewneck, boatneck, simple tee. Choose a color that is subtle – this is not the time for colorblocking. Black, gray, brown, olive (surprisingly elegant with muted metallics as well as pinks and purples) are all smart choices.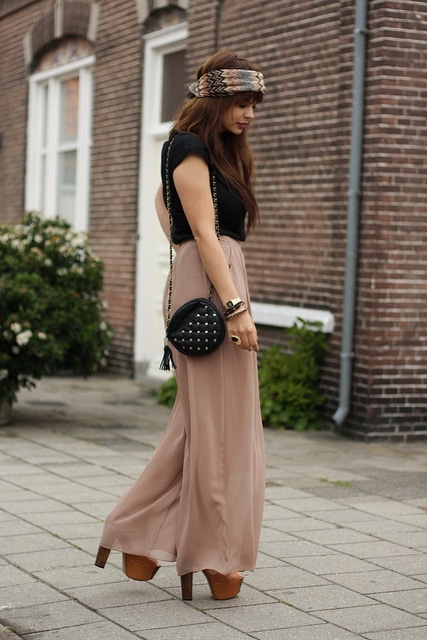 Blogger Fashion Zen makes chiffon pants work for day with a simple tee and chunky shoes
3. Refined tee shirt – True Fashionistas can carry off the look of a simple tee with formal pants. This look is very dependent on the right shoes and accessories – I don't recommend everyone grab a Hanes and a pair of silk cigarette pants and head to the office. It is a real balance of fabrics and silhouettes and this balance varies from woman to woman.
With Glitzy Tops (sequined tanks, beaded tops, lurex cardigans):
I find many of these sorts of tops to rarely be day-appropriate. Unlike a beaded pencil skirt, which has the shape and structure of a traditional daytime piece, a beaded top just screams Club Top. However, with some very careful pairing and choice in sparkly blouse, it can work.
1. A light-colored topper – A white blazer with white sequined tank and jeans or trousers can work because of the pale hue. A gold lurex cardigan with a soft gold silk cami and camel blazer can be quite chic with denim or ivory trousers. Using the luxe fabric to create a pale-hued monoblocking trend makes sparkle and shine more daytime-appropriate. Stick with pale shades – ivory, dove gray, cadet blue, blush pink, peach, pale gray-green – this will keep the sparkle subtle and more luxe than nightclub.
2. Denim – again, denim balances dressy fabrics beautifully. A sequin-embellished cardigan can look too twee with a pencil skirt and pumps, but if worn on Casual Friday with dark crisp denim and simple camisole, it can be quite charming.
3. A complete suit – if you wear a classic gray, tan, or taupe suit with a light-colored glitzy top, it can work for day time. The subtle colors balance out the sparkle, and end up adding texture and interest to a classic boardroom ensemble. Black and ivory don't work as well – they can easily veer into cocktail party attire.
Style Choice
When wearing these formal fabrics, it's very important to balance them out with the silhouettes and styles of coordinating pieces. The reason I often mention denim and crisp white shirts is because they have very structured, classic, and day-appropriate shapes. Choosing pieces that contradict your dressy piece will make it look intentional and appropriate.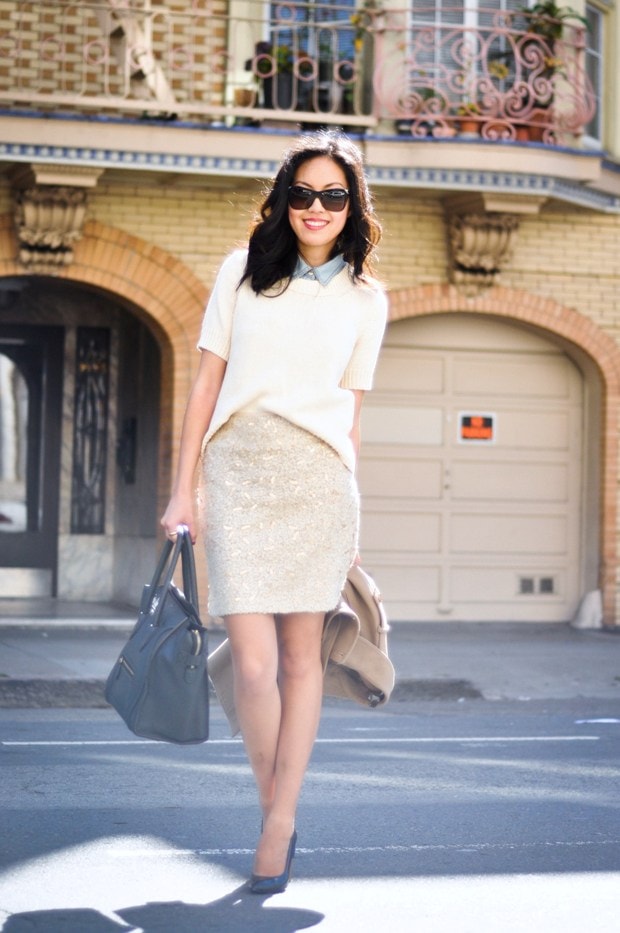 Blogger 9to5Chic makes a dressy skirt day-appropriate with a preppy sweater & shirt combination
Schoolboy prep, severe modern, rocker chic – these are trends that contradict formal fabrics and balance them for daytime. A prep school-inspired blazer with a frothy chiffon skirt, a leather biker jacket with a sequined pencil skirt, distressed denim with a Victorian-inspired lace blouse, tweed cuffed trousers with a beaded cashmere sweater – the mix is the key to making this trend work.
Shoe Choice
Again, success in wearing evening fabrics for daytime is all about intention. You can't rock a crisp white shirt and champagne-colored sequined skirt with a pair of black interview pumps, you can't wear velvet trousers with your driving mocs. While you don't want to wear overly casual or conservative shoes with such garments, you also don't want to show up at the office in silk D'Orsay pumps or metallic heeled sandals. As with the fabric pairings, you want something that properly tempers the formality of the garment.
EmileM on LOOKBOOK.nu balances her frothy skirt with booties
A shoe with some substance (caged sandal, platform pump, ankle bootie, wedge) usually is the best choice. Wearing an on-trend shoe with some heft shows that you are dressing with intention – your ensemble was put together with purpose, you didn't accidently throw on your bridesmaid dress instead of your gray wool jersey shift. Color is also important – as with the sweaters and tops with dressy fabrics, you want your shoe to be a color to balance, not draw attention. Black, gray, and taupe are all wise choices that show substance and intention. Steer clear of any additional glitz – keep zippers and hardware to a minimum, and leave your shiny fabrics and crystal embellishments for evening affairs.
Pieces that Don't Translate for Daytime
Glitzy jackets – I got the most adorable black sequined jacket off eBay for $12.99. Round neck, hidden hook and eye closure – cut more like a classic cardigan but all black sequins with black beaded trim. In my head, I saw it with a simple white tank and flowing trousers for work, maybe mixing patterns with a black and ivory dotted silk shirt underneath and ivory pants. Then I tried on the piece, stood in daylight instead of my bedroom and realized I looked like Corporate Liza Mineli.
Unless you work in a creative field, sequined and beaded jackets don't work for daytime. A bit of sparkle – some beading on the trim of a blazer, a sequined tonal pattern on the front of the cardigan – this can work in less conservative offices and environments. However a full-on disco ball should be left to after 5pm.
Cocktail dresses – I know your best friend told you that the bridesmaid dress you bought for her wedding could be worn again. She didn't mean it could be worn to the office. I have written about this before, but no matter what cardigan or blazer you put over that satin number, it's still a cocktail dress and it should be worn only for cocktail affairs.
This seems to be the crime against formal fabrics that I see the most – women on the streets of DC in ruched silk dupioni sheaths, trying to tone them down with opaque tights, a structured blazer and sensible pumps. Women in black lace overlay v-neck cocktail frocks covered paired with wrap sweaters and tall boots. I don't care what Lucky claims you can remix, a cocktail dresses are extremely hard to transform into day attire.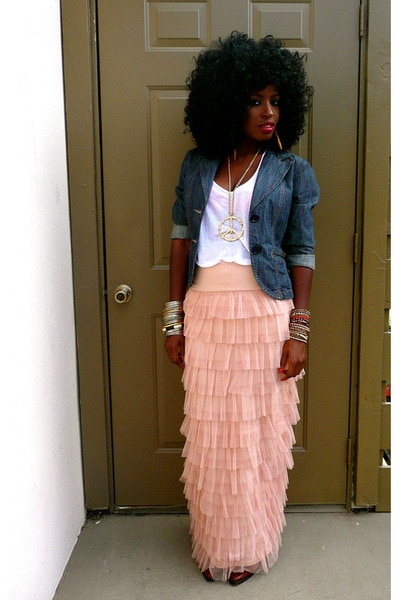 Blogger Style Pantry tempers a chiffon maxi with a denim blazer

Frothy maxi skirts – When I see Style Pantry's personal style, I swoon. This woman has an amazing knack for dressing down formal pieces (and knows how to wear color too!). She can totally and completely rock a chiffon or lace maxi skirt with a simple denim shirt and make you feel as though you can do it too. And you can… if you work in a very creative field and are a True Fashionista. The rest of us? Keep the ballskirts for the holiday fetes.
Formal shoes – Please leave your silk, satin, and velvet pumps and peeptoes, your rhinestone-encrusted and metallic delicate strappy heels in your closet until evening. Even if your pump is black, if it is of a formal fabric it is not daytime appropriate.
Most Important Tip!
Do as your supervisors do, not as your favorite fashion does. While many of us will sport sequins, satin, and shantung during the daylight hours, that doesn't mean it is acceptable in every place of work. I always quote the supervisor I had when I was a visual merchandiser, "Dress for the job you want, not the job you have." Notice what those in higher positions are wearing – even if they aren't as fashion-minded as you, do you think they would wear such fabrics if they were? If you work in an office of wrinkle-free chinos and pique polos, these sorts of garments may be pushing the envelope a bit too far.
If you wish to test your office environment, start small. A silk blouse in an unexpected color, a statement necklace with crystals and glitz, maybe a sparkly skinny belt over your sheath dress. See how it goes over – if you are receiving a lot of comments on how "bold" or "fun" your outfit is, that is often the polite way of saying you may have gone too far. A true test is an honest compliment by a superior… or even more – a day without a single person batting an eye. An office is not a runway – never let your outfit overshadow your talent.
Follow Me | Twitter | Facebook