This article may contain affiliate links; if you click on a shopping link and make a purchase I may receive a commission. As an Amazon Associate, I earn from qualifying purchases.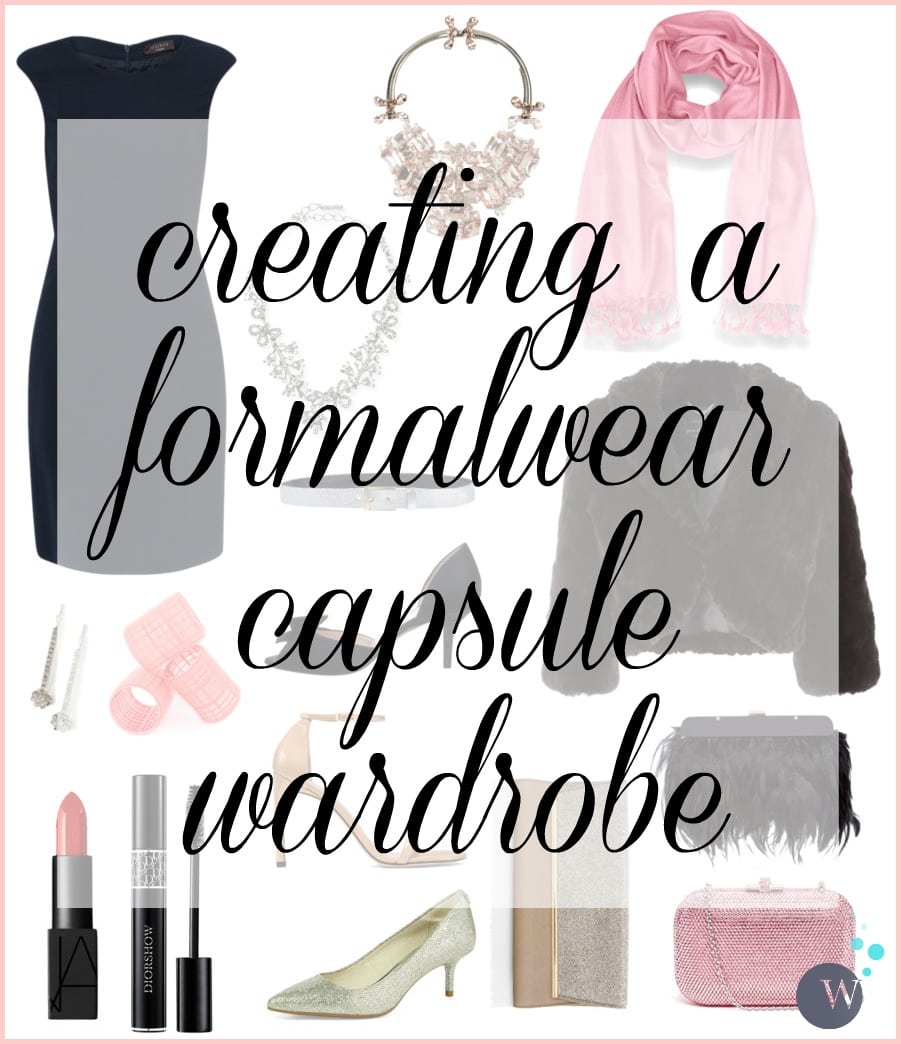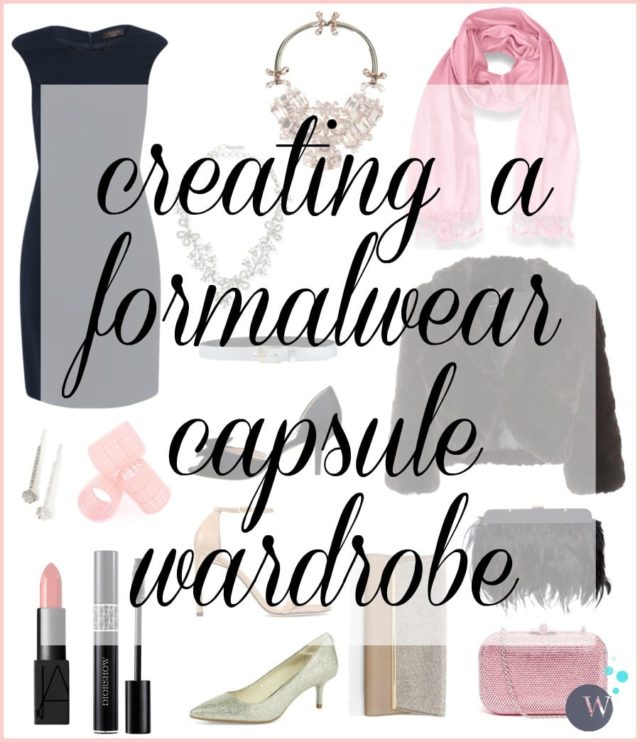 In my dressy fashion emergency kit post, Lisa mentioned in the comments that the post needed an image of a capsule wardrobe. It's funny, I write about capsule wardrobes all the time, but didn't even think of this emergency kit being a capsule wardrobe! I decided to elaborate a bit in a separate post as I think this is a brilliant way to be ready for formal and dressy occasions without spending a lot or increasing the size of your closet.
Trends are constantly changing, but they seem to go at a slower pace when it comes to formalwear. This is to your advantage because you can build a formalwear capsule wardrobe slowly, with care, and while perusing sale racks, consignment shops, and thrift stores. I have many pieces in my formalwear capsule wardrobe that date back to my college days or were passed down to me by my mom; there's something to be said for old Hollywood glamour – it never goes out of fashion!
When it comes to a formalwear capsule wardrobe, the clothing is actually the smallest part. With a good wardrobe of accessories, you can dress for most dressy occasions with a simple not-so little black dress. Sleeveless is the easiest to transition seasons and look dressy, but the dress can any type of sleeve that makes you comfortable. I also mention it's a not-so little black dress. While the "LBD" is a popular term, few people actually look good in a little black dress. A simple sheath, a fit and flare, a bias-cut column, a long-sleeved shift… all of these are not only figure flattering but more versatile than a little slip of a frock. The importance is fabric; you want a fabric that can dress up nicely without being too memorable or too season-specific. Silk, taffeta, crepe, gabardine, matte jersey, silk jersey, lace overlay… these are all fabrics that can dress up or down with ease. They will catch the light without overwhelming and make for a great canvas for your complete formal work of art.
For those who don't like dresses, separates can work. A formal pantsuit or female tuxedo, often called Le Smoking, is a chic alternative. I also included a formal skirt, which can really be quite versatile (pair with a crisp white shirt, a cashmere tee, a sequined or beaded shell, a tailored velvet blazer, a silk blouse in a festive color). The point is having a base that is appropriate and versatile. Such a skirt is most versatile at midi length as it can be day or night appropriate. With both the pantsuit and the skirt, you want to err on the side of dressy fabric that is still seasonless. Silk and variations like shantung, moire, and Dupioni, taffeta, and synthetics that give an elegant finish and have a bit of a sheen that picks up the light and looks formal.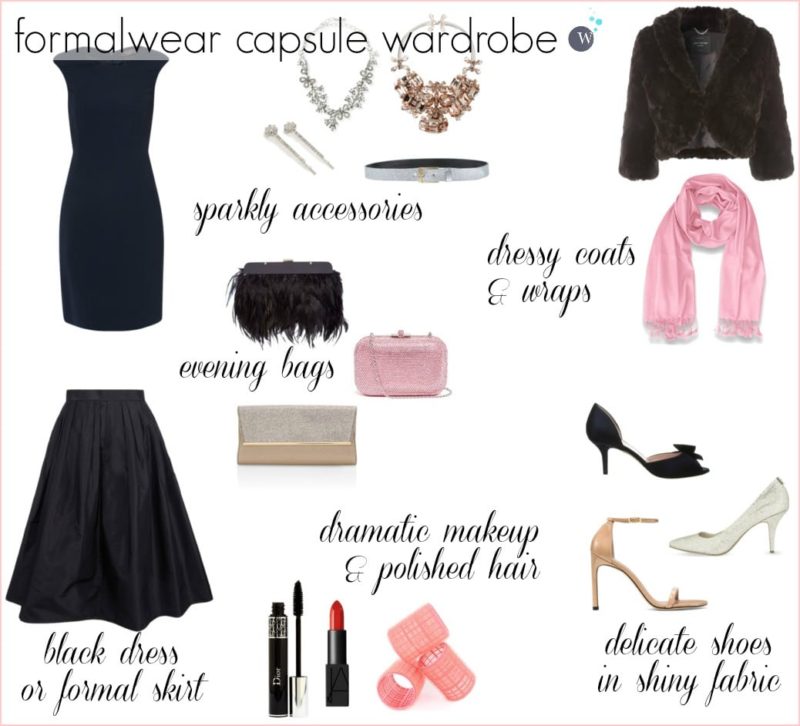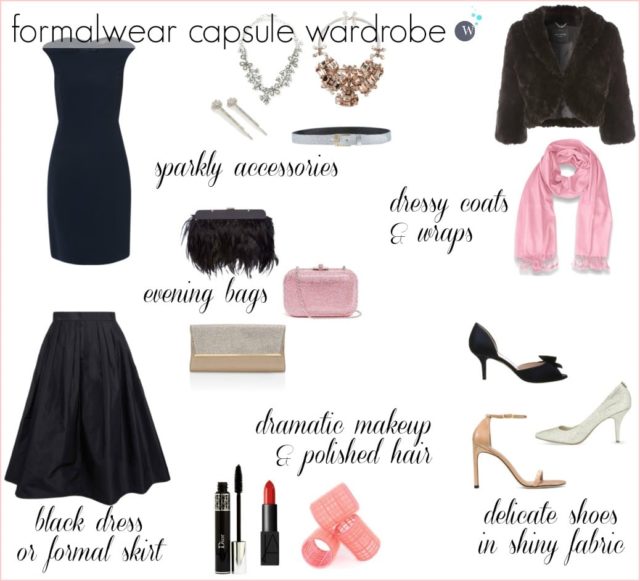 Shop the Look: Sheath Dress | Skirt | Silver Necklace | Pink Necklace | Barrettes | Belt | Black Bag | Pink Bag | Nude Bag | Mascara | Lipstick | Rollers | Faux Fur | Pashmina | Black Shoes | Glitter Shoes | Nude Shoes
Once you have your base, you'll see how your choice of accessories can completely transform your look, giving you outfits for dozens of events all months of the year. In this capsule wardrobe, I show how a collection of accessories can give you a variety of dressy looks with varying levels of festiveness and formalness.
The easiest way to dress up a look is to add some sparkle. A statement necklace is an easy way, and an item that can be found at a multitude of retailers for a variety of pricepoints. This is also a way to add some color if the event is centered around a holiday or theme. Other ways to add sparkle is by adding a skinny belt (I just bought this glitter belt from Talbots to add to my formalwear capsule wardrobe) or hair accessories.
A change in your bag is a quick way to go from desk to drinks with a not-so little black dress. Again, this is a great opportunity to add some sparkle. Don't be afraid to have fun with your bag; this is a great way to infuse your personal style in a formal look. This is also a great way to add an accent or signature color; for this capsule wardrobe I used pink as the signature color but any hue would work! I suggest having more than one bag; such bags are often found at thrift stores and you can find adorable ones that look elegant at teen accessory stores, especially around prom time. As you see from this capsule, I chose a nude, a black, and a color to have the most versatility in regard to seriousness as well as time of year.
Shop this Capsule Wardrobe:


As I mentioned in my previous post, your choice of outerwear can make or break your formal look. If you own a longer wool coat, that can work just fine (consider purchasing a sparkly brooch and wear it on the lapel). A faux fur is a budget-friendly way to add glam to your ensemble; I have found fabulous faux and vintage furs at thrift stores for very little. In my personal formalwear capsule wardrobe, I have a black hooded faux fur from a thrift store, a Persian lamb I inherited from my semi-grandmother, and a fur stole that has been in my mom's family for a long while. For warmer weather, a pashmina or stole is a great choice and a wonderful way to add color (or even more sparkle!) to your look. Stoles, wraps, and pashminas are pieces that really don't go out of style; I have a black crepe wrap with long silk fringe trim and embroidery of peacocks on it that I bought on clearance at Express in the late '90s; I still wear it and every time I get compliments and people wondering where I got it and if it is vintage.
Shoes are a way to finish a look, and your shoe is especially important when making a more basic dress look formal. For this capsule, I included the three most popular styles of evening shoes – a D'Orsay heel, classic pump, and a delicate strappy heel. While a heel gives a more formal feel, do not sacrifice health or comfort for fashion. Keep the shoe as delicate as possible (straps, open sides, etc.) and choose a shiny fabric (glitter, silk, satin, rhinestones, even patent leather gives a dressier feel).
Though one doesn't usually include beauty products in a capsule, such items can provide as much or more impact than a garment. In my original post I discussed the merits of a red lip; for those who are more comfortable with cosmetics may also wish to up the glamour with dramatic lashes. I don't have the skill or patience to apply false lashes but love DiorShow for a lush look. I've also had great success layering mascaras – a coat of lengthening, then a coat of a volumizing formula, then lengthening again. And as mentioned in my original post, a pack of cheapy Velcro rollers from the neighborhood drugstore can give body and soft waves for anything from bobs to waist-length tresses.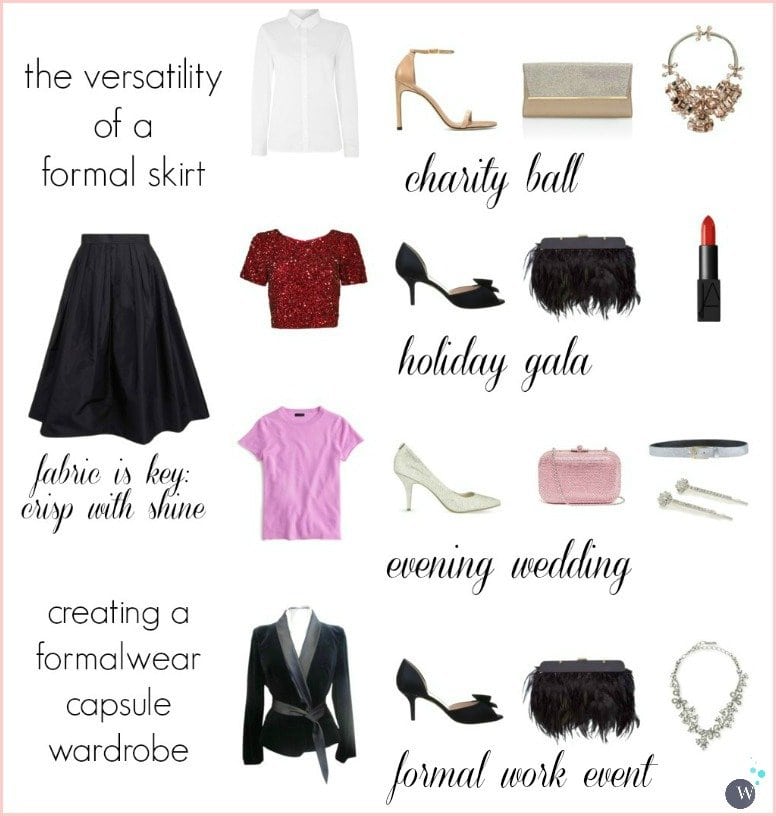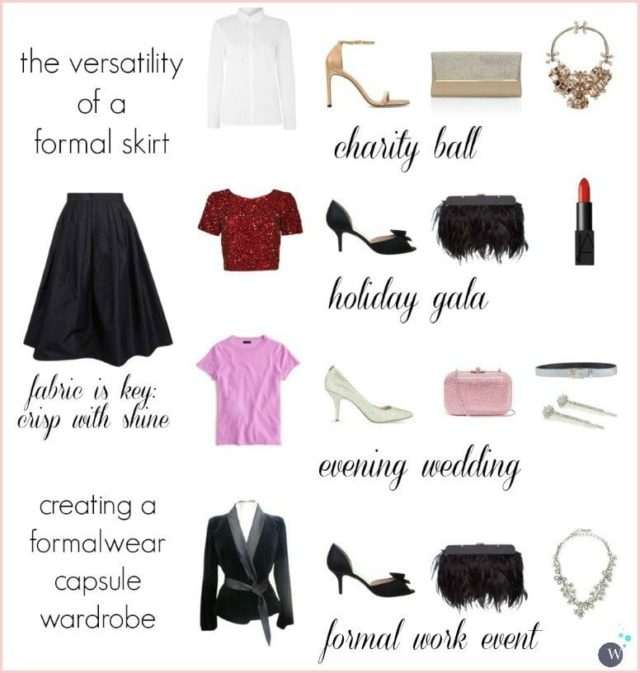 To show how such accessories can truly create a variety of looks, I took the formal skirt (the one I own I found on Poshmark for only $35, you can see me wearing it in this post) and created four different looks with the same accessories in the formalwear capsule and a variety of different tops. The lighter colored accessories help a black skirt look appropriate in warmer weather, the darker ones add sophistication and a serious tone for more conservative events, and glitter is perfect for a party or happy event.
Creating a formalwear capsule wardrobe will help you be ready for any events that pop up on your calendar, but also save money and achieve more style with less clothing. Shop slow, shop with care. Spend money on quality and tailoring instead of trends when it comes to the base (dress, pantsuit, skirt) and be more fun and trendy when it comes to the accessories since they get less wear. Soon you will have a hardworking and versatile capsule wardrobe for any formal or dressy occasion that comes your way!