This article may contain affiliate links; if you click on a shopping link and make a purchase I may receive a commission. As an Amazon Associate, I earn from qualifying purchases.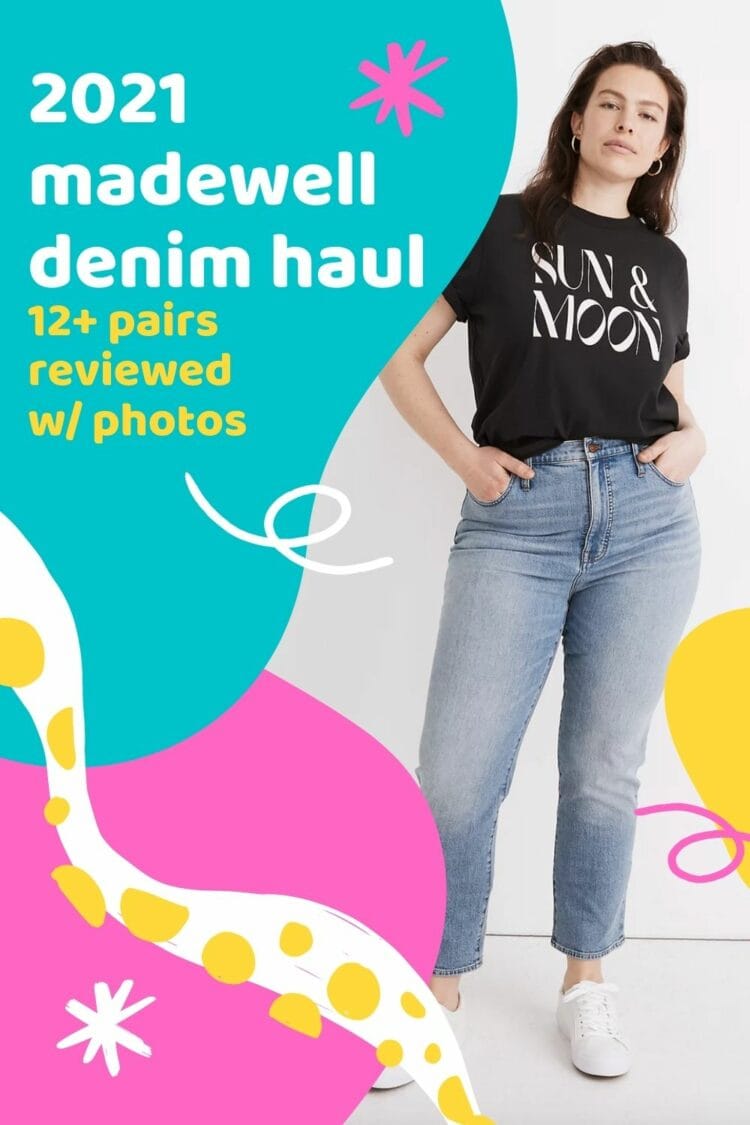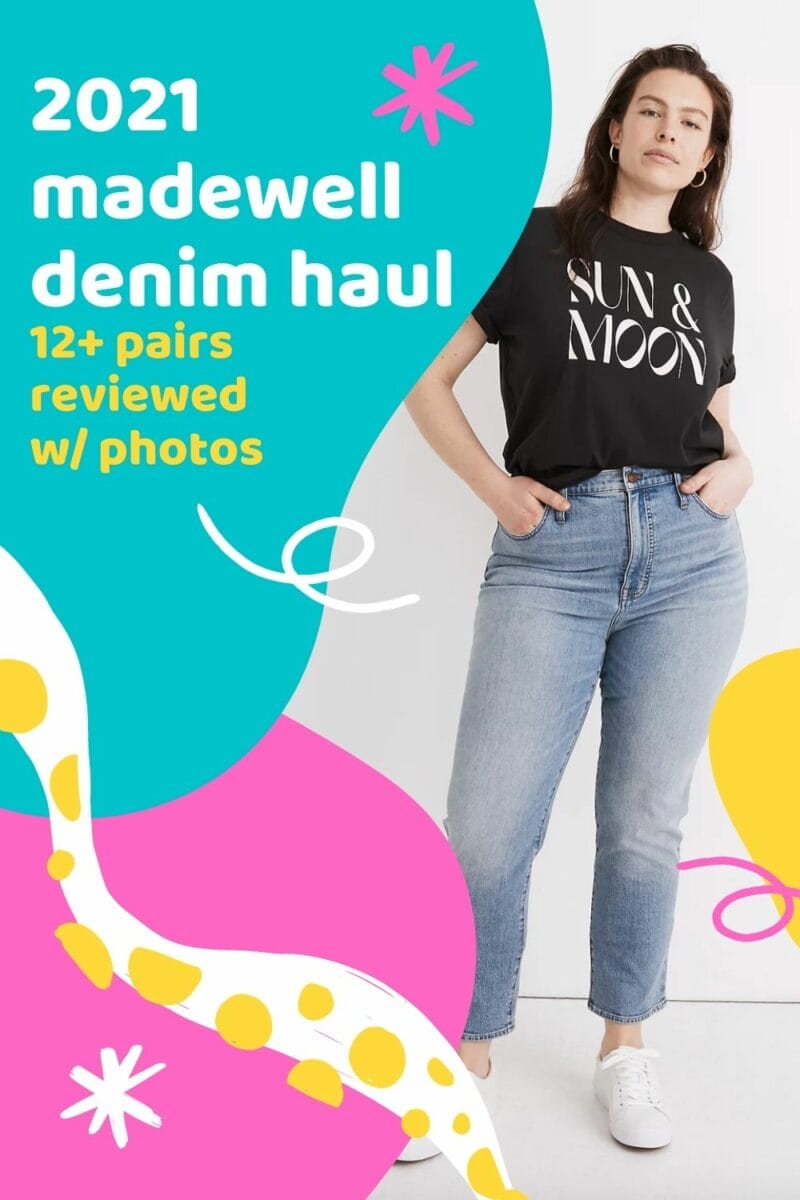 Over the years, so many of you told me how much you love Madewell denim. The size range, the fit, the stretch, the style. And every couple of years I think maybe I should try Madewell. I do a big Madewell denim haul, buy half a dozen pairs, and end up returning them all.
But this season, with the new denim trends, I wouldn't be ordering skinny and/or stretchy like I have in the past. So I decided to try Madewell out again. After writing my post about the top three spring denim trends I was itching for some faded denim that was full-length, and either a straight or relaxed/balloon/barrel silhouette.
What is Madewell?
Madewell was originally a Massachusetts-based company that created workwear (think Carhartt). J. Crew CEO Mickey Drexler acquired the Madewell trademark in 2004. Drexler had the dream of creating the next Levi's and in 2006 started Madewell to make that dream a reality.
While J. Crew has a strong brick-and-mortar presence, Madewell has always focused on internet-based shopping with far fewer stores. They use the purpose of the original Madewell as inspiration for their collection of apparel. You will find chore jackets, bandanas, coveralls, and plenty of denim, but all with a feminine spin and a nod to current trends.
Madewell is great for on-trend denim done well. They get the right washes, the right hem lengths, the right amount of distressing. They're also great for classic fits and washes you can rock for many stylish years. They also have a nice size range with most of their clothing up to size 24 with petite, tall, and taller offerings so I feel better featuring denim I know the majority of the Wardrobe Oxygen audience can also wear.
What Size I Wear in Other Denim Brands
I am 5'3″ and usually a size 14 in jeans. For brands that sell by waist size, I am a 32 or 33 depending on the brand. I do best with petite sizing for my rise, but occasionally find petite jeans too short for me, even with flat shoes.
Some of my favorite fitting jeans are Talbots Slim Ankle in 12 regular or 14 petite (depends on wash and what shoes I'm wearing), Universal Standard Seine High-Rise Skinny in 10 (petite fits perfectly in rise but is too short at the hem so I get the 27″ regular which is still a better fit than most retailers), Chico's Girlfriend Ankle Jeans in 2 petite, and Everlane Authentic Stretch High-Rise Skinny Button Fly in 32 ankle.
These Are a Few of My Favorite Jeans:
To be honest, I haven't worn a lot of denim this past year beyond my Universal Standard jeans and a pair of now-discontinued straight leg Sculptex jeans from Athleta in 14 petite seen in this blog post (please bring them back Athleta, I'd buy them in every color). I know my body has changed over this past year and decided to err on the side of too big than too small for this Madewell denim haul review.
What Denim I Ordered from Madewell
While I love my Athleta Sculpex jeans (seriously Athleta, please bring these back), I was looking for something a bit more rigid/heavyweight and had a longer inseam. A high-rise, not tight, full-length jean in a faded wash, preferably with some distressing.
When researching my spring 2021 denim trends post, I saw the Madewell Balloon Jean and crushed on the silhouette. I was seeing a linen v-neck or graphic tee knotted at the high waistband of the jeans, a pair of gold hoops, my white Birkenstocks as my leaving the house look, and I could glam it up with a jacket or blazer or more jewelry or dressier shoes.
And I was attracted to the vintage feel of The Perfect Vintage Jean. It looked great on all the Madewell models and came in some great washes and distressing.
What Sizes I Ordered From Madewell for this Denim Haul
I am a 32 or 33 for most denim brands and Madewell is known for running roomy so 32 would likely be my best size with the brand. However, size 32 was sold out in the washes/styles I was interested in every time Madewell had some promo or I got inspired by a look on Instagram to place an order.
If I wanted skinny jeans or dark jeans from Madewell, there were plenty of 32s, but for the relaxed and faded styles, they were out. I decided to just order 33 and 31 and if something was almost awesome, I could exchange it when 32 was back in stock.
Madewell Denim Haul: Sizes 31-33 on a size 14 body
I had some size 33 jeans that were so comically big, photographs in them wouldn't be helpful. The same held true for some of the size 31 jeans that I couldn't even get over my knees. Below I share one pair I couldn't close and one pair that was too large, just for comparison. What I photographed for this Madewell denim haul review:
The Jeans I Ordered from Madewell:
We shot all of these on the same day, actually the same hour. The t-shirt is the Universal Standard Tee Rex in XS. The shoes are the Birkenstock Arizona.
Madewell Perfect Vintage Jeans Review
The Madewell Perfect Vintage jeans get rave reviews for fit, quality, and style. Online they looked like just what I wanted – a straight, not skinny fit, high rise, full-length leg, and cool faded washes and distressing options.
A Reminder that It's Not You, It's the Clothes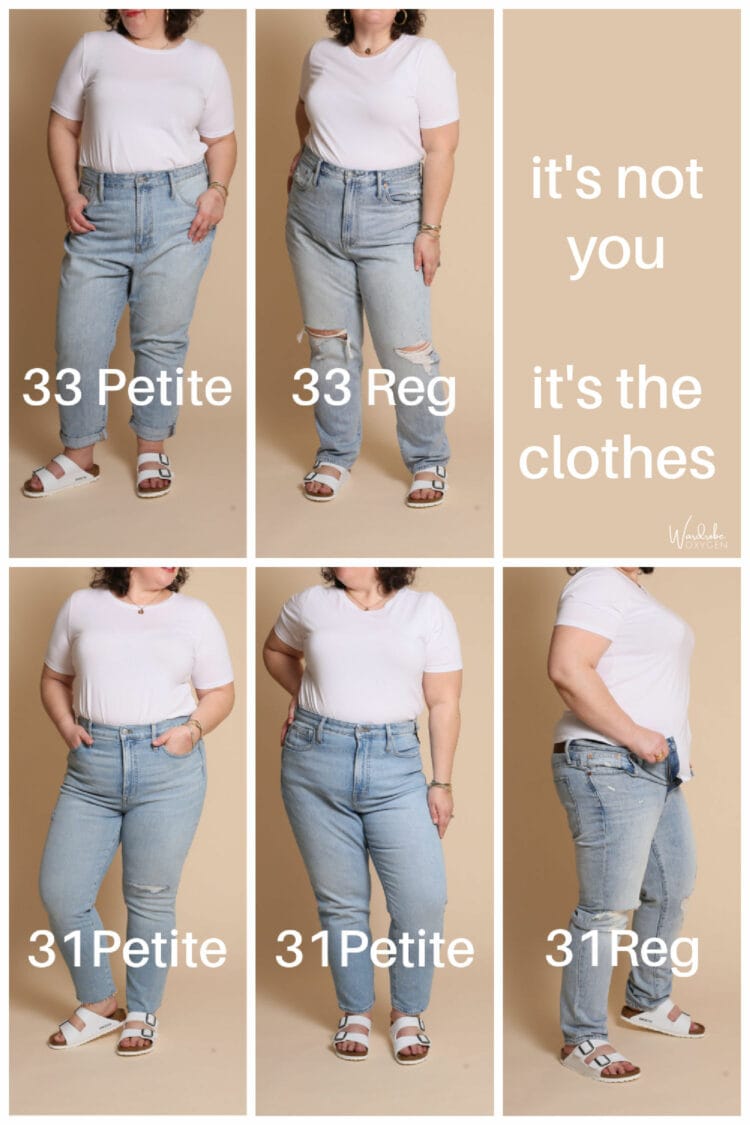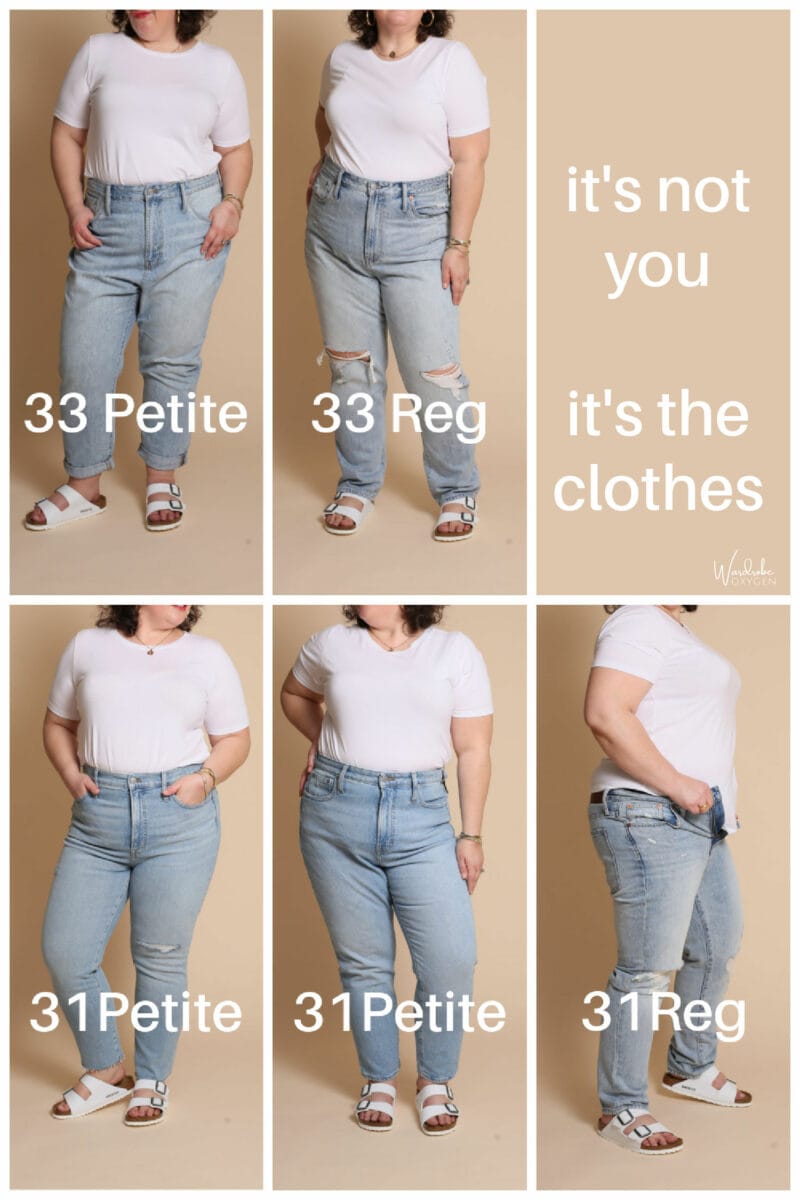 When I tried on these jeans the first time I was so frustrated… but also ashamed. It seemed like the entire internet thought these jeans were the shizz and they looked like doo-doo on me. Wow has my body changed that much since a year ago? I don't weigh myself but my clothes still fit… but most have stretch or are a relaxed fit… oh damn did I let myself go?
I started blaming myself for these jeans looking bad on me. I've spent years preaching on this blog about it not being our bodies, but the clothes that are the problems, and a cardboard box of denim could have me forget it all I learned and shared in an instant.
My body didn't change during this hour-long photo shoot, other than getting sweaty from running up and down the stairs yanking on jeans. To have two pairs of 31 petites fit differently enough to look like different styles or brands and to have the 31 regular of the same exact style not even be able to be zipped up… that is a problem.
And with that, let's proceed with the Madewell Perfect Vintage Jean review!
The Petite Perfect Vintage Jean, size 31 Petite, Coffey Wash: Worn-In Edition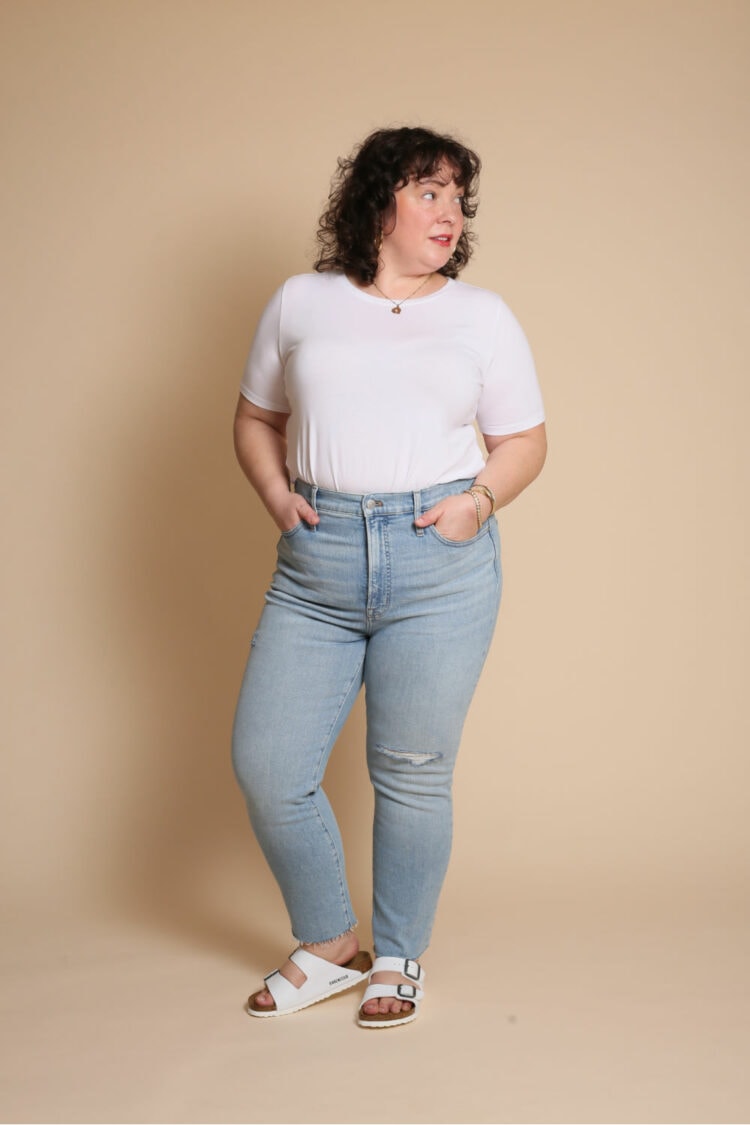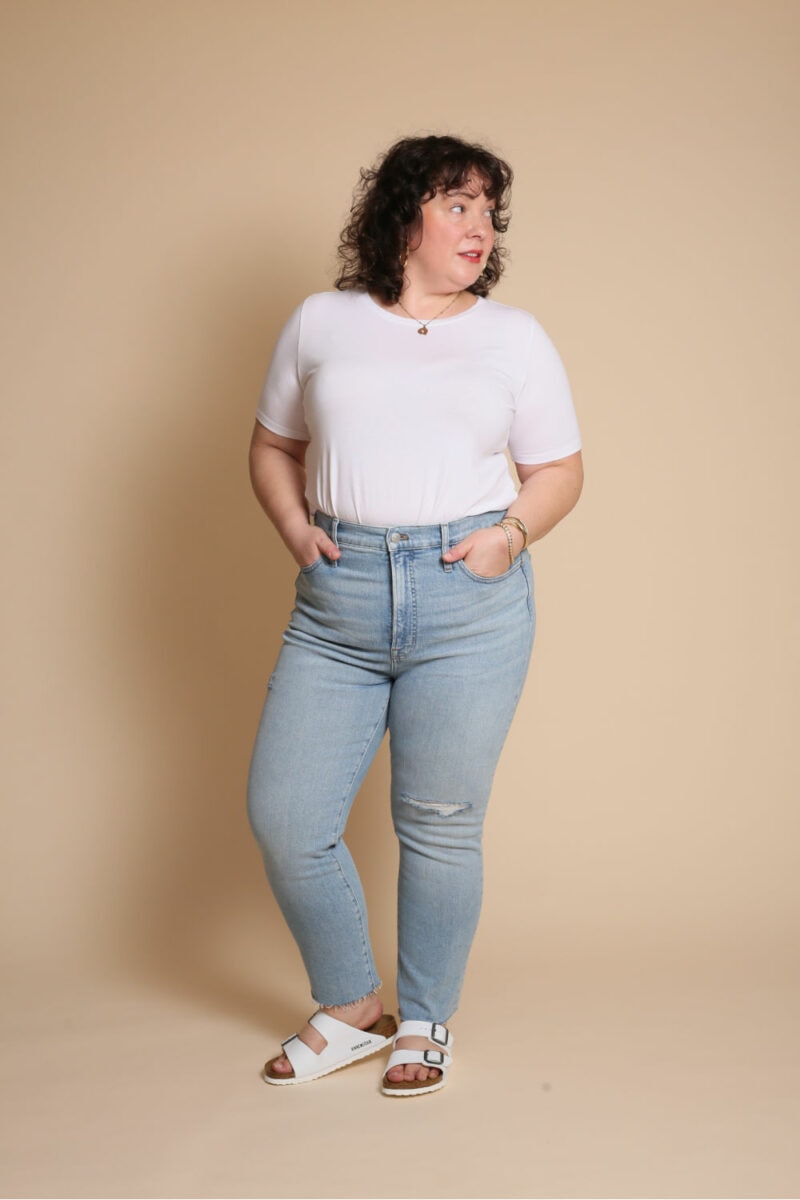 These are the Petite Perfect Vintage Jean in Coffey Wash: Worn-in Edition, size 31 petite. These were the best fitting jeans of the entire lot. They're snugger in the legs than I want, but I know I'm expecting a lot with my wide calves and solid thighs. I mean, NYDJ Marilyns look like skinny jeans on me.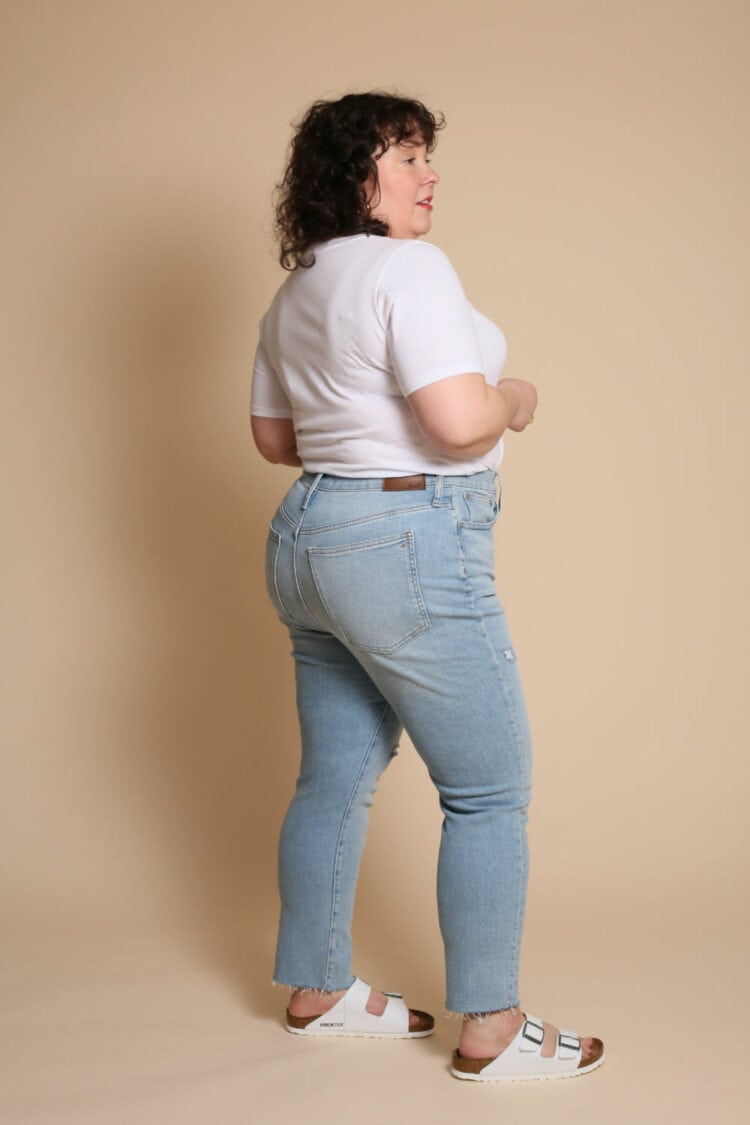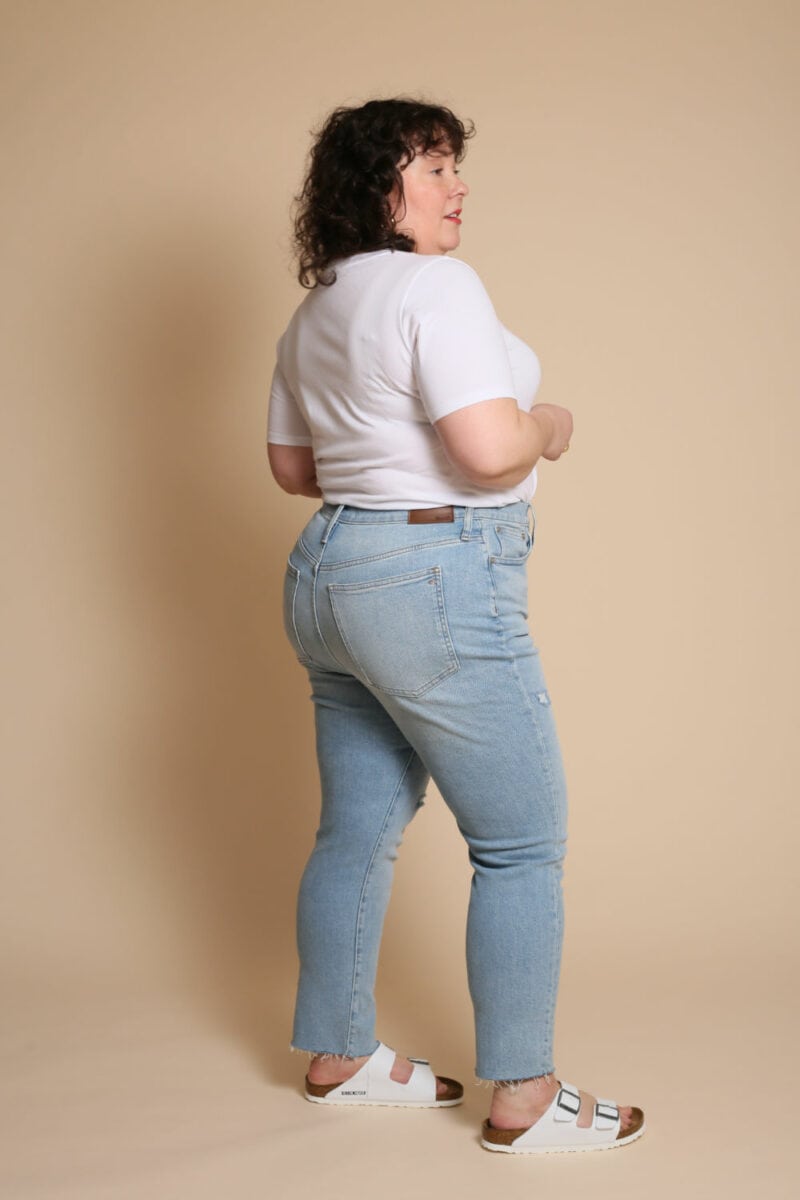 But these jeans do nothing for my ass, and while the hips are snug the waist is loose. A 32 would be shimmying down all day long. And I have never been a fan of the cut-off edge, just personal taste.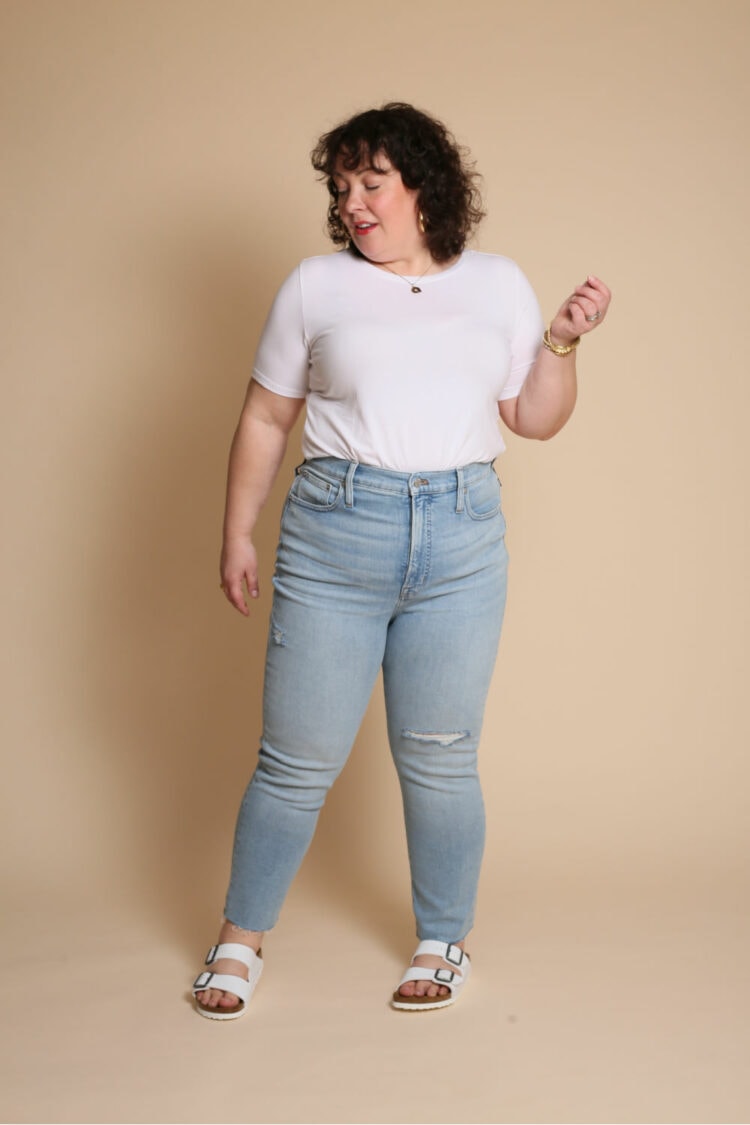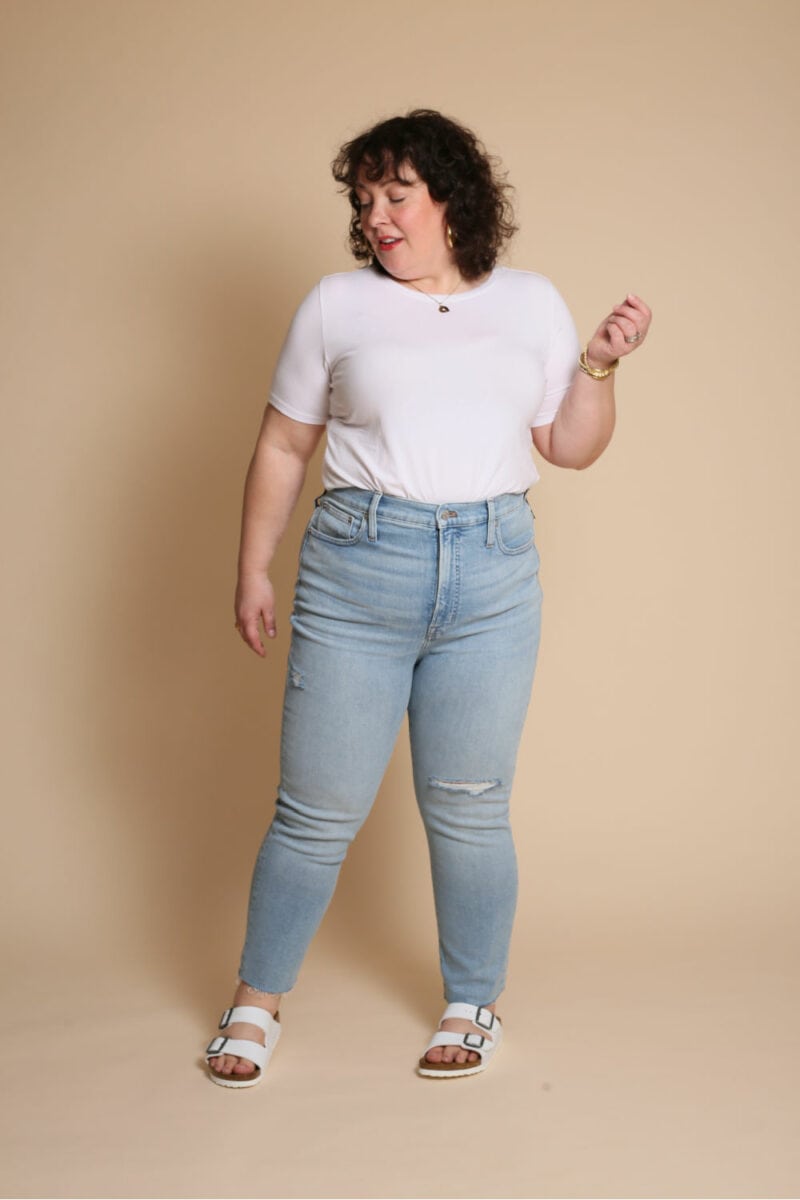 I returned these jeans. The fit was wrong for me, but the quality of denim was good and the details like wash and distressing were well done and not cheesy.
I'd wear them with a striped sweater and cognac leather flats or a swingy colorful tank and brown sandals.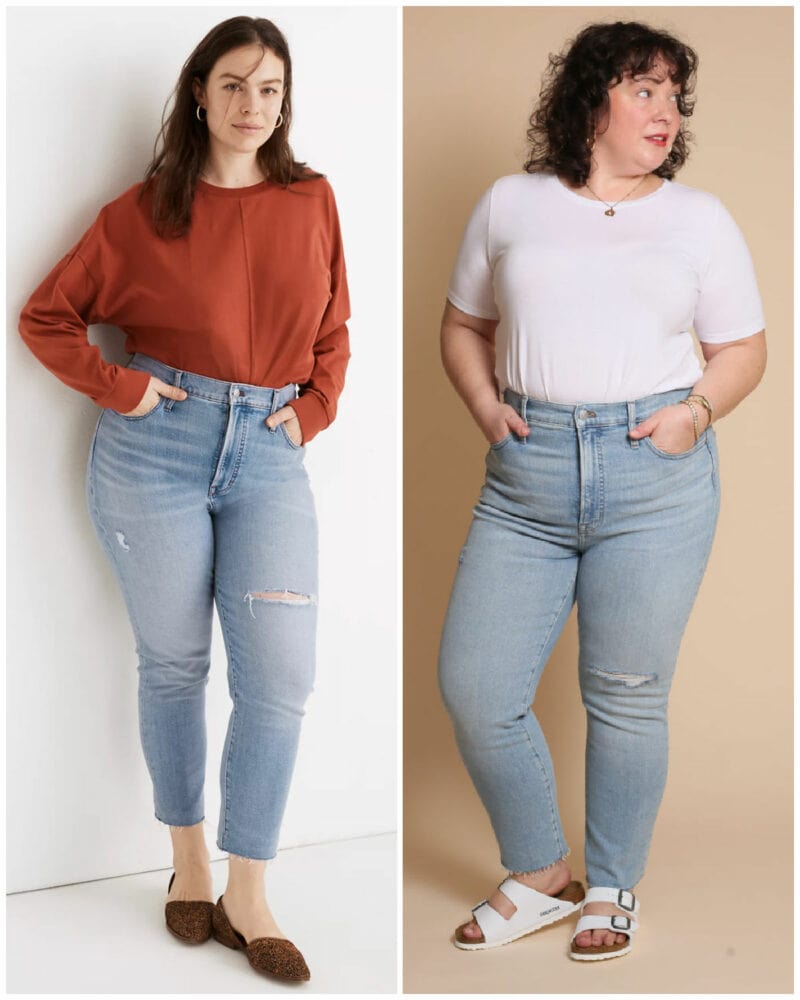 The Petite Curvy Perfect Vintage Jean, size 31 Petite, Fiore Wash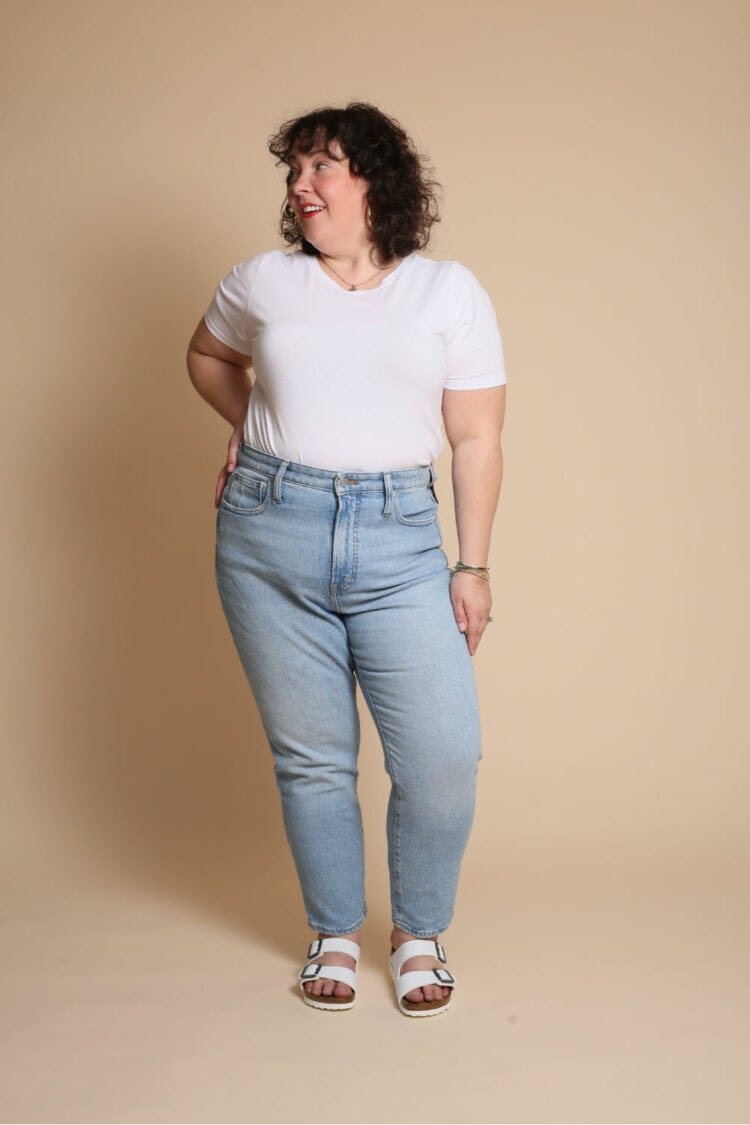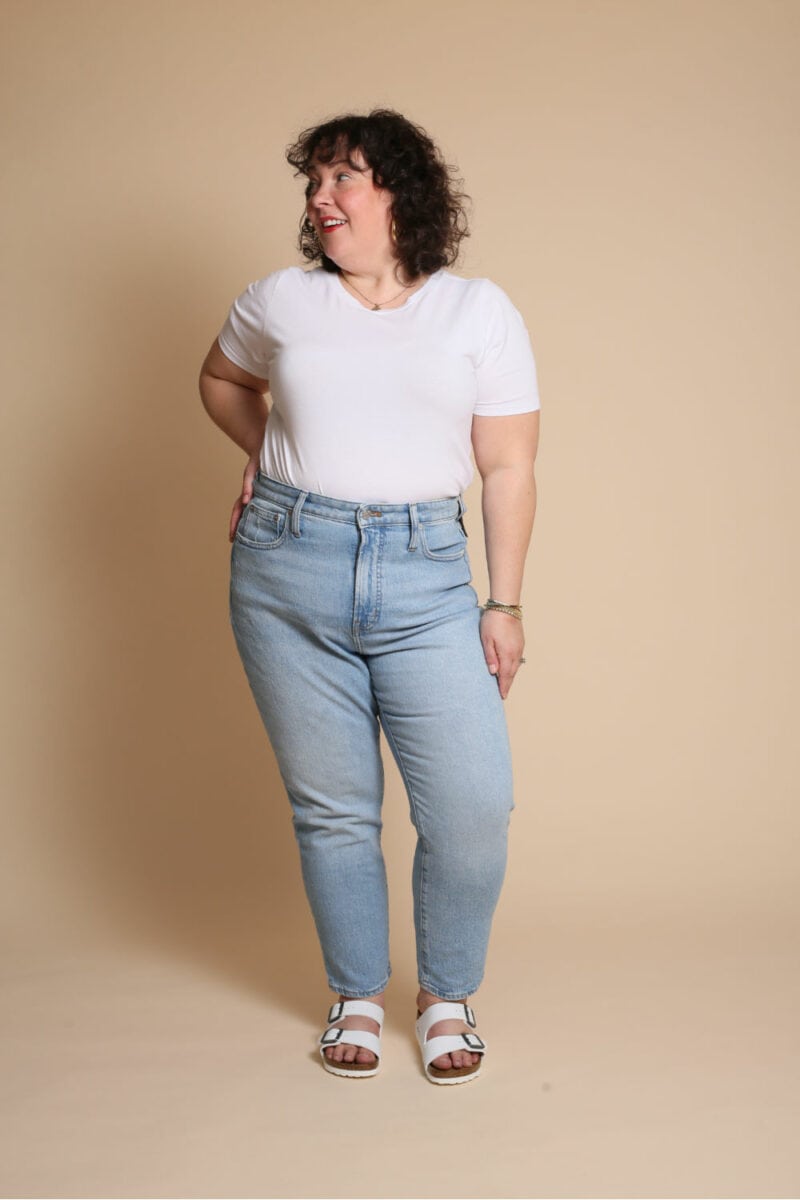 This is the Petite Curvy Perfect Vintage Jean, Fiore Wash, size 31 petite. I don't usually choose a curvy fit because while I have curves in my bum and belly, I am otherwise straight up and down. However, this is rigid denim, it's a brand I hadn't tried in a bit, I thought it made sense to try.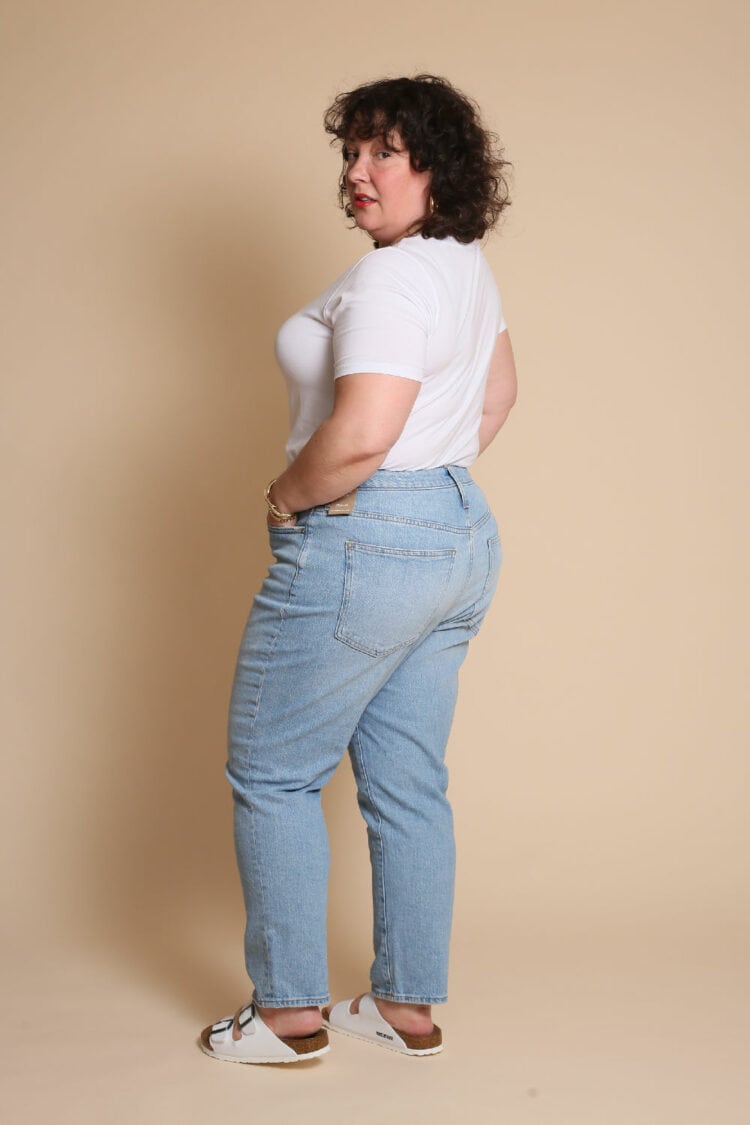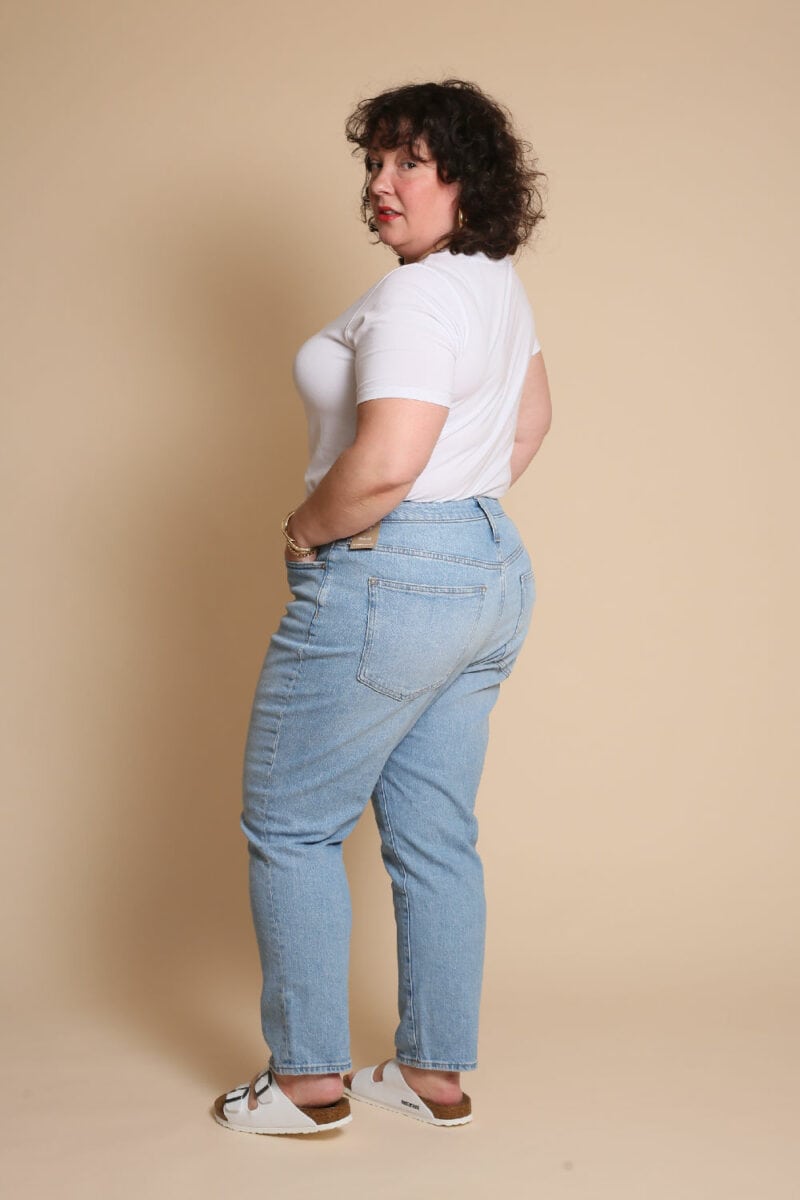 I found this pair of curvy jeans to have more room in the hips, thighs, and legs and fit more like how I wanted a pair of spring trend denim to fit. They also fit my bum better than the non-curvy version of the Perfect Vintage jeans.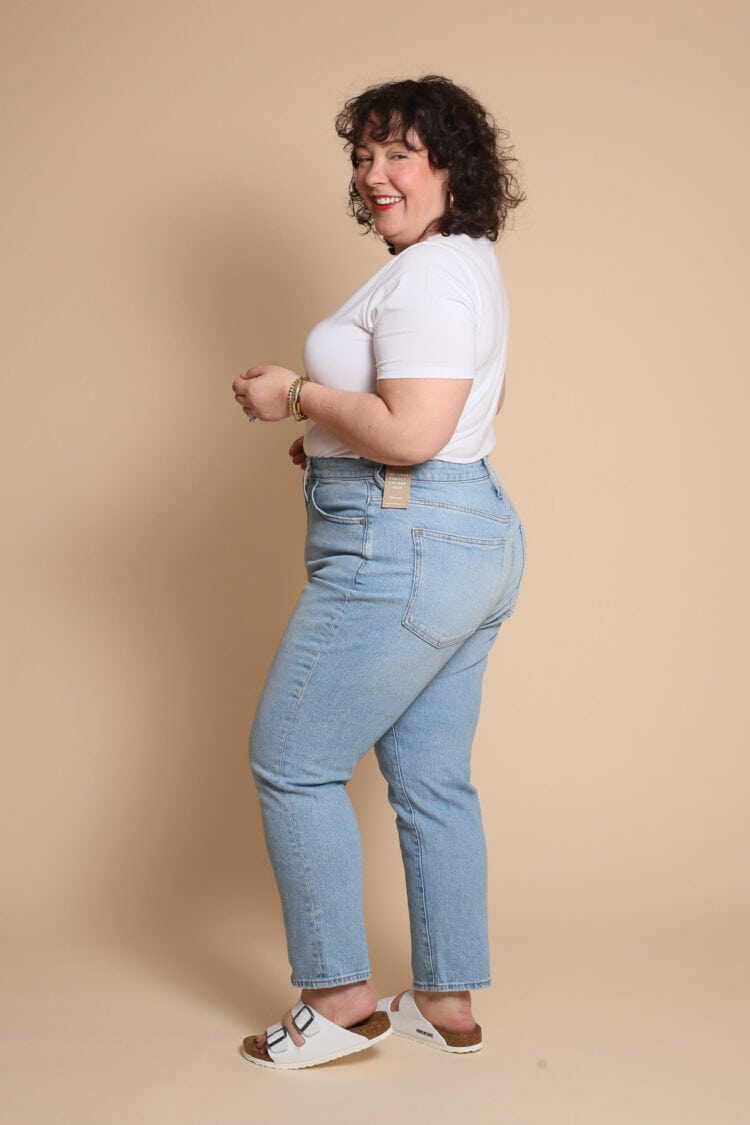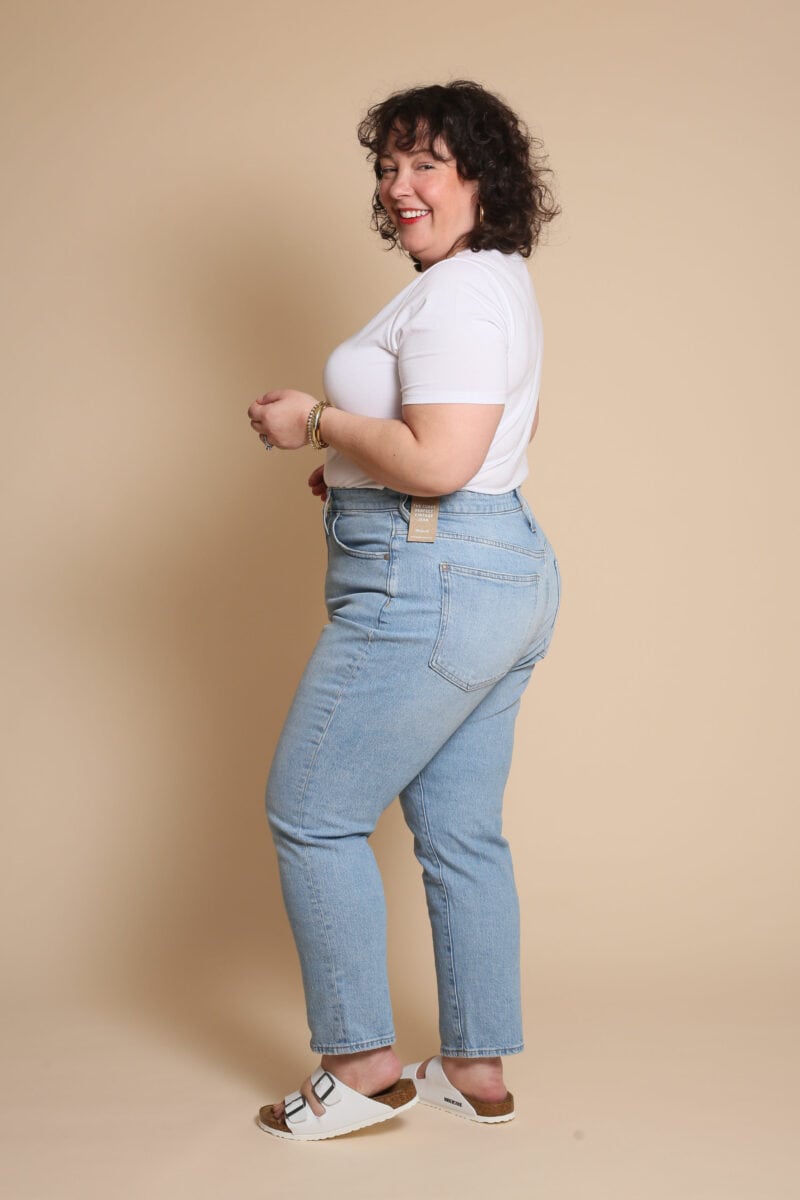 However, I am experiencing the same thing I find with all Madewell denim – too much fabric at the crotch. I feel like I was wearing some Duluth Ballroom jeans for men. If I hike them up, they just slide back down leaving me with a phantom denim penis.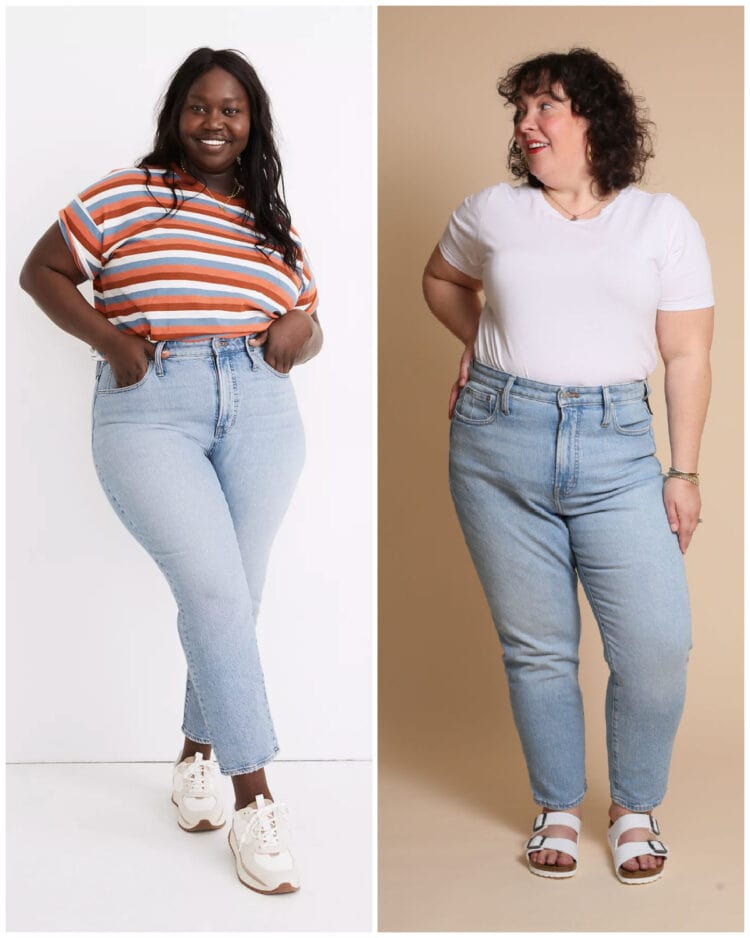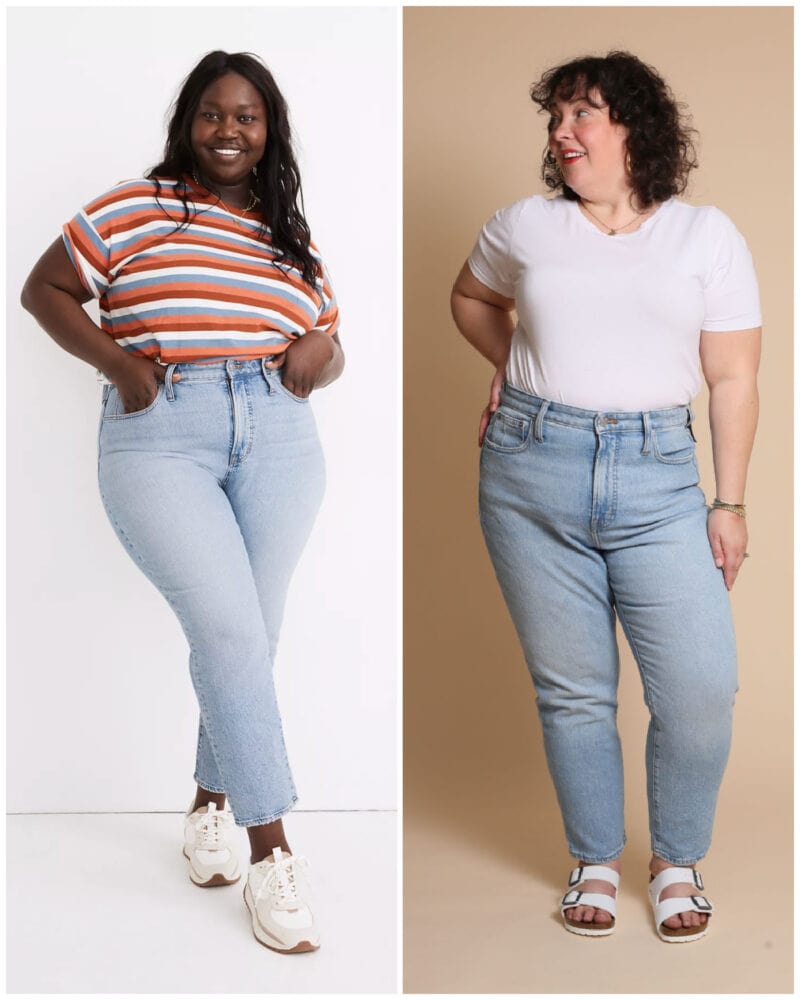 The Petite Curvy Perfect Vintage Jean, size 33 Petite, Fitzgerald Wash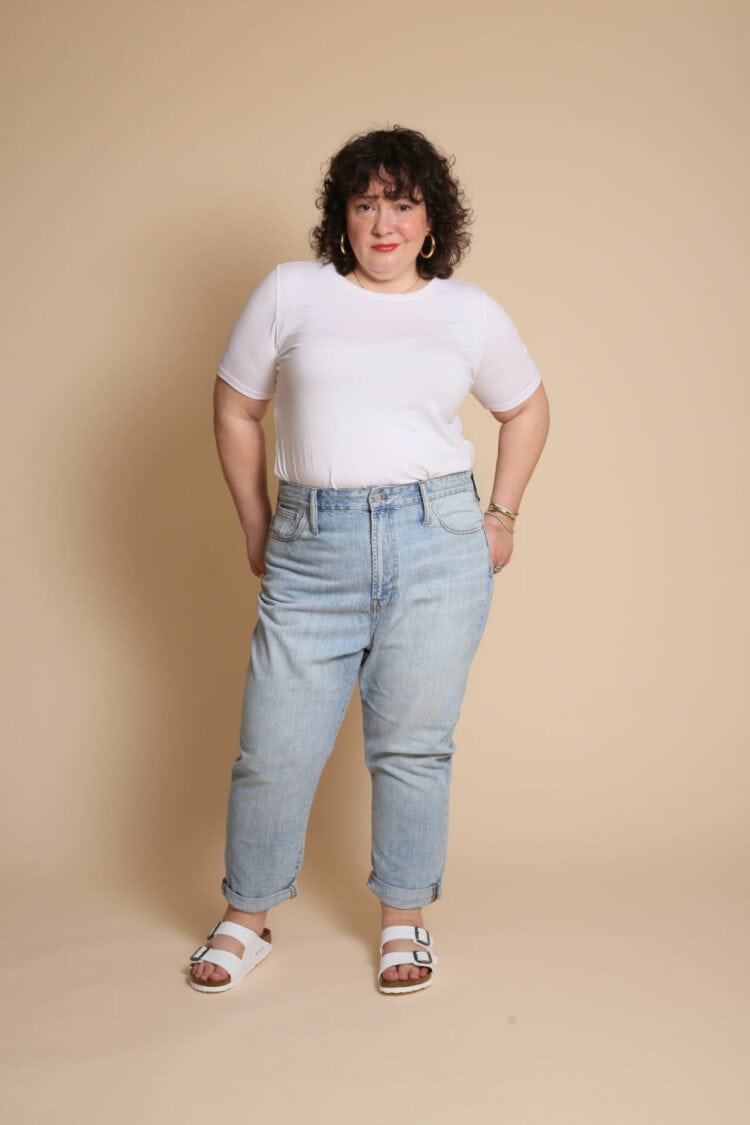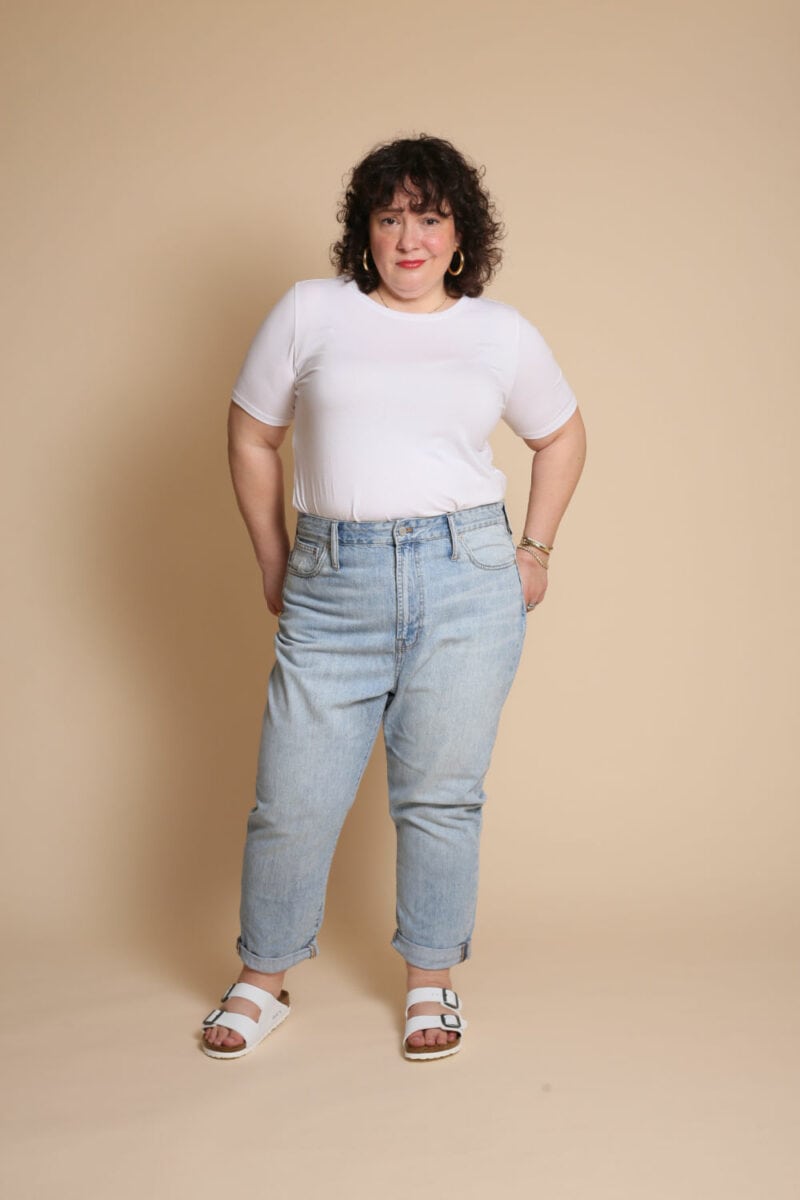 This is The Petite Curvy Vintage Jean in size 33 petite, Fitzgerald wash. While petite, these were way too long in the rise; this one photo shows how much length there is from zipper to crotch seam.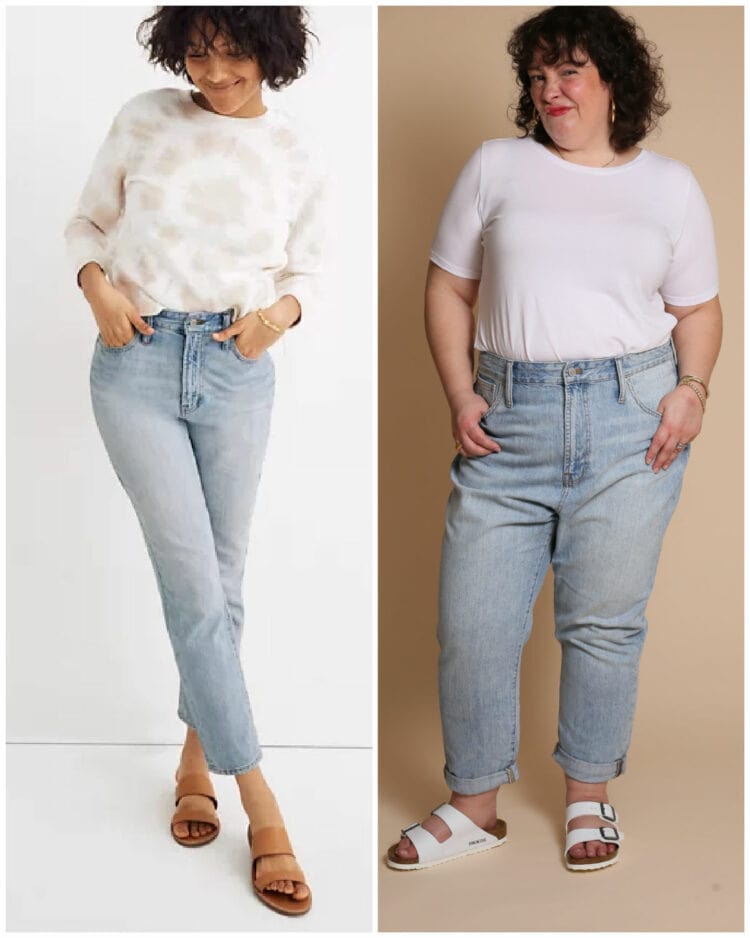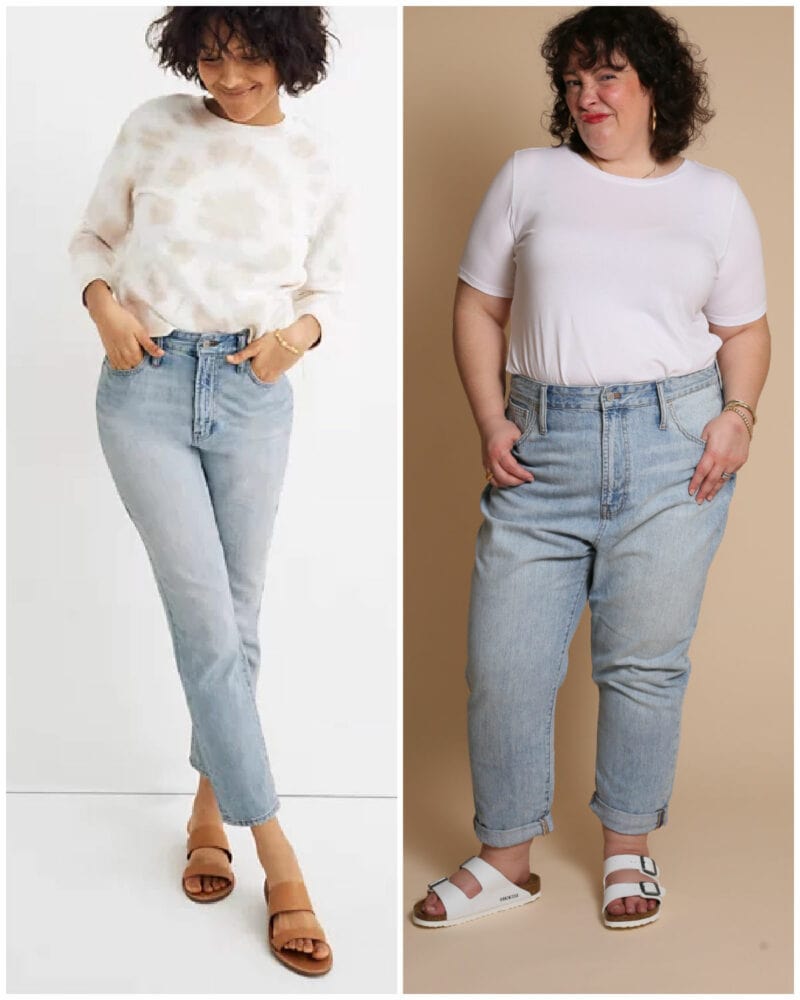 Also, these came cuffed twice, and ironed/pressed cuffs while not cuffed on the site. If I uncuffed these petite (they weren't sewn in place), they would be way too long.
I was 5'3″ at size 6, I was 5'3″ at size 16, and both times I needed petite to fit in rise. These jeans don't fit like a petite fit, even with a high rise. If these didn't have all the labels match, I'd swear these were mislabeled and actually a different style of jean in 33 regular.
The Perfect Vintage Jean, size 31 Regular, Calabria Wash: Ripped Edition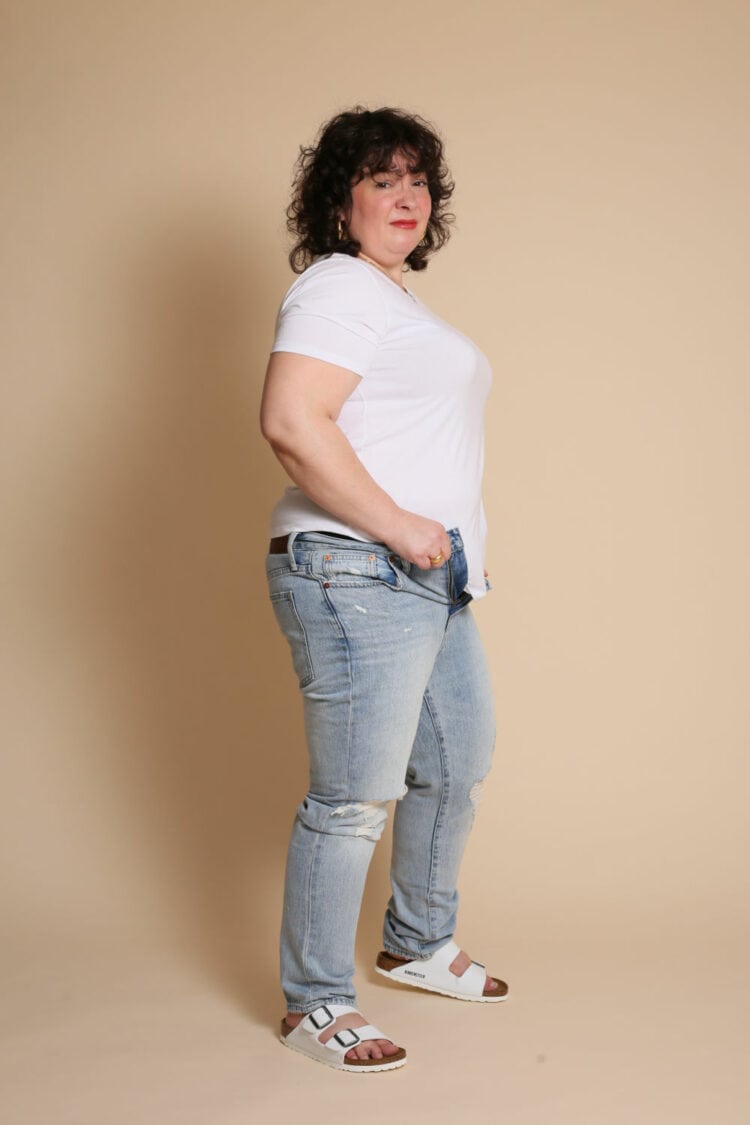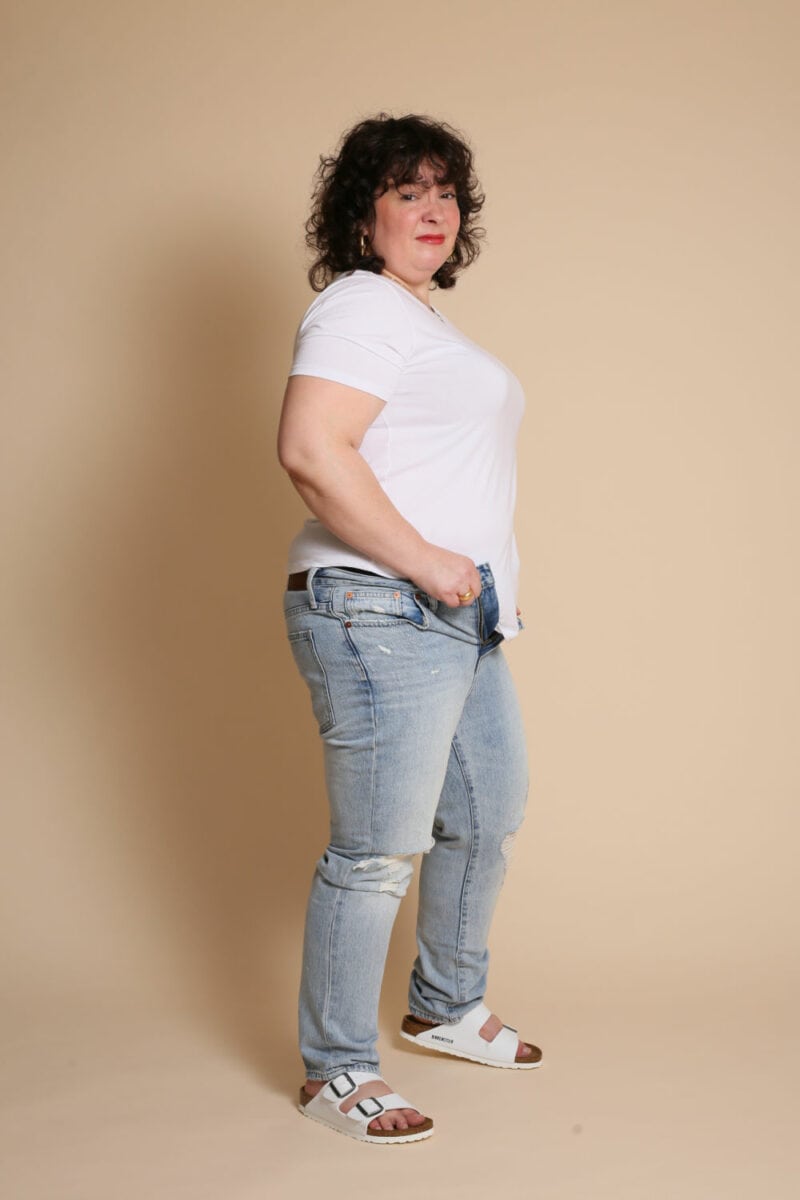 I struggled just to get these over my calves, and couldn't pull them over my thighs and butt to get anywhere near zipping them. Of course, these had the wash and the distressing I liked the most.
As mentioned before, I ordered other 31s that were even smaller than these jeans, yet other pairs in this post buttoned closed easily and comfortably. If the jeans you ordered feel surprisingly large or small, it's the jeans, not you, that are the problem.
The Perfect Vintage Jean, size 33 Regular, Calabria Wash: Ripped Edition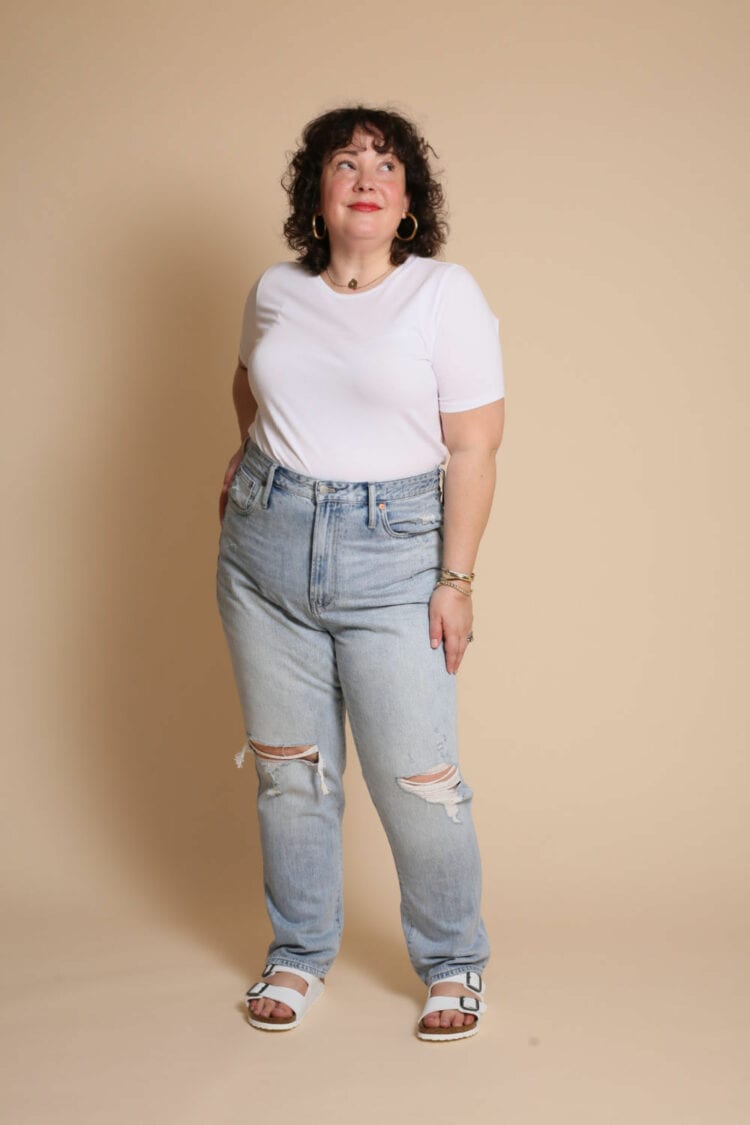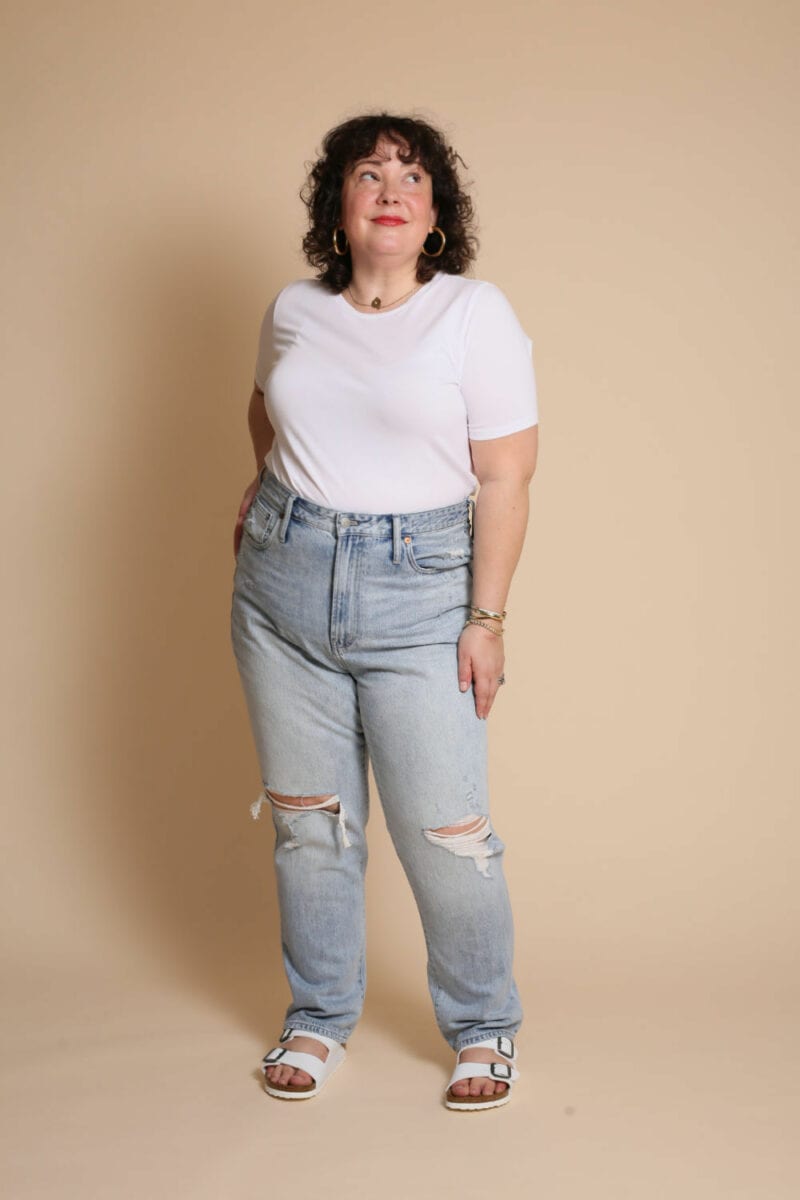 This is the Perfect Vintage Jeans, Calabria Wash: Ripped Edition, size 33 regular. Dammit, these are pretty close to what I want, but clearly not the right size or fit.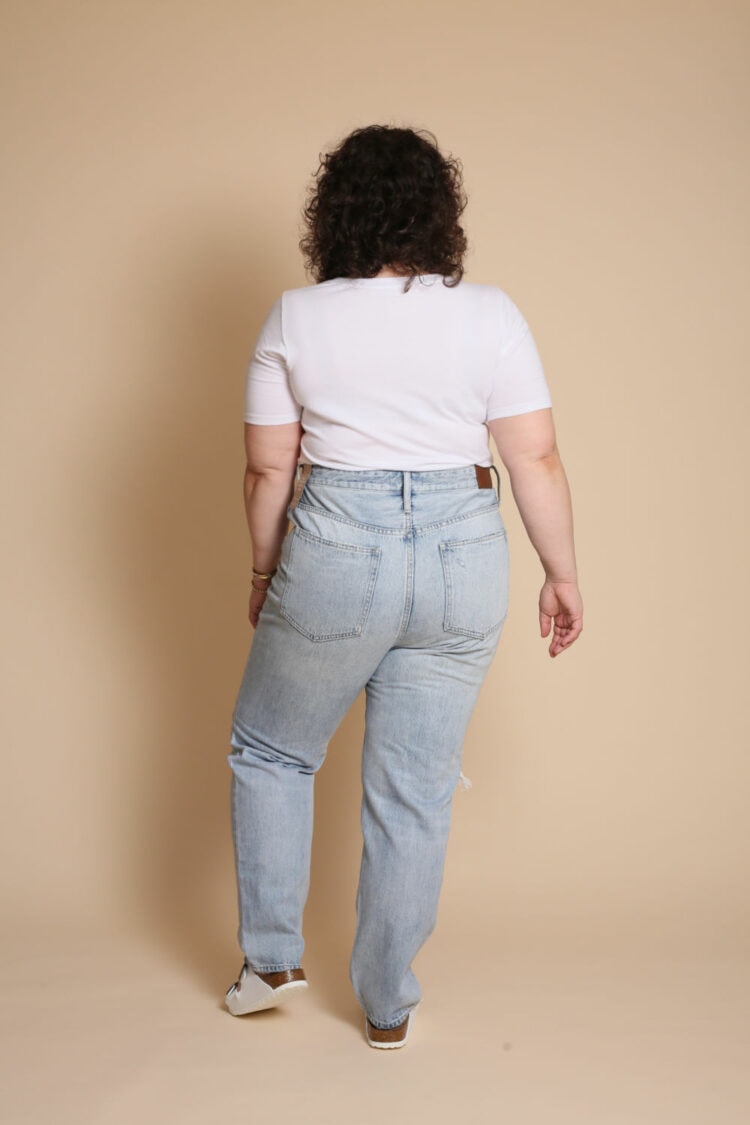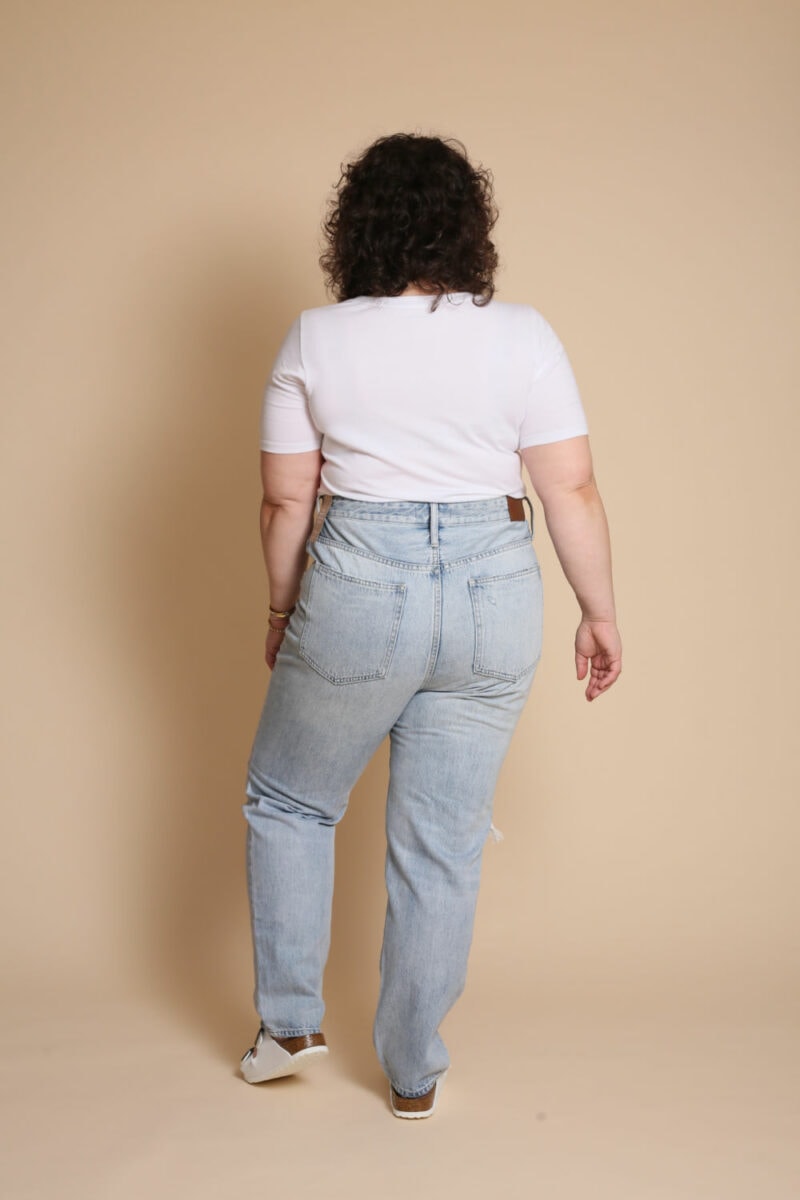 I think a 32 petite would work, but I still think even in that size there were be too much fabric in the crotch and the jeans would slide down.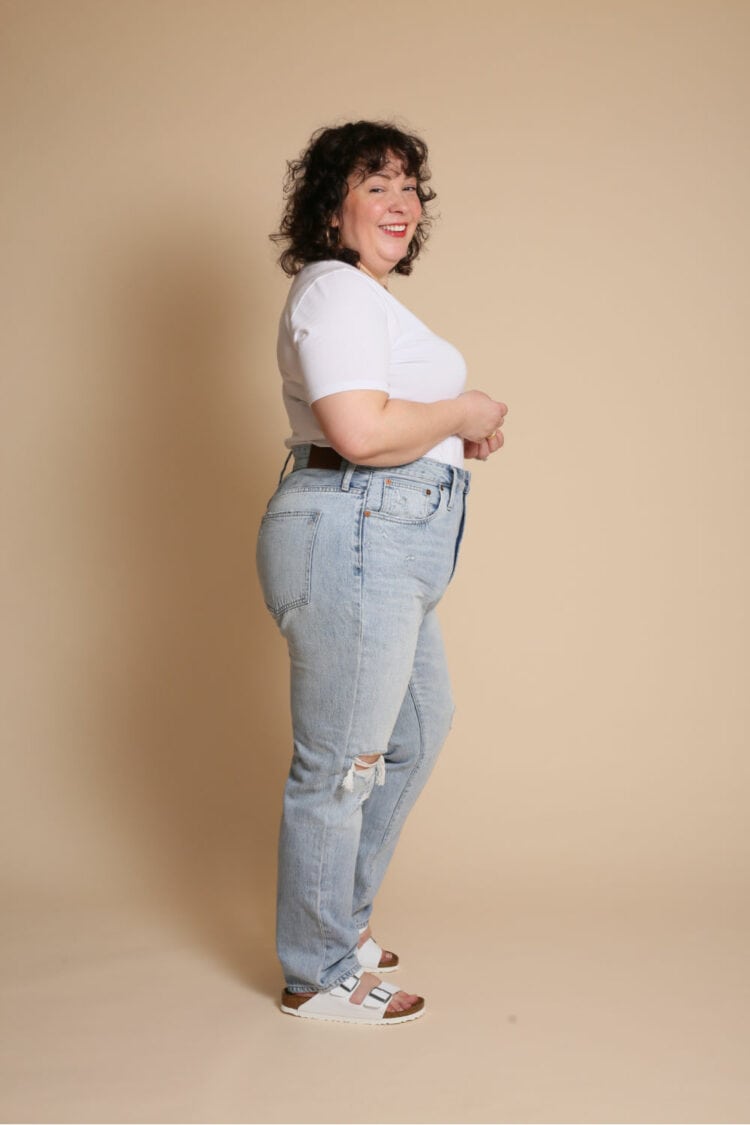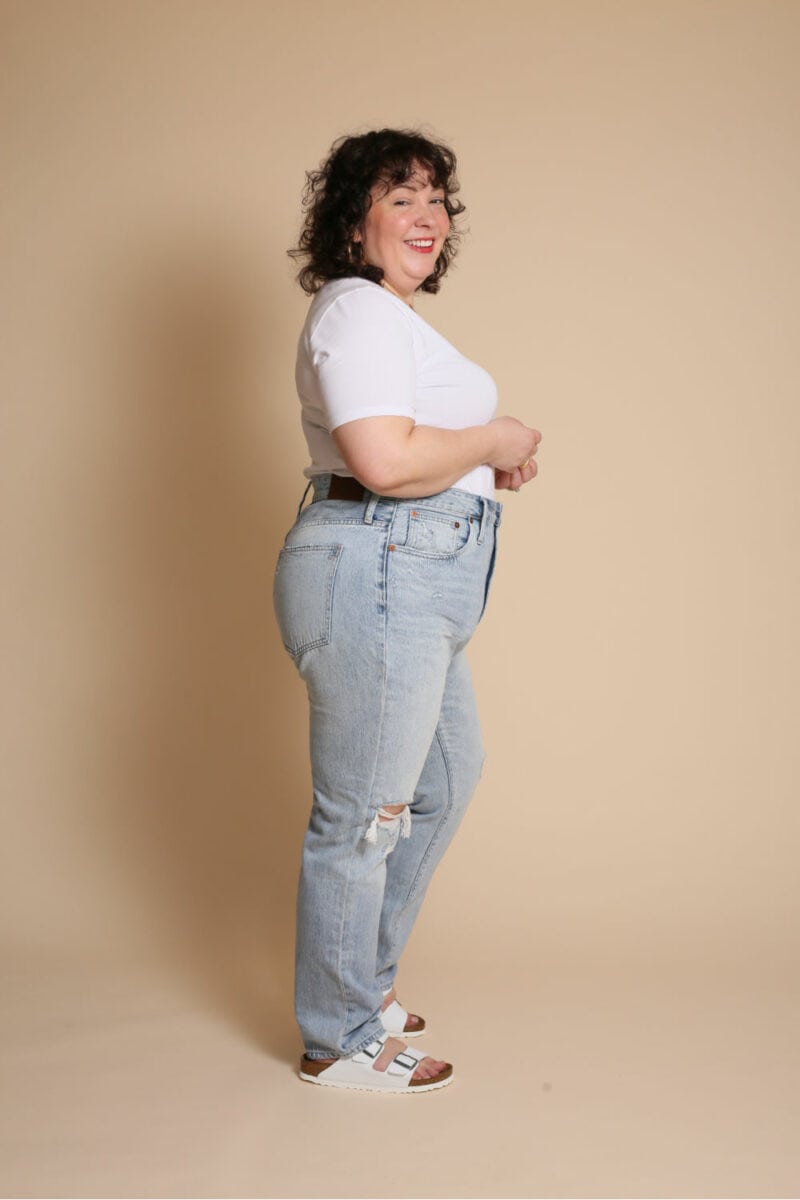 Looking at this photo, I think the issue is that while the jeans taper in at the rear, they don't in front and since it's not fitted at the waist it drags down and balloons at the crotch.
But if you're not my shape and think this looks right for you, I think these jeans look pretty badass. I'd wear them with a lavender or spring green cashmere sweater or cashmere tee and these Birkenstocks and then this necklace or this necklace or a Breton tee or sweater and these sneakers and this necklace.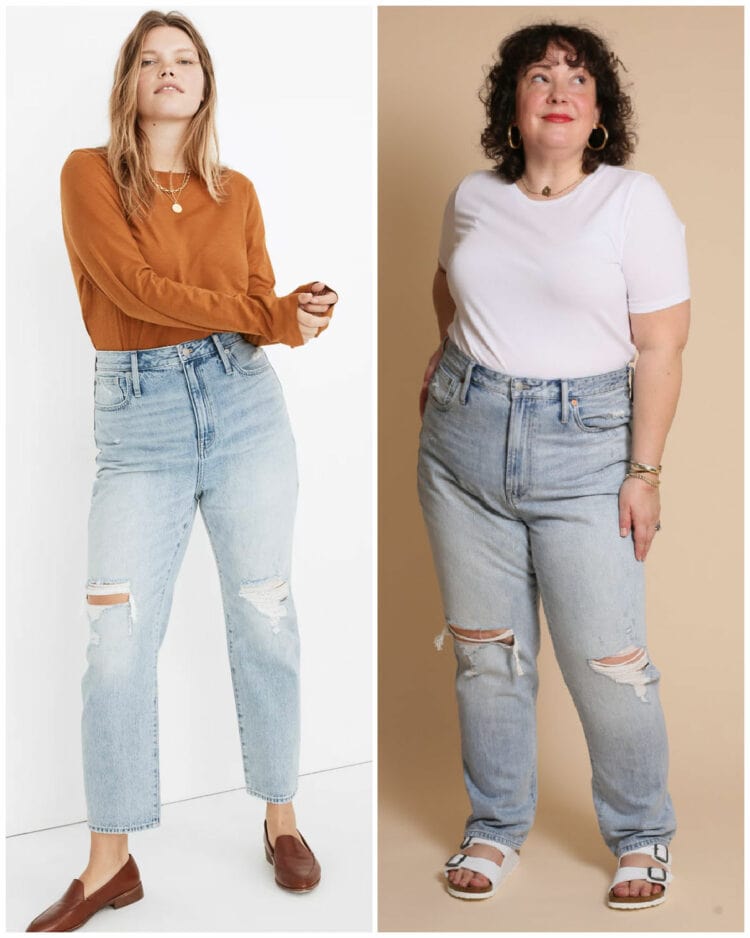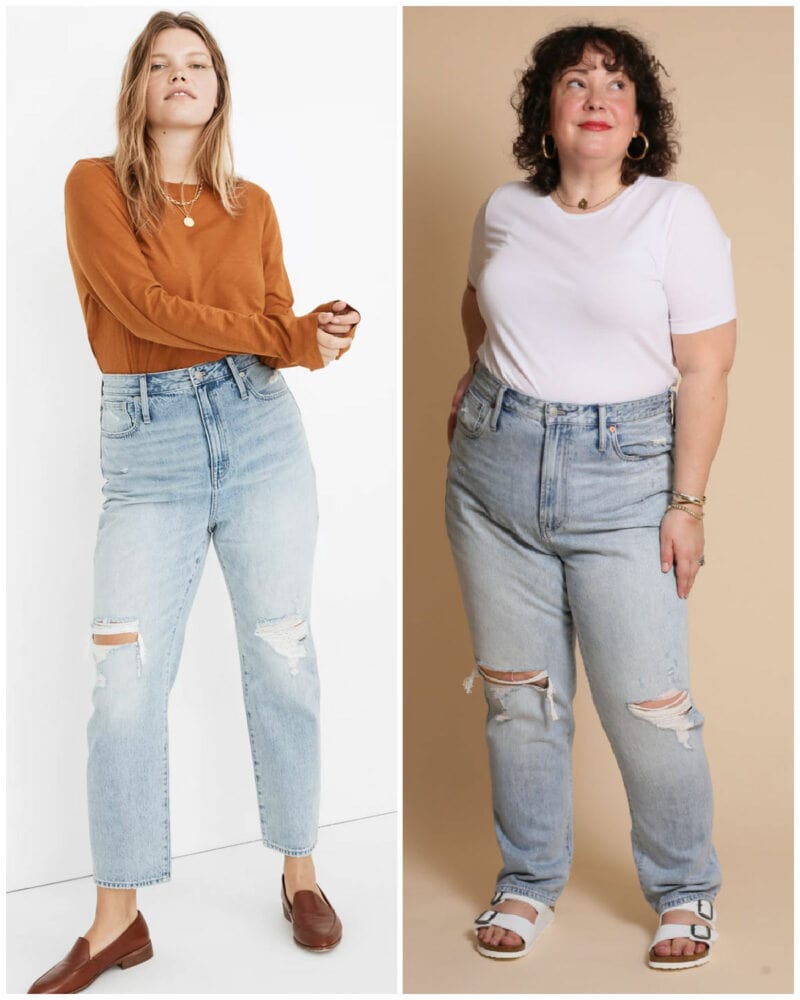 Madewell Balloon Jean Review
As I mentioned above, I saw the balloon jean and fell hard for the weird silhouette. I liked the fitted waist, the large legs (which I knew with my legs wouldn't look so extreme), and the tapered bottom that wouldn't swallow my sneakers or sandals.
This is one style where I was actually able to score a size 32. I first ordered 33, but then ordered 32 and 31. The 31 was so snug I couldn't shimmy them up beyond my knees so I chose not to photograph them.
Petite Balloon Jeans, size 32 Petite, Hewes Wash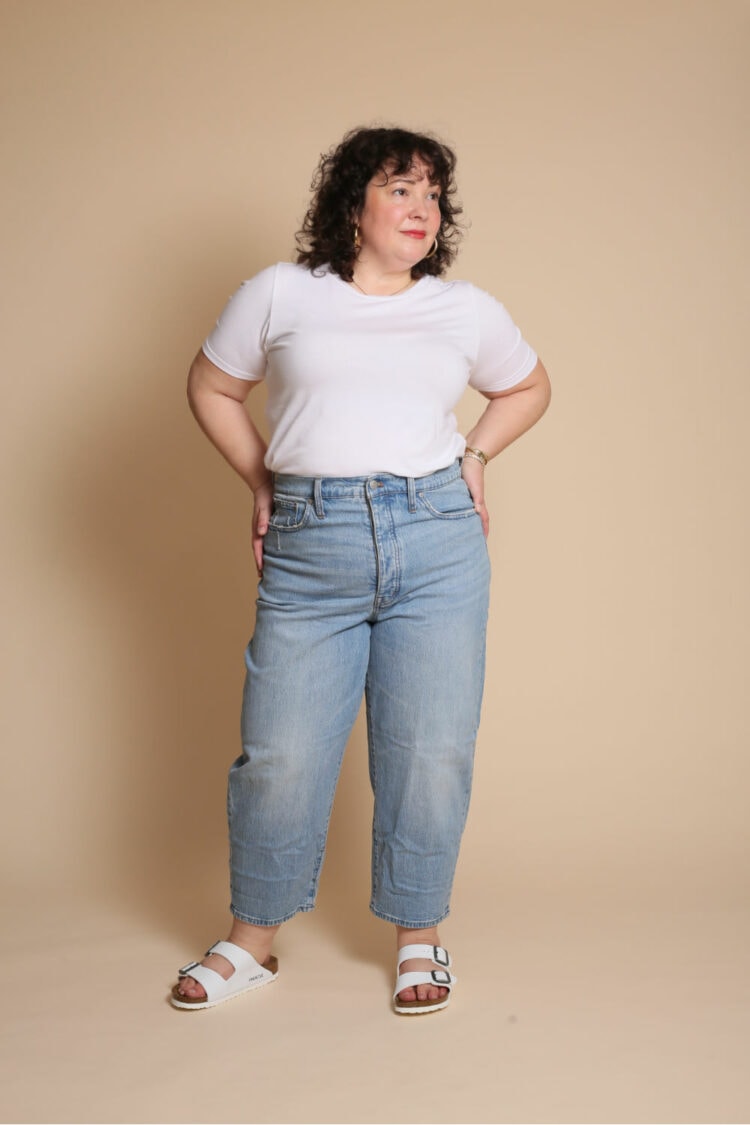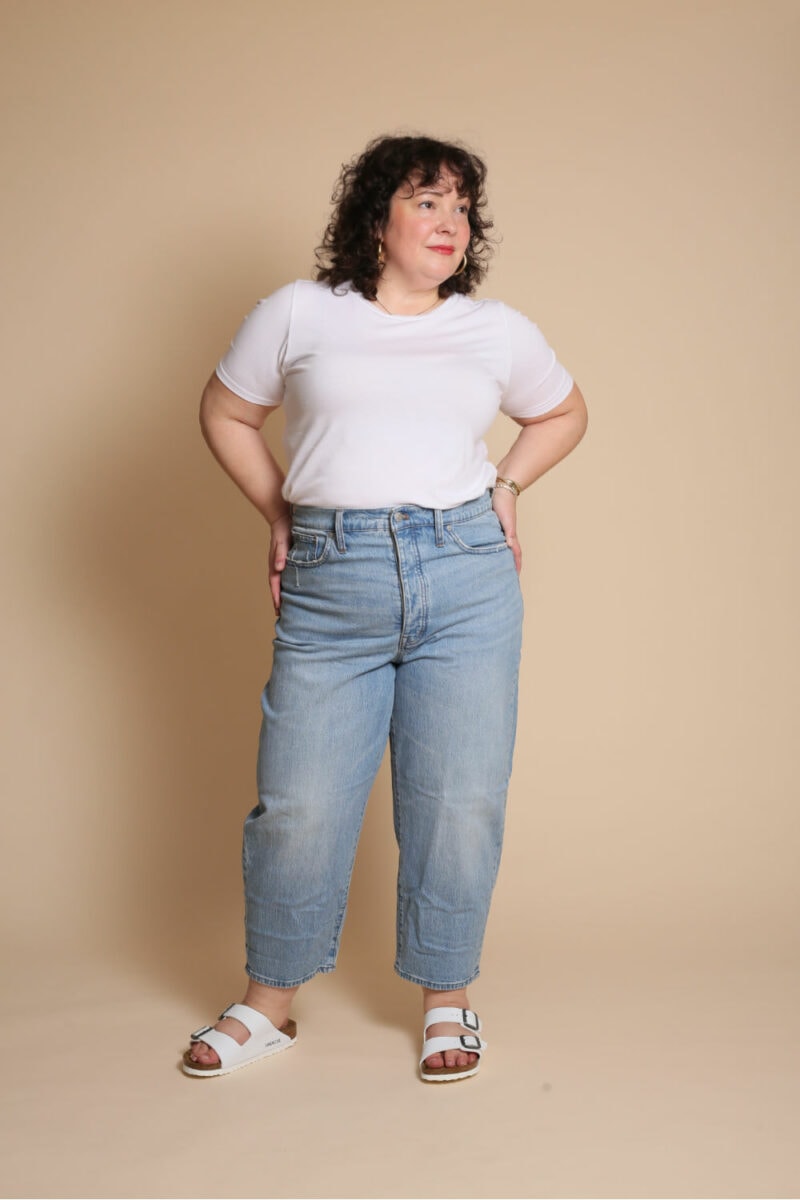 These are the Madewell Petite Balloon Jeans, Hewes Wash in size 32 petite. These jeans made me realize finally that it's not me, it's the jeans that are the problem. These jeans technically fit, but all the little details are what make them a wrong choice for me.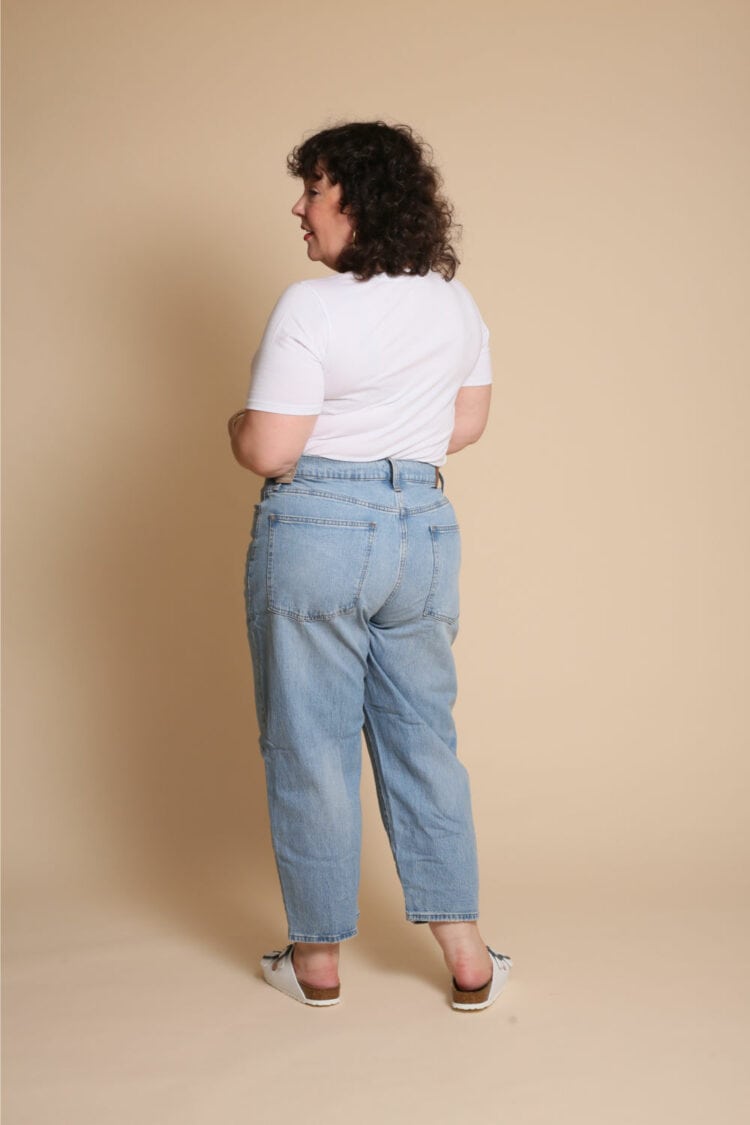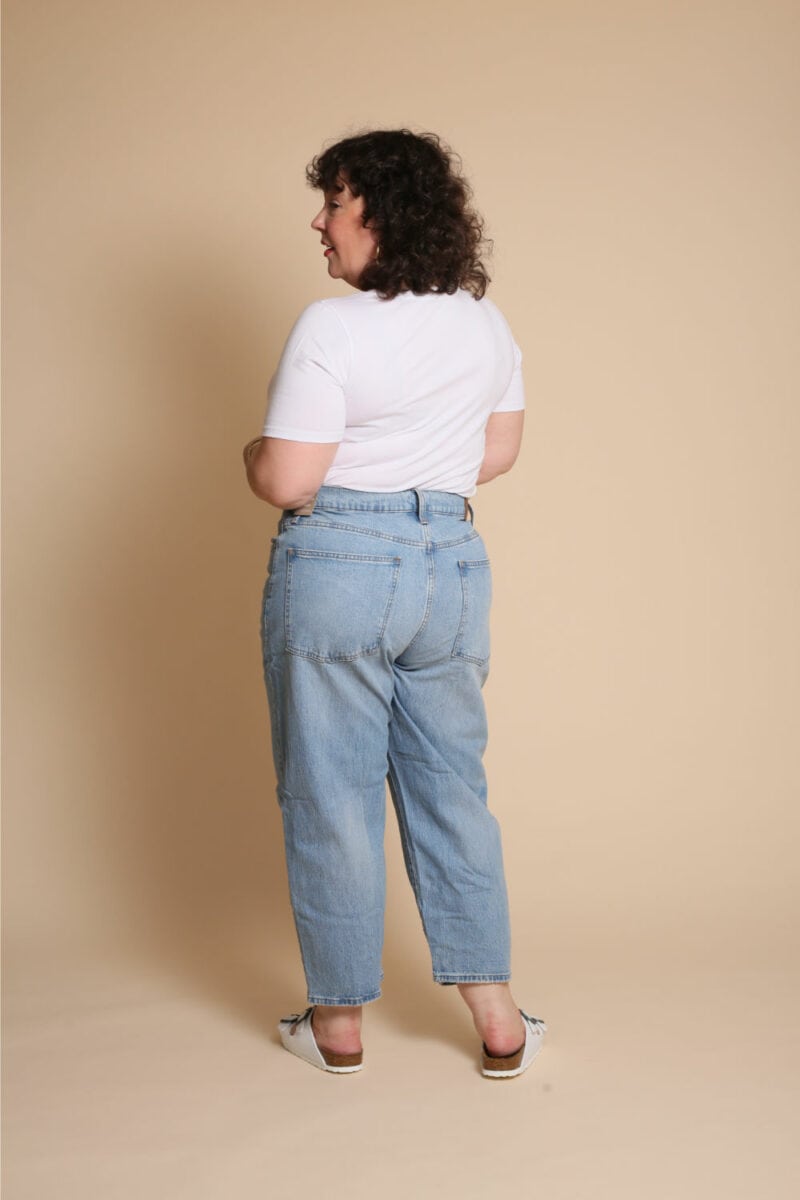 I wasn't a fan of the length; I think I would have actually preferred a regular for inseam/length and then maybe take to the tailor to shorten a touch so it was longer than petite. If you look at the models on the site, the jeans are a hair longer on them and I think for this silhouette, that bit of extra length is necessary.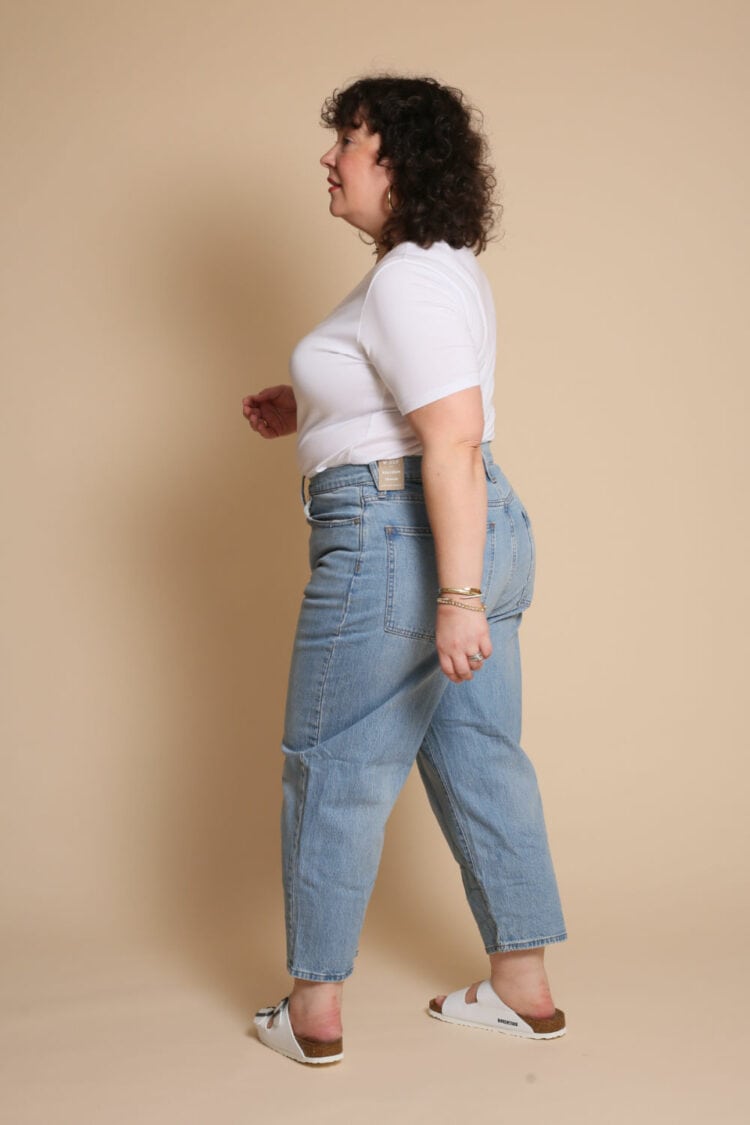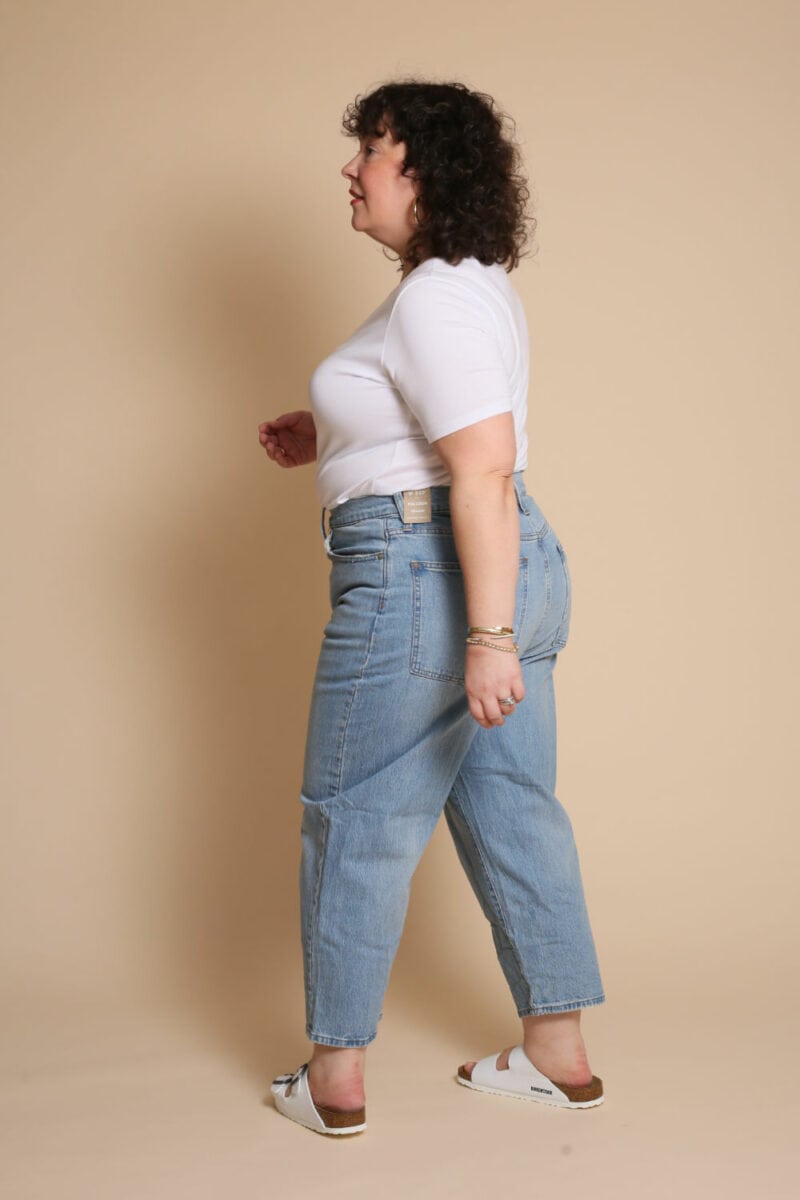 But again, the whole waist/rise thing is a problem with me and Madewell. There's just too much fabric in the front and I don't think any amount of tailoring would make these right. I did learn that I like this silhouette, but would probably like it better if more distressed/vintage looking.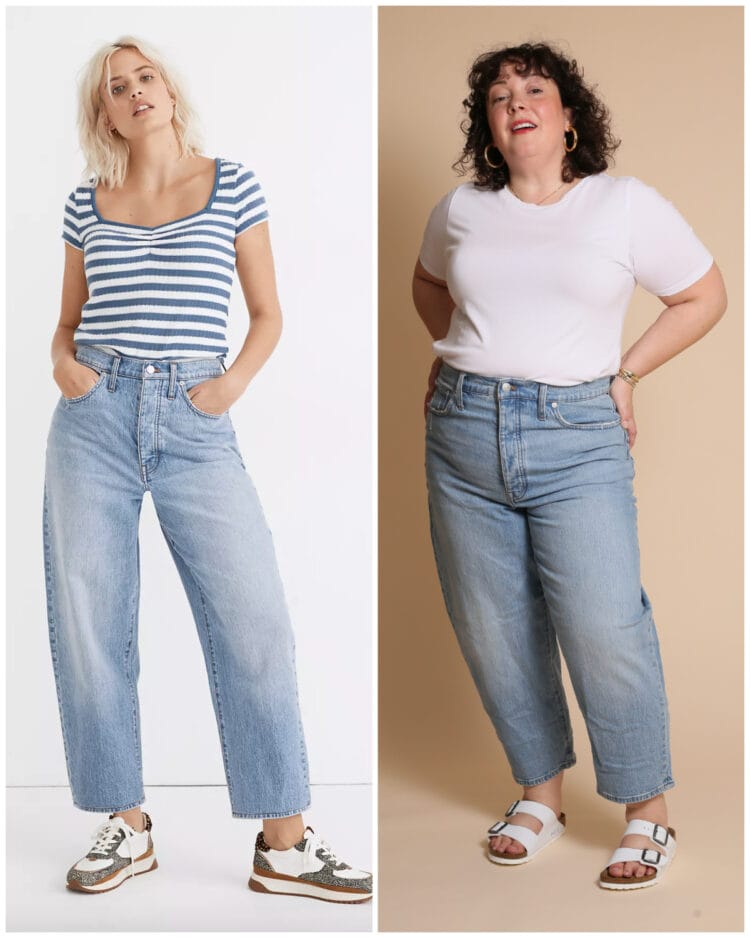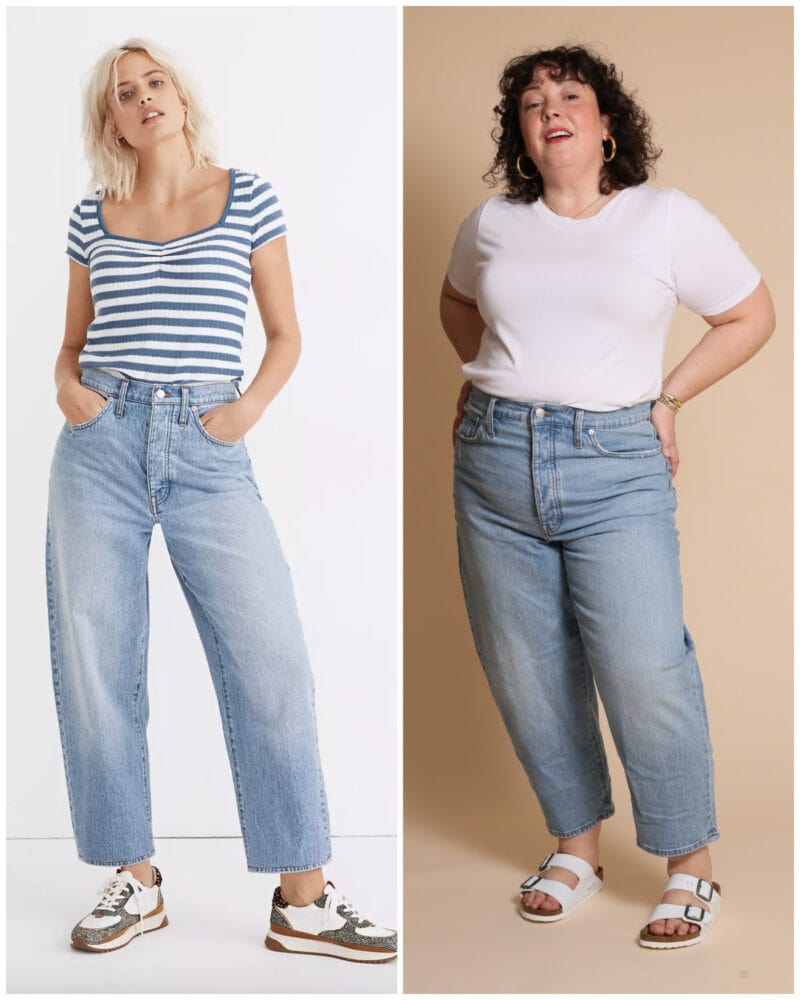 Balloon Jeans, size 33 Regular, Datewood Wash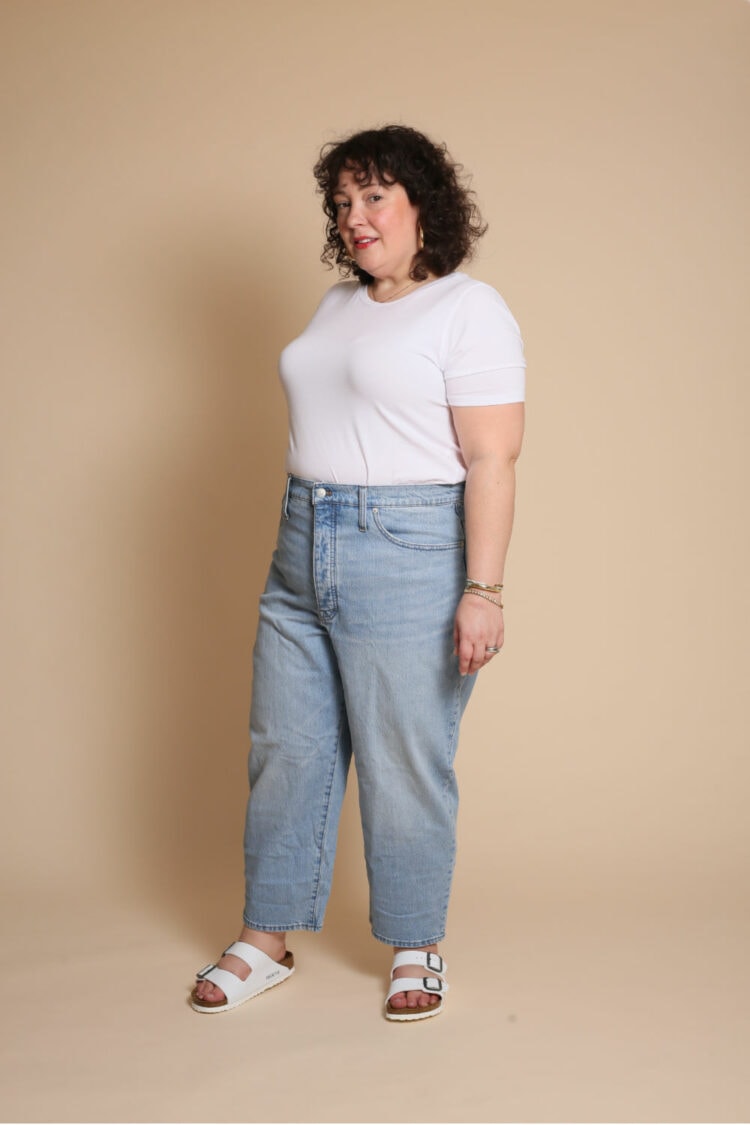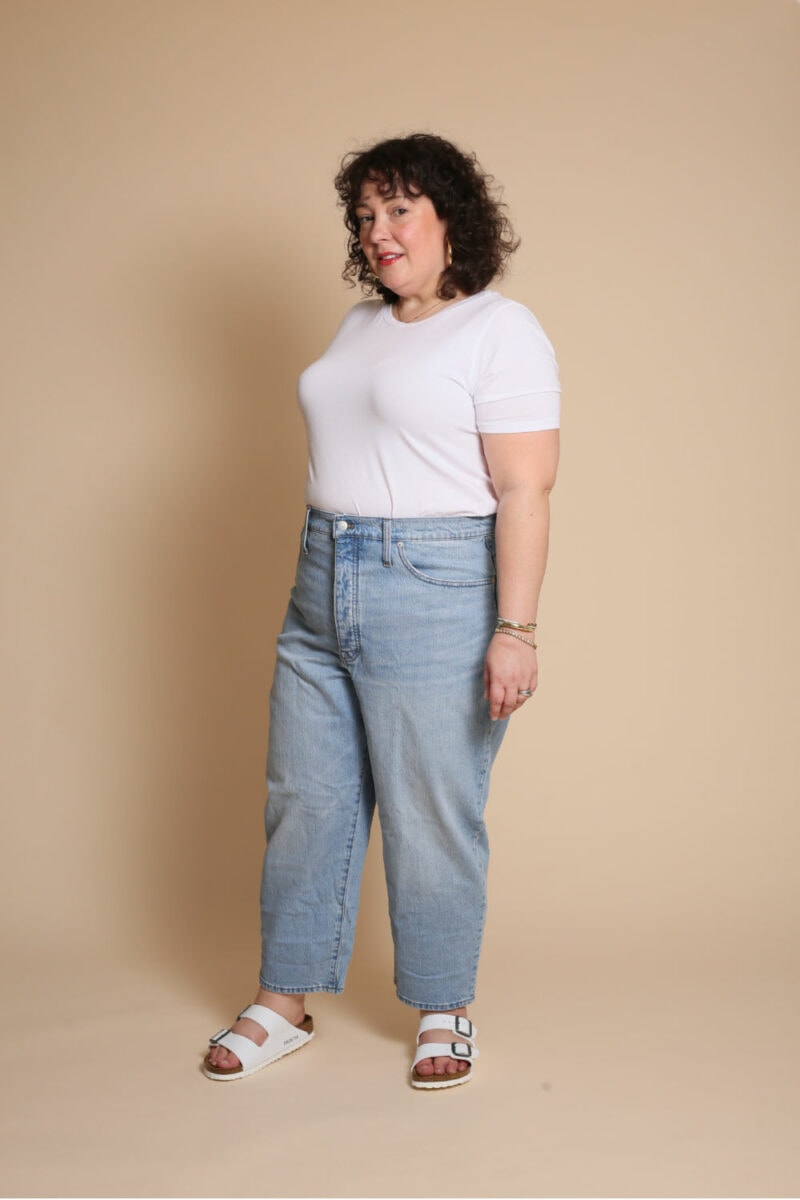 These are the Balloon Jeans, Datewood Wash, in size 33 regular. This wash didn't come in petite, and wasn't available in 32, so I went with a 33 regular.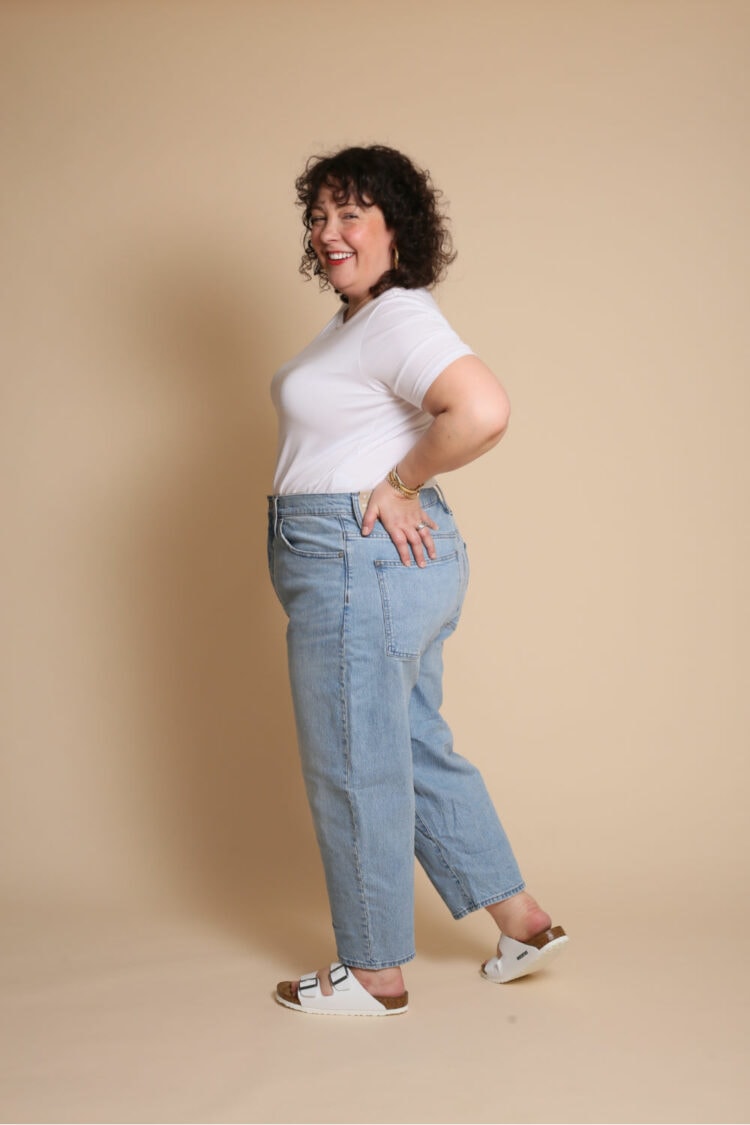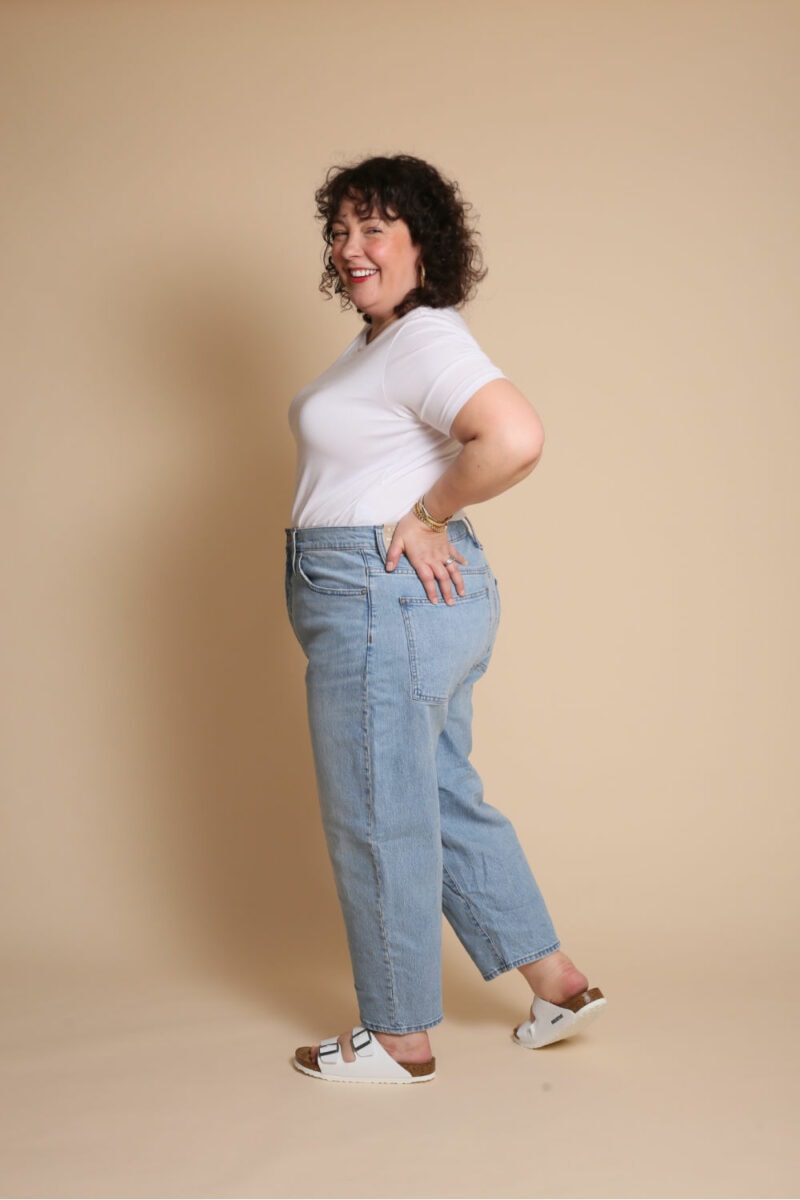 While I like the length better on the regular, it's clear the size 33 is just too big in the waist, the rise, and everything from button to crotch. I really wish these were a true petite and tapered a bit at the top, because I'd like to break these in and get them all worn and comfy.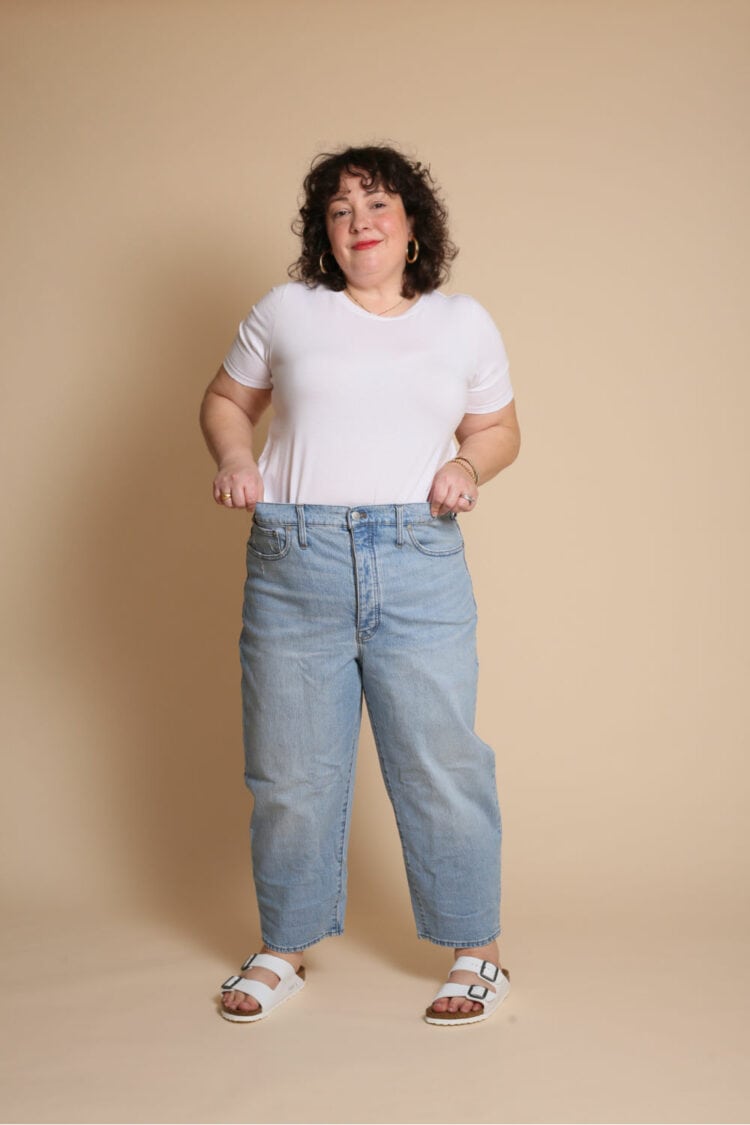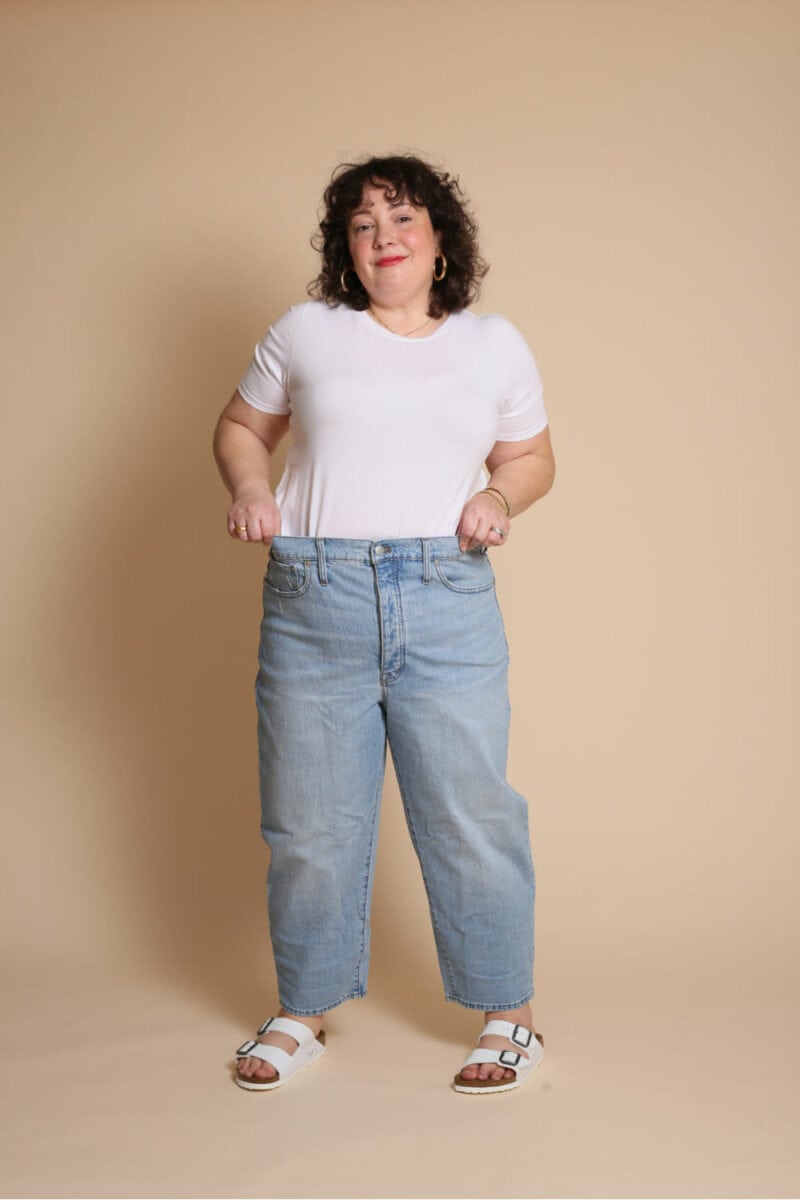 I still like the balloon jean silhouette, but realize I need to try a different denim retailer. Problem is, a lot of trendy jean styles are only available in smaller sizes, or if they have extended sizing, do not have petite. But I this denim review has inspired me to go on a search to find them!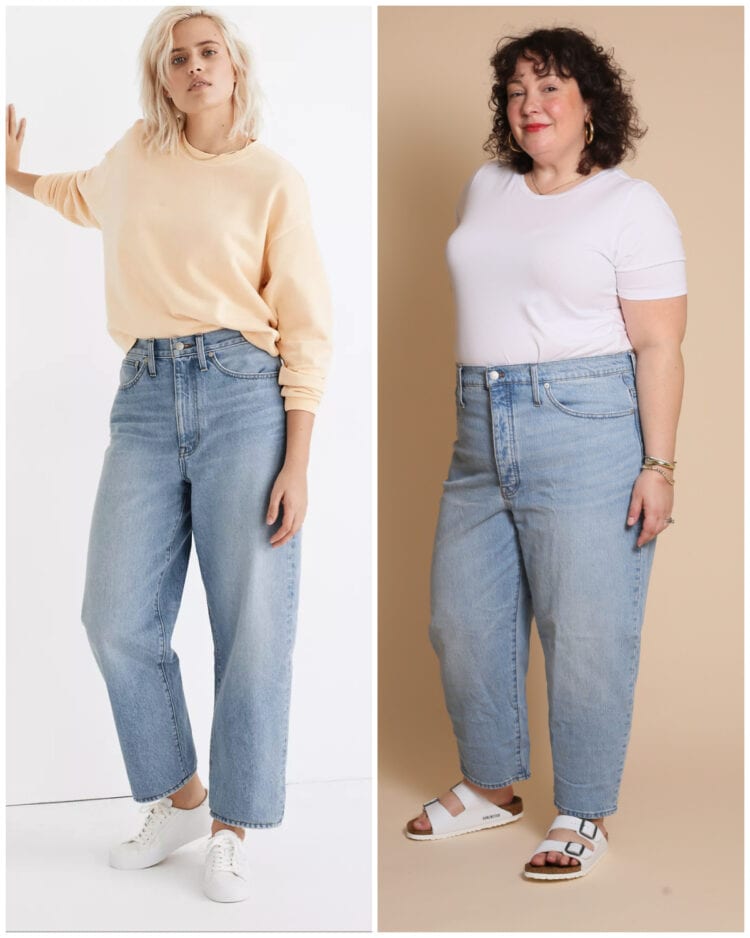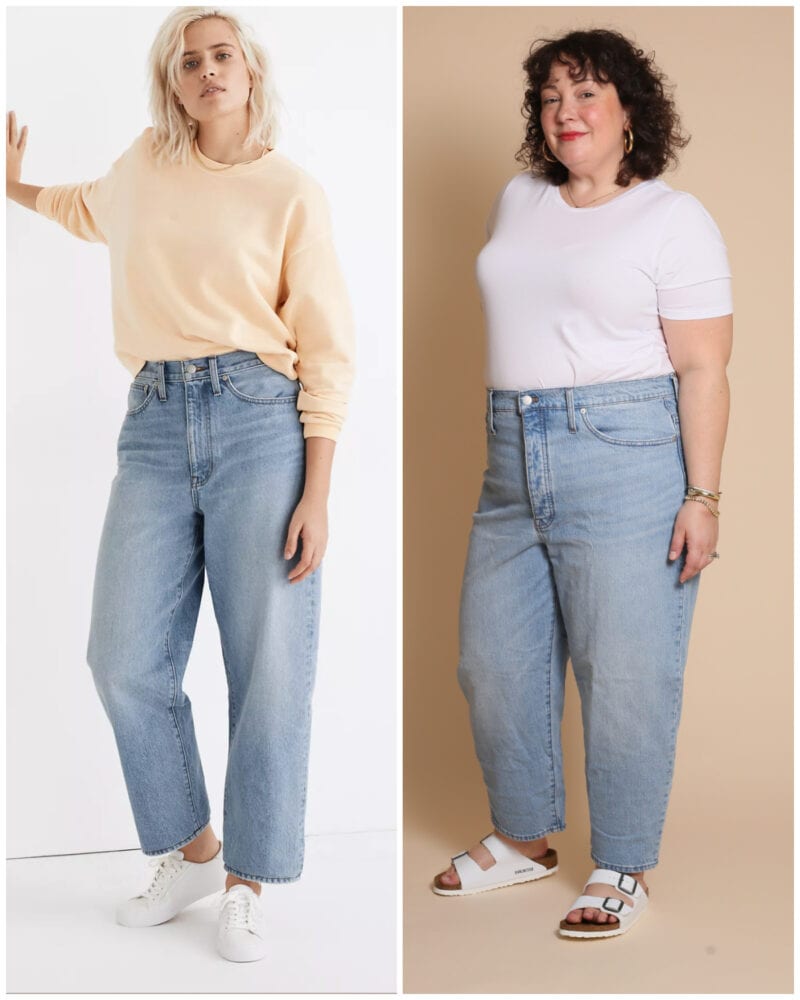 Madewell Demi-Boot Jean Review
I tried the Dadjean, the Classic Straight Jean, and the Tomboy Straight Jean as well as the styles above. They were all too large or too small to photograph. But I also ordered the Demi-Boot Jean in 31 and 32 and while the 31 hardly fit over my knee, the 32 did fit.
While the Demi-Boot Jean from Madewell comes in a variety of washes and lengths, there were few faded washes that came in petite, and all of them were on sale and had limited sizes. Therefore, there is only one review of the Madewell Demi-Boot Jean.
Slim Demi-Boot Jeans, Size 32 Regular, Denis Wash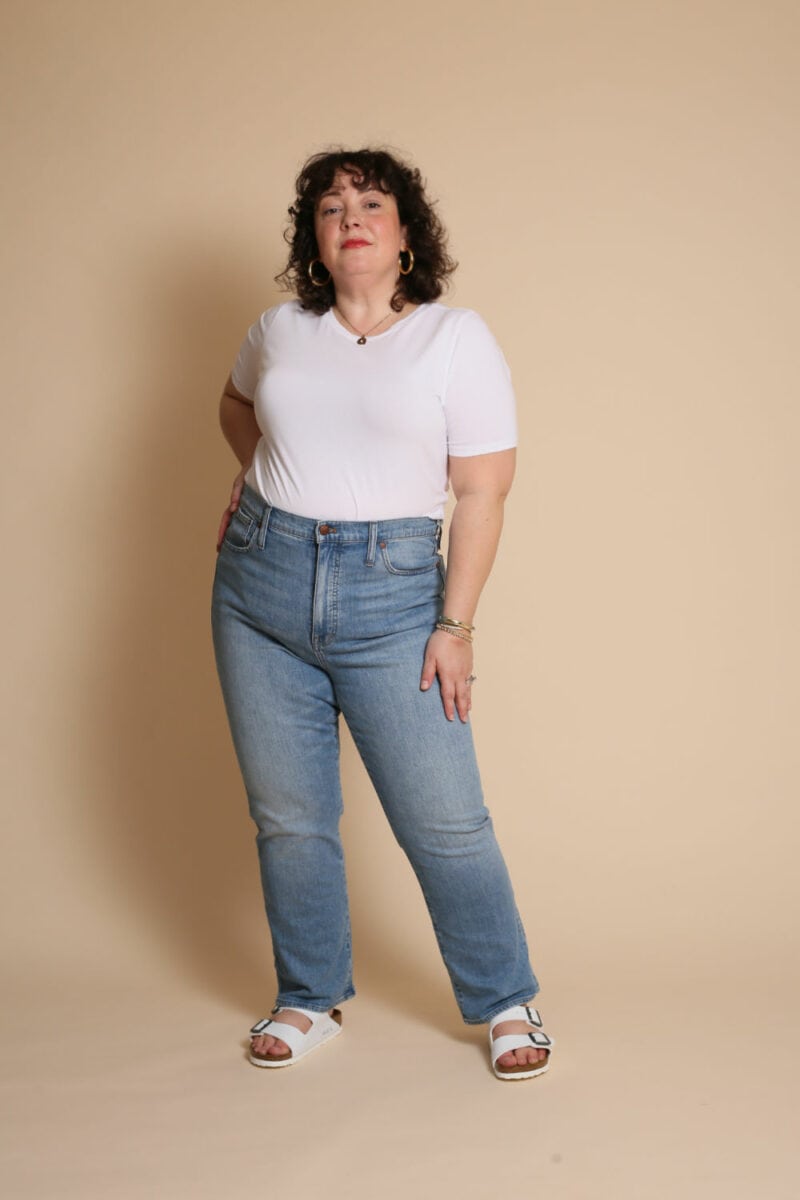 These are the Slim Demi-Boot Jeans, Denis Wash in size 32 Regular. They aren't exactly cropped (they have a 27″ inseam), but aren't supposed to be a full-length jean. While this not cropped/not full length/not ankle length is on trend, I knew it wouldn't work for me and hoped that the regular length would end up giving me a length I'd prefer.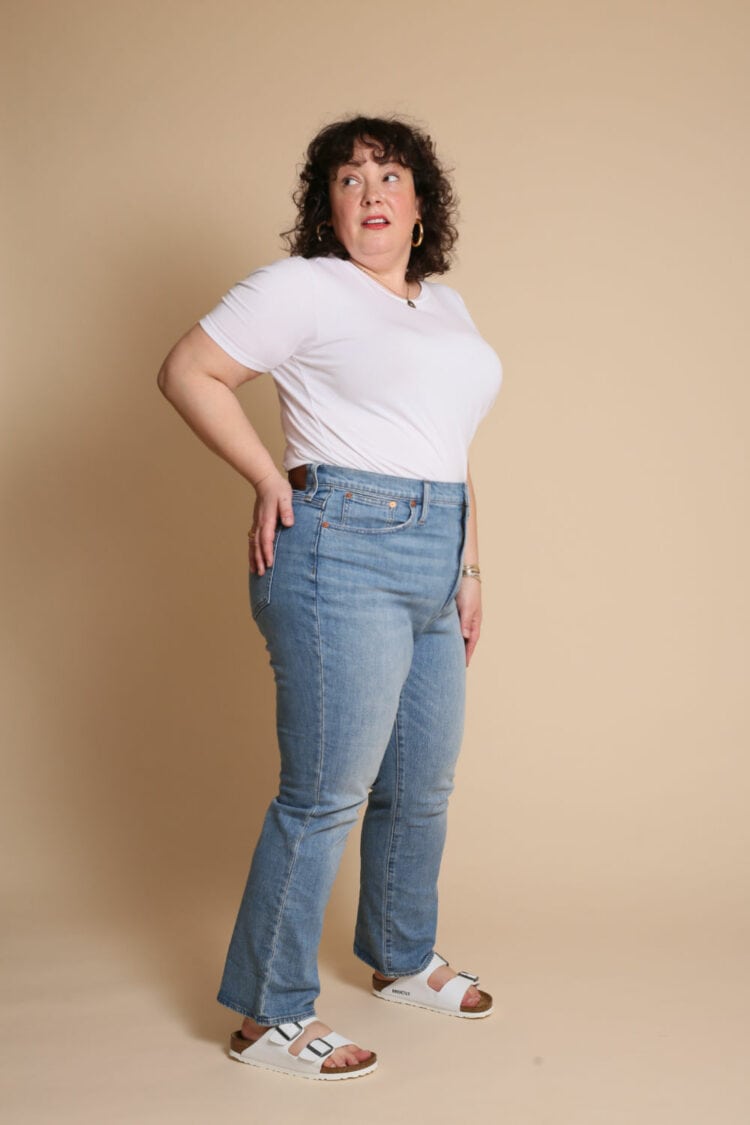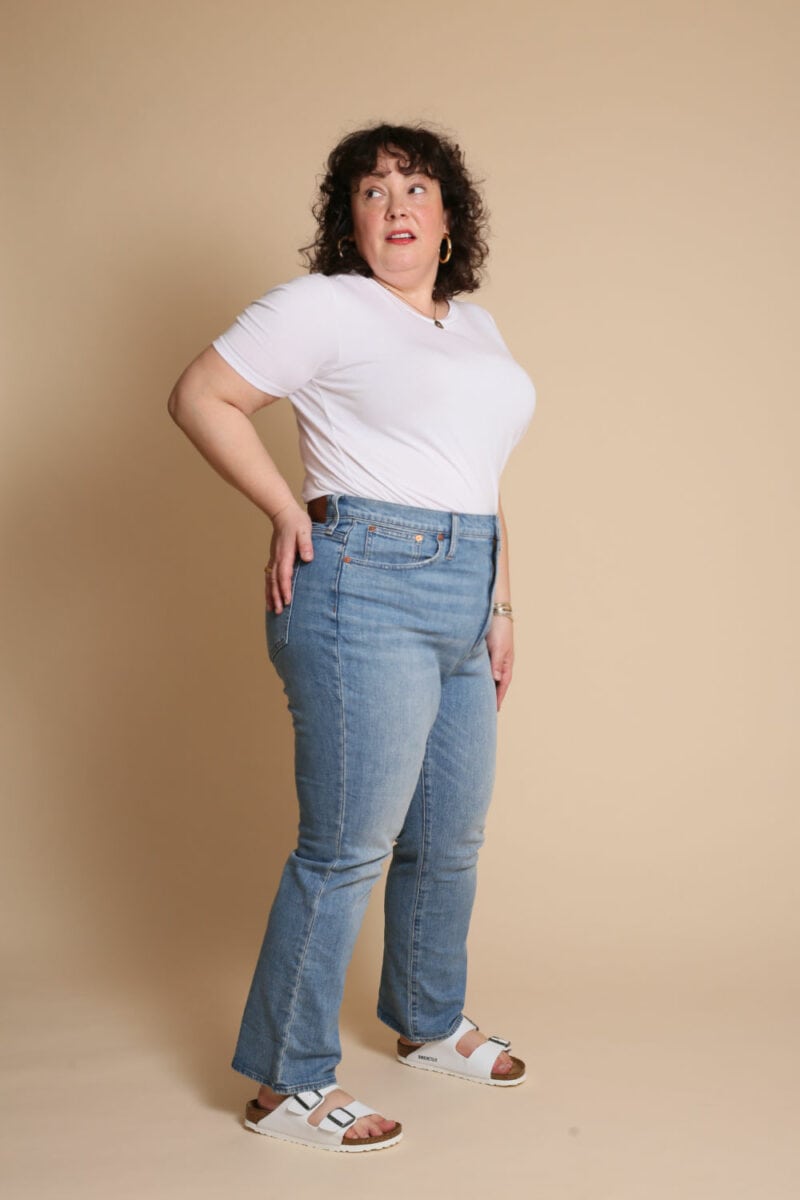 Nope, these just ended up looking hella awkward in every single way. the length is off, the fit is off, and yet again I have a phantom penis with Madewell's rise.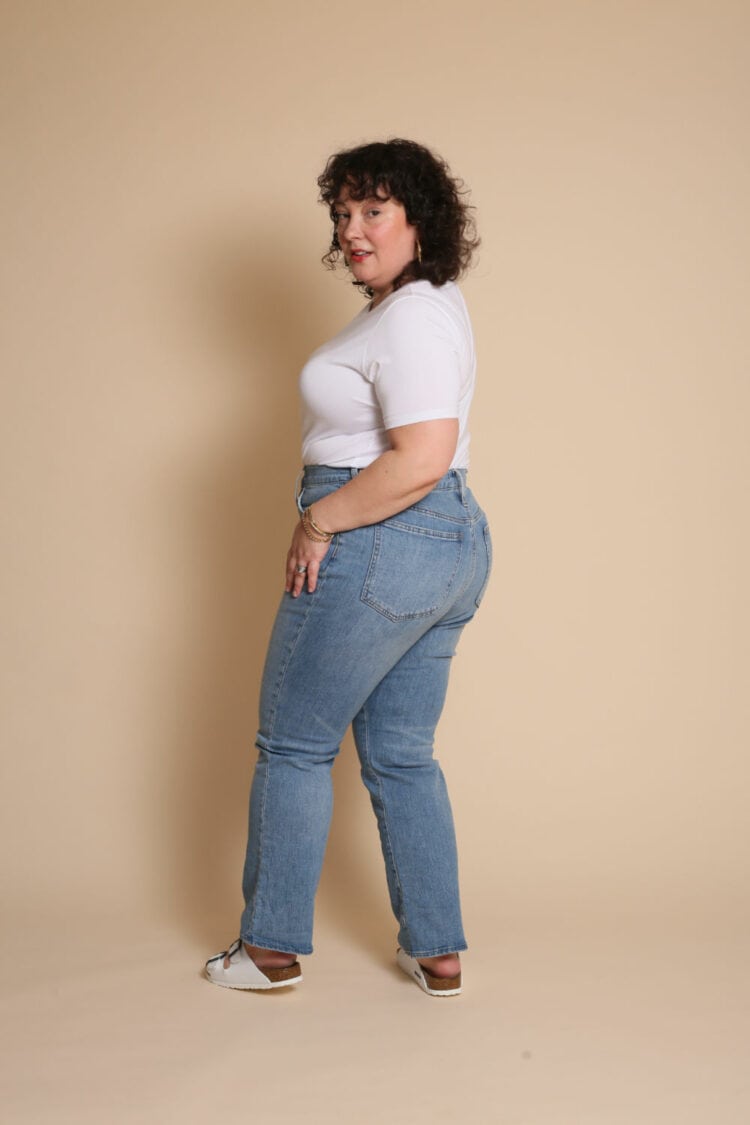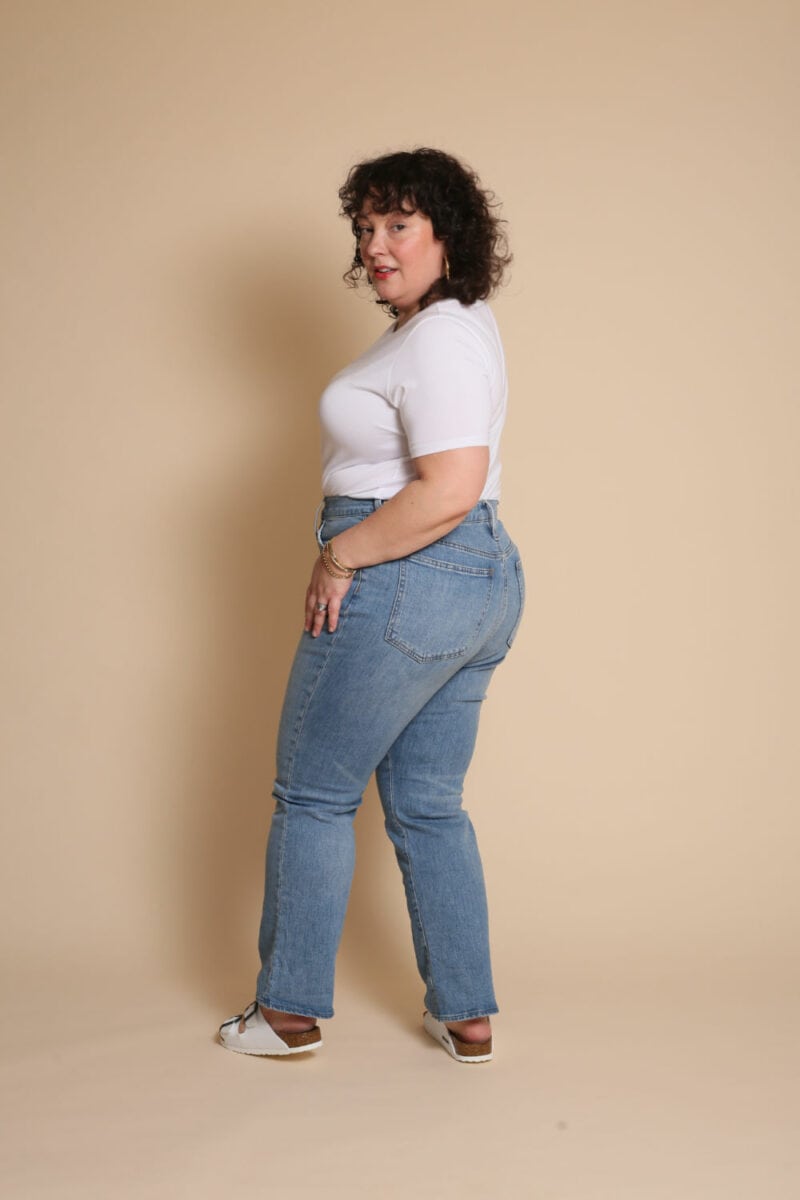 I shared that the bootcut jean is back and I think it won't be a passing trend, but I'm not ready to return to bootcut, unless they're some perfectly weathered, great fitting vintage bootcuts. This try-on confirmed that for me. I support you wearing bootcuts, but I won't be rocking them this spring or summer.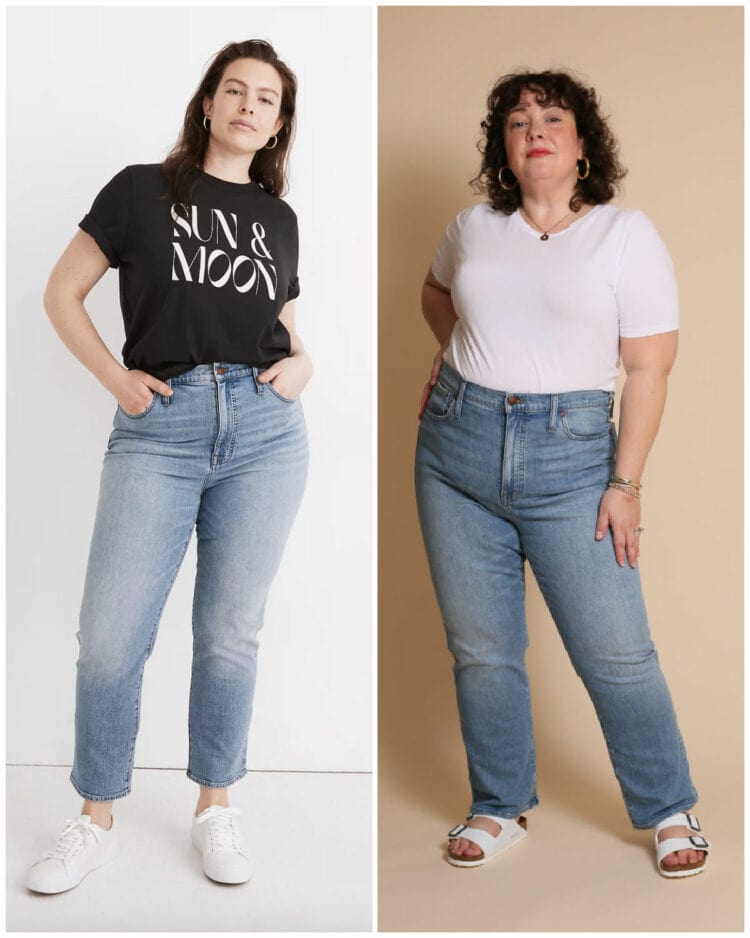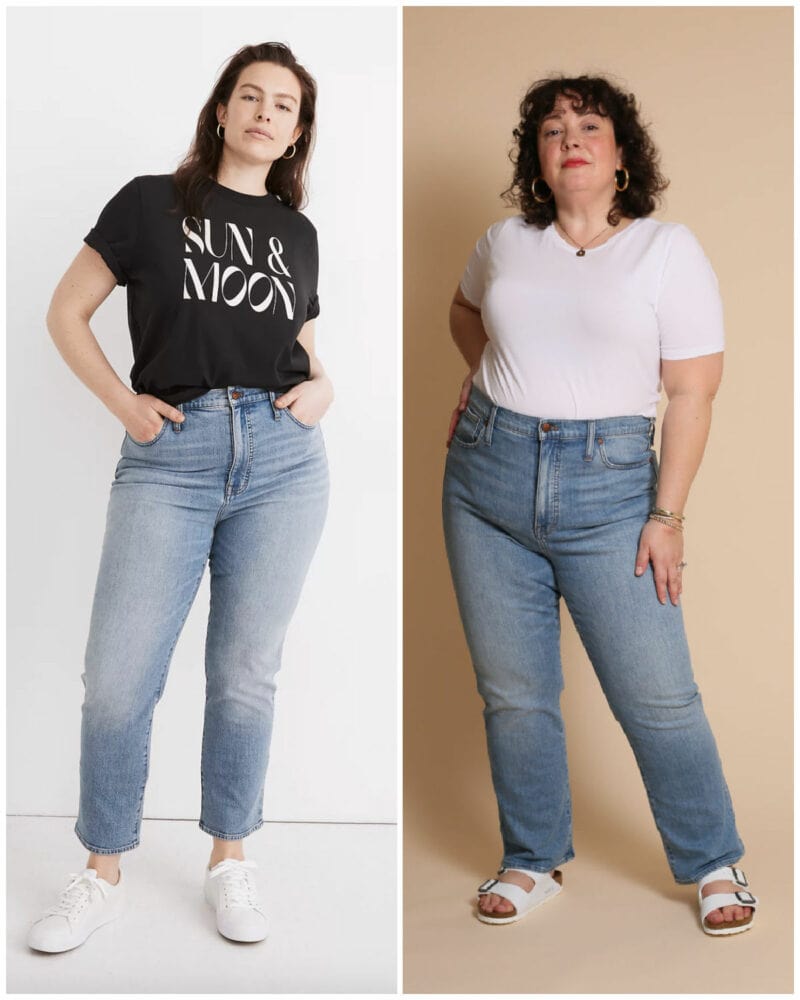 But Alison, These Jeans are Just Not Flattering on You!
At this point, I'd like to discuss the term flattering, because I have a feeling a few of you are thinking that these jeans are just not flattering on me. I should stick to a certain silhouette or wash or fabric makeup not shown in this haul.
These jeans don't make me look taller, or thinner, to have longer legs or a whittled waistline. They don't make my butt look like a peach or an onion or any other food. But that is not my goal with these jeans, and I think a pair of jeans like this look damn good when styled properly.
Stylish and flattering are not interchangeable, and flattering is focusing on achieving a patriarchal ideal and is about appearing slimmer. That being said, there's nothing wrong with wanting to have clothing make your body appear in the way you desire.
That's what's so cool about fashion, it can really transform you. But do know not all people want their clothes to be "flattering" for their bodies and that goal isn't a requirement to look stylish.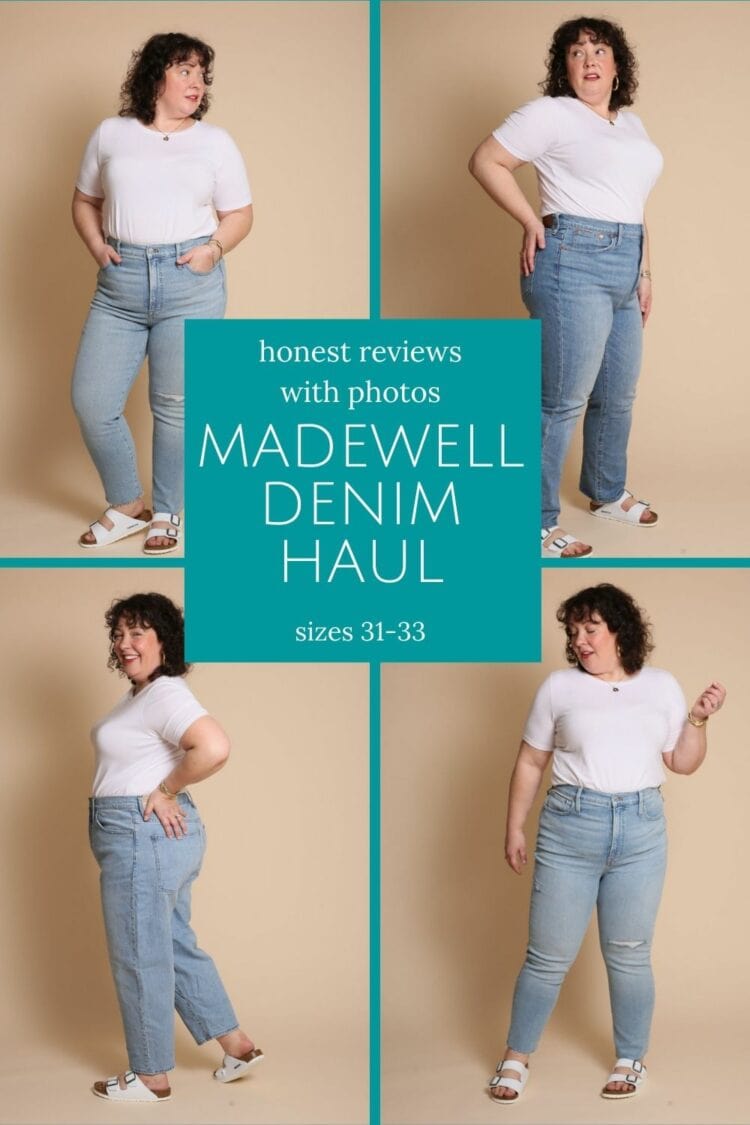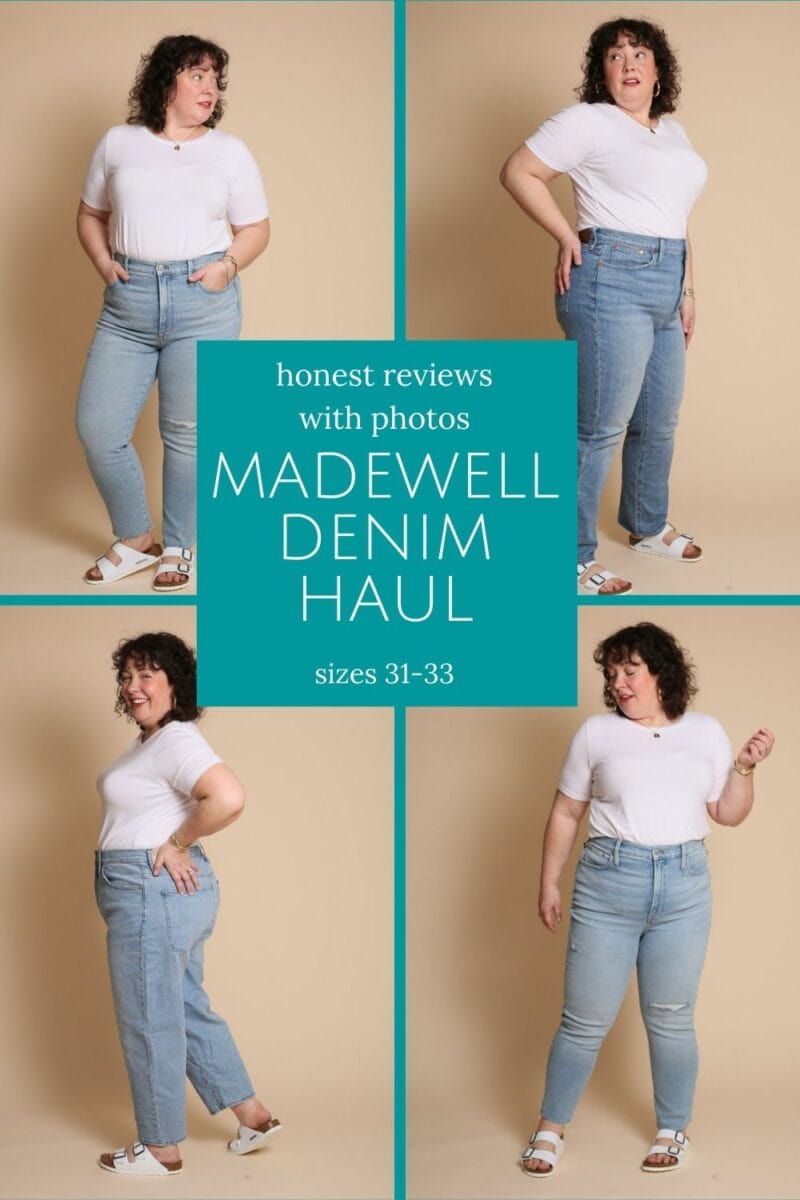 My Thoughts on Madewell Denim
Madewell denim is well made, with high-quality fabric and fastenings. The price makes sense if you place a pair of jeans from a budget-friendly brand next to a pair of Madewells. I found wash and distressing consistent from size to size, and in general, the denim looked like designer right out of the box.
That being said, this is some hardcore vanity sizing and inconsistent sizing. Even wearing a pair of size 10 Universal Standard jeans over my size 14 ass doesn't feel as ridiculous as being able to slip a pair of non-stretch Madewell size 33 jeans over my ass and belly without unbuttoning.
One pair of size 31 jeans were so tight I couldn't get them up my thighs, but then another pair of 31 jeans were loose in the waist. Some 33 jeans I could slip on over my curves without unzipping, and others were just one size too large.
Just as I experienced with Madewell stretchy skinny jeans in the past, I think Madewell is just too long in the rise for me. And I love a high-rise jean. I wear high-rise jeans from all sorts of retailers and recommend them for accommodating curves without sliding down mid-day, but these don't taper up; if they fit in the hips they are gaping at the waist.
I have accepted the fact that Madewell denim is not designed for my body. And that doesn't mean Madewell is bad or I am bad. If all brands fit the same, a lot of bodies would be left out. I think how I love Nike shoes, but they aren't shaped like my feet; I do better with Brooks or Adidas. Knowing what doesn't work is empowering, and it simplifies future purchases.
I know many of you love Madewell, and while I will still purchase sweaters and other apparel from them, unless they come out with a new fit or line of denim, this will be my last Madewell denim haul on Wardrobe Oxygen.
But let the comment field be a resource for those interested in Madewell denim. Do you love Madewell jeans? What style do you like and how is the sizing? What tips do you offer for shopping Madewell jeans, and where have you found size-inclusive trendy jeans in washes and cuts as seen in this review?