This article may contain affiliate links; if you click on a shopping link and make a purchase I may receive a commission. As an Amazon Associate, I earn from qualifying purchases. 
2014… we're having a rocky relationship. We started with the best of intentions but there have been quite a few things in the past few months that have caused stress, distress, and many tears. I fully believe that taking care of what's inside takes precedence over taking care of your exterior, but I also know that looking good can improve your mood, and not having to worry about how you look gives you room and time to focus on more important matters.
A couple months ago, I had a pretty severe and unexpected cryfest. When I calmed down, I went to the bathroom to clean up and was amazed that the only thing that was messed up was my lipstick. I had attended an event earlier in the day and had a full face but didn't have to dab a single smear from under my eyes or reapply concealer. Unfortunately, I have had many opportunities since to test out my makeup and it has held up to sweat, to tears, to allergy attacks. It's the season of pollen, prom, graduation, weddings, and unexpected situations always arise; here's what I use for a face that holds up even if you're breaking down:


The Base
Dr. Brandt's Pores No More
After moisturizing, I use one pump of this primer on my forehead, cheeks, chin, and around my mouth. It fills pores and fine lines without caking and never causes me breakouts. I highly recommend this product even on its own without foundation; it evens the skin, fills without looking fake, and lasts most of the day.
Revlon ColorStay Foundation
In the winter I used the Whipped Creme version, but now that it's getting hot and humid I've switched to the formula for oily/combo skin. When I had the cast and wasn't expert at blending with my non-dominant hand, I started applying with the Real Techniques Stippling Brush (great line of budget-friendly high quality brushes), and then using my fingers or a BeautyBlender to blend around the eyes and nose. The brush gives me an even finish with less product. And the foundation looks natural (I use Medium Beige) and seriously lasts all day and into the evening without rubbing onto someone's shoulder during a hug.

Laura Mercier Secret Camouflage
I once read an interview with a makeup artist who said he always applied concealer after foundation so it didn't get rubbed away. I tried it and have been using that method ever since. I am a Laura Mercier fan, I've been using this concealer for six years and nothing compares in my opinion. The compact comes with two colors so you can blend the two or choose a lighter for dark circles, darker for zits. I use SC-2 and like the light color for the corner of my eyes which get very dark, and the darker color under my eyes because the orange tone cancels out the shadows and doesn't leave a ghost-like finish. I use my ring finger, tap into the compact, tap onto the skin. I don't rub, I just tap until it is blended.

Color
Revlon PhotoReady Cream Blush
I use Coral Reef, which I find natural on my skintone.  I reviewed it here, and I have to stress how you apply makes all the difference. Like my concealer, I tap in the compact, tap on the face, and then blend. This blush lasts all day and is shimmer-free so it's appropriate for daytime and serious occasions.
Tarte Amazonian Clay Brow Color
I reviewed it here, but it's great because it lasts all day; I have even gone in a pool and came out with still colored and groomed brows. You can rub your face and it won't budge, but comes off easily with a gentle face wash.
Urban Decay Naked Basics Palette 1
I really love these shadows, they are natural colors, versatile, and last a good amount of time. I like that there's no shimmer (except Venus which I never use), so I can have a simple day look and be appropriate for more serious occasions. Naked 2 alone on the lid and a bit over the crease can give enough contour and definition for daytime; Faint can add more contour or replace liner.
Maybelline Stiletto Liner
I like this in Brownish Black which isn't as severe as black and matches my dark brown eyes. The felt tip is easy to use; I start in the middle of the eye and draw a skinny line right along the lash line to the outer corner, then go back and do a bit in the center. This makes my lashes look more lush and it doesn't smear. It will drip in a pool or rainstorm, but it holds up to a cryfest or sweaty day at a festival if you use a very thin line right at the lashline.

Too Faced Better Than False Lashes
First I curl my lashes, then a light application of the mascara from this product, focusing on the tips of my lashes. Then the fiber product, removing any fluff balls and wiggling between lashes. Then a final sweep of the mascara, again wiggling through lashes to get all surfaces and prevent clumps. I do not put this product on my lower lashes because it's sticky and when you cry your top and bottom lashes stick together and you cry even more and start grabbing at your lashes and… well just don't do it. If you feel the need for lower-lash mascara, consider a water resistant formula (I use Cover Girl Clump Crusher).  To ensure this sticks around, don't rub your eyes – if the product gets wet AND is rubbed it will shed all over your cheeks.  But if it gets wet and can dry naturally it will stay in place.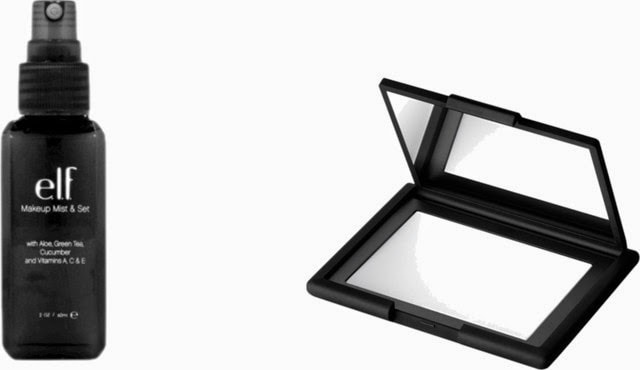 Set it and Forget It
NARS Light Reflecting Pressed Setting Powder
My skin is pretty dry in the winter, so I usually can go without a setting powder. However if I know it will be a long day or a sweaty one, I use this product (applied with the Sephora bronzer brush) to set my base face.  It's invisible, but it seems to do a bit of airbrushing while keeping all my products in place.

e.l.f. Studio Mist and Set
I love this stuff. Two spritzes and my face will stay in place for HOURS. it doesn't clog my pores, doesn't sting, doesn't leave a matte finish, just acts like hairspray to hold everything in place. I use this daily, and keep the NARS for special occasions.  I have used this, had fitful sleep, woken up and still have a decent face and no pillow case covered with foundation.  Pretty impressive for a cheap product!

Other Tips:
Be Prepared.  CVS and other drugstores often have a trial pack of makeup wipes in their travel section; it's great to have one of these packs in your purse to do makeup repair. Instead of rubbing away everything, it can spot clean up dripping mascara or liner or a smeary lip and you don't have to rinse afterwards.
Keep a Neutral Lip. The last thing you want to do is have lipstick on your teeth, your chin, your cousin's cheek, your husband's suit jacket. Stick to a subtle lip (I love Laura Mercier's Sparkling Pink lipstick for an almost-nude face and Revlon's Balm Stain in Romantic for a touch of red that fades nicely) so you can focus on what matters.
It's Okay to Go Bare. If the idea of putting on makeup stresses you out, DON'T DO IT. Your health and comfort and taking care of others is always top priority. These suggestions are if you are like me and feel that a finished face gives you a sense of normalcy and a "suit of armor" to battle through tough situations.
Follow Me | Twitter | Facebook | Instagram