This article may contain affiliate links; if you click on a shopping link and make a purchase I may receive a commission. As an Amazon Associate, I earn from qualifying purchases. 
I am almost 12 weeks pregnant and my regular clothes are starting to get tight, so I've started scouting out maternity clothes. I am having the worst time finding business appropriate maternity wear, which is actually what I need the most of. Do you have any suggestions, particularly for the days I am meeting with clients and would normally wear a suit?
I'm not sure why maternity apparel retailers think all pregnant women want to look like children or sexpots. If it's not boring tee shirts and ill-fitting chinos, it's bodycon dresses and twee ruffles and prints. When I was pregnant I not only wanted to maintain my personal style but also look professional in the office.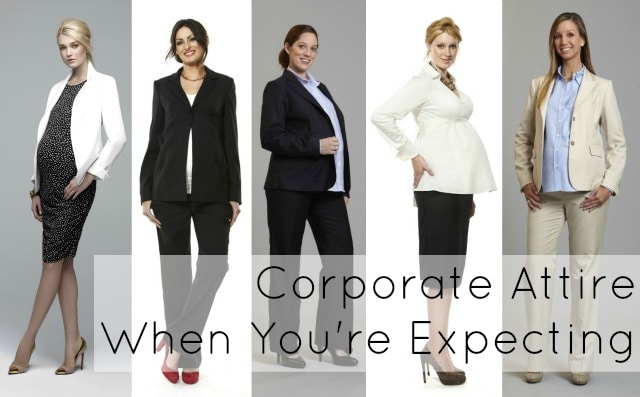 Before you buy a bunch of maternity clothes, try to get your regular wardrobe to extend as long as possible. Many of the maternity things I purchased early on I could only wear a month before I outgrew them, or body parts grew in ways I didn't expect and things weren't comfortable or flattering. I used a belly band for a while to extend the life of pants and skirts, and then switched to maternity pants and a couple longer or maternity tops with the cardigans and jackets already in my closet. In fact, I can recall being seven months pregnant at a client meeting in black ponte maternity pants, a maternity blouse, and a black ponte jacket I had from before I got pregnant. When your belly is really big, no one expects you to be as buttoned up as normal and an open jacket will usually get a pass, even in a more conservative work environment.
I also got away with dresses that had higher necklines (pregnancy increases the cleavage) with a cardigan or blazer. I had one black maternity blazer I wore quite often, sometimes with a blouse and pants, more often than not thrown over a dress to make it look corporate.
Focus on accessories – you can transform that same black matte jersey wrap dress with each wearing with a switch of accessories. An oblong scarf looped at the throat or a short silk scarf knotted at the neckline; a long strand of pearls or a short statement necklace; silver brogues or black kitten heel pumps.
Sometimes just buying a jacket in a size or two larger will work just as well as maternity. You mentioned in your original email that you are a cusp size like me – check out stores like Talbots who have Womens Petite sizes, where you can get a larger size without it being too big in the shoulders or length of sleeve.
There's a lot of prints found in the maternity department, I found that by wearing more subdued colors I automatically looked more professional. A black or navy dress can pass for corporate attire far better than one with pink flowers all over it. Not only that, solids are less memorable so you can get away with wearing the garment more often.
While featuring the belly has become quite stylish in the past years, one place it is not appropriate is the office. In a corporate environment, neither men nor women should be wearing tight clothing to highlight any body part. Wearing a stretchy dress from pre-pregnancy days can be gorgeous for Date Night or a social occasion, but for the office look for dresses that graze the figure but don't cling.
You mentioned a few retailers in your original email, but I didn't see A Pea in the Pod. Many women bypass this retailer because it carries designer and more expensive maternity clothing, but it also carries career wear, and the kind you wouldn't feel ridiculous wearing. When I was pregnant I bought a maternity three-piece suit in black – blazer, pants, and skirt. This way I could mix and match without it looking as though I was wearing the same exact suit to every meeting, and could wear the pieces individually for more casual work days. Right now most of A Pea in the Pod's blazers are on sale for under $100.
Ebay was my favorite place for maternity fashion – such clothing is worn so little, that you can score like-new pieces for amazing prices. I typed in "maternity suit" in the homepage search field, then narrowed down by women's fashion, then suits and found over 50 listings, one being a classic black Liz Lange pantsuit for $49.00. I found higher-end maternity like Olian and Japanese Weekend for less than $40 on eBay, and ended up selling a lot of my quality pieces on there to recoup some of my costs.
Department stores (including Target) have a better maternity selection online than in their stores. Many offer free return shipping for maternity since it's not available in stores. I found many a great piece from JC Penney, Target, and Nordstrom for reasonable prices.
Follow Me | Twitter | Facebook | Instagram