This article may contain affiliate links; if you click on a shopping link and make a purchase I may receive a commission. As an Amazon Associate, I earn from qualifying purchases. 
I lived in Florida all my life, but am moving to DC for a new job and need to get a winter coat. I will be taking the bus for work and want a coat that looks professional but can survive public transportation and DC weather. Suggestions?

I need a new coat. I have the Squall from Lands' End and have had a version of this coat for over a decade but want to get something more fashionable for work and stuff. I want it to be water repellant and I want it to have a hood and cover my [behind] when I sit on a bench. Where should I look?

I don't wear wool but want a coat that looks nice, where can I find one that is stylish but also warm?
DC is a strange place, where it can be 70 degrees in November and 30 degrees in April. It is also quite wet in this area, many days that are cold are also with sleet, rain, or snow. In previous posts I have stated that a wool coat is more versatile and chic than one of a synthetic material, but I'll admit it's far more comfortable to deal with public transportation, walking, and commuting in general when you are both warm and dry and not worrying about your dry cleaning bill. Here's some suggestions for winter coats that will keep your warm yet stylish all winter long.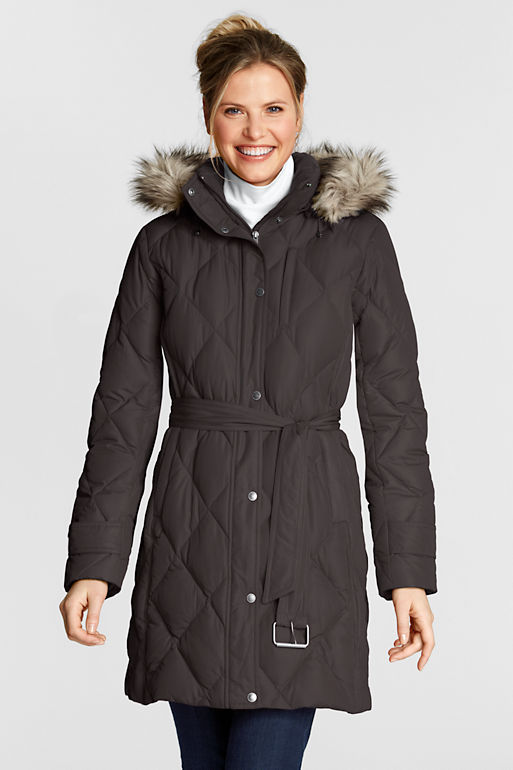 I have a coat from Lands' End that is very similar in style and made me a synthetic coat convert. The belt on this coat gives you a feminine shape and prevents the Michelin Man look, the faux fur trim on the hood adds a luxe feel, the longer length will keep your rear warm on cold metal benches at bus stops, and the large variety of colors and sizes means there's a right one for each person. I like buying pieces like coats from Lands' End because I feel confident that if a zipper breaks or there is some defect, I can easily return or replace it.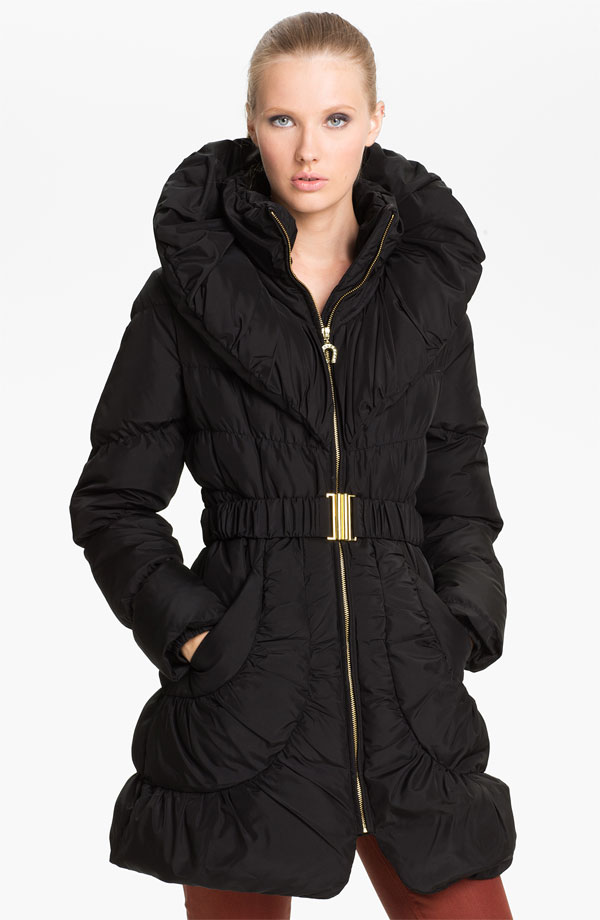 Quilting doesn't have to add bulk and destroy your figure; strategic quikting and padding can actually accentuate your curves and emphasize a feminine shape. This coat from Betsey Johnson gets rave reviews even from those in Alaska for it being warm, but the shape, stitching, and belt give it a modern, fashionable, and flattering fit.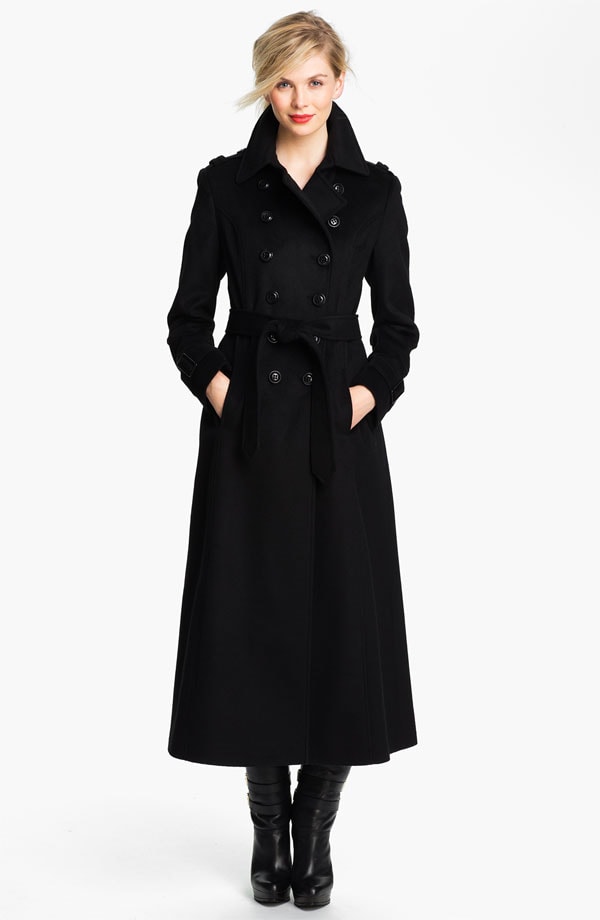 Wool doesn't mean cold, on the contrary. If you live in a more mild climate like DC, you can get away with a wool coat for your winter. If the coat is long like this one from DKNY, you're able to keep your legs cozy as you walk to the office or sit waiting for the train. While this coat doesn't have a hood, it has a high collar to protect your neck and would look tres chic with anything from a cloche to a knit beanie.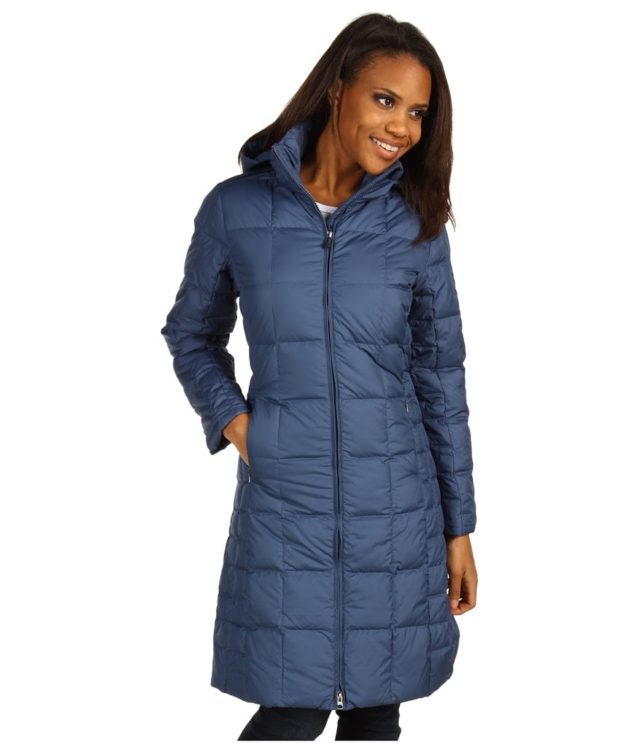 Again, strategic quilting to the rescue! The varied sizes of quilting give this coat shape without sacrificing warmth. While black is a safe choice, the Prussian Blue adds a level of fashion and fun to a traditional long parka.  This coat is not only warm, but also water resistant – perfect for the woman who walks or takes public transportation to work!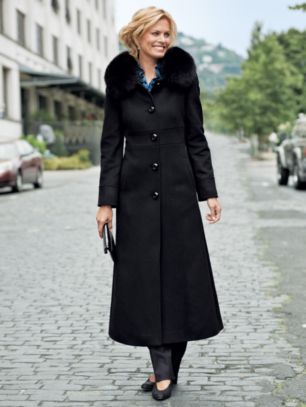 Fit and flare with single breasted buttons makes this coat slimming, the traffic-stopping collar makes it stylish and extra warm. The cashmere blend will look equally at home with jeans and boots as with cocktail dresses and heels.
Tips for Purchasing a Stylish Warm Coat:
Look for a single statement-making detail. Fur-trimmed hood or collar, military-inspired metal buttons, belt, unique color or texture – such details will take a parka from play to professional. Keep such details to a minimum – only one statement needs to be made or it will go from chic to cheap.
Flatter the figure. Strategic quilting, a belt, single breasted, curved hem… such details can make the difference and have a coat be warm and chic.
Choose sophisticated colors. Some colors like yellow, orange, barn red, and baby blue scream ski slope or shoveling snow. Black, olive, navy, ivory, gray, dark plum, and teal give a more elegant feel to a parka.
Read the ingredients. Who cares what a coat looks like if it doesn't keep you warm? Read the details – many outerwear retailers will state what temperature such a coat was made for. Wool, cashmere, down, Thinsulate – these are all materials that will keep you more warm than most synthetic blends. If you live in a wet climate be sure to find a coat that is also water-resistant or waterproof. If you choose the right textiles you can often achieve equal warmth to a bulkier coat of cheaper materials.
Follow Me | Twitter | Facebook