This article may contain affiliate links; if you click on a shopping link and make a purchase I may receive a commission. As an Amazon Associate, I earn from qualifying purchases. 
I need flat, stylish shoes that I can wear with socks on chilly fall and winter days. I love the way that ballet flats look but obviously socks don't work with them. I have low, black, ankle boots with a kitten heel, but need to mix it up with some other work-appropriate shoes (meaning, no boots that you'd wear jeans tucked into). I've looked at some driving mocs but haven't found any that are cute/stylish and age-appropriate (34). Help!
Socks
First things first, the type of sock you wear makes a major difference. Men are used to this, and have dressier socks to wear for work, and more casual socks for weekends. For a sock to work with flats, you want something that is sleek, fits snugly to the ankle, doesn't slouch down, has a refined finish. Trouser socks are a safe bet – they're made to be slim and professional looking. While some may seem like glorified knee-high pantyhose, others look great and add a bit of warmth. I am a big fan of the Spanx Perfectoe Trouser Socks – they are moisture wicking and double layered which adds some padding to the tootsies and extra warmth come winter. They also don't leave red rings on my calves after a work day. DKNY also makes some nice microfiber trouser socks which are more opaque, keep their shape better, and launder better than most other brands I have tried. Both brands come in standard dark neutrals that will work with most trouser and shoe colors.
I also have much success with knee socks, which come up past the widest point of your calf, ensuring they don't slide down. Also the extra height prevents a visible line in thin or more fitted trousers, and you get a couple more inches of warmth.
You don't have to stick to boring black, gray, and brown socks. Again, take a cue from your male colleagues and have some fun with your footwear. Since only a sliver is seen, it's a great way to add a pop of color or do some pattern mixing without being too extreme. A gray and black pattern is a subtle look; a classic pattern like leopard, polka dots, argyle, or houndstooth is chic; a solid bright like candy pink or aqua can brighten a gray winter day.
Shoes
Okay, we've covered socks… now on to shoes! I agree with you, I don't think ballet flats work with socks. The look is awkward. However, there's a lot of styles this fall that do work really well with socks: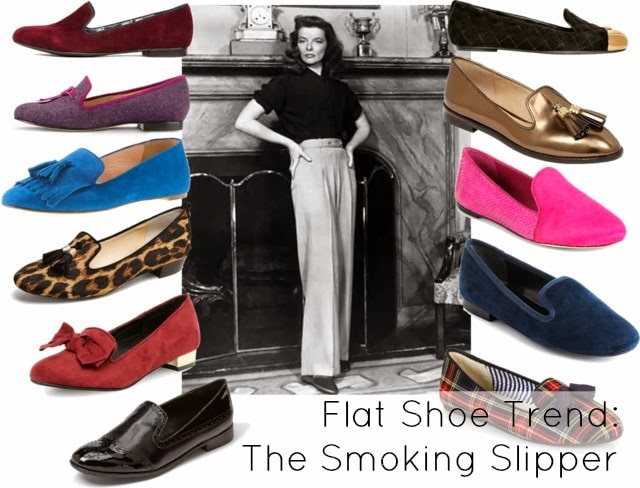 Be a modern-day Katharine Hepburn with a pair of smoking slippers.
The Smoking Slipper
With the higher vamp and the loafer-esque silhouette, a smoking slipper works quite well with hosiery. I'd stick to a dark color that matches the shoe or trousers since the shoe has a very unique silhouette and most smoking slippers come in a print or unusual material. Pair with menswear style trousers and a crisp white shirt or fitted sweater and channel Katharine Hepburn.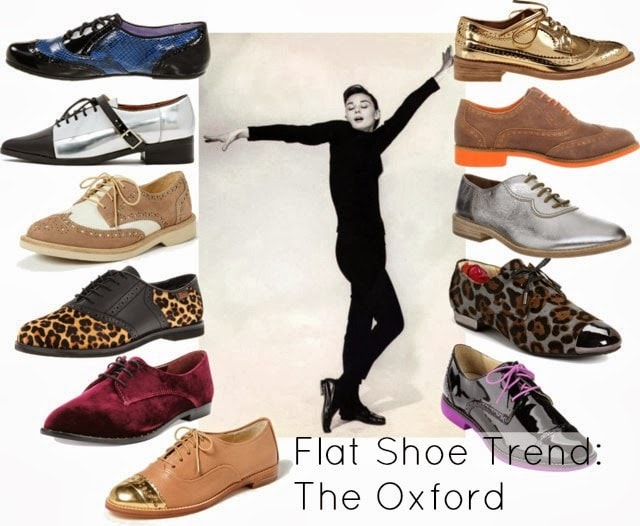 She may be wearing loafers, but you can achieve Audrey's sleek look with this season's oxfords.
The Oxford or Brogue
The oxford or brogue shoe isn't going away any time soon, and that's good news for those of us wanting flats that pair with socks. While some styles of oxfords can seem heavy and manly, there's also many sleek and feminine styles out there. While an oxford looks great with most any cut of trouser, it's fresh and feminine with a slim and slightly cropped pant (the better to showcase your legwear, my dear!). Pair narrow black pants and black socks with a printed or textured oxford and be a modern-day Audrey Hepburn.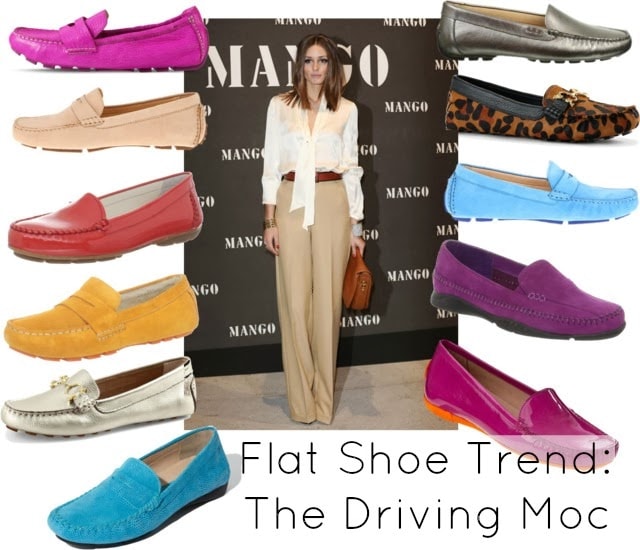 Driving mocs look great with the feminine version of menswear, take a cue from Olivia Palermo's look.
The Driving Moc or Loafer
You mentioned this style and I agree it's perfect with socks, but it is hard to find a more youthful version. It comes down to color – most mocs look the same, but if you choose a fun hue, it automatically looks younger and more hip. Don't be afraid of a lighter color for winter – a bone, pale gray, or winter white moc can be quite modern looking this season. Be inspired by Olivia Palermo's style and wear them with a feminine version of menswear in soft neutrals.
Follow Me | Twitter | Facebook | Instagram