This article may contain affiliate links; if you click on a shopping link and make a purchase I may receive a commission. As an Amazon Associate, I earn from qualifying purchases. 

I did not want to like them. No, no siree, newp, nah, I didn't want to like them.
A little over a year ago, Margaux Shoes reached out to me about a possible partnership. I haven't had luck partnering with shoe brands. I have difficult feet – they are high volume, wide, and I have very short toes. Too many times over the years I have agreed to review a pair of shoes or do a paid collaboration, receive the shoes, and can't even get them on my feet. I told Margaux I'd be happy to try a pair and if they fit I'd share on the blog but I couldn't guarantee a feature. I never heard from them again, and I didn't blame them. It was better for both of us.
And then Margaux opened a pop-up shop in DC and invited all the fancy bloggers in the city. I saw all my friends rocking their Margaux shoes and I was happy for them… and happy I wasn't included. I didn't want to be in a situation like I've been in before where I'm forcing my feet into shoes made for a different body, pretending I'm happy and comfortable. I don't want to misrepresent a brand and I don't want to lie to you. So I liked their photos on Instagram and moved on.
And then Grace Atwood from The Stripe shared a selfie on Instagram Stories where she was wearing these cute soft gold leather strappy heels with a solid heel and she said they were from Margaux. What stood out to me were the crossed straps on the front of the shoe. With my teeny pinky toe, I can't wear shoes with a single strap across the toes; my pinky always escapes and that is NOT chic. A cross-strap is my JAM, especially with a strap wide enough to not only corral my pinky toe but cover it completely. Shoes like this are hard to come by in wide widths without also having a rhinestone buckle and a fabric flower and a wedge heel covered with a sticker that makes it look like bamboo or wood and of course a platform sole. And these shoes had none of that nonsense. They were tasteful and looked expensive and were the kind of color that was low-contrast with my pale self but metallic enough to go with everything all seasons of the year.

Unsponsored Margaux Shoes Review
I remembered from my emails with Margaux that they had wide widths. Were they REALLY wide, or were they wide like some brands claim which is just a non-narrow option? Were they truly as comfortable as all these people were paid to say? I went on the Margaux site… oh snap they're $285? I don't usually spend that kind of money on a pair of shoes unless they're made of fabulous leather and coat my body from too-small pinky toe to the bottom of my knee cap. But then I thought about my black suede ASOS heels. I bought them at least five years ago for less than $50 (likely less than $30). They are the most worn shoes in my closet because they are some of the only heels I have found that fit my feet, corral my pinky toe, and don't cut the circulation off at the ankle strap. Looking back, I would have paid ten times that price for those beloved shoes (and I keep returning to ASOS hoping they'll offer them again so I can stock up).
Margaux has a 30-day return policy if the shoes are unworn. They even come with a sticker on the soles to protect them from dancing around in front of your full-length mirror to see if you truly love them. You will have to pay a $9.95 handling fee, but I felt that balanced out by giving them my email address to get on their mailing list and receive a 10% off code for my first purchase.
Margaux carries a couple styles of flats, loafers, pumps, a variety of sandals, and boots. I was interested in their Uptown Sandal which was the one Grace was wearing. It's a high heel, but I heard these shoes were crazy comfortable and I wanted a heeled sandal to wear with dresses but also with jeans and wide-leg trousers. This specific shoe comes in black velvet, chestnut-colored suede, and gold leather. I ordered the gold leather in 38.5 (US equivalent is an 8, my usual size) wide (they come in narrow, medium, and wide).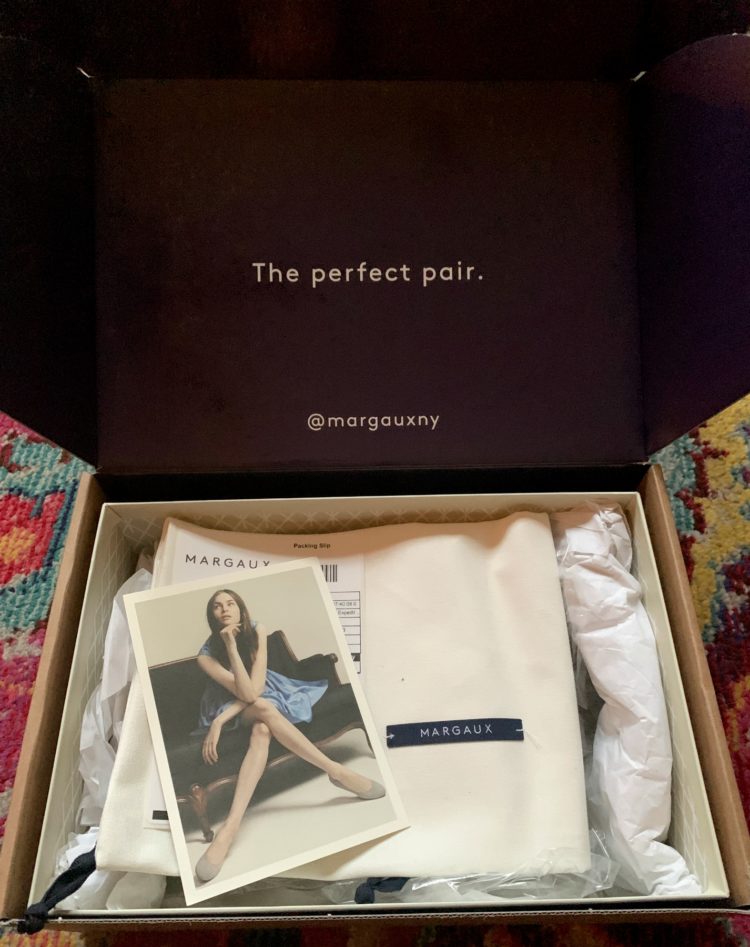 The shoes arrived super quickly, like less than a week. I appreciated the low-frills but quality packaging – a solid easy to re-use exterior box, a luxe shoe box inside, an envelope with the packing slip and return label and a card thanking me for my purchase.  If I had to make a return it wouldn't require my own box and a ton of packing tape.  The shoes also come with a heavyweight shoe bag which is a lovely touch.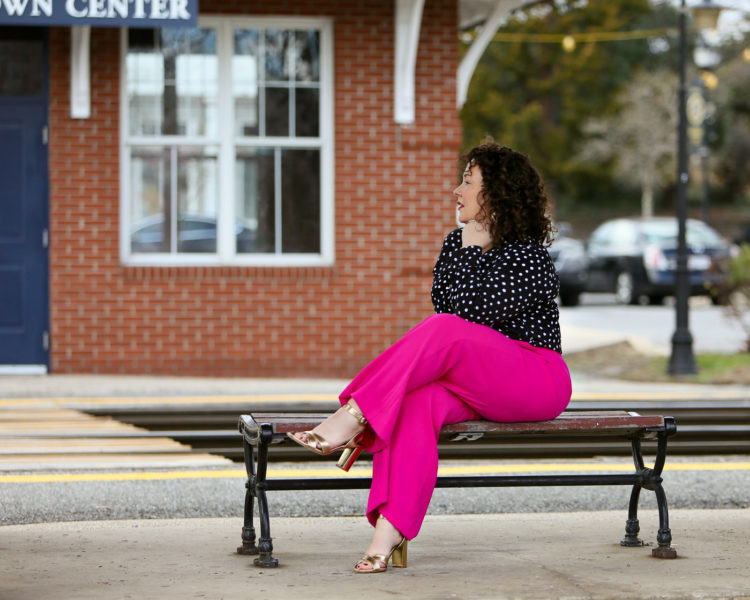 Margaux Uptown Sandal Review
I made sure to try on the shoes at night after a long day, so my feet would be at their largest. I was impressed that my toes slid right in, no need to wiggle and stretch to get them to fit. The sole was wide enough to support my whole foot (wide-footed folks you know what I'm talking about when the sole of a pair of heels is so narrow the sides of your feet are floating in mid-air). The ankle strap not only was long enough to get around my solid legs, but I also didn't have to have it on the last notch! The leather was super soft, but it wasn't a single layer so it was also firm enough to not get all stretched out with wear. Though the straps were wide and the heel solid, the shoe still gave a feeling of delicate femininity and modern formality.
I wore them that evening to get sushi takeout, and no I didn't change out of my knit joggers and sweatshirt. Let's call it street style.
I wore them the next day. I went to two grocery stores as one does before a major holiday, went to the dry cleaners, dropped off some clothing donations, and even wore them while doing tasks around the house like laundry and dishes. I kept them on for seven hours straight and 70% of that time was on my feet and I wasn't in pain.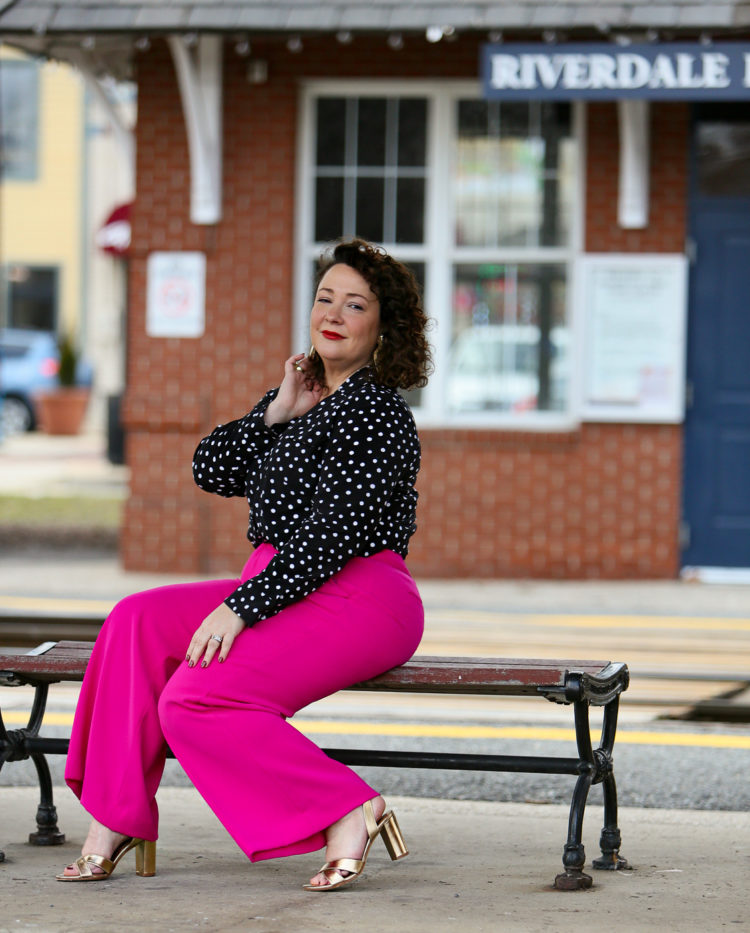 I so wanted to say they sucked. I wanted to return them, lose my handling fee but write a very funny biting review about these shoes. But I love them. And I love them so much I am checking out their other shoes and thinking I may invest in another pair this spring, maybe the City Sandal in Python Embossed?
So yes, this is a positive and unsponsored Margaux shoes review. A review I never planned to be writing.
Margaux Shoes FAQ
Since I know you will have questions because I am not one to usually promote a pair of sandals that cost almost $300, here are some answers:
Can I check out Margaux shoes in person?
Yep! Margaux has a flagship store in New York on Bleeker Street and they have a pop up at the 59th Street Bloomingdale's. The DC pop-up is in Georgetown and should be there until the spring. They have had pop-up shops in other parts of the US and likely will again; visit this page to find out their store locations.
Where are Margaux shoes made?
They are made in well-established family-owned factories. The Uptown Sandal which I bought is handmade in Spain. On their Instagram account, they share details like trips to factories and the talented people who craft the shoes. It seems that all the shoes are at least designed in Spain and many I viewed on the site are completely crafted there as well.
What sizes and widths do Margaux shoes come in?
Margaux shoes come in US sizes 3 to 14. All shoes come in at least narrow, medium, and wide but some also are available in double narrow. Some styles are also available made to measure. They highly recommend purchasing their Fitting Kit for $15 for ordering made to measure shoes as it has a version of that ruler-thingie stores all had back in the day to figure out your shoe size plus fabric swatches, a tape measure, and instructions. The made to measure quiz measures by centimeters and considers different length and width of feet, different heel widths, foot volume, and bunions.  For assistance, they also have a fit quiz on their site.
What kind of styles does Margaux shoes offer?
I'll let you know I ordered what is likely their most wild shoe style. Margaux is a brand of classic, well-made shoes. Flats, pumps, loafers, sandals, and ankle boots in leather, suede, velvet, and the occasional skin print or subtle pattern. These aren't cheap shoes, but these are designed to be shoes that will be comfortable, transcend trends, and remain a favorite in your closet for many years.
Margaux also has a bridal atelier where you can several of their traditional styles but in a variety of formal fabrics and bridal colors. They can have your chose of insole color and even be personalized with a brass plate on the sole with initials or a date. Even if you are not a bride, this is a great option for those with hard-to-fit feet looking for a dressy shoe.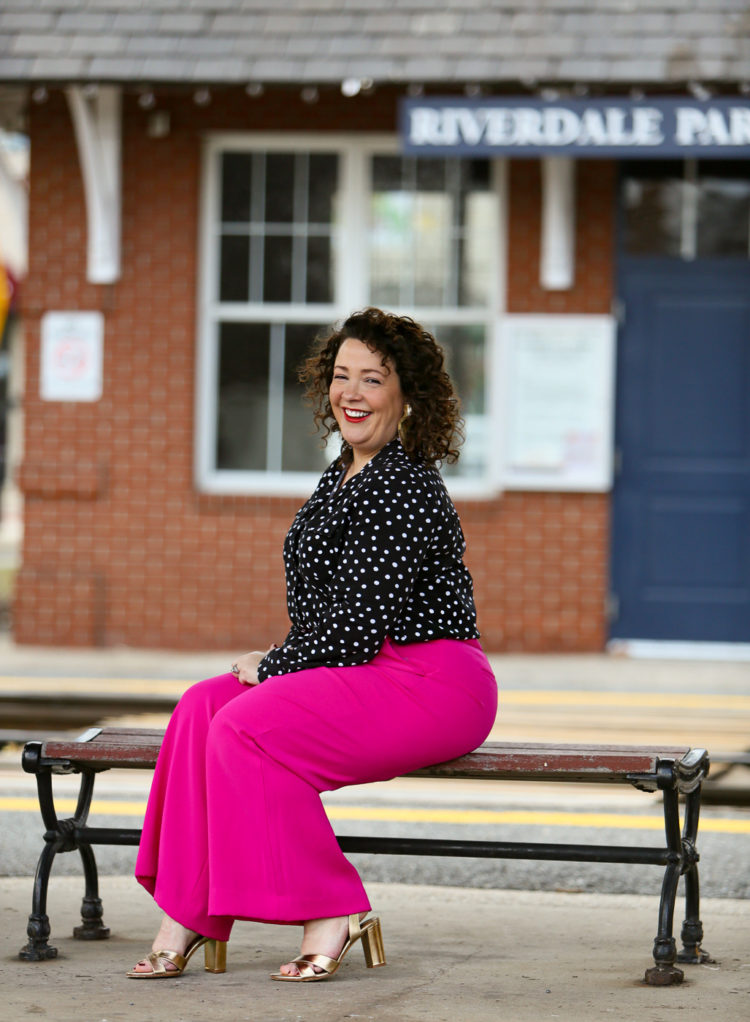 Shop Margaux Shoes:

Have you tried Margaux shoes? I'd love to hear about your experience in the comments!