This article may contain affiliate links; if you click on a shopping link and make a purchase I may receive a commission. As an Amazon Associate, I earn from qualifying purchases. 
I mentioned recently I would go into detail about my accessory collection…
As you guys can tell, I LOVE jewelry. I am not one to covet diamonds and semi-precious gems; I am the kind of girl that likes things modern, big and bold. I inherited this from my mom who has an amazing collection of mainly silver jewelry; she inherited much from my Great Aunt who was a jewelry designer specializing in big bold silver pieces.
I learned from my mom that if you properly care for and protect your accessories, they will last a lifetime. She still wears pieces from her school days, gifts from old beaus, pieces she even made with my Great Aunt before she passed. In her collection are pieces that originally belonged to my grandmother, Great Aunt and other relatives. I love how jewelry can tell a story – a trip overseas, a celebration of a lifetime achievement, a memory of a past relationship, a hot trend in fashion that is now seen as quirky vintage.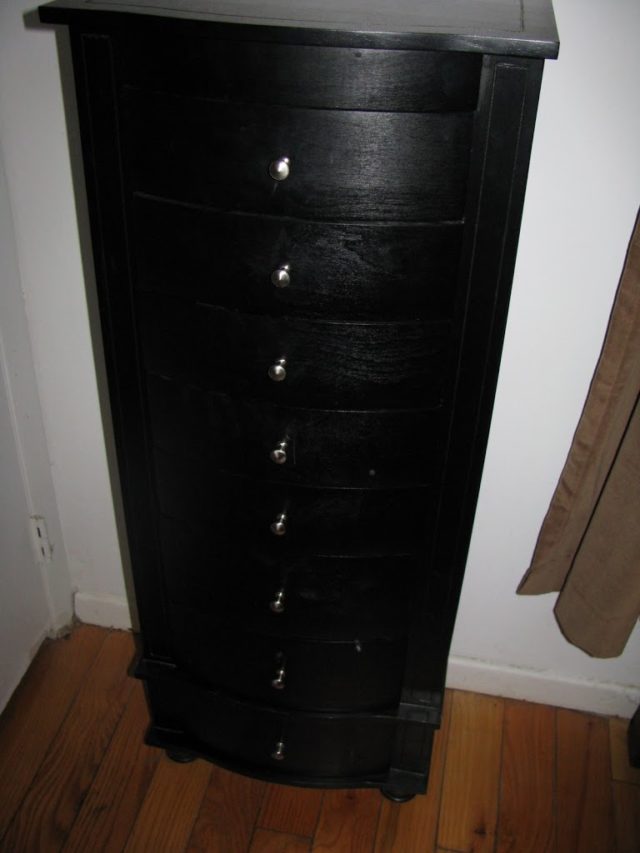 When I was younger, I was not good with my accessories. I would forget I had a necklace over my turtleneck, pull off my sweater and break the chain in the process. Jewelry would be thrown all over the house and I would eventually lose or break and earring or ring in the process. I would forget which sorority sister I loaned a piece to and never see it again. Let's not even bring up the hundreds of dollars with of chunky silver rings I have lost when I worked retail – my hands would swell from too much caffeine and the dryness of cardboard shipment boxes and clothing fibers; I would take the ring off for JUST A SECOND and never see it again.
In the past several years I have made a concerted effort to purchase only that which I could see with multiple outfits, over multiple seasons and fit my true personality, not a trend I was trying to achieve.
I had several solutions for my accessories – various jewelry boxes that I would outgrow in a couple of months, fabric-covered storage boxes on closet shelves, a coat rack with hooks for necklaces, even velvet bags in one half of my sock drawer.
Not until last year did I have the perfect solution for my ever-growing collection – an armoire dedicated just to accessories.
My husband got me this piece for my birthday one year; he purchased it at Target though I know they sell similar pieces at Bombay Company, QVC and various furniture retailers. This one had plenty of storage space and fit the look of our bedroom. It is black stained wood, and I believe it was a little over $100.
The top part of the armoire opens to have a mirror (that I never use) and a few velvet-lined compartments for small pieces. Up here I keep all my delicate things – nice necklaces, post earrings, brooches, delicate pendants and bracelets, and even my wedding tiara. 🙂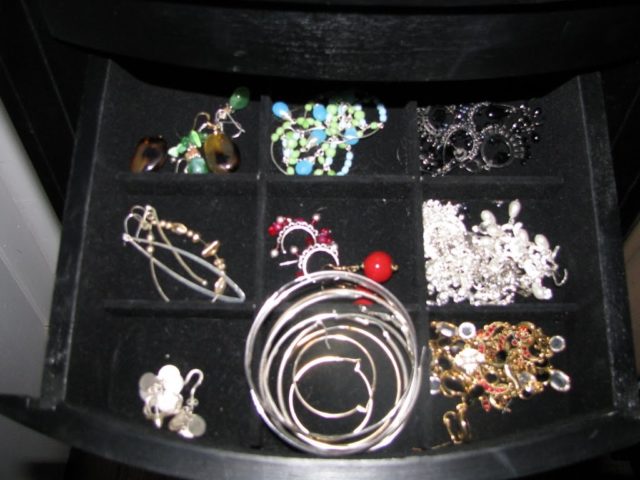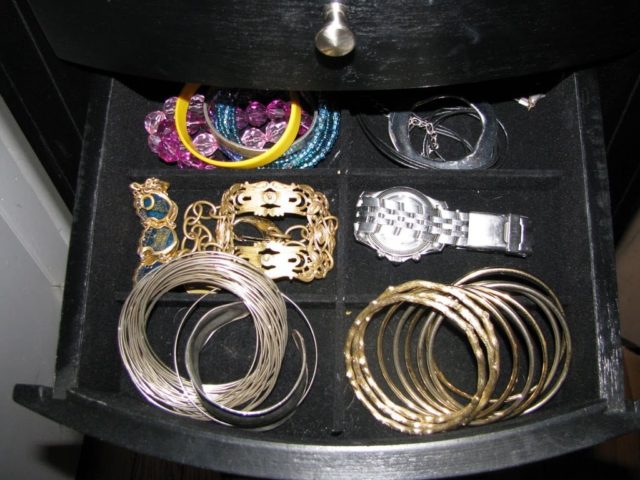 The next two drawers also have little compartments. The first one has smaller compartments so it became my earring drawer. Hoops are in the center because they are worn the most; rest are sectioned off usually by color or style. I do have one compartment for single earrings in hopes I find the match or am invited to a Cyndi Lauper lookalike party…
The second drawer holds all my bracelets and my lone watch (that I never wear). Again, that which is worn the most takes front real estate, and I organize by color and style. This may seem anal, but it makes it super easy to put away stuff in the dark and dress in a rush.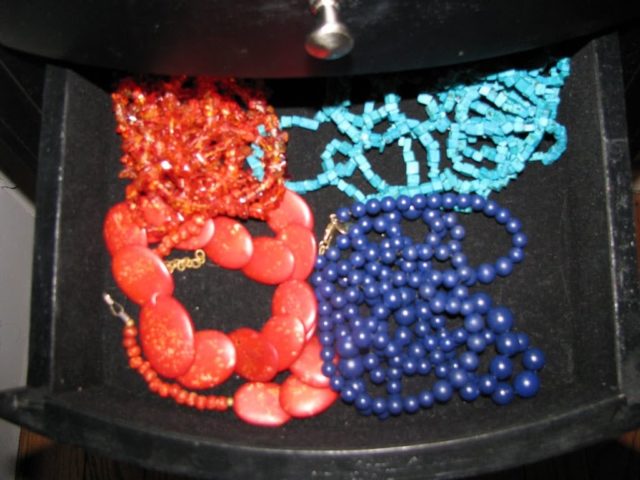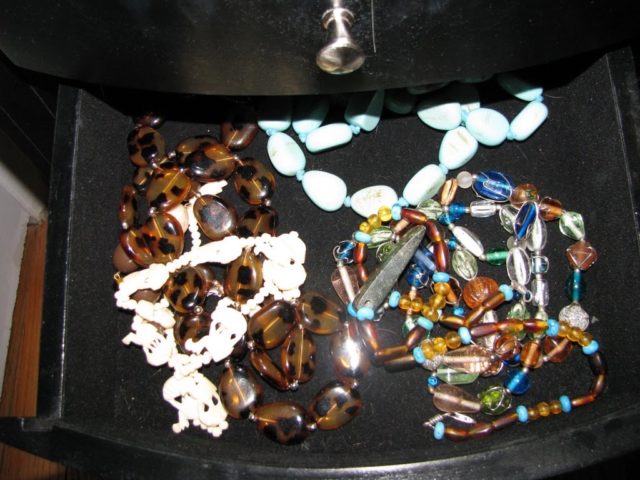 The next three drawers are of the same size and without compartments. As you see, I also sort of organize them by category – the first drawer are pearls, second one are colored stones, third one holds bead and more organic of pieces. Necklaces in these drawers are sturdy and not likely to tangle. Again, having them categorized makes it super easy to find an appropriate piece when dressing in a dash (no point in opening the pearl drawer if I am wearing my olive linen shift…).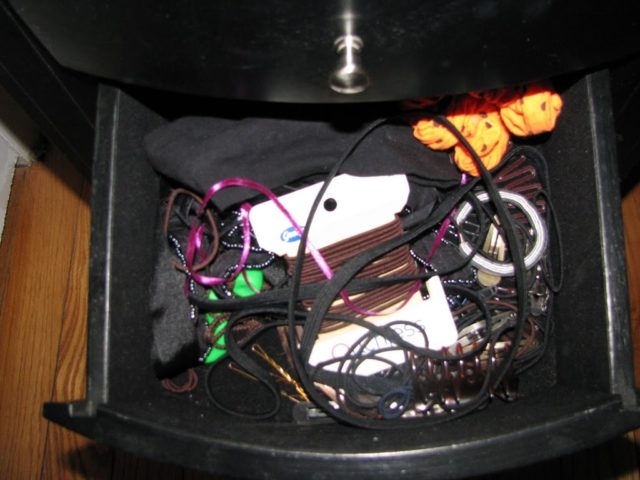 This drawer is next – it holds all my hair accessories. Elastics, bobby pins, headbands, and yes that is a neon orange polka-dotted scrunchie in the corner (hey I did wear it to see an 80s cover band…). I adore having this drawer because it's so easy to find random clips and elastics and just have a place to toss them. My husband also knows where it is and will toss them in there when he finds them on the floor or on the back of the toilet. Since having this drawer I have not had to go out and purchase a single hair accessory – in fact I seem to have more than ever since there is a home for them when they are randomly found around the house and car.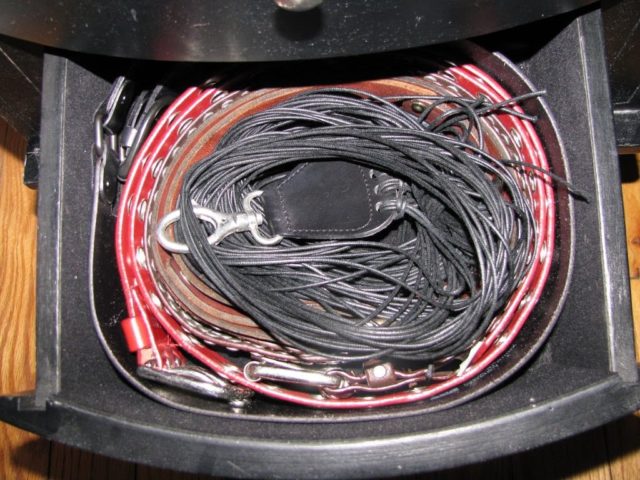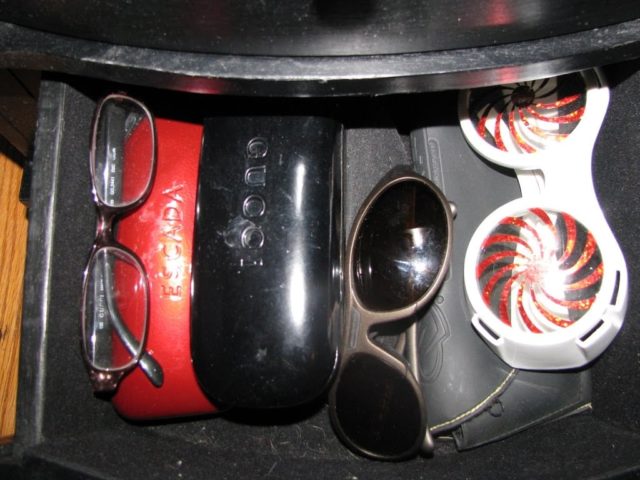 The last two drawers are far larger and hold those bigger accessories that never seem to have a good home – belts and glasses.
I don't wear belts very often, and having them in my tiny closet was a pain and they were either super hidden deep in the back or in the way up front. I have taken the belts I occasionally wear and gently curled them into this drawer; those belts that are out of style or I don't wear a also gently curled and stored in a canvas box on a very high shelf in my closet. I don't really believe in getting rid of an accessory unless it is broken or in bad shape; you never know what will come back in fashion or even work for a Halloween costume. Accessories take up so little space, it doesn't hurt to hold on to them for a while.
The bottom drawer holds glasses and sunglasses and extra cases. And no, I don't wear my Bootsy Collins shades on a regular basis! 🙂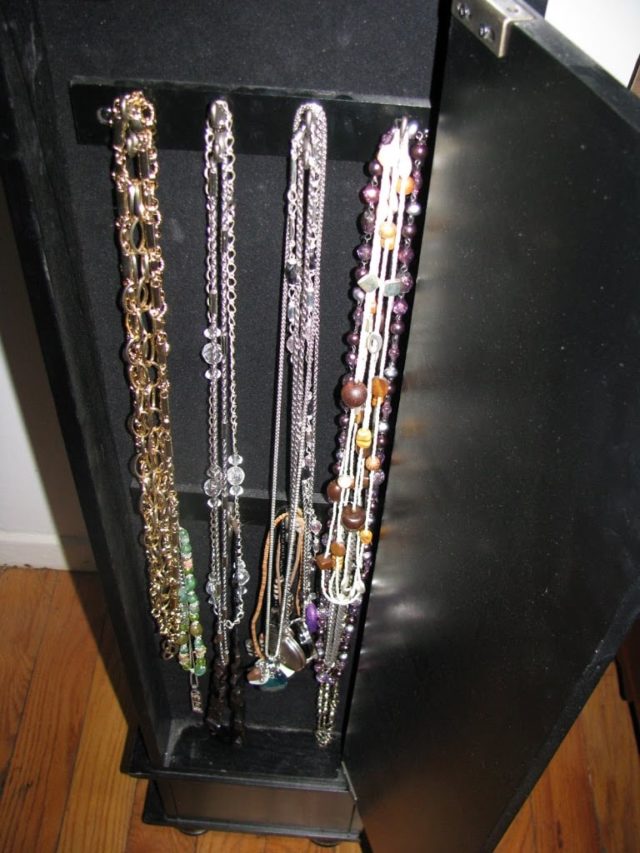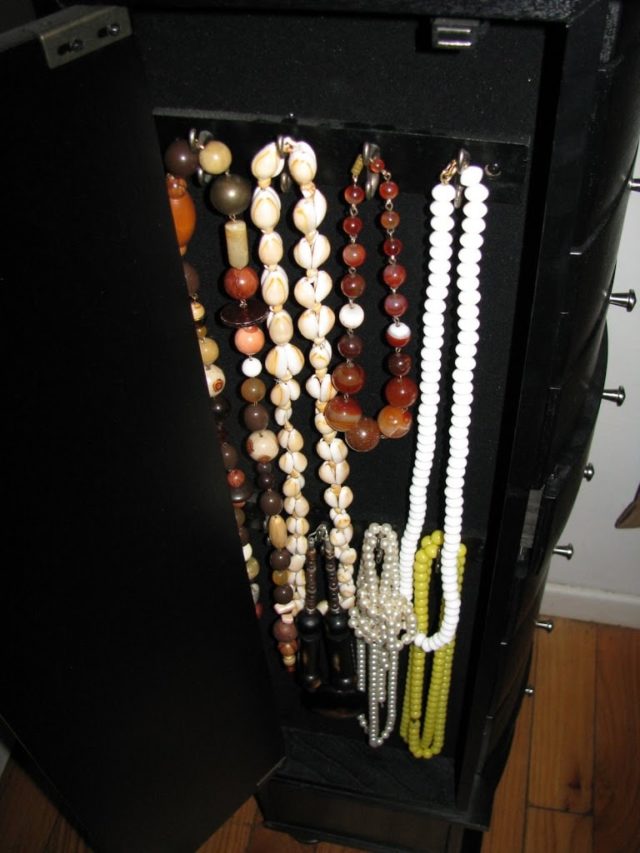 The armoire has two side doors that stay closed with magnets.
The door on the right of the armoire (first picture) is easily accessible and holds all of my necklaces that easily tangle. Again, they are hanging in categories – gold, silver, pendants, beads. The bottom rung of hooks holds shorter necklaces that aren't worn as regularly.
The door on the left (second picture) is not easy to get to since that side of the armoire is flush with my bureau. Because of that, it holds my out of season/out of style/least favorite necklaces. I do open it up every couple of months to see if there is anything I may want to put into rotation, and place in there that which I have tired of.
The armoire is between my bureau and my closet so it is easy to reach, and easy to toss items back in it at the end of the night. Having it organized means my husband helps too – if I leave my earrings downstairs from falling asleep on the couch, he can bring them up with him next trip and know where they are to go. I don't lose pieces and I don't break pieces and it has been years since the vaccuum or my dog has consumed an earring back.
It's funny, growing up I was a SLOB; my room is still never perfectly tiday and I am the queen of piles, yet I have become a bit obsessive with my clothes and accessories. When you are on a budget, it doesn't make sense to be cavalier with what you purchase. If you properly care for quality clothing and accessories, they will return the favor with many many years of great wear!