This article may contain affiliate links; if you click on a shopping link and make a purchase I may receive a commission. As an Amazon Associate, I earn from qualifying purchases. 
Can you give me some guidance about which boots to wear with which jeans? There are skinny jeans, straight-leg jeans, mini-boot cuts, boot-cuts, boyfriend jeans, cropped jeans, jeans that people cuff above the boot, jeggings, and everything in between. There are ankle boots, cowboy boots, mid-calf boots, knee-high boots, UGGs, shooties, and fakers (they look like boots from the front but the back is open like a mule/clog). Which jeans do I pair with which boots so that I look proportional and not like a farmer? And when do I tuck the jeans inside the boots, and when do I leave them out?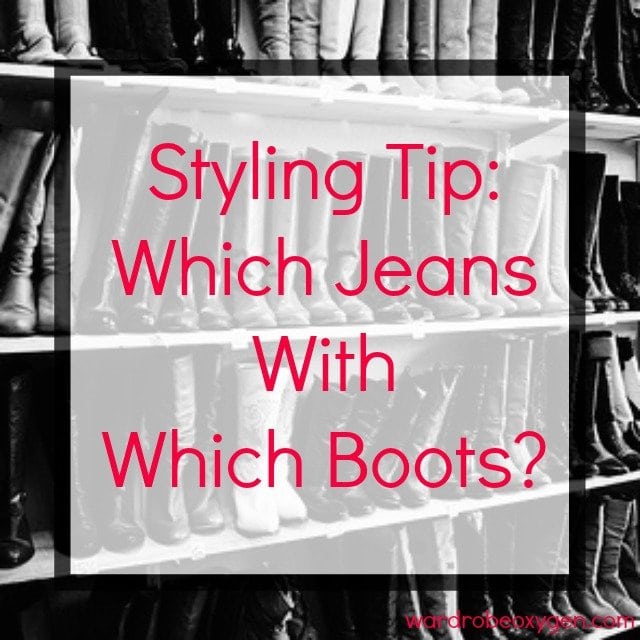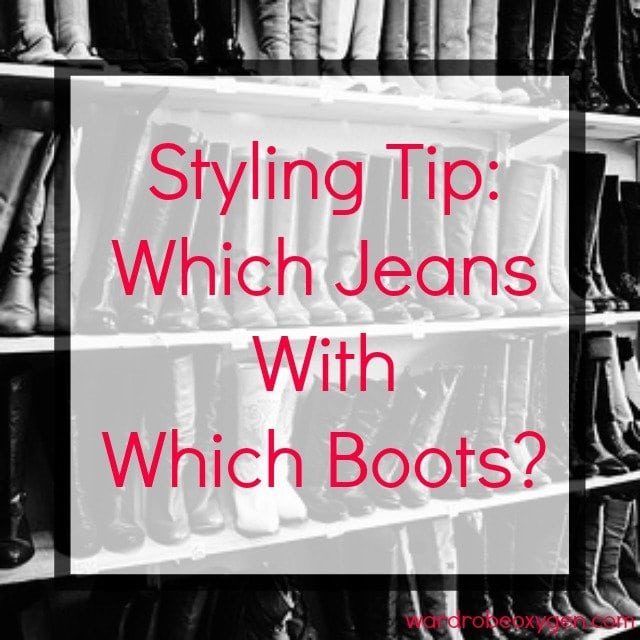 Jeans with boots should be easy… I mean we've been wearing the combination for eons, right? But with all the different leg widths, lengths, and boot styles you may feel as though you need to get an advanced degree in footwear/denim matching!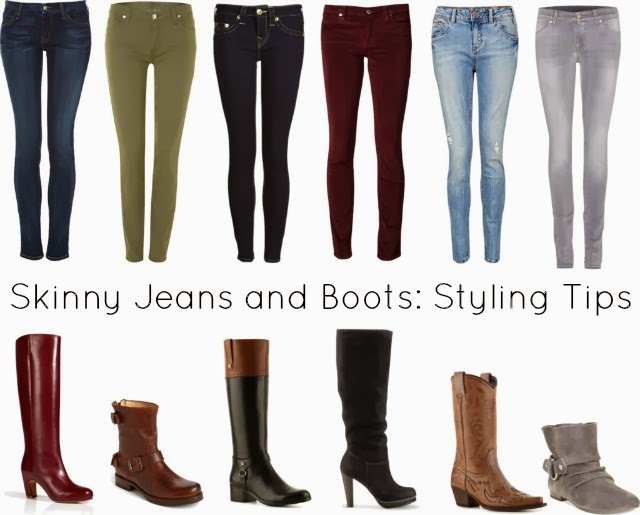 Jeans with Boots Styling Guide – Skinny Jeans
The skinny jean is a heavier weight than a jegging (legging made out of a lightweight stretchy denim), has all the trimmings of a typical jean (pockets, zippers, belt loops, etc.), but has a very narrow fit. What was originally found to be a cut only models could carry off, skinny jeans are now a commonplace silhouette worn beautifully by women of all shapes and sizes.
The skinny jean is perfect for tall boots, be they over-the-knee heeled boots, flat riding boots, cowboy boots, calf-height harness boots, or a slouchy suede wedge. The skinny jean hugs the leg making it less likely to bag at the knee or wiggle its way out of the boot shaft. The slim silhouette makes the bulk of a boot look more elegant, and works with the chunky and slouchy knits this season.
The skinny jean is also perfect for ankle booties. Be they short harness boots, lace-up combat boots, or ankle-high cowboy boots, a skinny jean tucks into the boot nicely and shows the shape of your calf above the boot's opening. If you find your jean likes to wiggle out of booties, consider tucking the hem into a pair of socks; they also sell suspenders specifically for this purpose!
If you are going to wear UGGs or similar shearling or thick boots, I think they look the best with skinny jeans. Again, the bulk of the boot is balanced by the slim silhouette of the denim, elongating your legs and keeping you from looking like the Michelin Man.
Jeans with Boots Styling Guide – Jeggings
As mentioned earlier, jeggings are like skinny jeans but with legging details. Usually a lighter weight fabric with more stretch than your typical stretch denim, jeggings often are without front pockets, a proper zipper, and sometimes have an elasticized waist. Since jeggings are such a thin fabric, they look best with tall boots that cover a bit of the body and balance the frame. I'd offer the same advice I did for skinny jeans, but add that you should also consider what you wear on top. Jeggings are best with tunics, longer cardigans, and jackets that hit around the hip to again balance the fabric but also provide some modesty.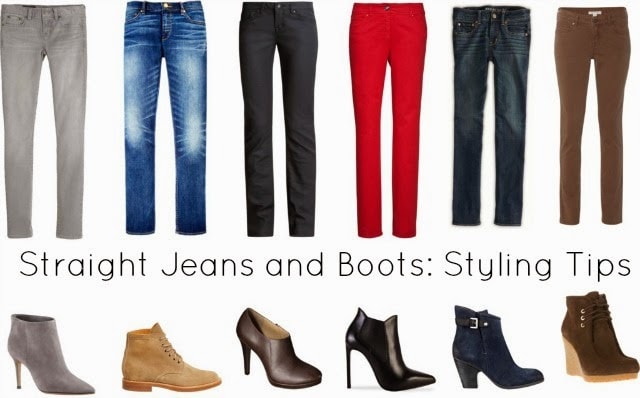 Straight Jeans
The straight jean is a classic and flattering to most figures. That being said, it can be one of the hardest to style with boots. Often times too loose to tuck into tall boots, too baggy to slip into ankle booties, you may feel you're stuck with flats when wearing straight jeans. In fact, a straight jean is a perfect partner for the slim-heeled booties and shooties that have been hot the past two seasons. Sort of a blend between a pump and an ankle boot, shooties have a lower vamp, a slim streamlined silhouette, and slip nicely under a straight leg jean letting the toe and heel peek out.
When it comes to straight jeans, the best boots are those that are meant to go under the jean's leg. Wedge boots, granny boots, city boots, Chelsea boots, and shooties are often made with simple openings and elastic gussets to make them easy to slip on and off, but not as attractive on display over your jeans. The medium leg opening keeps your jean from dragging on the ground and covering your entire boot and gives a nice break at the front of the shoe.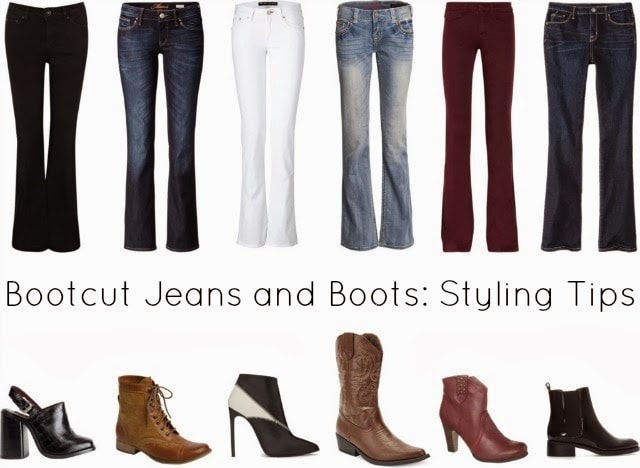 Jeans with Boots Styling Guide – Bootcut Jeans
No matter the size (hello mini and baby boots), bootcut jeans are named that because they flare out a tiny bit at the bottom to make room for a pair of boots to be worn underneath. With this bit of flare, you can carry off harness and cowboy boots without their shape showing through your jeans. Many women give their tall boots a second life (and give themselves a bit of warmth in the winter) by wearing their slimmer tall boots under bootcut jeans.
You mentioned "fakers", those boots that are actually mules, and I think they are perfect for bootcut jeans because the extra width makes it less likely that the hem will slip under the heel, and it hides the back of the shoe. For such a shoe, a bit longer of a hem is good because it will better hide the mule back, keep your foot warm, and flatter the bulkier style of the boot.
Bootcut jeans also look great with ankle boots and shooties… if worn UNDER the jeans. Bootcut jeans (no matter how mini the bootcut) have too much volume to tuck them into any style of boot. The extra fabric will be uncomfortable wrapped around your ankle and show bulk. Remember the reason for this silhouette and wear boots under your bootcut jeans.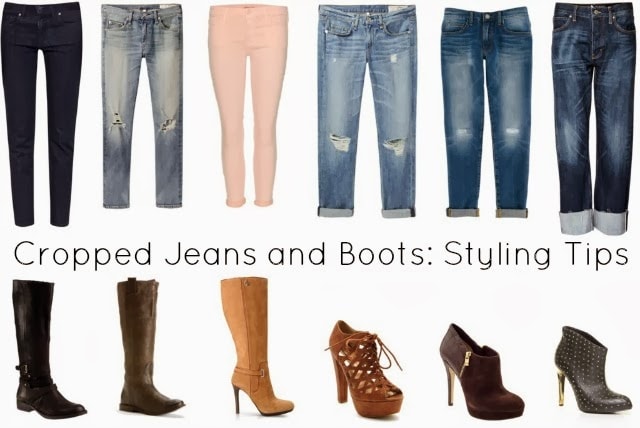 Jeans with Boots Styling Guide – Cropped and Boyfriend Jeans
This is a cut of denim that is far harder to carry off with boots, and I often recommend the pairing to just True Fashionistas. However there are two popular manners in which to pair shorter jeans with boots…
A slim cropped or capri jean can pretend to be a full-length skinny jean when tucked into tall boots. This is a great way to get extra mileage out of your summer jeans; white and pale colors look seasonally appropriate when half covered with brown or black leather and topped with a wintry knit or jacket. I have been known to do this trick; I recommend wearing knee socks to keep your shins warm in the winter and also to hold down the jeans so they don't bag at the knees.
Baggier cropped jeans like boyfriend jeans can get a downtown cool vibe when paired with a heeled ankle bootie. I've worn my ankle booties with a wooden heel with my boyfriend jeans and like how the extra height and slight platform balance the fullness of boyfriend jeans. A slim, sexy bootie, caged heel, shootie, or a lower vamp with a chunkier heel or wedge is the best choice for boyfriend jeans.
To provide balance, I recommend having a sliver of skin show between the jean and the boot. This elongates the leg, makes the combination more purposeful and on trend.
Jeans with Boots Styling Guide – Cuffed Jeans
I know many people carry off this look, but I find it just as hard to carry off as those who wear tall boots under cropped pants. For every one woman who looks utterly awesome in this combination, there's 30 women who look as though they got dressed in the dark.  I can't offer advice that is universal, and recommend that unless you feel confident carrying off this trend, stay away until boot and jean styles have morphed over seasons to make it easier to pair.
What about you? What's your favorite way to wear your jeans with boots? Let me know in the comments below!