This article may contain affiliate links; if you click on a shopping link and make a purchase I may receive a commission. As an Amazon Associate, I earn from qualifying purchases.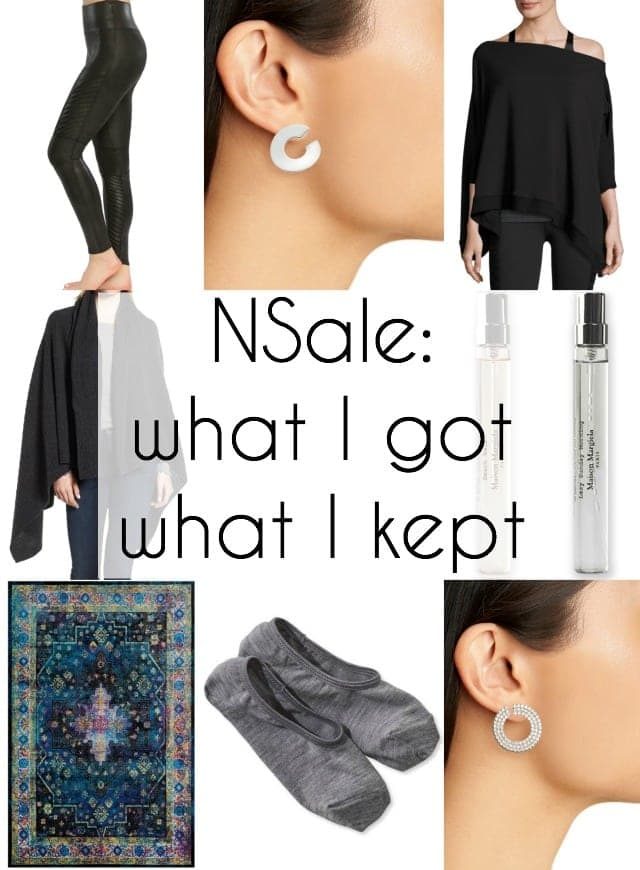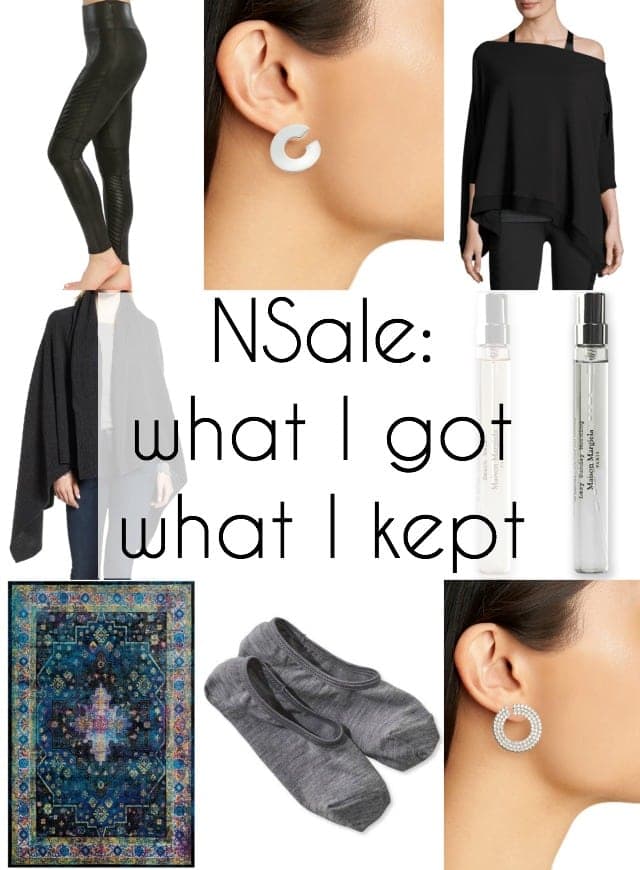 Not only did I write about the Nordstrom Anniversary Sale (twice!), but I took advantage of it purchasing a few items. I didn't go overboard, I didn't have need for a lot of items especially now that I work from home. But I couldn't let the sale pass without taking advantage of some of the deals. Below what I ordered from the NSale and whether it was a hit or a miss.
What I Bought from the Nordstrom Anniversary Sale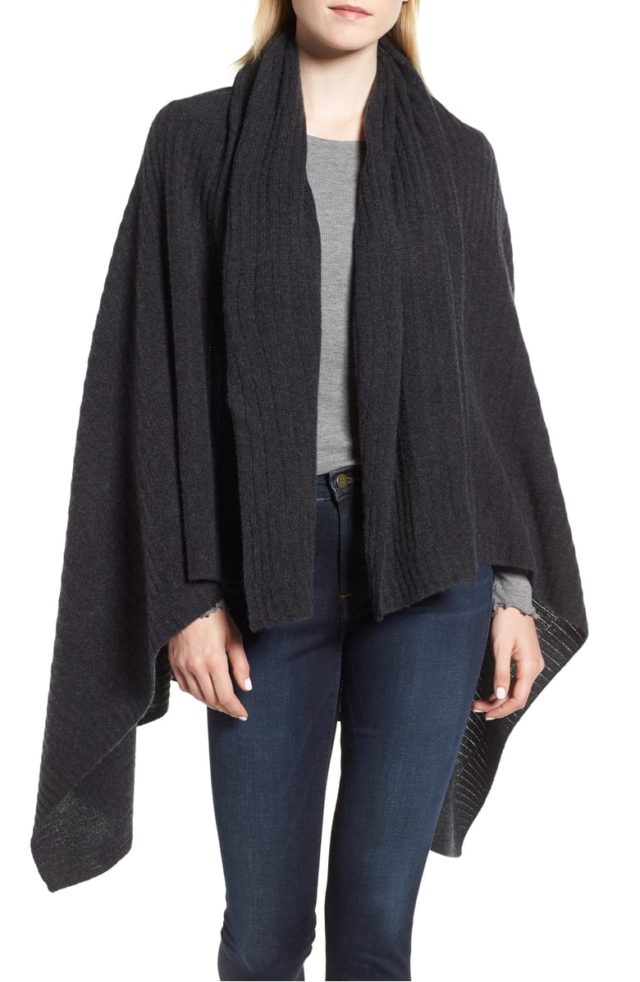 Each NSale I buy cashmere. It's such a good deal, and a time when you get really high-quality thick cashmere for thin mediocre cashmere prices. Considering how much travel I do and how my home office is drafty, this seemed like a good indulgence.
This isn't a wrap, it's a throw. The thing is practically square. Now that I look at the model, it does appear that if she moved her arms the whole thing would slide off her shoulders. And that's what happens in person. Sure, it's thick but it's so impractical of a shape I returned it. Miss.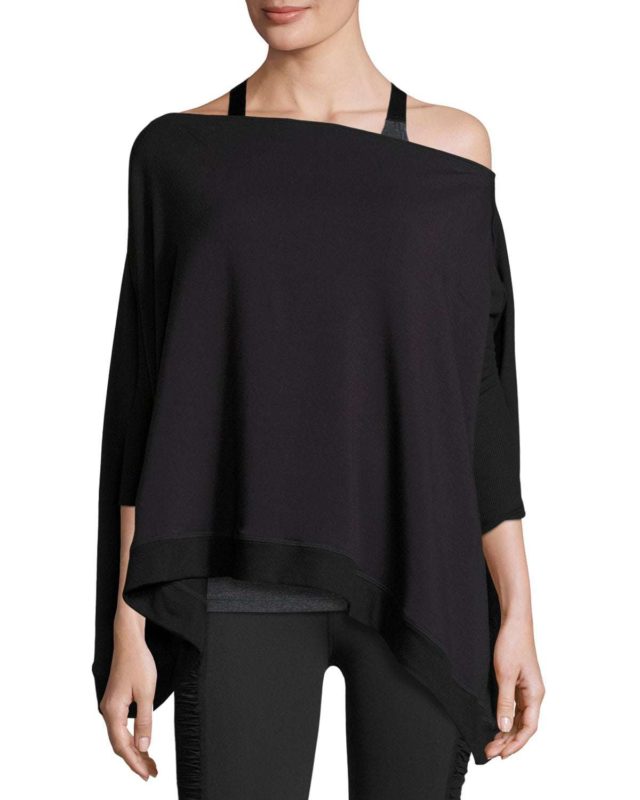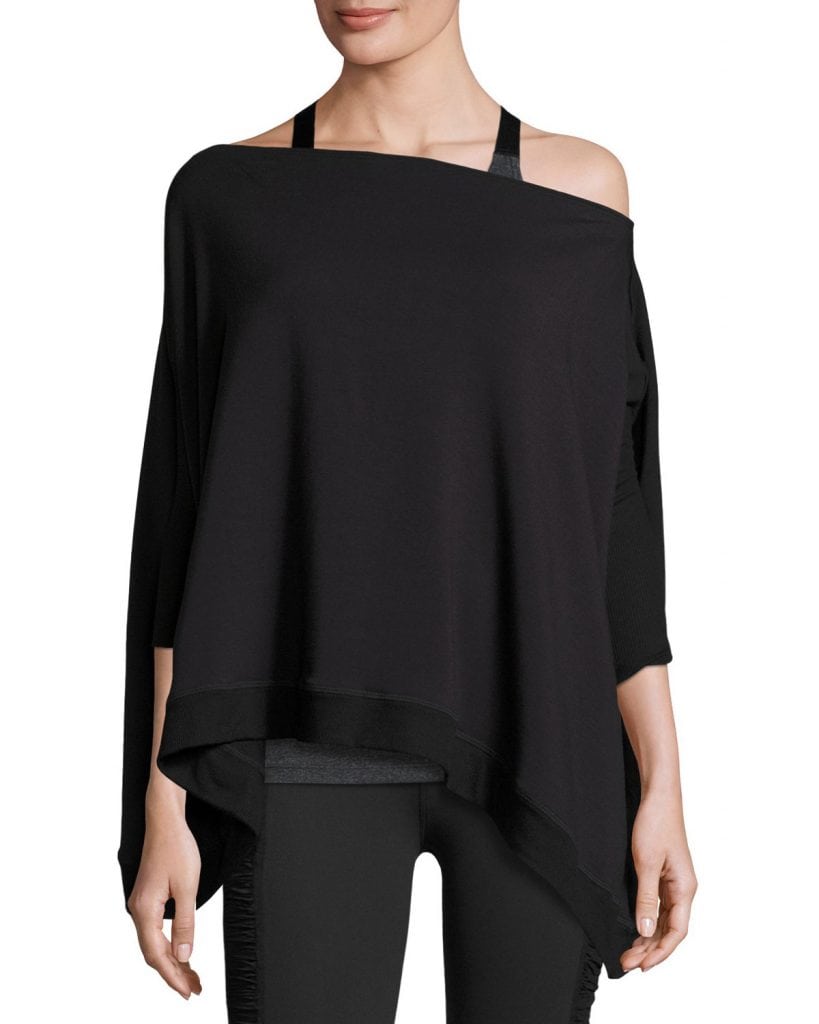 I love off the shoulder clothing, and this looked like something I could throw on with Spanx faux leather leggings (see below) and look casual chic.
I freaking LOVE this pullover! It's super duper fleecy soft inside, and soft on the outside too. It's the cuddliest sweatshirt material ever. The sleeves are ribbed knit, like a cuff but they go all the way up. It's this asymmetrical fit that hangs a bit lower on the sides but I like it. The video description says it can be worn on or off the shoulder; I can't figure out how it would be worn on the shoulders, it either slings deep off one shoulder or just off both. Online it also shows it can be converted into a cardigan. Sure it could… but it looks like you didn't fully put on your sweatshirt. However, it looks cute over a t-shirt or a tank top or a sports bra. I wore it on my trip this past weekend to NYC and it was easy to throw on or pull off on the train or even when walking around. You could wear this to the gym, but also throw it on with faux leather leggings and wear it to brunch. Hit!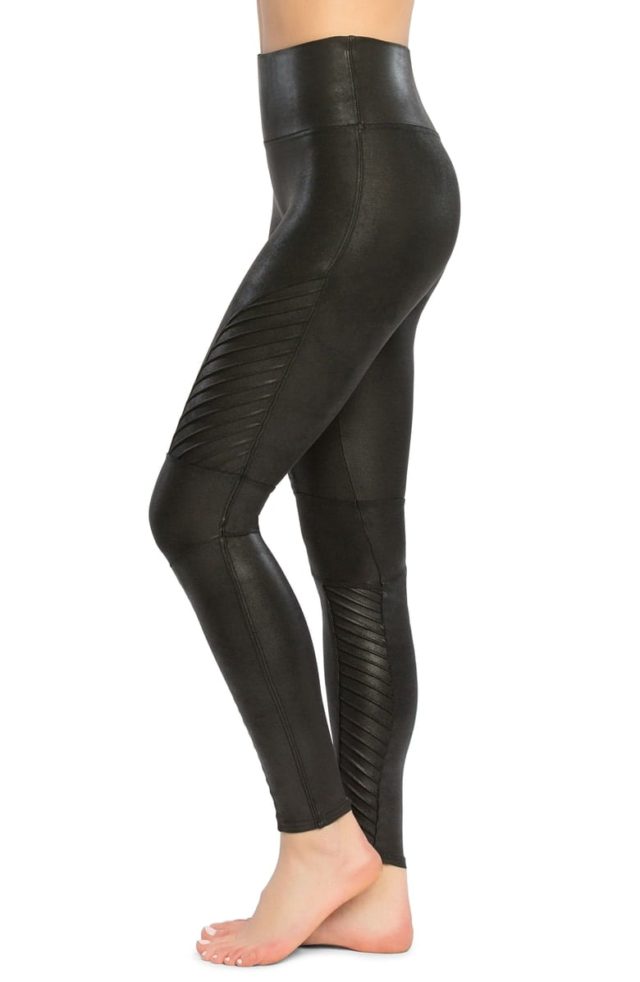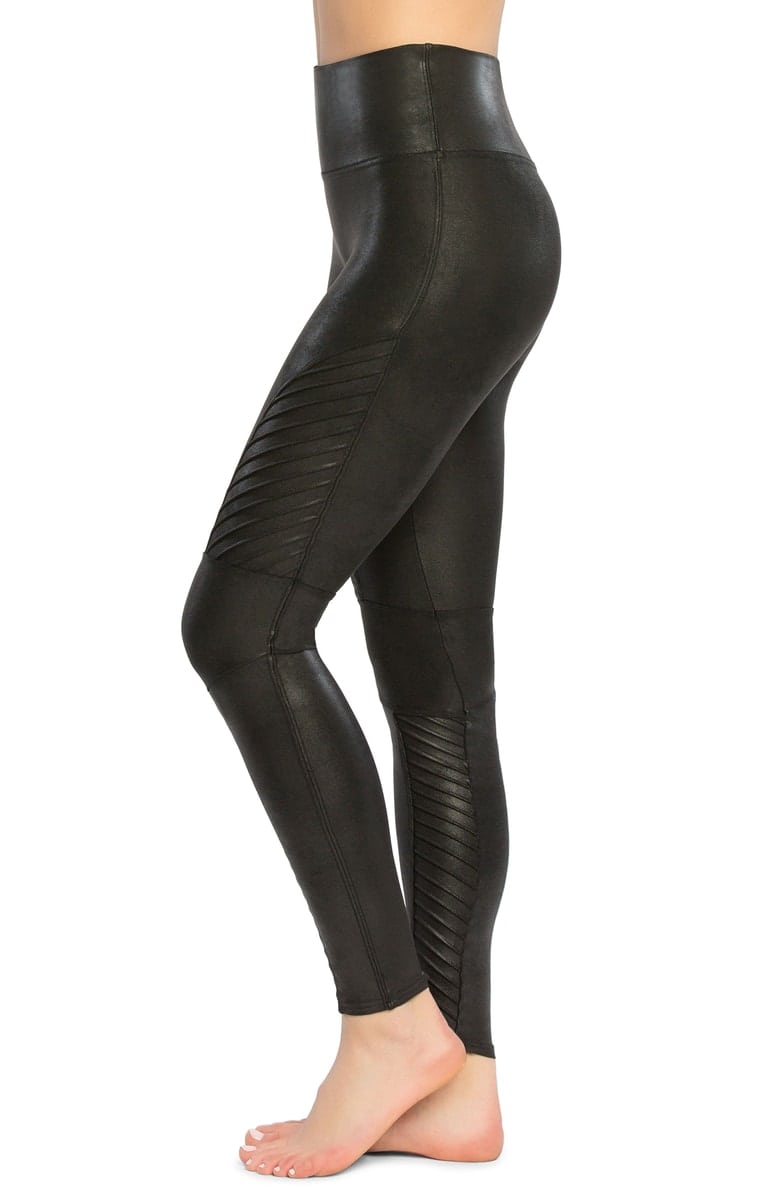 Every blogger raves about these leggings and so many of you too have said they're amazing. I ordered them in the past and didn't like them but thought maybe now that I'm smaller and maybe with the moto details I'd like them.
I still don't like them. They don't look like real leather, and they feel like I'm wearing compression stockings. They're thin and show panty lines, cellulite, the dents of my knees. They may be fantastic for you, but they are not for me. Miss.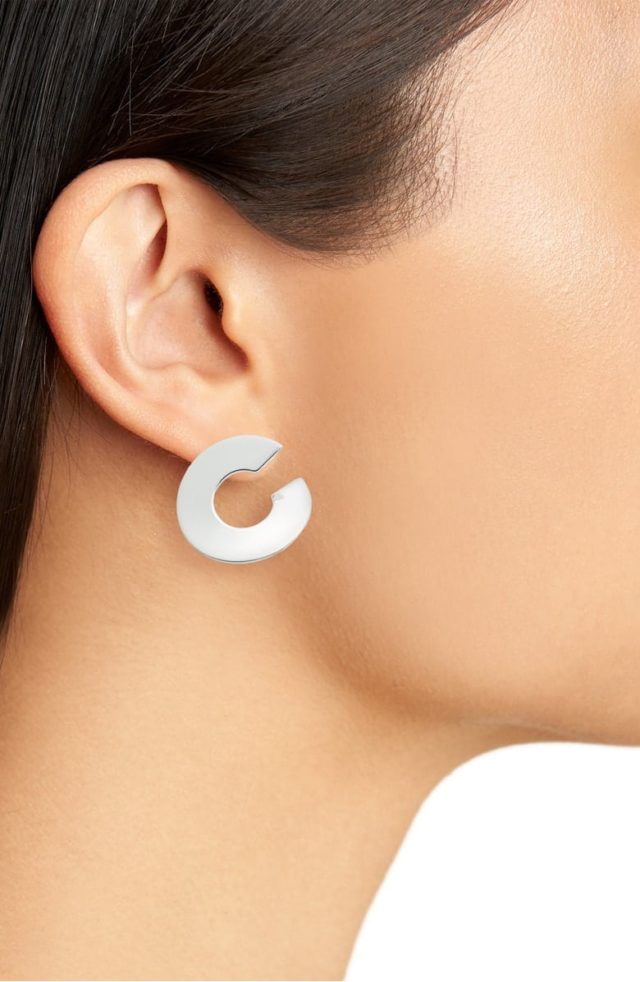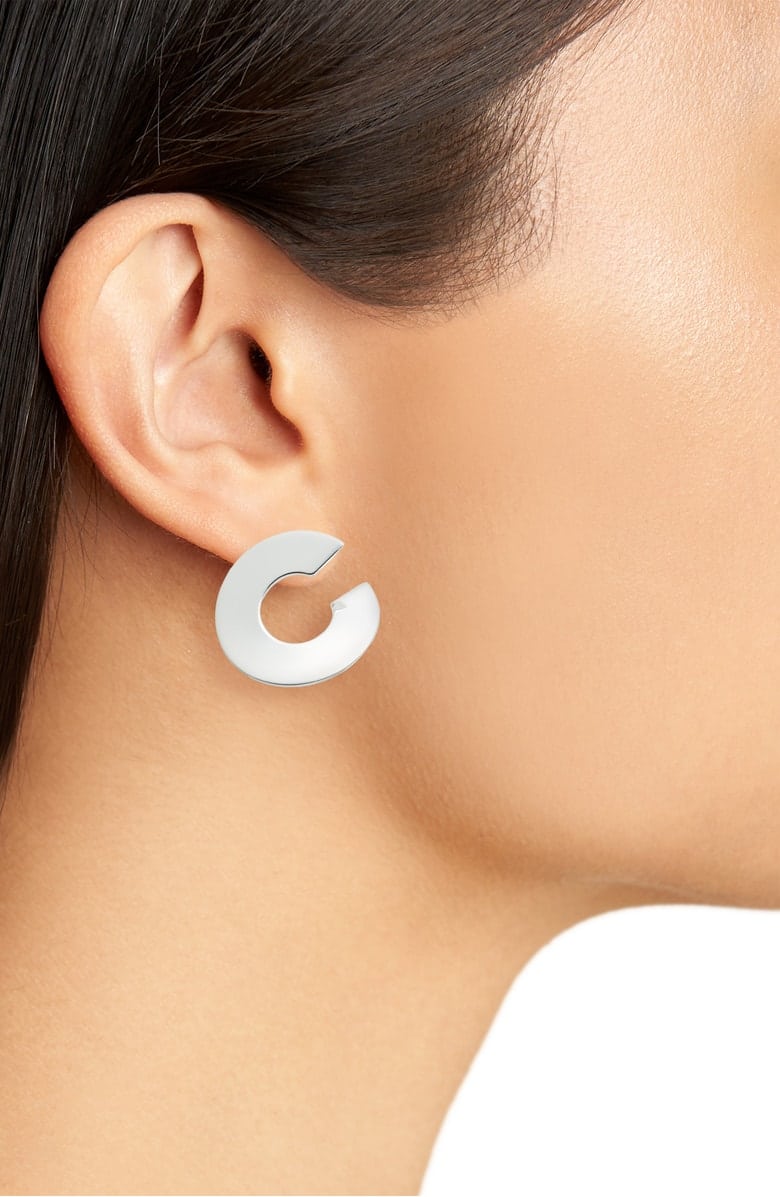 Last spring, I borrowed a pair of earrings from a friend that were an open disc. They were angled so it looked as though the disc was going through my ear lobe. They were small and subtle at first but so full of style and interest. I've wanted to get a similar pair ever since. I mentioned these in my NSale recap, so I'm curious if any of you got them and like them.
When I first got these, I didn't like them. They don't really do what my friend's earrings did and when I try to tuck one end behind my earlobe it angles my lobes and the earrings. But I kept playing with them and ended up loving them. I wore them to NYC this weekend and they were that little bit of shine I desired and a little bit of artsy uniqueness. They're lightweight and comfortable and have really cool silver earring backs. Hit!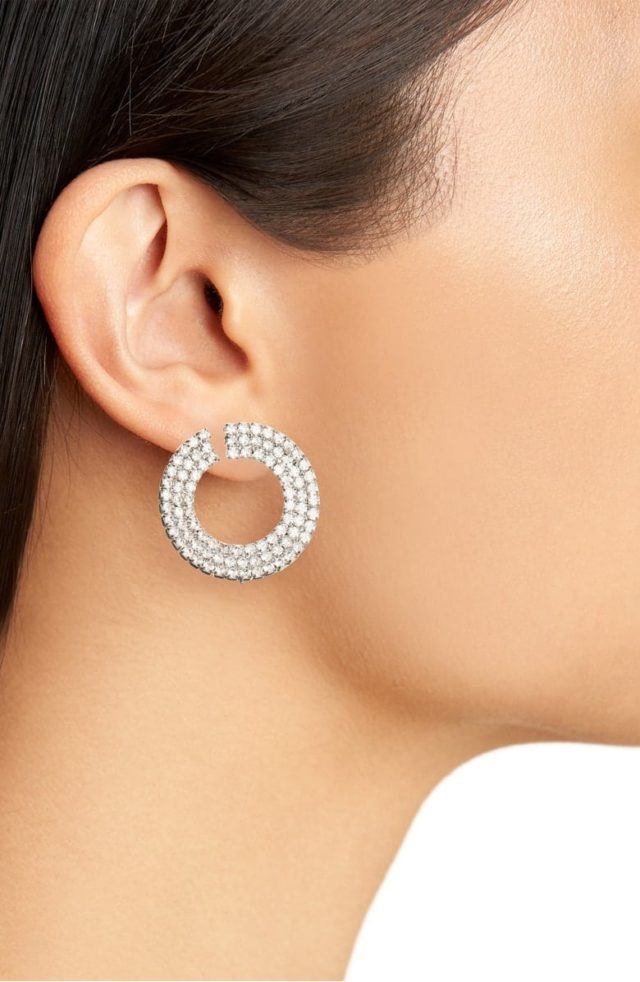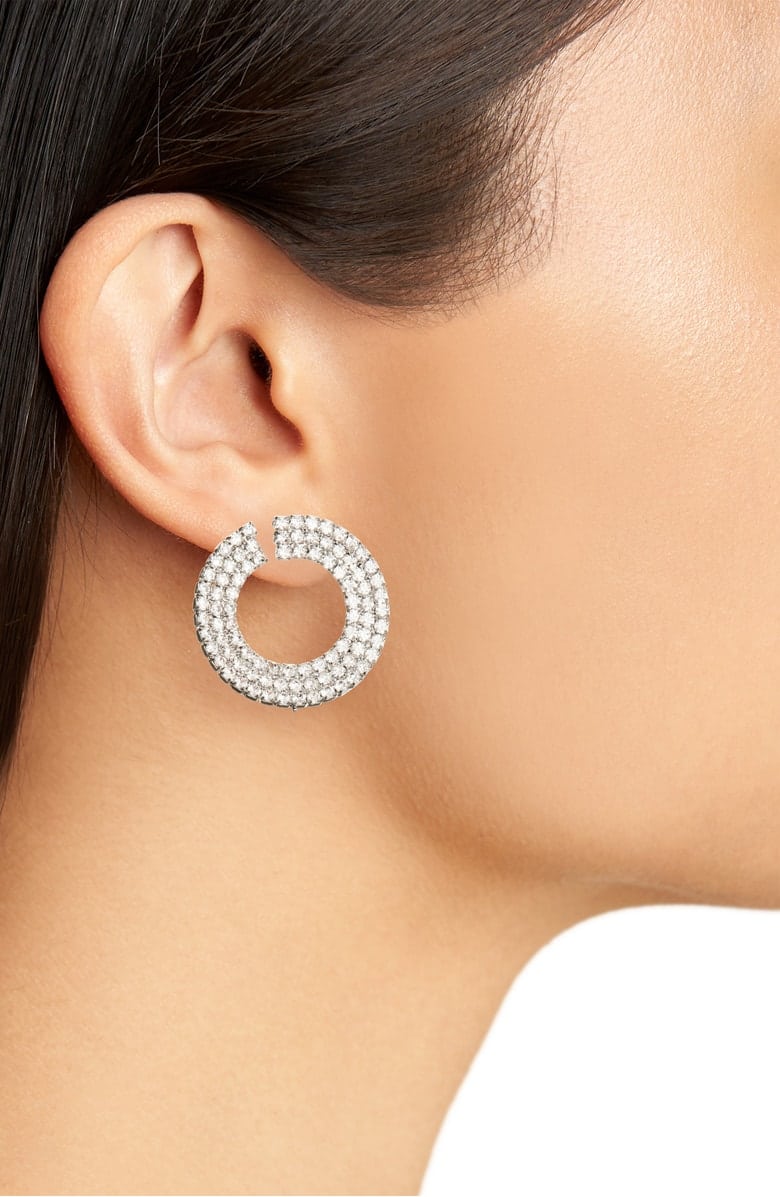 These are essentially the same earrings, but sparkly and cheaper. It may seem crazy to have two similar earrings, I expected to only keep one pair.
I ended up keeping both. These are bigger. They aren't angled to fit behind your earlobe, but you can gently bend it to do so. I like that they're sparkly, not too dressy for daytime, but still would be perfect for a bit of shine at night. And the price is pretty sweet.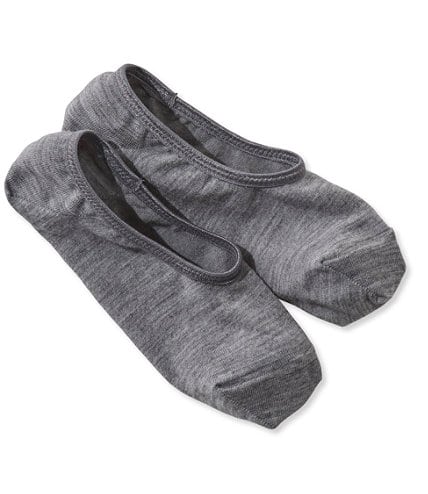 I love these socks. I've written about them before. I got one pack of gray, one of black. They're awesome. I love them, they stay awesome for years, they're great for truly being hidden under sneakers. They keep your feet warmish in winter and cool in summer and reduce odor and wick moisture and have a little rubber grip in the heel that truly works. Hit!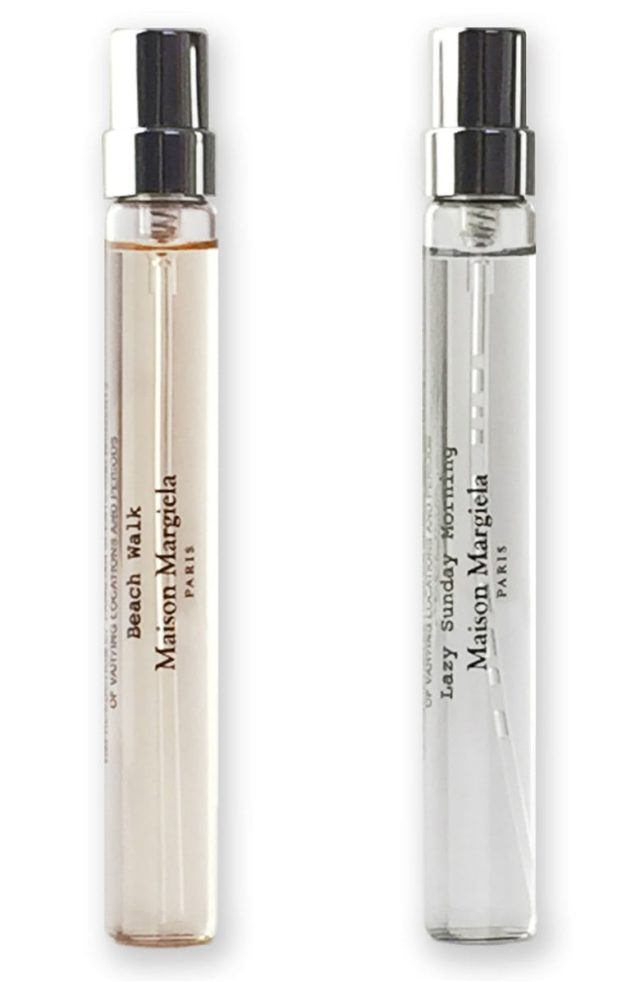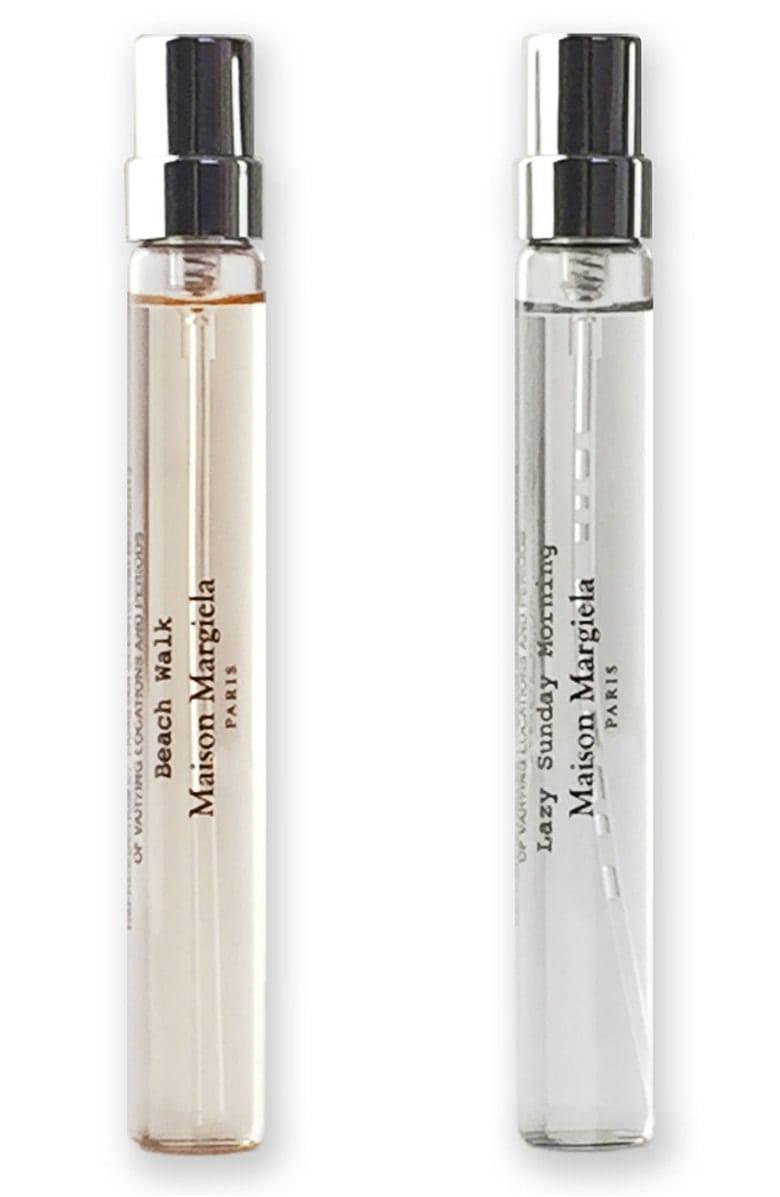 I bought a rollerball of Replical beach Walk a couple of months ago and I like the fresh, happy, but not overpowering smell. It's the first fragrance I've tried since Burberry London that doesn't give me a headache, doesn't announce itself before I enter a room, and Karl doesn't criticize it. So when I saw this duo at a great price I decided to get it.
The bottles are the same size as the rollerball but they're sprays. One is Beach Walk, one is Lazy Sunday Morning which is more elegant and refined. You can wear each one separately but they layer nicely. Beach walk is my every day, Beach Walk with Lazy Sunday Morning is Date Night or Event When I Want to Feel Powerful. Hit!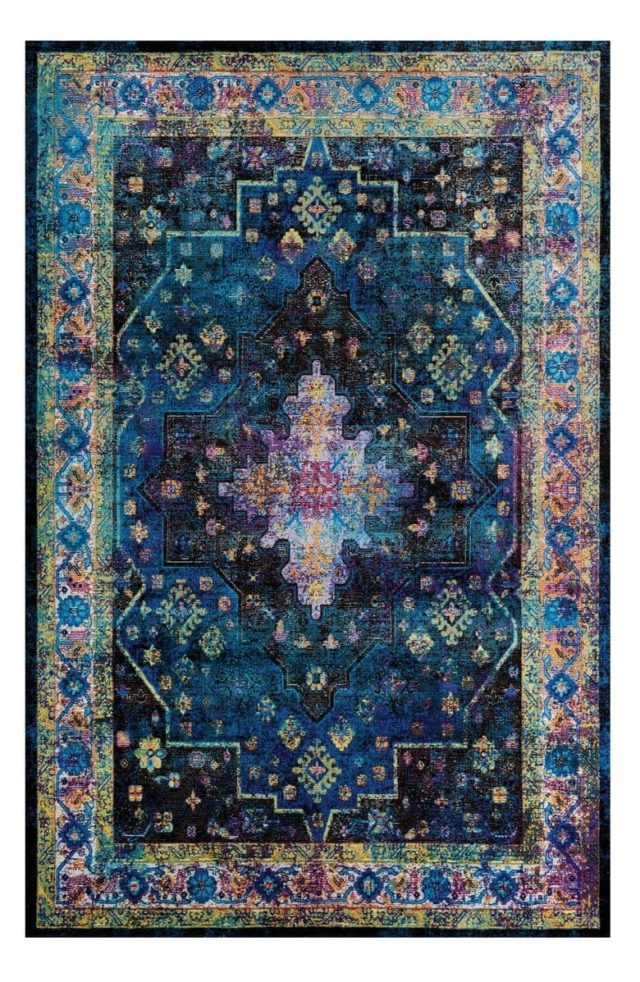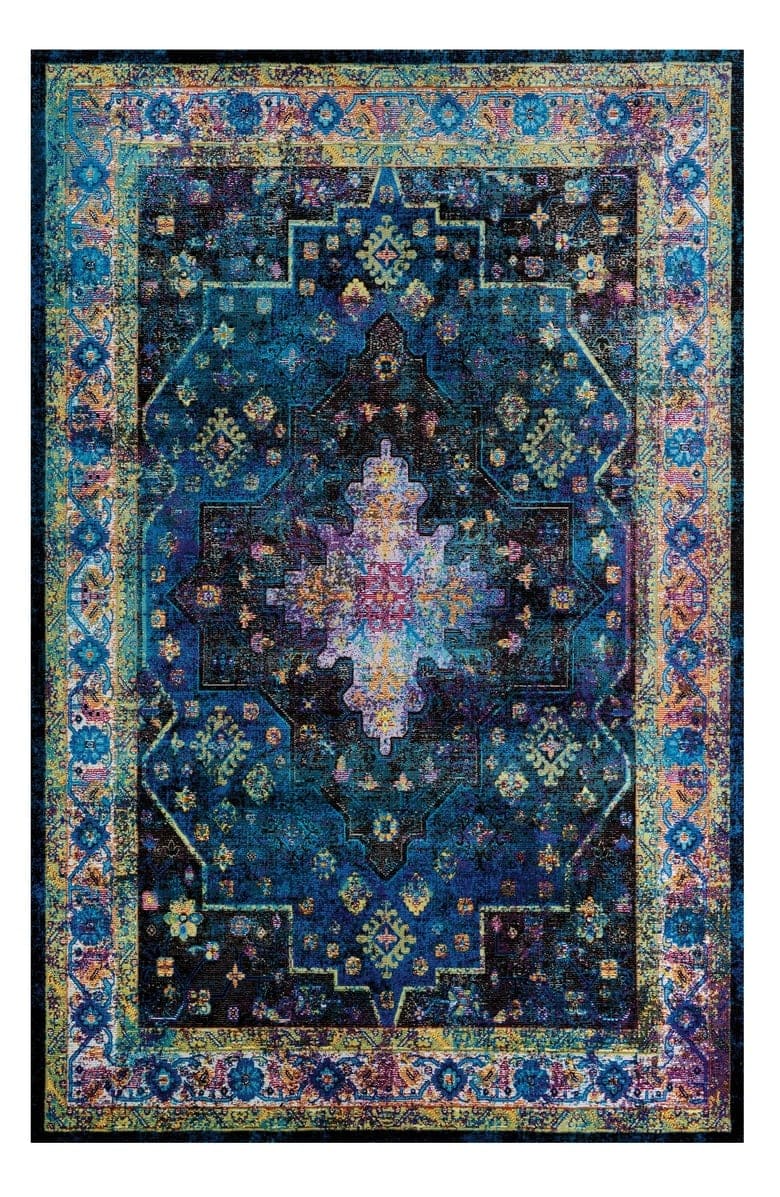 I've been wanting to replace our dining room rug for a while. It's a great rug (you can see it here) but it was our dog Cindy's favorite place to hang out. When she was put to sleep in November, it happened on that rug. We all see that rug and think of Cindy and felt it was time to move forward.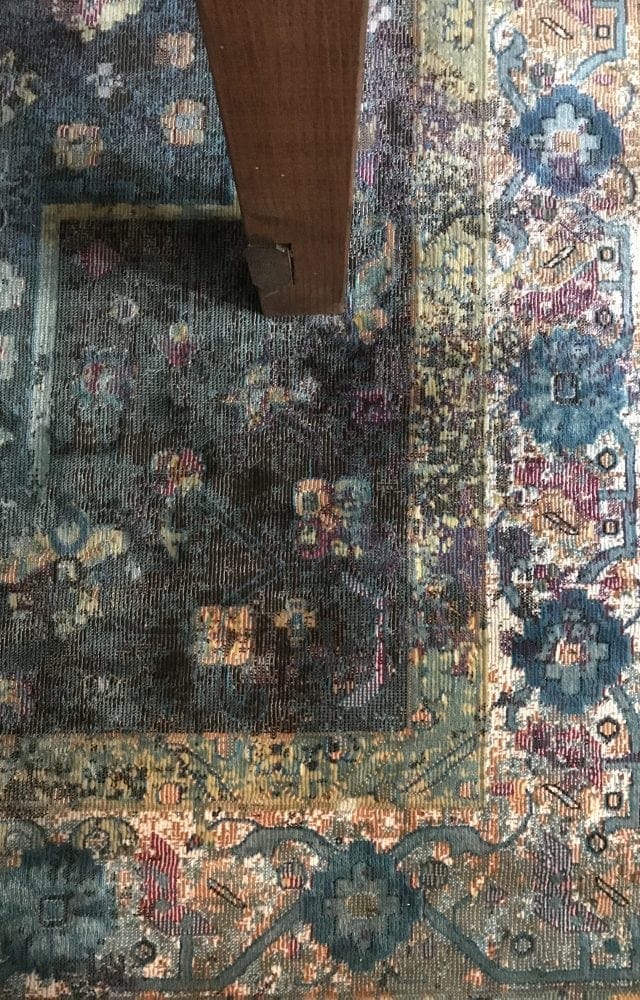 The rug arrived and I had to head out to a meeting. When I came home, Karl had already placed the rug down under the dining table, rolled up the old one and put it out on the deck. I loved how it looked… but it didn't look at ALL like the picture on the website. On the web, it looks like really rich bold colors but in person, it looks vintaged, colors softened as if from time or the sun. The rug itself is super plush and feels amazing under the feet but the photo is incredibly misleading.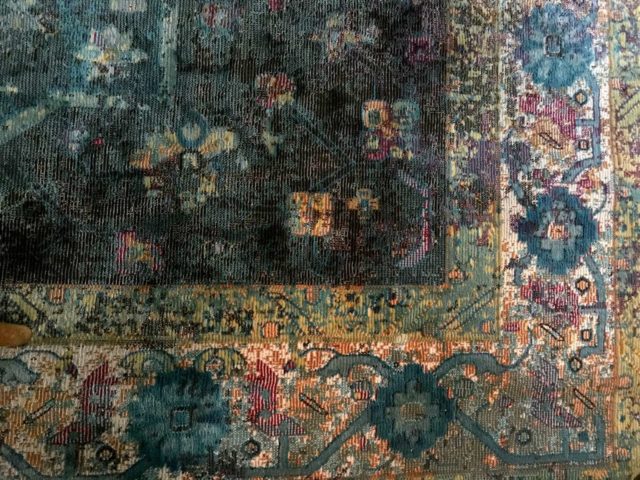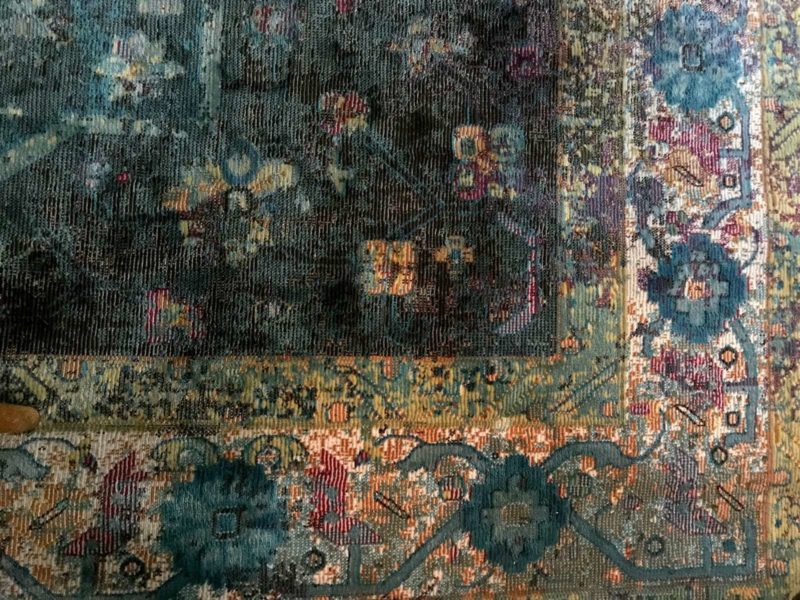 If it wasn't so big I'd roll it up and return it. But returning an 8' x 10' rug is a major pain in the ass. And now looking at the rug I think if it was the bold colors on the website it may have looked silly in the space. And this rug looks really nice. It's a bit bigger than our last rug, better filling out the space, and it complements the blue toned rug in the living room, making our open plan main floor more cohesive. While I kept it and we love it I'd say this is a miss based on the misleading description and photos on the Nordstrom website.