This article may contain affiliate links; if you click on a shopping link and make a purchase I may receive a commission. As an Amazon Associate, I earn from qualifying purchases. 
Hey Allie, I am from the warm south but will soon be moving north. I am also very petite. I know nothing about wool coats. Do you have any suggestions for good retailers? Or a list of characteristics to look for?

Thanks, Carrie
Hi Carrie:
I think a wool coat is a great investment. Coat trends do not vary as much as other wardrobe pieces; so a well-made wool coat can really last you for several years (even decades) of stylish wear.
Finding a Wool Coat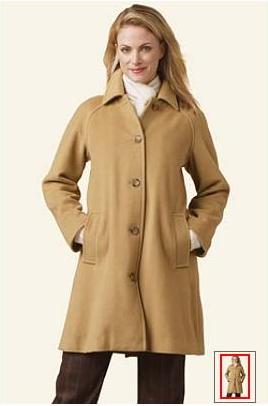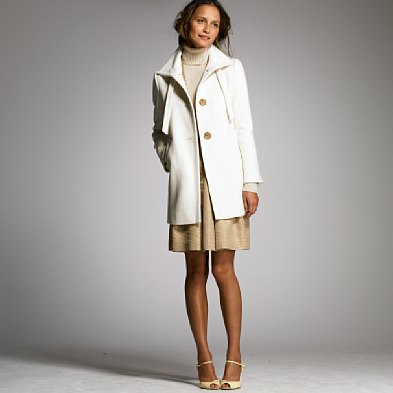 First, look at fabric. Often times cheaper wool coats will be a wool blend, mixing this natural fabric with a synthetic like polyester or nylon. Polyester may help with durability, but it won't help with finish or warmth. Wool blend coats are more likely to collect lint and fuzz, and won't keep you as cozy on a blustery day. If you want a very warm wool coat, I recommend you find one that is 100% wool.
Second, check out the lining. Your lining is dependant on your locale. Here in the Nation's Capital I find a basic silk acetate lining is enough for car commuter wear (dashing from house to car and car to building), but a lining with Thinsulate or some other thin warm fabric is better for city commuters (those who spend more time outside). Companies like Lands End and J. Crew often offer varying linings for one style of coat so you can get the combination that is perfect for your lifestyle and environment.
Third, consider your lifestyle before picking out a silhouette. Are you looking for a coat for running errands around town? For work? For evening? One that can do double (or triple) duty? I have found the most flattering and versatile style of wool coat is one that is single breasted, nips in at the waist a bit to follow your shape, and hits between low hips and above the knee. This style of coat can work with jeans, pants and skirts and is long enough to keep a good amount of you protected from the chill. A shorter jacket like a peacoat is great for day errands as that it's a boxier style that goes on with ease over chunky sweaters and winter layers. A winter coat may have a faux fur collar, belt, decorative buttons or a longer length to create a sense of drama.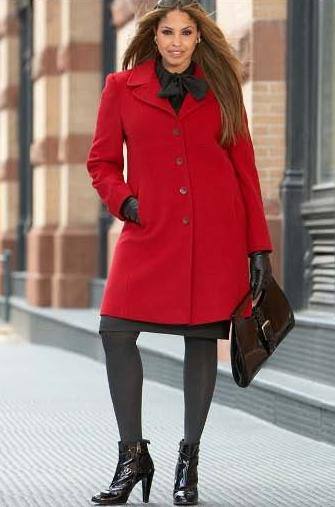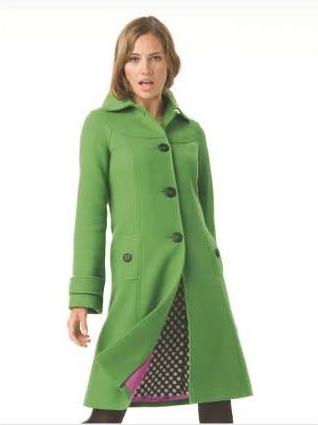 Now consider color. Black is always a safe bet – it works day or night, is eternally stylish and easy to find accessories to compliment it. However black can be boring and dreary on gray winter days. Colors can often times be just as versatile as black and far more exciting and true to your personality. Mallard blue, plum, dark red, camel, mustard, pumpkin, brown, berry, hunter green are all great colors that won't look dated by next snowfall. Ivory is always elegant but do keep in mind that lighter colors are more likely to show dirt.
What About Accessories?
Accessories make the outfit and they also make the winter coat. Find a color that brings you happiness on a gloomy day and don't be afraid to mix up colors. Make your navy coat pop with apple green, your camel coat stand out with turquoise, your plum coat with candy pink. I love replacing classic scarves with pashminas – they completely cover the neck opening, can be wrapped across the body for additional warmth, and can be used as a shawl once inside if there is a draft.
As for gloves, be they knit, leather or suede, make sure they are in good condition and compliment the whole ensemble. Unless you are shoveling snow, you don't need giant padded ski mittens; purchase some well-fitting gloves that let you drive, hold handrails and pull your wallet out of your bag with ease.
When it comes to hats, this winter is the perfect time to find a favorite. All sorts of hats are in style, and everywhere from chic boutiques to big box retailers have a great selection. As with gloves, there is no need for a pom-pom topped ski cap that envelopes your entire head; you can gain just as much warmth from a tam, beret, sleek cap or even a wool fedora or other structured style.
Accessories can be useful as well as elegant. You are not 14 any more, and those ear flaps, Freaky Freezies, and rainbow scarves are not doing you any favors. You can have cheer and fun in your winter wardrobe through color and small details. I saw a woman on the train in a bright pink crocheted cloche with a crocheted flower on the side, same color scarf and gloves. The flower was so sweet and unexpected, and the happy color really brightened up her gray coat. Though my husband calls me Monica Lewinsky, I have been sporting a fun wool beret with my apple green pashmina, black leather gloves and black wool peacoat. My coworker has a simple black wool coat, but unexpected electric blue leather gloves and a blue and black scarf that really adds her flair to the ensemble. Take the time to find warm accessories that maintain style but show your personality – they can be find at any price range.

Camel coat by Lands End, ivory coat by J. Crew, green coat by Boden, red coat by Larry Levine. Click on links or images to be sent directly to the shopping page.