This article may contain affiliate links; if you click on a shopping link and make a purchase I may receive a commission. As an Amazon Associate, I earn from qualifying purchases.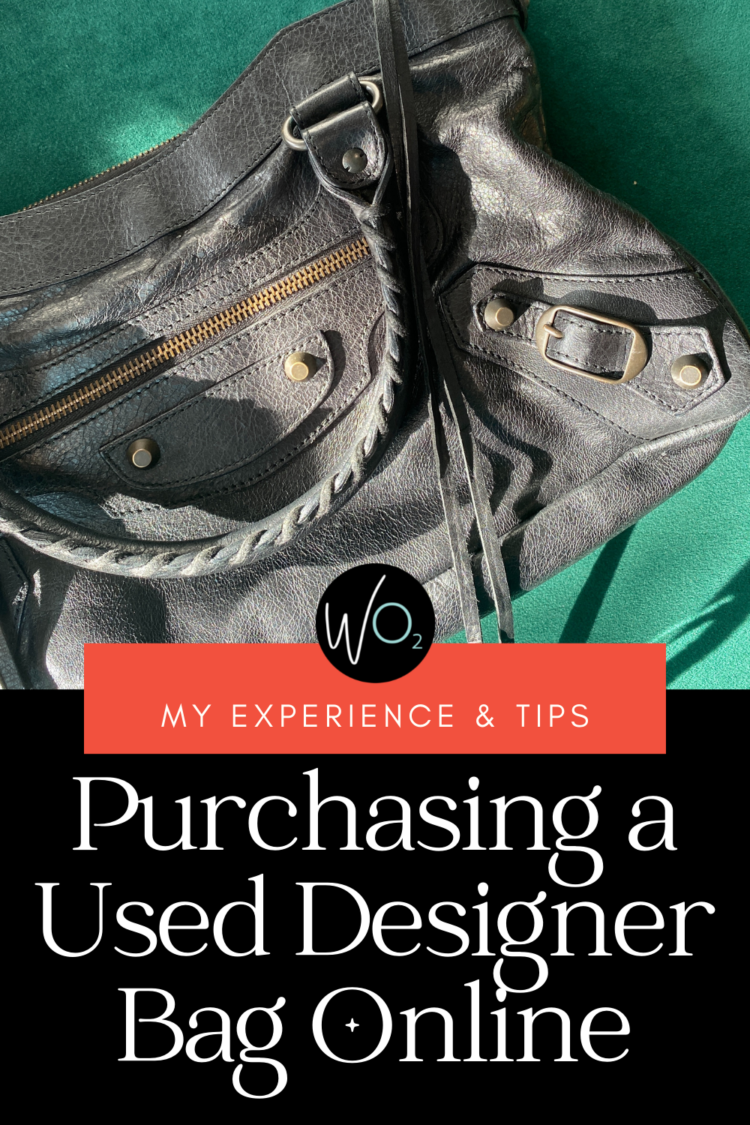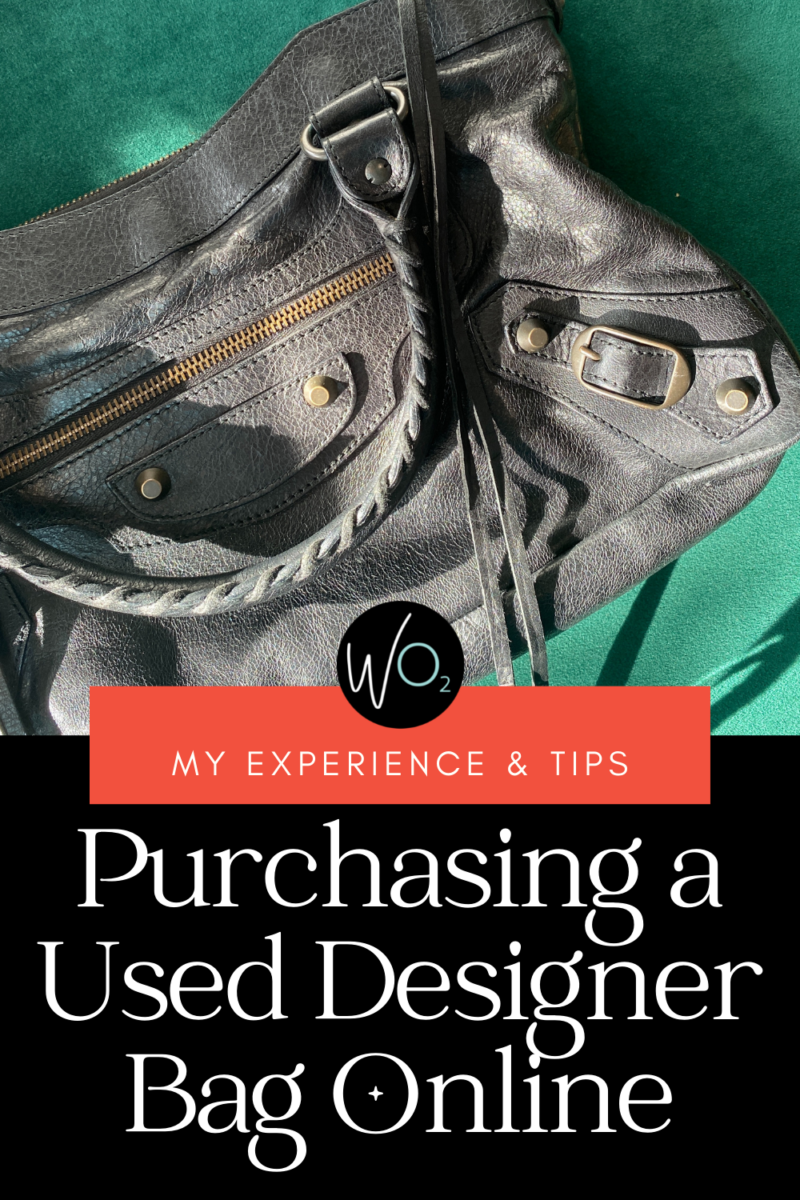 I never thought I'd be one to be writing about my experience purchasing a used designer bag online. Used bag yes, but designer… that seemed to be something out of reach even at resale prices and didn't seem like a good use of my purchase. I mean, for the price of many designer bags I could easily get dozens of similar bags from lesser-known names. Designer doesn't necessarily mean better quality or more classic of a style, but this pandemic has changed my perspective on what is important, how I see my wardrobe, how I use my wardrobe, and the desire to find joy in any possible part of the day.
I know I am not the only one who says they'll buy certain things, go on certain trips, move to certain cities when they win the lottery. And I know I am not the only one who says such things and never plays the lottery! But on that list for me was a Balenciaga City bag. It is the only high-end designer bag that has made me swoon, and I've been in love with it for over a decade.
A Decade-long Obsession with the Balenciaga City Bag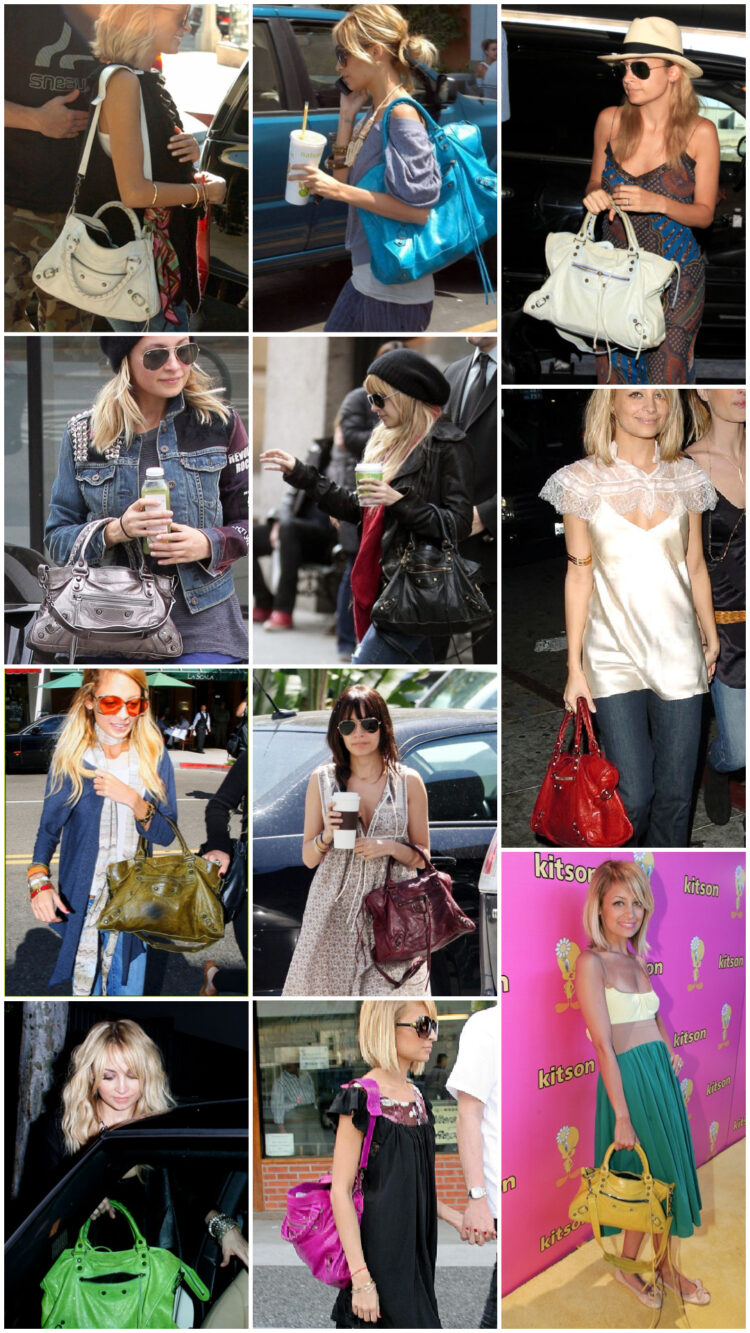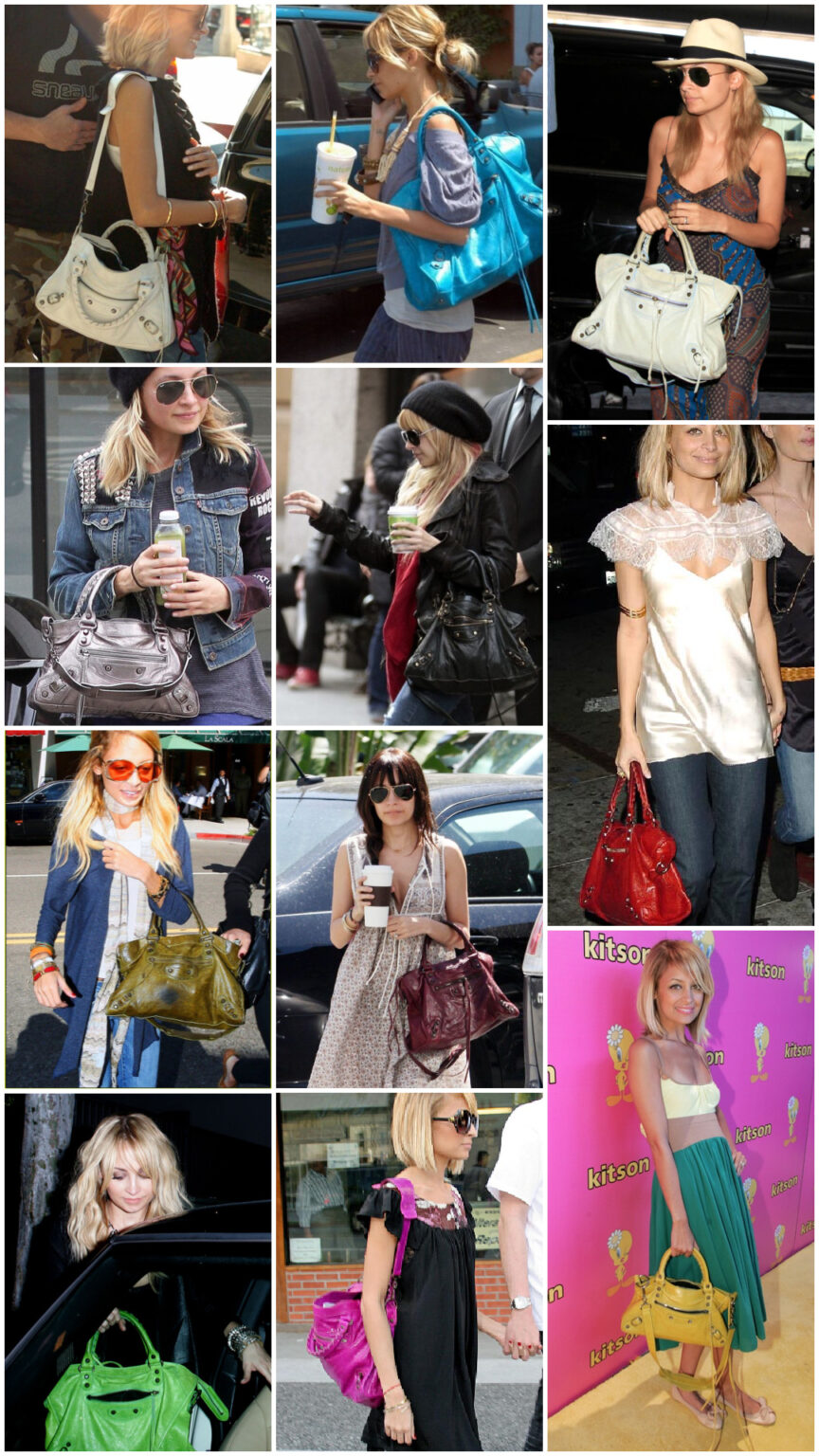 The Balenciaga City bag, also known as the Balenciaga Motorcycle bag, made the scene in 2001 and soon became the It Bag for the It Girls of the early aughts. I think Nicole Ritchie owned one in every color, and women with style I admired like the Olsen twins and Kate Moss rocked them in black, ivory, and sage green. I thought the bag was SO ME, the hardware, the slouchy lived-in vibe, the fringe. In fact, go through my archives from the 2000's and early 2010's and you'll see plenty of bags inspired by the Balenciaga City bag… and I don't still own a single one because none of them were right. I always wanted the real thing. Some want a Chanel bag, some desire Louis Vuitton… I wanted Balenciaga.
I remember in 2010, my daughter was born a year prior yet I still felt like a stranger in my body. I was invited to a fashion event at a mall in the area and I was stressed. Stressed about what to wear, stressed about how to act (I hadn't been to many events), stressed about getting there on time (new moms don't have much control over their bodies or their schedules). I pulled together a look, and so worried I'd be late I ended up being almost an hour early.
I went into the department store closest to where I parked – Nieman Marcus. I knew no clothes in there would fit me, I didn't want to waste the time of the employees in the makeup department, so I headed to the bag department where staff observed but otherwise left me alone. And there was this whole Balenciaga display full of City bags. This was the first time I had the ability to touch and explore these bags, try on different sizes, see the colors in person.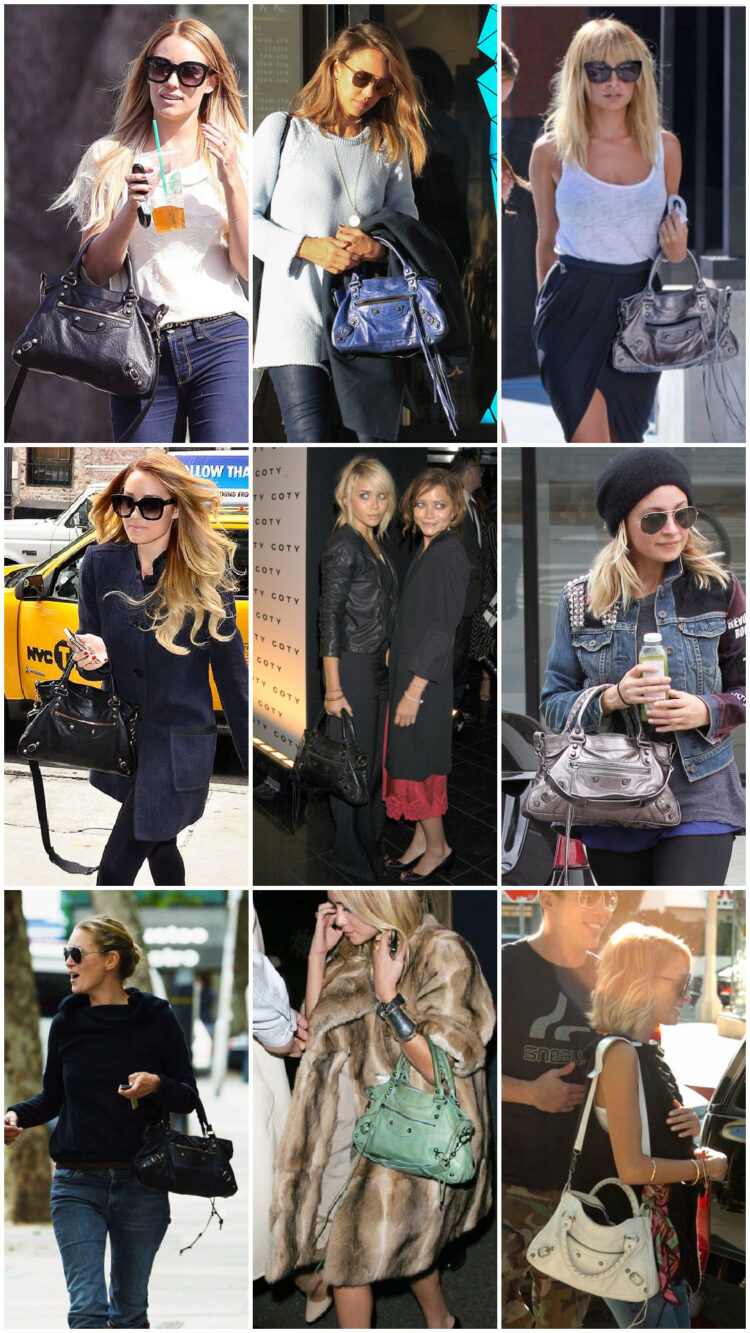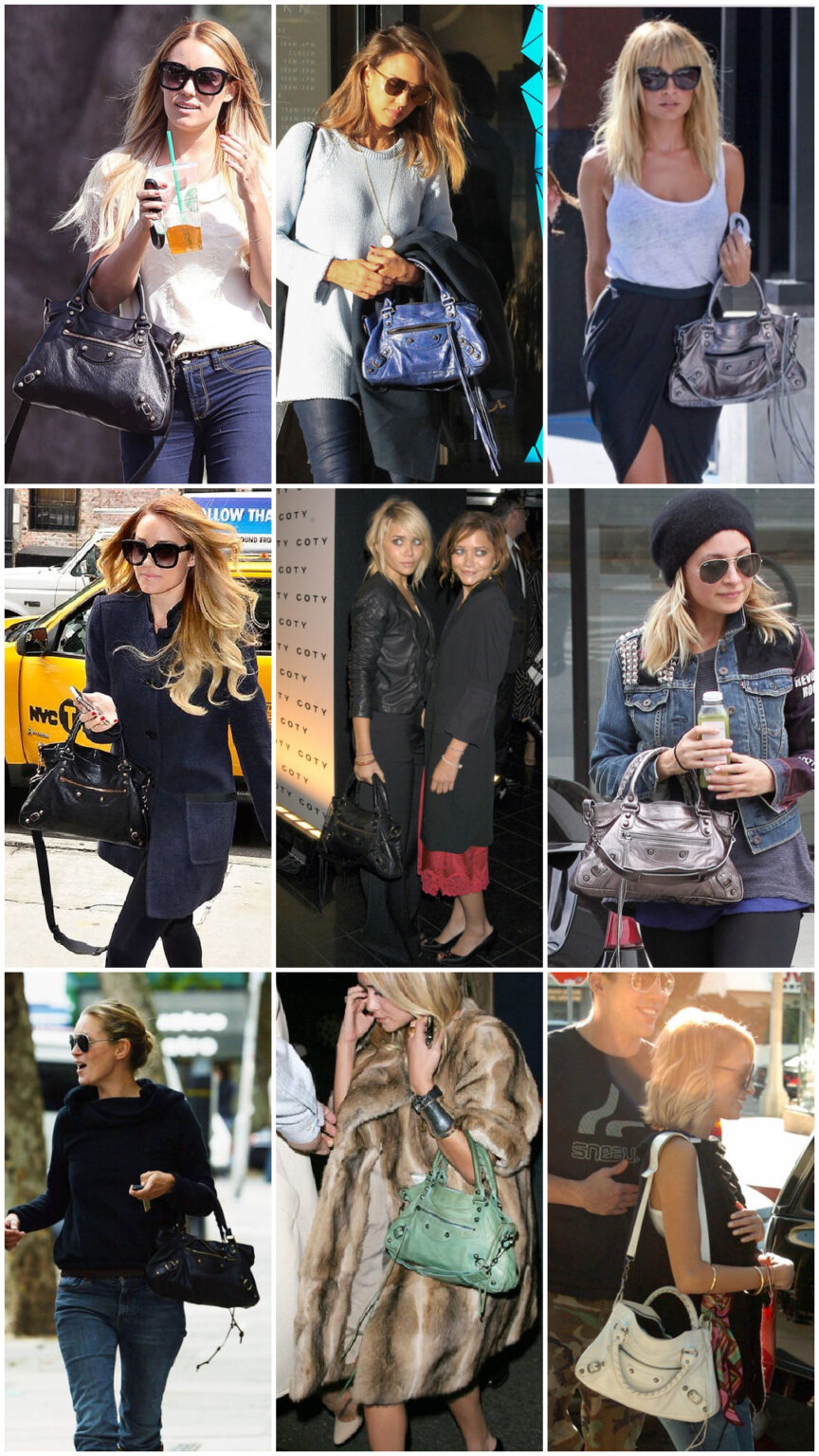 I fell even in more love with these bags. The soft leather, the way they look so fresh yet worn, the hardware, the tassels, the "oh this old thing" vibe that I felt would look cool now and cool decades from now. The colors were fun but I fell hard for the anthracite and black bags. And while I loved the Giant version, the Classic felt so chic. I envisioned having a life where my baby grew up so I didn't need a big bag with room for a spare diaper and snacks and wipes and toys.
Fast forward to present-day Alison. My daughter no longer needs me to carry anything for her in my bag. After two years of this pandemic and four years of working from home, I only use smaller bags because I carry less. A mini wallet, sunglasses, reading glasses, lip balm, hand sanitizer, face mask, keys.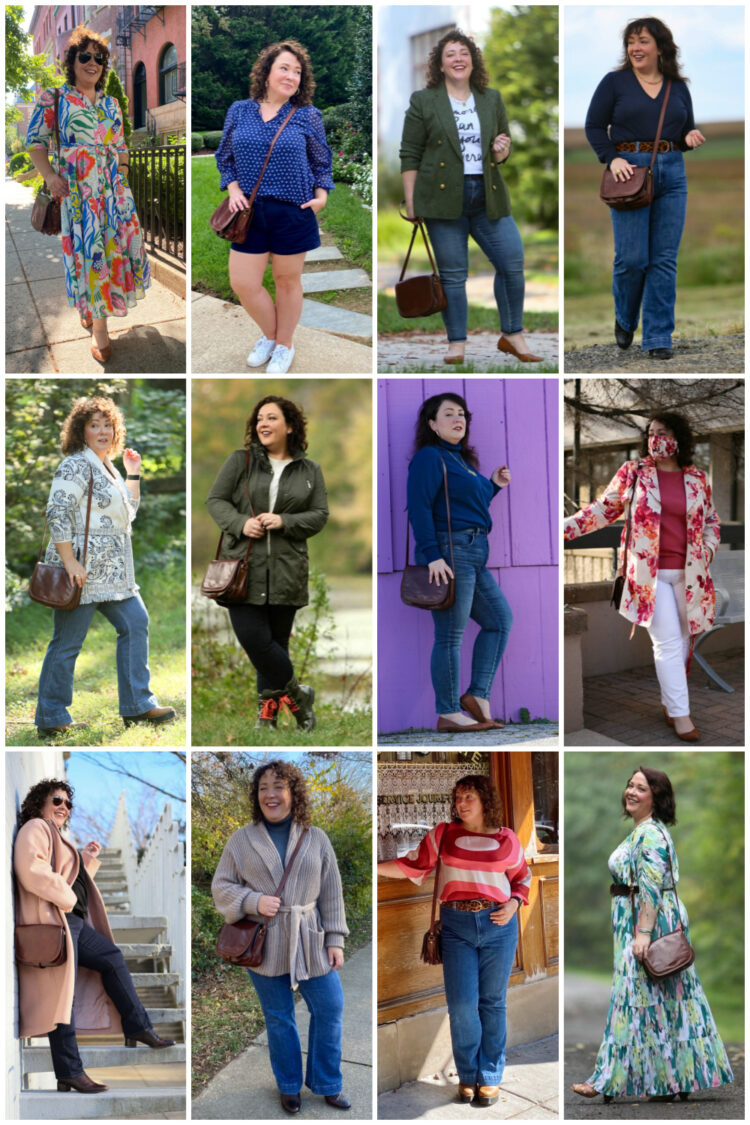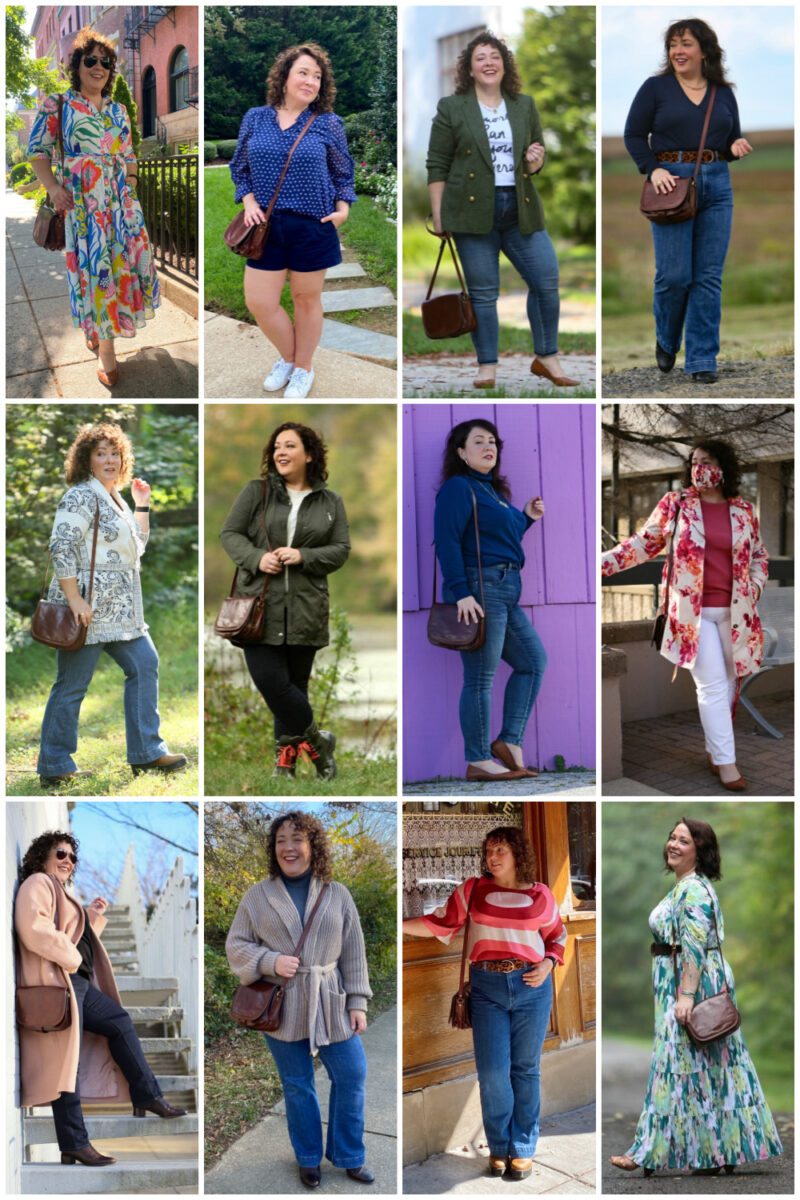 And I don't have the pre-pandemic desire for a closet full of things. I just want beautiful things that feel right for me, that make me happy to use and wear, and will grow with me. A good example is my Maxwell Scott brown leather saddle bag. This bag was a gift from the brand several years ago. Pre-pandemic I carried it on occasion. But with the change in lifestyle, activities, and with it what I wear, I found I used my Maxwell Scott more than ever before. Sure, it's genius in design, the size is great, and the color looked good with the brown Doc Martens I bought at the end of the summer, but what really appealed to me was the timeless yet luxe vibe it gave off and how it elevated every look.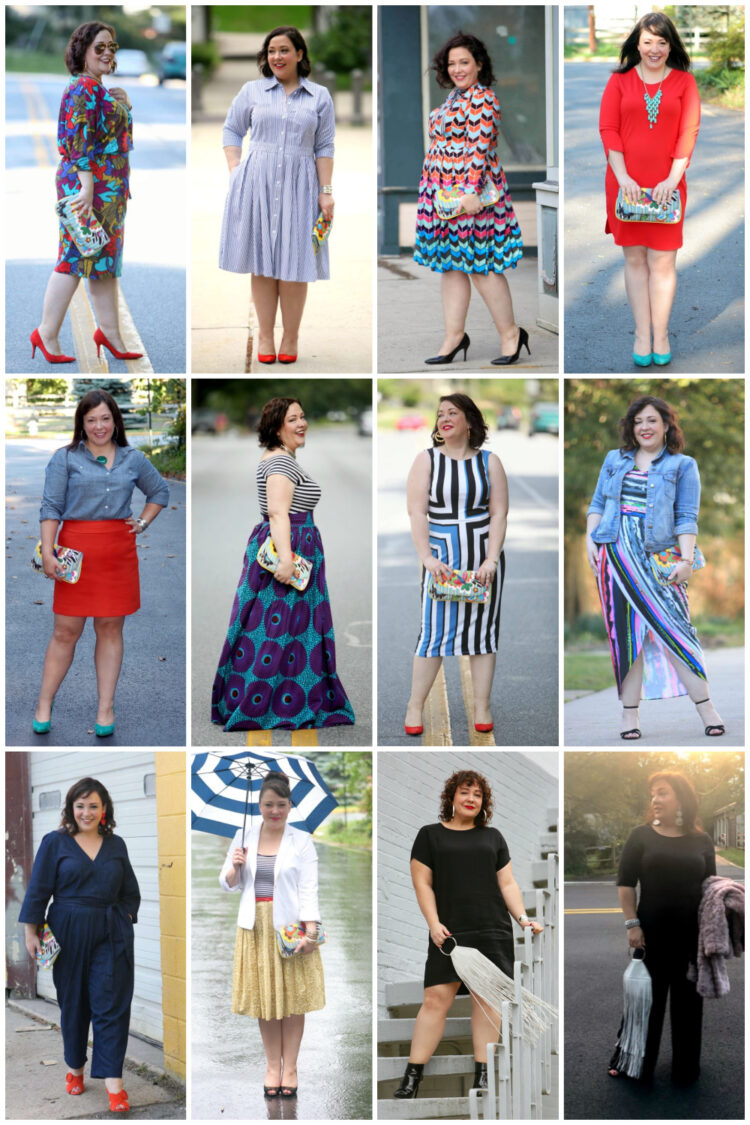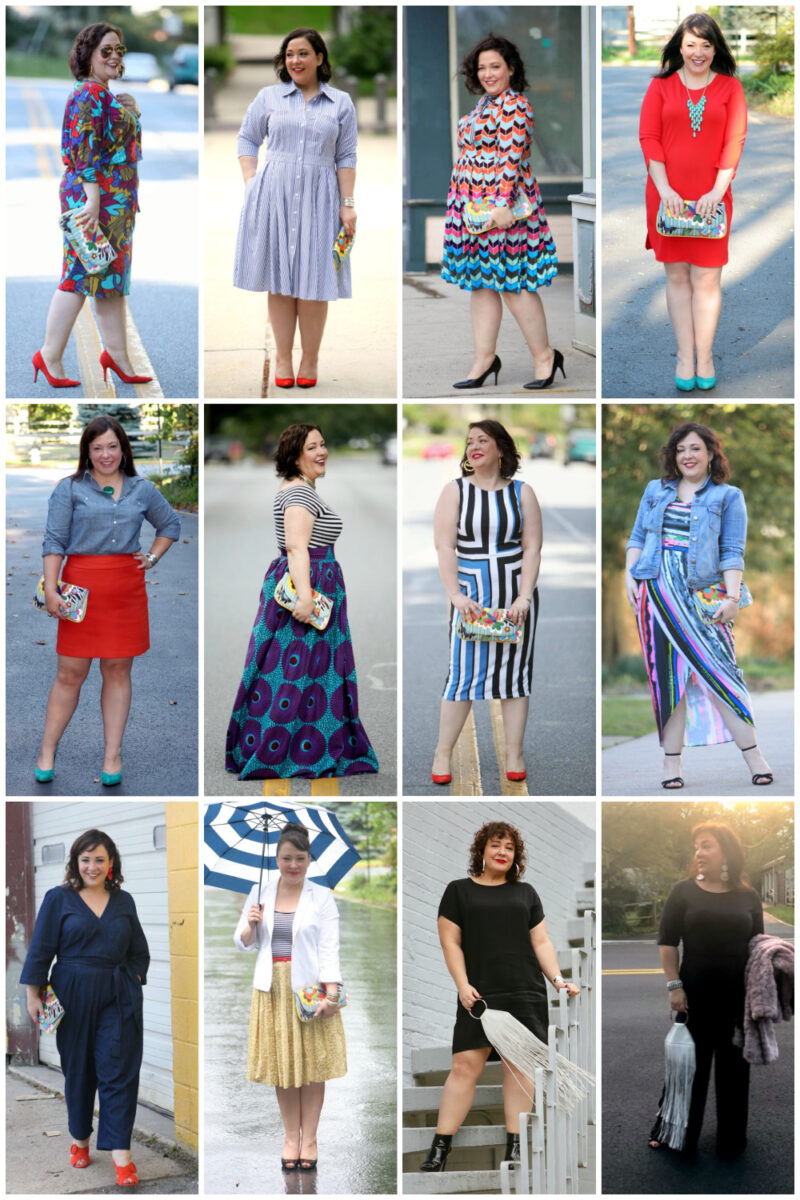 I realized I didn't want a closet full of funky and fun bags. Sure, a few are great, especially clutches and bags for special occasions (can't imagine ever getting rid of my patchwork clutch from NOVICA or my white leather fringed bag from KARA), but I want pieces I can just put on with a blazer or a sweatshirt and it just elevates the whole look. It looks like me, but it looks luxe and cool. I can wear it at 47 and at 77. And I kept thinking about that Balenciaga City Bag.
Why I Bought a Used Designer Bag Now
My birthday is this month. My husband was planning a long weekend in New York City to celebrate. He decided for my birthday to have us stay in Brooklyn and while there, visit the Brooklyn Museum so I could finally see in person The Dinner Party by Judy Chicago as well as enjoy the Christian Dior exhibit. But then we ended up being the Girl Scout cookie managers and had cookie-related stuff that weekend and then there was Omicron, and it didn't sound relaxing or fun to add this to our schedule.
My husband was able to cancel everything and not lose any money, but he thought about how much everything cost. When he overheard me talking to my sister about how I've always loved the Balenciaga City bag and how I feel they're coming back this year because of all the West/Kardashian wearing of Balenciaga and the return of Y2K fashion, he thought that may be a good alternative and probably the same price as our canceled getaway.
My husband reached out to my sister hoping to make this a surprise but she was wise enough to tell him for something of this cost and with so many variations on the bag over the years, it would be better if he and I worked together to purchase the perfect used Balenciaga City bag for me.
I loved the idea of buying something that I have been dreaming about for over a decade. I also loved the idea of buying something secondhand. There is more than enough items on this planet to dress and accessorize everyone a million times over. When it comes to used designer bags, they are often higher quality, better cared for, and also have a bit of a patina to them so they look cooler and not so pristine. What a win/win to get what I always wanted and have it secondhand.
Purchasing a Used Designer Bag Online: Where I Looked and Where I Shopped
The RealReal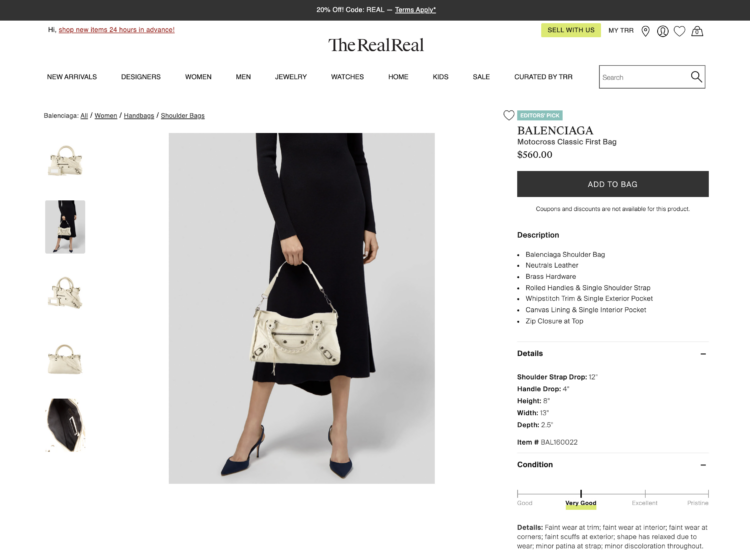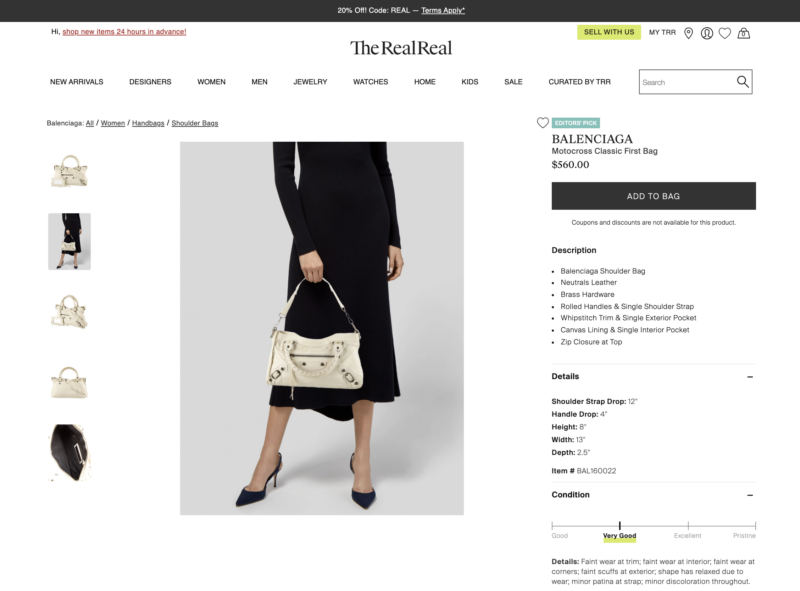 As someone who never shops designer online, the first place I knew to go was The RealReal. It's an online shop for pre-owned designer items that is well marketed. While The RealReal is best known for women's designer fashion, the site also carries men's designer fashion, jewelry, and homegoods. The RealReal allows for some returns, and while there has been some concern about counterfeit pieces on The RealReal (Forbes), they do claim to have an authentication process.
I went to The RealReal and searched Balenciaga city bags, then Balenciaga motorcycle bags, then Balenciaga bags. I found that I did the best just choosing Balenciaga, then narrowing down in the sidebar to Women, then Bags because this bag is called a lot of different things (a bunch of them on The RealReal are called Motocross bags, some are called City, some were labeled Agneau which is the kind of leather).
I appreciate that The RealReal will have photos of a body holding the bag. While most are the bag photoshopped onto the photo, it still gives you a gauge for size. There are several high-quality photos you can expand to see the condition of the bags inside and outside.
I found a few used Balenciaga City bags that looked good, but most of the ones the size I desired had less than desirable conditions (so many said they were musty or had "interior odors" which concerned me, and a lot had really worn and damaged handles). The prices also seemed really high for bags that smelled bag and had broken handles so I searched online for other reputable resale sites for designer bags.
FASHIONPHILE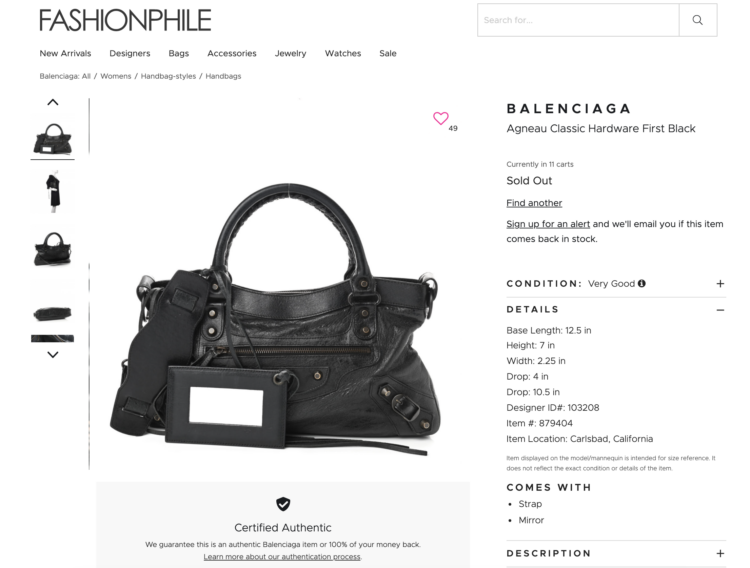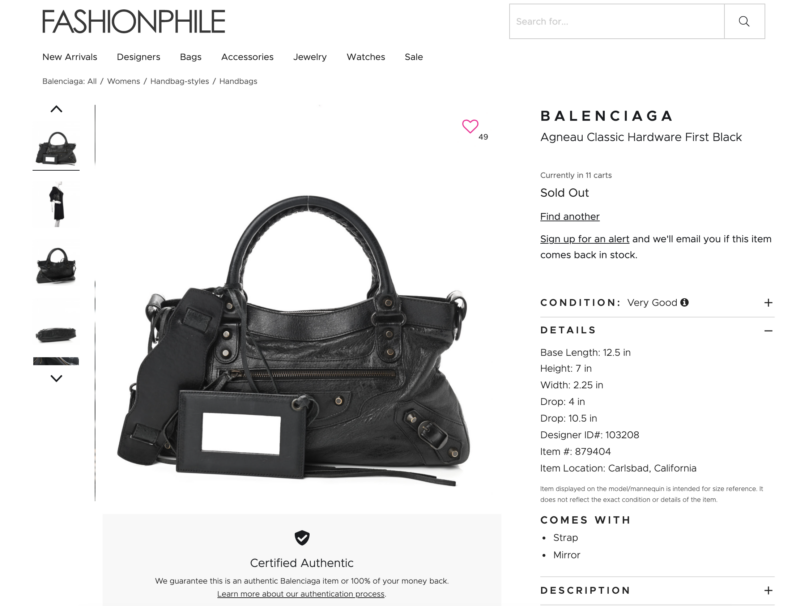 While The RealReal is the best known designer resale site, FASHIONPHILE is the O.G. Started in 1999 but expanded in 2006, FASHIONPHILE prides itself on authentication. It also has different programs where you can try before you buy or choose layaway. Returns are allowed within 30 days. While The RealReal has a range of designer items, FASHIONPHILE focuses on bags, jewelry, and small accessories.
With FASHIONPHILE I had the most searching success by choosing all bags, then the brand Balenciaga, then narrowing down by price (I knew what I wanted would be over $500 but I wasn't willing to go over $1,000 so I chose that pricepoint), and color (blacks and grays).
I found the photos on FASHIONPHILE to be of very high quality. Unlike The RealReal which photoshopped the bags against a person, FASHIONPHILE often had the bag on a mannequin so you could better see drape and drop. The descriptions of condition were very detailed. Free shipping, 30-day returns, authenticity guaranteed, and I found the prices to be equal or better than The RealReal.
I found the perfect bag, but was still nervous about dropping so much coin on a bag and decided to sleep on it. Big mistake, the next morning it was sold out. I searched the rest of FASHIONPHILE and didn't find any other bags that really did it for me so was off to find other reputable designer resale sites.
Tradesy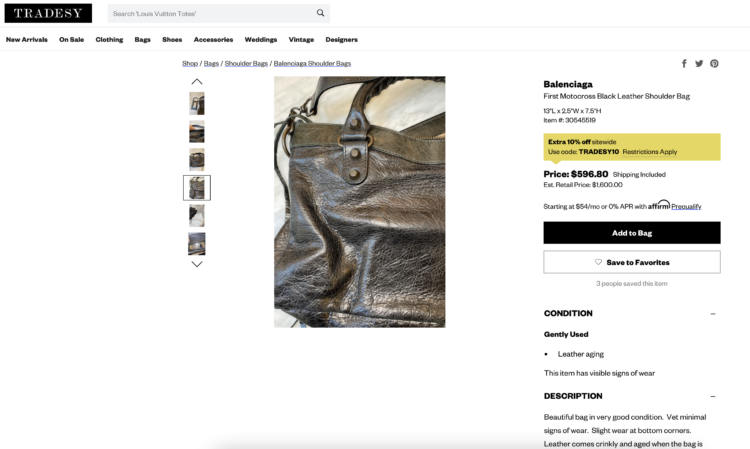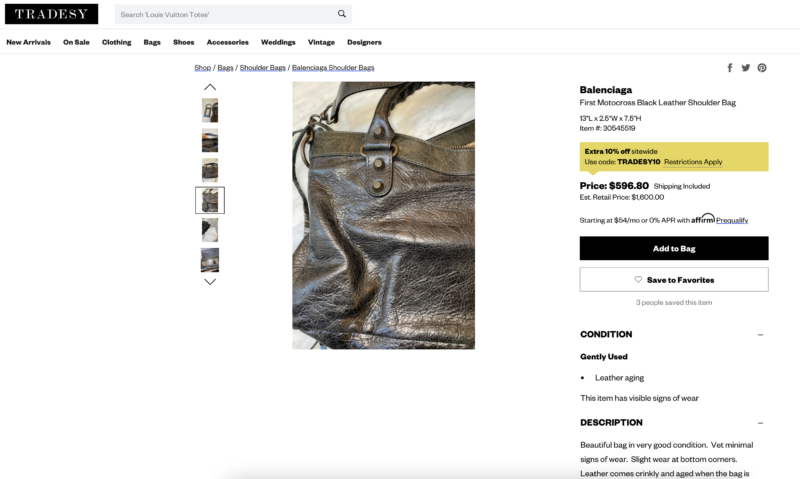 Unlike The RealReal and FASHIONPHILE which have the merchandise, photograph it, and ship it out, Tradesy works a bit more like Poshmark in that the item is shipped from the current owner. However, Tradesy is also big on authenticity and verifies all that they sell is designer. Free shipping, and free returns for site credit.
Tradesy sells bags, but also women's fashion, accessories, as well as vintage pieces and wedding. If you're looking for wedding dresses and accessories or even dresses for bridesmaids and parents of the couple, this could be a great resource. But I was on the hunt for a Balenciaga City bag.
I searched bags, and then chose the brand Balenciaga. While there was a hyperlink at the top of my search for Balenciaga City bags, I knew from previous site searches that these bags end up having all kinds of names so I stuck to this search. I narrowed by material and color, opening any possibilities in a separate browser tab.
Since Tradesy is more like Poshmark than an online consignment or boutique like The RealReal and FASHIONPHILE, the prices and photos at Tradesy were all over the place. Some listings had several close-up photos and detailed descriptions, some I could hardly tell the condition of the bag. I'd find two bags almost exactly the same condition and one would be $400 more than the other.
By this point, I had looked at dozens of listings and had become familiar with issues one could find with a used designer bag. I was zooming in looking at handles, zippers, hardware, and the bottom of the bag. Armed with a tape measure and a second opinion (actually a second and third – my husband and my daughter) I found the bag I loved. And then I was off to get the best price.
Searching for Promo Codes for Resale Sites
I never click "buy" until I have exhausted all opportunities for a great promo code. Especially with a purchase of this size, I'll sign up for texts, sign up for emails, and I'll keep Googling until I find the very best deal.
If you use a site like Rakuten or wish to give a site credit for a sale they inspired you to make, you should do this search BEFORE you get to your shopping cart. Or, do the search on a different device or browser. I was shopping in Chrome, but I went to Safari on my Macbook to seek out the best Tradesy promo code. While texting gave me a percentage off and opening an account gave me another, Google helped me find a code for $100 off a purchase of $500+ which was way more than any other promotion Tradesy offered.
My Tradesy Experience Buying a Used Designer Bag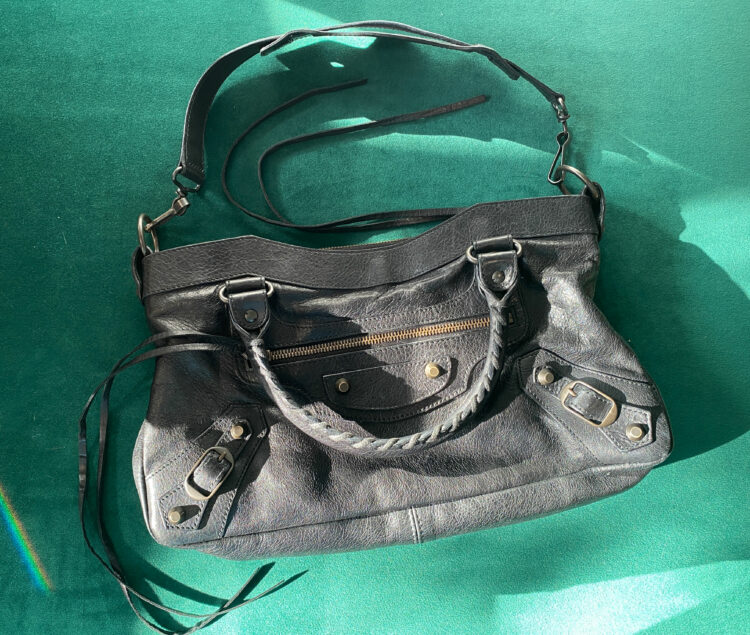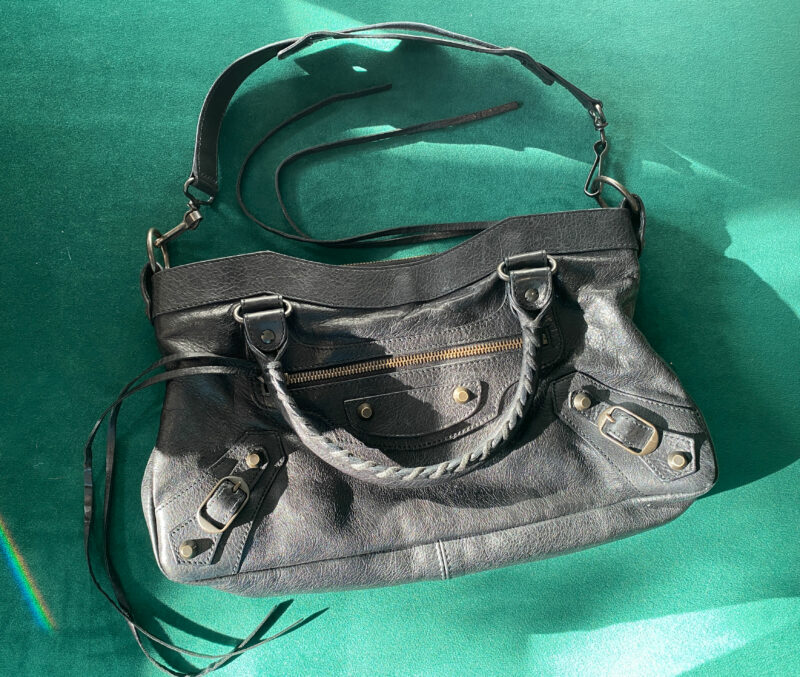 I don't have much to say here because the experience was pretty standard issue. I placed the order, I received a confirmation email, an email that the shipping label was created, one that the order was shipped, and then an email once the bag was delivered.
My bag arrived in a USPS Priority mail box a little larger than the bag. The bag was wrapped in tissue and extra tissue was in the box to keep the bag from shifting. Nothing else was in the box, no packing slip or note or dust bag. However, I didn't expect anything additional.
The bag looked exactly like the photos online. Same condition, same color, same everything. I don't have much to say which in this case is a good thing. No news when it comes to buying a used designer bag online is good news. However, if there was an issue I could have notified Tradesy within four days to set up a return.
What About ReBag, Poshmark, or eBay for Used Designer Bags?
There are so many designer resale sites, it can be overwhelming. I narrowed down to the three above because they had the best selection of older Balenciaga City bags, they prided themselves on authenticity, had policies for returns in case of counterfeit or inaccurate items received, and they had quality photos and clear descriptions.
ReBag didn't look bad, but I found the site a bit confusing and really focused on those who buy and sell designer bags on the regular. You could list and shop at the same time, and they do authentication through their app Clair. If I was someone looking to cycle out old designer bags for new ones, I'd consider ReBag but the selection and buying process wasn't what I was looking for with this purchase.
I love Poshmark; I shop Poshmark often when looking for department store brands of clothing and accessories. However, it is NOT where I would go for a high-end designer bag. I have been burned too many times with Poshmark purchases that reek of perfume/cigarettes/monthballs, that have little pinholes or stains, that come balled up in an old cereal box duct-taped together. If I am going to pay over $500 for an item, I want what I want how I want it.
As for eBay, there may be some great deals, but there is enough sketch on there that I didn't even consider it. Shopping eBay for high-end designer requires some master skills, knowing reputable sellers, and knowing the bag you're buying to look out for counterfeits.
The Best Place IMO to Find Information on Buying Used Designer Bags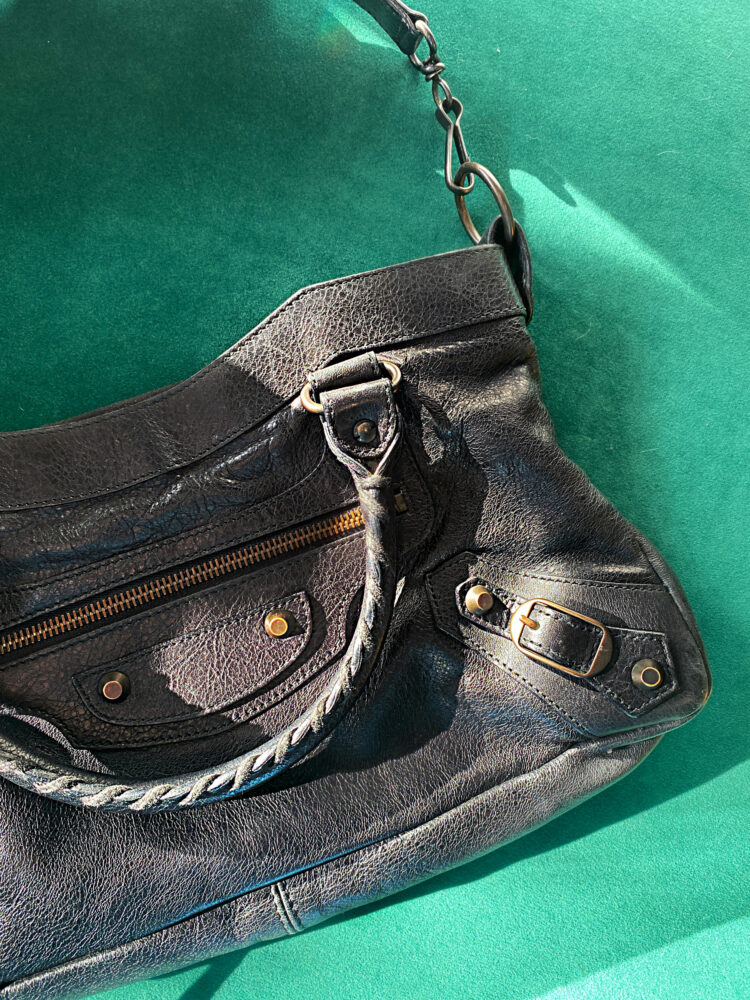 When choosing which designer resale sites to visit and even when looking for information on how to buy a used designer bag online I checked out PurseForum. Purse Forum, associated with PurseBlog, has been a message board for the bag-obsessed since 2005. There is no need to register with PurseForum and you'll find when Googling this message board will pop up first page.
If you google the URL of PurseForum and keywords for the kind of bag you desire, you'll get a list of threads on the message board. I did variations of "Balenciaga Motorcycle bag" and "Balenciaga City bag" and then when I was more specific about size and style and leather, I did searches with that.
The PurseBlog is also a great resource if you are looking for more information on the pre-owned designer bag you may purchase. For example, when I searched Balenciaga City bag on Purse Blog I received several posts from the years this bag came out, discussing size, color, leather, and more. Searching Balenciaga Motorcycle Bag brought on even more posts about this bag and its resurging popularity.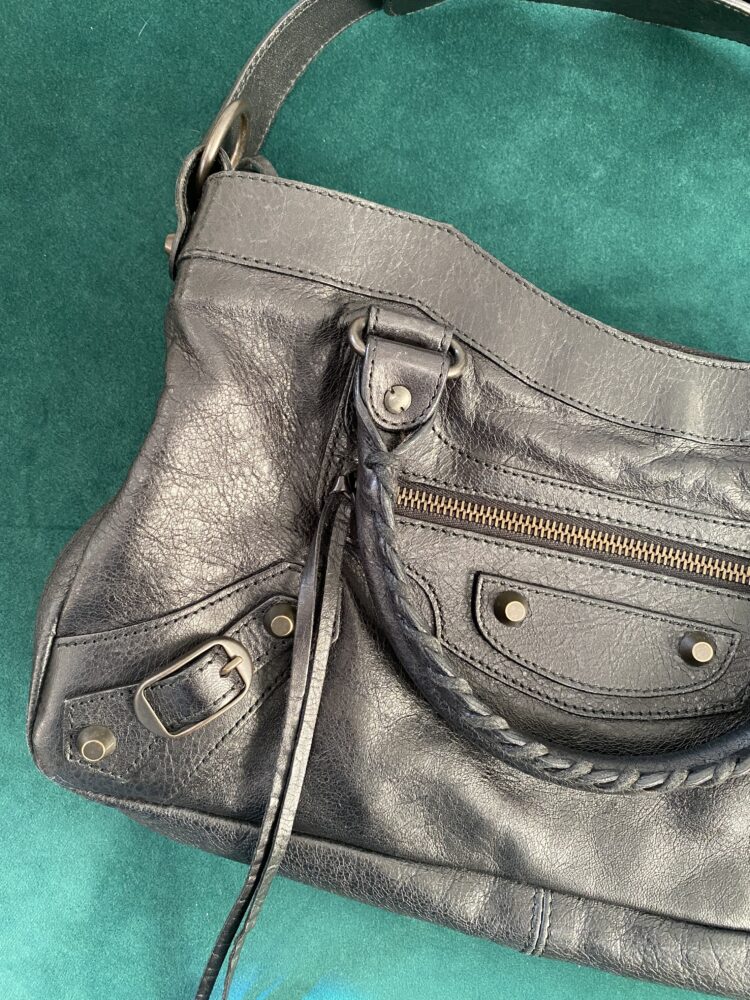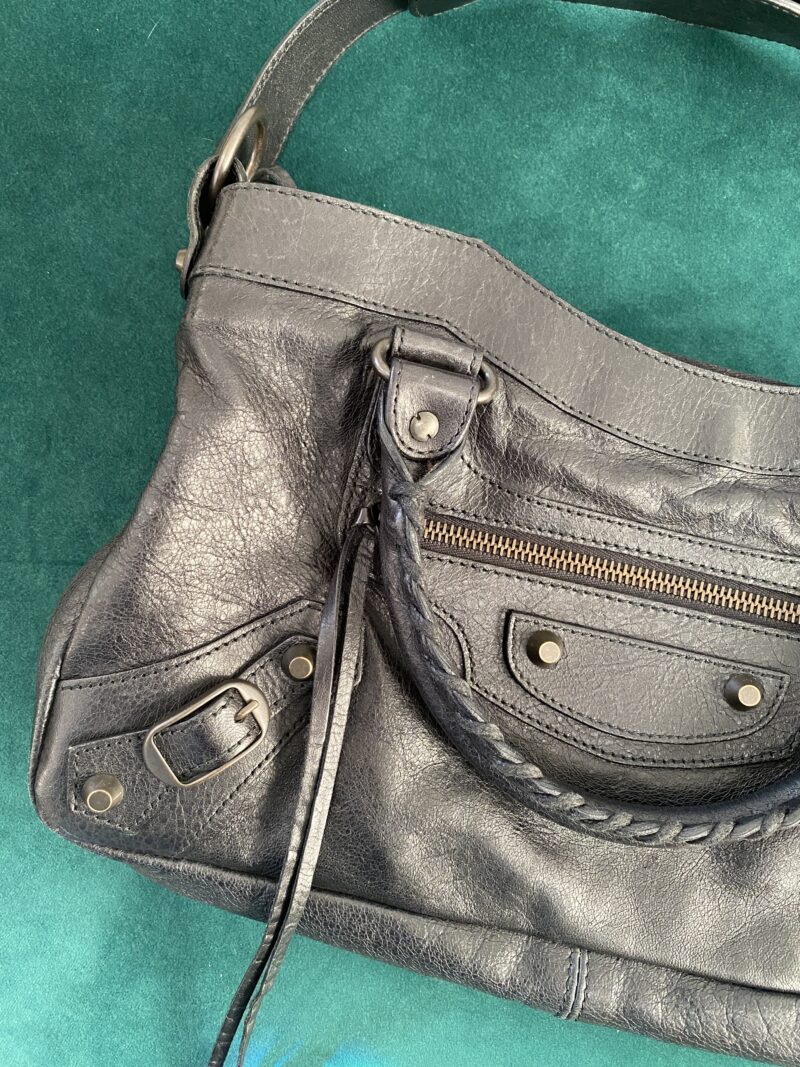 If you are also on the hunt for a used Balenciaga City bag, this Balenciaga Information Guide from Yoogi's Closet is a treasure trove. It goes through the different types of leather, hardware, the sizes, colors, and most anything else you want to know when shopping online sight unseen. In fact, if you Google "Yoogis Closet [brand name] information guide' you'll find several for popular designer bag brands like Chanel, Louis Vuitton, Gucci, and Hermès.
So… A Week Later After Getting My Balenciaga City Bag…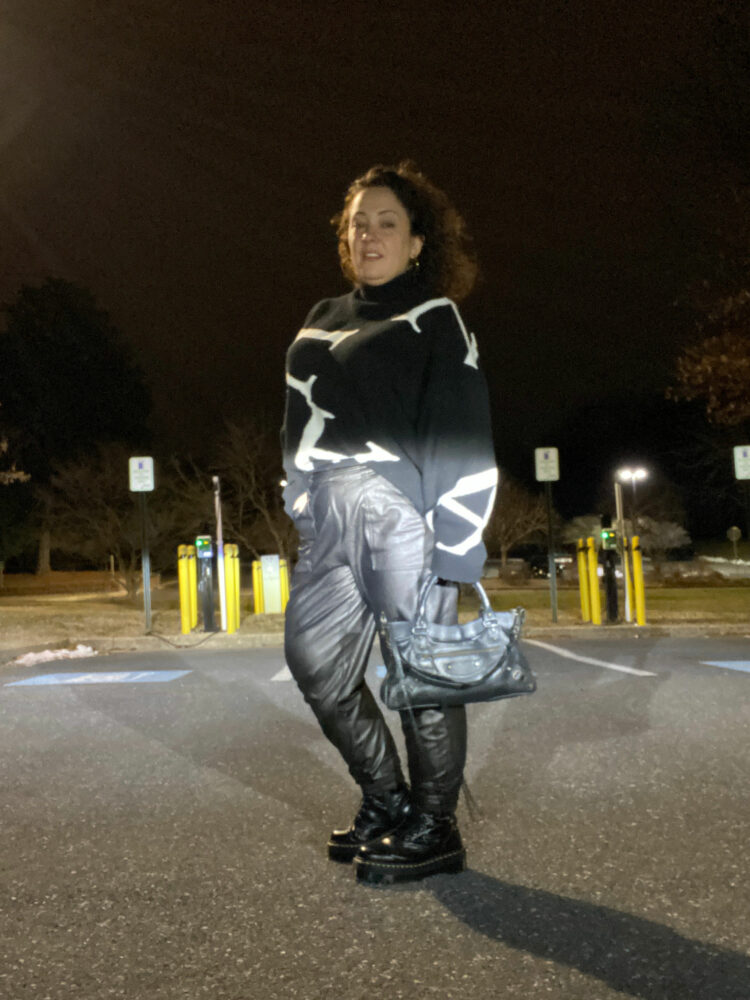 I still love this bag, but I really haven't been anywhere to wear it! I did go to lunch at le Diplomate with friends. I wore my faux leather joggers and a black and white sweater and carried it and it was perfect. But beyond that, I've been toting my Balenciaga City bag to the grocery store and to pick up lunch one day at Panera!
However, I know that this bag will get more play when the weather warms and the world opens up a bit more. It feels great in my hand and over my shoulder and in the crook of my elbow. It is big enough to carry everything I need (large phone, sunglasses, reading glasses, small wallet, earbuds, small bottle of hand sanitizer, a few lip products, mask, and my keys). It has a zipper exterior pocket and a zipper interior pocket. the shoulder strap is removeable.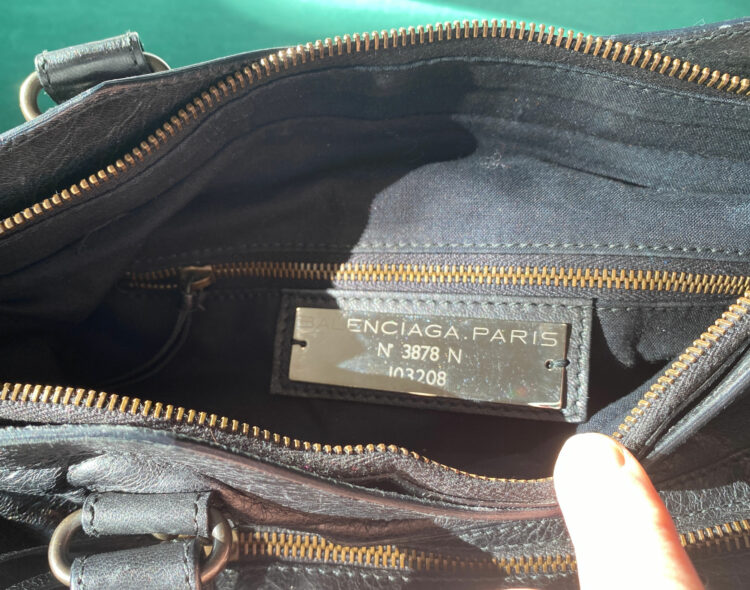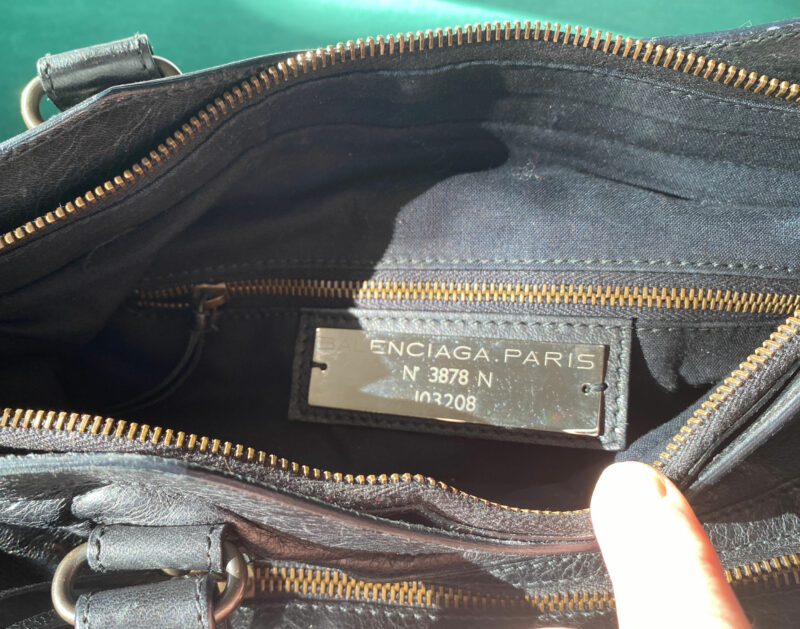 It's such a subtle bag; first glance it can look like an old vintage bag but those who are in the know will recognize it's Balenciaga. Inside there is a metal plate engraved with the serial number but also a letter to help you know which season your bag is from (Lollipuff). With my bag, it is Spring/Summer 2011.
I took these photos in harsh lighting so no flaws were hidden so you can see the condition of my used Balenciaga City bag and to show that it may seem terrifying, but if you do your research and shop from reputable places, you can have success purchasing a used designer bag online.
My Biggest Tip After Purchasing a Used Designer Bag Online
This tip is after writing and researching this article. Do NOT look for more bags after you have the one you purchased! There will be more bags, there may be bags in better condition, with better features, ones that you wish you purchased instead. As I said millions of times to my kid growing up, to Girl Scouts in the troop I lead, and even to employees when I worked in Corporate America… you get what you get and you don't get upset. And the best way to not get upset is not know what else is out there.
There is no benefit to looking anymore, just enjoy that beautiful secondhand designer bag and wear it with joy. You deserve to feel joy, and there's nothing wrong with finding it through purchasing a used designer bag online.