This article may contain affiliate links; if you click on a shopping link and make a purchase I may receive a commission. As an Amazon Associate, I earn from qualifying purchases.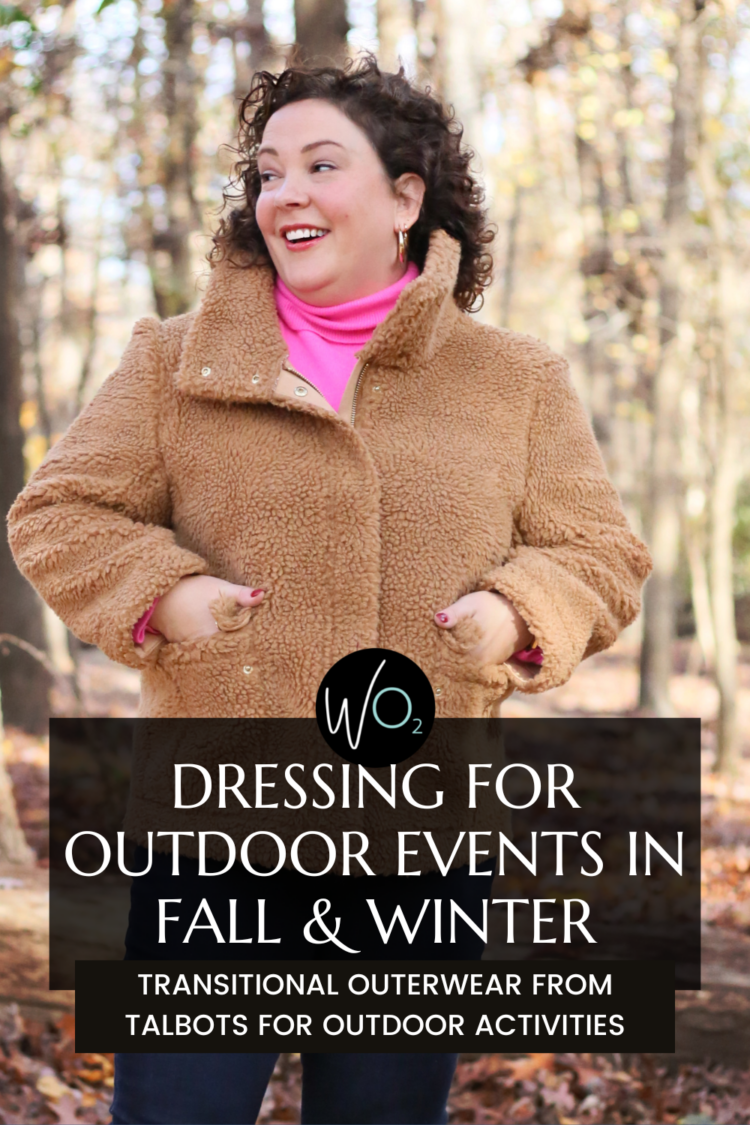 'Tis the season for fire pits, football games, s'mores, hiking to view fall foliage, and other outdoor group activities. Not too cold to spend quality time outside with friends and family, but cold enough that you need to figure out the right layers that keep you cozy but able to move and enjoy the moment. I found some great pieces for socializing outside this fall/winter from Talbots.
This post is sponsored by Talbots.
Talbots invited me to check out their fall/winter collection and I immediately gravitated toward their transitional outerwear. While I have great coats for when True Winter arrives, living here in Maryland we have fluctuating temperatures from October until December that doesn't always warrant a parka or wool coat. Mixed with different layers, these toppers from Talbots can be perfect for a range of outdoor social activities this season.
I decided to have a theme for this collection of outerwear with the color pink. I am wearing this cashmere turtleneck from Talbots in size XL in the color Festive Pink. This beautiful color is available in a range of pieces at Talbots this season and I found they are all dyed to match perfectly, even if the pieces are from different textiles. The pink cashmere beanie I am wearing is also from Talbots (and there is a matching scarf). Pink is a very popular color this season and will continue to be on trend through 2023 and beyond.
Why I Love and Wear Talbots
I have recommended Talbots since I started Wardrobe Oxygen in 2005. For 75 years, Talbots has provided modern classic style and in my opinion, their collection keeps improving each season. Quality textiles and manufacturing, pieces that are on-trend yet look stylish for years, and a great size range keeps me coming back to Talbots.
Offering Misses, Petite, Plus, and Petite Plus in the majority of their collection, Talbots does a pretty good job of grading their apparel so a size 2 and a size 22 can look fabulous in the same garment. I appreciate the loyal customers of Talbots who take the time to leave detailed and informative reviews on items they purchase online; they help me choose size and which styles will work best with my frame.
For reference, I am 5'3″ and usually wear a size 14 Petite in Talbots. FYI, all the pieces I feature below are available in Misses and Plus sizing with most also available in Petite and Petite Plus.
Chic Coziness: The Talbots Teddy Coat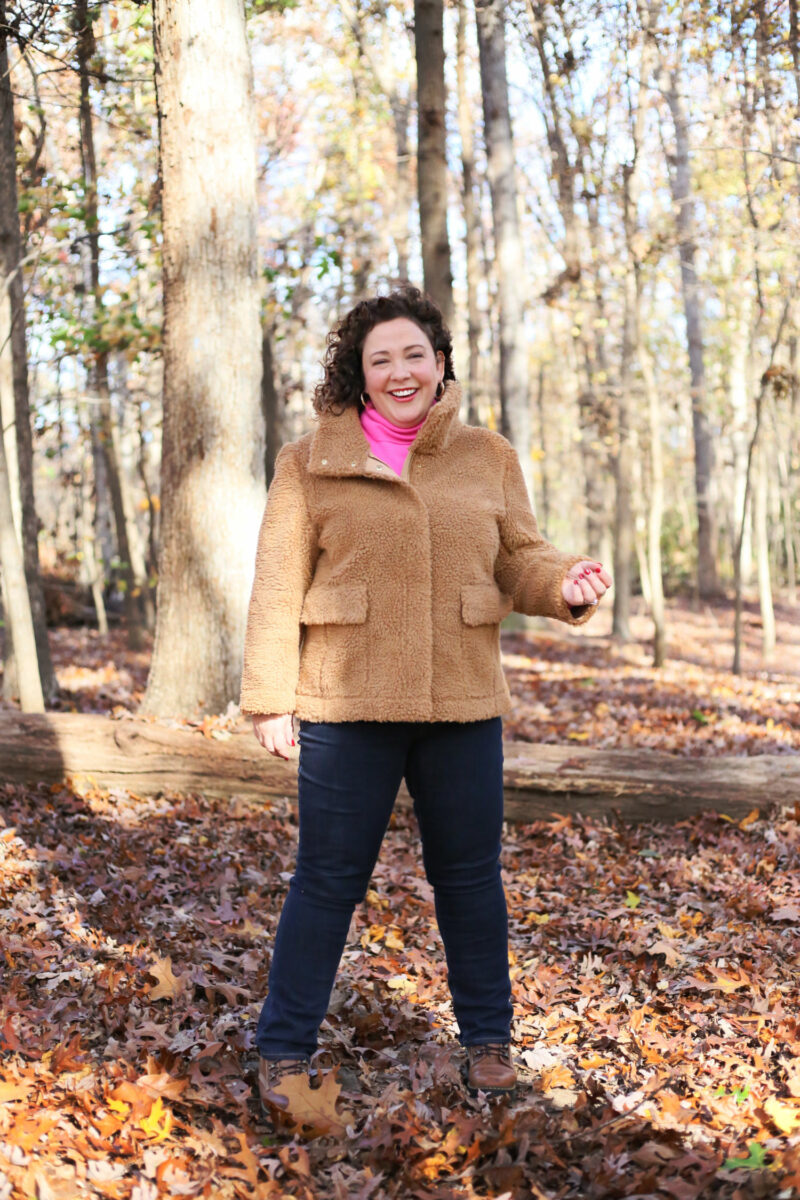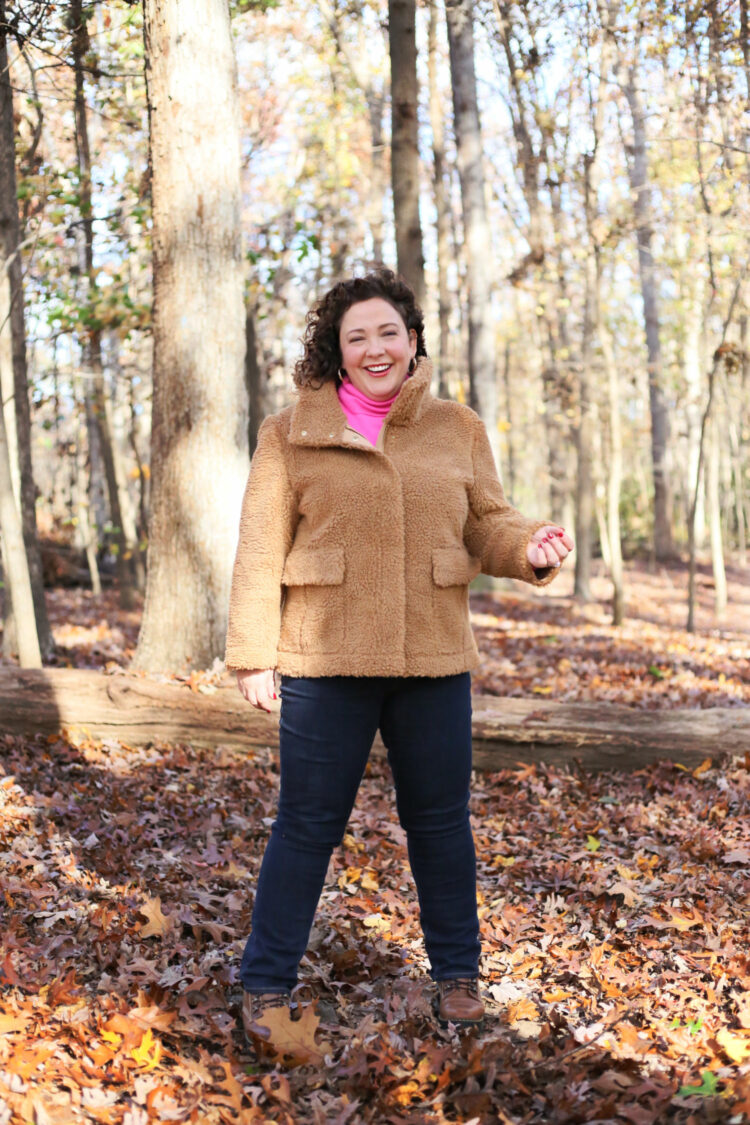 "Teddy" coats are called that because the faux fur/shearling resembles a teddy bear. What's nice about teddy coats like this one from Talbots is it's machine washable and it's not as "precious," meaning you can wear it around the fire pit, at a Biergarten, sitting at a picnic table and not worry about spills, smoke, or snags.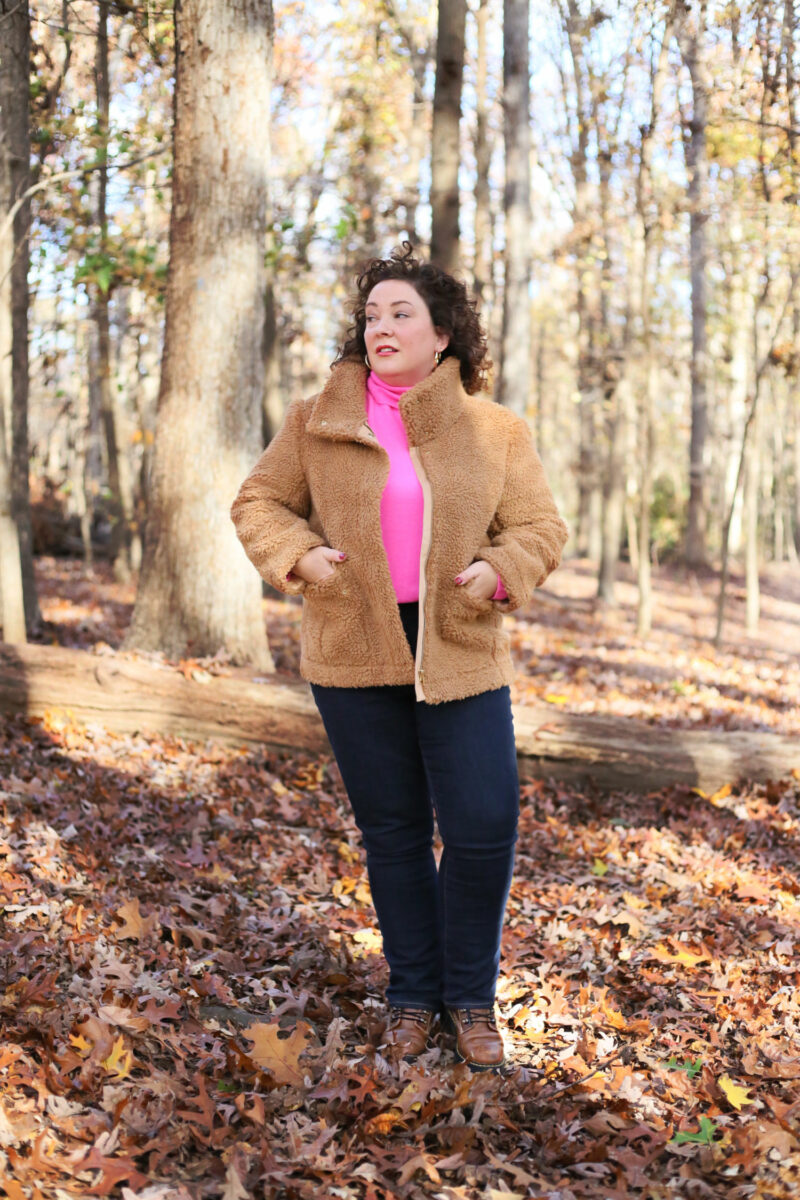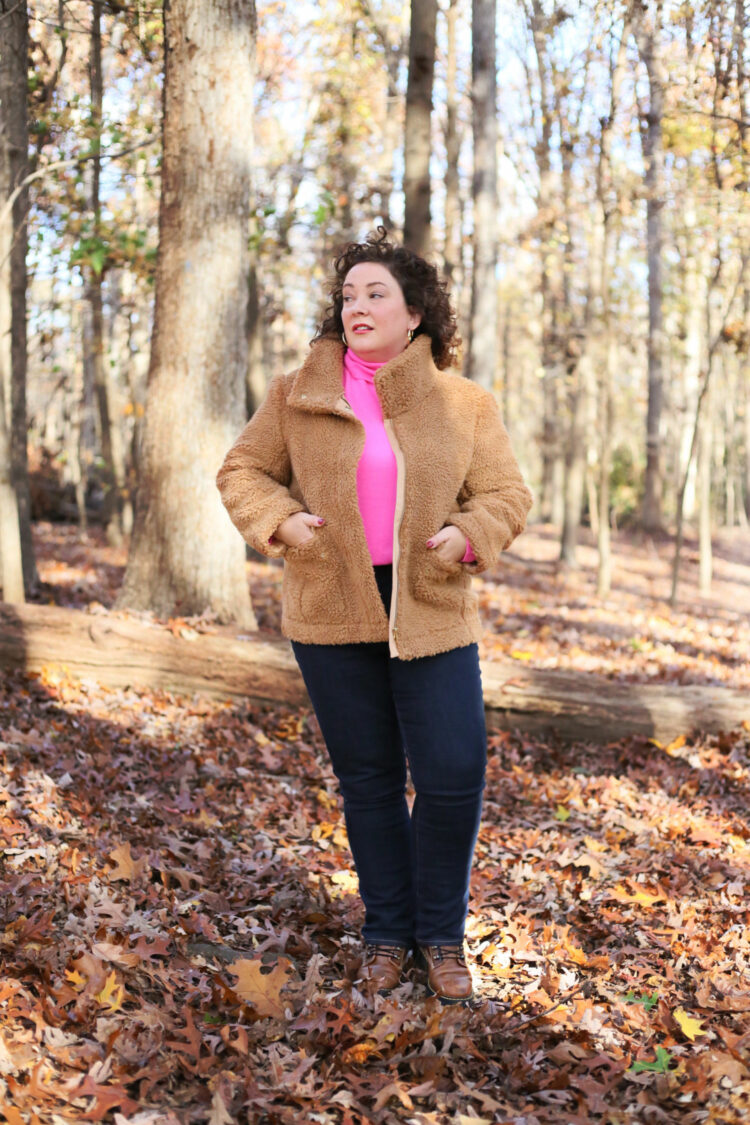 Functional, but also fashionable in this on-trend color, texture, and silhouette. This Talbots teddy coat is elegant, elevated, and high quality with a sueded interior, subtle gold hardware, and the most beautiful and face-framing collar that looks good with the coat open, zipped up, or with the collar snapped shut to keep the neck and chin warm.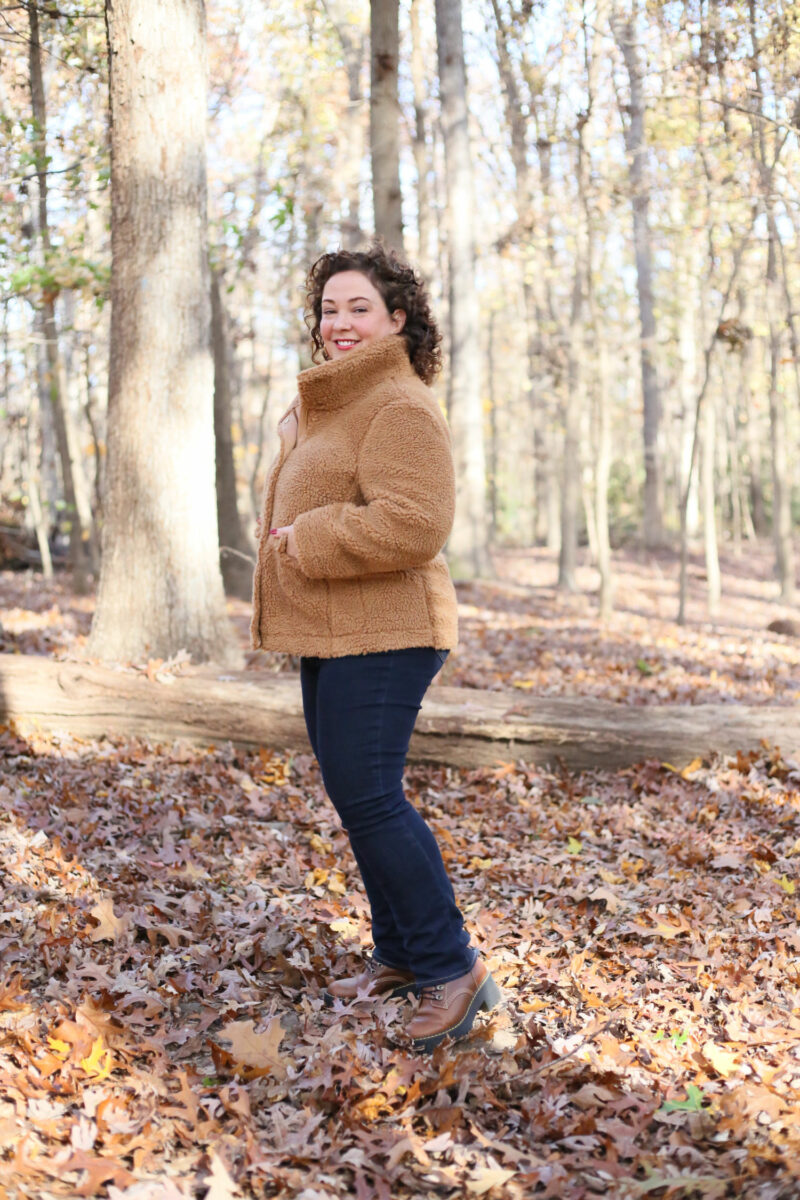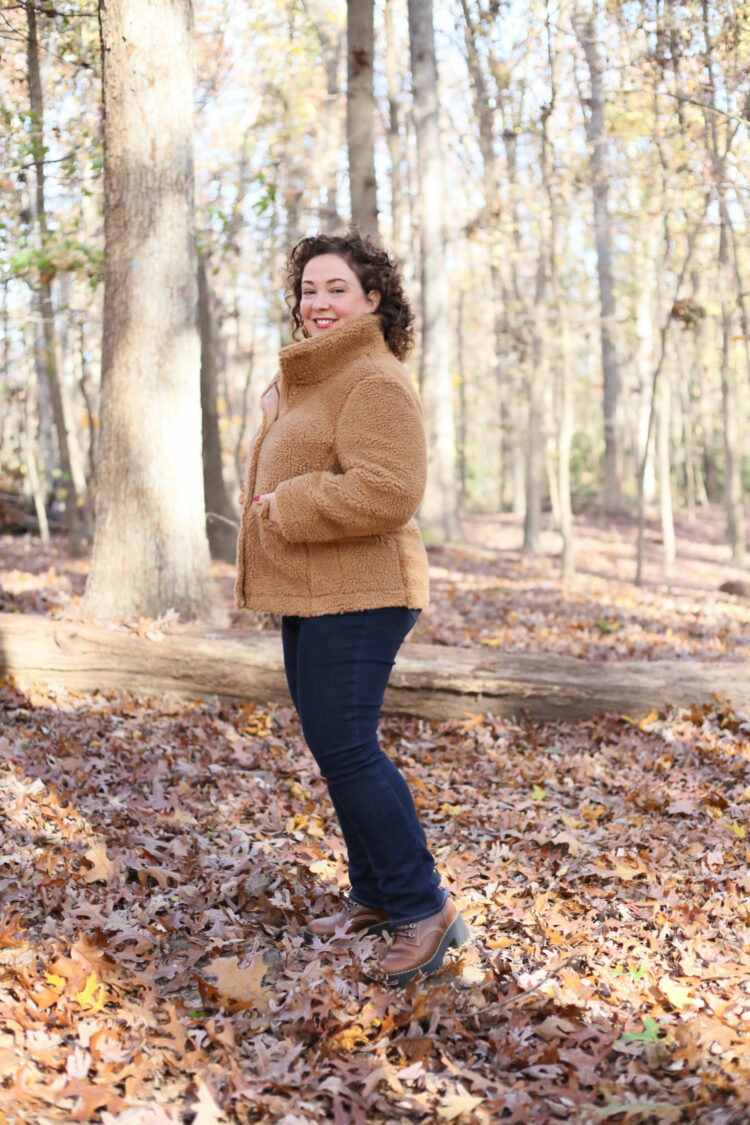 I am wearing an XL petite, and find this Talbots teddy coat roomy. If in doubt, size down. The large patch pockets are a design element that also gives you room to store your phone, your sunglasses, a small wallet, your lip balm, and much more. This color is so versatile; I am not one to gravitate towards camel, tan, and brown but loved how this coat looked with bright pink. I also have worn this coat with teal, plum, black, gray, and my navy striped Breton tops.
Fashionable and Functional: The Talbots Faux Fur Collar Puffer Vest
A few years ago, it seemed every woman wore a puffer vest over a plaid flannel and skinny jeans topped with riding boots. While I find that look to be a bit past its prime, that doesn't mean I am against a puffer vest. On the contrary, I think a puffer vest is a good addition to most any grown woman's wardrobe. It is a piece that is a classic, is comfy, but also quite functional.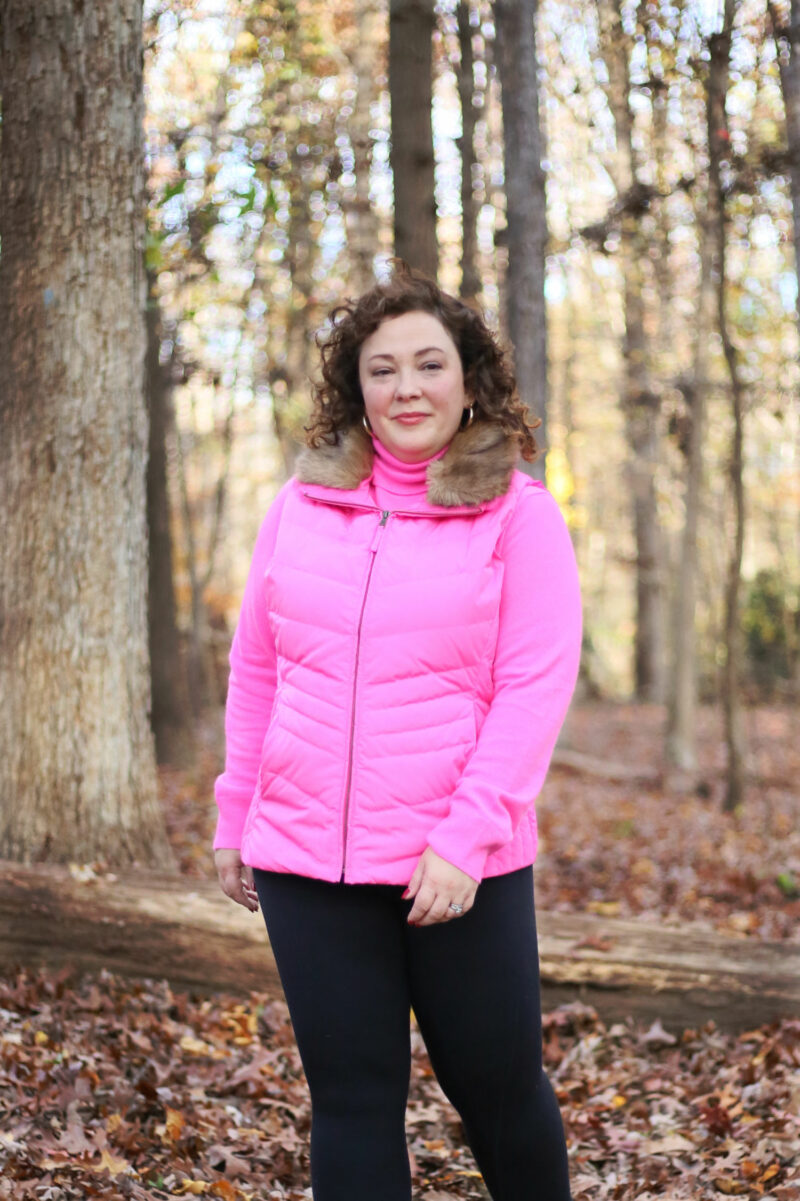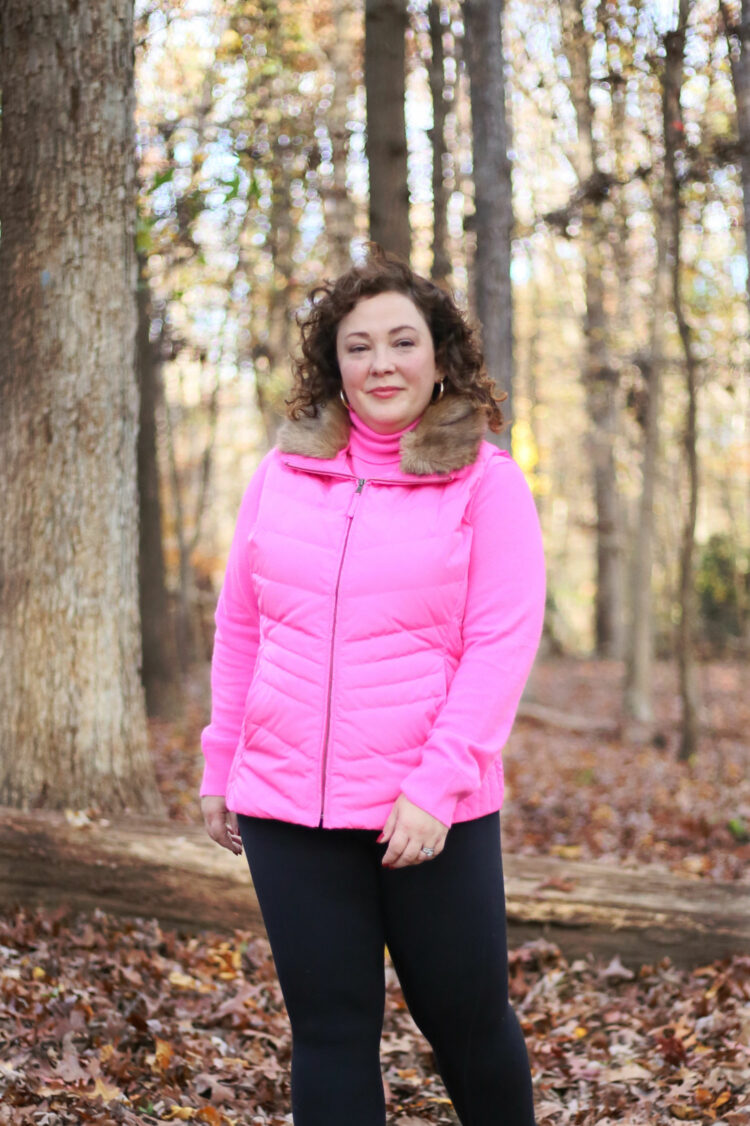 Here in the DC area, True Winter doesn't arrive until after the New Year. Especially for outdoor activities from October to December, a puffer vest is the perfect amount of warmth. And to update the old puffer vest fashion, I think it's very chic to have your puffer vest match your base layer. I couldn't resist this faux fur collar puffer vest in the same Festive Pink as the cashmere turtleneck!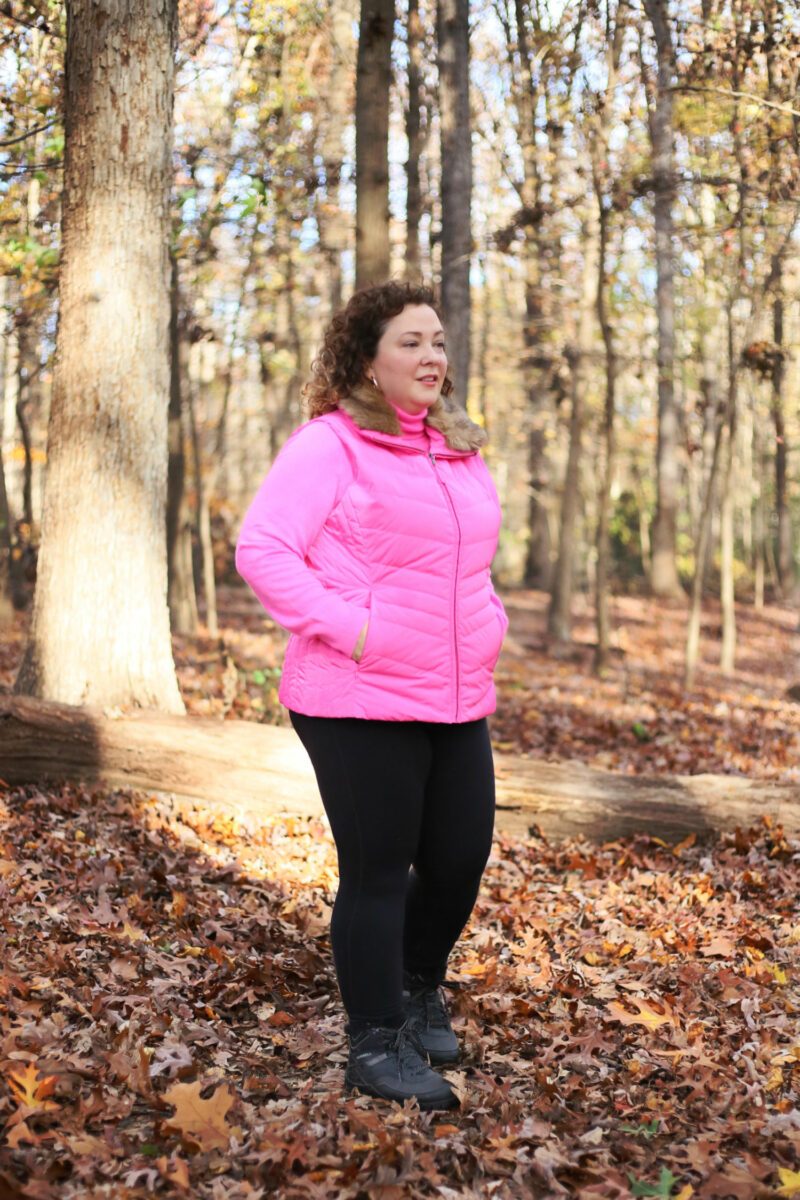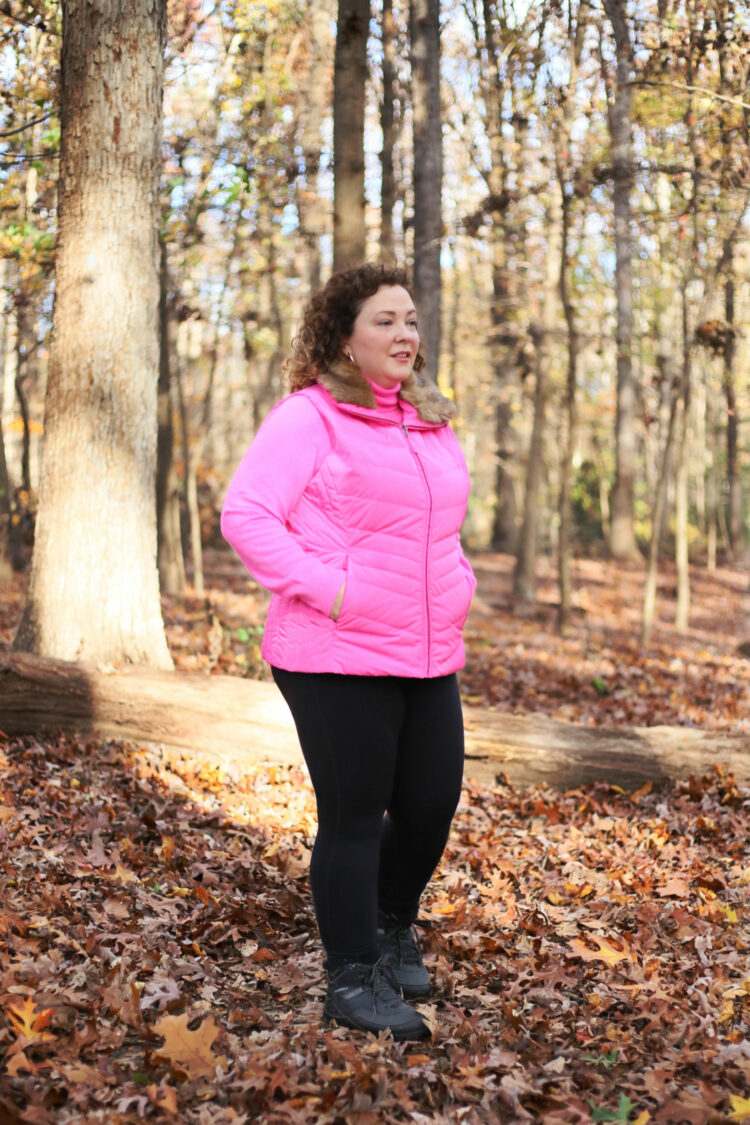 This puffer vest's faux fur collar is easy to remove (little elastic looks and hidden buttons under a placket). Remove the fur for laundering (machine washable!), or for a completely different look. I remove the collar when wearing this puffer vest for hikes and with activewear; adding the collar elevates the look for streetwear.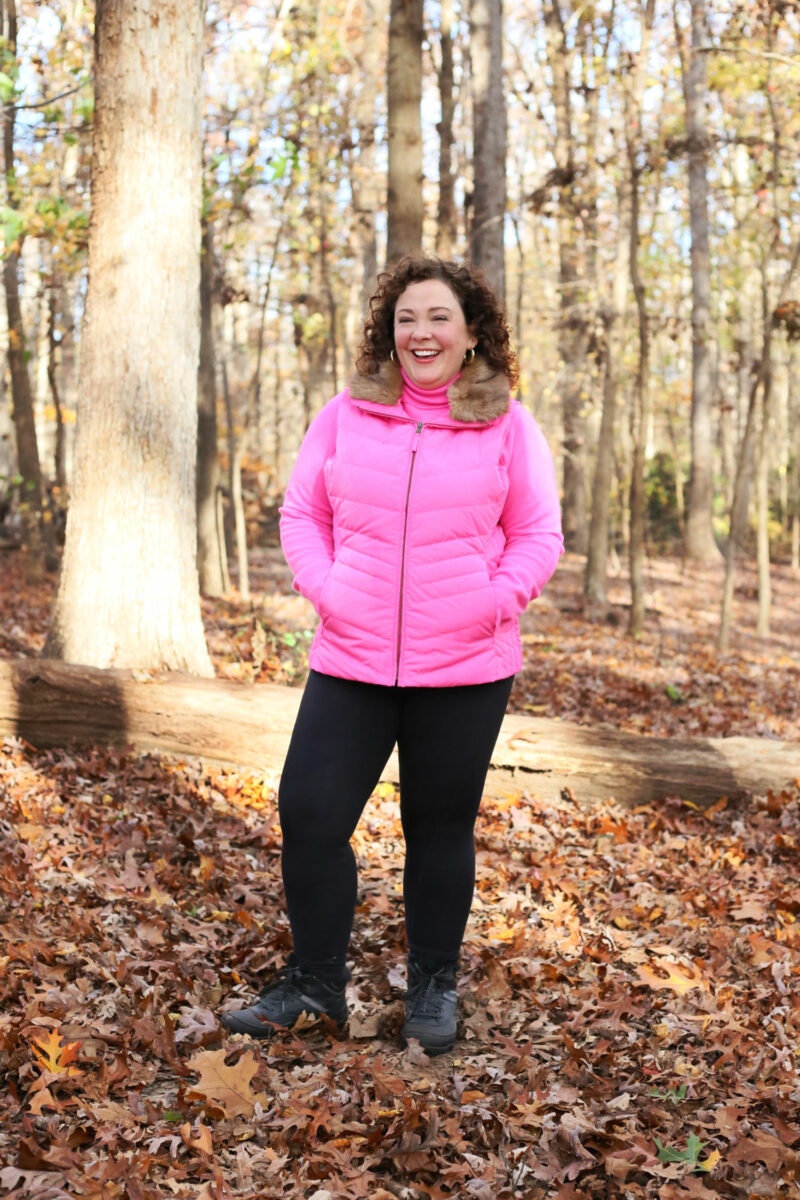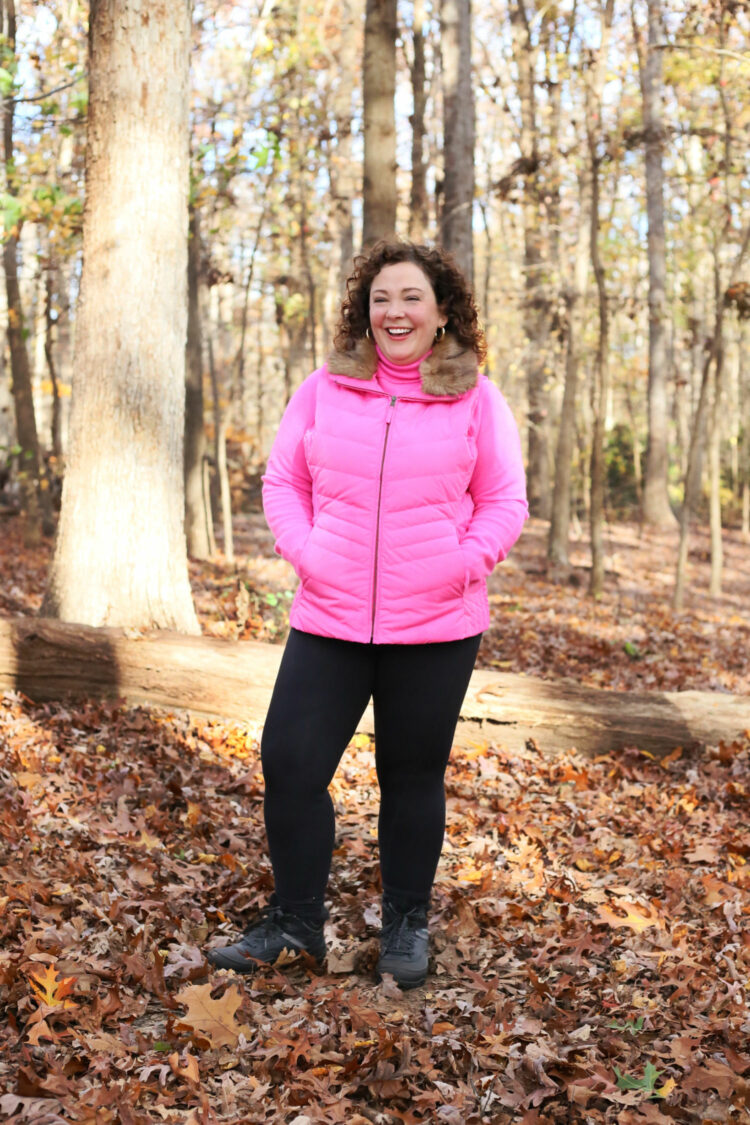 I am wearing an XL petite in this vest, which I find to be very roomy. If in doubt, size down, especially if you plan to wear this vest over thinner layers. However, the way this vest is designed and quilted, it won't look too bulky if worn over thicker fleeces and sweaters.
Cute and Cozy: The Talbots Quilted Hooded Poncho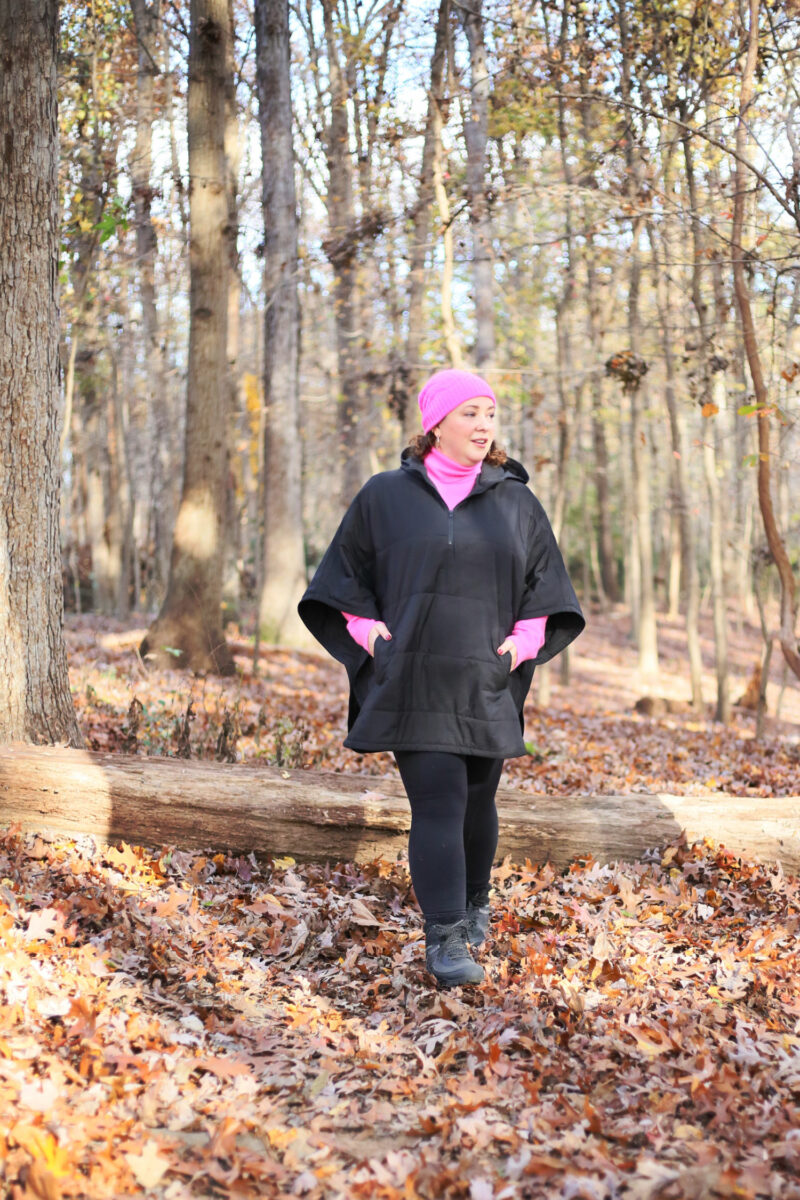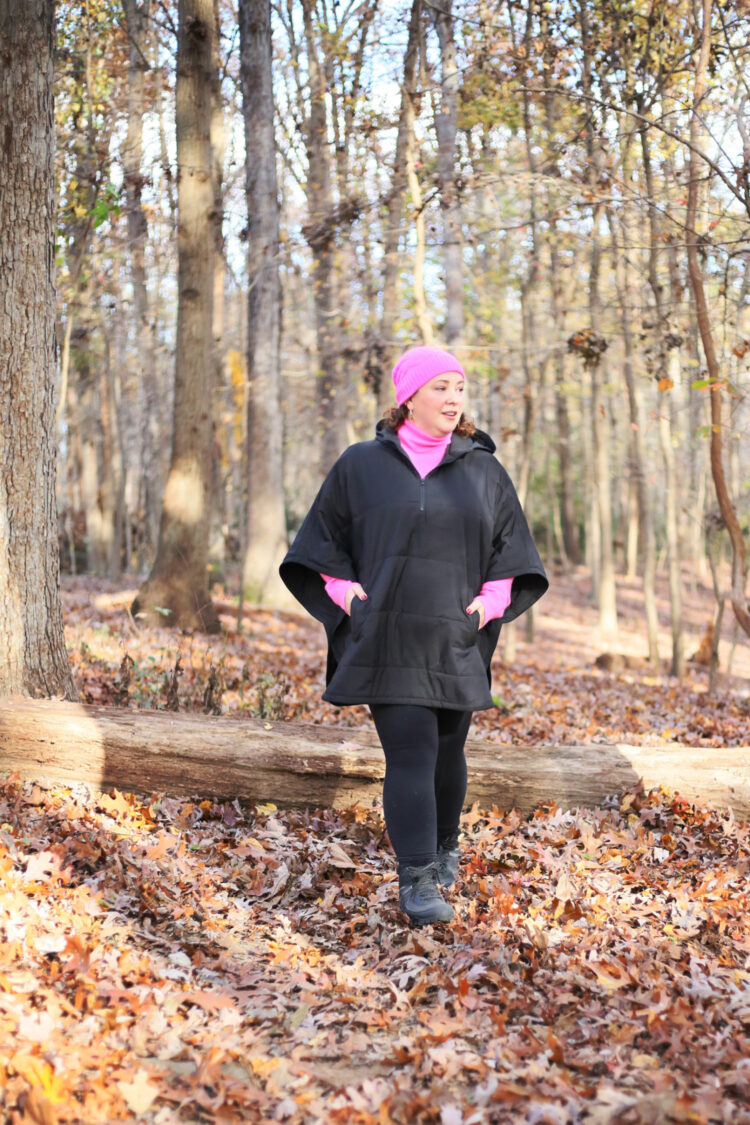 As soon as I saw this poncho I knew I had to have it! Perfect for sitting in the stands watching a game, sitting around the fire with friends, or throwing on to take the dog for a morning walk, this poncho is adorable and so practical. I appreciate the hood, the zip-neck, the deep kangaroo pocket, and how you can unsnap the sides for more movement or to even have this a makeshift lap blanket!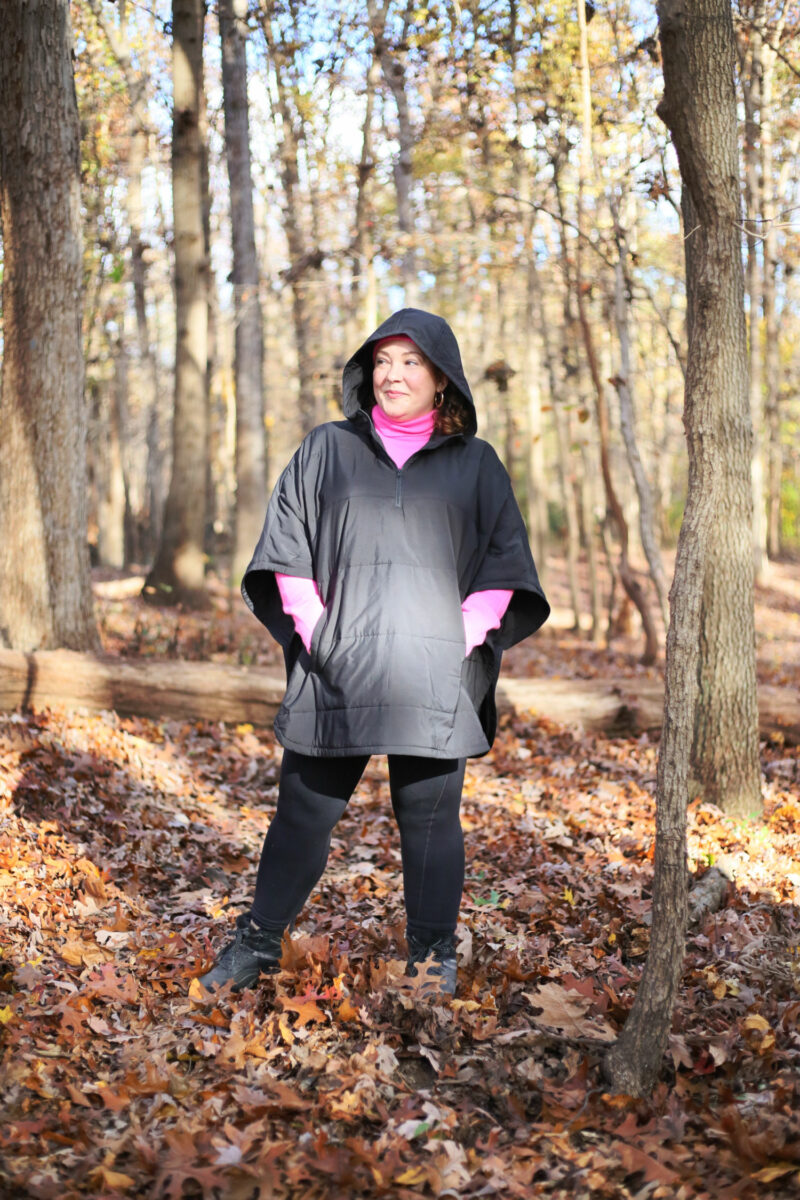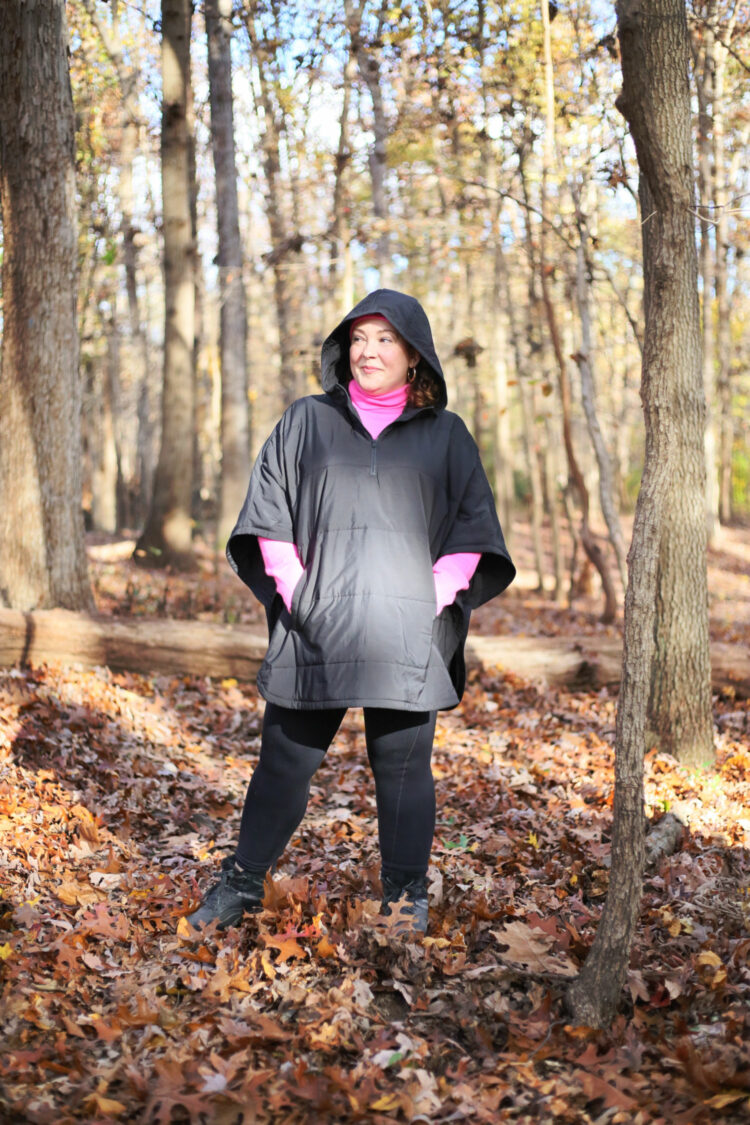 Not too thick but still quite warm, this machine washable poncho has a hood to keep you cozy and a water-resistant finish so you'll say warm even if it drizzles or flakes begin to fall. The curved hem adds style. I'm going to have to try to keep this from my 13-year-old who also thinks this is super cute and tried to borrow it last weekend!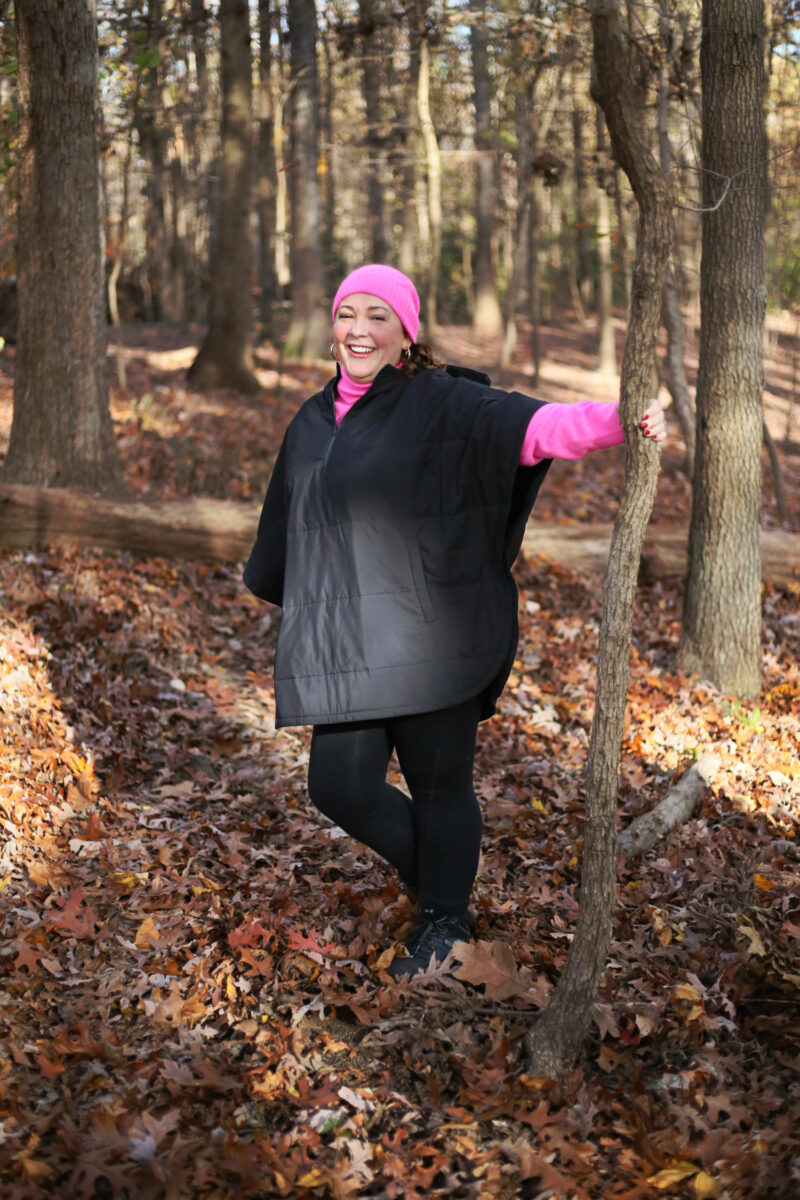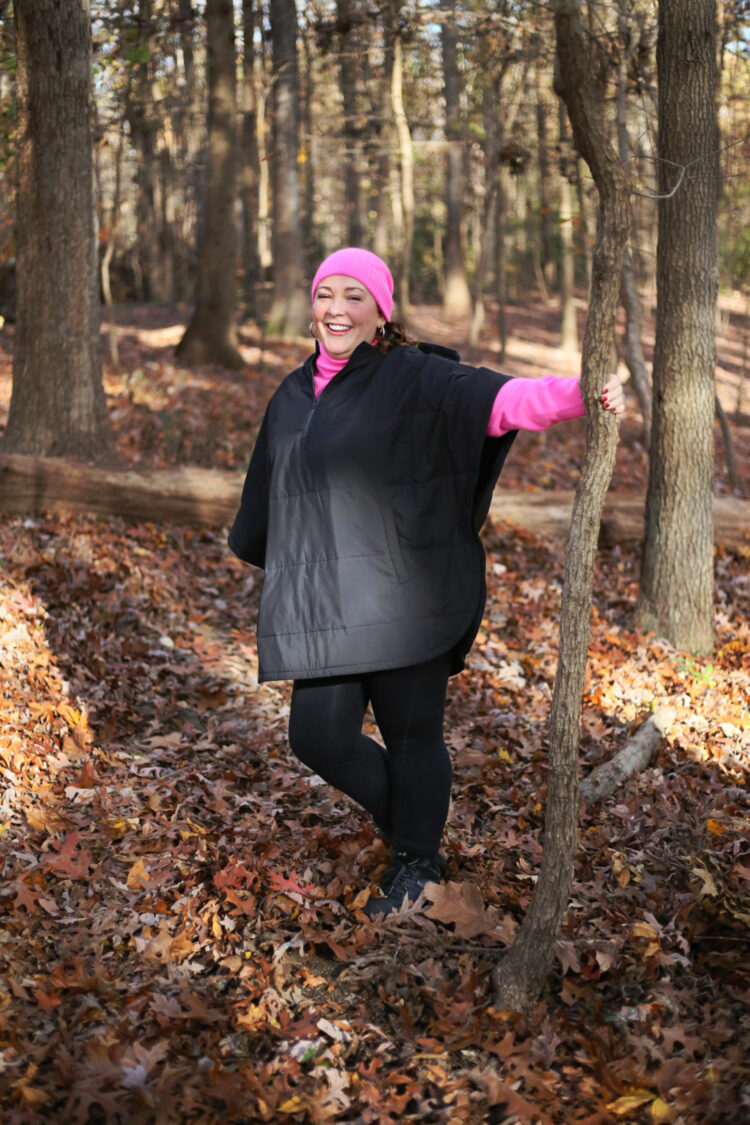 I am wearing L/XL; I think this poncho is a relaxed fit and the size I am wearing would fit if I were a size or two smaller or a size larger. I also already washed this and found it turned out looking like new from the dryer, making it a great choice for outdoor events that may leave your layers requiring a refresh or wash!
Thank you Talbots, for sponsoring this post. It's clear I am a fan and I love sharing Talbots style with all of you!