This article may contain affiliate links; if you click on a shopping link and make a purchase I may receive a commission. As an Amazon Associate, I earn from qualifying purchases. 
As a blogger, I have gotten to know a few companies in a more intimate way. Partnering with them, chatting with the CEOs and creators, I see the people in the companies, the heart, the effort, and it's thrilling when I see them grow and achieve success. And LiveTheLook, a company I have partnered with in the past has been growing and changing, and a lot has to do with YOUR feedback! Seriously, your comments on previous posts about LiveTheLook helped LTL co-founder Francesca Helina develop the shopping site into what it is today.
LiveTheLook is a site that works with your current closet and offers pieces to help you achieve a stylish and cohesive wardrobe. It works very similarly to how I approach a wardrobe – buy classic staples and then use a few current trends and accessories to update and add interest each season. Upon signing up with LiveTheLook, you take a quick style profile test about what wardrobe staples are in your closet and what you consider to be your personal style. LiveTheLook takes this info and tailors its shopping suggestions for you.
While this is the same concept that I mentioned the last time I featured LiveTheLook, the shopping itself has changed. You asked for extended sizing? LiveTheLook now offers up to a size 20 and is currently working on partnerships with more brands that offer awesome style in plus sizes. You wanted more options, LiveTheLook has partnered with more retailers expanding their selection, pricepoints, and as previously mentioned, sizes. Gotta love a company who truly listens to feedback and truly wants to impress their customers! Register at LiveTheLook, take the quick profile quiz and check out the great new changes.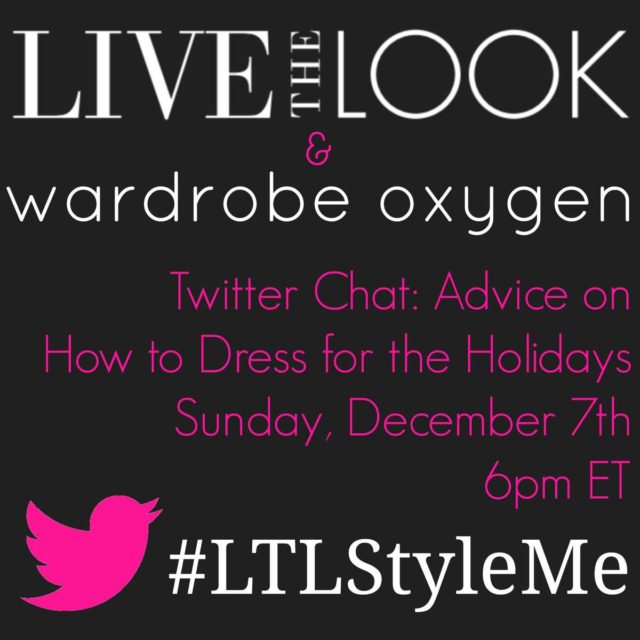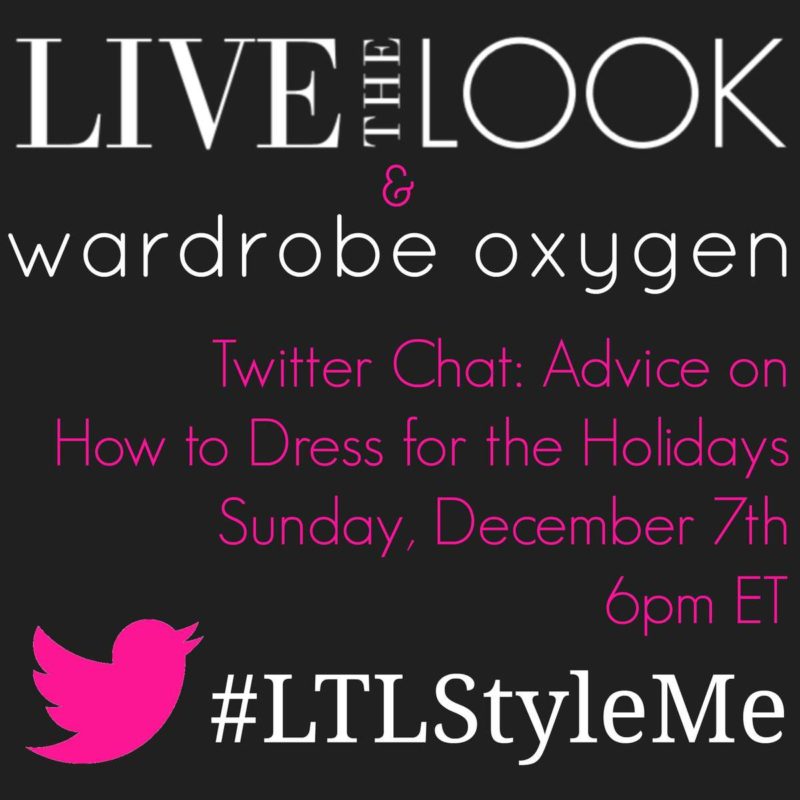 LiveTheLook is like a virtual personal shopper, completing your wardrobe. Well this Sunday, that virtual shopper will be ME! Come join me on Twitter this Sunday, December 7 at 6pm ET for a Twitter chat with @LiveTheLookNow and @Wardrobe_Oxygen. Follow the hashtag #LTLStyleMe where we'll be discussing what to wear for all the holiday events on your social calendar. Want to know what shoes to wear with your cocktail dress? How to jazz up your favorite sweater for Christmas Eve at the inlaws? Tweet your questions with #LTLStyleMe and I'll provide personal suggestions. If you tweet a photo of the item you need help styling (and are already registered with LiveTheLook), we'll style you on the spot AND LiveTheLook will send you a free accessory. How awesome is that?
I hope you'll join me this Sunday at 6pm ET on Twitter, I look forward to connecting with you and helping you look festive and fabulous this holiday season!