This article may contain affiliate links; if you click on a shopping link and make a purchase I may receive a commission. As an Amazon Associate, I earn from qualifying purchases. 
A few months ago I bought a pair of Old Navy Pixie pants in black, and I loved them. Comfy, appropriate enough for where I worked at the time, great for weekends, etc. But I recently changed jobs and my new job has a stricter dress code – Pixie pants just won't cut it anymore. I was wondering if you have any suggestions for ankle pants that are comfy enough for weekends but look professional enough for a dressier business casual work environment. I'm really working on being a more conscientious shopper, so I don't mind spending a bit more money on a pair of pants (or two!) I'll wear multiple times a week.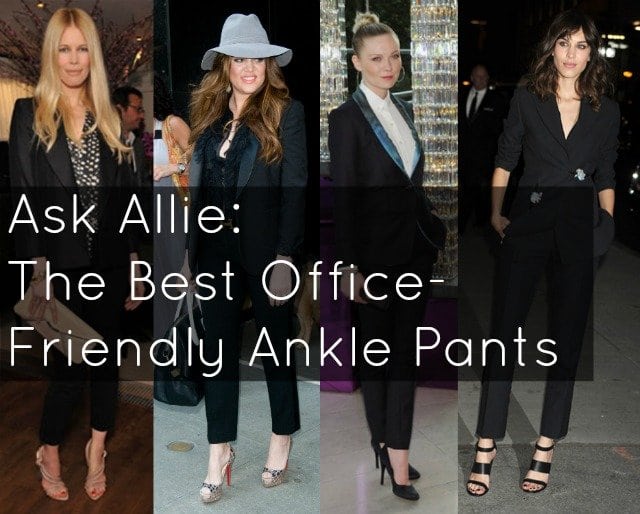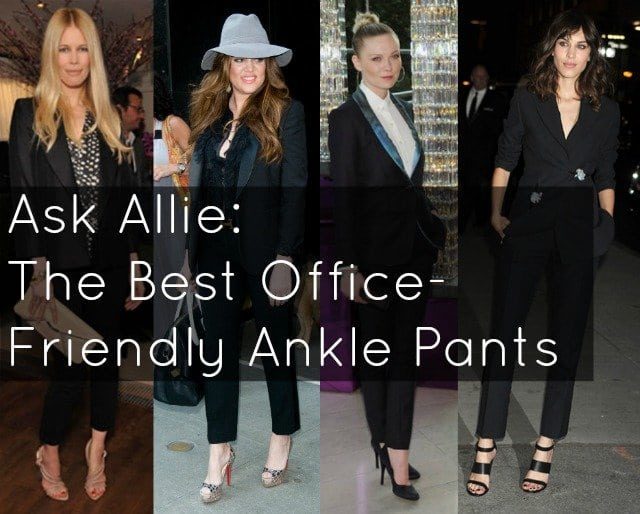 I love me some Old Navy. I own a ton of things from there, but honestly few of their clothes are appropriate for a more dressier professional workplace. Pants are one of those items that while sometimes you score a fab pair at a discount retailer, more often than not you get what you pay for. That's not to say you need to spend $500 on a pair of trousers, but you want to look for styles that veer more towards suiting than chinos in regard to cut and fabrication. A few I found that would look quite appropriate in your workplace:
Talbots has been a work fashion go-to of mine for a couple years. Their clothing is stylish without being too trendy, classic without being frumpy, and quite office appropriate. When shopping at Talbots you can narrow down just to ankle-length pants. My favorite for the workplace is the Signature Tailored Crepe Ankle Pants.  Not too tight in the leg and a fabric that looks more polished than traditional cotton is the  making them perfect for the workplace. Available in Misses and Petite sizes.  Another great option from Talbots is their Chatham Ankle Pant; available in Misses, Petite, Women and Women Petite sizes and eight different colors, the size-zip gives a clean front and is a great choice for women with curves.
When I worked in Baltimore a lifetime ago, there was a Brooks Brothers near my job. I always thought it was a place for men's suiting but wandered in one day and ended up leaving with a bag full of adorable fashion for me! Since then I always look to Brooks Brothers for classic yet well-fitting work clothing. Their Lucia Fit trouser is perfect for the office yet has a clean stylish cut. Available in tropical-weight (multi-season) wool and cotton, this is an ankle pant that looks sophisticated and professional.
While J. Crew has started to veer from being a classic fashion destination to a place for the latest trends, it still is a good retailer for work pants. While many are labeled skinny which can be too tight for many workplaces, their Campbell Capri is an adorable pant that is full of style while still being well-made and work appropriate. Each season J. Crew offers this pant in a different variety of fabrics and colors.  Available in Regular, Petite, and tall lengths from 000 to 16.   The Paley Pant from J. Crew is another winner; don't be afraid of "wool" in the title for spring or summer wear.  A very fine gauge, this will provide you with a high-quality refined trouser appropriate to be made into a suit (the 1035 Single-button jacket is a great choice).  The Paley is also available in the same broad range of sizes.
Vince Camuto makes a nice pant at a nice price, and their Skinny Ankle Pant is no different. While it's called "skinny" it's more of a slim fit that would look quite appropriate in Corporate America. Available in classic black and gray in regular and petite lengths (and a size-zip version for a clean line), a big selling point of these trousers for me is that they're machine washable.
Halogen is a favorite Nordstrom brand of mine; great classic style and great prices for professional workwear.  Their 'Taylor' line is one I have in my closet, and the Taylor Skinny Ankle pant is made with the same clean professional lines and dressy work fabric and pairs nicely with the suiting jackets from the collection (my favorite is the Halogen One-Button Suiting Jacket).  Both the pants and the matching jacket are available in regular and petite sizes 0-16.
Shop the Styles Featured in this Post: