This article may contain affiliate links; if you click on a shopping link and make a purchase I may receive a commission. As an Amazon Associate, I earn from qualifying purchases. 
Spring has sprung here in DC! Hooray for bare legs, packing up the hats and mittens, and being able to expose elbows and toes! With each change of season, there's usually a change of wardrobe. I've found that closet organization has been good physical therapy for me; the pinching of clips to hang skirts, holding the weight of a full hanger, folding scarves and jeans. With my arm, this process has been extremely slow, but that time is great for really thinking about what is in my closet, what I really need, and what I really need to remove from my collection.
The trends this spring and summer are so refreshing; after seasons of bright and bold, fitted and funky there's a move to subtleness, quality, detail, and drape. I saw it on the runways, I see it in the stores, and I feel it in my heart. I started gravitating toward simpler pieces and colors in 2013, but desire it even more in 2014, especially after my broken arm. After six weeks predominately in loungewear, I crave dressing, but simple, easy, yet elegant dressing. Here's a peek into my Spring/Summer mindset: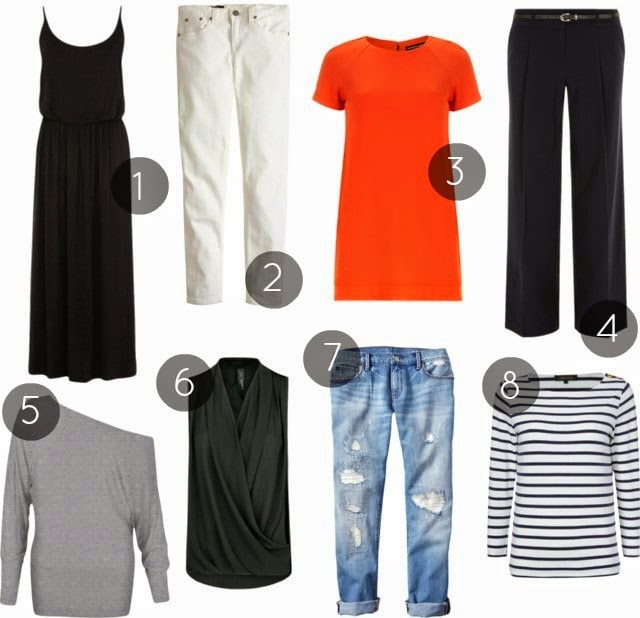 For clothing, it's not terribly different from the past, but now it feels more cohesive. I'm liking (1) midi-length skirts, but somehow they look more right on me when part of a dress. I have pretty much this same dress; last summer's LOFT collection, and know it will get a ton more wear this year. (2) White feels really right this year, even before Memorial Day. I've been wearing white jeans, boyfriend jeans, and pants quite a lot already (if you're new to white outside of summer, start simple by pairing it with black). Each season I end up having a signature color without even thinking about it and based upon my closet, this season it's (3) orange-red.  I type this while wearing a linen sweatshirt of this color, and desire a shift dress like the one pictured.  I'm really digging classic trousers this spring, paired with everything, from blouses to sweaters to tee shirts; I'm on the hunt for the perfect pair in (4) navy.  I'm loving how there's a trend towards draping and purposeful slouchiness this season and have been gobbling up things that are (5) off the shoulder; I'd pair a top like this with slim white jeans.  I also like the trend of purposeful draping, a top like this (6) can be worn with jeans for a night out, or slipped under a suit for the workweek.  I'm always happy when weathered, worn, and distressed denim (7) are on trend; they please my inner Lita Ford and love the contrast with more classic pieces.  And it wouldn't be my wardrobe if it doesn't have a few striped shirts (8) in it!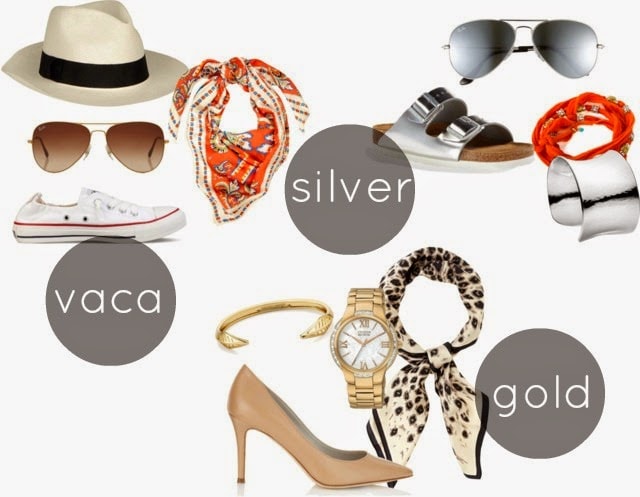 For accessories, I'm craving fewer pieces, fewer necklaces, and again am drawn to orange-red accents.  Thinking about my faves, I saw they are sort of lumped into three categories:
Vacation Inspired: I love white Panama hats and fedoras, I know they've been in style for a while and may be less trendy but I think they're quite classic and these days I'm doing all I can to protect myself from the sun.  I love them with jeans and striped tees, I love them with sundresses, and I love that they hide bad hair days!  I'm also loving my new Converse Shorelines, which make Chucks finally comfortable for me.  With the elasticized back and lower profile, they're comfy and easy to slip on and off.  Aviators are always my favorite, as are scarves.  Now that bandanas are back in style, I've been pulling out my collection of them and square scarves and using them to jazz up simple knits.
Bold Silver:  This is nothing new, silver is my signature metal and I've been wearing my big sterling cuff for 17 years.  Now I've added a pair of silver Birkenstocks to my wardrobe, increasing my silver.  I love mixing shiny silver with a more relaxed material; the bracelets from Lifetherapy are a fave of mine.  I have several of them and love looping one of their wrap bracelets (especially in this season's signature color of orange!) over the cuff to switch it up.
Classic Gold: When my arm was in a cast, I relied on a watch since pulling out my phone was more difficult.  I've come to really like the convenience and style, and adore my Citizen Ciena Eco-Drive.  I recently got this cuff from Rebecca Minkoff which is smaller than what I've been known to wear and I like it.  Again, been wearing a lot of square scarves, be they around my throat, tied in my hair, or hanging off my purse.  I got a pair of Nine West "Flax" pumps in Natural and they're a great nude pump, a comfortable height and go with almost my entire wardrobe.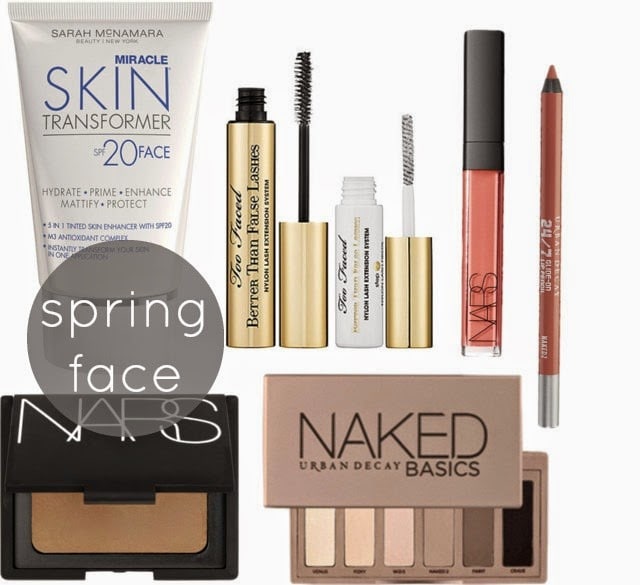 My makeup has also been influenced by my time with a cast; it's hard to have precision with your non-dominant hand. While I spent much of the winter with bold lips and liquid liner, lately I'm more into a subtle smoky eye, bronzer over blush, and glossy lips in a more natural hue. Miracle Skin Transformer has become my go-to while dealing with a broken arm since it's so easy and so many beauty products in one.  I'm a mascara junkie and I love Too Faced's Better Than False Lashes enough to buy a second time. It's not a product to use when you're short on time, but they do make my lashes look lusher than any other brand.  I got the Urban Decay lipliner in Naked as a freebie with a Beauty.com order and I use it almost daily with a natural colored gloss (adoring NARS Viva).  And then the original Naked palette from Urban Decay is still a fave for a no-makeup makeup look, a soft smoky eye, or to even replace liner.

Has spring sprung in your closet?  What are you loving this season in regard to trends or new to you classics?
Follow Me | Twitter | Facebook | Instagram