This article may contain affiliate links; if you click on a shopping link and make a purchase I may receive a commission. As an Amazon Associate, I earn from qualifying purchases.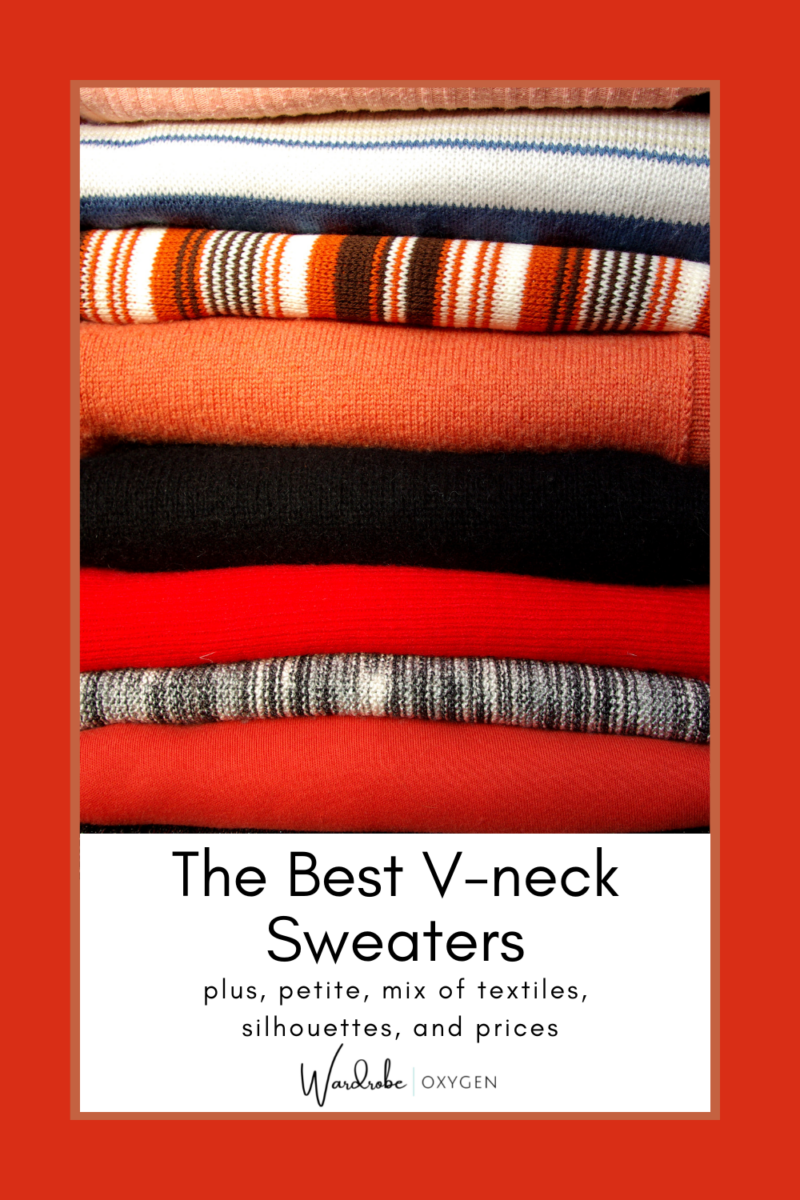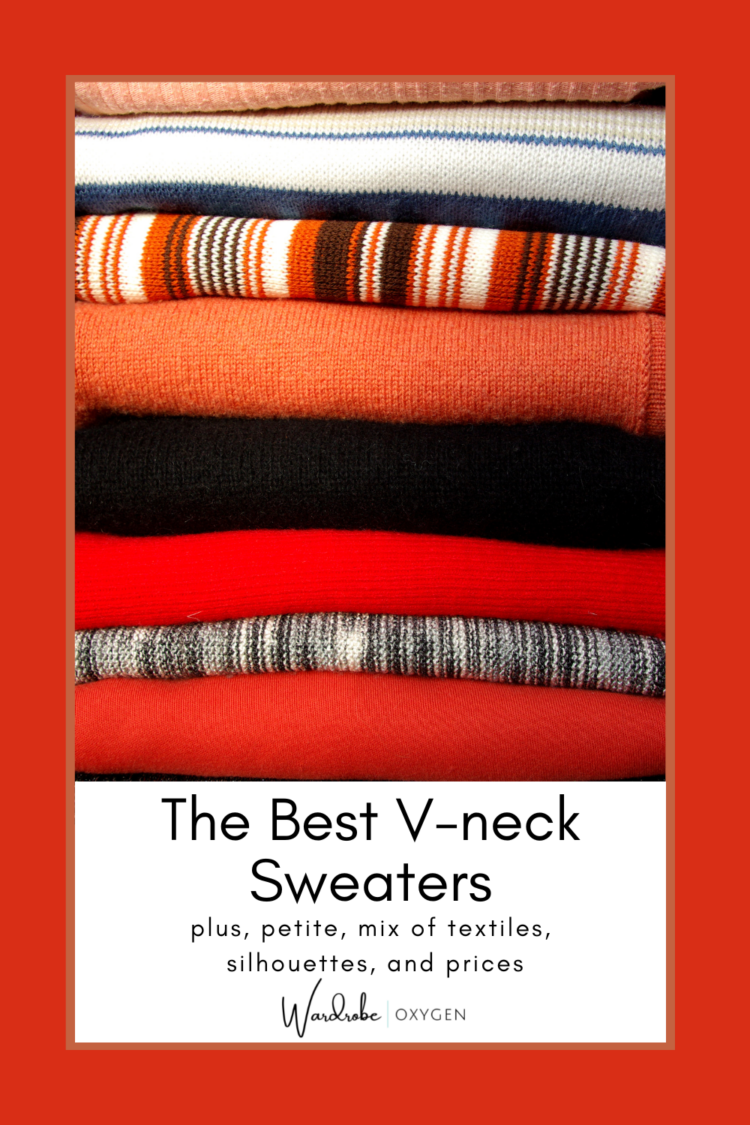 If I know one thing about the Wardrobe Oxygen community is that y'all love v-neck sweaters. Previously a wardrobe standard, v-neck sweaters these days seem less easy to find. Where are the v-neck sweaters? It does seem that crewnecks are taking precedence this season, but there are still plenty of great v-neck sweaters at retailers right now. I decided to gather the best of the best in a great range of prices, fabrics, and sizes.
This collection of v-neck sweaters for fall proved so popular last September, that I have updated it with the best v-neck sweaters currently available at retailers. And as always, if I missed one that you own or have seen in your shopping travels, do share in the comments!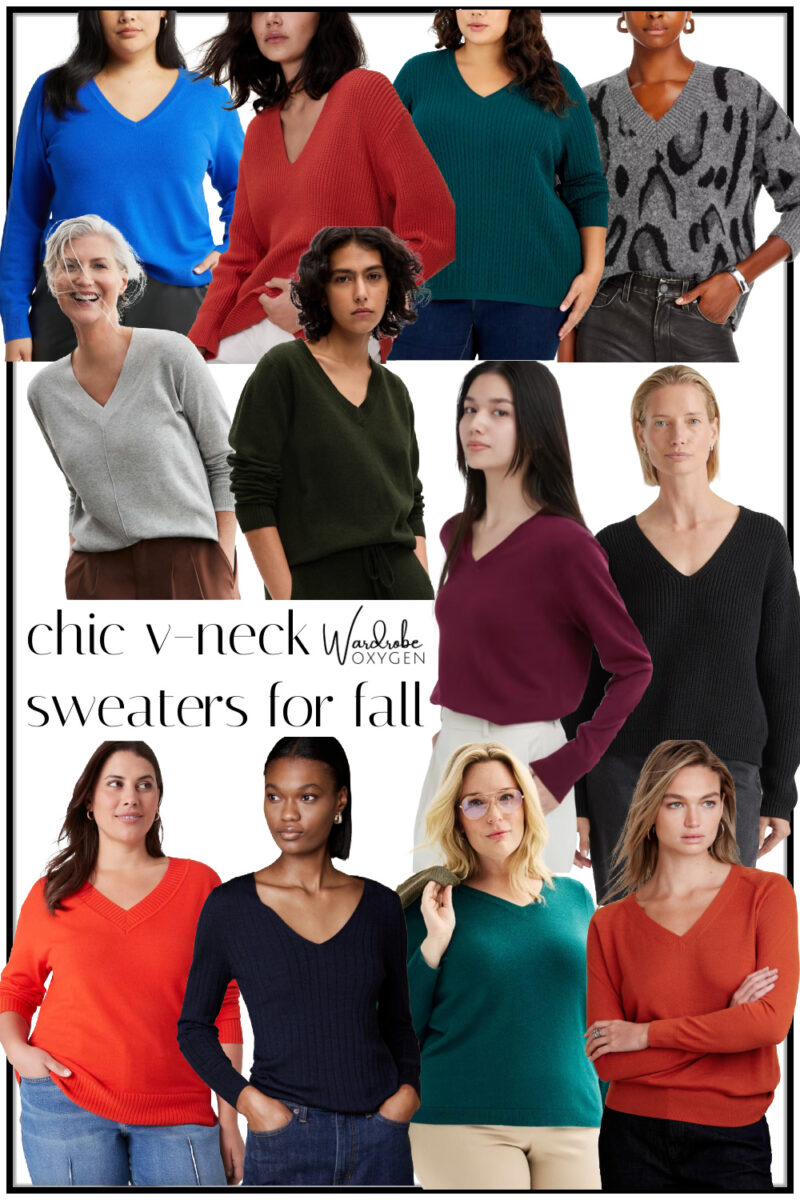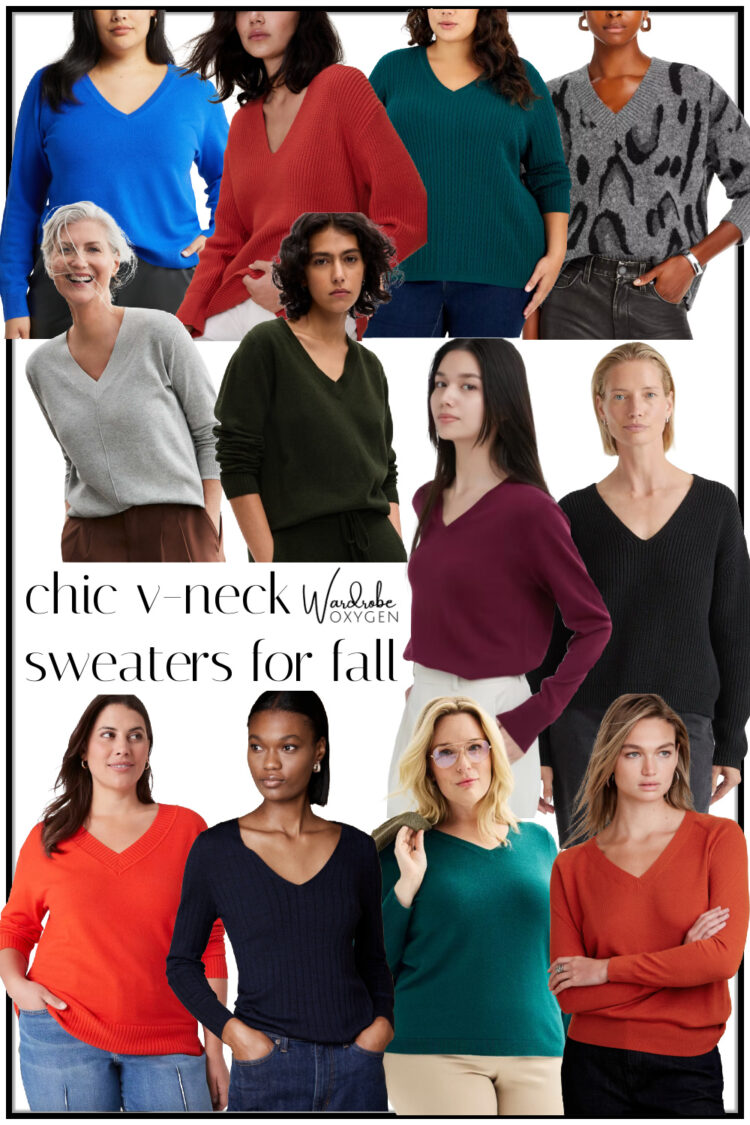 Top Row: blue cashmere (4 colors; 1X-4X)| rust chunky knit (4 colors; XXS-XXL) | teal cableknit (5 colors; 0X-4X) | gray leopard (XS-XL – less than $80) Middle Row: pale gray (4 colors; XS-XL; link to plus sizes) | dark green (9 colors; XXS-XXL w/ petite & tall) | maroon (8 colors; XXS-XXL – under $50) | black chunky knit (2 colors; XS-XL – less than $50) Bottom Row: orange (8 colors; 10/12 – 26/28) | navy ribbed merino (4 colors; XXS-XXL) | teal (9 colors; 0X-5X – und4r $40) | pumpkin (7 colors; XXS-XXL)
Where Are the V-Neck Sweaters for Fall?
While v-neck sweaters may not be the trendiest item this fall, they are undeniably a timeless wardrobe essential for women. Regardless of the current fashion landscape, it's always a smart move to have a few reliable v-neck sweaters in your closet.
What makes v-neck sweaters so versatile is their ability to effortlessly transition from casual to dressy occasions. Whether paired with jeans and ankle boots for a cozy weekend brunch or layered over a collared shirt for a polished office look, women's v-neck sweaters are the epitome of versatility.
This season, there's a plethora of options to choose from when it comes to materials and styles of v-neck sweaters for women. From soft and breathable lightweight cotton for milder autumn days to plush and luxurious Angora blends for those chilly evenings, there's a v-neck sweater for every preference and climate.
For those who love a chunky, textured look, chunky shaker knits are a must-have. These sweaters not only provide extra warmth but also add depth and dimension to your overall outfit. On the other hand, if you prefer a classic and refined look, consider investing in a v-neck sweater made from premium merino wool.
No matter your taste or budget, rest assured that you'll find a wide selection of women's v-neck sweaters this fall. So, embrace this timeless staple and prepare to elevate your autumn style with the cozy, chic charm of women's v-neck sweaters.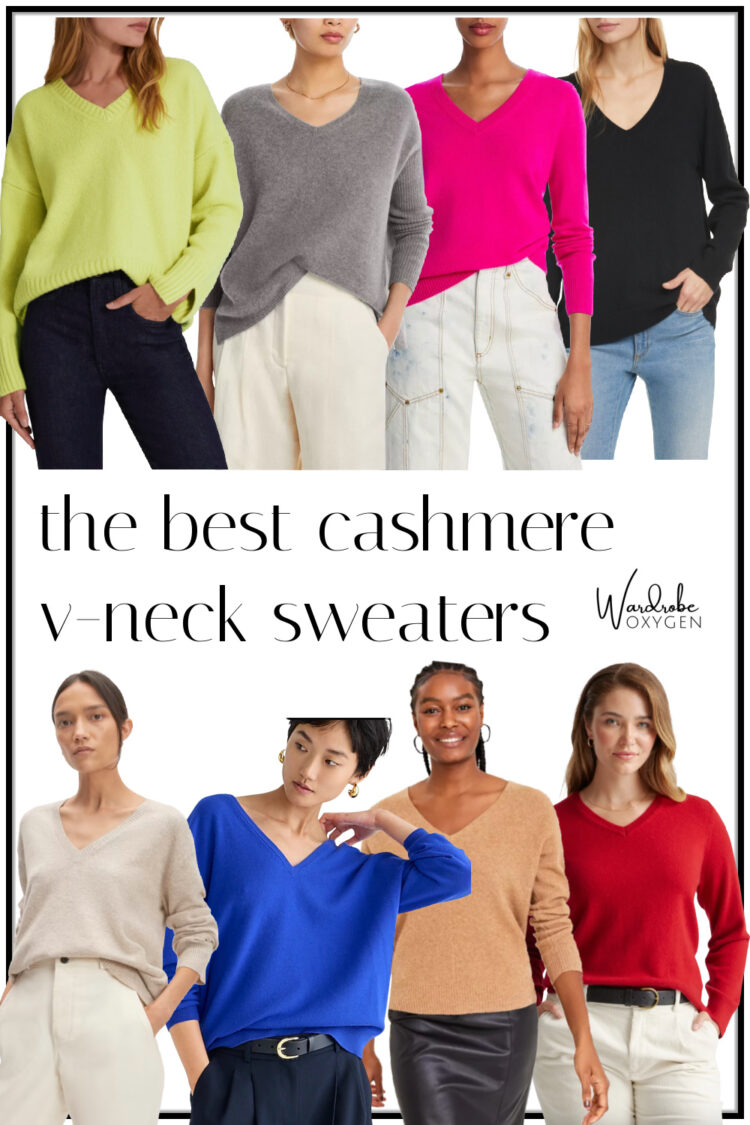 Top Row: citron (3 colors; XS-XXL) | gray (3 colors; XS-XXL) | hot pink (16 colors; XS-XL) | black (4 colors; XXS-XL)
Bottom Row: beige (4 colors; XXS-XXL) | royal blue (6 colors; 3XS-3XL) | camel chevron rib (3 colors; XS-XXL) | red (16 colors, XS-XL & only $50!)
The Best Cashmere V-Neck Sweaters
Cashmere is truly a luxurious fabric that can elevate any outfit. Its softness and loftiness make it a joy to wear, providing unparalleled comfort and warmth. The versatility of cashmere is truly remarkable – it comes in a wide range of stunning colors that can effortlessly brighten up your wardrobe.
From vibrant jewel tones to delicate pastels, cashmere sweaters offer endless possibilities for expressing your personal style. Whether you prefer classic neutrals or bold and vibrant hues, there's a color to suit every taste and skin tone. The best part is that each sweater featured in this collection is available in multiple colors, allowing you to find the perfect shade for your individual preferences.
But it's not just the colors that make these cashmere v-necks special. The attention to detail in their design ensures a flattering fit for all body types. Made with quality craftsmanship, these size-inclusive sweaters are crafted to accentuate your curves and enhance your natural beauty. It's refreshing to see a brand that prioritizes inclusivity and embraces the uniqueness of every body shape.
For those who appreciate the cozy allure of wool, there's no need to worry – this collection includes options for wool lovers too. You can find the same impeccable weight, cut, and color diversity in the wool selection, catering to the preferences of both cashmere connoisseurs and wool enthusiasts. This commitment to providing options for everyone is what truly sets this collection apart.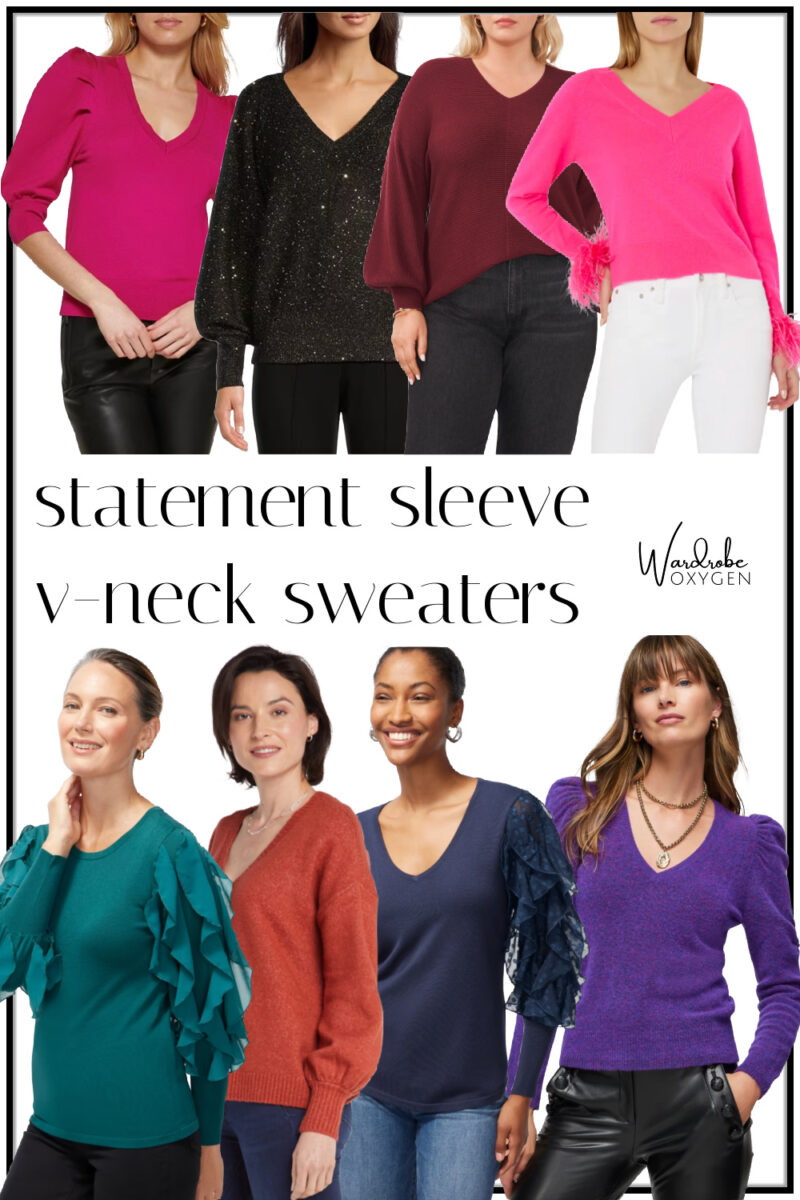 Top Row: hot pink short sleeved (6 colors; XS-XL) | black sequin (4 colors; XS-XL) | burgundy blouson sleeve (2 colors; 0X-3X) | pink feather trim (3 colors; P-XL) Bottom Row: teal ruffle sleeve (0/2-20/22) | rust blouson sleeve (3 colors; XXS-XXL) | navy ruffle sleeve (4/6-20/22) | purple puff sleeve (XXS-XL)
Statement Sleeve V-Neck Sweaters for Fall
The statement sleeve trend has truly become a staple in our wardrobes, capturing our attention and infusing our outfits with a touch of flair. It's incredible to see how designers have embraced this trend and showcased their creativity through mixed-media sweaters, which seamlessly blend different fabrics and textures in the sleeves. These sweaters not only keep us cozy but also add a unique element to our outfits. And let's not forget about the sweaters with contrast sleeves, which make a bold statement by pairing contrasting colors or patterns for an eye-catching effect.
The intricate designs of these sleeves, whether it's through pleats, ruffles, or embellishments, truly showcase the level of craftsmanship in knitwear. Embracing this trend doesn't have to be limited to specific necklines; v-necks have also become a canvas for statement sleeves, combining the allure of a plunging neckline with the drama of voluminous or detailed sleeves.
With such a versatile and attention-grabbing trend, you can effortlessly elevate your everyday look without the need for excessive layering or extensive accessorizing. Let the statement sleeves take center stage while you confidently show off your personal style.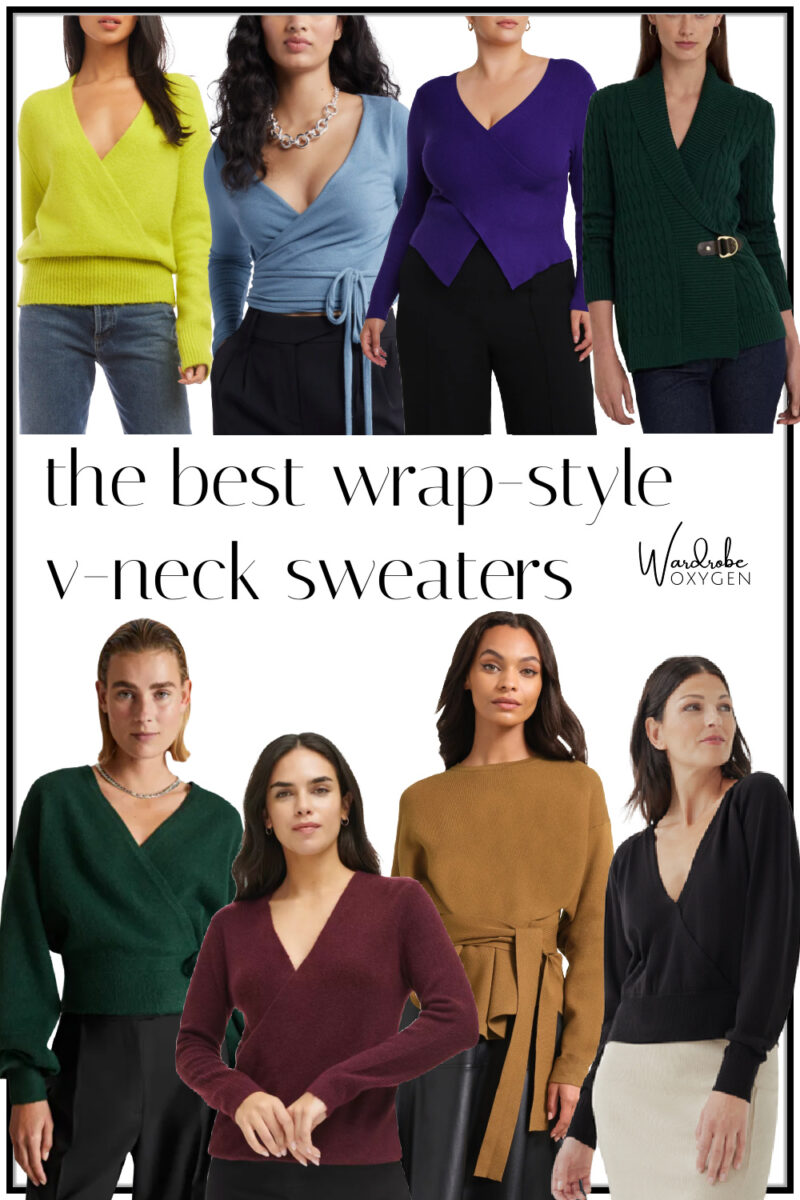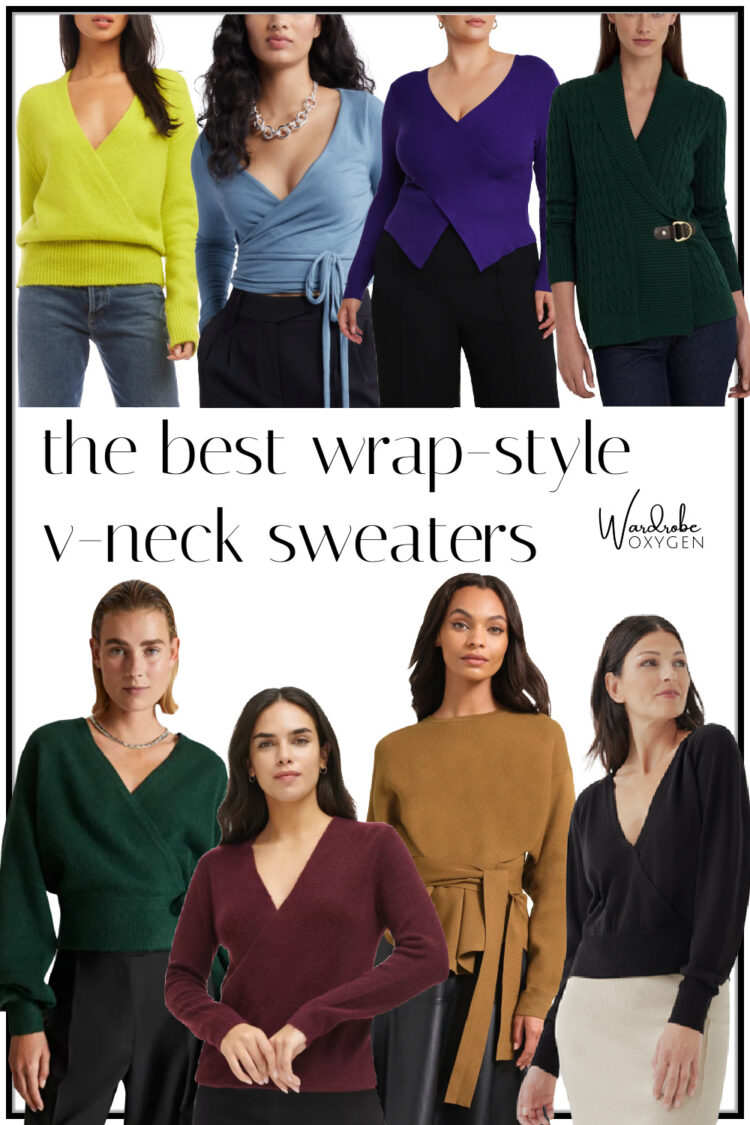 Top Row: citron (3 colors; XS-L) | light blue (3 colors; XXS-XL) | ultraviolet (2 colors; 16-24) | dark green with buckle (4 colors; XXS-XXL) Bottom Row: dark green (7 colors; XS-L) | burgundy (3 colors; XS-XL) | camel belted (4 colors; XS-3X) | black organic cotton (XS-XXL – under $100!)
Surplice and Wrap V-Neck Sweaters for Fall
It's so exciting to see classic wrap sweaters making a comeback this year. This trend is perfect for anyone looking to add a touch of elegance and femininity to their outfits. Whether you prefer the faux wrap or the classic wrap sweater, this style is universally flattering and suitable for any occasion. As we head into colder months, the wrap sweater is definitely a staple you'll want to have in your wardrobe, and the variety of materials available makes it versatile for any climate or occasion.
You can find lightweight options in linen or silk blends for a chic and breezy look, or you could opt for chunky, heavyweight cotton or wool for warmth and coziness on chilly days. And let's not forget about the medium-weight merino or cashmere options, which provide the perfect balance between style and practicality.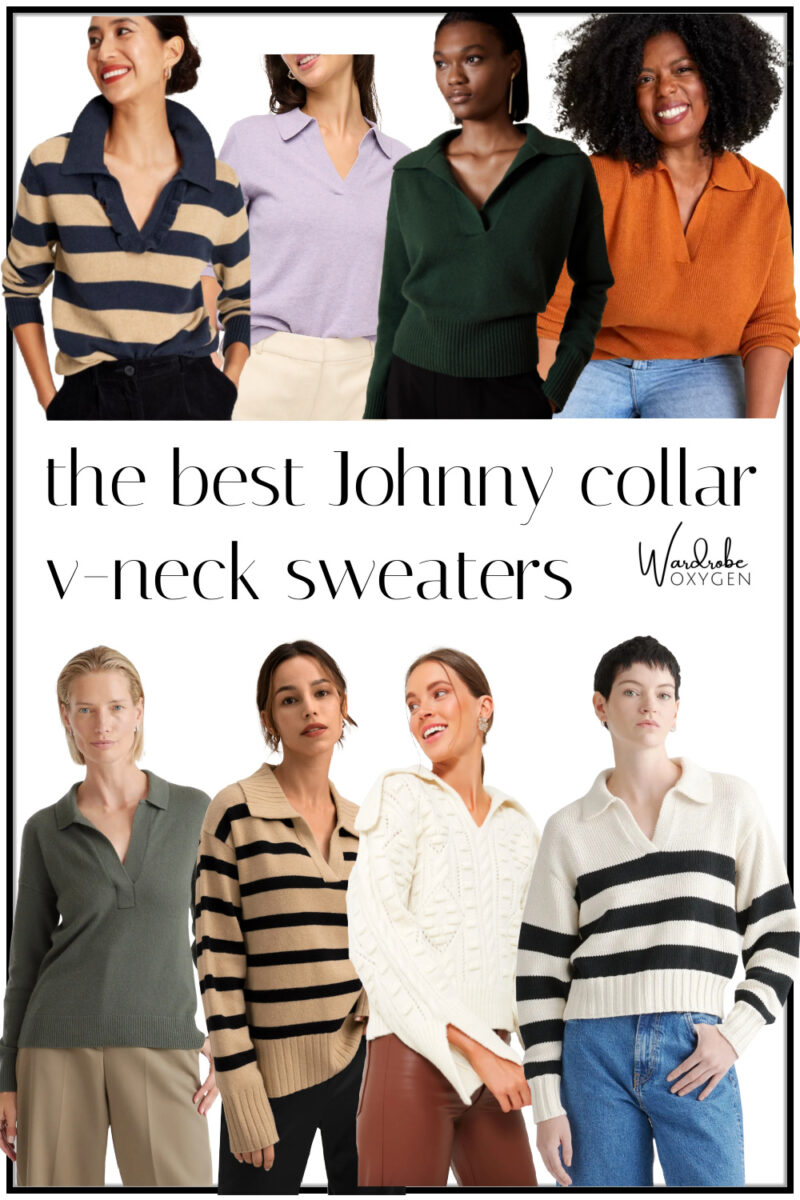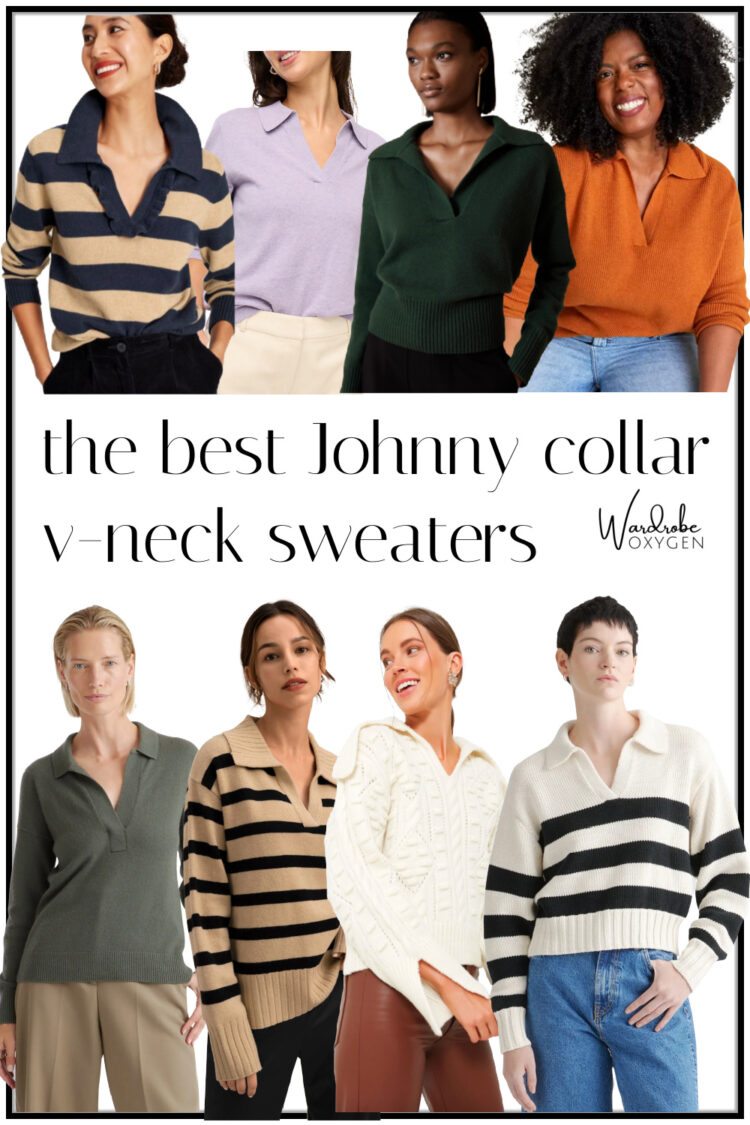 Top Row: navy and khaki stripe (2 colors; 2-22) | lavender (3 colors; XXS-3X) | dark green (3 colors; XXS-XXL & petite) | pumpkin (6 colors; XXS-4XL – less than $50!) Bottom Row: sage green (7 colors; XS-XL) | camel and black stripe (2 colors; S-L) | cream with exaggerated collar (XXS-XL) | cropped black and off-white (3 colors; XS-XL – less than $50!)
Johnny Collar Sweaters for Fall
Last fall, the 3/4 zip sweater was a big trend and the Johnny collar sweater was following behind. This fall, you'll still see zip-neck sweaters, but you'll see a lot more Johnny collar sweaters (also known as polo neck sweaters). With a v-neck and a collar, it's a stylish alternative that can look professional or casual depending on styling.
The 3/4 zip sweater, with its sporty vibes and comfortable fit, was a favorite among fashion enthusiasts. It offered a modern twist to classic sweaters, bringing an effortless coolness to any outfit. However, as we transition into a new season, the Johnny Collar sweater is set to take the spotlight.
This versatile piece is perfect for those seeking a touch of sophistication in their wardrobe. It can be worn with tailored trousers or skirts for a polished office look, or paired with jeans and ankle boots for a more laid-back weekend ensemble. The collar adds a refined touch, elevating the sweater and making it a go-to choice for any occasion. So, if you're looking to update your knitwear collection this fall, keep an eye out for the Johnny collar sweater – it's the trend to embrace for a stylish and polished look.

V-Neck Sweater Style Hack for 2023
If you're anything like me, you'll be thrilled to know that this fall, we're going to see a major comeback of cardigans as standalone sweaters. This has been a cardigan trend that has been popular for a while, but mainly with influencers wearing cardigans backwards like crewneck with an interesting button detail on the back. But this fall? Wear the v-neck cardigan as normal, but button it up to turn it into a v-neck sweater.
I am personally thrilled because this means items already in your closet can have a second life and be on trend. I am all about big style with a smaller wardrobe, and this is a little style hack that can achieve more of that. If you want some tips on which cardigans are in style for 2023, check out this article on Wardrobe Oxygen.