This article may contain affiliate links; if you click on a shopping link and make a purchase I may receive a commission. As an Amazon Associate, I earn from qualifying purchases. 
Yesterday on the Metro, a gorgeous woman in a pumpkin-colored toggle coat, brown trousers pinstriped with pink and brown booties. Gorgeous skin with a glow from pink blush and pink-tinted gloss. Pretty braids with little streaks of dark copper with the brown. I would guess the woman was a size 26. She could stop traffic with her inner glow and sassy look.
In black? She would be another fat woman on the train. Not even that, she wouldn't be remembered. She would blend in.
The other day in the grocery store, woman who looked as though she just got out of yoga class or the gym. Dark plum yoga pants, gray sneakers with lime green accents, dark red glasses, olive green quilted thigh-length coat, nubby loopy scarf and matching hat knit in shades of olive, pink, purple and navy. Nothing too out of the ordinary, but it made me stop and think about my own black yoga pants (all three pairs) and that I own the very same coat but in black. She didn't look kooky, but the colors just made her stand out a bit and made one think about her. I actually didn't notice until I saw her in a different line that she was probably a size or two larger than I; the first thing I noticed was the combination of colors, the way the glasses really made her eyes stand out, and whether she knit that scarf and hat combination herself.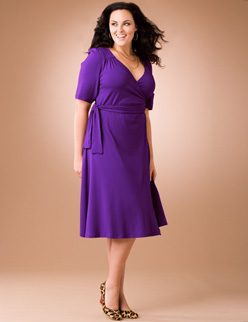 We have all been raised to think that black is slimming. Black makes part of you recede. Black is what overweight people wear because overweight people should be ashamed of their shape and want it to recede into nothingness.
But our bodies aren't going anywhere, and why punish yourself because you are not what society has decided to be the "right" size? And really, what the heck IS that "right" size? As a 5'3" woman, I remember going to the doctor my freshman year of college and being told my 125 lb. frame was carrying too much weight. I had strong legs and arms, broad shoulders from swimming and a large chest. At that point I was in a size 4. If I was the chart's goal of 110 for my height, I would be sunken in, unhealthily small.
So you are 5 lbs or 150 lbs over the doctor's chart for weight… that doesn't mean you life stops. Don't go into mourning with a wardrobe full of black. Show your personality, your charm, your creativity. You are so much more than your figure – your body is only the shell that gets your soul from Point A to Point B.

What About the Staples?
Time and time again people mention that my staples list is almost all black. Yes, it is but that isn't because I feel people should hide in black. The thing is black is a color that doesn't age, it doesn't usually clash with black shoes and other accessories, it doesn't get trendy, and is simple enough to work for a funeral, a wedding, a job interview, a trip to the grocery, an awards ceremony. I don't expect everything to be black, but it's a good point to start, then adding signature colors, accessories and personality as you find your fashion "wings."
Easy Places to Add Color:
Your coat or jacket: If you need to buy one, consider an unexpected hue. Colors are often more versatile than black for coats. Mustard yellow, pumpkin orange, robin's egg blue, scarlet…
The color of your purse: for day or for evening: a red satin clutch with add color to your black dress and heels, a green leather hobo for day will work with black or brown shoes. You'll be surprised at how much use a colored purse will get, and how many compliments you will receive for it!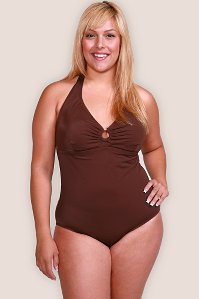 Your bathing suit and coverup: a black bathing suit will NOT make you look 30 pounds lighter, and you will stand taller and look more confident in a color you love and loves you back.
Your next pair of prescription glasses: why stick with silver, gold and black? I have a pair of dark purple plastic frames that add a little bit of fun to my look while still being quite professional. Before this pair, I had dark green tortoise-shell ones that always received compliments but didn't work against my face and hair.
Your winter hat, scarf and gloves: Switch it up! This is a great way to get your favorite color into your wardrobe on a daily basis.
If you have a brown coat, get a nice contrast color like leaf green or candy pink. Black can work with everything, and a gray coat looks amazing with yellow, turquoise or even bright red. Colors look great with other colors – I often see a woman on my commute home who has a mustard-colored coat and leaf green cashmere scarf and leather gloves. It doesn't look hokey or juvenile, just fresh and cheerful.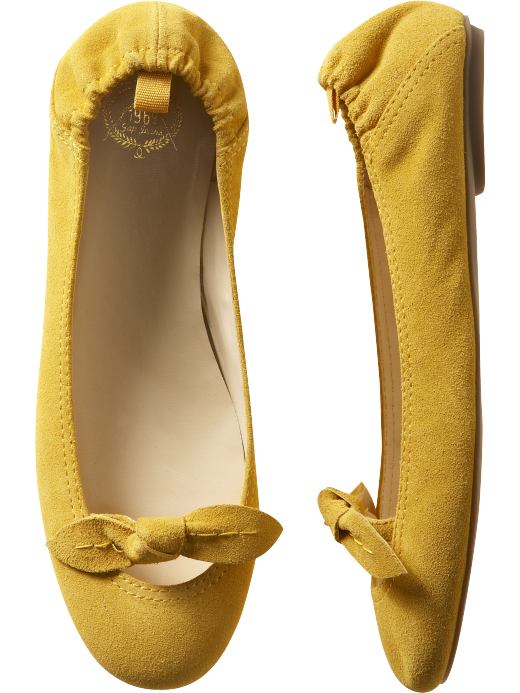 Your shoes: Flats are available in almost every store in the mall; a pair in yellow, orange, red or green will be so fun peeking out of your jeans, trousers, or paired with a simple dress or skirt.
If you purchase commuting shoes, make them cheerful with a great color for your walk to work! For winter and rain boots, find a color that complements your coat or adds an unexpected pop to the dreary climate! As for heels… nothing adds fun and style to a simple outfit or dress than a pair of heels in a gorgeous hue!

A great belt over your cardigan or dress: Green and yellow are huge colors this spring; use them to brighten up your simple wardrobe pieces.
A pashmina or cardigan for breezy evenings: a color will actually work with more of your wardrobe than a basic black or ivory.
Your workout clothing: if you want to be subtle, consider loden green, navy, plum, teal, brown.
Your lingerie: Others may not see it but you will feel the energy of your favorite color against your skin!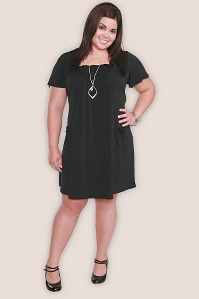 What If You Love Black?
Heck, I do! I don't wear black because it's slimming, but because I like it on me. I like the cool simplicity of the color, the chic way it makes such a statement. I love it with smoky eyes and messy hair, with cat eyes and ruby lips, with my fair skin and dark hair. IF you feel that way, then embrace your color and wear it in well-made, well-fitting, non-faded pieces. Accent it with bold jewelry, color accessories or fabulous cosmetics. Don't use it as a disguise, but as an extension of your personality!
Purple dress by IGIGI, bathing suit and black dress by Torrid, yellow suede flats by Gap