This article may contain affiliate links; if you click on a shopping link and make a purchase I may receive a commission. As an Amazon Associate, I earn from qualifying purchases.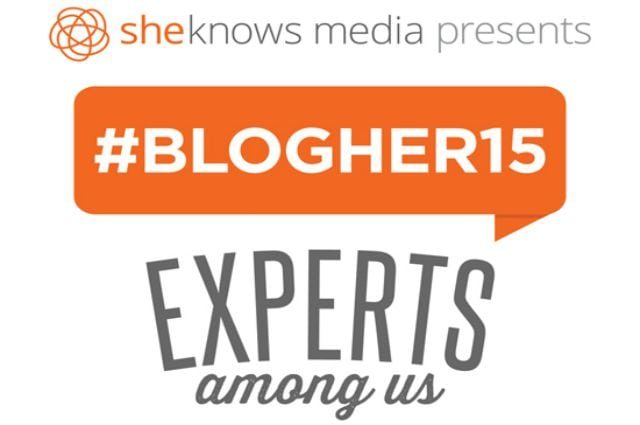 I've been blogging a decade and I've never attended a blogging conference. While I love Wardrobe Oxygen and do see it as a job, my day job and family take precedence and I just couldn't justify using my hard-earned PTO to fly across the country alone to network with bloggers and brands. But this year, BlogHer was in New York. And this year I turned 40. And Wardrobe Oxygen turned 10. And Emerson turned 6, which is a great age for travel and new experiences. So when I mentioned the BlogHer conference to Karl he suggested the three of us head to the Big Apple together. On my birthday this past January I bought my conference ticket and booked our room at the Hilton Midtown.
And then I proceeded to forget about it. Birthdays, final arm surgeries, my blog anniversary party, most everything else took priority. Next thing I knew it was two weeks until we were leaving and I hadn't done any planning. What did I have to pack? What was I going to WEAR??? To add to my panic, when I received the email from BlogHer that Boys II Men were performing at the closing party I realized OMG OMG OMG I had our hotel reservation set to check out Saturday!  I tried to update our reservation online but the hotel was sold out.  I called Hilton and thanks to my old job requiring me to travel so often I was a HHonors member and was able to get a deluxe room for Saturday night and at the standard room rate (note to all, join those free honor programs, it can't hurt and can help in a pinch!).
Then to add to my piss-poor planning panic, after talking to Hilton and updating our reservation I was in Emerson's room with her.  She forgot to X out the previous day on her calendar so we got a marker and did it together and discussed upcoming events.  I reminded her of our upcoming trip to New York and noticed "Sleepover at Grandma's" on the Sunday after BlogHer.  OMG OMG OMG that sleepover is because Karl and I had tickets to My Morning Jacket.  Did I really double-book BlogHer and MMJ?  You KNOW my love for this band, but even if I did decide to miss the show for BlogHer, my tickets were bought through the fan club and at Will Call, I wouldn't even be able to sell them or give them to a friend!  I FREAKED.  I went into our room and Karl was in there, I started discussing options – we could leave after my last session Saturday, get home that evening, and still be rested and fresh for the concert the next day.  We could leave right after the closing party, drive through the night, sleep in late and then go to the concert.  I have an old expired license, maybe my sister could take that or my passport and pick up our tickets and sell them or give them to a friend, we do look an awful lot a like.  I started crying (let's also add I had PMS, insomnia the night prior, and a very stressful project at work) and Karl remembers during my freak-out I said, "But I love My Morning Jacket more than blogging!"  Yeah, don't think I'll ever live that down.  I texted my sister about my predicament and she reminded me that the concert was the FOLLOWING Sunday.  Yep, I went bonkers and never checked any of the other calendars in the house to realize I wrote sleepover in the wrong Sunday box on that damn Frozen calendar.
I got sleep, my period came and went, the project went well at work, and somehow I got my act together.  The weekend before we left I washed all the clothes in the house, got a mani and pedi and brow wax, took plenty of bedroom mirror selfies and texted to my sister for outfit advice, and got packed by Sunday night.  New York City, here we come!
Wednesday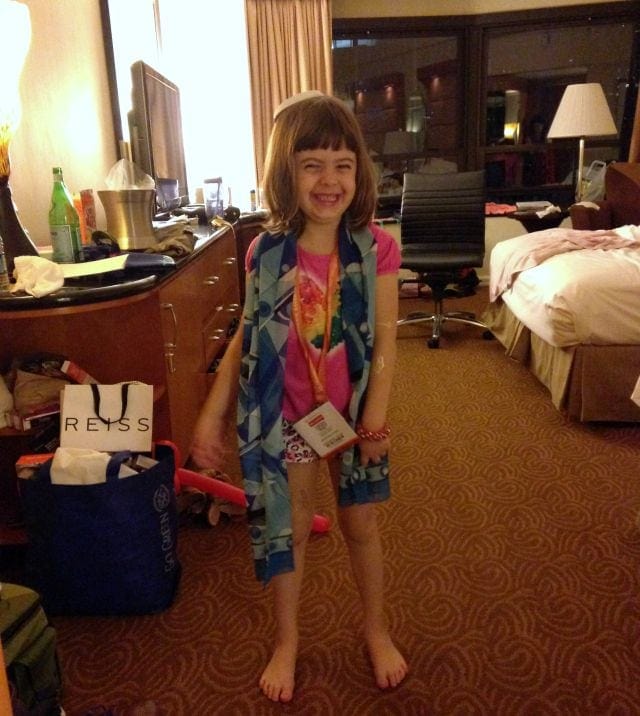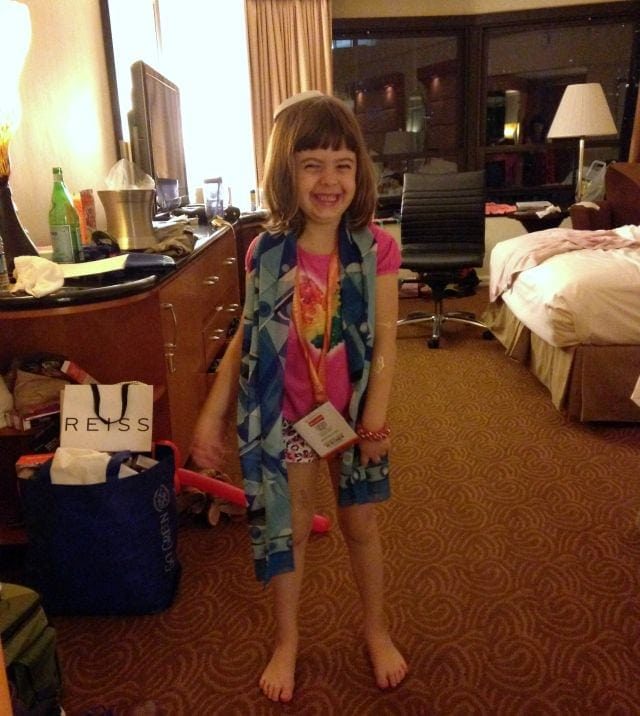 When pricing taking Amtrak from DC to NYC, we found it was pretty much the same price to take our fuel-efficient car and park at the hotel. Having our car gave us control over when we would arrive and leave and gave us more space for luggage so we decided to drive. It was only a three and a half hour trip, even driving through insane sideways walls of rain on the Jersey Turnpike. We arrived around 1pm Wednesday and check-in at the Hotel Midtown was super friendly and fast. I'm not really sure what a standard room looks like but our HHonors-upgraded room was clean, spacious enough for three people, on the 22nd floor and had a nice view. Wish it had a fridge and coffee maker but otherwise the room had great energy; Karl hates hotels but found this one really comfortable and restful and we all enjoyed our time there.
As mentioned in my "What I Wore to BlogHer" post, we arrived the day before the conference and I went to Getting Gorgeous.  Getting Gorgeous was a big expo hall full of vendors. The main vendor was Restalyne Silk, and they had a roped-off area where they were doing on the spot injections, makeup touch ups, and had a lounge area with non-alcoholic beverages and small treats like macarons and mini cupcakes. Bali was there, offering bra fittings and recommendations and each attendee who got sized received a free bra that would be mailed to their residence in the near future. Trollbeads had a station where you could pick a leather cord and bead and make a bracelet. Chobani let you decorate a lunchbox with chalkboard stickers and pens and when I mentioned my yogurt-loving daughter was back at the hotel, they gave me an insulated bag stuffed to the gills with all their squeezeable yogurt products for kids. The event was weird and overwhelming to me.  I've been blogging for 10 years and have gotten over the excitement of swag.  I came with my Rebecca Minkoff Mini M.A.C. which was far too small to hold all the crazy crap vendors were shoving in my hands, and the place was noisy and crowded and full of people who were hell-bent on getting as much free crap they could possibly hold.  I was glad they provided a reusable tote when leaving; it too had a bunch of stuff in it, but gave me the ability to carry home all this randomness.  Seriously, I came with acne skincare (I have no acne), a baby blanket and hooded towel (I have no baby), and 50 Chobani products (and no hotel refrigerator).  However, I met up with Sarah, she introduced me to a few people, and I got out and about in New York and got a bunch more stuff to add to my 'Snag my Swag' giveaway!
Thursday
Before the conference festivities started, I had a meeting with NYC-based company AlterKnit (stay tuned, I'll be sharing more about this company in a future post) so I headed down to the lobby lounge and had a glass of wine with the owner and our quick meeting went much longer than planned because she's such a cool woman with such a unique company and we just had a blast chatting about fashion, our retail backgrounds, and much more. This was so great; I SUCK at pitching myself, networking, and schmoozing. This brand reached out to me seeing I'd be in NYC, she was kind enough to meet me at the hotel, and it put me at ease for the rest of this networking/conference trip.
I planned on meeting some fellow attendees from a private Facebook group for the conference at the hotel bar and also wanted to see the keynote speaker but my chat with this brand went long so I went up to the 3rd floor and checked in for the conference and got my big bag of swag. I knew I'd be getting even more swag that evening so I went up to the room and dropped off the tote and then went back down to Evening at the Expo.
As I mentioned before, Evening at the Expo is insane. Two floors of vendors each outdoing one another with better swag and promotions. I had no idea how big it would be, even though many told me to bring additional luggage for swag. People were PREPARED, some even had rolly carts and backpacks to carry their swag. I thought it was weird until I started walking through and realized how incredibly brilliant they were. I played Plinko at Dunkin Donuts and won a reusable cold beverage sipper, had my face scanned at La Roache-Posay to see my sun damage and received some samples, ate a bit of ice cream at Baskin-Robbins, picked up some flash tattoos for Emerson at WordPress, and saw a ton of familiar faces and passed out a ton of business cards. While the majority of attendees were awesome, there were some swagaholics there bulldozing through the crowd and freaking out over tubes of toothpaste and it was a bit overwhelming. I started on the main floor and grabbed a glass of champagne but only got halfway through when I realized it was almost 7pm. I promised to have dinner with Karl and Emerson so I took my bulging bag of swag and raced back upstairs.
After just four hours in my pumps were plenty and I switched into my SoftSpots sandals even though they didn't "go" and we walked a couple blocks to Rue 57. Karl and Emerson had checked out Central Park while I was away and they too were a bit exhausted with achy feet. Dinner was amazing, but Emerson wasn't feeling well and didn't have any appetite. We wrapped it up a bit quickly so we could get her back to the room. After a warm bath she felt better and fell asleep pretty quickly.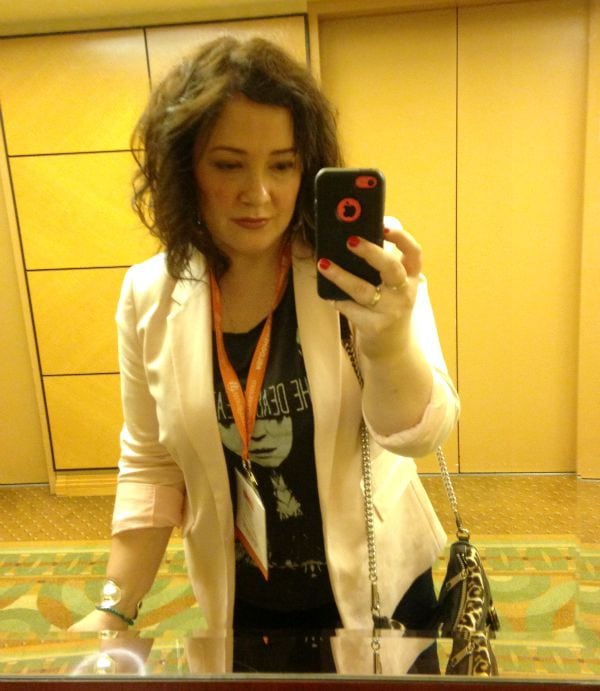 Once she was asleep, I left again for the StyleCaster suite. This seemed to be the only fashion-specific event at BlogHer so I felt I HAD to attend. I put back on my pumps, fluffed my hair, reapplied my lip gloss and arrived around 9 (the event went from 8-10). The suite was so full, there was a line outside and we couldn't go in until others left. After 30 minutes in line I got in. It was a small living room area, same size dining room area, a bar separating a kitchen area, and then a long hallway to a bedroom. It had to be at least 80 degrees in there and wall to wall people. The living room was full of people frantically typing on their phones, at the half wall between the living and dining room was a woman Periscoping her experience with a selfie stick. In the dining room was a huge machine where you could get your BlogHer tote silkscreened with an image on the back – sunglasses, palm trees, that sort of thing and more people making selfie videos for social media. Along the wall was a make your own taco station which considering the crowd, heat, and that I was there over an hour after the event started looked pretty sketchy and anyways I was full on steak tartare. I was offered a glass of champagne but instead asked for club soda on ice and blew on the drink to send cold air towards my face as I walked down the hall to see what was in the final room. To be honest, I can't recall what was going on in there, but it wasn't anything that looked appealing enough for me to wedge myself through the bodies to experience. It seemed the swag from the event was camo-printed flip flops that looked the size and style to be for men and even though they were huge and not terribly fashionable, attendees were stuffing pair after pair in their bags as though it was the Lily for Target collection. I had enough, my club soda and I raced to the elevator and within a half hour had showered and was in my jammies in bed hoping the next day at the conference would be better.
Friday
Breakfast was at 8am; I forgot to set an alarm but I also forgot to close the curtains that evening and we all woke up with the sun. Karl went down to the lobby to score us some coffee and that journey took 45 minutes. I think everyone had the same idea! I got ready, kissed the fam, and headed down to the 3rd floor Ballroom.  I didn't come with anyone and hadn't coordinated with anyone for breakfast, which I actually liked. I showed up, went through the buffet, and then found a seat at an empty table (I was there pretty early, like 8:15). As the hour went by, my table filled up with an incredibly diverse group of women. A boomer humorist, a pair of women who have a health products business and blog, an erotica writer… this is starting to sound like a "…walked into a bar" joke but it really was that crazy diverse! After was the welcome from the folks at SheKnows and BlogHer, and then the keynote speakers – Girl Scouts CEO Anna Maria Chavez and journalist and Starfish Foundation founder Soledad O'Brien. However I had set up a 9:15 meeting with another company. He was running late, I had yet to get the lay of the land, I ended up on the second floor of the Expo hall to find his booth and wait for him and saw a couple vendors including RealTimes. RealTimes reached out to me before the conference and asked me to make a 60-second video with their product for them to show at their booth. I got there and there was me on their big screens! It was a totally surreal experience and if you follow me on Instagram you saw a bit of it. Here's the video below in its entirety; RealTimes is a pretty cool tool that makes it uber easy to take your photos and videos and create a gorgeous polished video right from your phone. Not only that, it's easy to share with friends and family.
So I finally met up with the rep from the company but by this time I was running late for a session with Amazon. He was kind enough to race all over the hotel with me as I was trying to figure out where the hell this session was. I couldn't find it ANYWHERE and once I figured it out, I had missed it as well as Speed Dating (a way for newbie conference attendees to get to know one another). It was time for the first learning session so I shook the rep's hand goodbye and went off to find my next destination.
There were a ton of interesting sessions, but I decided on Personal Brand for Creatives. The session was to help people "clarify their true personal brands." I was a few minutes late and slipped in the back and found a seat. Ten minutes later, I was, as they stated in the welcome, voting with my feet and walking out the door. It may be because I've been blogging for so long, it may be because I heard almost the same Stepford Blog advice at rewardStyle MasterClass a few weeks prior, or it may be because I couldn't take them saying, "like ummmmmm, like soooooo, like wow, like" any more but I had to get out of there right away. I ended up walking out at the same time as Jeniese. I had never met Jeniese before but I knew her blog and style and Sarah had virtually introduced us and was excited to catch up with her. We headed to lunch where we joined Georgette and Sandra and got pretty decent seats for the next keynote speaker – Gwyneth Paltrow. I've never been a Gwyneth lover or hater. She's not really on my radar. But I must say her discussion with BlogHer co-founder Elisa Camahort Page was pretty awesome, candid, and relatable!
After lunch I said goodbye for now to my new friends and raced to my next session. Again, it was hard to choose a topic, but I decided to go hard or go home and went with Blog to Book. I've wanted to write a book since I was in elementary school and it's the reason why I started a blog. The session description said it would, "…dig into the three components that are now a necessary part of any prospective author's toolkit: content, a proposal, and your platform." The three panelists were very different and reached their book deals in very different ways. I loved hearing their stories and liked them as people (and now want to read all of their books), but I didn't feel as though I left with any concrete tools that will help me reach any goal.
I was starting to feel very OVER this conference. The crowds, the meh sessions, and oh my GAWD all the people oblivious to the world around them taking up the middle of aisles, speaking loudly in sessions, using selfie sticks, and doing whatever they wanted to get the content they desired for their blog or social media. I don't want to be one of these people. I don't want to miss life because I'm so busy documenting it. I won't want to be the asshole with the selfie stick bumping into people to try to get my good side in good light. Any hint at considering Periscope or Snapchat went completely out the window seeing all these rude folks being utterly insane with their phones and tablets. I decided then and there if tomorrow's first session was also meh I was leaving the conference and spending the rest of my time with my family seeing the city.
I thought this as I raced upstairs to the Amazon suite, which I finally found. I walked in and my blood pressure immediately lowered. The staff was peppy, but not manic. And I realized one thing that was missing that transformed me – daylight! The suite was full of windows and the sun was streaming in. It was 3:30pm by this point and it was the first time I had seen the outside since I left the hotel room that morning. I got there a bit early and instead of taking a seat in front, I went near the back where there was a couch and got a spot next to a wall, armrest, and a window I could comfortably look out. The room was beautifully decorated, very airy but festive. The room started to fill, but everyone seemed as chilled out as I was feeling that moment. One of the employees from Amazon came over, she recognized me and told me how much she liked my blog and capsule wardrobes. Dee ended up sitting next to me, I loaned her my phone charger and we talked fashion blogging, photography, and monetization. The presentation was beneficial; I've been part of Amazon's affiliate program, Associates, for many years but don't make much money from it. I know many bloggers who find it to be their best source of income but couldn't figure out how. I learned about some nice looking and useful tools they're rolling out later this year and learned more about the Fashion division at Amazon.
After the session, my new Amazon buddy came over and we chatted a bit more in depth and I shared my issues with the Associates program and how other programs were easier and faster to find links and make widgets (like those rotating image carousels I've started using in posts for shopping the looks or finding related products). She said this was super helpful and did I have time to walk down to Amazon's NYC headquarters and chat with some of their developers and folks on their Fashion team? Um… heck yeah! It was nice, we spent about an hour and I was completely honest with them about how yes, I do want to make money on the blog but no, I don't want to be spammy and make this site a shill-fest to do so. I let them know that you readers keep me in line – you call me out when I make bad sponsorship decisions (doubt I'll be partnering with a car or kitchen appliance company again!), you tell me when I make it harder for you to peruse the site or when my pricepoints are too high. I'm not going to sacrifice your trust in me for a few bucks. They got it, and unlike a lot of other affiliate programs I've used they thought that was awesome and showed me tools that not only look good and aren't intrusive, but are pretty useful. Expect to see some of them used by me in the future, I look forward to your honest feedback.
I walked back to the hotel around 6pm and the streets were full of folks getting off work. The weather was gorgeous and I likely strutted down the street, I felt great. Also, I was outside! Fresh air! And while I was completely surrounded by people for the first time all day I felt I was alone and loved it. And then it clicked. The "it" I've come to call Festival Mode.
No matter how many times I go to a music festival, the first day is overwhelming. The crowds, the smells, the walking. Oh gosh, all these young kids, I feel so old, I feel so fat. Oh gosh I have to race here, race there, can't miss this show, can't miss that meetup! I dash around, a crazed woman cracked out on FOMO and the day ends either with a headache, an argument with Karl, or me passed out asleep on a blanket in some field. Then the next day I wake up and remember that this event is on my terms. I stop worrying about not being this or that, I stop stressing out about sticking to a schedule. It's not about what I can't but what I am. I wear what makes me feel confident, I let the day take the reins instead of an Excel spreadsheet, I embrace my independence and have a blast.
Walking past Radio City Music Hall that afternoon I finally hit Festival Mode and was ready to rock this conference! I had missed the Voices of the Year Community Keynote and Reception but that's okay. I'm not going to stress on what I missed but focus on what I will experience.  I went upstairs, took a shower, got dressed, and was ready for the next adventure on my schedule.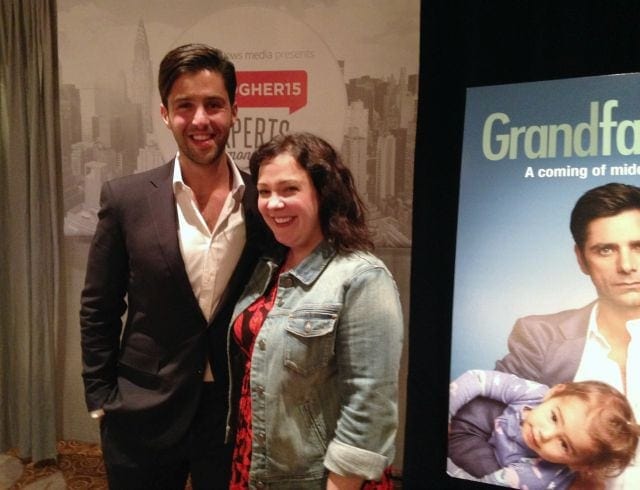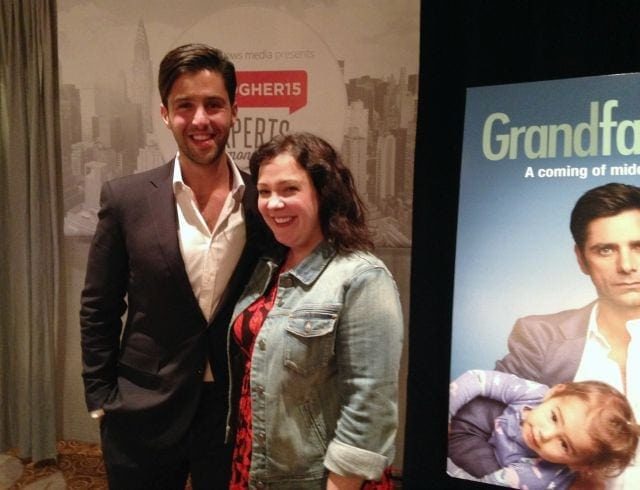 At 7:30 I was scheduled to see an early screening of Grandfathered, a sitcom coming out this fall starring John Stamos and Josh Peck. I got there a bit early and the Voices of the Year reception was still happening so I grabbed a plate of finger food and a glass of Sauvignon Blanc. I went into the viewing room, got a seat in the front row, and enjoyed a very funny show with very nice eye candy starring as I had my nice little snack. After, Josh Peck came out and answered questions and then got his picture taken with all the attendees. I'm too old to go all gaga for him (he was the Josh from the kids show Drake & Josh) but a lot of the attendees were mega fangirling. He handled it so well, he was so funny and charming and made the best off the cuff jokes. For example, the host said, "we have a question from Corinne from The Feminist Feline…" and he cut in and said, "that's my favorite site!" It was even funnier when they read her question and it was her asking him for his hand in marriage!
Saturday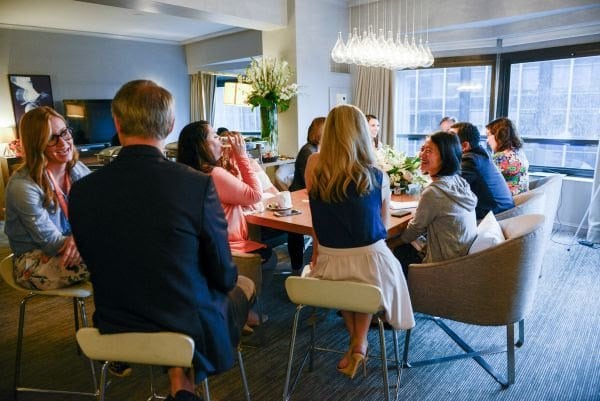 Instead of regular breakfast in the ballroom, I signed up to attend the SheKnows Influencer breakfast. I was recently accepted into this program and knew jack about it. The breakfast was in the same exact size and layout suite as the one for StyleCaster but with only about a dozen in attendance it was far more comfortable. They had a photographer set up in the bedroom to take headshots, and in the dining room they had breakfast burritos and plenty of coffee and juice. I sat down with a few other bloggers (Jenni, Kat, James, and Mitch) and we had such an animated conversation I ended up not learning anything about the Influencer program! Julie and Jenny just said come back for the afternoon ice cream social and we could chat then.
I had a makeover session scheduled at the Infusium 23 booth but had so much fun chatting with other bloggers I was late. No biggie, I'm in Festival Mode, so I went to the ballroom where The Pitch was taking place. The Pitch was an opportunity for some female entrepreneurs to share their 60-second speech and answer questions from a panel of successful women in business. Then we the audience could vote for the winner via Twitter. It was such a cool and inspiring session, the amazing programs and products these women created and how passionate they were. It was hard to pick a favorite, Majora Carter, one of the most inspiring, won.
Learn more about her program, Start up Box, here
.
On to the next one… my next session was Video Content Development and Storyboarding. Yep, I plan on getting into video this year! And I have to say this panel was amazing. I wrote three pages of notes. The panelists were Jenni Chiu of MommyNaniBooboo (who was also at the Influencers breakfast and super nice person), Melissa Haggerty from SheKnows, and Kim Holderness who you may know from her family viral hit video, "Christmas Jammies." These women kept it real. They didn't speak generalizations but gave concrete advice, offered specific equipment to purchase, real tips on monetization and SEO. But the best part of the panel was over and over Kim Holderness would reply to questions with, "GET OVER YOURSELF." As I mentioned in my last BlogHer post, she wasn't being a jerk, she was just reminding us to stop letting perfection hold us back. We don't need fancy equipment or editing skills or good lighting. We just need to do it. And it was such a good slap in the face for me. I hold back on a lot in life because I don't think I am ready or good enough. And I just need to get over myself and DO. I left feeling really positive and inspired.  When I stepped out I saw my friend Stephanie from Popnod.  She took my picture in front of the BlogHer plant wall for this great project she's doing.
I then headed back to the Expo. I had yet to really see all the vendors. I started on the second floor, said hi to the Infusium 23 folks and they apologized for not being able to fit me in later and gave me some products and coupons. I walked past the RealTimes booth and again my video was up there and someone said, "OMIGOD THAT'S YOU!" and it felt totally surreal and I giggled. I met a company who makes really stylish glasses for people like me who sit in front of computers all day and we shared contact information – I think they're a smart fit for the blog and I'll see if I can get some discount or giveaway from them for you all. I met with an affiliate program I occasionally use and gave them my honest thoughts about their site and how awkward it is and why I hardly ever use it. I went back downstairs and played Plinko again to win Karl and Emerson matching pink Dunkin Donuts sunglasses.  However, most of the vendors at the Expo were not appropriate for Wardrobe Oxygen.  In fact, I found there was a major disconnect between the women I met at the conference and the brands.  I met so many women who blogged about things other than motherhood and housekeeping, yet most of the vendors were geared towards moms, frugal living, and bargains for the home.  The women in attendance were savvy businesswomen, even if their blogs are solely hobbies; yet vendors pushing their affiliate programs were SHOCKED that I not only knew what Alexa was, but my blog's monthly visitors, bouncerate, and pageviews off the top of my head.  As a fashion and beauty blogger, I could count the vendors on one hand that were appropriate for the blog.
I decided to miss lunch and Christy Turlington Burns speaking and instead left the hotel and went to lunch with Karl and Emerson. They both agreed I seemed like a different person from the day before. I felt like one. I wasn't stressed, I wasn't panicked and I wasn't doubting myself. The crowds weren't annoying me, I was taking the positive and ignoring the negative and having fun. After lunch, I headed to the second session which was also about video. This panel… not as useful. It seemed both general and too specific for me who has yet to publish a single video so in the words of Elisa Camahort Page, I voted with my feet and left.
I went back to the SheKnows suite for their second SheKnows Influencers meeting, and this time I was able to talk to Julie and a bunch of the other amazing people like Liz.  Seriously, I have never met a company that has such wonderful personalities.  All so different, so unique, opinionated, and warm.  Big fan.  I did a quick video about who I am and what I am an expert in and again enjoyed being in a room that had windows.  After this get together, I went back to the hotel room, Emerson and Karl were there taking naps and I decided to join them. Took a quick 30-minute rest, a shower and got ready for the evening.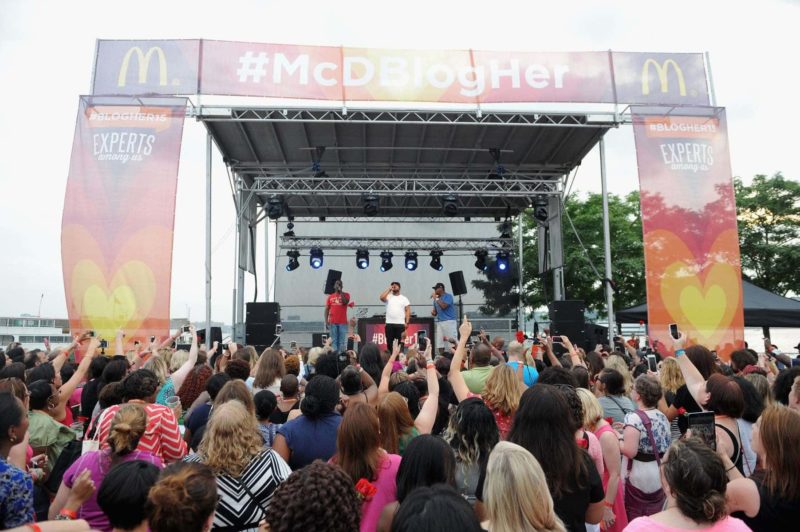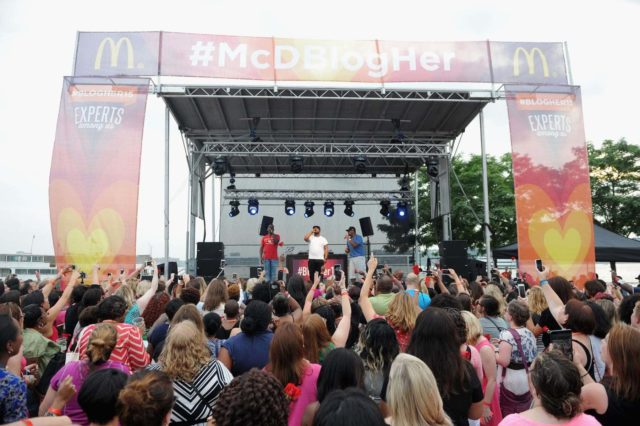 Chartered buses took BlogHer attendees to Pier 84 where the area was cordoned off. We showed our bracelets, had our lanyards scanned and entered what sort of reminded me of the VIP section of a music festival. There was a huge stage, a couple gazebos with outdoor furniture, tables with colorful Lucite chairs, mats out on the grass. The event was sponsored by McDonald's and there were these cute boys in red tee shirts that said "I'm Lovin' It!" with lucite trays full of Cheeseburgers, Chicken McNuggets, and McFrappes. There was a DJ on stage playing popular pop tunes with the occasional throwback mixed in. The weather was lovely, we were next to The Intrepid and could see folks lining up for ferry. I grabbed a cheeseburger and headed to the open bar, where there was an insane selection of SVEDKA flavored vodkas you could mix with McDonald's regular and strawberry lemonade and other beverages. I grabbed a drink and took a walk around this surreal environment. I danced a bit, People Watched behind my Ray-Ban aviators, and then went out to the water's edge to see the view and take a breather from the hyper color and intensity of it all. Then they announced that Boyz II Men were taking the stage.
THIS is why I stuck around Saturday and had a mild panic attack over Emerson's calendar error. I graduated from high school in 1993 and Boyz II Men were EVERYTHING then. While I was late getting to the stage, once a lot of bloggers got their selfies with the band in the background and SnapChatted a bit of the show, they dispersed and I could move forward. They sounded pretty good, and at first they weren't into it and I felt like it was an obligation for them before they headed to Atlantic City that evening for a show they actually DID want to do. But when all the selfie sticks went down and the crowd left were actually interested they too seemed more interested. They did four songs and the audience loved it. And yep, I too did a selfie, but tried to keep my phone out of other people's faces.
But after they left the stage, I was ready to go. I had two very sweet vodka drinks and a room temperature cheeseburger and had no desire for more. The shuttles weren't going back to the hotel yet so I used my Uber app and got a ride home with two other bloggers staying at the Hilton. I got back just in time to catch Karl and Emerson getting ready to go to dinner; we decided to finish the trip off with a bang and went to a steakhouse where I enjoyed a NY Strip, broccoli, and a glass of Cabernet that was hella better than McDonald's and got to hear all about Emerson's exciting adventures in the city.
A few things I recommend taking to BlogHer or a similar conference:
A surge protector. There's never enough outlets in a hotel room and they're always hard to reach under furniture. We plugged this one under the desk and had plenty of outlets in easy reach.
External battery pack. I got this one and it held juice for several days and took my phone from 10% to 75% in the time it took Gwyneth to do her keynote. Worth it.
A Sharpie.  Sharpies are great for writing on really glossy business cards (write on each card you get some sort of trigger to help you remember the person associated with the card) and marketing materials.  I had plenty of pens but found I used my Sharpie at least once a day.
Notebook.  I totally thought when I went I'd be taking my laptop and live-blogging or at least typing at a lot of the sessions.  Newp.  That thing is heavy, the wireless was spotty, and most sessions you don't have a desk or table in front of you.  I brought an old-school composition notebook which was utter perfection – lightweight but a hard cover making it easy to jot down notes from my lap.  Also I could tear out a page to write a note for another attendee without ruining it.
Business cards with your photo on them. Take 200, you'll likely come home with some but you'll pass out more than you expect. Others are doing the same and once you get home it's easy to forget who was the person associated with the card. Get some with your photo (and a recent one where you look like you) and be sure the colors and branding match your blog so you're easy to remember.  I made my business card design on PicMonkey (Google the pixel size of specific business cards you're ordering to make your graphic fit nicely) and then had them made by MOO, who not only provides gorgeous high-quality cards that stand out in a crowd, they send them in a nice box that keeps them from getting all bent up and grody in your bag.
Water. Take a water bottle with you. Stay hydrated. Yes, there's water machines around but a little Dixie cup isn't enough to keep you functioning at your best.  A reusable bottle is great since there were plenty of stations where you could refill it.
Flat shoes. Even if you're a heels girl like me, you NEED flat shoes, and I don't mean ballet flats or cheap flip flops. You want some structure and cushioning because you're going to be on your feet a lot.  I wore my SoftSpots a lot and loved how the Aerosoles Screen Saver sandals had thin delicate straps but didn't dig and they had super cushy soles. Along with this, have shoe variety so your feet get a break each day with the change.
Space for swag. When they say you need a separate suitcase for your swag, they're right. I ended up using a reusable tote provided at one of the booths, but if you're taking public transportation plan ahead with plenty of space for what is worthy to take home.
A smartly designed tote. This is not the place for your adorable little crossbody. You want a structured bag that can sit upright when placed on a table, slips over your shoulder comfortably, and has a place for everything. I took the Dagne Dover tote and it was brilliant; I ended up not carrying around my laptop but I did have a notebook, pens and Sharpies, water, business cards, my phone, my battery pack, a makeup bag, a snack, mints, and the occasional unexpected swag and this bag kept it all organized. I could grab a pen or business card without having to remove the bag from my shoulder and dig around. Saved time and I looked far more polished than rummaging around squatting on the floor.
Would I Go to BlogHer Again?
I don't know. I didn't learn a ton, and while I met some amazing and wonderful people it wasn't really my niche for blogging so I don't think it benefitted me professionally or creatively. I think if I was a personal blogger I would go every year because the conference is really set up to help bloggers get their voice heard. The conference was extremely well organized, it was a lot of fun and the BlogHer and SheKnows people are AMAZING, but as a fashion blogger I'd likely take a pass and try a different conference next year unless there was a special event fitting my niche or I was asked to speak on a panel. But I am so glad I did go, it was a great experience and it left me feeling inspired and renewed!