This article may contain affiliate links; if you click on a shopping link and make a purchase I may receive a commission. As an Amazon Associate, I earn from qualifying purchases.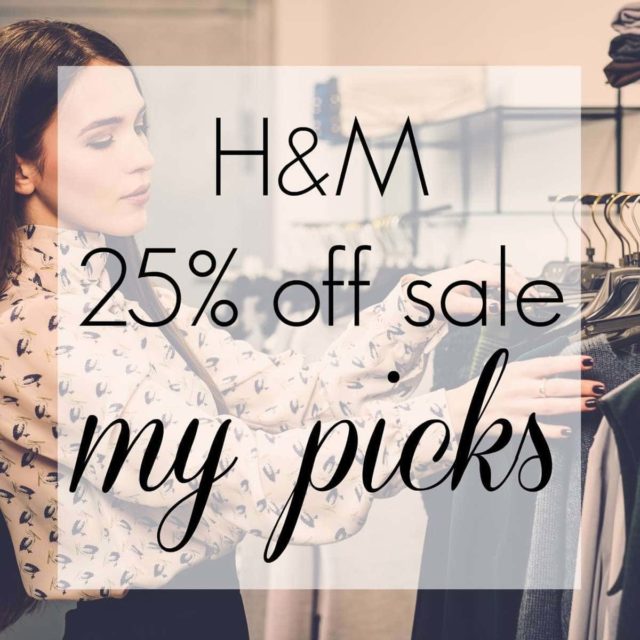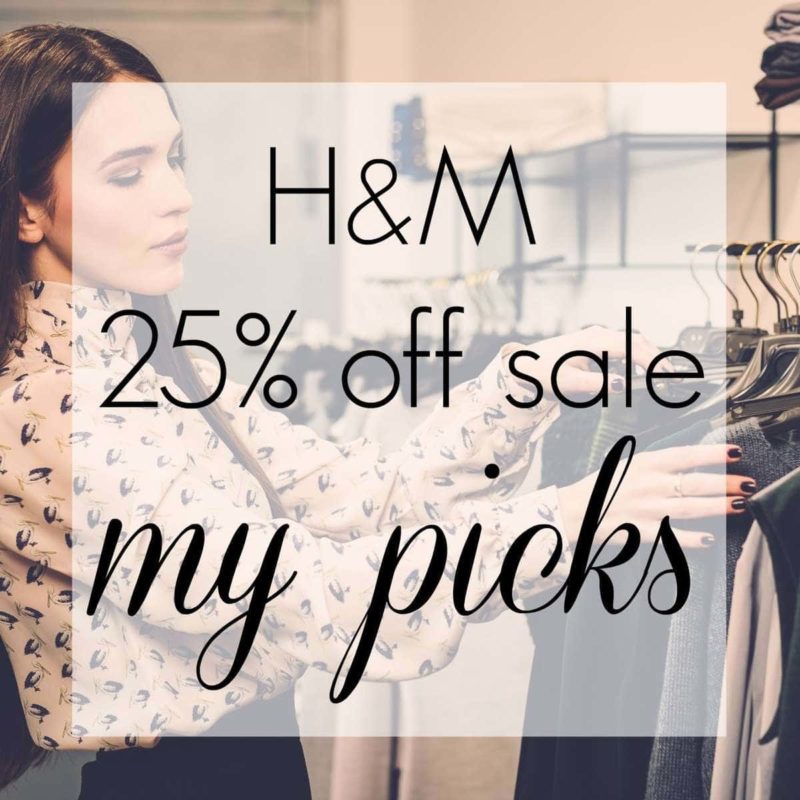 I don't regularly promote H&M because I feel it's fast fashion like Forever 21 and Old Navy. But then I thought about the times I have purchased from H&M; I still own those items. Like ASOS, when H&M does it well they do it really well. If you don't go bonkers in there buying just because it's cheap you can find some gems that will give you years of style. Today through April 17th H&M is offering 25% off your ladies purchase over $75 with code 3302; below I share the categories where I think it often makes sense to go low-budget, and the items from H&M that fit these categories and caught my eye.
Dresses
I have dresses from fast fashion stores that are over a decade old and still get a ton of wear. T-shirt dresses, jersey maxi dresses for the summer, and simple rayon shifts are great choices from retailers like H&M because they're simple fabrics and silhouettes. These are pieces for weekends, for travel, for rolling into that little corner of your suitcase for vacation, for throwing over a bathing suit or slipping on with some sneakers and a denim jacket to run to the mall. Treat them with care; even if they cost little they should be washed on gentle and line dried to maintain their shape and color saturation. I've learned if unsure to size up; fast fashion often runs narrow in unexpected places like sleeves or shoulders. And always, if it's not needed in your life, no matter the price, don't buy it. Save your pennies for what truly matters!
Shift Dresses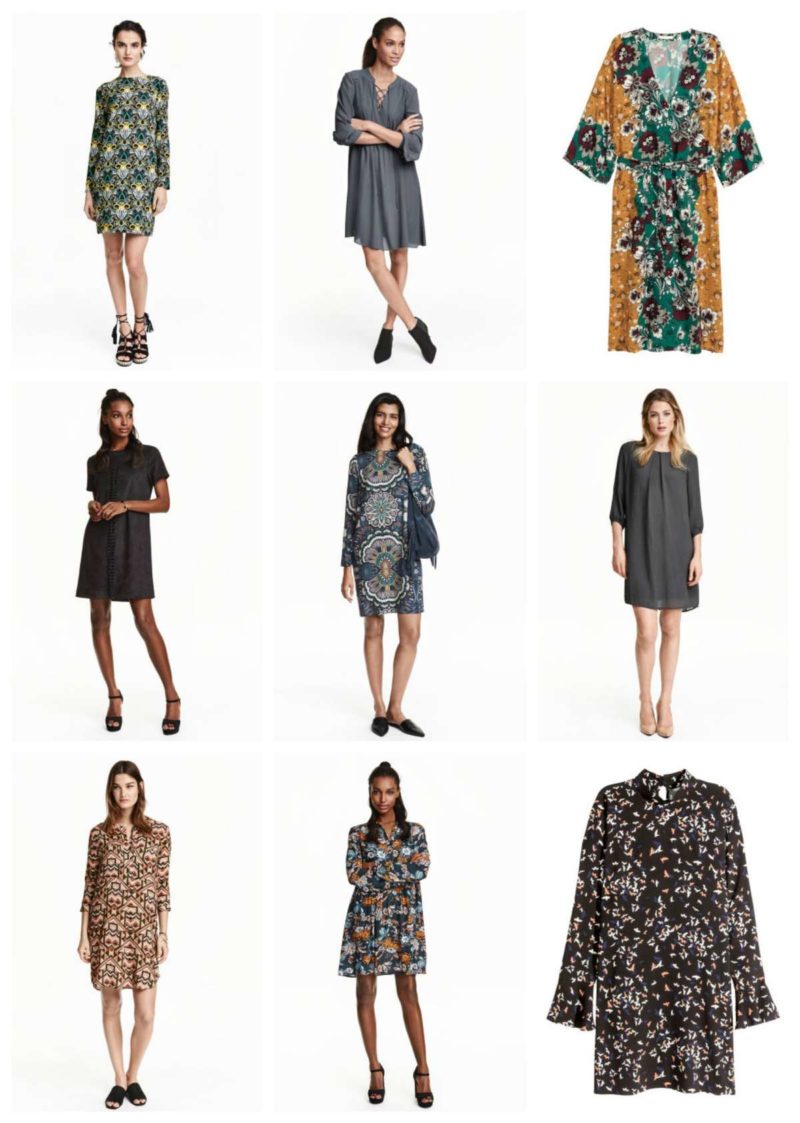 I own a dress like this from H&M and it's almost a decade old but you can't tell because it's an extremely simple cut and silhouette. I've found the quality rivals department store brands with double or triple the price. These are the kinds of dresses you can wear three seasons of the year, sometimes four. Wear them with sandals, with tall boots, ankle boots, or even sneakers. If you add tights and the dress doesn't have a lining, you may wish to also add a slip to prevent cling. I've slipped them under blazers and paired with pumps for work, or put under a denim or leather jacket for Date Night. I wash gentle, line dry, and steam out crinkles for the best results.

Jersey Knit Dresses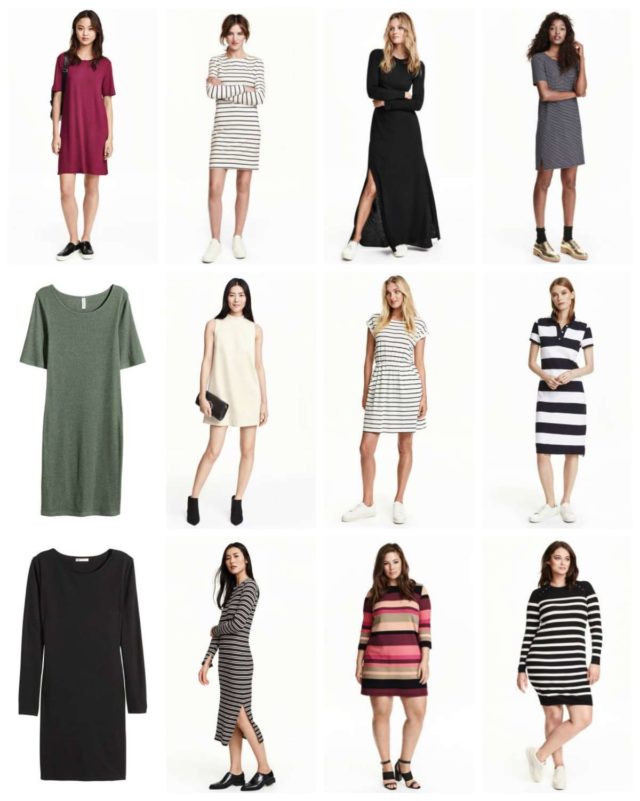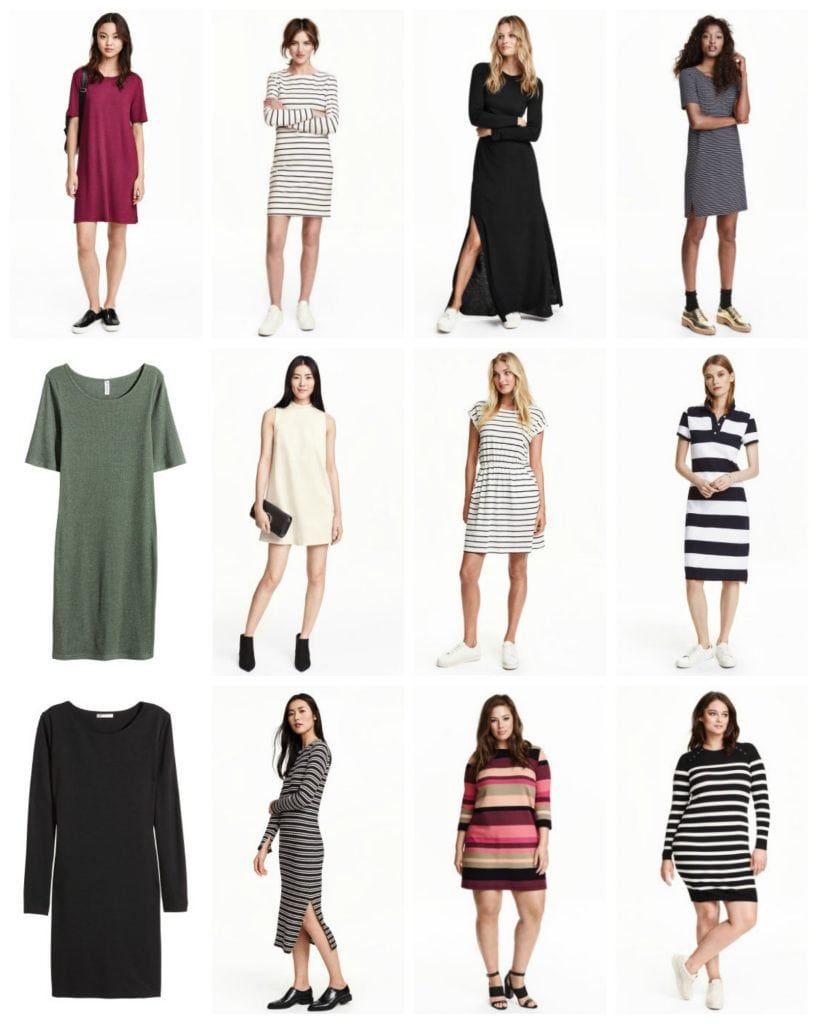 1 | 2 | 3 | 4
5 | 6 | 7 | 8
9 | 10 | 11 | 12
I have a striped knit dress from Old Navy's clearance department. I purchased it a few years ago for $14.99 and wear it weekly from March through November. Because it's so simple of a shape (no darts, no details), and a decent weight of jersey, it can easily pass as something from a higher-end retailer. H&M does dresses like this well. If unsure, size up because dresses like this can run a bit short and tight. Again, just because it's made of t-shirt material doesn't mean you should throw it in the washer and dryer with your gym clothes. Wash on gentle, line dry, treat it with respect so it will last you more than one season. Please note many of these dresses are also available in other colors and prints.

Maxi Dresses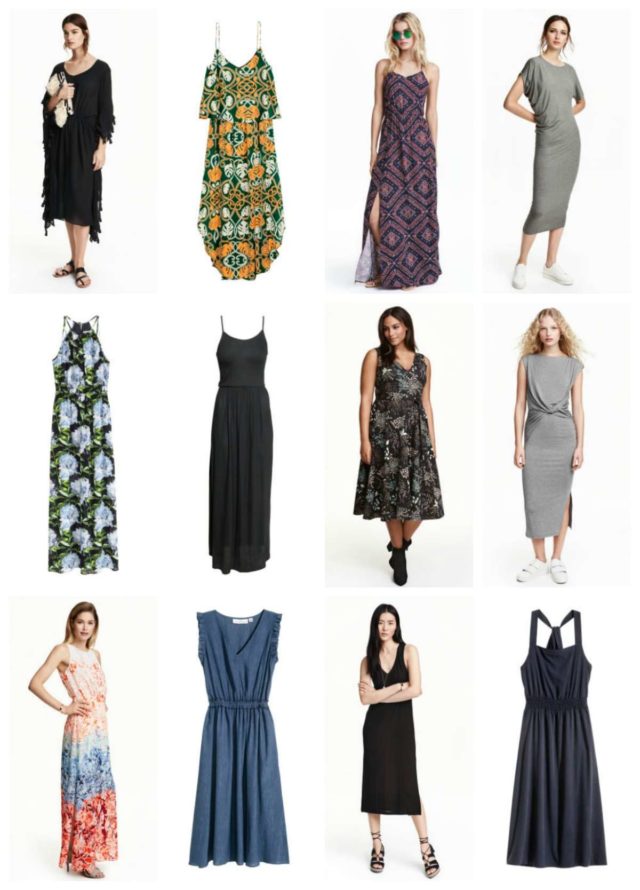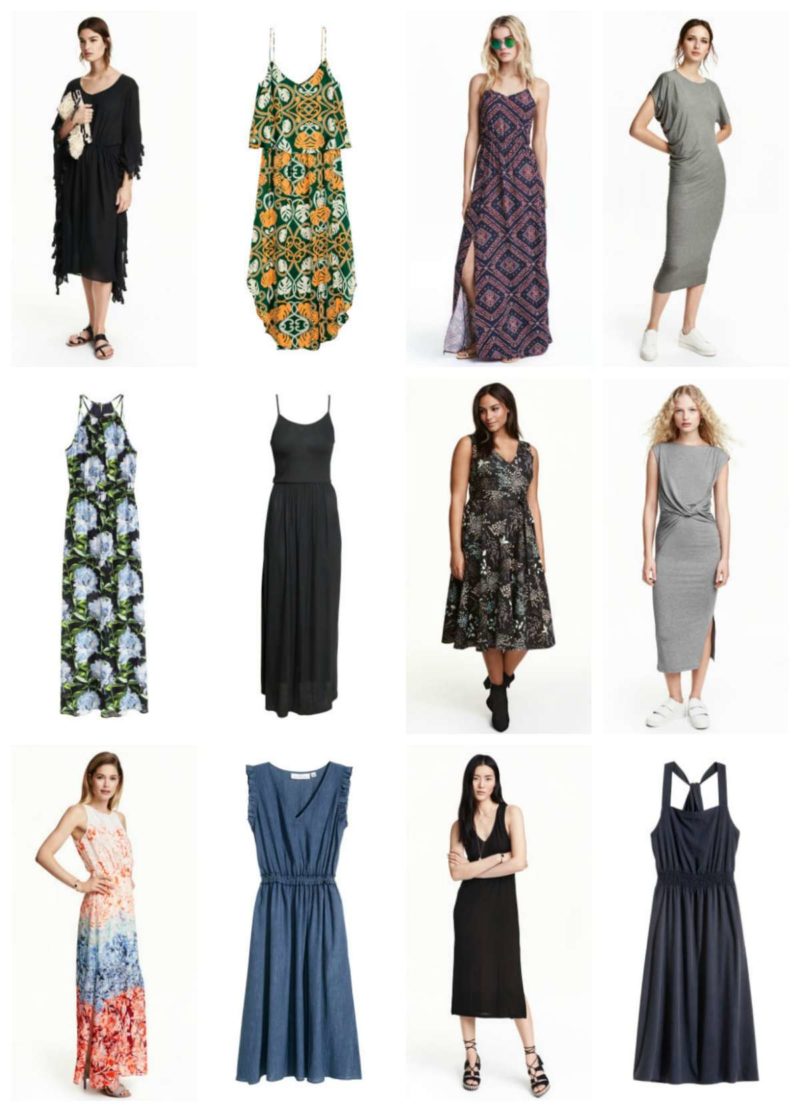 1 | 2 | 3 | 4
5 | 6 | 7 | 8
9 | 10 | 11 | 12
Every summer I wear the HECK out of maxi dresses. While I have lovely ones in silk, chiffon overlay, and other gorgeous fabrics; the ones that get the most play are the knit jersey, the rayon, gauze. The ones that cost a lot less. Since they cost less, I don't feel so bad wearing them as I sit on sand, grass, a patio chair covered with pollen. I wear them as beach coverups in Rehoboth, to the farmer's market when I know I'll be dining on crepes in the grass, to music festivals and outdoor concerts, and it's my go-to for a backyard barbecue. They look appropriate with flip flops or Birkenstocks, but I can also dress them up with some gold bangles and metallic sandals. I gotta say I may buy the kaftan (#1), it would be such a fabulous beach coverup!

Hats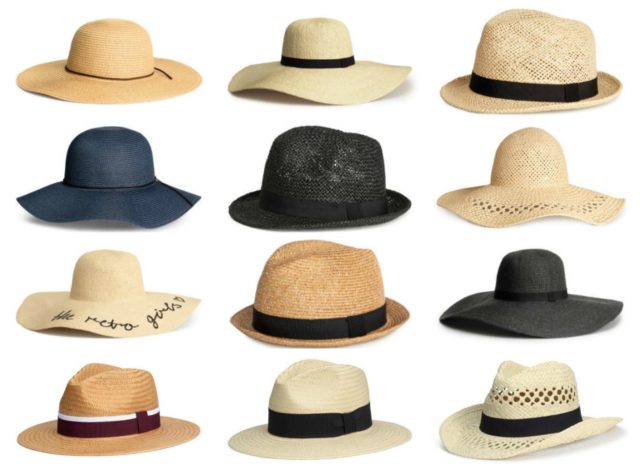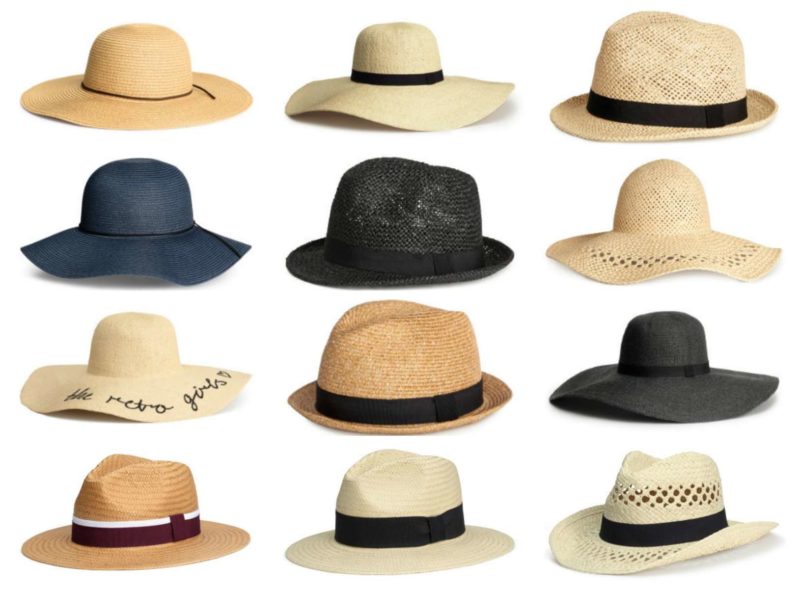 1 | 2 | 3
4 | 5 | 6
7 | 8 | 9
10 | 11 | 12
Hats are a fun accessory, but unless you're a chic chapeau connoisseur like Style Crone, it doesn't make a lot of sense to spend a lot on a piece you may not wear on a daily basis. I have a few hats, and since I wear them so rarely I buy cheaper ones at places like H&M so I can enjoy the trend without paying a lot. And you know what? Since hats are worn so rarely, my low-budget hats still look fantastic years later. However, keep in mind that hats from cheaper retailers are less likely to be consistent in size or shape; if it doesn't fit right, don't keep it. If you're in the store, don't be afraid to try on every single one to find the one that fits your head and face best. Summer is coming, protect your skin with plenty of sunscreen but also a good brim for your face and décolleté!
For this post I focused on straw summer hats, but H&M has a great selection of felt and wool hats too (link to their current options). I have a wool hat from H&M that is several years old and looks just as nice as ones I bought at department and specialty stores.

What I call, "Party Bags"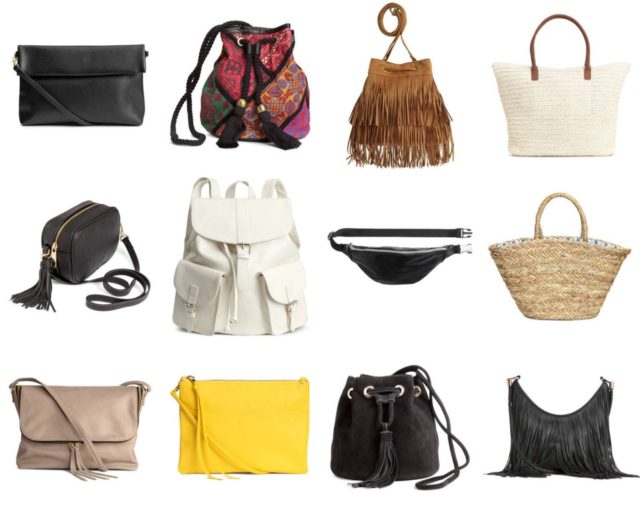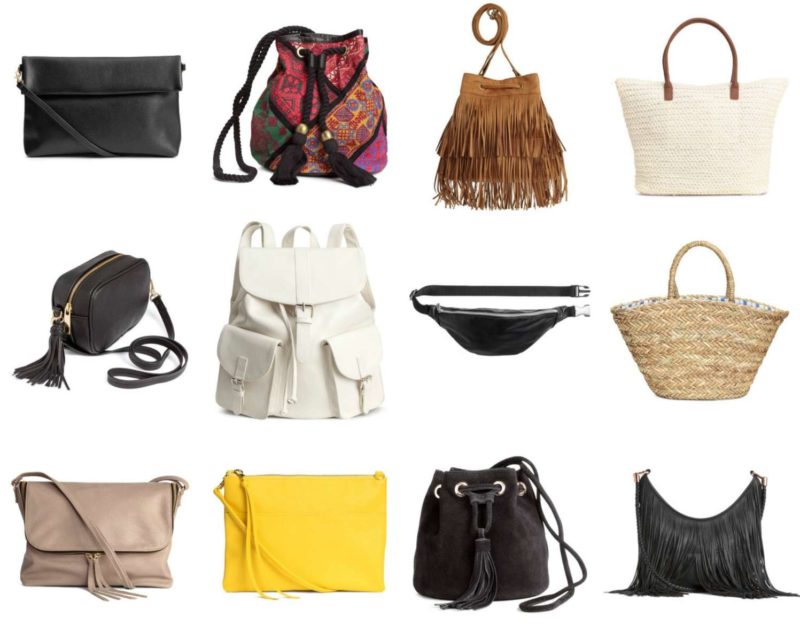 1 | 2 | 3 | 4
5 | 6 | 7 | 8
9 | 10 | 11 | 12
Most days, I carry a quality handbag. I believe your bag can really take your look up a notch. Focus on hair, skin, bag, shoes and you can get away with an old tee shirt and jeans. But some times in life, a nice bag is not a good choice. I have a few "party bags" in my arsenal for concerts, music festivals, trips to the beach when I very well may end up going from dinner to the kind of bar where beer gets sloshed on you… those events where it's okay if a little something gets on your bag or it gets dinged up. I usually choose small bags for these; little crossbodies that don't inhibit my dancing or holding of beverages or hands of children, but are big enough for my phone, wallet, and other essentials. I also go the other route and like roomy totes that are more stylish than a reusable tote from my grocery store but can also take a beating. The majority of the bags featured come in a variety of colors.

Scarves
Some of my favorite scarves are 100% polyester numbers I bought from places like H&M. In fact, one of the best scarf buys ever, my oversized square is from this retailer. H&M always has a great selection of the latest scarf trends and I find the quality, colors, and prints far better than other low-price retailers and even better than the cheaper brands at department stores.

The Quirky and the Trendy
Some of my favorite statement pieces are from fast fashion retailers.  My faux leather biker jacket from ASOS, my silver leather clutch from Topshop, and my orange faux fur from H&M are some I can think of off the top of my head.  H&M does funky fashion extremely well and the quality is far better than many other retailers.  Want a Bardot top, a cold shoulder sweater, or a funky sheer=panel fringe top but don't want to pay designer prices?  H&M is a great place to find them.  Also while perusing their store or their extensive online shop you may find the weird wonky something that will be the THING to pull your entire wardrobe together!