This article may contain affiliate links; if you click on a shopping link and make a purchase I may receive a commission. As an Amazon Associate, I earn from qualifying purchases.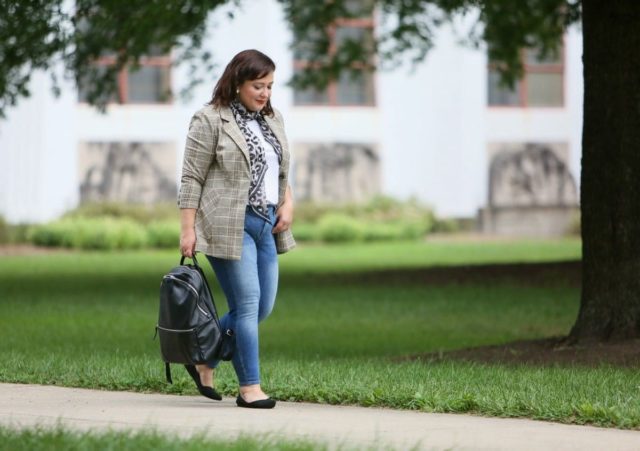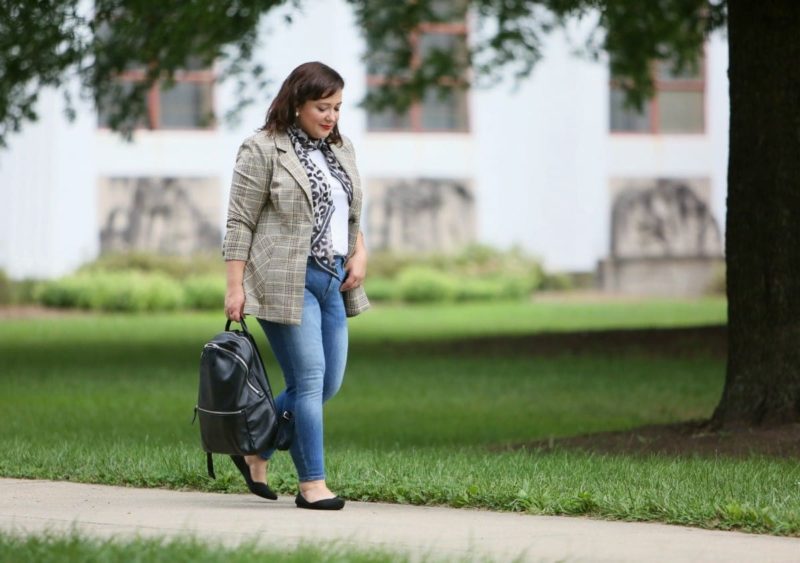 The other morning on the drive to the gym the DJ was going over all the school districts in the area that are back to school this week. Back to school? I swear just yesterday it was the Fourth of July! But it inspired me to pull together some of my favorite fall trends for a look to herald in fall and wear it in front of an historic building in our city that was its first school.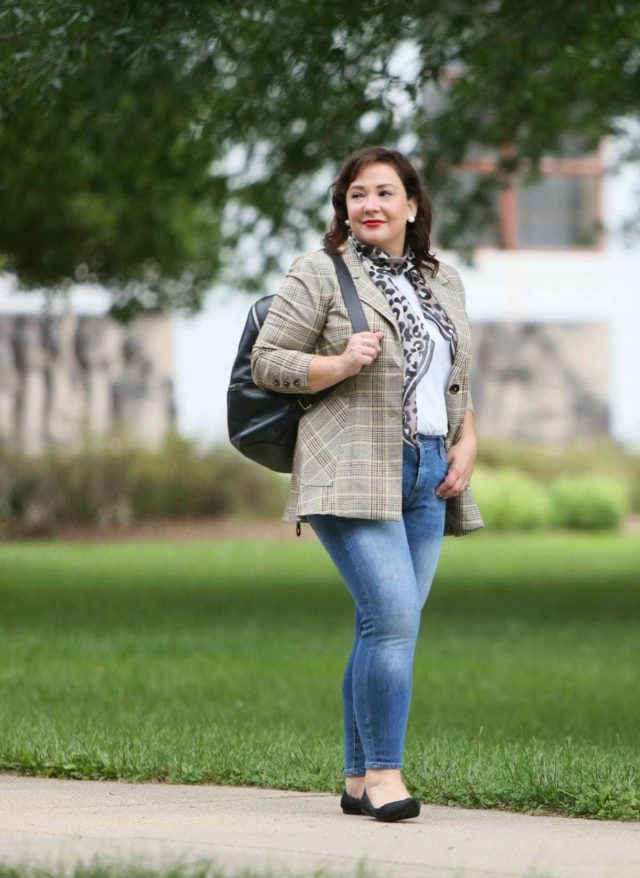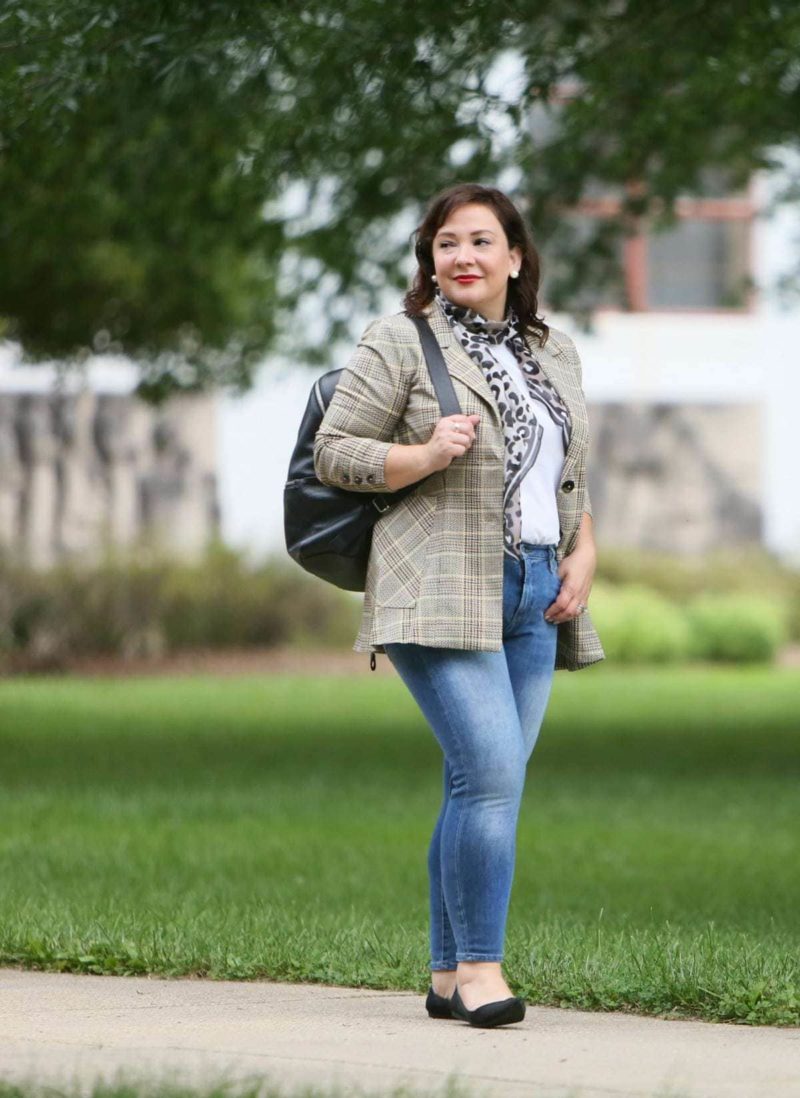 Jacket: Pastime Jacket c/o cabi (12) | T-Shirt: Universal Standard (XS; received free through a promotion they have for email subscribers) | Jeans: Banana Republic (32 Short; since on clearance and limited colors here's the link for the same jeans in a slightly darker wash) | Scarf: Leopard Scarf c/o cabi | Shoes: The Points c/o Rothy's | Bag: SP 3 Backpack c/o ECCO | Earrings: Heritage Pearl Earrings c/o cabi
Not until I listed out all I am wearing in this post did I realize all but the jeans were gifted by brands (or free in some manner). At first I felt terrible about that… but then I realized these are all brands I truly love and wear all the time. It shows that I have created smart partnerships with brands I truly love and enjoy wearing. So let me tell a little love story for each of these pieces.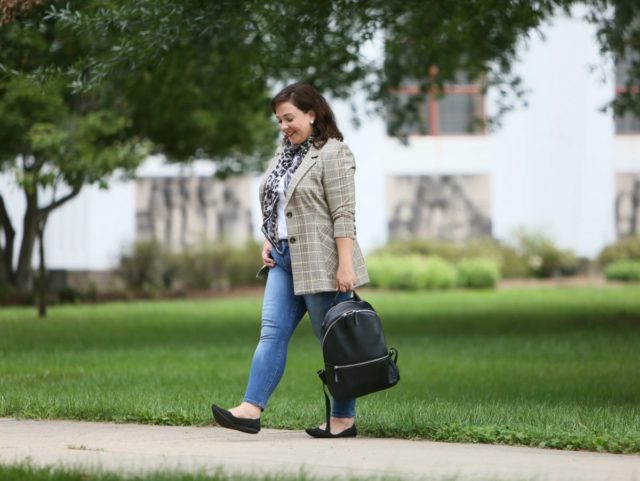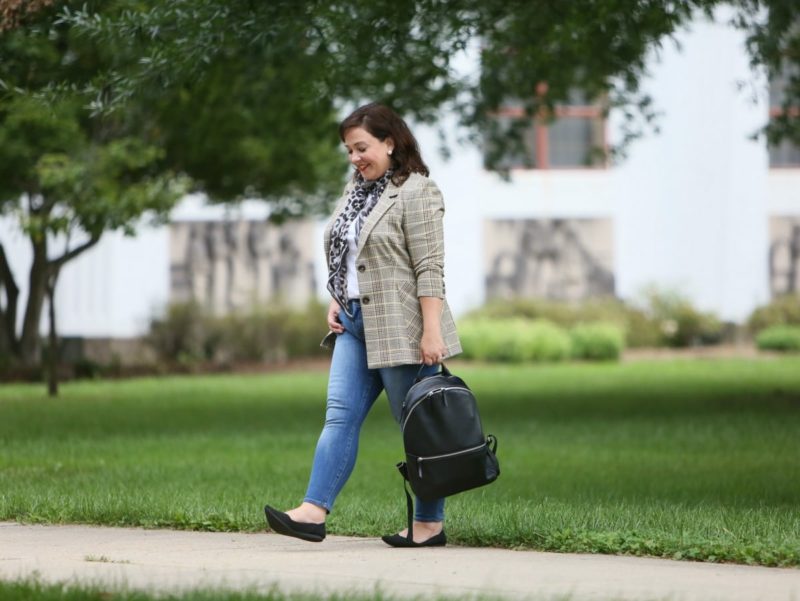 Rothy's flats… I bought a pair after so many of you reached out to me asking my thoughts. I wore them all over NYC and gave an honest review and since then tens of thousands of you have found that post and bought your own Rothy's. I contacted Rothy's, shared how many people bought their shoes from my post, no response. Followed up, no response. Third time's the charm? Nope, not even with a DM on Twitter. Then the brand reached out to a blogger friend so I asked her for her contact. Armed with a different email address and some skills I learned in an online course on how to improve my pitching I sent a fourth email. Response! Nope they won't pay me, they won't provide me with a unique code to track sales and give my readers a discount but I could get three pairs of shoes for free. I got a pair of rounds, loafers, and these points in black. And I wear the heck out of these shoes even though they have never replied to another of my emails. For those worried about the lack of arch support in Rothy's flats, I have these insoles in them and they help a lot. So yeah, these shoes are free but me choosing to wear them is all me.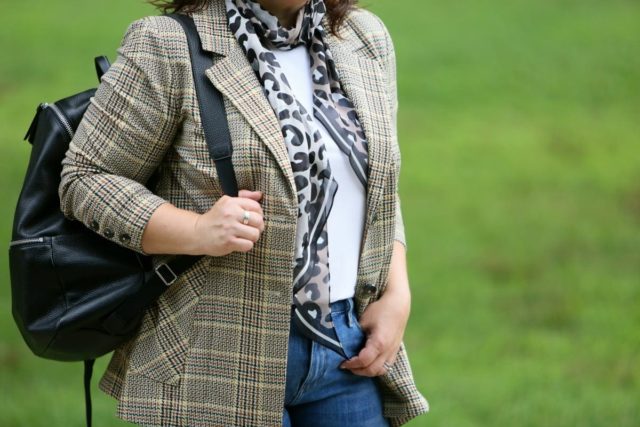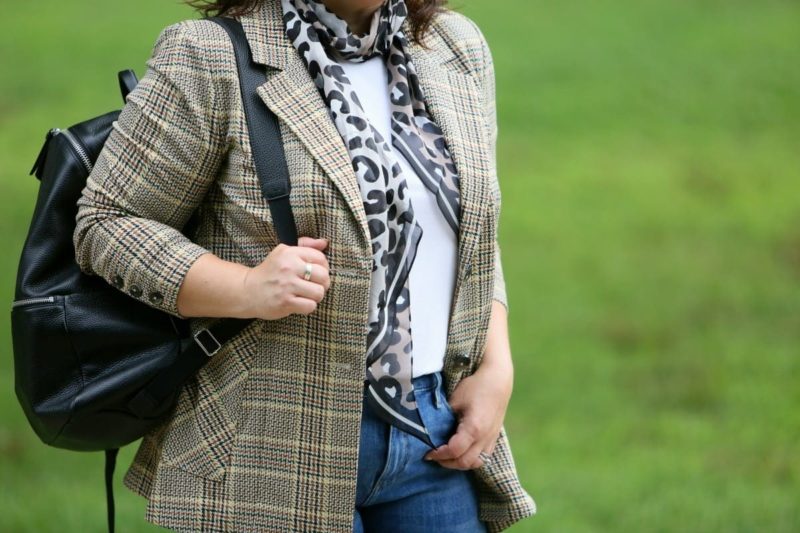 It's clear I'm a fangirl for cabi. I love their clothes, but I equally love the heart and passion and the people behind the brand. They've been so great to work with, and I love how the company truly supports women who work for them and women across the globe. I attended their annual cabi Blogger Day this spring and was photographed wearing an outfit from their Fall 2018 collection which hadn't yet launched. I chose this jacket with a few other pieces. I love how the jacket is the plaid boyfriend style that's on trend for this fall, but it's made of a stretchy ponte fabric so it's comfortable, not too heavy, and not too structured. This scarf was a gift from cabi when I went up to NYC last month to see a livestream of their Fall 2018 fashion show. I wear this scarf all the time and spoiler alert, you'll see it again in tomorrow's outfit. And the earrings are just cool. My friend Nicole had a pair like this and I've always wanted some. Instead of a classic pearl on a post, the post has a black pearl on the other end. It's like two pairs of earrings in one, you can wear with the big white pearl on the front of the ear, or flip them around for a completely different look.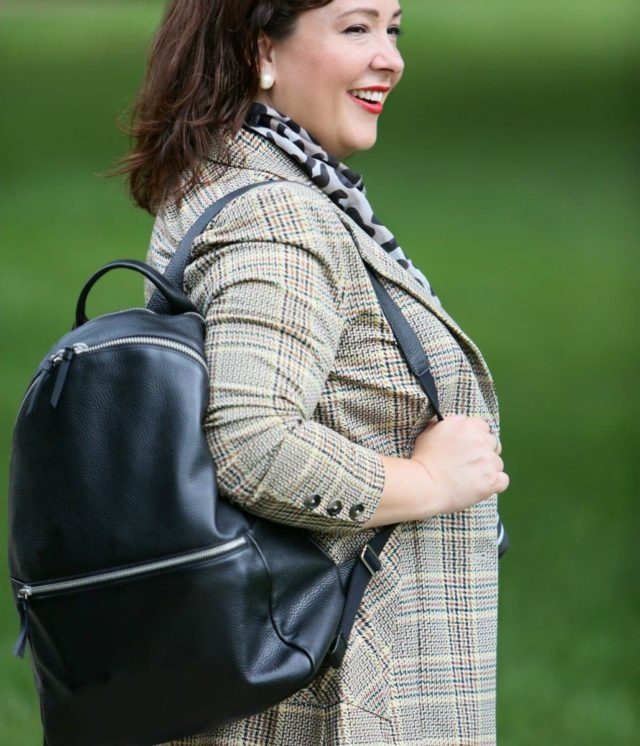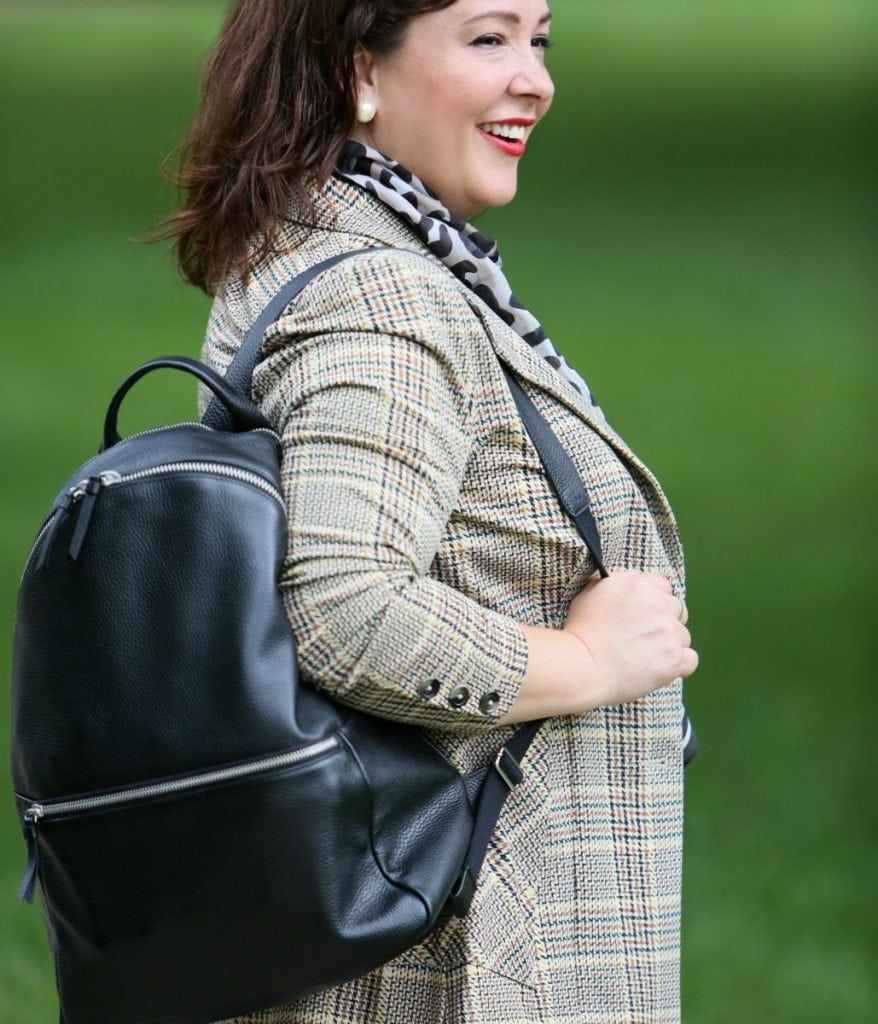 I've worked with ECCO off and on over the years and this summer they reached out asking if I'd like to try one of their bags. You know I love backpacks, so I asked for this bag. And folks, this bag is niiiiice. I didn't know luxury backpacks were a thing, but now I do and I am in love. The leather is so nice, the details are on point, the pockets are genius, and this is the kind of unisex bag that my husband can borrow. I'm taking a trip tomorrow (follow my Instagram Stories to see where and what for) and this bag will be my carry-on for sure. I wasn't obligated to feature this bag, I just did because I like it.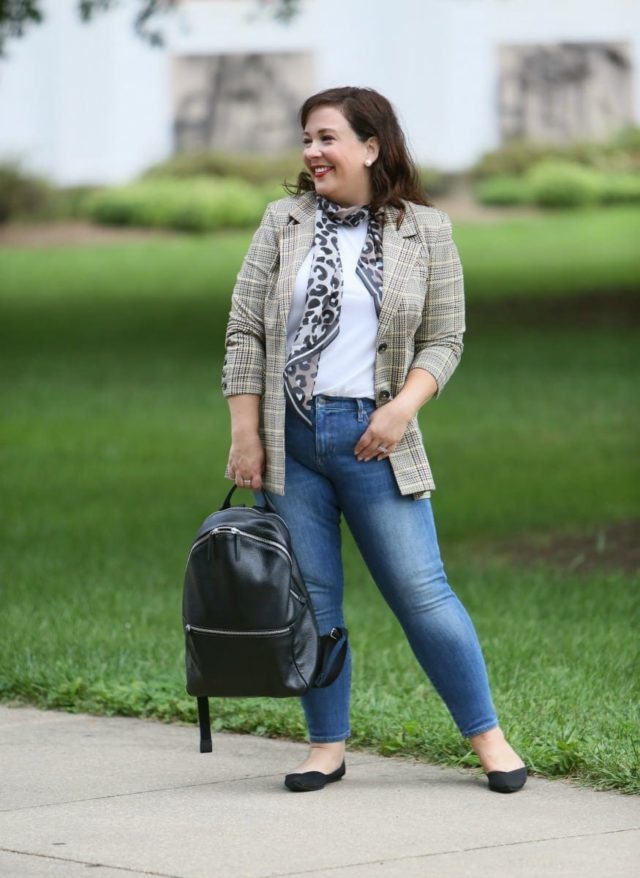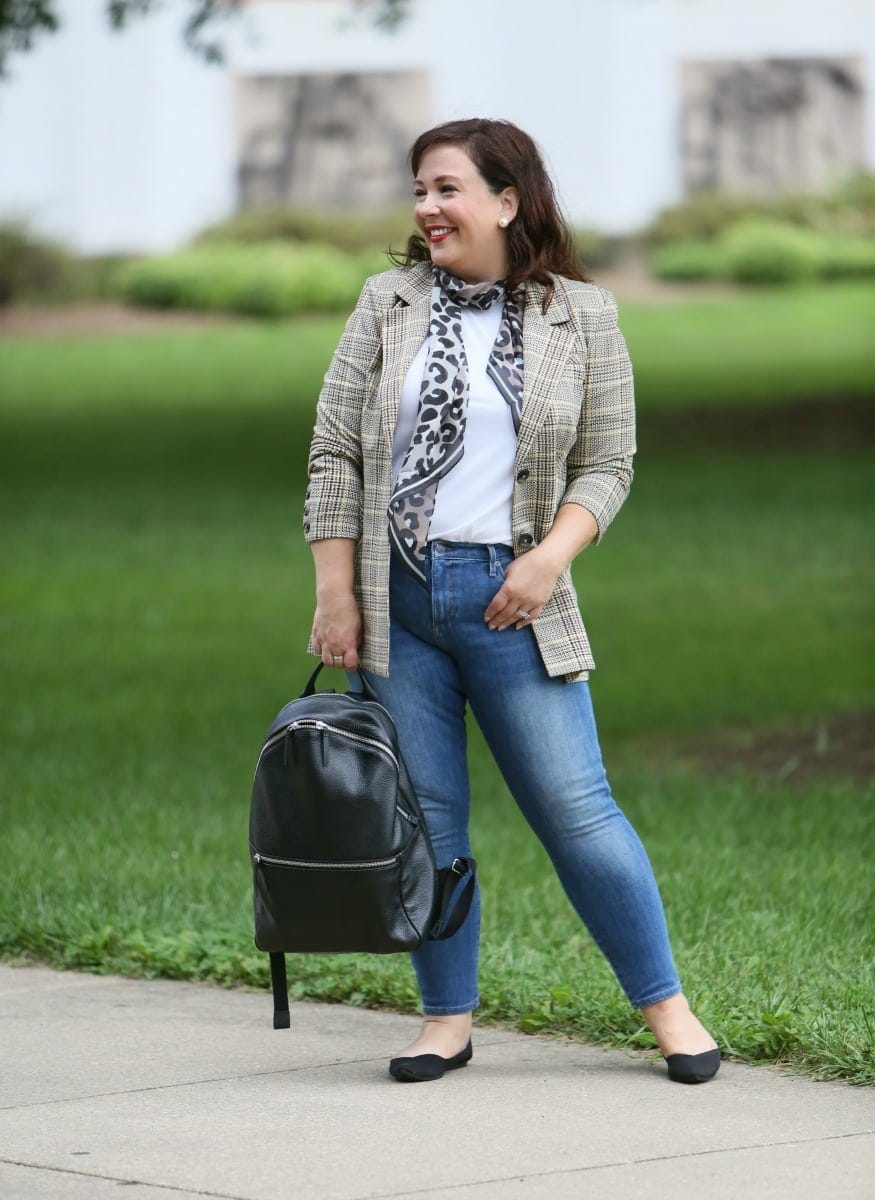 If you're on the Universal Standard email list there's a good chance you too received an email recently offering you a free Tee Rex shirt no strings attached. This is a $50 shirt, I jumped at the chance and ordered plain white as I have this shirt already in gray (as seen in my real life capsule wardrobe) and the v-neck version in burgundy. I chose regular instead of petite to have it a bit longer and more relaxed of a fit. If you can't understand why one would pay $50 for a t-shirt, you haven't experienced the Universal Standard Tee Rex. It's so silky and luxe, and opaque yet not heavy, and it fits nicely, and can dress up or dress down, and it's still nice even if your husband accidentally throws it in the dryer with the towels (so I've heard, totally hypothetical, no never happened to me no ma'am).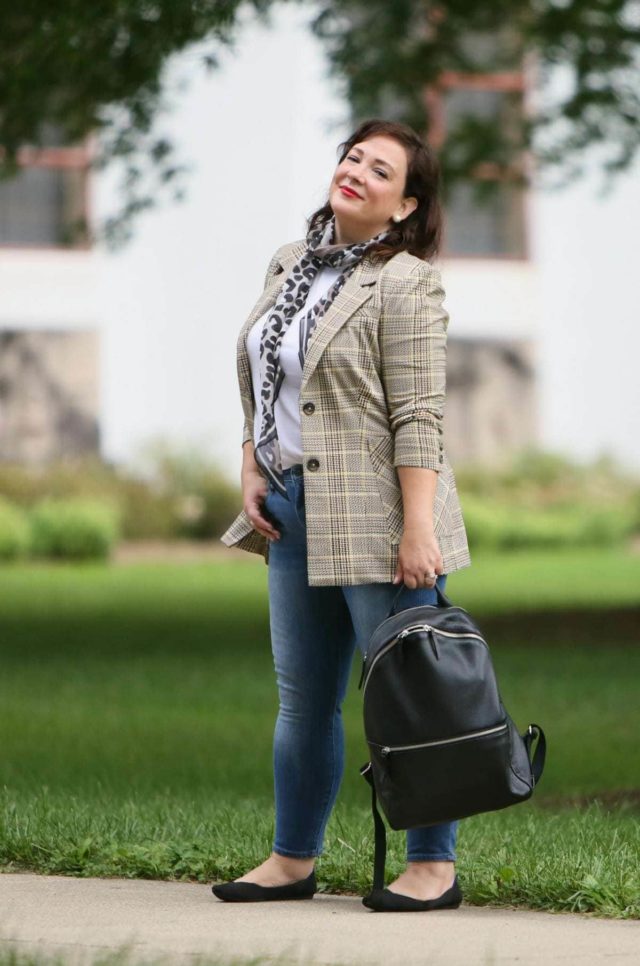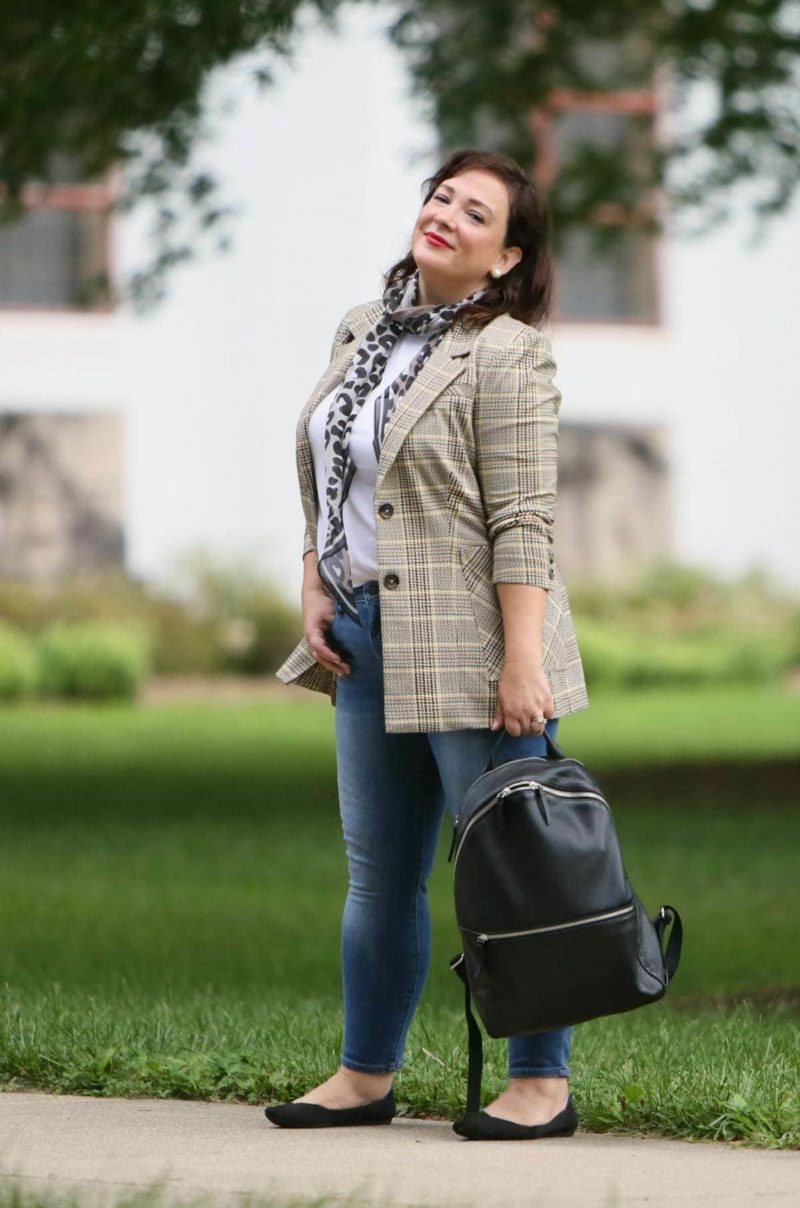 And then these jeans… I'm still struggling to find jeans that fit this new body. I bought these months ago and they continue to be my faves. They don't stretch out, they don't slide down, I don't need a belt, and they've been washed and dried a kazillion times and still look like new. I am considering buying a pair in the darker wash for fall. So yeah, I didn't pay a lot for this look in regard to dollars, but I did in honing my personal style, finding brands I truly love wearing, and building relationships with them!
I featured the Greenbelt Community Center in this blog post. This building was the first school in the planned community of Greenbelt, as well as where the first city library was housed. It was called the Center School and acted as a school up until just a couple decades ago when they built a new school on the other side of the city and turned this into a community center. Inside you'll find residents playing basketball in the gym, kids attending summer camps, seniors and scouts meetings, dance and yoga classes, artists creating works in the studios on the top floor and many of their works on display in the hallways. There's a small museum for the city and the offices of the city free newspaper. Out of the photo but to the left is the city library, a favorite destination for me when I was a child (I grew up in a neighboring town) and still one for me and my family today. We're so lucky to live in a community that has so much to offer all within walking distance.