This article may contain affiliate links; if you click on a shopping link and make a purchase I may receive a commission. As an Amazon Associate, I earn from qualifying purchases.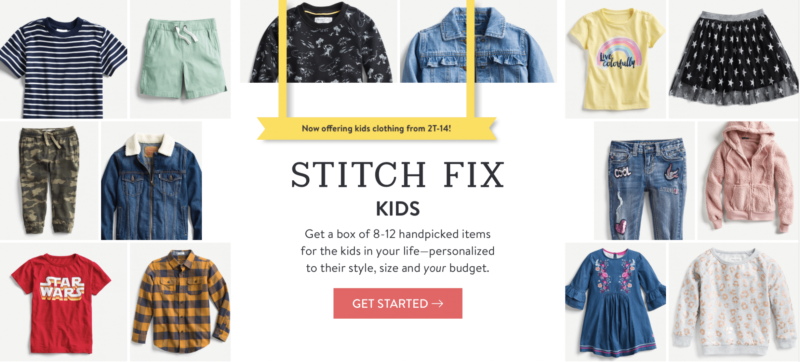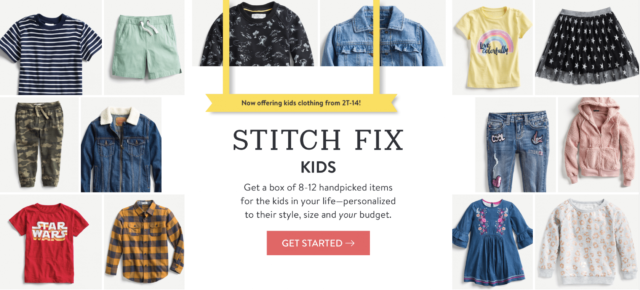 I mentioned in my last Stitch Fix review that I was going to try their latest offering, Stitch Fix for Kids. Stitch Fix provided me with a $20 credit to cover the styling fee of this program. My daughter is entering 4th grade in a few weeks and has outgrown most of her school clothes from last year. She is old enough that she knows her style, what she likes and doesn't like to wear, her favorite colors and trends. She is also old enough that her clothes don't get destroyed in a month, so we've graduated from clearance rack finds out of season to the occasional full-priced item that will get a lot of wear and/or a lot of love. It makes sense at this age to try a program like Stitch Fix; she loves getting mail, she has some time to try things on in the comfort of her own bedroom, and it gives her a feeling of control and independence.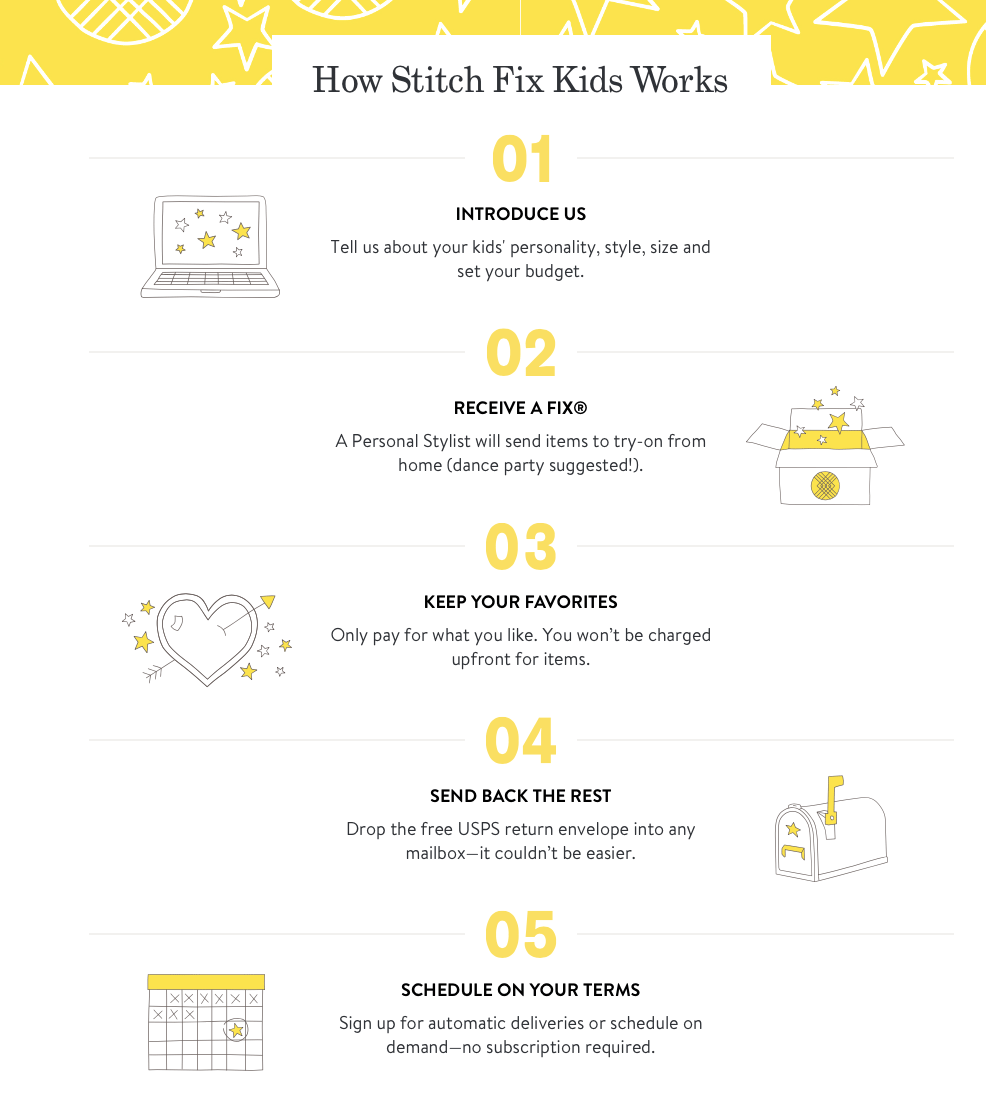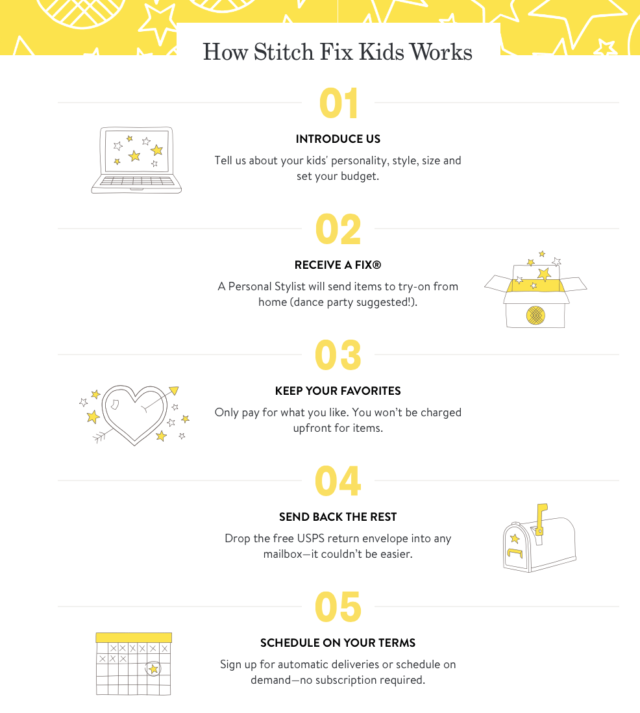 Stitch Fix for kids is essentially the same concept as Stitch Fix for adults – fill out a survey about your body, budget, and your personal style and a stylist will handpick 8-12 pieces of clothing, shoes, and accessories. You receive a box in the mail with the items, styling tips, a personal letter from the stylist, and a pre-labeled bag to send back what you don't want. You have a week to make your decisions and are only charged for what you keep. Each Fix costs $20, but that cost can go towards any items you choose to keep.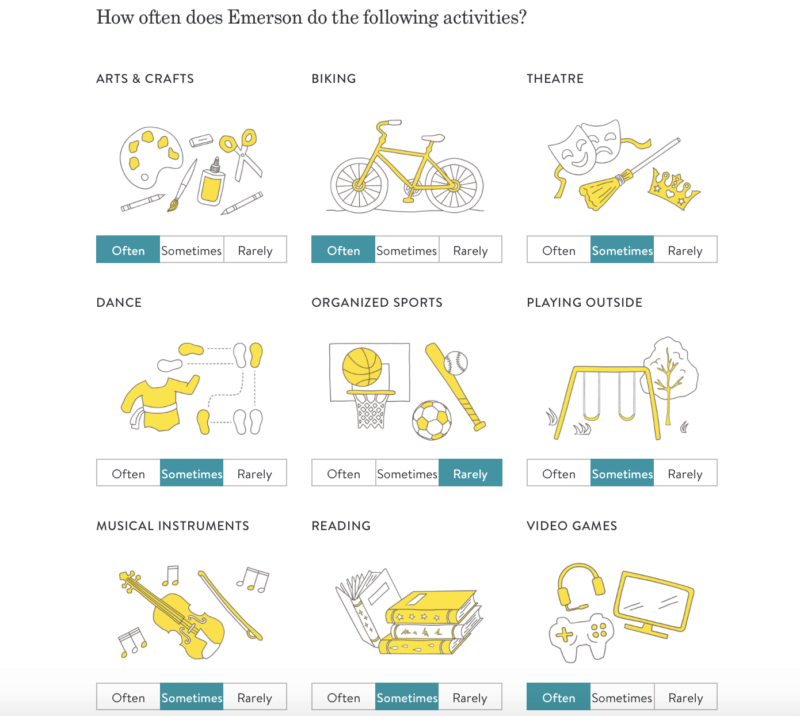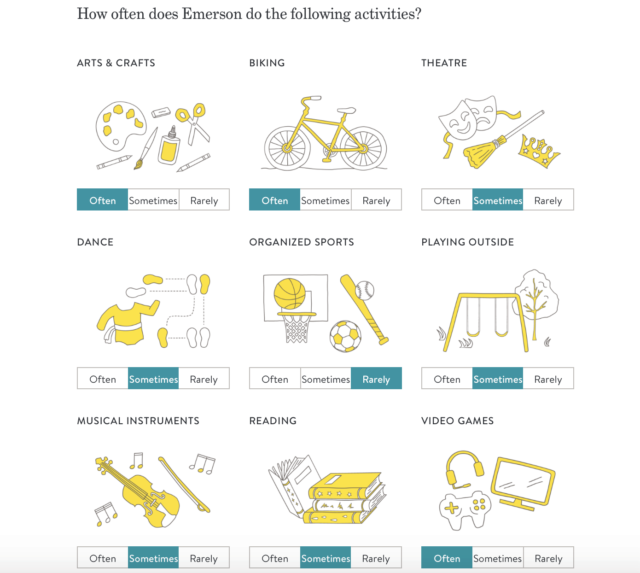 Emerson and I went through the survey together, and it's clear Stitch Fix put a lot of work into this. No where do I state her gender, instead they ask if my child is looking for clothes for boys or girls. The child (or the person buying the Fix) rates how often they do popular kid activities like biking, crafts, sports, music, and video games. They click words that describe their personality (chatty, bookworm, independent, curious, kind, adventurous… all gender-neutral and positive traits), and then the reason for choosing Stitch Fix (a treat, fill in wardrobe gaps, save time, etc.). Next is fit, which is also set up perfect for kids. Height, weight, average clothing and shoe sizes, whether the child wears a bra. I liked the fit questions, as kids like adults come in a lot of shapes. Not only can you share issues regularly found regarding inseam, waist, and sleeve length, you can share how fitted or loose your kid wants their clothes.
The survey then asks questions regarding types of clothing. What sort of clothes does your child like to wear and how often. Are there any embellishments, features, or cuts that should be avoided? As with the adult Stitch Fix they show a few flatlays of outfits and ask if your child would wear them, and what colors and prints your child likes. I appreciated the question about graphic t-shirts – will my child wear them, and with what messaging.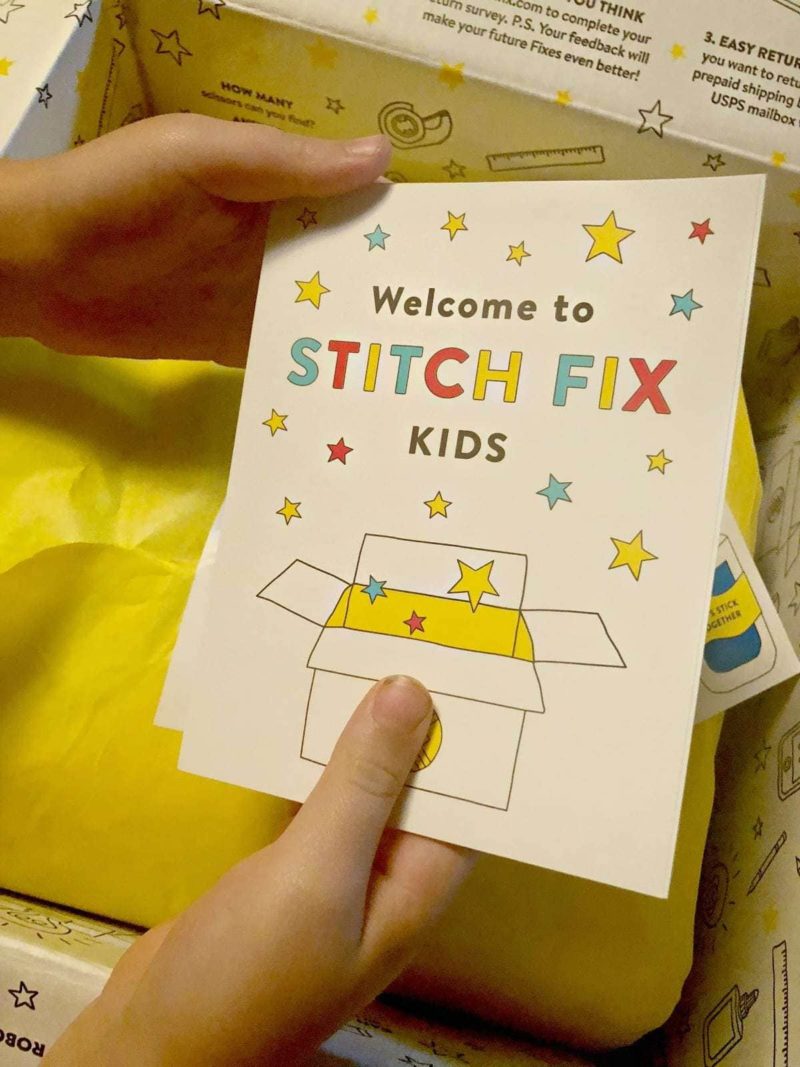 Finally we shared what we're willing to spend for different types of garments, where we usually shop, and could provide a paragraph sharing additional details about the child and their style. A week later we received our Fix!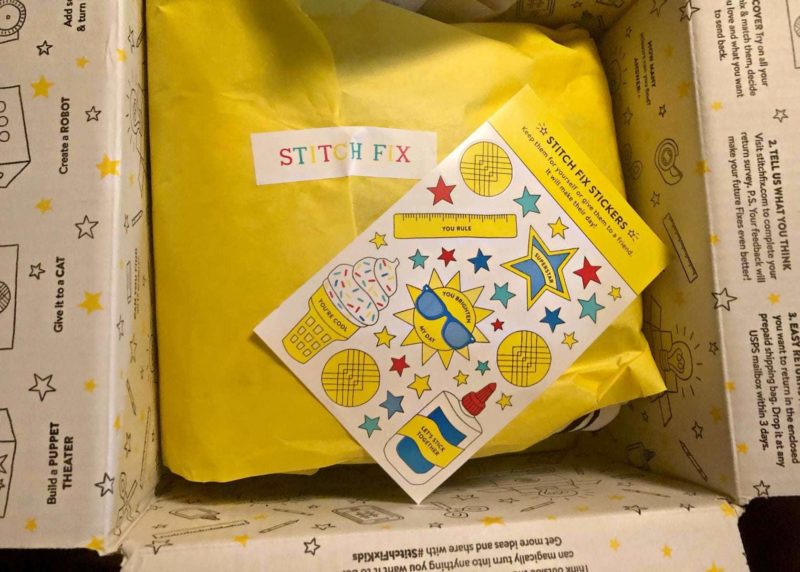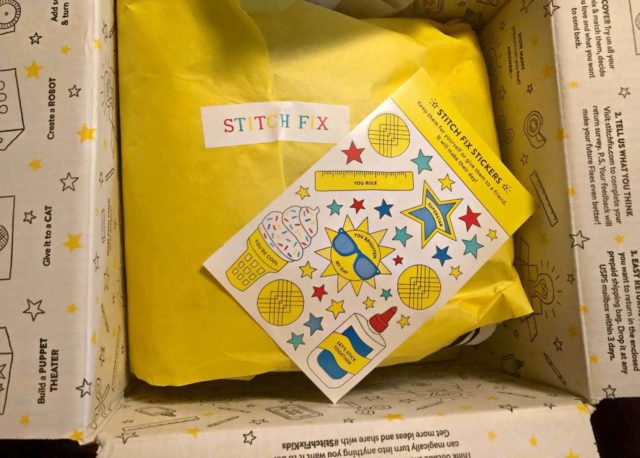 The box is geared towards kids with a sheet of stickers and a maze on the back of the information sheet. The clothes were wrapped in bright yellow tissue paper. We received 10 pieces of clothing – two pairs of jeans, one pair of shorts, a romper, a dress, a sweatshirt, and four t-shirts. There were brands I knew from my closet like Warp + Weft, DL1961, and Kate Spade as well as brands I wasn't familiar with that may be in-house or standard department store brands. Prices varied with the most expensive item being a $40 sweatshirt from Kate Spade and the total of 10 items was $250.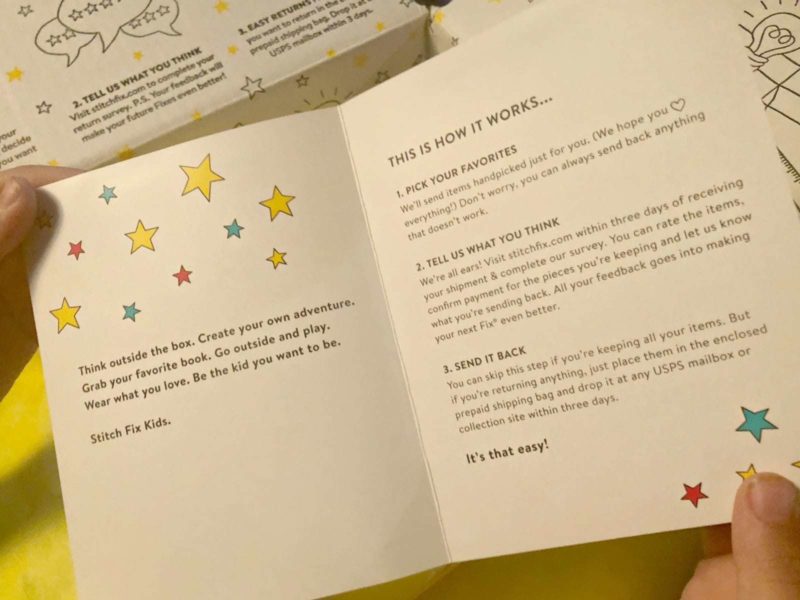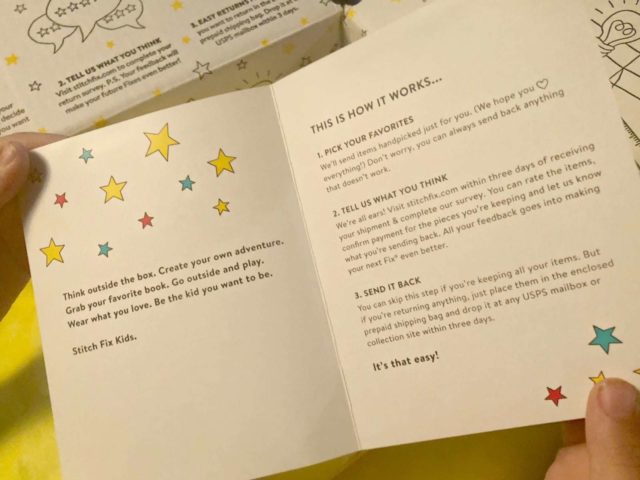 A few things I didn't even let Emerson try on because of the pricepoint. I am not going to pay $30 for a pair of denim shorts that I could get at Old Navy for less than $10, especially knowing how that's the kind of clothing that gets beat up and well-worn over a season. One pair of the jeans were white which were not realistic for my kid's lifestyle. Another pair were pink… the same exact pink shade as a pair I picked up this summer at UNIQLO for a third of the price. The rest, I let her try on.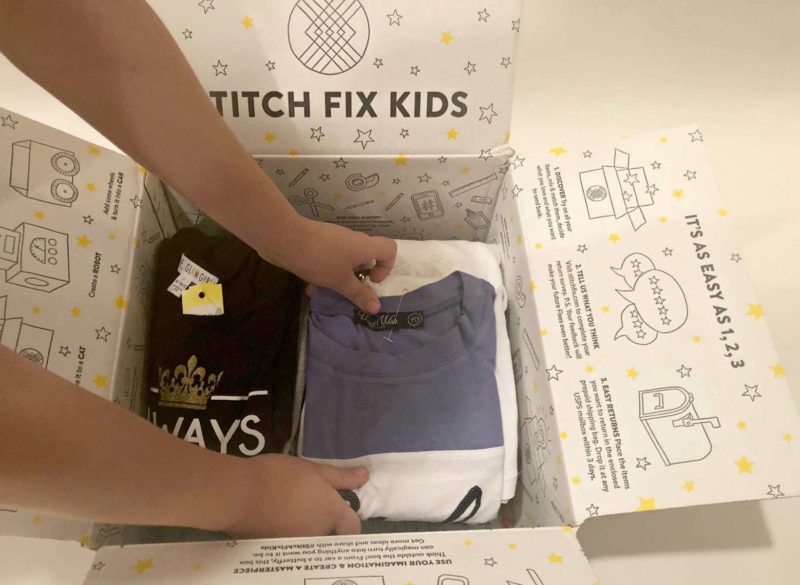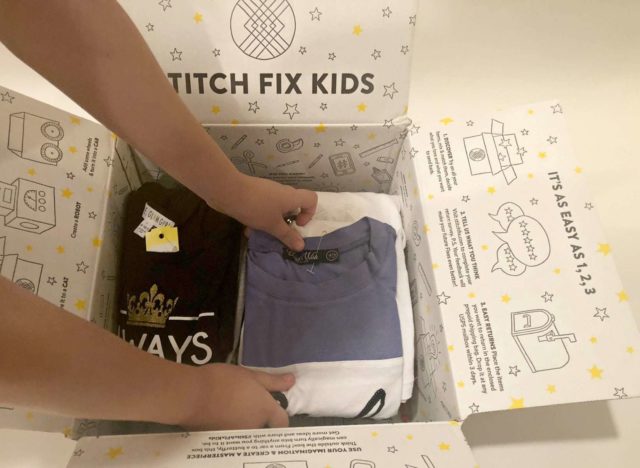 There was a gray knit romper that I thought looked like dreary sleepwear, but she loved the idea… until she tried it on and found it too big and dreary looking. I positively adored the Kate Spade sweatshirt, I thought it was so cute and big enough that it could be worn now and likely through a growth spurt but she said she didn't love it (didn't like the gray color). There was a navy and white striped dress with coral-colored accents that on looked a bit too grown up (it was a maxi dress, my child prefers shorter dresses with shorts or leggings). The t-shirts were all winners, and we ended up keeping three (she didn't love the one that said her heart belonged to pizza). One was a standard fitted t-shirt with an emoji-themed design on the front. Another one was out of a soft modal knit, a swing style with deep slits on the sides so you could tie it to switch up the hem. The third one was a baseball jersey and made of a super silky drapey knit that my daughter positively fell in love with. All three shirts had silkscreening and messages on them. All three have been in the laundry several times, through the dryer and still look fantastic.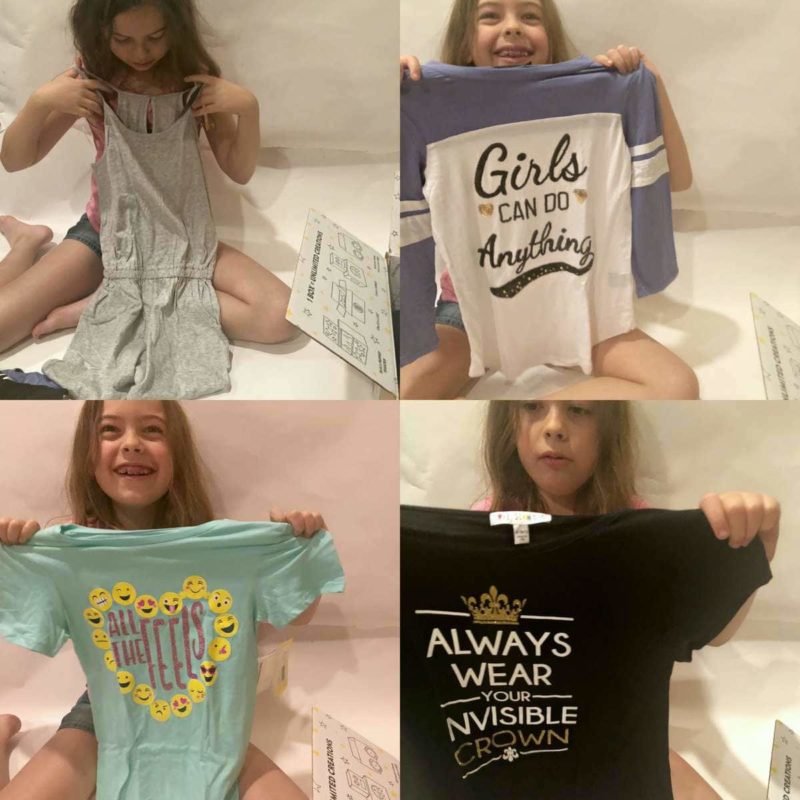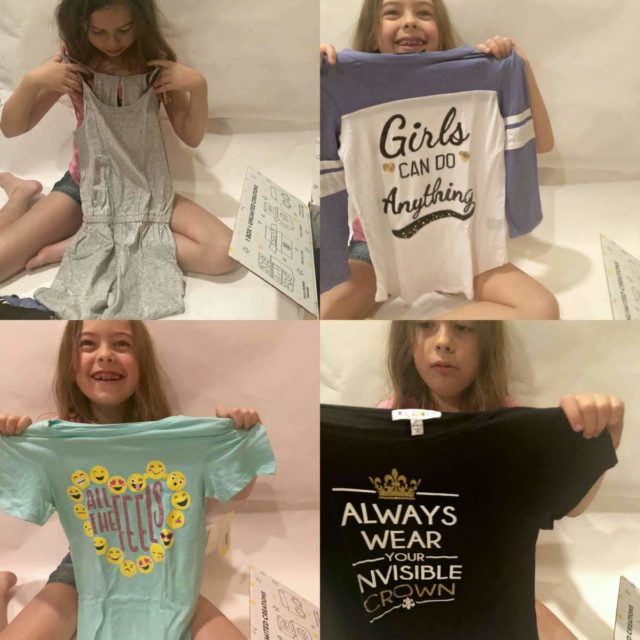 I was surprised by how dark the colors were in this box. Except for the turquoise t-shirt and pale pink jeans, everything was black, white, or gray. My daughter does like wearing black and gray, but also enjoys bright colors. I felt that was easily remedied with some feedback to the stylist. I learned from the experience that my daughter doesn't like wearing clothes that mention or show food on them (I also don't like it, so I was happy for this intel). The romper and the dress were a bit big, but that's common with my daughter's body type. Again, that's something that is useful feedback to the stylist for future Fix boxes.
I was pleasantly surprised by Stitch Fix Kids. I liked how the clothes weren't too girly, the survey wasn't gender specific, the pricepoints matched what I put for my budget (we got $40 shorts because we said $30-$40 for skirts or shorts in the survey, I have since modified it). Emerson loved receiving a box in the mail just for her, and I loved how even if you return everything your kid still gets the personalized experience and some stickers. We decided to wait three months for the next Fix, but scheduled one for October. It's a perfect time to fill in some holes with the dropping temps and enough time to get a gauge of elementary school trends for the year. This would be a super fun gift for a kid in your life, especially if they have a pretty standard sized body.
If you wish to try Stitch Fix for a kid in your life, a man in your life, a woman in your life, or yourself you can use my referral link. The other links in the post are my affiliate links, but this specific link will give you a $25 credit and will give me a $25 credit as well. Once you join Stitch Fix you'll receive your own link to share with friends.
Have you tried Stitch Fix for Kids? What do you think?