This article may contain affiliate links; if you click on a shopping link and make a purchase I may receive a commission. As an Amazon Associate, I earn from qualifying purchases. 
I love your capsule wardrobes- I am trying to construct one for myself right now and I find it challenging. I work in a school with a 'business casual'-type dress expectation, but I teach special education preschoolers. I like to look put-together for work, yet need clothing that will stand up to climbing up slides, being stepped on, avoiding dragging in paint and glue, sitting on the floor and chasing a running child! I am 35, short and curvy. (right, also need tops that aren't too high in the neck, but don't show my whole bra when I bend down!) Any ideas you might have would be so appreciated!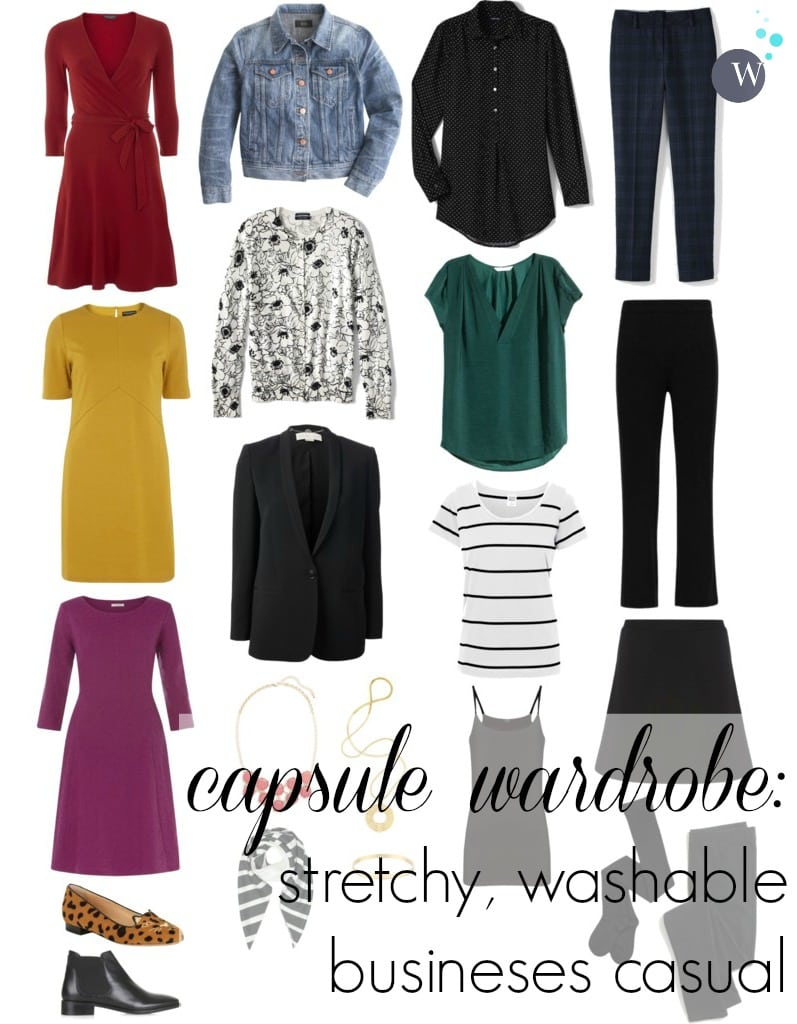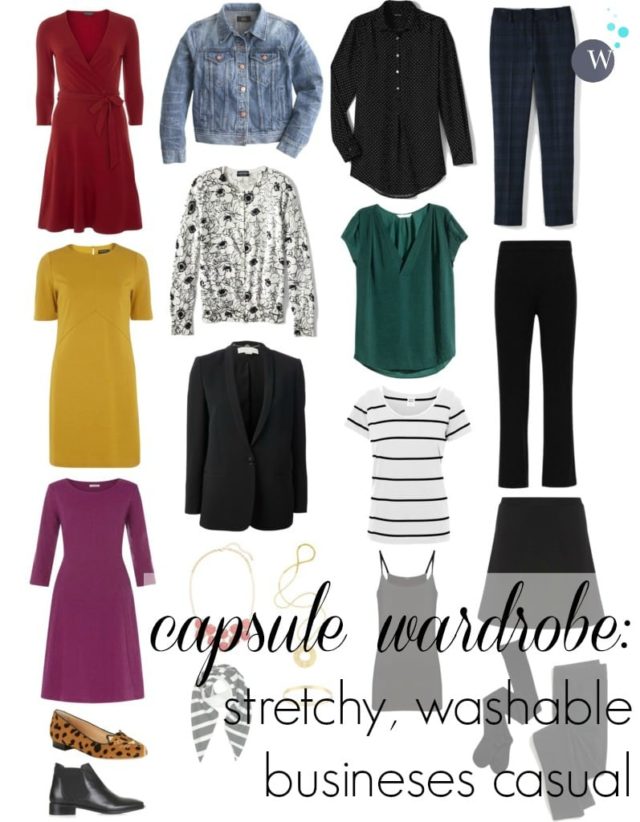 Shop Similar: Wrap Dress | Shift Dress | Fit and Flare Dress | Leopard Flats | Chelsea Boot | Denim Jacket | Cardigan | Boyfriend Blazer | Red Necklace | Gold Pendant | Black and White Scarf | Gold Bracelet | Dotted Popover | V-neck Blouse | Stripe Tee | Camisole | Plaid Pants | Black Pants | Skirt | Tights | Leggings
For this business casual capsule wardrobe, the focus was on machine washable clothes with stretch and give that can take a beating.  Many think of durable business casual clothing as being tee shirt knits and chinos, but fabrics like matte jersey, poly blends that look like silk, and ponte knit can handle multiple washings and many can take a tumble in the dryer without any shrinkage or fading.  This capsule wardrobe is all machine washable items that can mix and match to have a business casual look that has color and interest to appeal to your younger audience.
Shop Machine Washable Dresses:


Often people consider dresses too formal for jobs like yours.  But as I showed in this outfit post, a ponte knit dress can be a great piece to wear for more casual situations.  Pair with super opaque tights (I love these) and Chelsea boots and be able to get down on the floor with the kids or scramble up a playground slide.  In this capsule I shared the three most versatile and flattering styles of dresses available at most any pricepoint: the wrap dress, the tailored shift, and the fit and flare.  If you choose a fabric that doesn't cling and has some body, it will move with you and last the day.  Ponte knit, matte jersey, and most synthetics do great in the washing machine; you'll elongate the life of your garment by letting these dresses line dry.  No need to get super fancy; I hang mine on plastic hangers on my shower curtain bar and find the synthetic knits are usually dry buy the next day.
Shop Machine Washable Cardigans and Jackets:


Layering pieces can take separates and make them cohesive.  Have a variety that goes past the standard hip-length v-neck cardigan so it looks as though your wardrobe is larger.  A denim jacket is on trend and gets better with washings and wear.  Use in place of a cardigan and blazer in business casual settings.  For additional comfort, consider one with a bit of Lycra to move and stretch with you.  Cardigans are a given in most women's wardrobes, but we're usually buying "versatile" versions in black or a neutral.  However, you can see in this capsule wardrobe the versatility of a graphic print.  While it clearly can work with the solid colored dresses and top, don't be afraid of pattern mixing.  Especially in your field, some whimsy and creativity with your wardrobe will be welcomed.  I stuck with black and white prints throughout so they can easily mix with one another – the popover is black with white dots, the stripes in the tee are black, and the silk scarf is also this color combination.  Having two prints in the same color story is an easy way to delve into pattern mixing.  The final topper is a washable boyfriend blazer.  With a relaxed fit, roll up the sleeves and treat it like a cardigan but with a different silhouette and effect.  I was imagining a washable crepe blazer I own, but a ponte boyfriend blazer would also work and create a suit with black ponte pants and skirts.
Shop Machine Washable Tops and Blouses:


The tops are extremely varied in silhouette, but all equally versatile.  The popover is tunic length, working great over leggings and skinny pants (and under the boyfriend blazer or denim jacket), but can be tucked in to the ankle pants, trousers, or skirt.  Even consider adding a hip belt or opening all the buttons and letting a contrast color tank show for two more looks.  The green top is silky, but easy-care polyester (with tops like these if they say hand wash I machine wash on gentle in a lingerie bag and line dry).  The gathers and v-neck flatter the bust without exposing too much, and like the popover this top can be worn untucked (consider a pendant to weigh down the floaty fabric and show your shape) or tucked in (a half tuck is a modern way to wear such tops – tuck in the front but leave the back hanging low).  The tee is a refined knit, a scoop neck to flatter your figure, and a feminine sleeve length.  Finally, the synthetic camisole, which is a must in all busty women's wardrobes.  In fact, I have a synthetic tank AND a slip and I wear one or the other with v-necks, wrap dresses, under sheer tops, and most anything else to provide modesty without bulk.  I like adjustable straps, so I can control the amount of coverage.
Shop Machine Washable Pants and Skirts:


For bottoms, again I chose very different types and silhouettes to have your wardrobe appear large though it's small and encapsulated.  An ankle pant is on trend and easy to find at any pricepoint; while black would be a given in this situation, I decided to add another print, this one more subtle, to add variety and depth to the capsule.  And yes, these are machine washable!  A muted charcoal and blue plaid can work as a neutral; don't be afraid to pair it with other colors.  By adding a topper like the denim jacket, you can even mix any of the printed tops in the capsule with these pants without looking as though you dressed in the dark.  If the idea of plaid pants is too crazy for you, still consider breaking away from black and trying a rich color like eggplant, indigo, olive, or camel.  The black pant is made of ponte knit so you can look refined but feel as though you're wearing yoga pants.  Choose a traditional pant silhouette (straight, full, boot cut) to look professional while you're comfy cozy.  The skirt too is of ponte knit, moving and stretching with you like the dresses.  Finally, a pair of super opaque tights and thick leggings to add warmth and modesty to the capsule wardrobe.
Shop Fun and Funky Flat Shoes:


As for shoes and accessories, you'll want comfort and durability, but also personality.  Teaching preschoolers gives you an opportunity to wear brighter baubles and funky footwear and look completely appropriate.  Not only are the flats leopard print, but they have cat faces on the front (and if you're wondering why I included a warm-based print, leopard is a neutral and this mix keeps your capsule from being too matchy-matchy).  There's nothing wrong in your profession to have fun comfortable shoes; don't worry if they match the look, if they're whimsical they can be a statement piece.  Such shoes do not have to be just flats; brogues, smoking slippers, and ankle boots can also be comfortable and have a lot of personality.  In contrast, the black leather Chelsea boots are a classic neutral shoe that works with skirts and pants and gives you extra support when chasing after a student.  These are the kind of shoes that can handle insoles for extra support (my mom was a teacher, I know the profession is hard on your feet) and can be polished up, reheeled and resoled to be worn year after year.
Shop Scarves and Necklaces with Personality:


I have two lengths of necklaces – a short statement piece and a long pendant.  The short piece can be as whimsical as your shoes; I chose a red enamel version but this is an opportunity to show personality with pieces from your favorite brand, in your favorite color, bought on vacation, Etsy, or a local craft bazaar.  As I mentioned above, a longer pendant can weigh down floaty fabrics to show your figure, and also lengthen the body when wearing solid-colored dresses.  I chose a simple gold one for versatility, but this could also be funky and whimsical, or made of a more durable material in case you worry about it being tugged by the students.  Finally, square silk scarves are back en vogue and they're a great addition to a capsule wardrobe.  They're also far easier to wear than pashminas or infinity scarves if you have a large bust.  There's so many ways to tie a scarf, and a scarf doesn't just have to be at your throat – depending on the size it can be tied at the waist, on the wrist, in your hair, or even on the handle of your handbag.  This is a great video that shows ten ways to tie a larger square scarf; and this video has a few creative ways to wear a smaller square scarf or handkerchief.