This article may contain affiliate links; if you click on a shopping link and make a purchase I may receive a commission. As an Amazon Associate, I earn from qualifying purchases. 
Allie you shared something on Facebook about skinny jeans aren't stylish any more. I just bought three pairs of skinny jeans in brown, jean color, and a tan cord. How can I make them look okay this winter? What tops are best with them, what shoes? I live in Michigan so I need to be warm.
The conversation on that article went deeper into what jeans are coming back en vogue, and how even though they say skinnies are dead they aren't going anywhere. Like boot cut jeans, peasant tops, a-line shift dresses, and tall boots; there's some trends that won't go away even though fashion "experts" say they are dead. They don't ever die because we real women with real bodies find these trends flattering and extremely wearable. It's funny how five years ago many of us refused to adopt the skinny jean trend and now we refuse to let the trend go. But just because one news article says skinnies are passé doesn't mean you need to find a whole new wardrobe. I'm still rocking my skinnies because though I was a late adopter, I now LOVE THEM.  And what matters most when it comes to style is wearing what is true to you, wear what you love!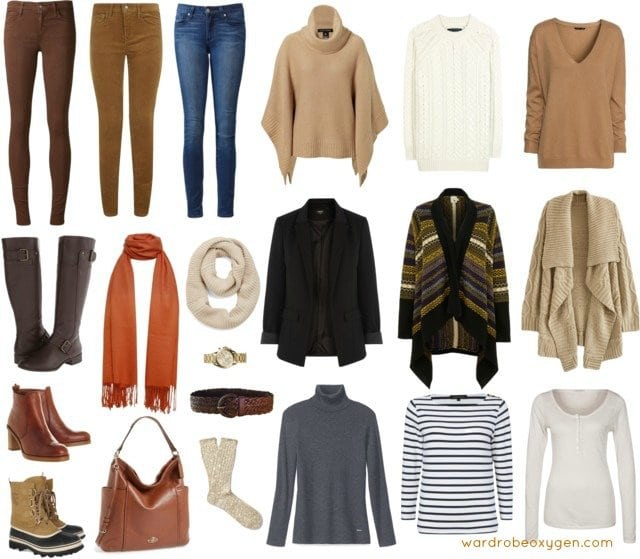 I've found the best way to incorporate a trend, whether hot off the runway or something the New York Times deems dated, is to wear it with similar colors. Create a color story with your wardrobe, mixing varying shades of similar hues or going monochromatic. For this capsule collection based off your skinnies wardrobe, I stuck to a warm palette of neutrals that will look luxe and show the skinnies are a purposeful addition to your closet.
When wearing skinny pants, it's important to balance the figure or you can quickly look like a lollipop. Luckily, this is easy to do when it's cold and you want lots of weight and layers. The first row of tops are the type that can just be thrown on with skinnies and look chic: tunics, slouchy sweaters, ponchos, and chunky knits that balance the frame. The second row is all about the layers; a knit blazer adds polish without sacrificing comfort or warmth, and waterfall cardigans and sweater coats are cozy and on trend while balancing the frame.
Shop the Look:


Speaking of base layers, this year has really embraced layering, and practical layering at that. Turtlenecks are easy to find at all pricepoints, henleys are back in style, and there's nothing wrong with even putting another layer under these pieces. Because I'm Allie, I added a striped knit which adds interest to an outfit of solids, and I also find to be the easiest pattern to mix with other patterns.
As for shoes, I also believe balance is important and I also believe in the importance of function over fashion. I chose three different shoes that will balance the skinny jeans while keeping you warm and dry through the winter. A pair of tall boots are a perfect pairing over skinny jeans. A pair of ankle boots are also a great pairing and this season chunky marled socks have come back in fashion and look great filling the space between cuffed skinny and boot (or over tucked-in skinny for extra cold weather protection). Use a waterproofing spray on your leather shoes and put rolled magazines in them to improve ventilation and help them keep their shape. Finally, if you're in an area that has snow and slush, by all means wear boots appropriate for the weather! A traditional lace-up style of duck boot is back on trend and looks great laced up over skinnies.
Accessories are what pull a look together. Pashminas and infinity scarves are stylish while adding warmth and color to an outfit. A wide leather belt can cinch those sweaters to create a completely different look. Having a quality bag can add a luxe look even to discount mart knits and make the wearing of snow boots quite chic. Choosing one in a color similar to your leather shoes ties an entire ensemble together.