This article may contain affiliate links; if you click on a shopping link and make a purchase I may receive a commission. As an Amazon Associate, I earn from qualifying purchases.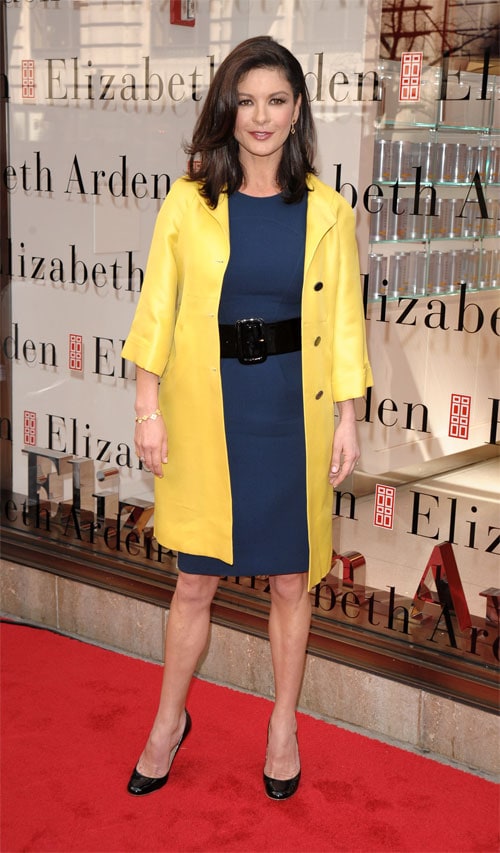 The other day I was heading into the Metro to go to work and I passed the line of boxes offering the free papers for the community. I usually just pick up the Washington Post Express – it's exactly the length to read for my commute (skip the sports unless it's baseball season, read the horoscope as I exit the train and drop it in the recycling bin). However a competitor daily commuter paper caught my eye – Catherine Zeta Jones was on the front and it had an article inside discussing her fashion sense! I snagged it with my usual Express and headed into the station.
This other paper was in the recycling bin before I even caught my train, and it was because of the so-called "article" on how to get Zeta-Jones' look. They showed a photo of her at the opening of the remodeled Red Door Salon on Fifth Avenue in New York City, she was dressed in a lovely belted dress with a yellow coat over it. They then proceeded to show how a commoner like us could "get" her look. Instead of a bracelet-sleeved single-breasted jacket, the magazine showed a short, double-breasted belted trench. Instead of a navy sheath with black belt, they offered a low v-necked black jersey dress. And instead of her classic round-toed pumps, they offered embellished black peeptoe heels.
How the heck was this getting her look? If you put those three items together, you would look like a hot mess, not like Catherine Zeta-Jones.
Very very rarely can one achieve a "look" with cheap options in the same colors. Believing that you can find a celebrity's exact look in your local Wal-Mart or Forever 21 is like believing that a lovely bottle of Bordeaux can be replaced with Boone's Farm.
This isn't to say one can't achieve style like Catherine on any budget. The point is you can't be a mirror image. But then no stylish woman imitates, she only gets inspiration from others.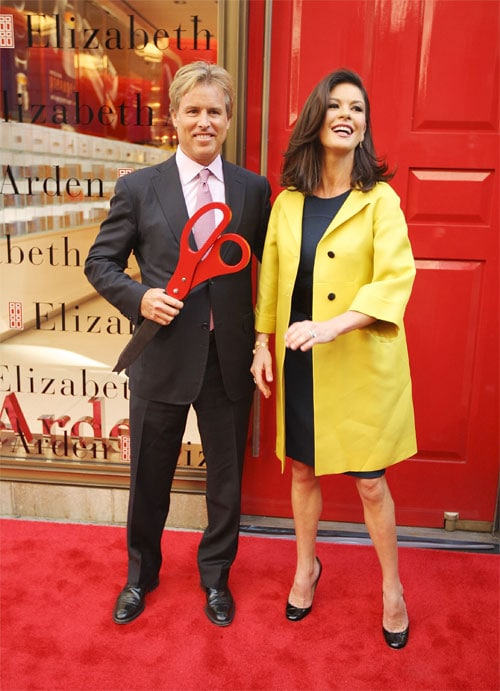 Breaking down this look, it is quite simple to replicate at any budget level. The beauty of the look isn't as much in the color, as the lines.
– The jacket is single-breasted, which is flattering to a curvy body. It ends a hair above the hem of the skirt, which looks polished and well-tailored. The bracelet sleeves are fresh, and the black buttons pull the jacket into the look making it an outfit instead of separates. Yes, the pale yellow makes this look stand out and look very current with the Spring trends, but the same look could be achieved with ivory, pale aqua, a dark celadon, even khaki. It's more about the contrast of light jacket against dark dress.
– The dress is a simple sheath, but is tailored to fit her nicely. She makes it look fresh with the wide belt and the black color. The length is just at the top of the knee, which is flattering to the majority of women. Again this is not as much about the color, as the line of the look. It wouldn't be as "trendy" if it wasn't a navy dress with black belt, but this look could work with browns, with all black, even with gray.
–The pumps are very simple in style to fit the clean lines of the overall look. If they had adornment or an open toe, it would cheapen the look and not have it so cohesive.
–Notice the simplicity of her jewelry (delicate gold earrings and bracelet); they don't compete against the graphic look of the outfit. Same with her hair and makeup – clean, polished, but just accents to the outfit which is center stage.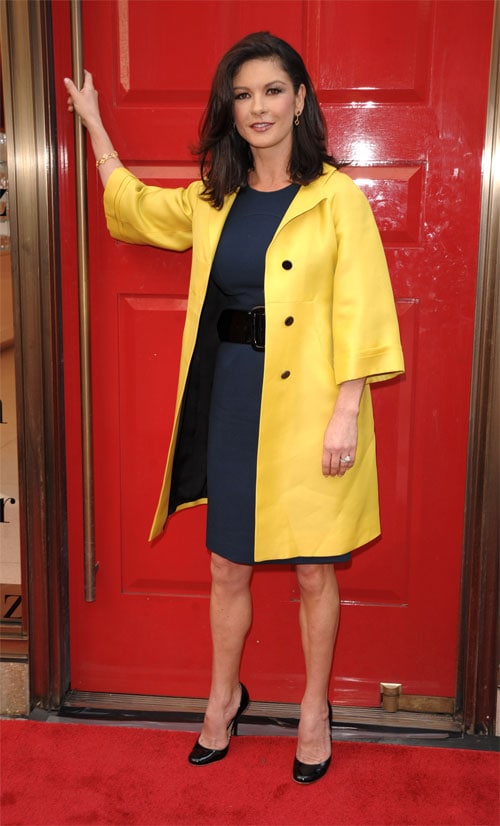 Nine times out of ten, when I see a "Get Her Look" or "Splurge vs. Steal" article, the cheaper versions look like crap. It's frustrating, because you don't have to have a lot of money to have a beautiful look. I wonder if these editors do their work, or just see a pile of crap that has been delivered to their office from various retailers and dig through it in five minutes to find random pieces that could "pass" as equivalents. Are they all so jaded, or disconnected from the real world that they don't realize that utterly fabulous things are to be found outside of the couture store or fancy boutique?
What makes a celebrity look so chic isn't that she is wearing the coolest trends or the color of the season, it is that she is wearing clothing that flatters her body and her personality. Ms. Zeta-Jones looks so fabulous because she (and possibly a stylist) found silhouettes that flatter, a current style that fits her own personal style, and a look that was appropriate for the occasion. A stylish woman never scrambles to mimic a look that she can't afford or wear well. A stylish woman would admire the look, consider her own frame and budget and use this for reference on her next shopping trip. The only look a woman should be trying to get is her own.