This article may contain affiliate links; if you click on a shopping link and make a purchase I may receive a commission. As an Amazon Associate, I earn from qualifying purchases.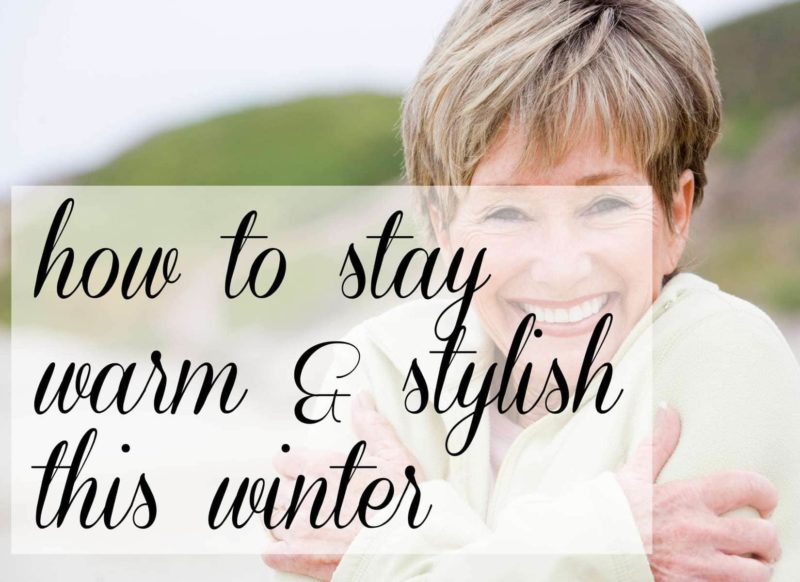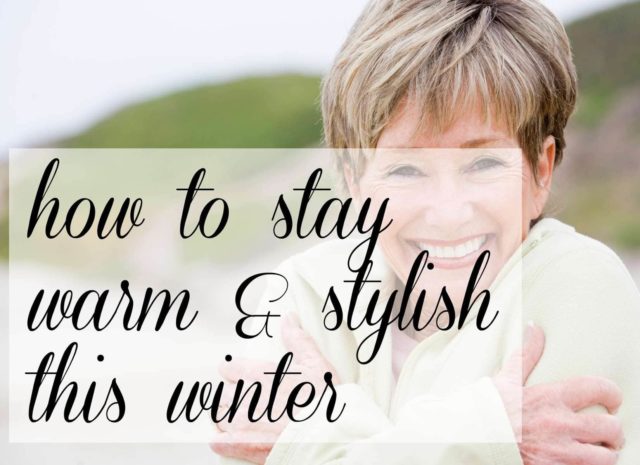 We're starting to feel frigid temps in DC. The Saturday morning before I wrote this, we woke to a winter wonderland of ice-covered trees, glistening frozen grass, and equally icy roads and walks. Many of you have already experienced snow and sub-zero temps. How does one stay warm without sacrificing style? Below my suggestions for what to wear under your outerwear to stay warm but also stay stylish or work-appropriate this winter (see this post from last year for outwear tips for winter).
Have a Warm and Thin Base Layer
I've written about Lands' End's Thermaskin collection many times before and will again because it's so utterly awesome. I wear the leggings under dress trousers to work, jeans on the weekend, and for winter activities they're the base layer under everything else. The camisole is thin and silky and works great under blouses, knits, and sweaters to add warmth to the core without bulk. My husband has the long-sleeved crew and he loves it for winter running and other activities. The pieces are like silk, and many wear them as lightweight yet warm pajamas. Thermaskin goes up to 3X and some pieces come in petite and tall.
UNIQLO has a line called HEATTECH that gets rave reviews from many of you for warmth, comfort, and low price. I haven't tried it yet but now that they have a store in the DC area I plan on checking it out. However, based on their website they only go up to XXL which is a US size 16, and the HEATTECH line online is only up to XL/14.  The HEATTECH line also has socks (one size) and tights (up to 16) that also get rave reviews.
Many of you swear by Cuddl Duds, which is so into layering the brand has the tagline Live in Layers. They have a variety of collections for working out in winter to staying warm under your professional work attire. They go up to a size 2X/24. Through the end of the month they're offering 15% off and free shipping with promo code CD15WINTER.
Silk underwear is also quite popular for layering warmth; LL Bean carries some of their silk collection in plus sizes up to 3X and a few pieces come in petite. Lands' End also has silk, but I find the quality to not be as good as LL Bean and their Thermaskin collection just as warm and not as pricey.  Wintersilks also carries a great range of silk underwear, but their sizing isn't as extensive.
I also love fleece tights this time of year. They look like regular tights, aren't too shiny and super opaque but keep your legs far warmer than traditional hosiery. Unlike cable and thermal tights, fleece tights styled with leather booties of the same color leather can look polished enough for more formal of workplace dress codes.  Fleece tights aren't as stretchy as standard tights; I recommend sizing up and if you're wearing them with boots consider cutting off the feet or buying a footless version so they won't ride down. I recently got a pair of fleece tight from LOFT of all places that are great fitting and warm.  I've also been pleased with fleece tights by Oroblu and Plush.  Lane Bryant has plus size fleece tights up to size E/F; Ashley Stewart also has plus size fleece tights up to 4X in blue as well as black.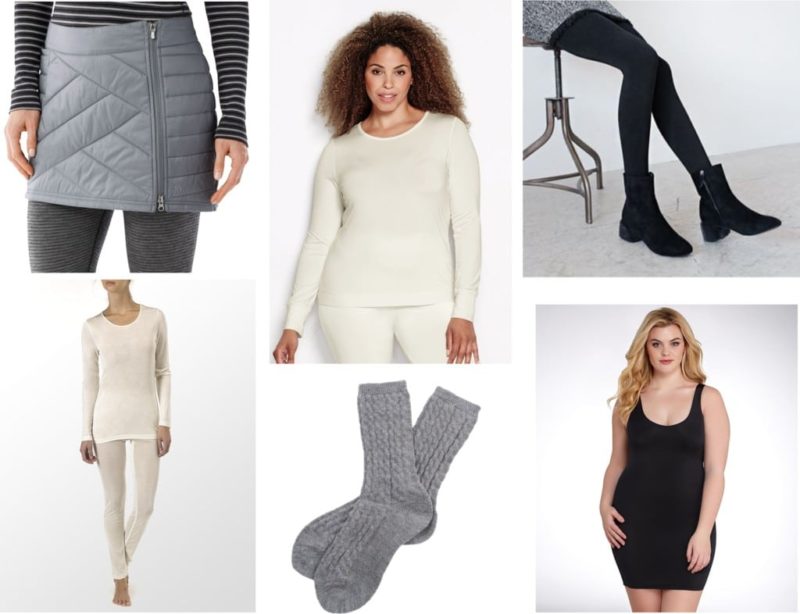 Base Layers for Warmth: Smartwool skirt, Lands' End Thermaskin tee, fleece tights, silk long underwear, merino wool socks, even traditional slips will add warmth and wind protection.
Keep the Feet Warm
Every winter several of you email me asking what hosiery is the best to wear with loafers and ballet flats. Winter comes and you want to keep your ankles warm. Here's the advice you don't want to hear – very little hosiery looks good with such shoes. I think many can work with a fishnet or sheer patterned knee-high but let's be real – a sheer layer of nylon is not going to keep you warm in winter. Once the temps drop I ditch the ankle-baring footwear and almost daily wear an ankle boot.
An ankle boot is a style that works with trousers and jeans of all leg widths as well as skirts and dresses in many styles. With a heel and almond or pointed toe, such a boot can look appropriate in the most conservative office environments. Not only is your entire foot and ankle warm and protected, you can also get away with thick socks that will actually keep you warm.
I love Smartwool socks. They're well made, not too thick, hold up over multiple wears and washes, keep their shape and keep me and my family warm. Wool is great because it wicks away moisture, keeping your feet dry. Their Cable II socks are my winter go-to; they're thin enough to fit under all my ankle and knee-high boots, are neutral so if some peeks out it doesn't look crazy with a suit or work outfit, but they keep me far warmer than cotton or synthetic blend hosiery.  Kirkland also makes great merino socks that are cheaper than Smartwool; if you don't have a Costco nearby you can also get them on Amazon.
I'm also a fan of adding insoles for extra warmth. In my harness and knee-high boots I have these shearling insoles from LL Bean. Not only do they keep my feet far warmer, they also provide cushioning. For more streamlined shoes like my heeled ankle booties, I like wool insoles (I find them cheap on Etsy) and am considering a pair of these insoles from Superfeet (my husband swears by them).
Be Smart with Layering
The thing with the winter is it will be below zero outside, but can be 80 degrees in the office. Layering is key to be comfortable in all the different temperatures, but you need to be smart with it.
Make Sure your Bottom Layer is Attractive on its Own. What's the point of layering if you can't peel off the layers and still look great? I love a lightweight turtleneck or button-front shirt as a base layer because they look chic and professional on their own.
Have your Second to Last Layer be a Shed-free Fabric. There's nothing worse than removing your layers in an overly-heated office and be covered in lint and fuzzies from your sweater. Merino wool is a great option as it doesn't usually shed, is a tight weave that looks refined and professional, and it has a bit of natural stretch.
Consider Investing in a Slip (or two). Modern fashions have shied from slips, but they are still being made and are a great layering piece for winter. I have this full slip in nude and black and one goes under my dress at winter to help stay warm without bulk.  This slip from Unique Vintage is a similar concept in plus sizes up to 4X. This slip from Shadowline gets good reviews and comes in bust sizes for those of us who are well endowed.  They're especially nice when it's windy. I also have half-slips of varying lengths that I'll add under skirts and longer dresses.
Switch from Tights to Leggings. Especially if you're wearing taller ankle or knee-high boots, it's easy to make the switch from traditional tights to leggings and warm socks without sacrificing your style. Faux leather and fleece-lined leggings are great alternatives that add warmth without adding bulk (when researching I found fleece-lined faux leather all in one!). Hue carries a 'Smart Temp' legging that supposedly keeps you warmer and goes up to size 16-18. Add warmth by wearing fleece tights under the leggings!
Don't Go Too Tight. You want a bit of airflow between your layers, it will keep you warmer. A silk or Thermaskin cami or tank with a cotton button-front shirt, then a tailored but not tight merino sweater, then maybe a thicker looser cardigan, sweater coat, or poncho over that will do better than multiple tight layers in being comfortable, warm, and remaining stylish.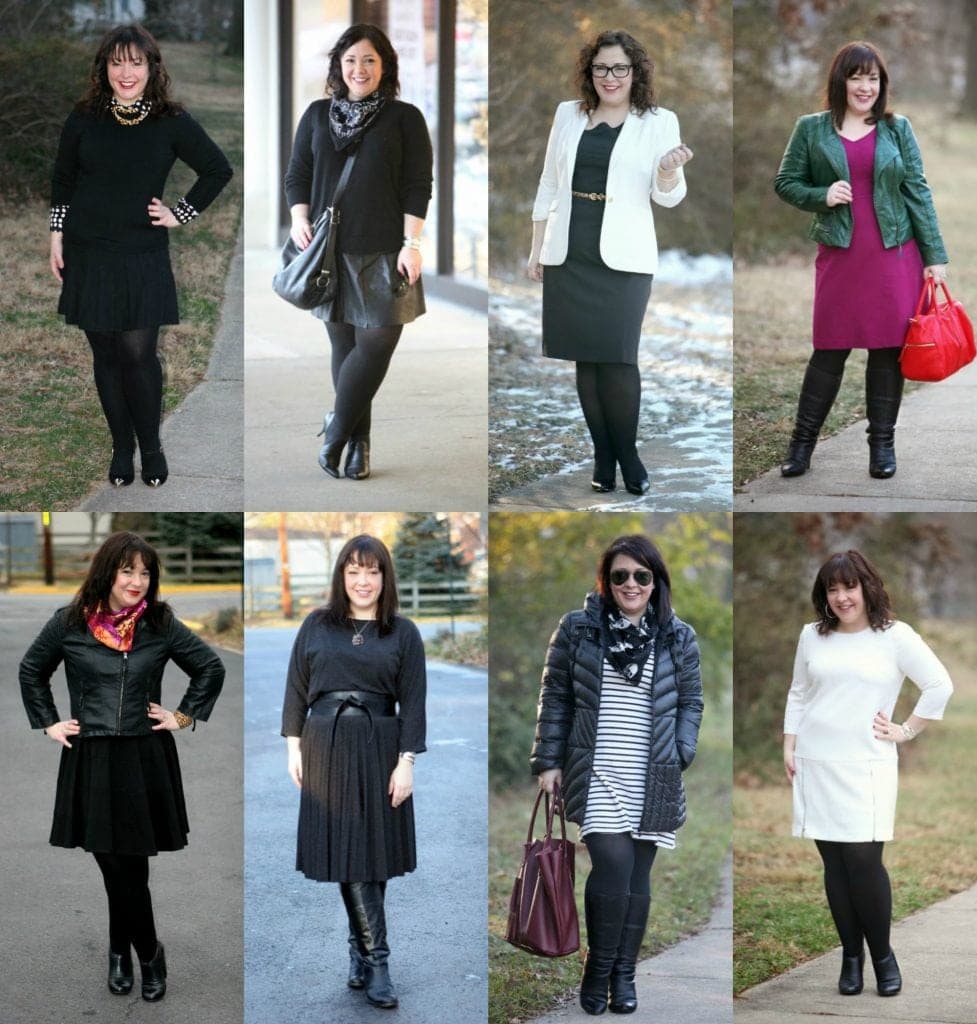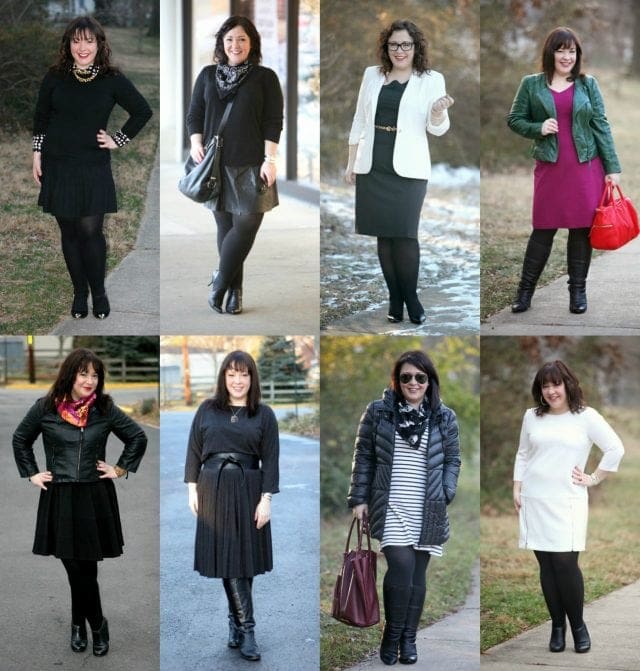 Winter Looks I've Worn on the Blog: Utilizing fleece tights and leggings, knee-high boots, slips and camis under dresses, leather skirts, leather jackets in place of blazers for extra warmth, scarves, and smart layers
Don't Rule Out Skirts
Many think that when it's colder skirts and dresses aren't practical. However, skirts and dresses make it easier to layer and choose wind-repellent and warm fabrics. Leather skirts are a great way to protect against wind while looking chic, and it's easy to layer a slip, leggings, silk underwear, and even woolen shorts underneath. Brands like Smartwool create insulated skirts, and dresses can easily be layered over tunics to keep a larger percentage of your core warm in the winter.
Warmth Over Style
When it's cold, no one expects you to be a runway model. Especially if you live in a part of the world where cold is the norm, you're going to see even the most stylish coworkers tromping through the office in boots and bulky layers. Most workplaces are okay with you taking a break from the heels and hose to prevent you from breaking an ankle on an icy sidewalk or risking frostbite at the bus stop.


Share Your Cold Weather Style Tips!
I learn so much from all of you, as do many other readers. While it's cold here, I know the DC area doesn't get as cold as many other parts of this country and planet. If you have great ideas, brands, and products to keep warm during the winter please share them into the comments. I didn't delve into outerwear in this post, but if you have recommendations or suggestions for coats and cold-weather accessories share those as well!