This article may contain affiliate links; if you click on a shopping link and make a purchase I may receive a commission. As an Amazon Associate, I earn from qualifying purchases. 
Can you do a capsule wardrobe that is full of prints and personality? Capsule wardrobes always are so minimalistic and boring. I want to shrink my wardrobe but I don't want to lose the fun it has.

What does it take to be stylish? I look at street style and blogs like The Sartorialist and it's not the fashion I see on blogs. How do they do it?

Is it possible to be fashionable and not have a giant wardrobe? I want to learn how to purchase less but better things. When is a designer piece an investment or when is it a trend? What parts of a look should you spend money on and when can you buy cheap?
You can have a small wardrobe and still have your closet chock full of personality and style. In fact, a smaller wardrobe helps you really define your personal style and choose wisely to ensure cohesion. Many of those stylish individuals shot by street style photographers have quite small wardrobes but buy statement and quality pieces that pack a punch, get them tailored to fit perfectly, and shop knowing and loving their body and their personality.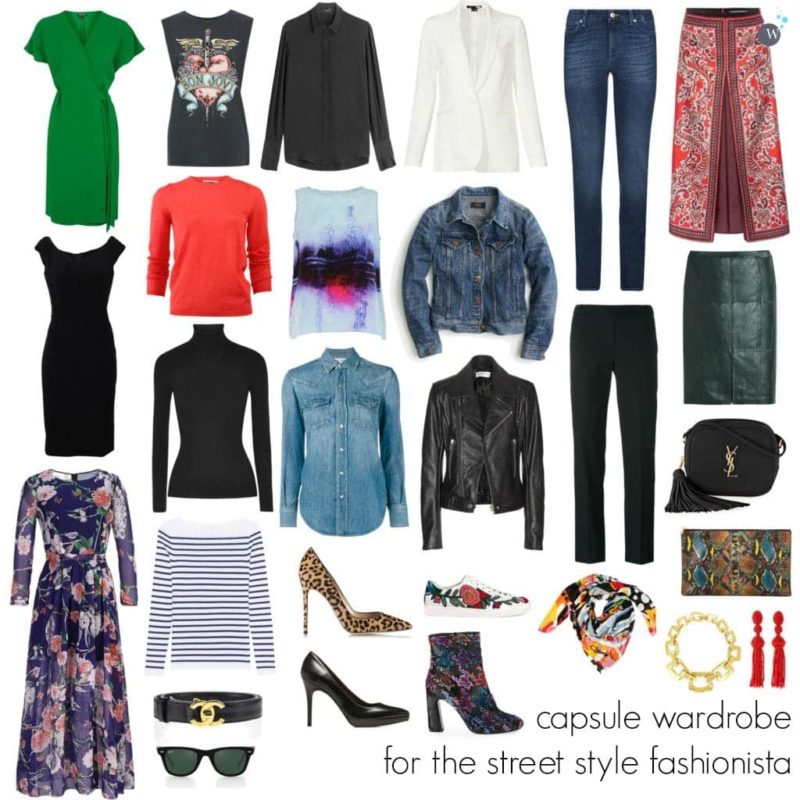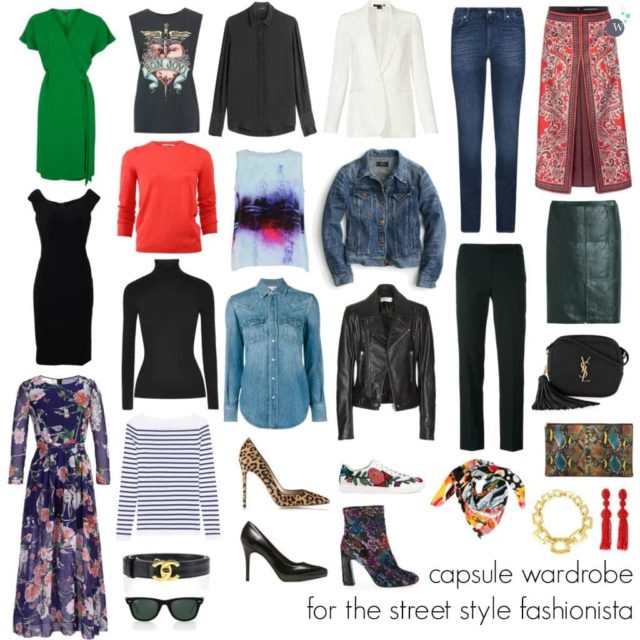 This capsule wardrobe is for inspiration, not imitation. It shows how you can mix budget-friendly classics with vintage, designer, and unique items that show your personality. I call it a street style capsule wardrobe as it creates looks that will stop traffic without being too trendy, too extreme, or requiring too many pieces in your closet. However, this capsule will work beyond the street and into many situations in life.
Shop My Picks for Solid Yet Not Boring Dresses:


The green dress is from the budget-friendly brand Topshop. This brand can often fit weird, but it does a great job of incorporating trends and adding unique details. For the low price you can afford alterations to make it look like a million bucks, and many celebs and street style icons love this brand. I chose it because it's a classic wrap dress with edge thanks to the unusual color and dolman sleeves. How you style it can take it from ho-hum to hum-dinger. Pair with the tassel earrings and gold sandals for a summer dinner, with the leopard pumps and gold necklace for desk to drinks, with the scarf and black pumps for the office.
Shop My Picks for Vintage-Inspired Dresses:


The navy floral dress is a vintage-inspired piece and the kind of dress I could see fashionistas drool over. With good tailoring it won't look mumsy, and in fact with alterations you could go with a cheaper vintage-inspired dress from a lower-end brand and get the same effect.  Again it's all about the styling. Pair with the sneakers and throw the denim jacket over your shoulders like a cape. Style with the sequin boots, deep dark lipcolor and bedhead. Pattern mixing is a way to stand out in a crowd; don't be afraid to wear it with a patterned shoe and/or bag.
Denim is a way to buy low cost but look high end. Levi's are eternally chic yet budget-friendly. If you like crisp and dark, you can find them at many mass retailers; if you desire the distressed look head to Etsy where you can find vintage Levi's jackets, skirts, shorts, and jeans for prices far lower than designer. I find J. Crew does a good job with denim washes that look both expensive and well-loved. Denim can be tailored and it's worth it, whether it's a shirt or a pair of jeans, to have it fit impeccably. This is what usually makes a wardrobe go from fine to fabulous. Denim looks great paired with bold prints and luxe fabrics. Style the denim shirt with the jeans and add the leopard pumps and gold necklace. Wear any of the skirts with the denim shirt or jacket (consider wearing the jacket as a shirt!). Play with the jeans, sometimes wearing straight, sometimes making one large cuff, or a couple smaller ones. Try rolling sleeves, wearing the jacket like a cape, knotting the shirt, popping the collar, and giving the pieces new lives and new silhouettes.
Shop My Picks for Statement Skirts:


There's something so chic about a statement skirt. It's a piece that can become your signature and worn over and over without looking tired. While the red paisley skirt is designer (Alexander McQueen), it's a concept that can be recreated with vintage, a unique boutique purchase, a chance finding in H&M or Zara, or even handmade. The midi length can dress up or down with ease and the simple a-line silhouette transcends trends. Style with the band tee and sneakers, with the black turtleneck and a pair of tall black heeled boots, the black silk blouse and leopard pumps, the denim shirt and a pair of beat up cowboy boots. It could go evening with a silk camisole and heels or weekend with a ribbed tank and gladiator sandals.
Shop My Picks for Leather Jackets and Skirts:


I'm a sucker for leather and by perusing street style blogs or Googling style icons you can see fashionistas are as well. A leather pencil skirt can make a simple white shirt look couture and a black fitted turtleneck sweater with one is a look you could see on Jackie O or Karen O. You can't get more luxe than a silk blouse and leather skirt, and a band tee with leather skirt and statement shoes is a look that has you a fashion badass once the sun goes down. A leather jacket is the perfect completion piece. While it can be outerwear, it's also so great in tempering twee or something too feminine. Imagine it with the floral dress, over a pleated silk maxi skirt, or used as a blazer over the printed shell and black trousers. I have had much luck with leather from the Halogen brand found at Nordstrom, and also find great gently used leather on eBay.
Shop My Picks for Wardrobe Classics:


A stylish woman mixes classics with trendy touches. Some pieces like a Breton tee, black turtleneck, straight jeans, a Western-inspired denim shirt, cashmere crewneck, or black silk shirt rarely go out of style. The mixture of a classic with a classic is always chic, but consider going outside your comfort zone and mixing them with the unexpected. Add the sequin booties to the black turtleneck and leather skirt, wear the Breton tee with a patterned skirt or trousers. Wear jeans with your gems, silk with distressed denim, florals with snakeskin, a ball skirt with a band tee. Stepping outside the box is what takes your style to the next level.
Shop My Picks for White Blazers:


A white blazer is an instant way to look chic. Whether it's worn over a black sheath dress, paired with a band tee and vintage jeans, over a Breton tee or a silk camisole with dark denim, made into a suit with the black trousers or paired with matching pants for a variation on the Le Smoking, you'll find a white blazer can often be more versatile than one in navy or black and it has far more impact.
Buy the best quality you can afford so it can last and will justify alteration costs. Factor in alteration costs when budgeting for a piece so you won't get tailor sticker shock. It's better to spend $100 in alterations on a $150 blazer than buy a $255 blazer and wear it right off the rack. It will look more expensive and you will look more stylish. Check Yelp, ask a bridal salon or men's suiting shop for recommendations on a tailor and test them out with a piece that isn't your ultimate favorite.
Shop My Picks for Statement Shoes:


I feel where one should spend their money is on footwear. While many lower-cost brands sell current trends, they quality is often lacking and you can risk purchasing a cheap replica and no fashionista wears fakes. You don't need a closet overflowing with footwear, just a few key pieces that are versatile yet make a statement. In this capsule wardrobe I have a leopard calfhair pump (leopard is a neutral and the textured finish adds interest to a look), a sleek leather pump with a pointed toe (this is the kind of shoe where quality and details matter; if you can care for shoes well it's a good shoe to invest in), an on-trend flat (right now it's sneakers; this is an embroidered style from Gucci but you can go classic with a pair of Adidas shell tops or Stan Smiths), and an eye-catcher (for these I did sequined booties from Roger Vivier but you could do most any on-trend unique silhouette in a statement color or material).
When it comes to accessories and being a style maven, go classic and quality, or go vintage or handmade. There's nothing less chic than a replica of a designer piece, and sometimes you don't even realize you're buying a cheap copy of the original. If you see your favorite fashion icon wearing an accessory or pair of shoes that calls to you, Google it. A search of "Gigi Hadid Sunglasses" or "Jenna Lyons shoes" will provide you with zillions of photos of the celebrity in the accessory and from there you can find the one you liked and often click on the image and get a website sharing the name and style number.
Vintage designer is a way to have high-end for less. While vintage Chanel will still cost an arm and a leg, you can often find belts, clutches, and brooches at reasonable prices at local consignment and high-end vintage shops, and online at places like The RealReal, Tradesy, and FarFetch have great selection and guarantee authenticity. The addition of a designer belt can completely transform a pair of Levi's and a v-neck tee, and you'll see many fashionistas sporting a vintage designer clutch instead of the most recent It Bag.
The best way to put a personal touch on a wardrobe is shop for it when on your travels. A cuff bracelet picked up on your trip to Vietnam or shoes you bought at a market in Morocco add far more style than buying the most expensive on-trend accessory that season. And how nice when someone compliments you on the piece to be able to have a story to share about it!
Subscribe to fashion magazines and/or visit their websites to get regular inspiration of what is coming down the runways and how editors are styling them. A fashionista doesn't copy, but she is well educated on designers and trends. The more you research, the more you will see patterns in what you like, get ideas for unexpected pairings within your current wardrobe, decide what will complete your closet that season, and figure out how to get the look you desire on your budget.
Don't think because you're a certain age you can only glean inspiration from stylish women from your generation. True style is ageless, and someone 20 years older or younger than you may stimulate your sartorial juices better than your peers. Also step out of your comfort zone and check out the current fashion mavens on the scene. While Audrey, Katharine, Bridgette, Jackie, Jane and Lauren are eternal icons, there's some really chic women right now who are going to be the next generation's icons and can provide a lot of inspiration, or at least food for thought.
Shop the Capsule Wardrobe:


This capsule wardrobe is not cheap; tallying it up it would be around $10,000. That is a LOT of money, but these aren't pieces that are all purchased in one season or one year. Many of these pieces are ones you can buy once and wear for decades. Consider the fashionistas featured on the blog Advanced Style; you know they didn't buy their whole look at once. Over the years they found that perfect hat, the bracelet that looks so perfect with that dress, the sunglasses that complete an ensemble. Style icons don't shop just for the here and now but also for the future. Don't gut your closet and start from scratch, slowly replace items with quality, with style, with fit, with personality. Stay on track, save your pennies, don't be swayed by major markdowns or the look for less. Treat your wardrobe like an art collection and your personal style a work of art. This mentality is what takes one from looking nice to being a fashion icon.
Save