This article may contain affiliate links; if you click on a shopping link and make a purchase I may receive a commission. As an Amazon Associate, I earn from qualifying purchases.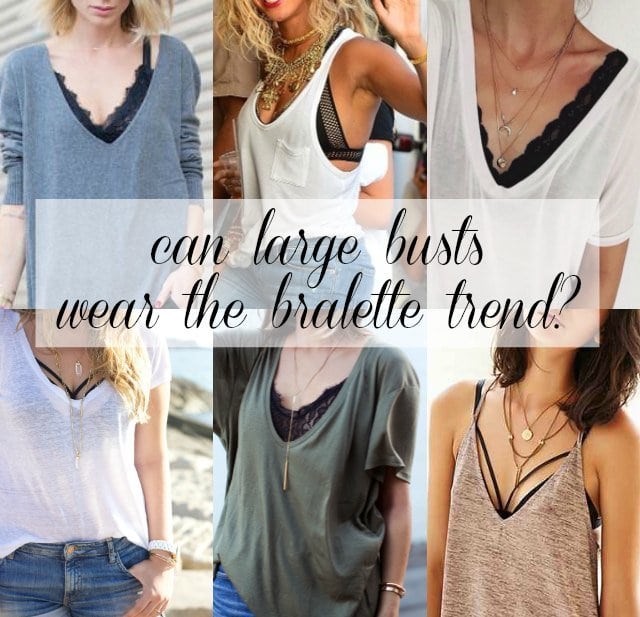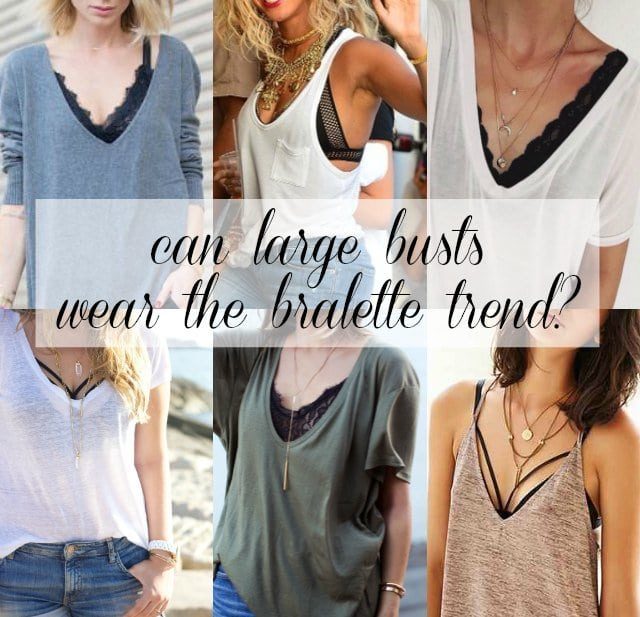 The bralette trend is hot this summer. A little bit of lace or ladder straps peeking out of a tank, from the neck of a deep v-neck tee, or adding flair to a simple camisole is a way to have light support, carry off filmy summer pieces with a bit of coverage, and add interest to your look. But what about us with large breasts? What is available for us who require substantial support and coverage for our larger busts?
I read this article from Refinery29 and with the author being a 38H, I was inspired to try this trend. While I won't be rocking a lace bralette with a string tank any time soon, I liked the idea of one with a slub-knit deep v-neck tee, or paired with some of my sundresses.
I knew I wanted black, and I wanted something that would look less like lingerie and more purposeful when peeking out of an ensemble. Looking at the options in the post, it seemed the ones with the style I preferred were from Torrid. Torrid also has customer reviews which helped narrow down my choices. I decided to try the Crop Lace Bralette and the Strappy Lace Bralette.
This is the kind of bralette I really wanted, I could see it being worn under a dress that was a little too low in the back or under the arm and I felt a bralette would be far prettier than my t-shirt bra peeking out. I liked the lacy v-neck and loved the idea of a hint of it in the v-neck of another top or peeking out from a button-front silk shirt.  Also pretty straps are always a plus in summer. Combining the size chart with the reviews, I decided to go with a 1 (I am a 36 F).
The 1 is a good choice and I think provides more support than if I went with a 2. Though it's lace, it's not itchy. The bralette is semi-sheer; I think it is opaque enough to be worn on its own under a thin or semi-sheer tee or top, but not enough to wear it on its own. It's structured, so it has some built-in breast definition without the wires or padding and it's not super stretchy so it will keep your breasts from sagging down.
That being said, this is not a bralette created for a 41-year-old mom who has breastfed for over two years and has had her share of weight loss and gain over the decades to reduce a lot of firmness and elasticity. I think my pre-baby bust would have been able to carry off this bralette but my current bust feels far sexier in something with more lift and separation. If you have a smaller bust or a firmer bust, this is the way to go.
I pretty much bought this bralette because they were having a BOGO sale. While I love the look of the strappy caged bralettes under tanks and tees, I don't think it's something I'd feel comfortable rocking with my age and shape (that's not to say others could do it quite well). However, with promos I often get daring and I could surprise myself or find the perfect way to make it look right for me.
Problem is, this has even less support and definition than the Crop Lace Bralette. The shape squished both of my breasts to the center and low, making me look as though I had a tumor instead of a bust. Over my thin white Rag & Bone tee, my body looked deformed and less attractive than if I went braless and let them hang low and uneven. The straps were at an odd height on my frame, hardly sticking out of the low neckline and looking like an accident.
That being said, reviews suggest wearing a bra under it and for this trend and bralette it makes sense. When I put my black demi bra under this bralette everything was in the right place, the look was sexy, and with my stretched-out thin white tee over it I felt like a badass rocker chick. If you're plus size or large busted and want to achieve the caged look, this will accomplish it for a reasonable price. I'm just not too keen on having to wear three layers and sweat my ass off (I get hot easily) try to try look effortlessly cool.
Final Result
Summer is almost over and I have done it sans-bralette. Do not think that just because you have a large bust or you are plus size you can't do this trend; brands like Torrid have really good options for the curvy figure. Be sure to measure yourself and if in doubt, size down for a bit more support. However, brands like Torrid cater to a younger audience and a younger audience is usually firmer, no matter their size. If you appreciate what a three- or four-hook bra can do for your bustline, the bralette trend is likely one you, like me, should pass on. But thank you to brands like Torrid who make trends accessible to a greater range of bodies and kudos to Refinery29 for showing larger and more curvy bodies rocking these trends!