This article may contain affiliate links; if you click on a shopping link and make a purchase I may receive a commission. As an Amazon Associate, I earn from qualifying purchases.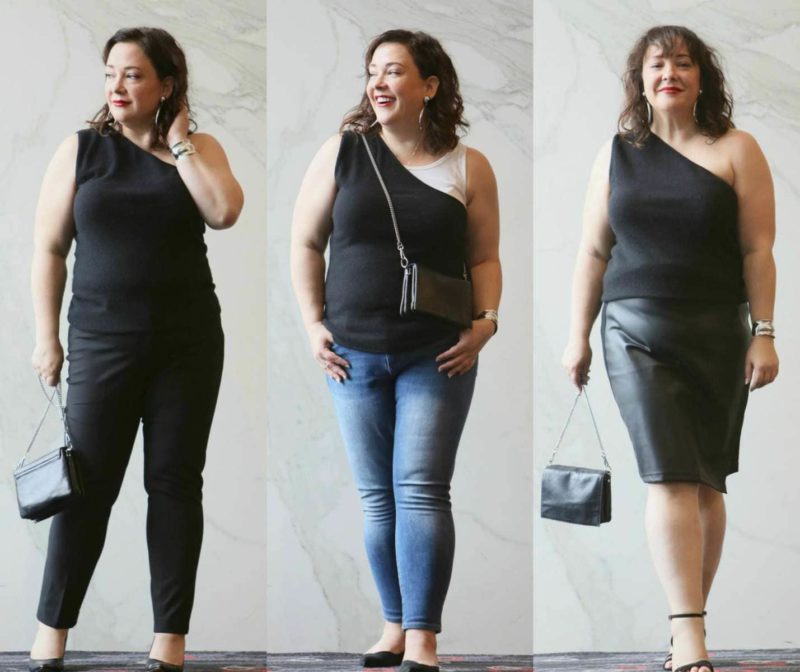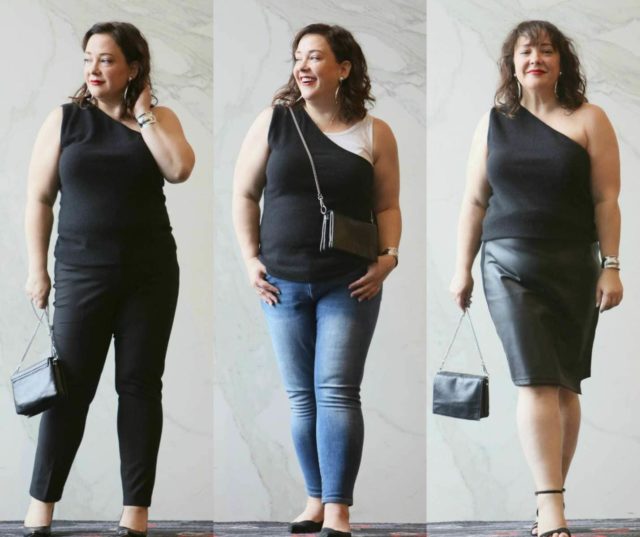 Capsule wardrobes are often associated with minimalism, but that doesn't mean the pieces within the capsule need to have minimal style. In fact, when your capsule wardrobe has unique details and accent pieces, it not only is more fun to wear, but more stylish and versatile. In the real life capsule wardrobe I featured yesterday, the primary accent piece was the one-shouldered cashmere sweater from Universal Standard.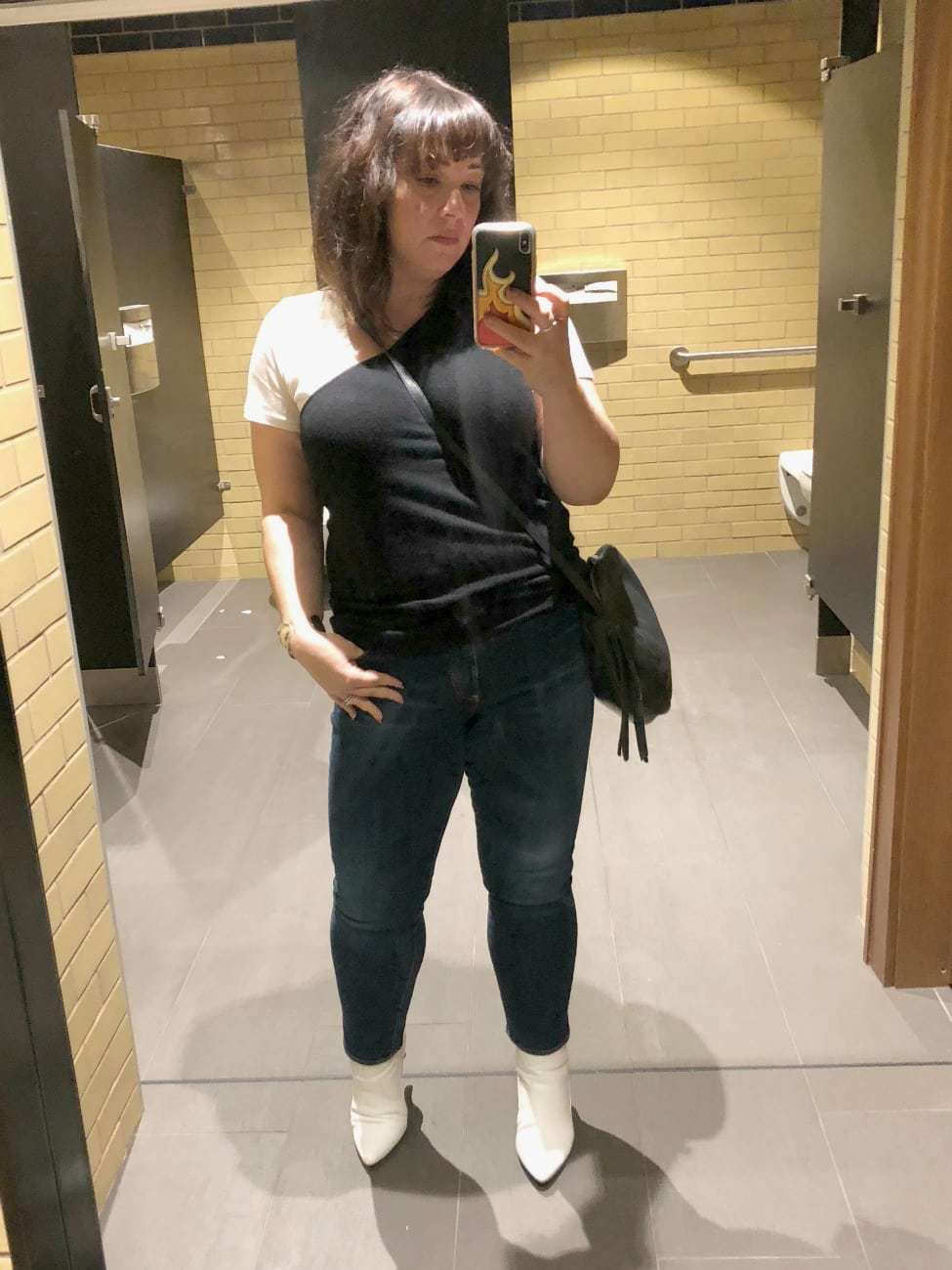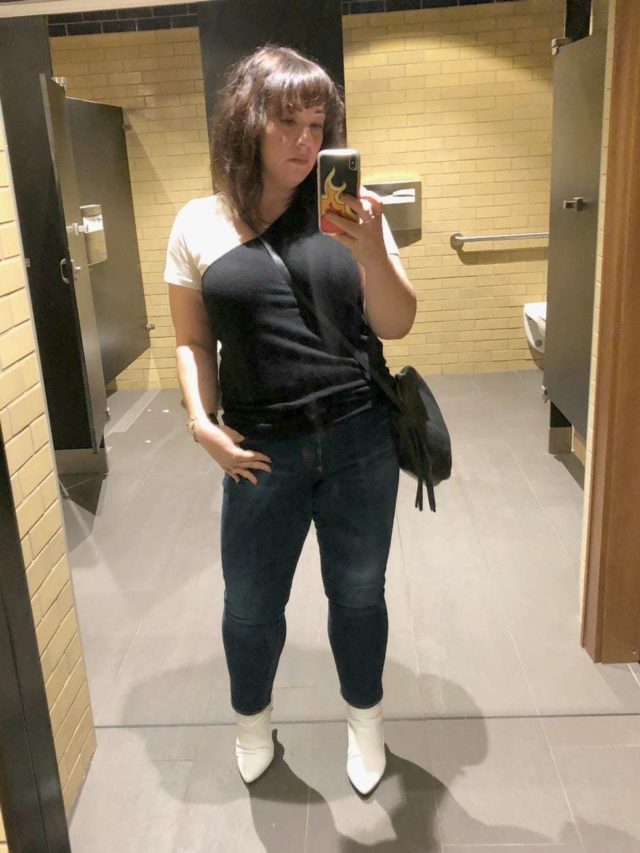 black sweater | white t-shirt | jeans | ankle boots | bag
I love off the shoulder and one-shoulder looks. It's a way to look sexy and on trend without showing too much skin or having to work too hard to make an outfit interesting. I was inspired by how Universal Standard showed this sweater over other pieces and tried it myself. I wore it to brunch with friends over a fitted white v-neck and white ankle booties and my Hobo circle crossbody bag.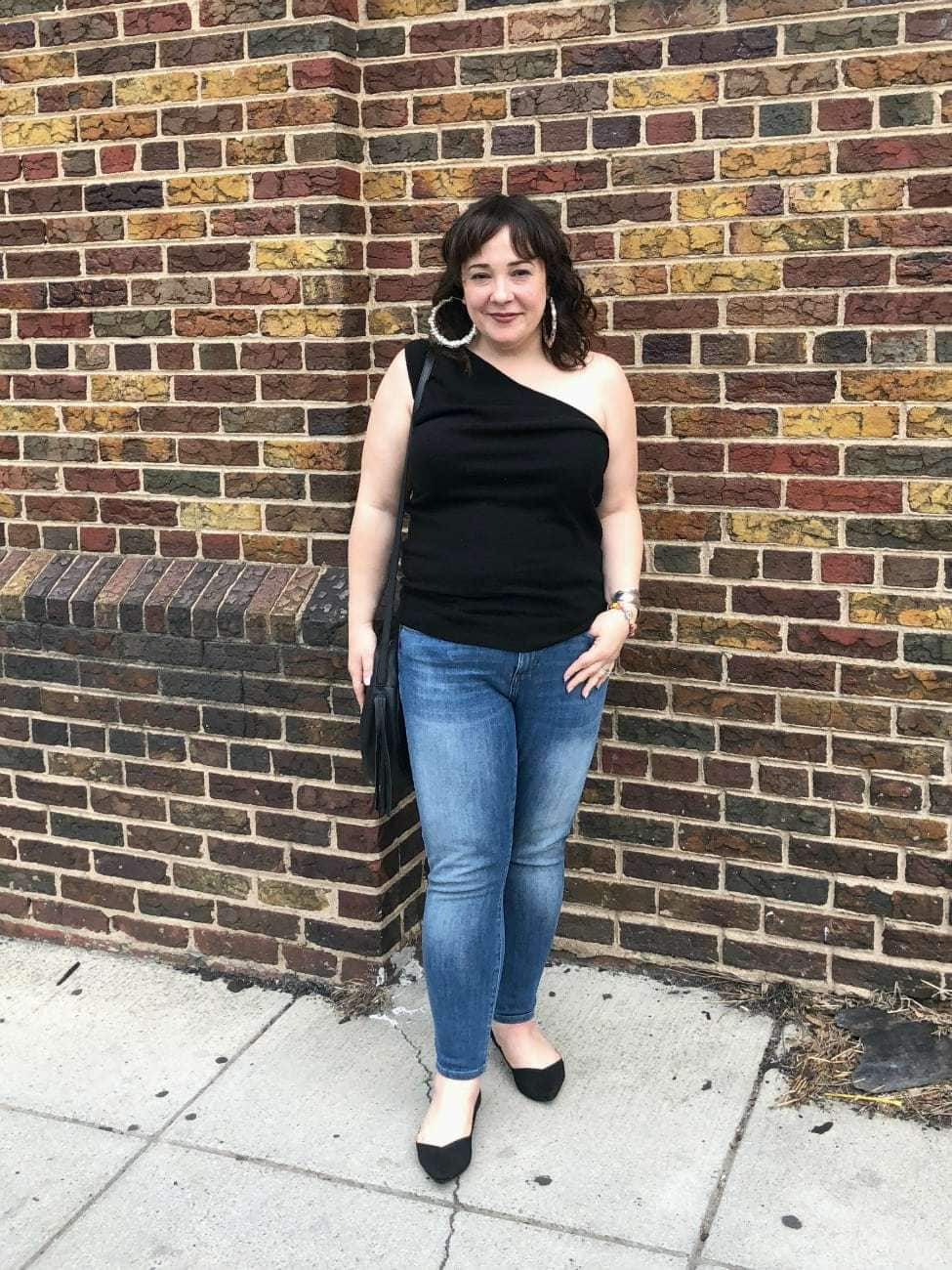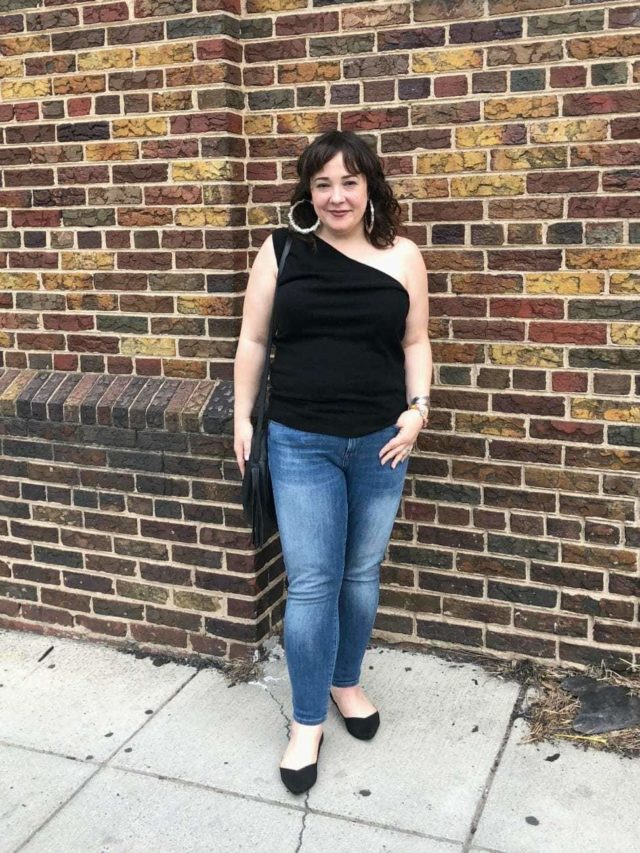 black sweater | jeans | flats | earrings | bag
For dinner and a concert, I wore the sweater with jeans and flats. More festive than a traditional knit top, but just as comfortable. A pair of statement earrings and a crossbody to carry everything while still being able to hold a drink and dance and flat shoes so I am stable and comfy standing all night.
For the real-life capsule wardrobe I styled the sweater in three additional ways to show how versatile it can be.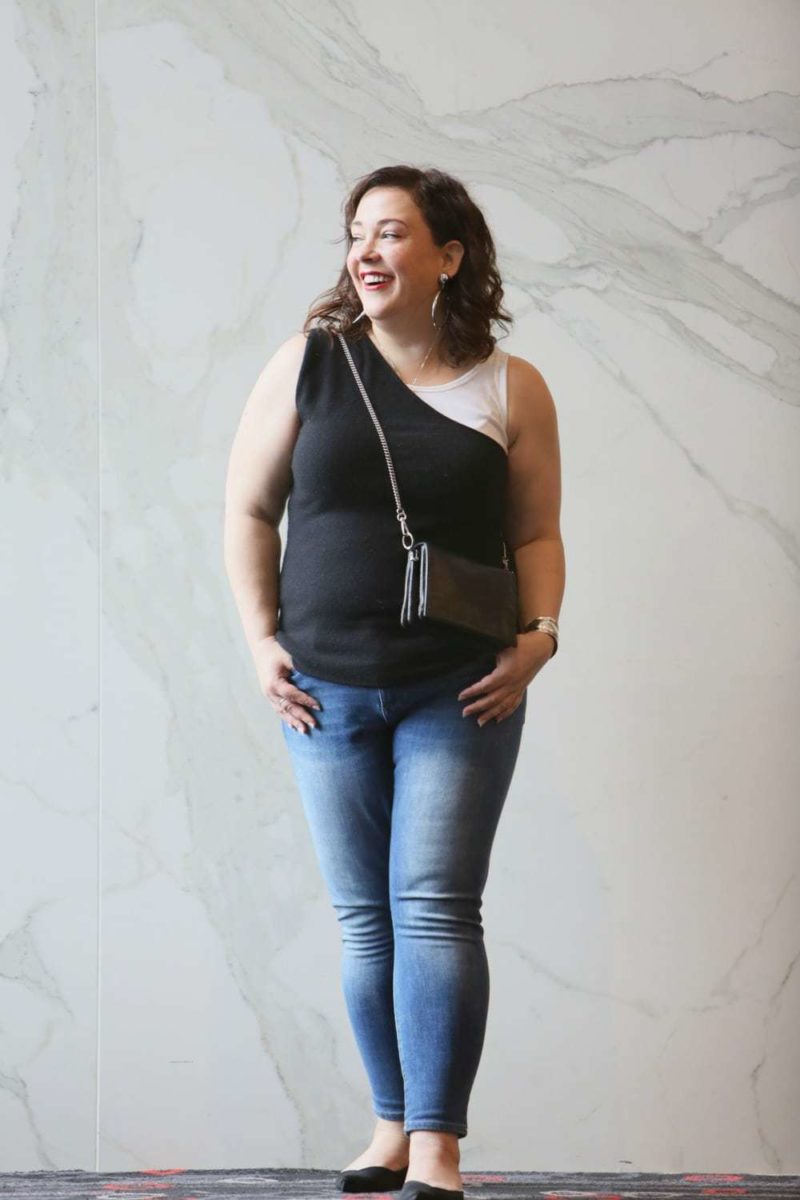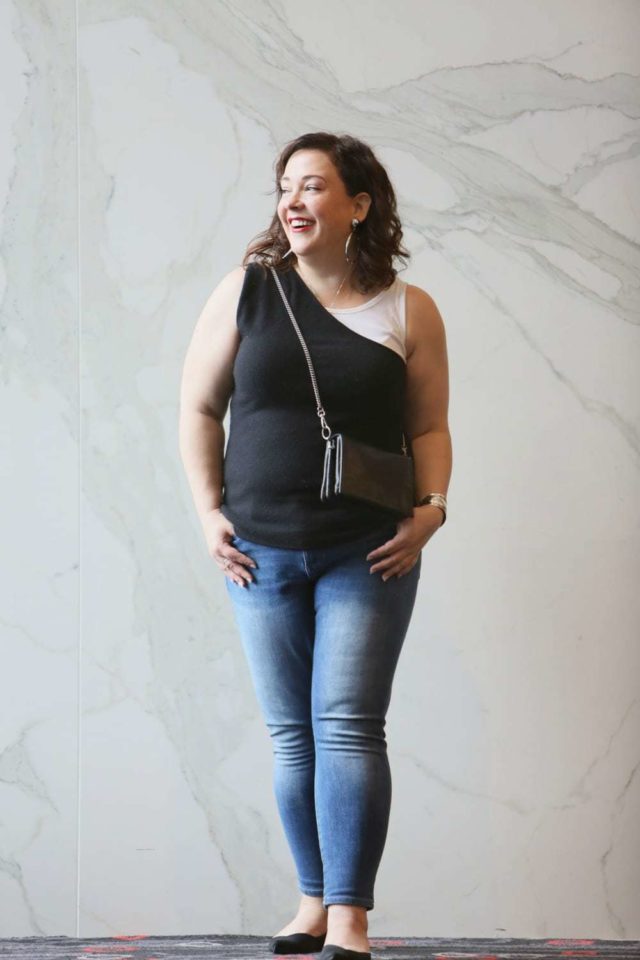 black sweater | tank | jeans | flats | bag | earrings
This is the same look I'm wearing above and wore to a concert, but I added a tank underneath for a bit more coverage. I bought this bag from ALLSAINTS earlier this year. I like that it's compact, but still big enough to carry everything I need for as night out. It comes with two straps, the chain one and a wide leather one. I've never used the leather one as it seems way too stiff, long, and wide for such a small bag. But with the chain strap, I use this bag all the time (you all know, you see it in so many outfit posts!). I wear it as a crossbody for concerts and events where I want my bag safe and my hands free, on the shoulder for everyday, and I've even wrapped the strap around my waist and have worn it like a belt bag.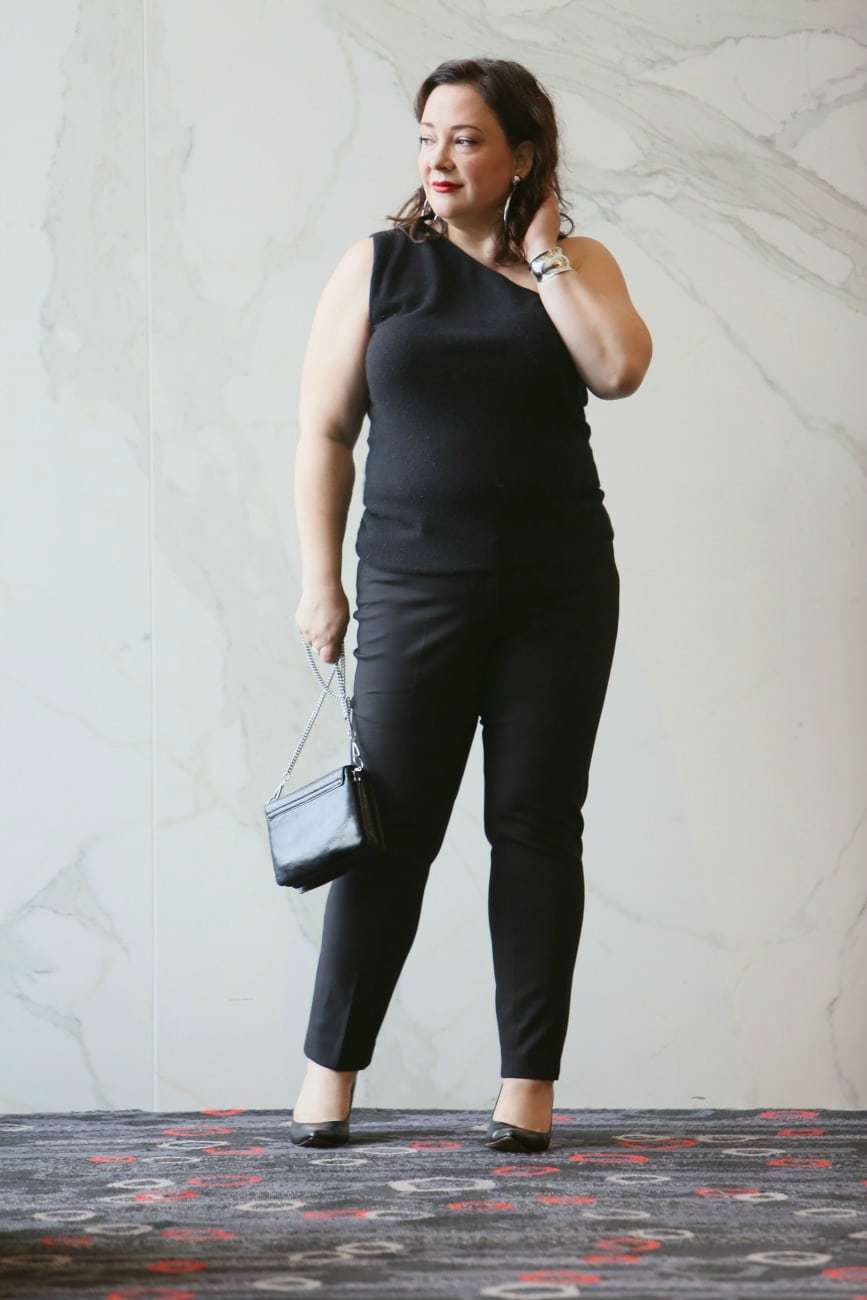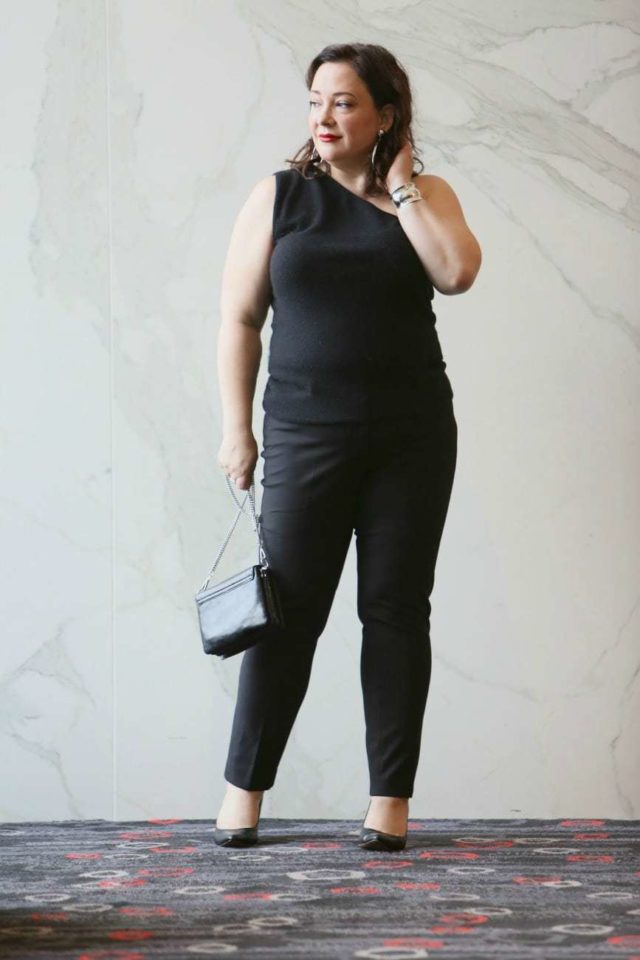 black sweater | pants | pumps | bag | earrings
You know when you get invited to one of those events where you have no idea what to wear? Some people may be in dresses, some in jeans. My go-to is a pair of black trousers in a seasonless fabric like these from WHBM, and an interesting top like this one. If you think people may be dressed up more, add heels, a bold lip, and a smaller purse. More casual? Wear flats and a more casual bag. Up the glam factor with statement shoes, sparkly jewelry, a beaded clutch. This would be great for a gallery opening, bachelorette party, date night, a rehearsal dinner, a friend's birthday at a restaurant, and other events of similar festiveness and formality.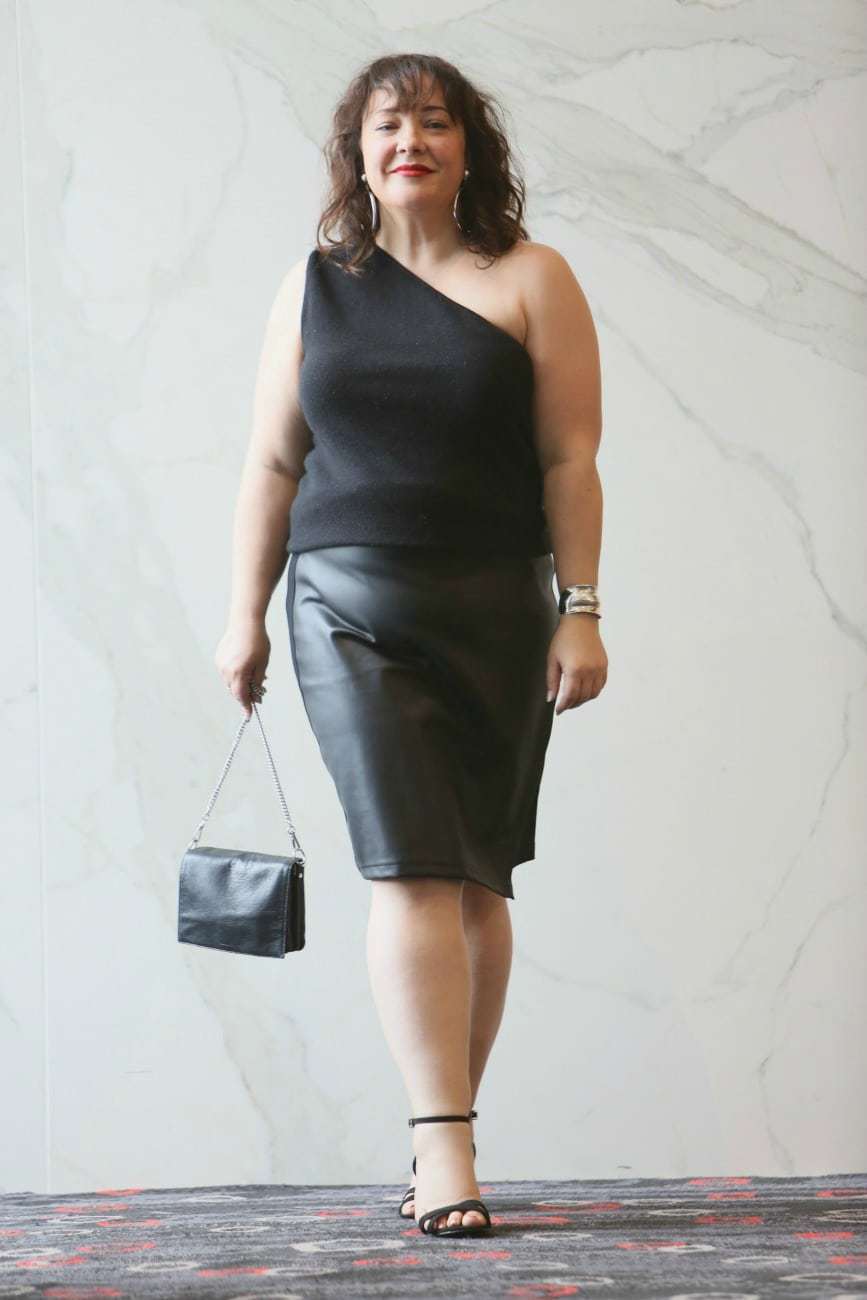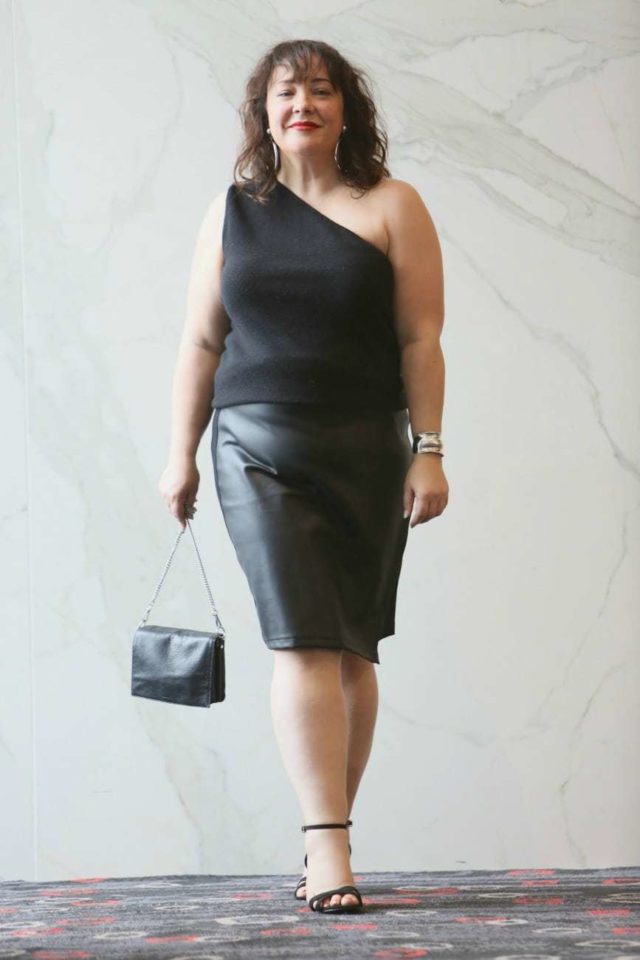 black sweater | skirt | heels | earrings | bag
The sweater also works well with a skirt. Here, I paired it with the Mosman skirt from Universal Standard. Leatherette on the front and knit on the back, this skirt is super comfy but looks glam with a touch of rocker chic. With the one-shoulder sweater and strappy heels, this could be worn to a cocktail party. Like the above look, it can easily be glammed up further with sparkly jewelry and a dressier bag. If unsure of the event, add a blazer over the look which could be taken off when you arrive at your destination.
And for those who are wondering, yes strapless bras exist that support and aren't painful. I have this bra, I was professionally fitted and I can wear this one for a good six hours before wanting to yank it off. You can read about my favorite underpinnings in this blog post where I delve more into why I like this strapless bra.
When building a capsule wardrobe, or just trying to have a cohesive closet, don't be afraid to add an accent piece. This can be the thing that incorporates a current trend, the color of the season, or a fun element like a unique neckline or embellishment. However, just with every other piece in your wardrobe, don't buy it unless you can envision it being worn in at least three different ways.
The white t-shirt was a gift from Amazon. The Universal Standard skirt and tank were gifts from the brand. The pants were a gift from White House Black Market. All items however are featured because I truly like them and wear them.