This article may contain affiliate links; if you click on a shopping link and make a purchase I may receive a commission. As an Amazon Associate, I earn from qualifying purchases.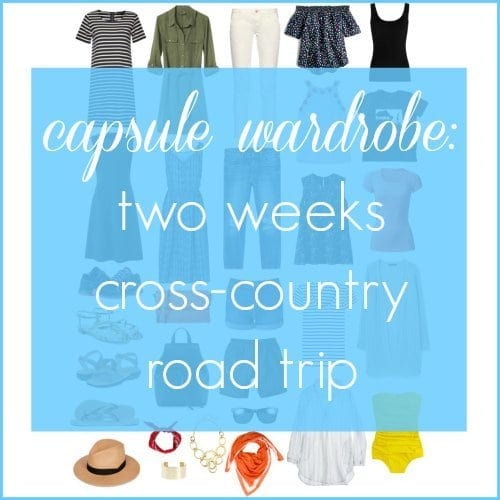 I spent two weeks away from home this July, on the road sleeping in hotels. Most places we only stayed one night and often didn't have the time to babysit our clothes at a laundromat. We only did proper laundry once on Day 7 yet I, a fashion lover, not only survived with a carry-on bag's worth of clothes, I came home with many of the clothes never worn.
We traveled from DC by car, spending 14 nights in hotels from Ohio to Colorado, New Mexico to Tennessee. We stayed in posh hotels and decades-old Route 66 motels, we dined at greasy spoons and Zagat-rated restaurants, we saw landmarks and museums, went hiking, swimming, and spent a lot of time sitting in a car. This capsule wardrobe is a combination of what I brought and loved and what I wished I had brought for two weeks of whatever comes your way on a summer cross country road trip.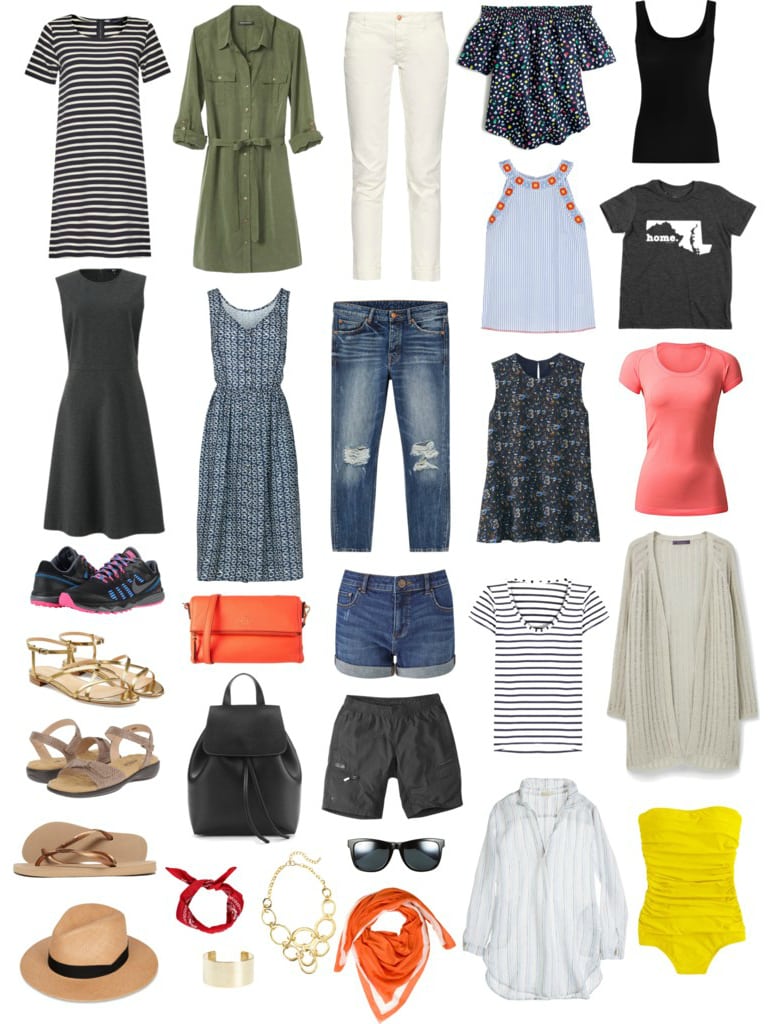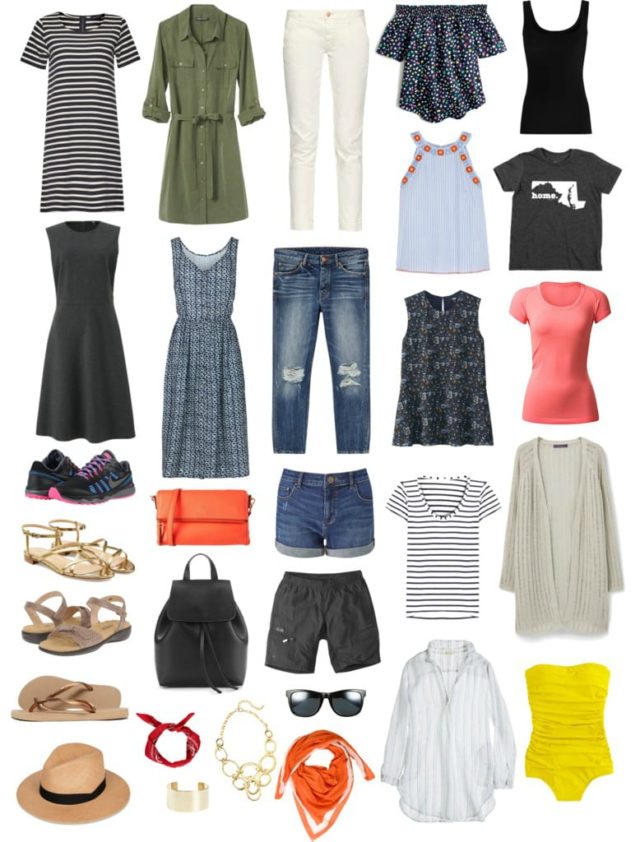 Shop Similar:
tee shirt dress | ponte dress | safari or shirt dress  of cotton, linen, or chambray | cotton or linen sundress | white jeans | girlfriend jeans | denim or chino shorts with stretch | athletic shorts with pockets | printed off the shoulder top | loose cotton tank or shell | crepe printed shell | striped or printed tee with flattering neckline | linen tunic | knit tank | home pride tee | athletic or moisture-wicking top | linen drapey cardigan | flattering yet not too skimpy bathing suit | trail running sneakers | metallic flat sandals | super comfy walking sandals in a neutral color | simple flip-flops | straw hat (not pictured: cotton baseball cap) | small crossbody bag with detachable straps | convertible bag or dressy backpack | bandana | statement necklace in same metallic as sandals | statement bracelet in same metallic | polarized sunglasses | lightweight oversized scarf or pareo | not pictured: five pairs of comfortable underwear, two pairs of chafe-preventing shorts, one sports bra, one strapless bra, one black bra, two nude bras, five pairs of no-see wool socks, pair of lightweight pajamas
Please note I cannot guarantee these items will remain in stock, especially as the summer season is coming to a close.  Use this as a guide towards packing for a similar trip.  The method to my madness, why I chose the things I did:
Gym: Even if you're not a gym rat, you will want to be after spending the entire day in a car getting to your destination.  At each stop, stretch.  Before you sleep, stretch.  When you wake, stretch and/or do yoga.  But also move.  Get on the hotel treadmill or elliptical, and bring some clothes that not only work well for this but also dry quickly so you can wash them in the hotel sink after getting them all sweaty.  Be sure these clothes are ones that can leave a gym – have the shorts with pockets and a good fit for outdoor activities as well, and a top that you feel cute in when you're climbing and hiking and biking and taking pics along the way.
Sun: Whether you're hiking in Palo Duro canyon or walking the Mall in Washington, DC there's going to be sun.  A cross-country trip is not the time to get a tan, the sun will wear you out, dehydrate you, and possibly put you out of commission for future excursions.  Take SPF, reapply it often, have a little tube in your bag for touch-ups, but also dress for sun.  A (packable if possible) straw hat for sightseeing and not pictured, a cotton baseball or bucket style hat for more rugged excursions.  Have things like a large cotton scarf or pareo or oversized linen tunic that can get crumpled at the bottom of your bag and come out to offer some coverage without weight.  I loved having a bandana for style but to also mop my brow. Wear clothes and shoes that will still be comfortable when you're drenched with sweat – cotton, linen, chambray, broken-in shoes, sock liners, shorts long enough and items under dresses to prevent chub rub.  Also sunglasses; I learned on my trip that quality trumps style.  Look for UV protection but also polarized lenses that will offer a better view, crispness and clarity even in haze, fog, and rain.
Cool Nights: It may be 104 degrees at noon in Arizona, but it can go down to 60 when the sun sets.  A lightweight cardigan is enough to ward off chill so you can comfortably watch the sun set or chat until midnight around a fire pit.
Nice Dinners and Entertainment: One can only last on sandwiches so long.  We found the way to keep our sanity and pace was every so often step it up when it came to dining.  No need for sequins and heels, a few versatile pieces can go a long way.  I took these flat metallic sandals; they took up little room in my bag and dressed up anything I wore.  White jeans are a great addition; many may not consider them because they can stain so quickly, but I only wore them for two dinner, spot cleaned when I did spill, and they really made me look more pulled together.  A ponte fit and flare dress is great because it won't wrinkle and it can dress up with nice shoes and jewelry or be a sight-seeing look with sandals.  Add some statement piece of jewelry for instant glamour; a necklace and bracelet in the same metallic finish as your sandals will make even denim shorts look chic.
State (or Country!) Pride: The HomeT was kind enough to send the three of us their Maryland shirts for our trip.  We wore them in two different cities and they were quite a conversation starter.  It helped us meet fellow Marylanders, have locals desire to help us, and we heard great stories about long car rides from other travelers.  Don't be afraid to not look like a local, usually as soon as you open your mouth (or they see your license plate) they know.  If you're proud of where you live, show it!  And consider The HomeT, their shirts are made in the USA and a portion of the proceeds go to MS research.
Sweat and Stains: Sweat, wrinkles, stains, and just being worn multiple times and constantly shoved in a bag took its toll on my wardrobe.  The pieces that lasted – looked good and I didn't hate wearing again were patterned, and usually NOT jersey.  All those linen tees I reviewed from LOFT?  I took two and never wore either of them.  My white Boden linen tee?  It lasted an afternoon and then was disgusting.  I found my 100% cotton, linen, and even synthetics like viscose that weren't fitted to be the most worn and the most enjoyed.
Variety: My dear, you're going to be sick and tired of khaki shorts and tee shirts after three days.  And why should you resort to such style?  I packed a crepe-finish shell, three off the shoulder tops, a top with straps a hair wider than my bra that was textured and swung out from the neck, and would have loved if I had as many dresses in such variety as I have above.
Versatility: My white linen tunic shirt was my beach coverup, my bathrobe, and looked pretty cute tied at the waist with my girlfriend jeans.  The black tank worked with the athletic shorts and sneakers for a hike, but after being washed it also looked great with gold jewelry and white jeans for a night out, and under the button-front shirt to give it a different look.  The athletic shorts went to the gym, on hikes, but also were worn with a striped tee and scarf for one of the days in the car because they were comfortable and didn't look too rugged.  Even my bags were versatile: I took a small leather crossbody from Talbots that when the strap was removed turned into a clutch; my bag from Rough & Tumble could go from shoulder bag to crossbody to backpack.  Not everything needs multiple lives, but a few can help your wardrobe go further.
Lots of Sitting: Many of you have mentioned you road trip in leggings, maxi dresses, even pajamas.  I treat road travel the same as airline travel: with respect.  You stop at restaurants, you check into hotels, you visit friends and relatives.  On a normal day would you do that in pajamas?  It's possible to be comfortable and not look like a hot mess once you reach your destination.  I too thought maxi dresses were a great idea… until I wore one to a nasty truck stop in BFE in the pouring rain.  I wore my tee shirt dress almost every drive because it was comfortable, but looked more pulled together and even wore my "nice" ponte dress a couple shorter drives because I knew it wouldn't get ruined.
Different Cultures and Lifestyles: Keep your clothes pretty neutral.  While I may be one for really flashy fashion and am not afraid of rocking a fatkini, it didn't seem to be the place on a road trip.  The trip wasn't about people seeing me, but me seeing the sights.  I kept a pretty simple color palette, brought a one-piece (though this strapless one), chose subtle looks for evenings out, and stuck to a very simple makeup look.  This is personal preference, you do you, but I find when traveling I have the best experiences when I'm dressing to be appropriate, not to be in the spotlight.
Fun Before Fashion: I wore a lot of looks I would never wear at home – sneakers with dresses, dressy tops with denim shorts, clothing that smelled clean but had obvious spots, and hair that looked as though I got caught in a wind tunnel.  The thing is, this trip is about the experience, not the style.  Spend less time in front of the mirror and more time in front of monuments and amazing scenery.  And for days when you don't look that fabulous, make those the days you're behind the camera (or controlling the selfie!).  A large pair of sunglasses and a straw hat can hide a lot, I know from experience!
All of this, excluding the hat and maybe the sneakers, should fit into a carry-on bag.  As I do with all my trips, I packed all my clothes and shoes in the Tom Bihn Aeronaut.  Karl and I each have one of these bags and they're brilliant – they can be a shoulder bag, hand bag, or backpack.  They fit into an overhead compartment, have smart pockets, and Tom Bihn bags are made in the USA.  Mine has been through so much and still looks like new.  I had my toiletries separate in the Valencia from Aide de Camp.  Aide de Camp sent me this bag before my trip and it is so stylish and smartly designed.  What at first looks like a traditional weekender bag is much more.  Inside is a second bag, with foam compartments to make it a brilliant camera bag.  However, you can remove the camera compartments and have two stylish leather-trimmed bags for travel.  I used the large one as my beach bag, the small one could double as a purse.  The large one held all the family toiletries, and I used the small one as my personal bag with cosmetics, book, headphones, etc.
Adjust it according to your personal style, the time of year, and the places you know you will be visiting.  But expect to have your plans change, and something out of the ordinary pop up on your itinerary.  It's possible to be dressed for whatever comes your way without bringing your entire wardrobe!
Shop the Post:


Save
Save