This article may contain affiliate links; if you click on a shopping link and make a purchase I may receive a commission. As an Amazon Associate, I earn from qualifying purchases. 
Today marks a momentous occasion for T.J.Maxx – their 1,000th store opens. It also marks a momentous occasion for all DC fashionistas – this store is in our very city at Metro Center! Last night I had the opportunity to get a tour of the new T.J.Maxx and learn a bit about the company.
The new DC T.J.Maxx is FABULOUS. I have been a "Maxxinista" since middle school (even scored one of my prom dresses at T.J.Maxx!). I love how I can find designer and on-trend pieces for less and how I know that discount price doesn't mean sub-par quality. I have been to a good dozen different T.J.Maxx stores over the years. This one blows the rest out of the water. When you enter the doors, you see a few accessories, but when you take the escalator down, you are amazed at the incredible size (over 28,000 square feet!) and airiness of the store. A huge jewelry area with display cases full of on-trend necklaces and bracelets leads you to well-organized departments for clothing, shoes, menswear, children, beauty, luggage, and home. I also loved the displays – mannequins, display cubes and T-fixtures to break up the rolling rack monotony and showcase really great pieces.
Hey, I recognize those stripes and that chevron knit! Click the images to see them larger.
The T.J.Maxx at Metro Center has The Runway – a department that showcases high-end designer clothing and accessories at fabulous T.J.Maxx discount prices. T.J.Maxx doesn't like anyone to state what brands are featured, but these pictures hopefully will give you an example of the amazing designers available!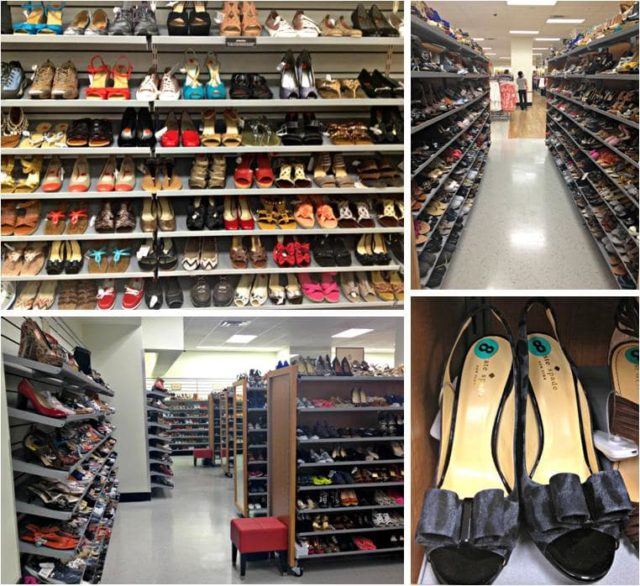 Shoes, shoes, shoes! I was in love with their extensive shoe selection, the brands totally impressed me!
Along with chi chi brands, T.J.Maxx has a lot of popular department-store brands, and styles that are currently popular and available at regularly-priced retailers. Unlike department stores who purchase new merchandise monthly or quarterly, T.J.Maxx buyers are shopping weekly, reacting to the most current trends for up-to-date fashion. Each store receives around 10,000 new pieces each week, so your local T.J.Maxx can be a completely different store each time you visit. T.J.Maxx doesn't just buy from big brands, they have over 15,000 vendors they work with, which means you may find big covetable brand names, or you may find a unique leather bag from an independent designer in Florence or a beautiful bowl crafted from a beachside Thai artist. I can attest to this, owning a gorgeous hand-painted tablecloth from India that I found at T.J.Maxx and would never be able to find at any local retailer.
T.J.Maxx may have low prices, but they do not have low quality. Over 85% of merchandise in their stores is current – anything from last season is marked and priced as such (except for items that don't change with the trends like holiday gift wrap). Also 95% of T.J.Maxx merchandise is first quality (same quality you find at department stores), that other 5% is marked as such and has a lower ticket price. I saw the same dress I bought at Nordstrom last month on a rack for almost 50% of what I paid.
The new Metro Center T.J.Maxx is located at 601 13th St, NW and is open 9:30am to 9:30pm Monday-Saturday and 11:00am to 8:00pm on Sundays. I encourage you to check it out, and be sure to report back to let me know what great deals you scored!
Note: I did receive a gift card for attending the store preview, but was not asked to write this post. All thoughts and opinions are my own.
Follow Me | Twitter | Facebook