This article may contain affiliate links; if you click on a shopping link and make a purchase I may receive a commission. As an Amazon Associate, I earn from qualifying purchases.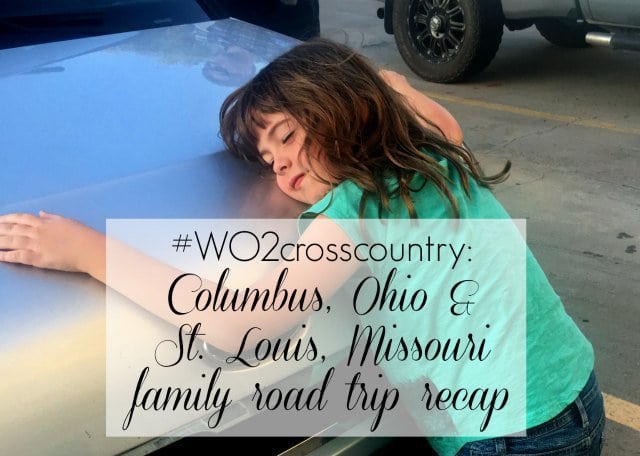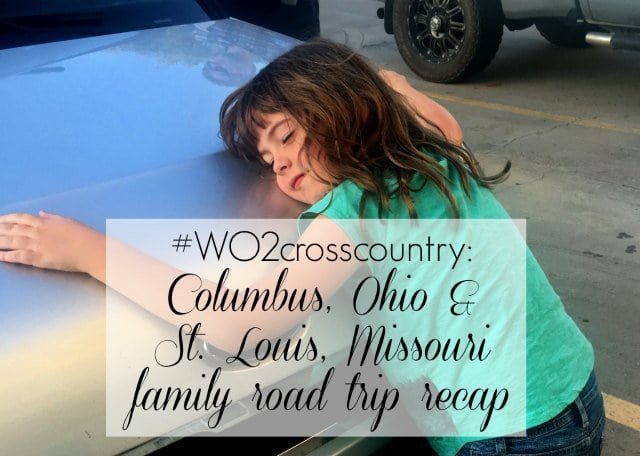 When planning our two-week road trip around the United States, we used Karl's dad's road trip as a guide but also dropped in a few locations we loved or always wanted to see. Last summer, Karl and I had the opportunity to enjoy a couple's getaway in Columbus, Ohio and we loved the city. We wanted to come back, and bring Emerson with us this time. However due to how far we wanted to go and how little time we had, we could only stay in Columbus for an evening.
Columbus, Ohio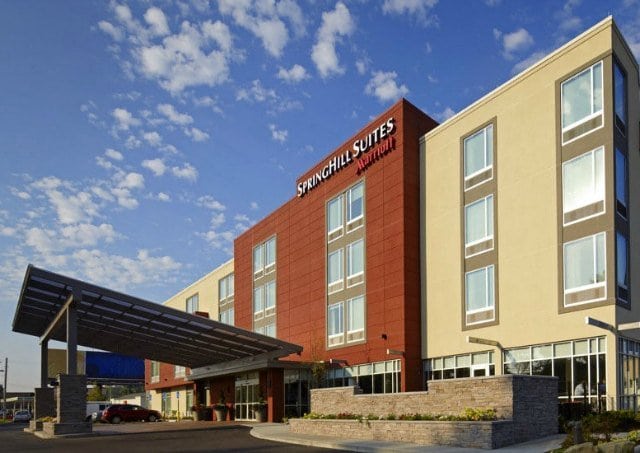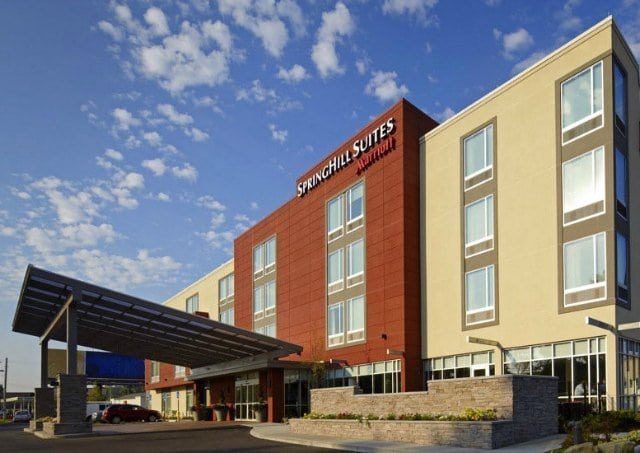 I reached out to Experience Columbus, who assisted us with our last trip to the city and they were kind enough to provide us with a hotel room for the evening. We stayed at the SpringHill Suites OSU, right near the college campus.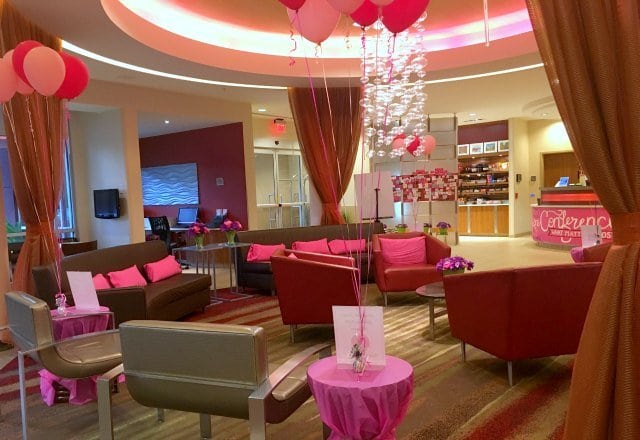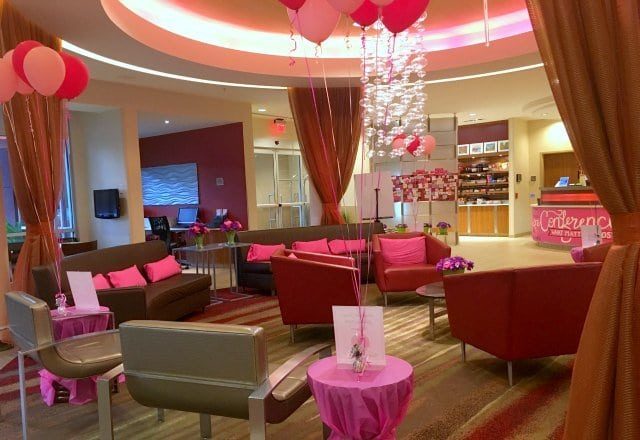 We got on the road later than expected and pulled into the SpringHill parking lot around 5pm; we walked into the hotel lobby and were surrounded by pink. Pink balloons and streamers, pink lights, pink pillows on the lobby furniture. Emerson was overjoyed, it's her favorite color and it made her decide this was her favorite hotel EVAR. The pink was for the Thirty-One Gifts conference and we soon realized we were some of the only people in the whole hotel not in Columbus for the conference (and Karl and I were the only two not in pink!). However, the SpringHill Suites staff made us feel as though we were the only people at the hotel.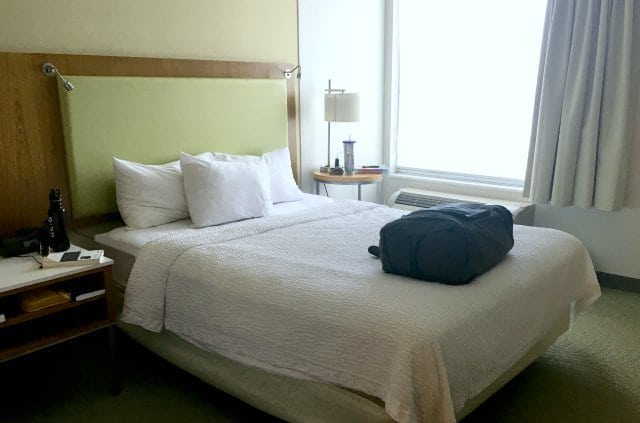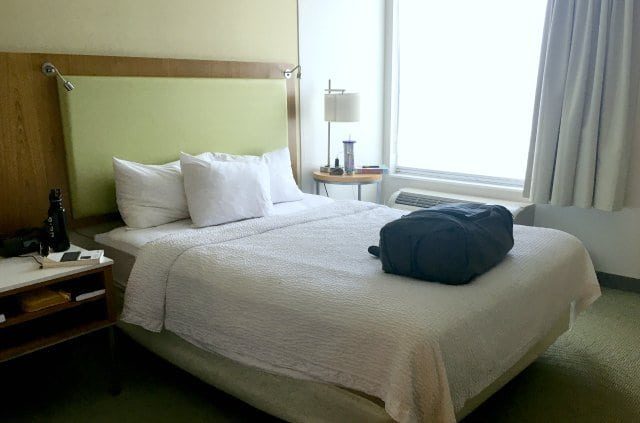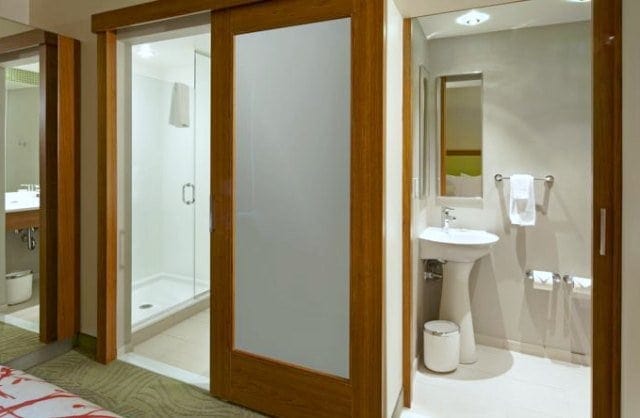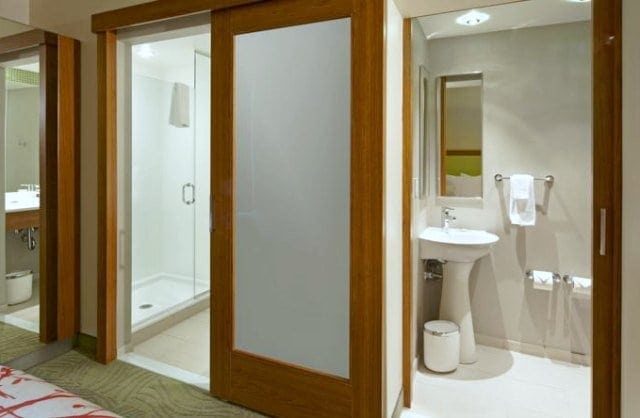 We stayed in a double queen studio which was so pretty, modern, and clean. Kitchenette, living area, office area, two comfy beds, and two bathrooms (one with toilet and a sink, one with tub and a full vanity).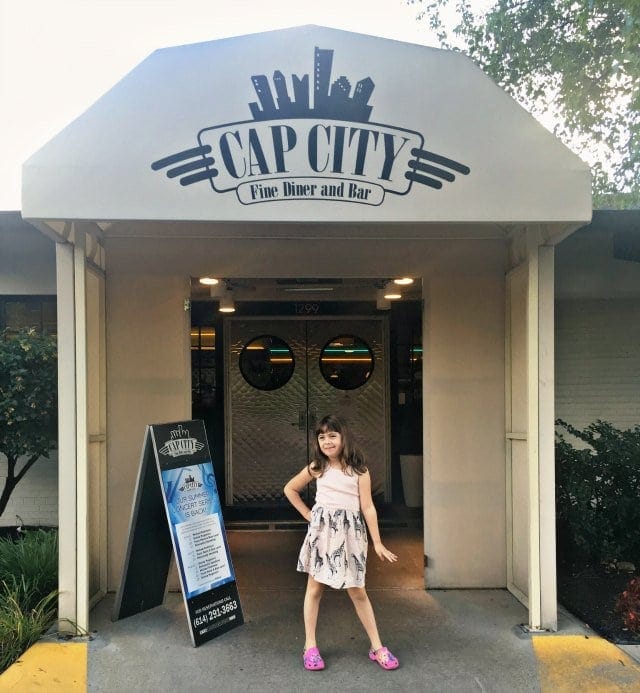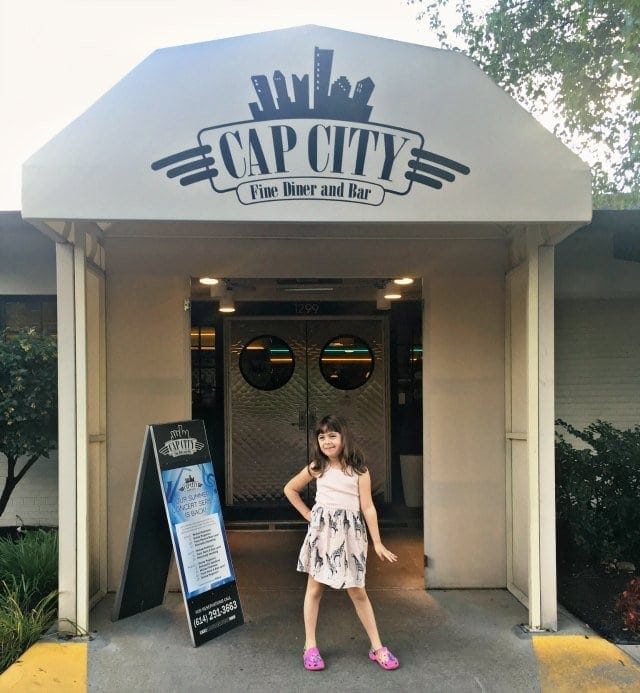 Since we arrived later than expected and were pretty wiped out from driving right after a full work week, we didn't have the energy to head to German Village, our original plan for dinner. However both the hotel and some conference attendees recommended the Cap City Diner Grandview which was a block from the hotel. This ended up being the perfect place for dinner! The restaurant is adorable with a retro diner vibe, but modern touches. The staff was phenomenal, and the menu had great variety. They have live music a few nights a week on their outdoor patio and a large indoor bar area, though the part we were in had a completely different vibe and was completely removed to be family-friendly. Sadly we came home and all showered and went to bed, we were exhausted and needed to sleep up for our long drive the next day.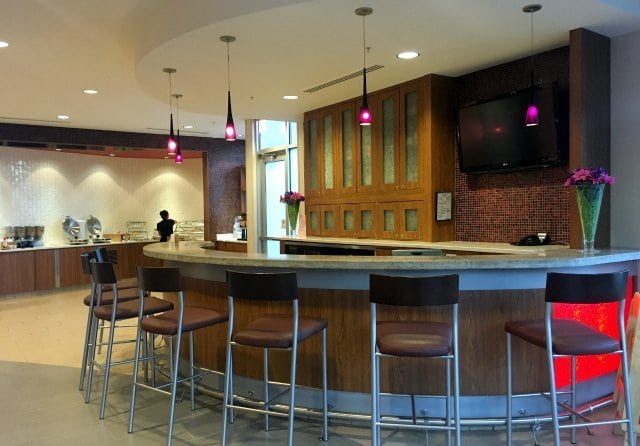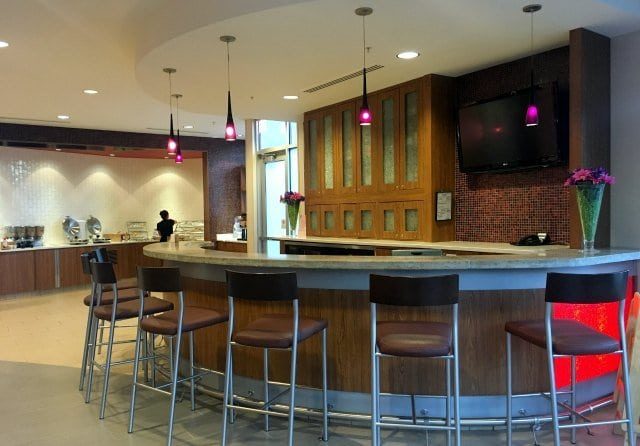 The next morning I got up early and used the hotel gym, which was spacious and had modern equipment, a wall of windows, and plenty of light. When my family work, we had the complimentary breakfast available at SpringHill Suites. Make your own waffles, eggs, sausage, plenty of pastries, cereals, yogurt, a great variety of drinks and lots of cut and whole fresh fruit. The lobby was packed with Thirty-One Gifts consultants, and they were so sweet and so excited, wearing their lanyards, pink shirts, and monogrammed bags. It reminded me of the fun I had when I worked for The Body Shop and then later was an at-home consultant; being surrounded by those with the same passion is so energizing and fun! But once we and the car were fueled up, we thanked SpringHill Suites for a wonderful and relaxing stay and got back on the road.
On the Road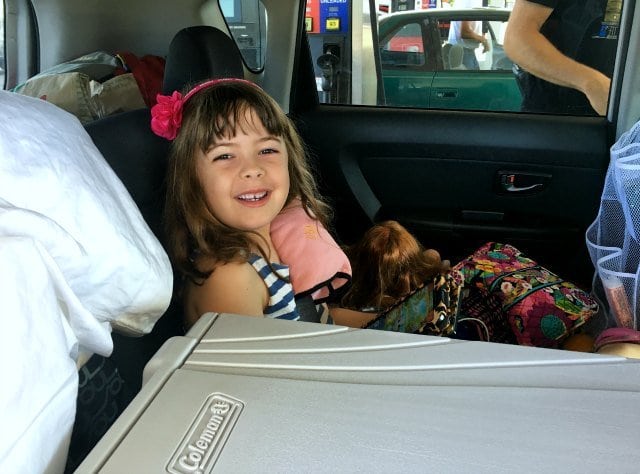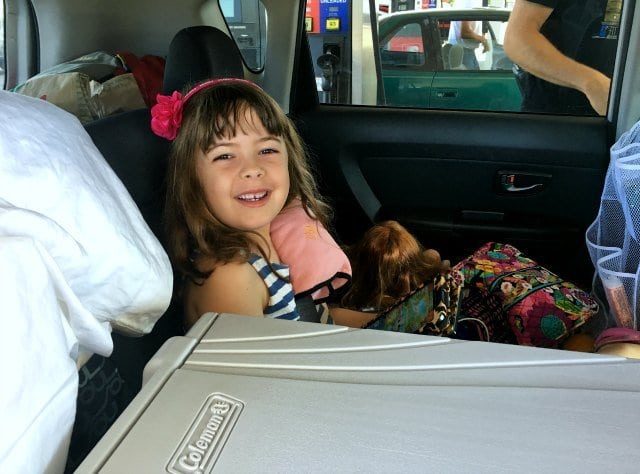 It's over six hours from Columbus, Ohio to our next destination, St. Louis Missouri and that doesn't include stops for gas, bathrooms, and food. Emerson was a trooper on this trip, very little whining, was on almost the same bathroom schedule as us, and understanding when we wouldn't buy her a trinket at every single stop. Since she is the only child, she had the backseat to herself… well her and the iceless cooler. We brought this cooler and while it won't make drinks icy, it was nice to have water, juice boxes, and yes, two cases of La Croix nice and cool without having to buy drinks. With this attachment you can plug it into your hotel room, but every hotel and motel we stayed at ended up having a fridge so we just moved the contents with us and left the iceless cooler open to air out. But to keep Emerson comfortable and entertained we had:
So on to St. Louis! The drive between these two cities isn't too crazy, and we got to St. Louis around 4pm without being wiped out. A couple of you recommended we stay at the Drury Plaza Hotel at the Arch. I signed up for their Gold Key club, scoped out hotels.com, TripAdvisor and ended up booking directly through the Drury Inn website for the lowest price. I was able to secure a king suite for less than a double queen room thanks to booking online, then calling to confirm and making mention I was a AAA member AND a Gold Key holder. I'm telling you, it pays to sign up for those free hotel rewards cards!
St. Louis, Missouri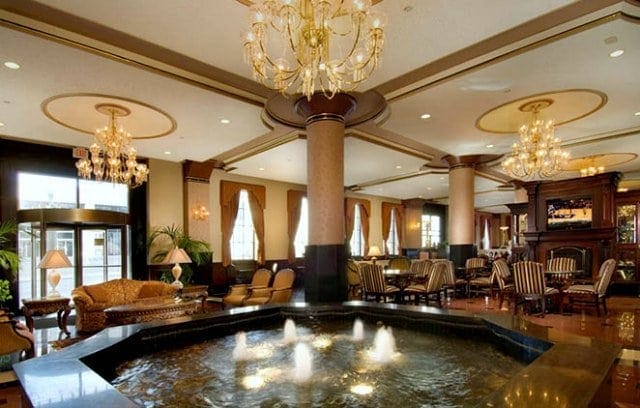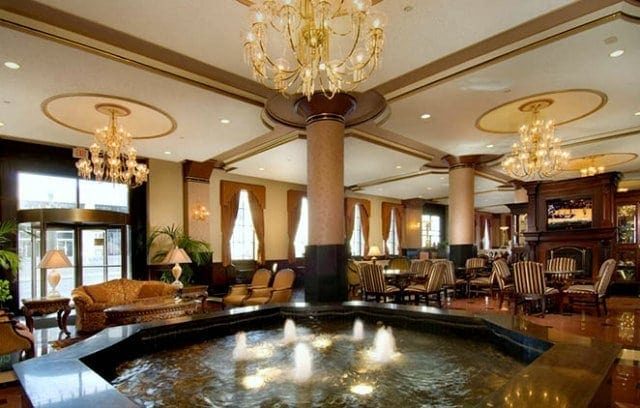 The Drury Plaza Hotel at the Arch is a destination in itself. Located right between the Old Courthouse and the Gateway Arch, the hotel is made from three buildings on the National Register of Historic Places and original features to these buildings like Italian marble and Waterford crystal chandeliers were restored and remain in the common areas. There's a fountain in the lobby with bronze statues of wild animals as well as Lewis & Clark and Sacagawea. Plenty of sitting areas, free beverages including soft drinks, popcorn in the afternoons, a "happy hour" with enough food to replace dinner and free cocktails, and an extensive morning breakfast buffet. The staff is phenomenal! We were concerned our car with the cargo carrier on top wouldn't fit in the underground parking garage; a gentleman came out with a stick to measure and ended up chatting with Karl for ten minutes about where to eat and go while here. The front desk staff was equally as lovely; I was impressed with how they spoke directly to Emerson instead of talking to me and they cracked jokes and took their time to be sure we were fully set and happy.
We went up to our room and it was quite lovely and spacious. This is not a new hotel (opened in 1997) so it didn't feel modern, but it is very well maintained and clean with the right things updated (bathroom, TVs, charging ports, etc.). Even with the sofa bed opened, there was still room to get around and there was tons of storage. The only negative with the room was that the only window to the room opened… to the hallway. Outside the elevator was a bit of an indoor courtyard with plants and a skylight. When you opened the curtains you had a perfect view of the elevator across from this small courtyard and therefore those at the elevator could also see us. This meant those curtains were closed tight both days we were there making the room dark, but it also meant we weren't woken by the sun each morning.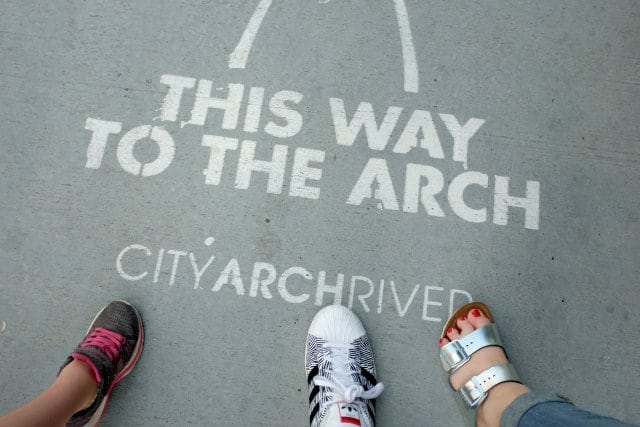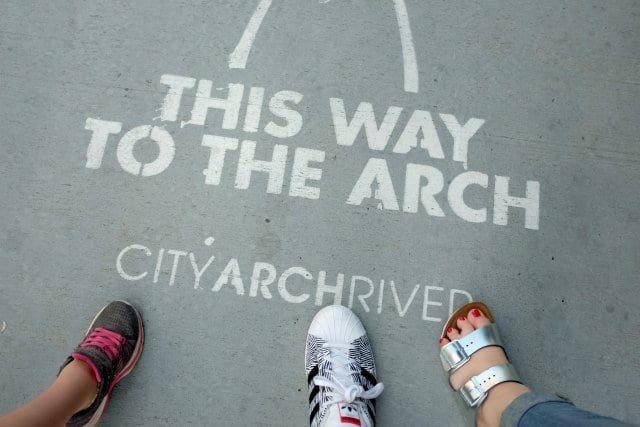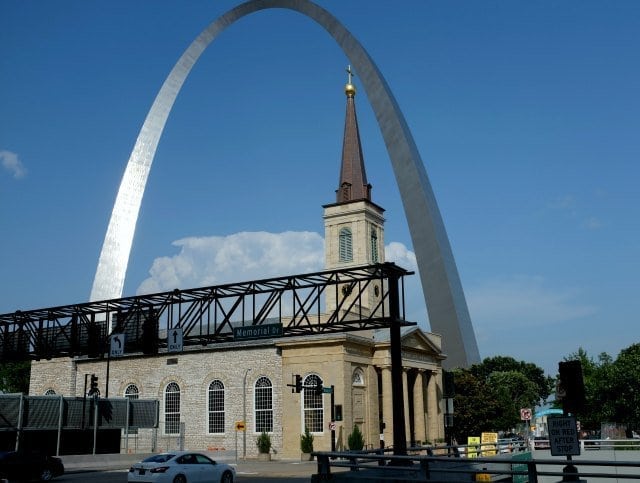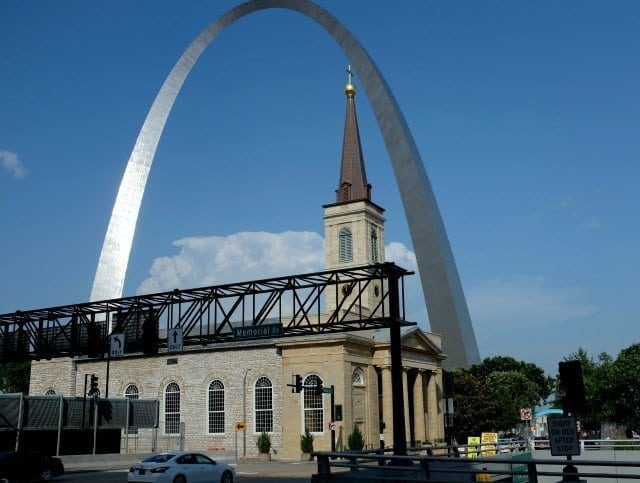 Once we unpacked and freshened up we stepped out. We were floored by how close we were to the arch and decided to walk down to see it. It was hot, but not humid like back home in DC and it felt good to have sun on our shoulders after spending the day in the car. The Gateway Arch and the surrounding area is under construction and surrounded by fencing and equipment, but it is still open. We walked to the waterfront to look up at the Arch… and bumped into a family we're friends with back home (mentioned in this post). How insane is that? Almost 900 miles from home, an unplanned stroll, and there's our friends! We caught up and shared stories of our road trip thus far and next stops, but then hugged and parted ways as they were taking a riverboat cruise and we were starving and ready for dinner.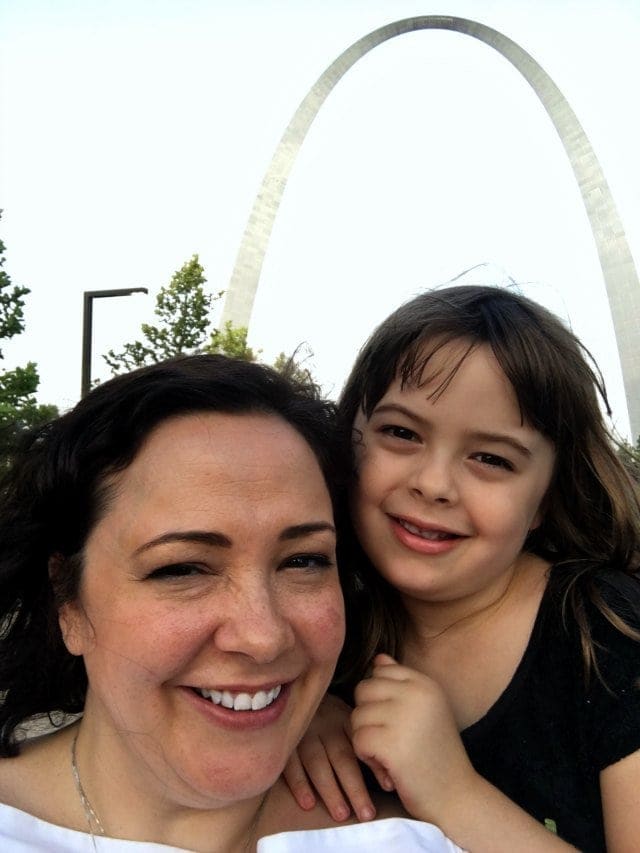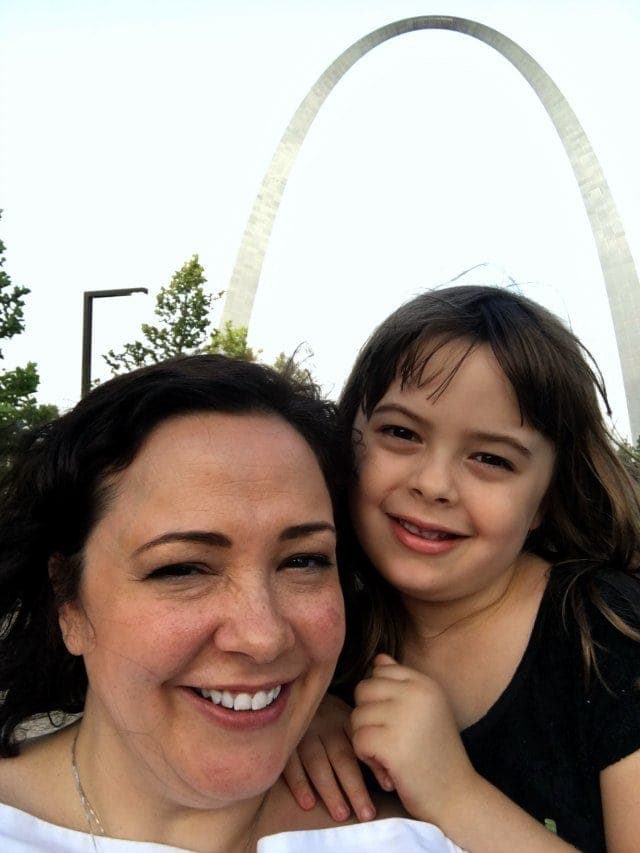 It was Sunday so little was open and we were starting to feel worn out from the drive. We decided to just walk to the Hyatt down the street and had dinner at Brewhouse, one of its restaurants which Emerson claimed to have the best fish and chips ever and I had a killer salad. Karl, the driver for the whole trip, was feeling a bit queasy and headed back to the hotel to rest so Emerson and I celebrated National Ice Cream Day with a brownie sundae and two spoons, and then took a slow walk back to the hotel, capturing a few selfies with the arch in the background.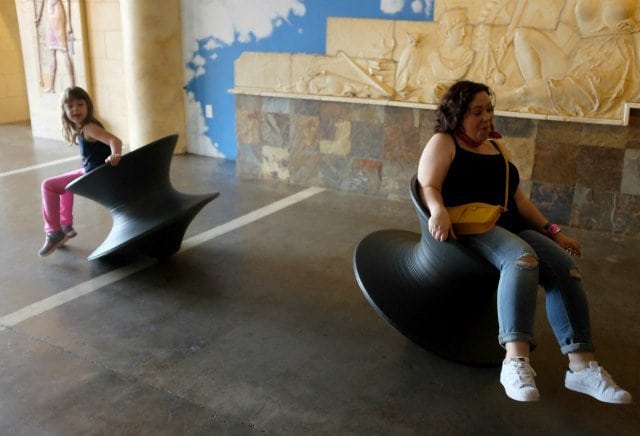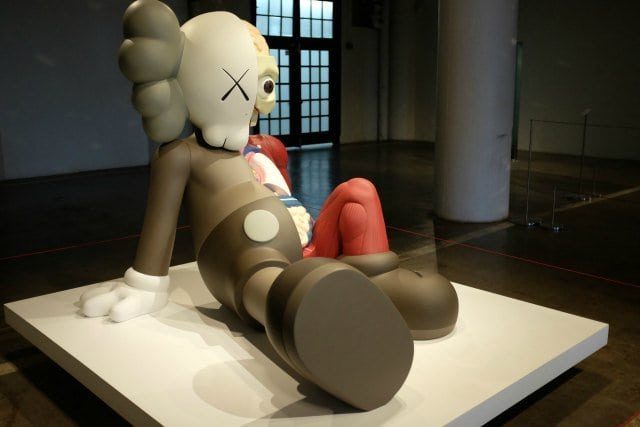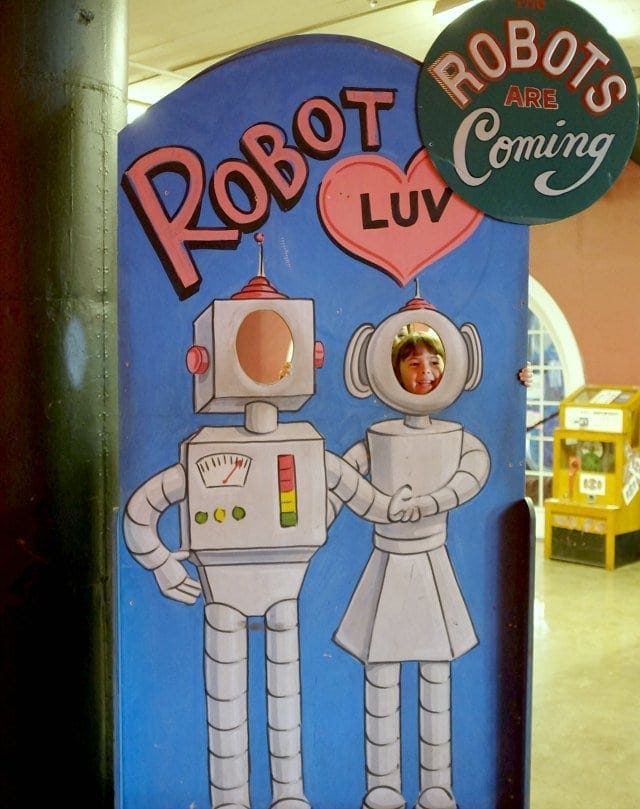 Monday we slept until our bodies woke us up, grabbed breakfast in the hotel lobby, and caught an Uber to the City Museum. So many of you recommended we visit… and you all were spot on! This museum is phenomenal for kids and adults alike. In fact, I think Karl and I loved the actual museum far more than Emerson. I think if she was in a school group or with friends she may have enjoyed inside more, but it's awesome – the building itself, the exhibits, the interactivity, even the stairs!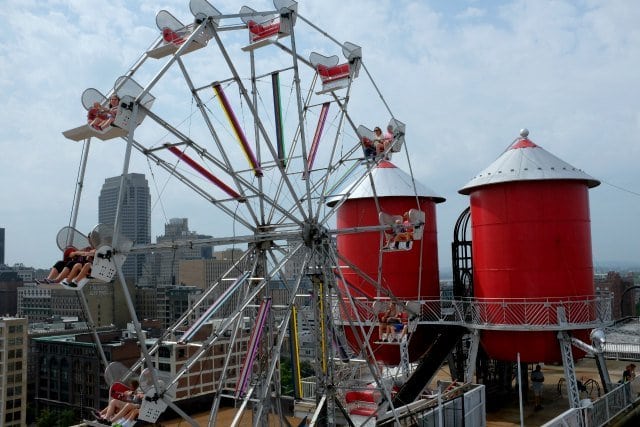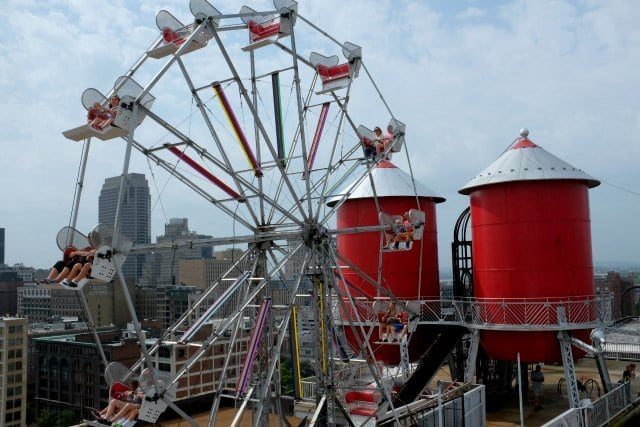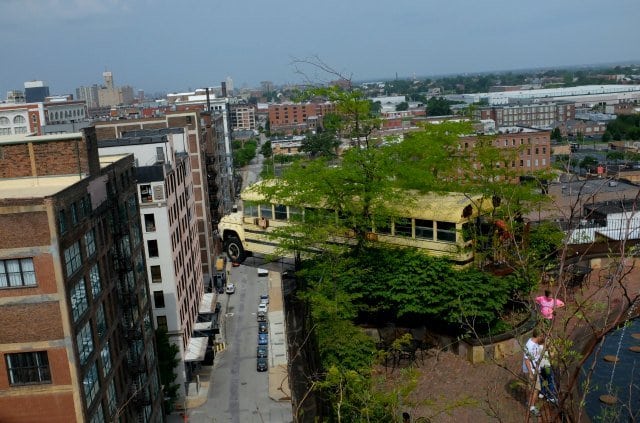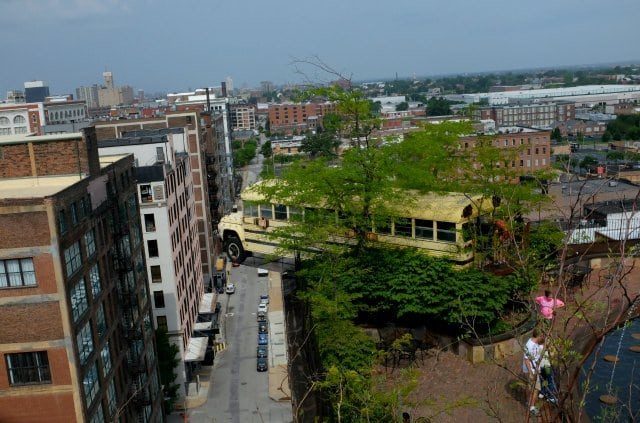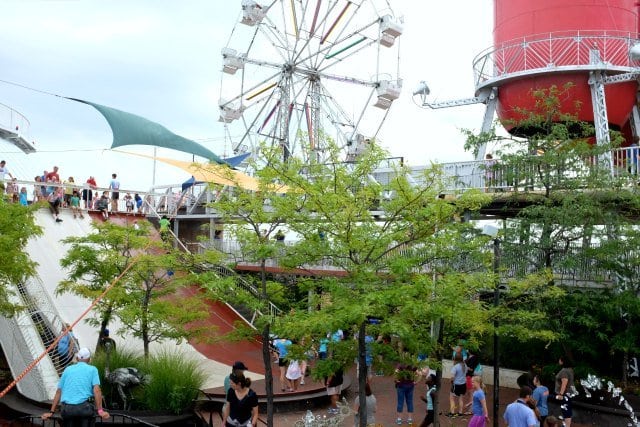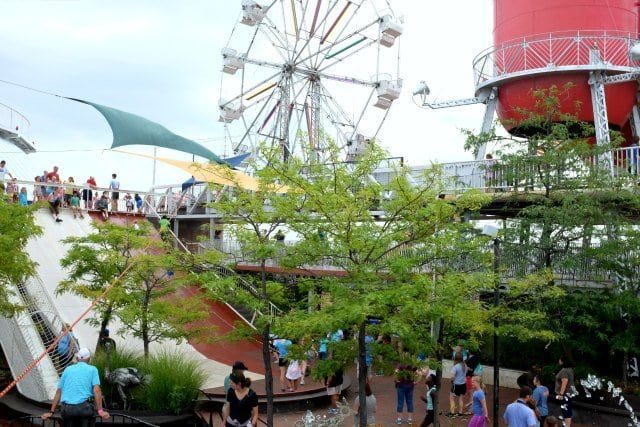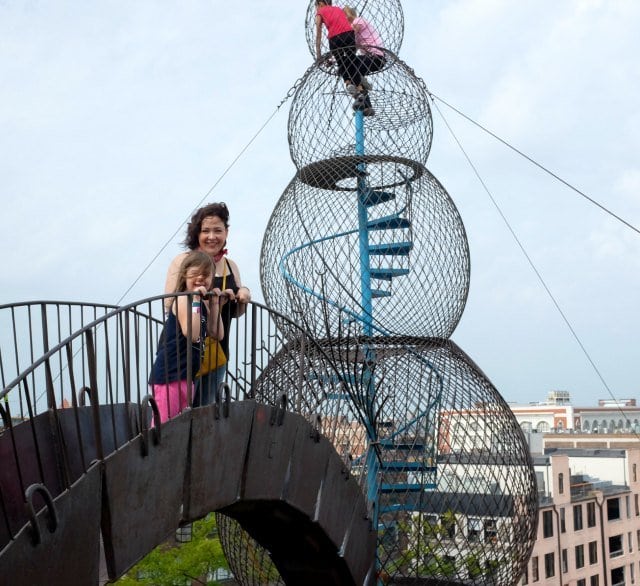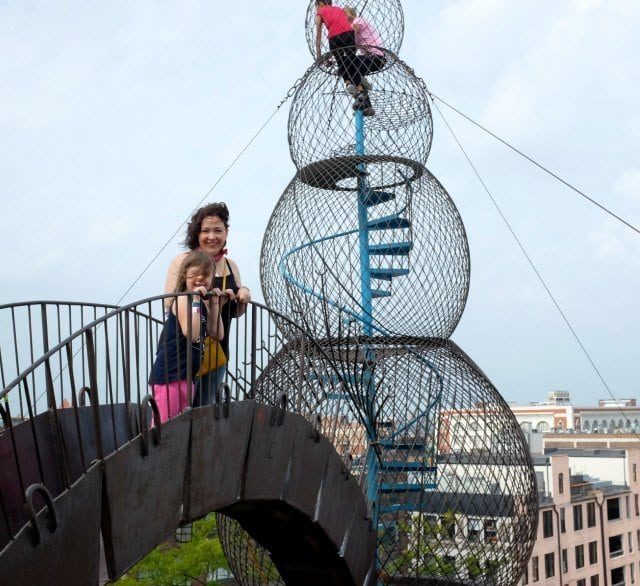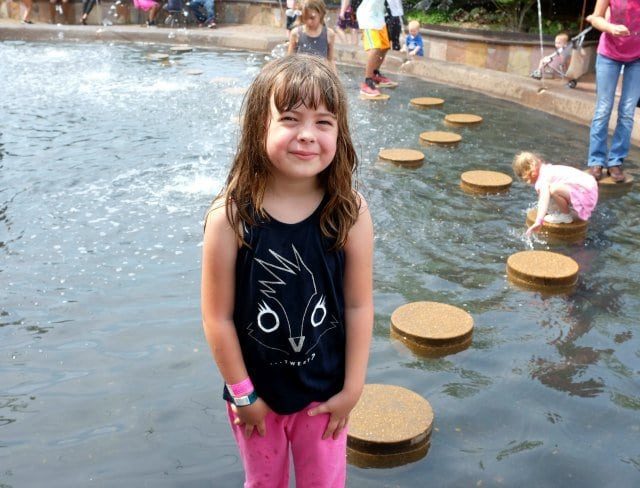 It's worth it to buy the extra ticket to go to the roof, especially if you have kids. We could have spent all day up there! Emerson thinks back to our trip to the City Museum as an amusement park and that's because of the roof's activities. You can climb up into an old school bus and see the most amazing views of the city, and climb up different areas to be way high above the roof in the sky. There's humongous slides you can ride, a fountain with stepping stones in it that Emerson adored, and an old Ferris Wheel where you can see all of St. Louis. There's plenty of food and drink at the City Museum and we enjoyed fresh fruit frozen pops. I highly recommend getting there as early as possible; by lunchtime the place was packed so we decided to get an Uber back to the room.
Quick mention about Uber – it's a fantastic tool when traveling. We found many cities had it, it was convenient as we didn't have to make change or figure out tip, and the drivers we had were mini-tour guides giving us great suggestions on where to go and eat.  If you don't have Uber, this is my referral code link to try it out.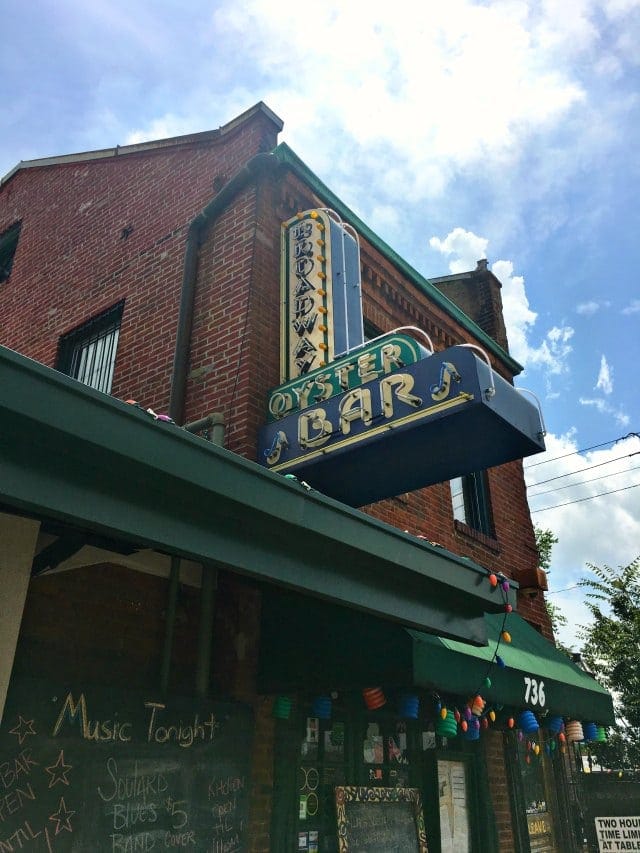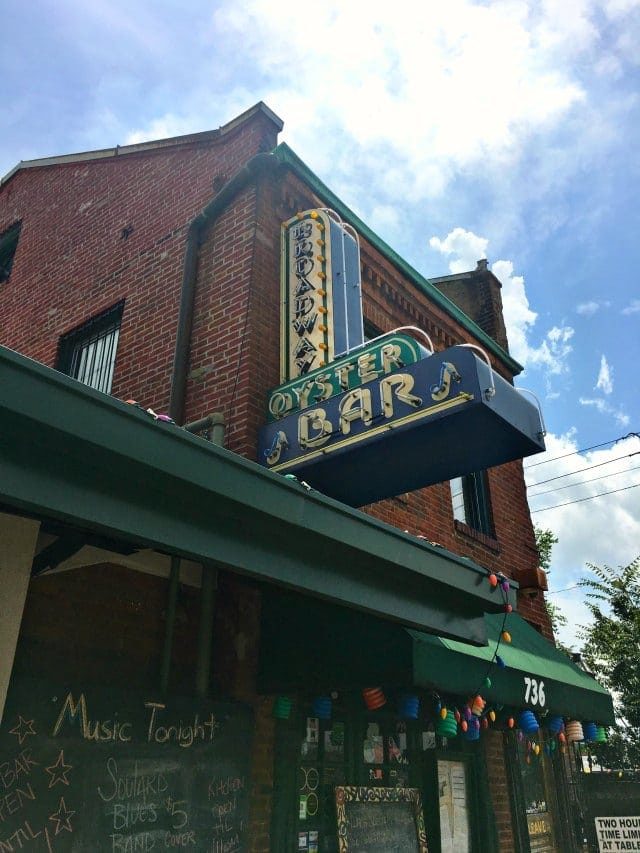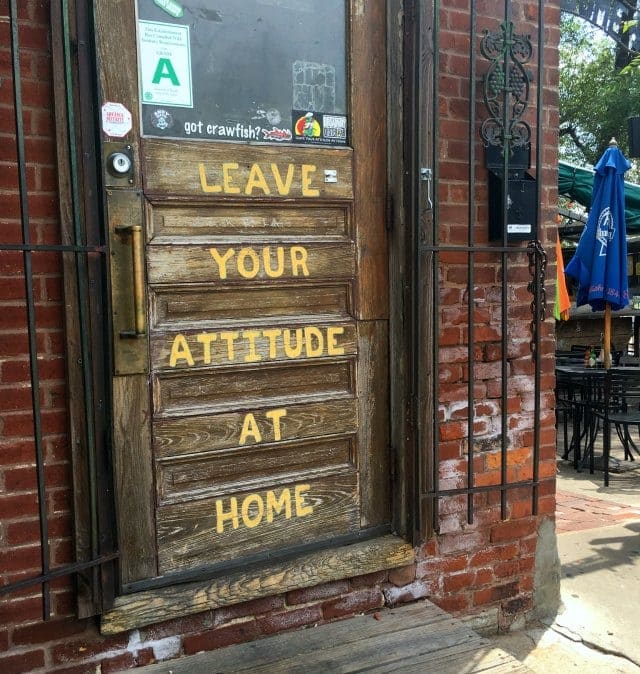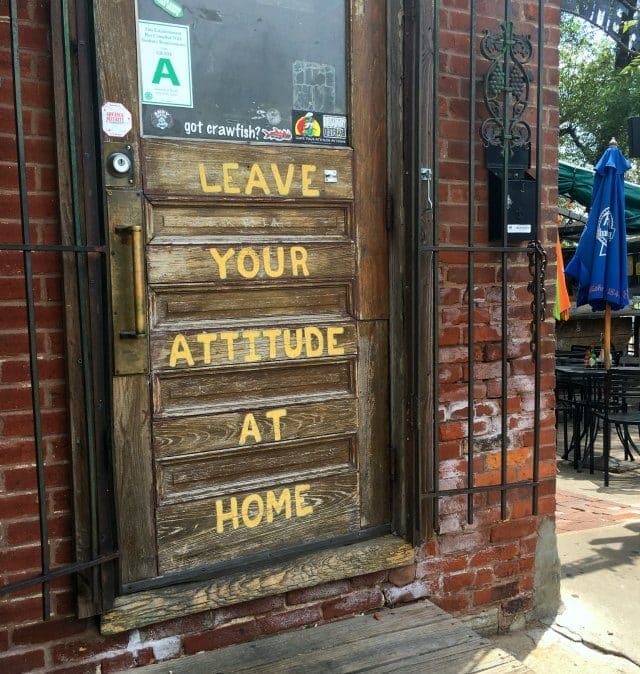 We got back, changed out of our sweaty and wet clothes (Emerson got soaked in the fountain) and went out for lunch. Karl and I have a tradition of getting oysters for date nights out and when we travel; we decided to check out Broadway Oyster Bar. I can tell this place is hopping when the sun goes down, but on a Monday at 1pm, there was only a handful of tables filled. The staff was very friendly and encouraged us to sit outside, even though it was a hot day. The outdoor area is partially covered and has fans so it was quite comfortable. The quirky décor reminded us a bit of The City Museum, with tables built from concrete details from buildings, reclaimed woods, and odds and ends.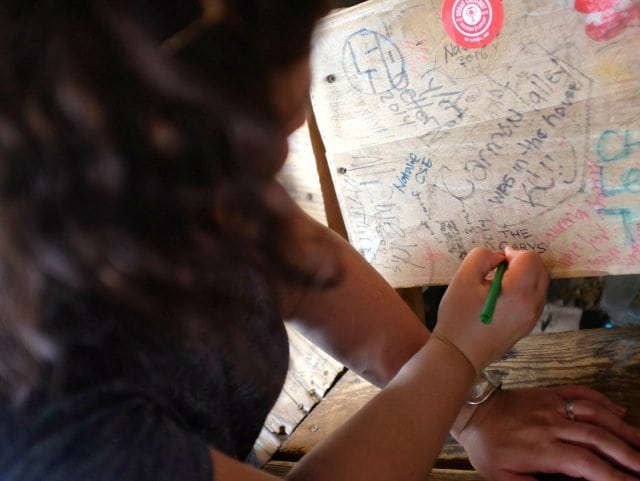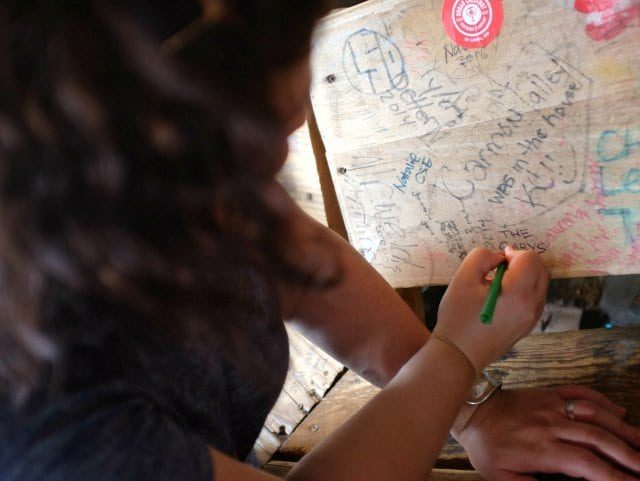 The restaurant encourages graffiti so we carved our name and the date in a bench seat and Emerson wrote her name on the wall. We had raw oysters and Emerson had mac and cheese made with pimento cheese that was amazing.  If I come back to St. Louis I'm coming back to Broadway Oyster Bar, though at night and when I have a babysitter.  This place is adorable (and the oysters are delish!).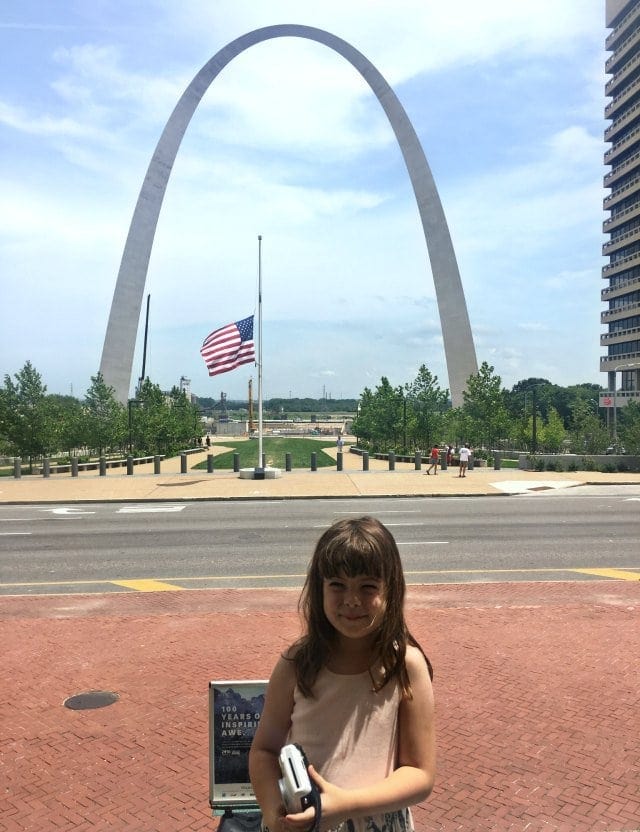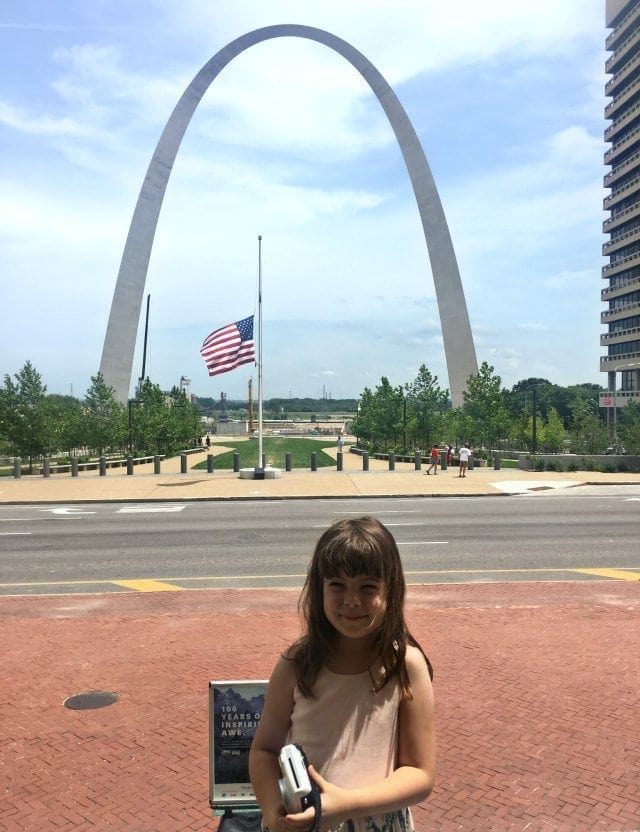 After lunch, Karl decided to head to the gym and take a nap while Emerson and I decided to go up in the Gateway Arch. Tickets for the tram tour within the Arch are sold at the Old Courthouse; which is another great place to visit in St. Louis. The Old Courthouse was the site of the first two trials of the Dred Scott case and also where Virginia Minor's case for a woman's right to vote came to trial. It is also is listed in the National Park Service's National Underground Railroad Network To Freedom. The Old Courthouse is beautiful and has many exhibits to check out. It also has a sample tram you will ride in to get to the top of the Gateway Arch which can help if you're not comfortable with small spaces.
It's a short walk to the Arch and easy to find since there's signs on all the sidewalks leading you to it. During construction you have to walk completely around the Arch to get to the entrance, but it's a smooth and easy walk along the waterfront and there's plenty of vendors selling cold water and ice cream. Outside the Gateway Arch entrance is a covered area with chairs for those who don't wish to take the ride and are waiting for their friends and family. When entering the Gateway Arch you go through a metal detector similar to at an airport; you put your bag and pocket contents in a basket and walk through the detector (no need to remove shoes). We waited 15 minutes in one place, our line moved to another area where we waited 10 more minutes, then took some stairs to where the tram entrances were and waited there another 10 minutes.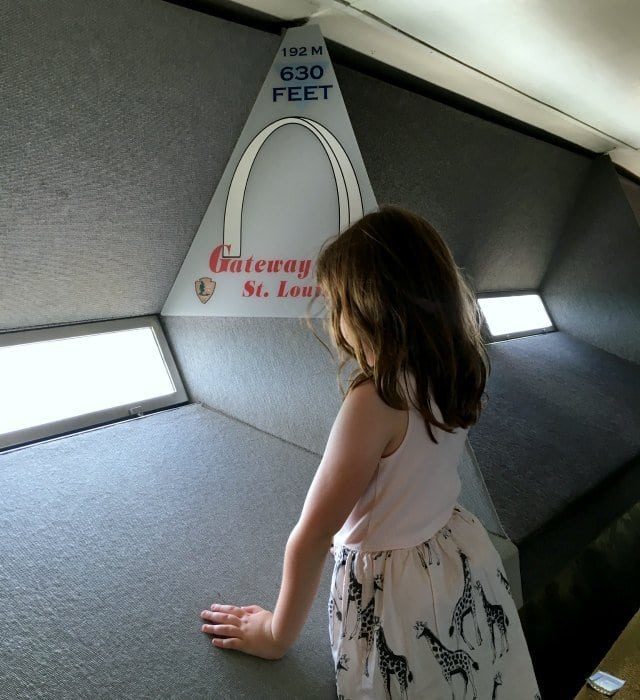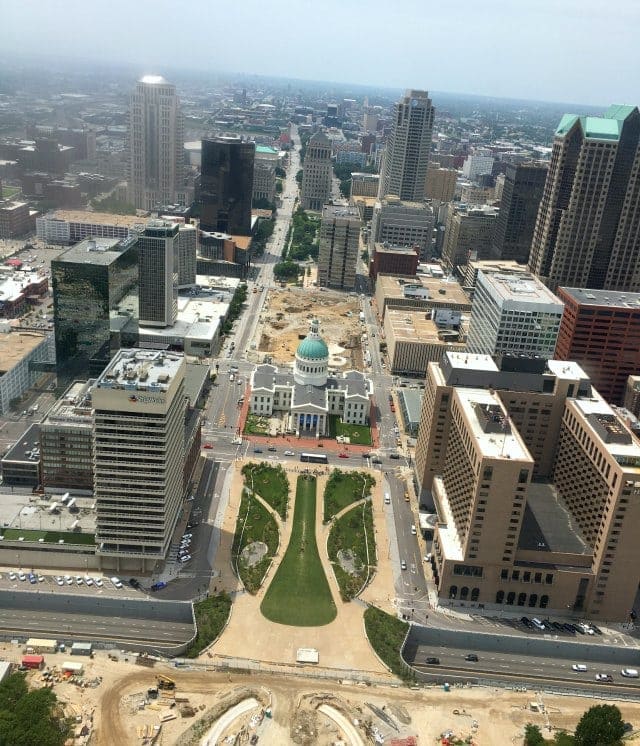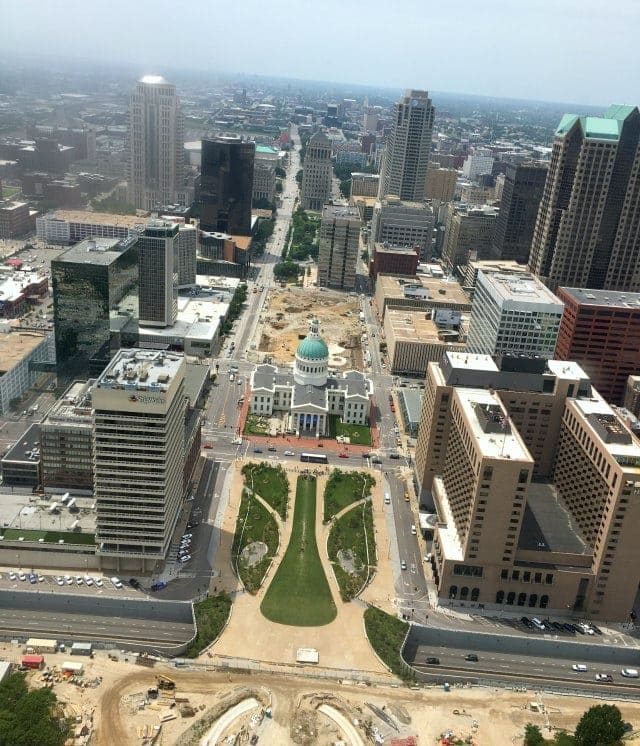 Each tram can hold five people; ours had three adults and two children and it was very… cozy. Good thing there's A/C blowing in there! There's a small window on the tram's door but as it goes up all you really see are stairs and the mechanics for the tram. The ride is maybe five minutes at most. The top of the Arch is a narrow room with small windows on both sides. Kids can climb up on the carpeted angled walls to see out. There's a park ranger up there who will answer questions, but really you won't spend more than ten minutes up there. We took the other side of the arch's trams back down, which had a shorter line and we ended up in a tram all by ourselves. When you get out, they guide you through the gift shop to get to the exit. We got a postcard so Emerson could write to my mom and an ornament for the Christmas Tree. They also have a free movie, but Emerson wasn't interested so we headed back to the hotel.
When we got back I had a fire I needed to put out for the day job so I powered up the laptop and Karl took Emerson to the hotel pool. They were gone for two hours and had a blast; while I didn't see it for myself I'll give the hotel pool a high rating! We decided to go down to the hotel lobby for their kickback/happy hour and it was so packed! There was a baseball game that day and the whole lobby was filled with fans in red and we could barely get through. People were manic for the free cocktails and there were kids in red and baseball caps running and screaming and the Drury hotel staff was doing their best to keep up with the chaos.  We were all pretty tired, annoyed by this scene, and had no desire to research places and score an Uber.  We decided to wade through the lobby and go to Angelo's Taverna, one of the two restaurants attached to the hotel. They offered takeout, had pizza, and even offered takeout alcohol so Karl and I got salads, Emerson got pizza, and we snagged and bottle of wine and snuck back to our room for a picnic while watching American Ninja Warrior. Another early bedtime as we had a long road trip ahead of us in the morning!
What We Learned from This Part of the Trip
When booking a trip, see if other events are happening the same time you will be there.  A Thirty-One Gifts conference didn't affect our plans in Columbus, but a triple header of the Cardinals versus the Marlins in St. Louis meant everything, especially our hotel, was utterly PACKED.  This also explained why it was tough finding a hotel, why it was impossible to move from a room facing a hallway, and why it was good for to book a room early.
When booking a trip, find out the culture of cities on Sundays.  Here in DC, we're used to having 90% of establishments open on Sundays and most restaurants open past 5pm.  It wasn't just St. Louis where we got stuck and had limited places to eat and go.  I should have known better, but at least we still had a wonderful time!
Join free rewards programs and don't trust a site like Hotels.com or Expedia to have the lowest price.  You don't need a wallet overflowing with cards, most accounts can be looked up with your email address.  But it wasn't just St. Louis where I saved big by having a rewards card and booking directly with the hotel.
Make TripAdvisor your BFF.  I have used TripAdvisor for years and it has never failed me.  The reviews are extremely thorough, and not all complaints.  You can determine if a hotel is kid-friendly, good for a romantic getaway, and what amenities it has.  The app was far more helpful than Yelp's in finding great places to eat near where we were staying too.
Don't try to see/do/eat everything.  A cross-country trip is a marathon, not a sprint.  It's okay if you can't tick everything off your must-see list, it's important to pace yourself so you're not miserable in a week.  Rest when you're tired, eat when you're hungry, and don't be ashamed to miss out on must-haves and must-dos in one city.  That sacrifice may ensure you can accomplish something else further down the (literal) road!
Next stops – Kansas and Colorado!
Save