This article may contain affiliate links; if you click on a shopping link and make a purchase I may receive a commission. As an Amazon Associate, I earn from qualifying purchases.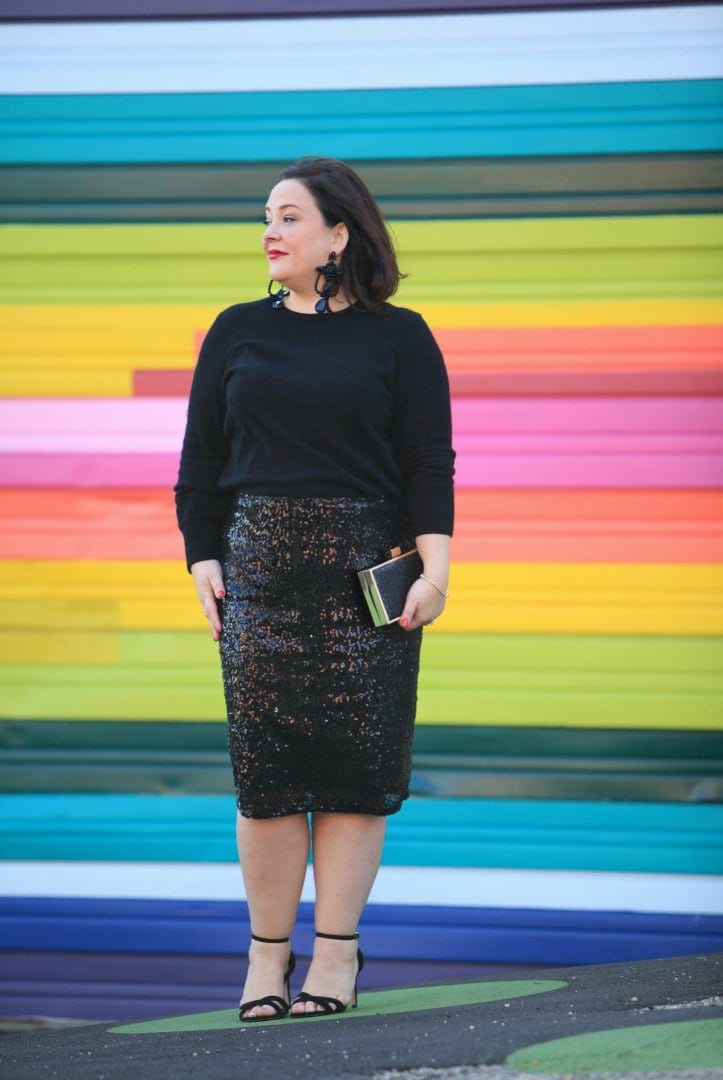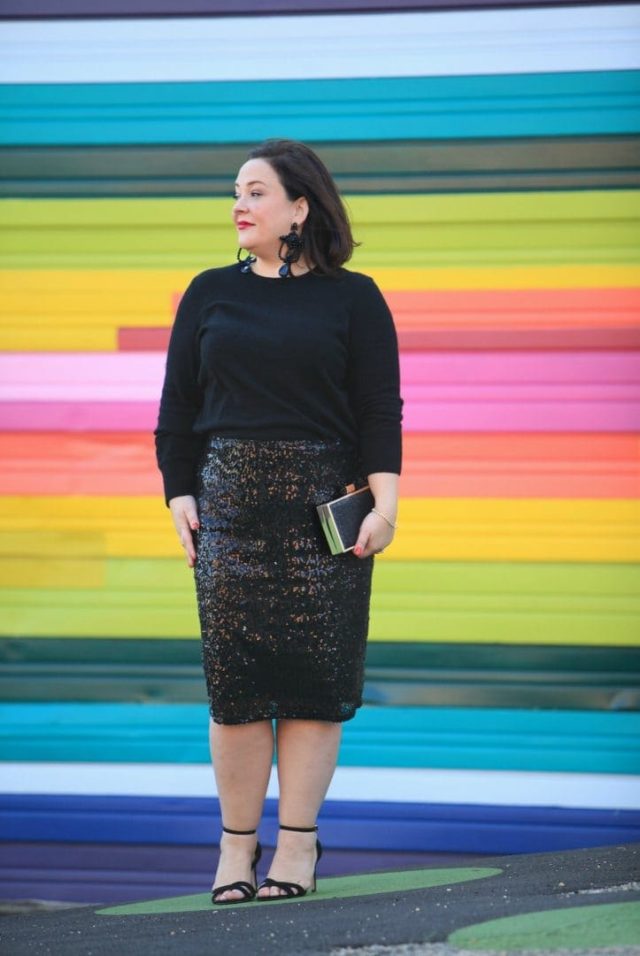 This is Day 3 of styling the same Lord & Taylor cashmere crewneck for the holidays.  For this look, I dressed up cashmere for a dressy dinner or even a cocktail party.  Cashmere is a great pairing with sequins, and a way to add some warmth to an evening look.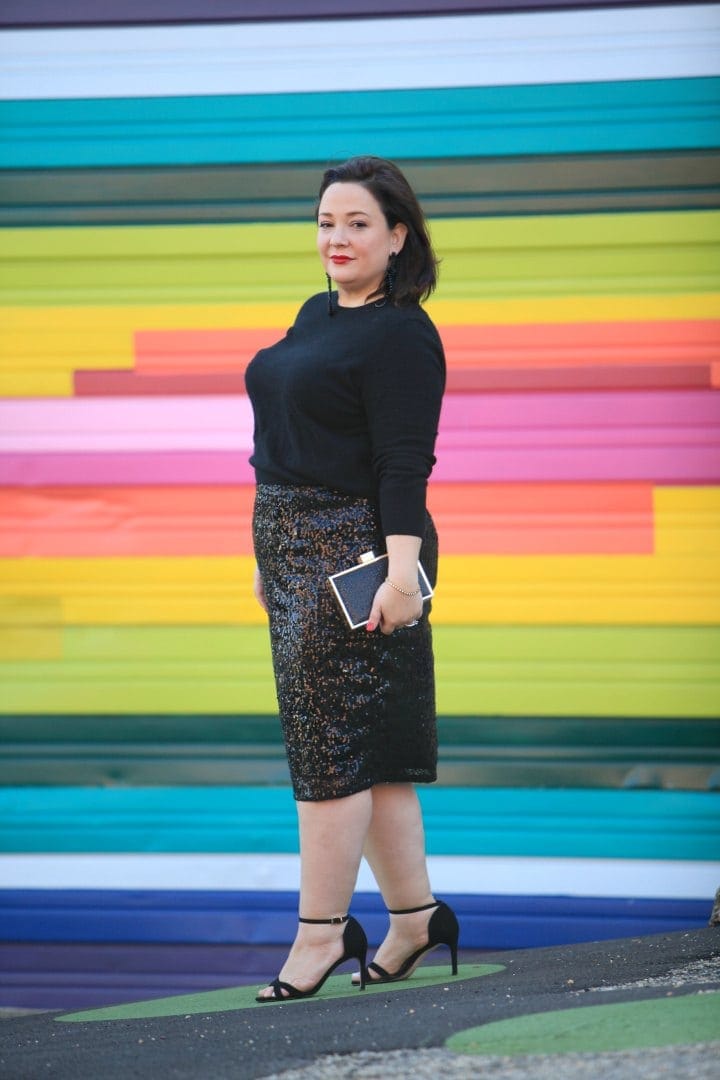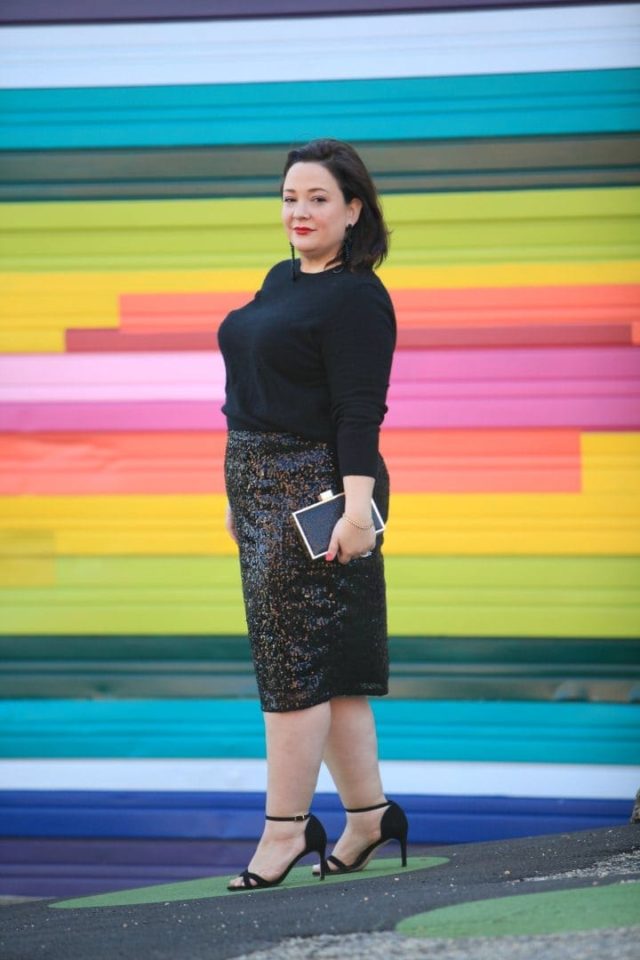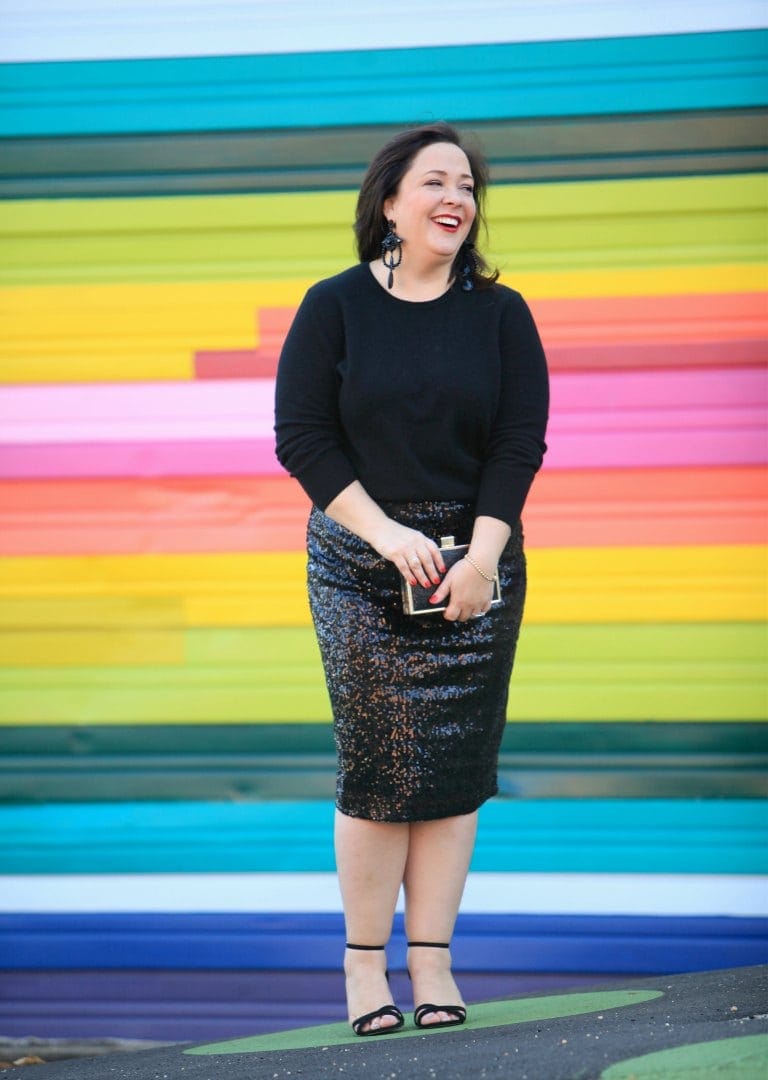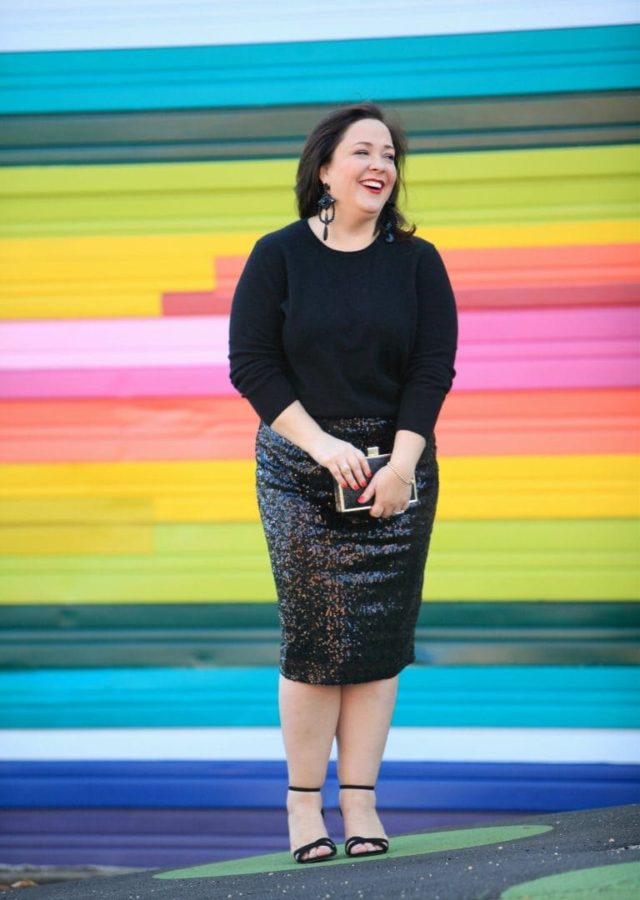 Skirt: Halogen (XLP; plus size option, I love this green plus size option too) | Sweater: Cashmere crewneck c/o Lord & Taylor (XL; plus size option) | Bag: Karl Lagerfeld c/o Lord & Taylor | Earrings: Simply Vera Vera Wang c/o Kohl's | Bracelet: gift (similar) | Shoes: ASOS (similar, closed-toe option)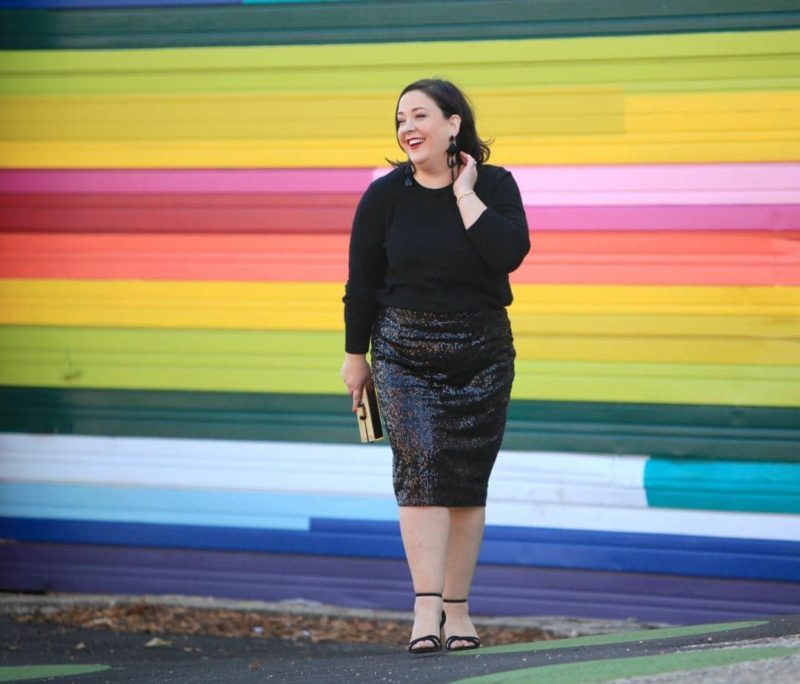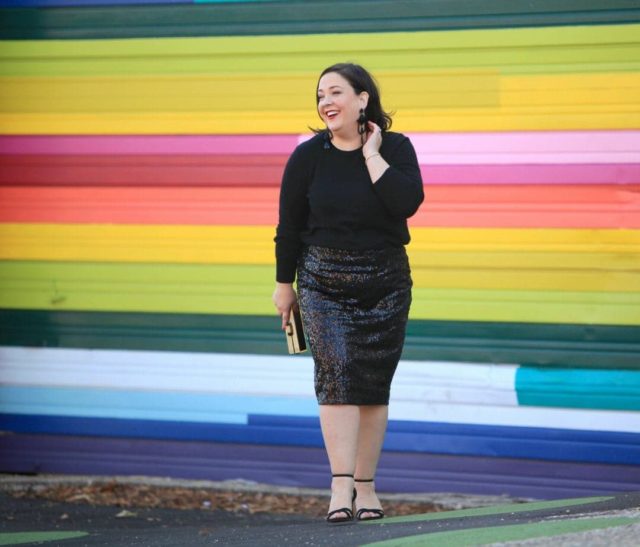 I picked this skirt up from Nordstrom a month or so ago; my sister has a New Year's Eve party each year and the dress code is sequins.  While I have some fantastic sequined dresses, Often the party ends up outside on her deck or around the fire pit and I was looking for a way to be blingtastic but also warm.  I envisioned wearing this skirt with this cashmere sweater, black fleece-lined tights and some black ankle booties.  In fact, that is the outfit I planned on showing in this post but Life intervened.  I shot all three of these cashmere looks on the same day and as the day progressed I got more and more sick with a cold, and my body was aching more and more from my personal training session.  By time we shot this look there was no way I was going to pretzel my body in the backseat of my car into a pair of tights so I decided to style it with these strappy heels I picked up at ASOS this past spring (ASOS is amazing for stylish wide width shoes!).  But that really shows the versatility of these pieces; a switch of hoisery and shoes and you have a completely different look!  With this look, you can also go with sheer black or very sheer nude stockings with a closed-toe shoe or ankle boot.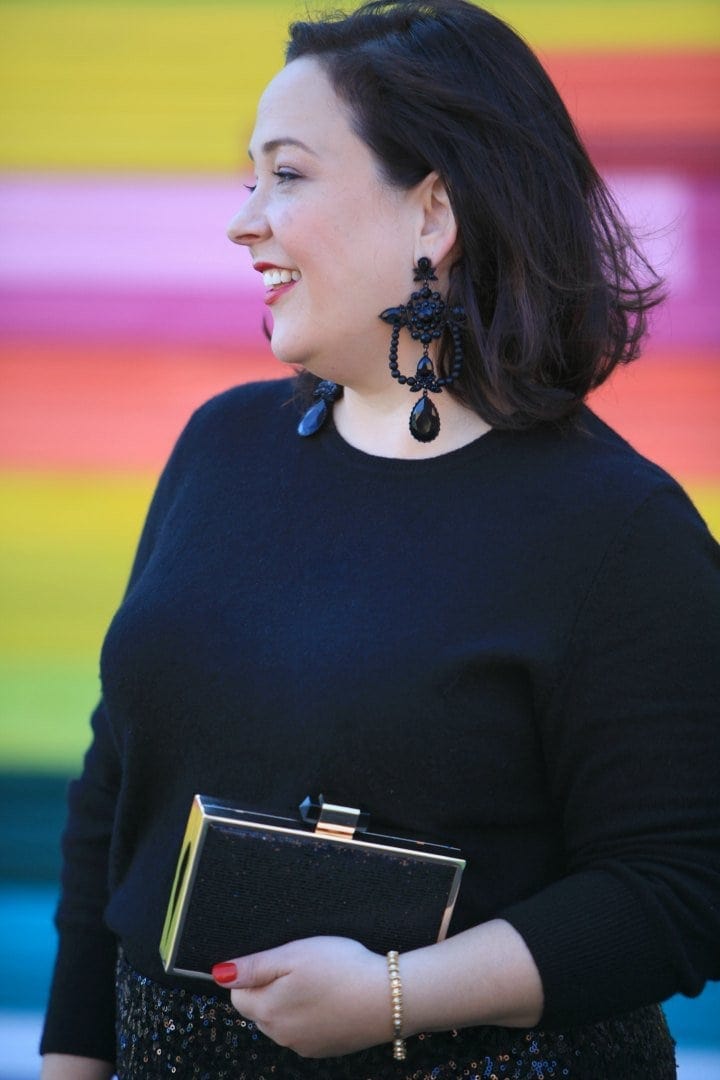 The earrings are the Simply Vera Vera Wang ones I wore in this post.  I usually don't buy black earrings because I think they get lost in my hair, but these are so dramatic and fun.  Also, too sparkly of earrings with such a sparkly skirt could end up looking too over the top.  The bag is the same one I wore on Monday; a clutch like this is an instant way to dress up anything from a black sheath to a beaded jumpsuit.  This look could be with most any kind of dressy skirt or even a pair of dressy pants (I'm droolling over these).  Add a bit of glamour by putting your hair up, a little black liquid liner, and a red lip!
A lot of times, there's pieces already in your closet that can look festive and/or dressy with just a few accessories or some restyling.  By choosing to buy separates, you'll get more mileage from your clothing (style this skirt with a velvet blazer, a witty t-shirt and some ankle boots, a silk blouse and pumps, a denim shirt and pointed flats).  Have a great and stylish time this holiday season!