This article may contain affiliate links; if you click on a shopping link and make a purchase I may receive a commission. As an Amazon Associate, I earn from qualifying purchases.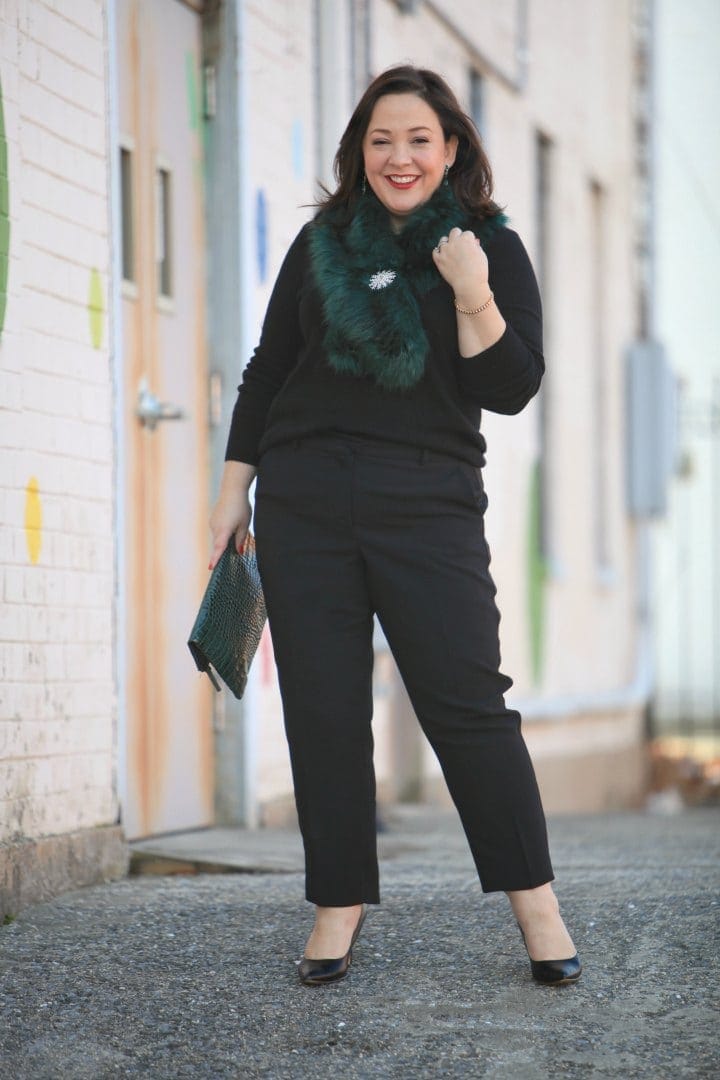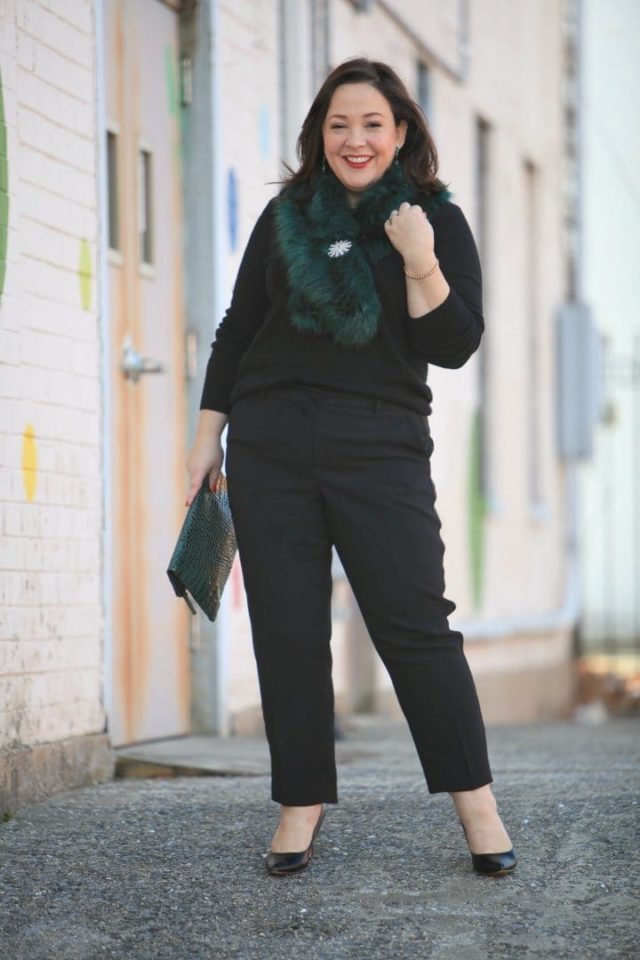 I am all about a small but hardworking wardrobe. While I may promote a lot of different clothes on here, the goal is for you to get inspiration, find your style, but buy only what works for you. I love color and print, but find basic in solid colors to ground my wardrobe and give me multiple ways to mix and match. Yesterday on the blog, I featured a cashmere crewneck sweater and styled it for a "desk to dinner" scenario with wide leg velvet pants and some luxe acccessories. Today I'm featuring the same crewneck sweater styled for a family get together or similar function. In fact, I wore this outfit this past weekend for Karl's family holiday get together!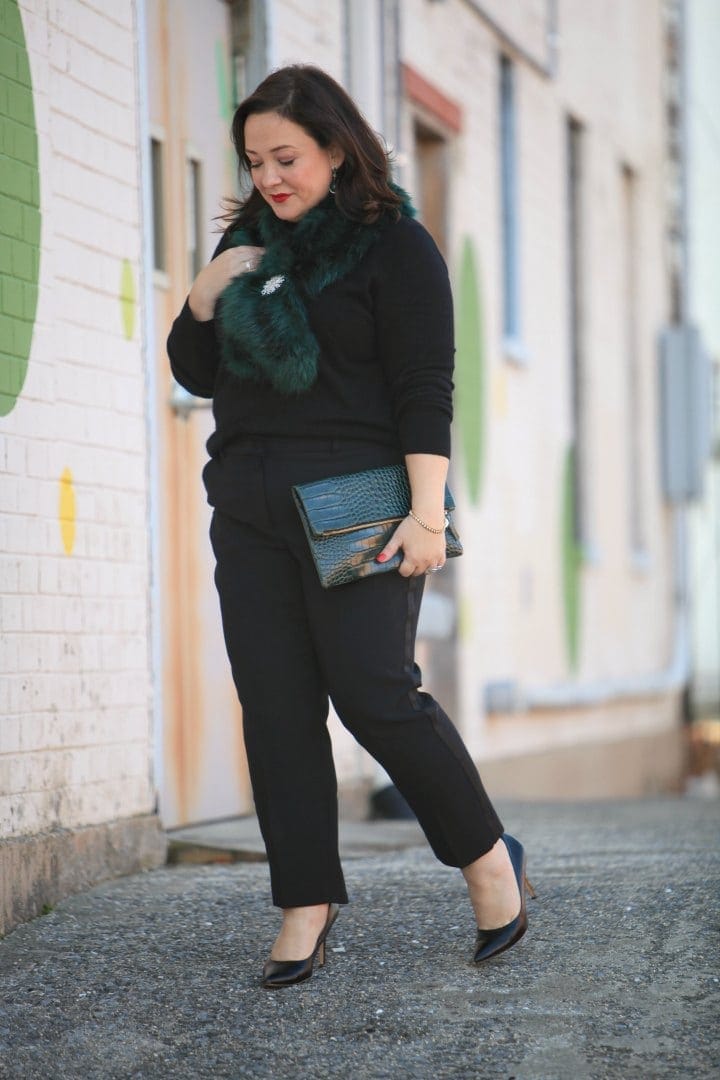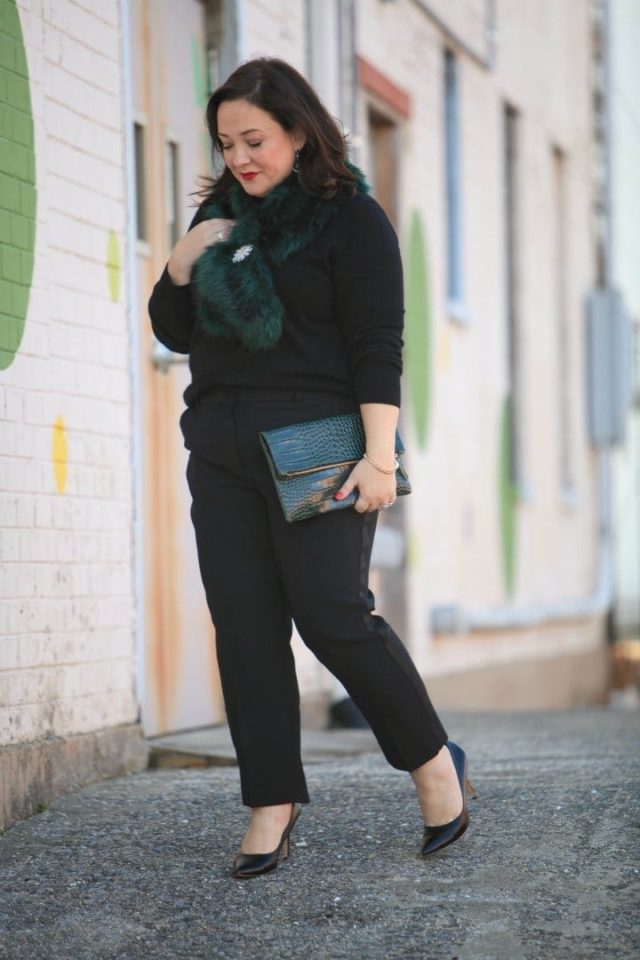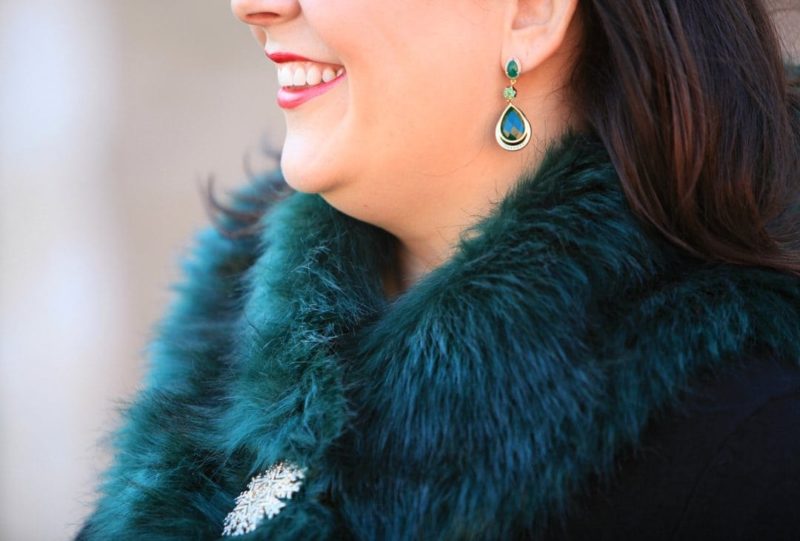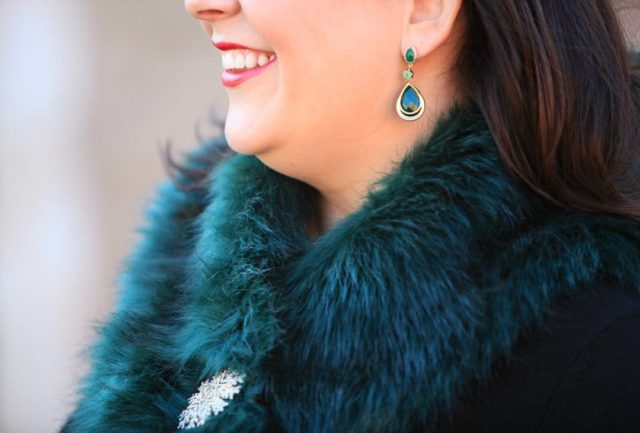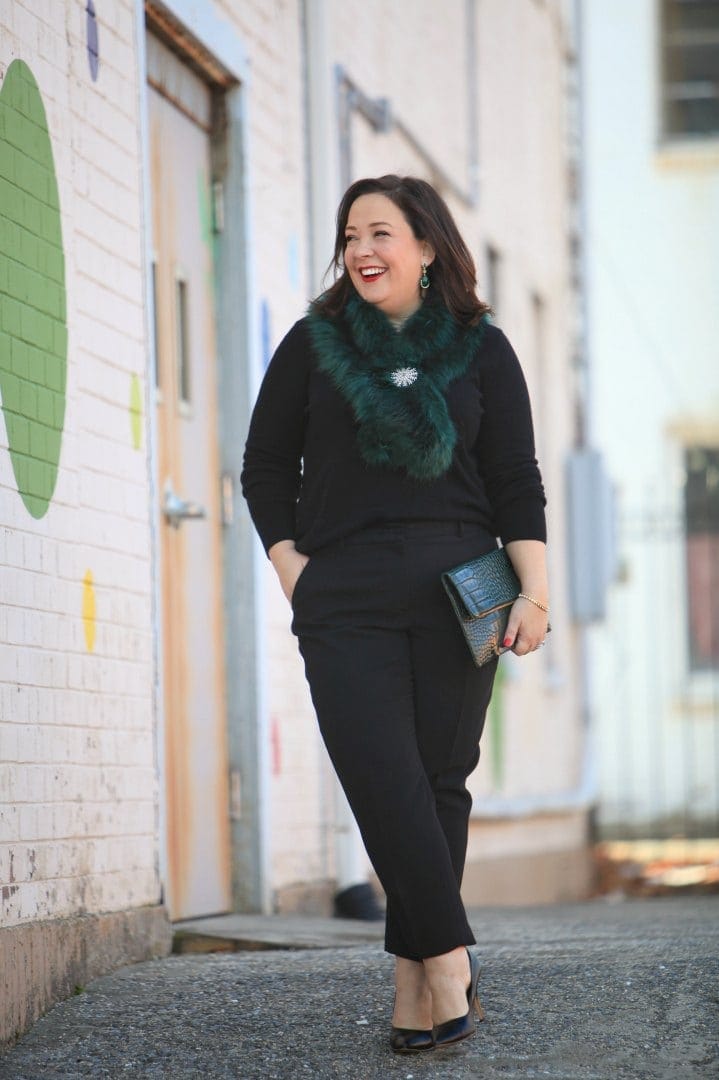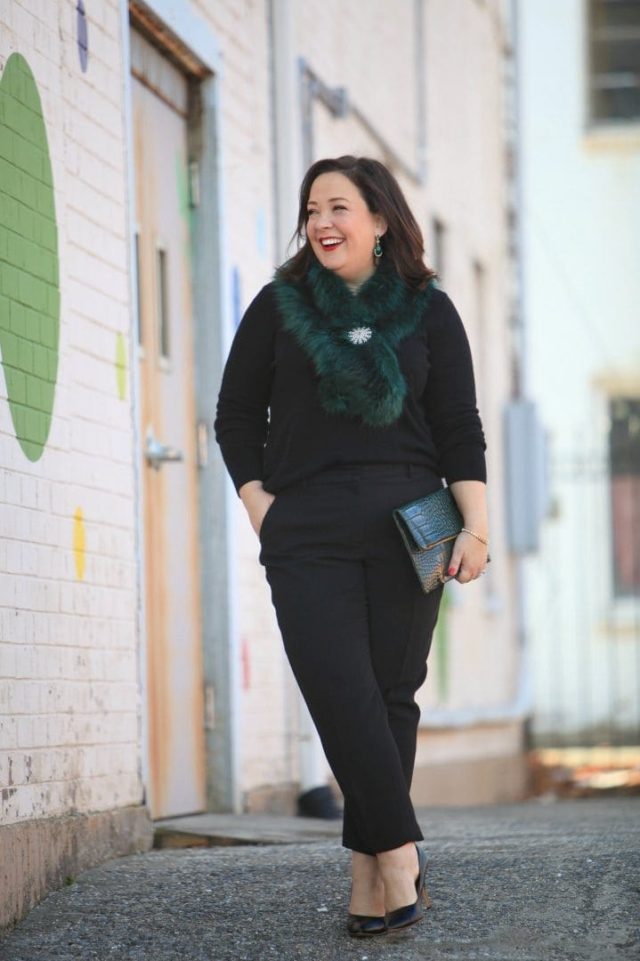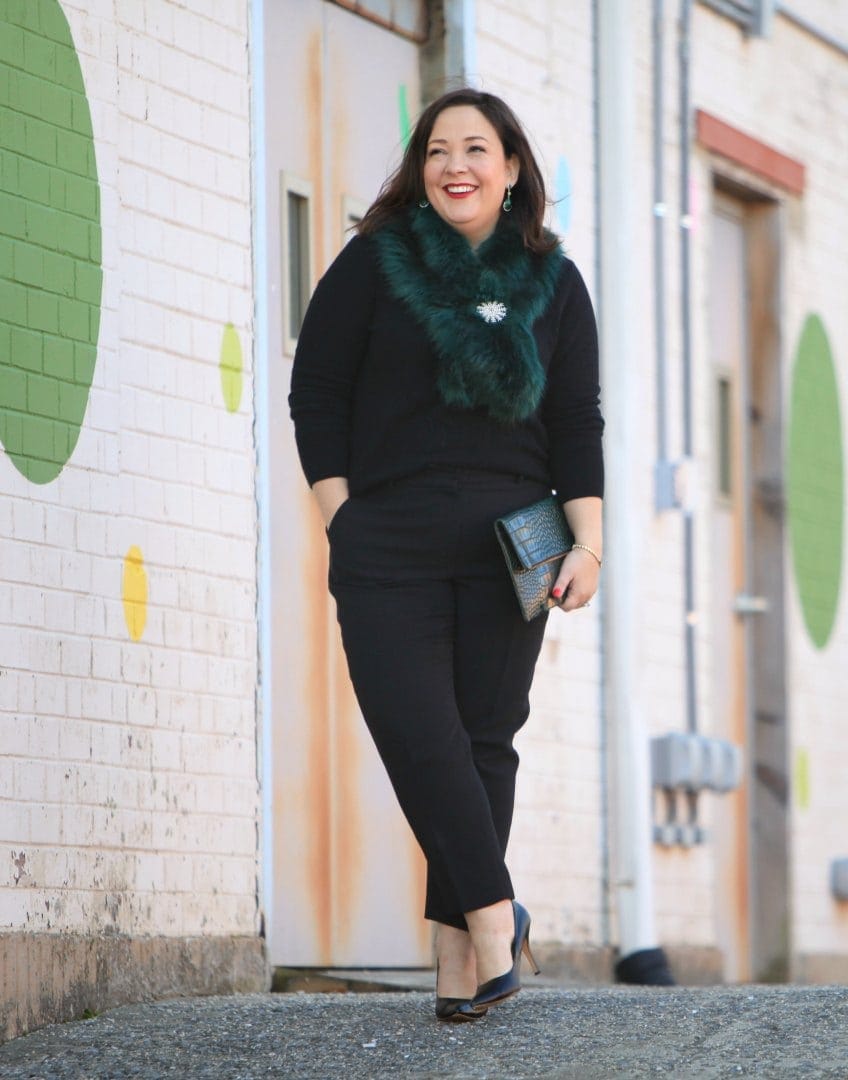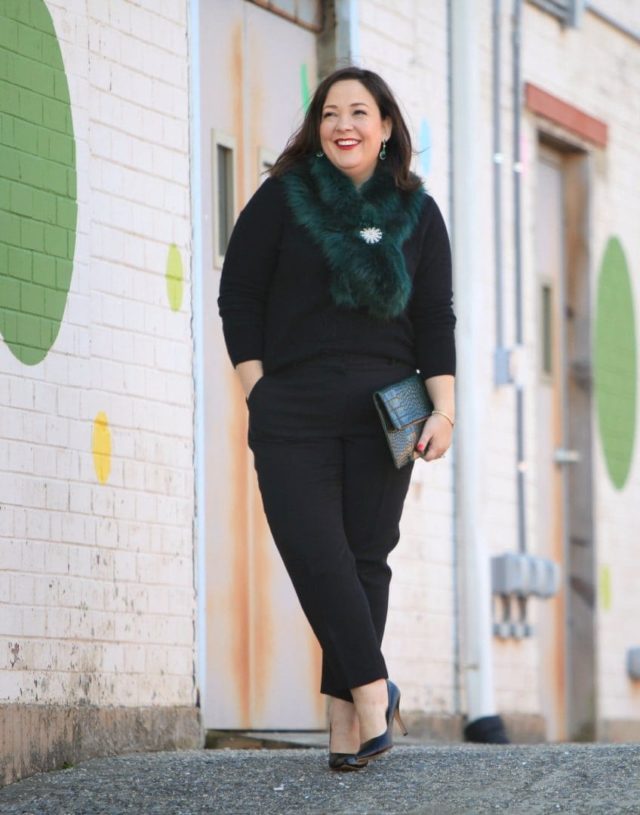 Sweater: cashmere crewneck c/o Lord & Taylor (XL; plus size option) | Pants: Tux pants c/o Talbots (16P; plus size option) | Shoes: Nine West | Faux Fur Stole: Sole Society (old; similar) | Brooch: Amazon | Earrings: Emerald and White Topaz Earrings c/o Ross-Simons | Bracelet: gift (similar) | Bag: Clare V. | Lipstick: Lancome
The pants are the same ones I featured in this outfit post. I love these pants, they have the subtle tux stripe down the front, are lined, pockets, and don't get bagged out and dumpy looking with wear. I also wore them recently with a black merino turtleneck and leopard printed kitten heels. The faux fur stole I bought a year or two ago from Nordstrom, I think it cost maybe $35 and has been such a good purchase. I wore it in this blog post last holiday season, wore it with a green floral maxi dress in this blog post, and when I went to see Diane von Furstenburg speak at the Washington Post I wore it with a black ponte long-sleeved sheath dress, black tights, and black knee-high boots (it was a very cold evening!). Though green is nice for the holidays, honestly any color would work. I chose green because I love the color, not thinking of the holiday. The pin I picked up at Amazon last year. It's pretty great for being less than $20 and adds a bit of a holiday vibe to any look. This weekend for the family get together I didn't wear the fur, and instead wore the pin on the sweater. The shoes are the same ones I wore in yesterday's post and in dozens of previous outfit posts over the years. A pair of pointed toe black leather pumps is a wardrobe workhorse; if this heel height isn't comfortable for you go lower. With this outfit you could even do a flat; the pointed toe is what makes it look elegant.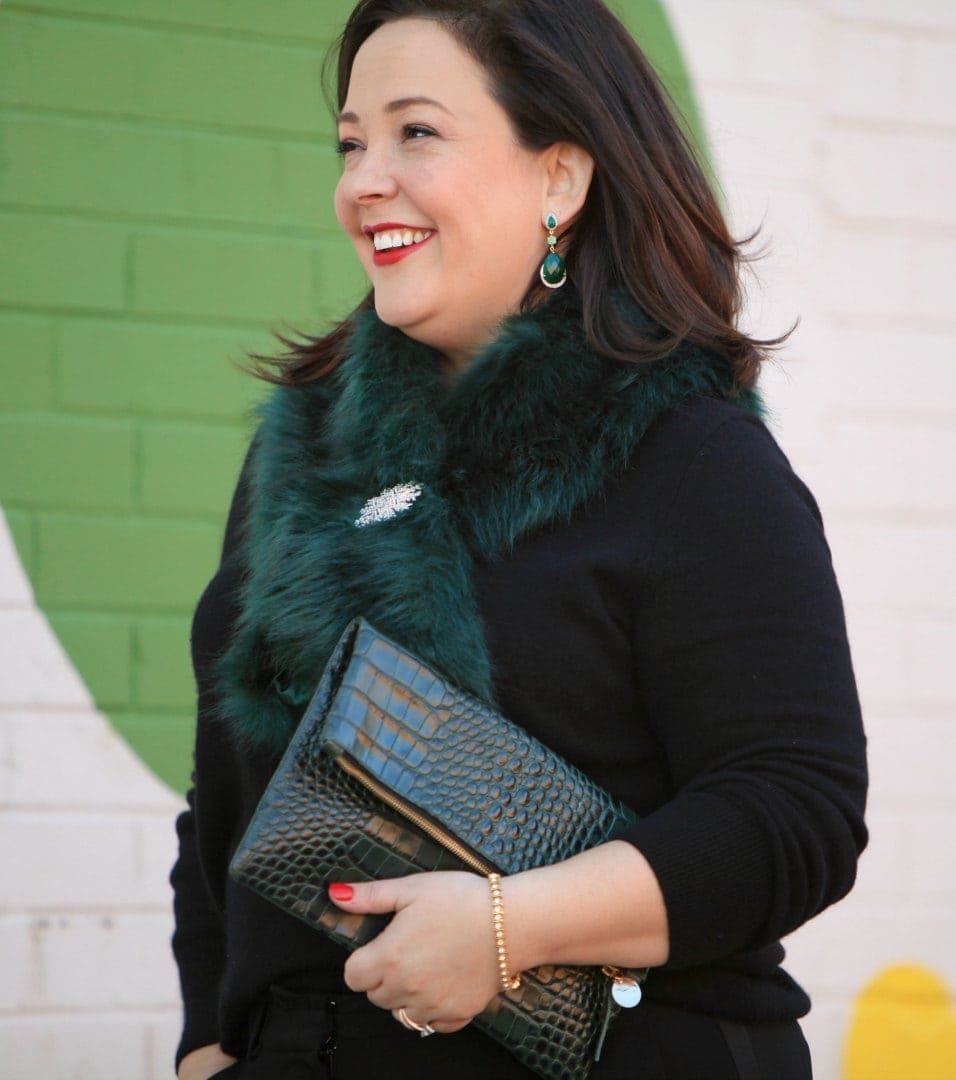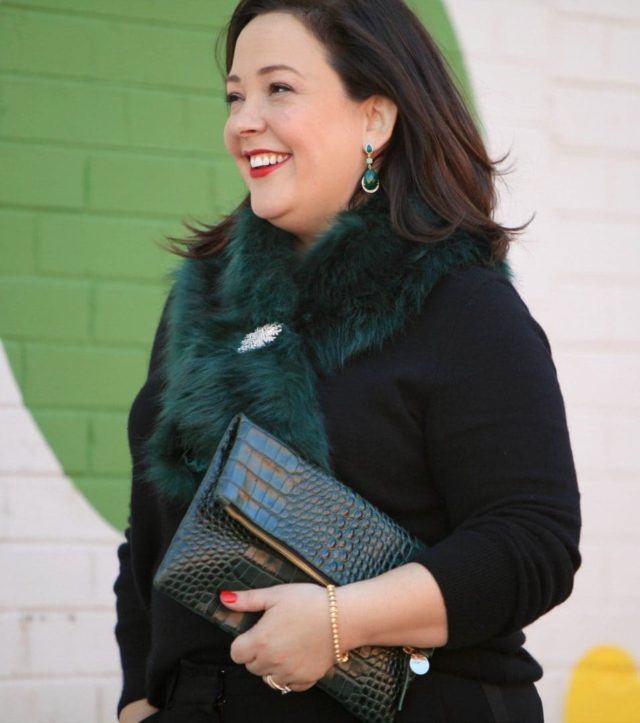 The earrings are the newest part of the look. I partnered with Ross-Simons in the past and love their history, their service, and their excellent selection. They sent me these earrings and they are the perfect bit of sparkle and luxe. Being green, they look festive this time of year but are an elegant earring that would be stunning any time of the year. And do check them out, the price will amaze you! The bracelet was a gift I received over a decade ago, it too adds that little bit of luxe sparkle that elevates the look. Finally, I'm all about a red lip for this time of year!
Tomorrow I'll show a dressier look again with this same cashmere crewneck sweater. I hope this series will help you see how you can restyle and rewear things already in your closet without having to go out and buy a new dress for every occasion on your calendar!