This article may contain affiliate links; if you click on a shopping link and make a purchase I may receive a commission. As an Amazon Associate, I earn from qualifying purchases.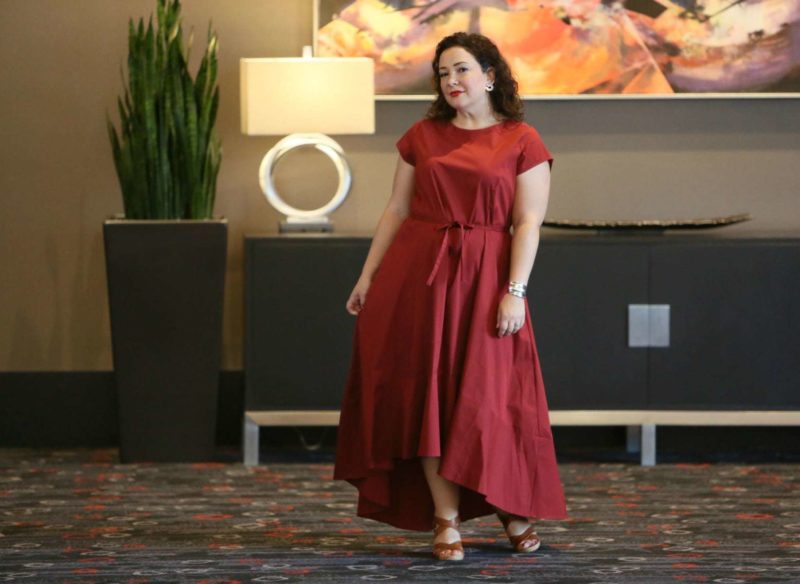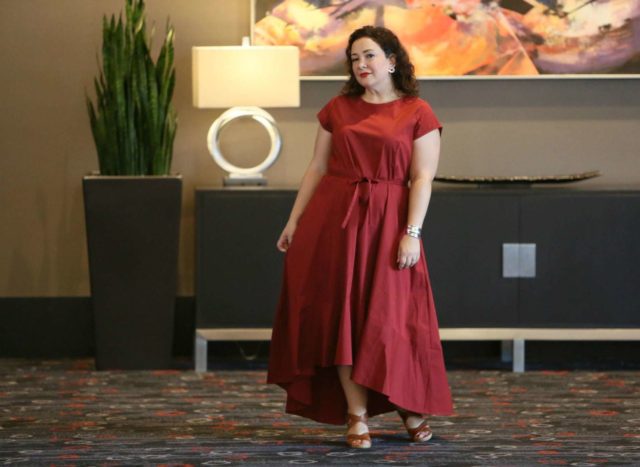 The very day that the Universal Standard x J. Crew collaboration launched, I placed an order. No stranger to Wardrobe Oxygen will know that I've become quite a Universal Standard fangirl. As for J. Crew, it has been one of my besties since college. A perusal of my archives will see some of my very first outfit posts in J. Crew, and 13 years later there are still several J. Crew pieces in my closet and in my outfit posts. So yeah, two of my faves collabing and having sizes XXS to 5X got me excited, especially this gorgeous dark red dress. It reminded me of the dancing emoji, I ordered the dress expecting to add it to my closet, along with a few other separates to review for the blog that may or may not end up returned.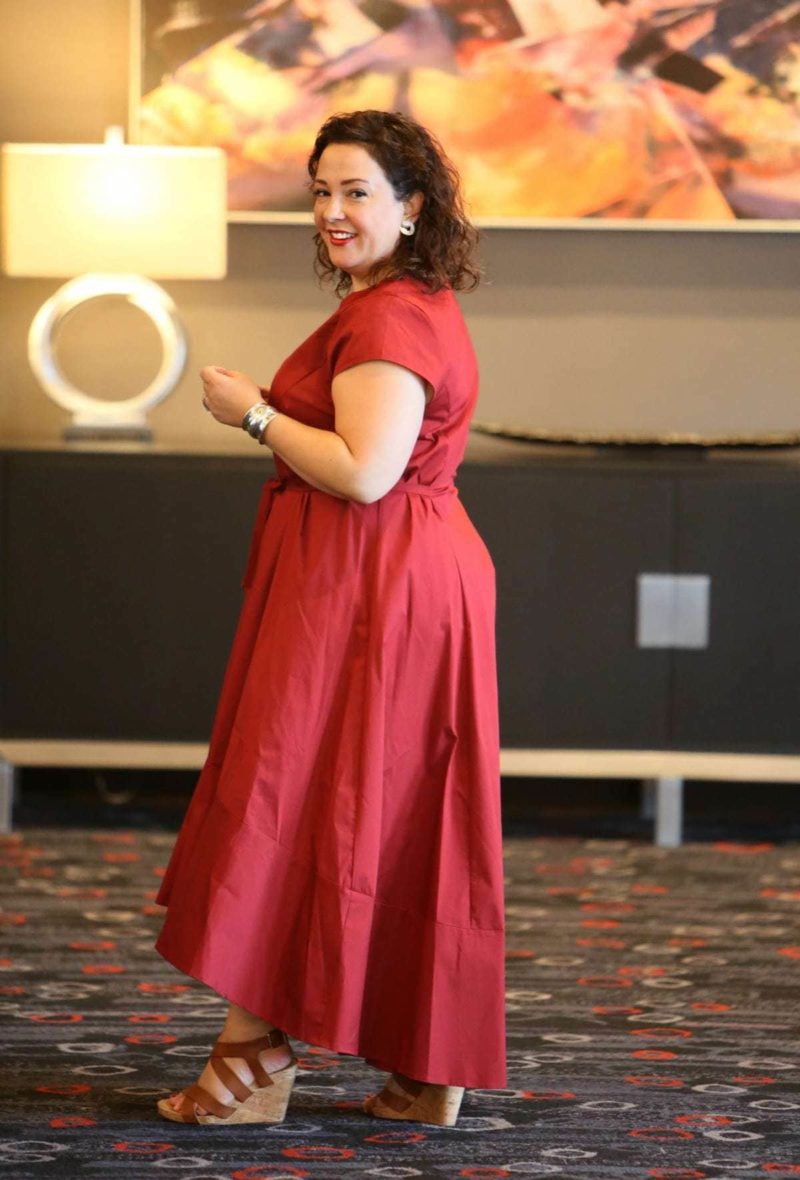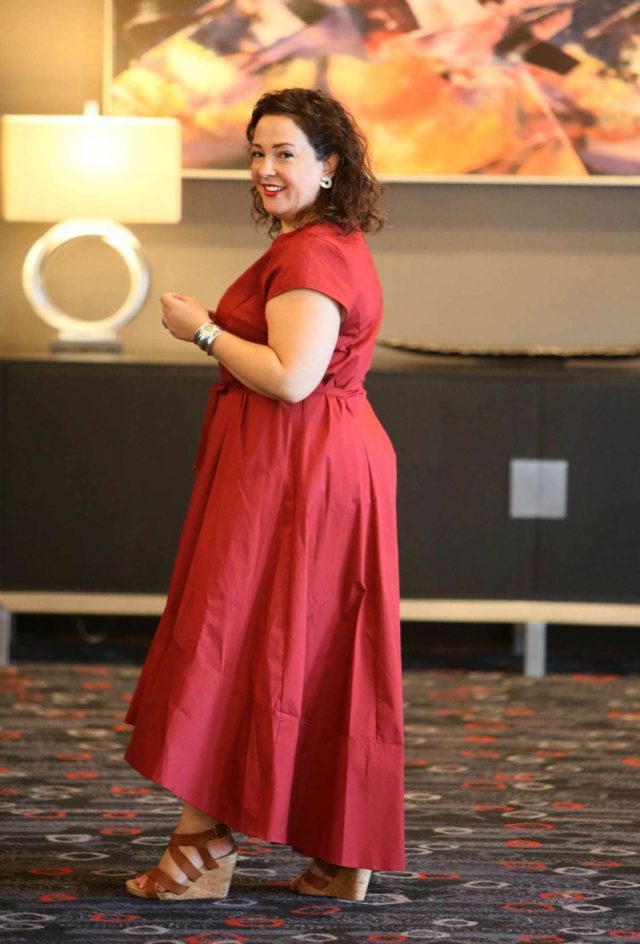 The bag came, I first pulled out this dress. Even before I tore open the plastic bag, I wasn't feeling the dress. It looked as though it was made from a pair of sheets. The creases from folding were hardcore, making me worried that it just would look a mess after a day of sitting and bending while sweating in the summer heat. But I slipped it over my head, tied the waist, and adjusted the dress before checking out my reflection.
Shop the Look: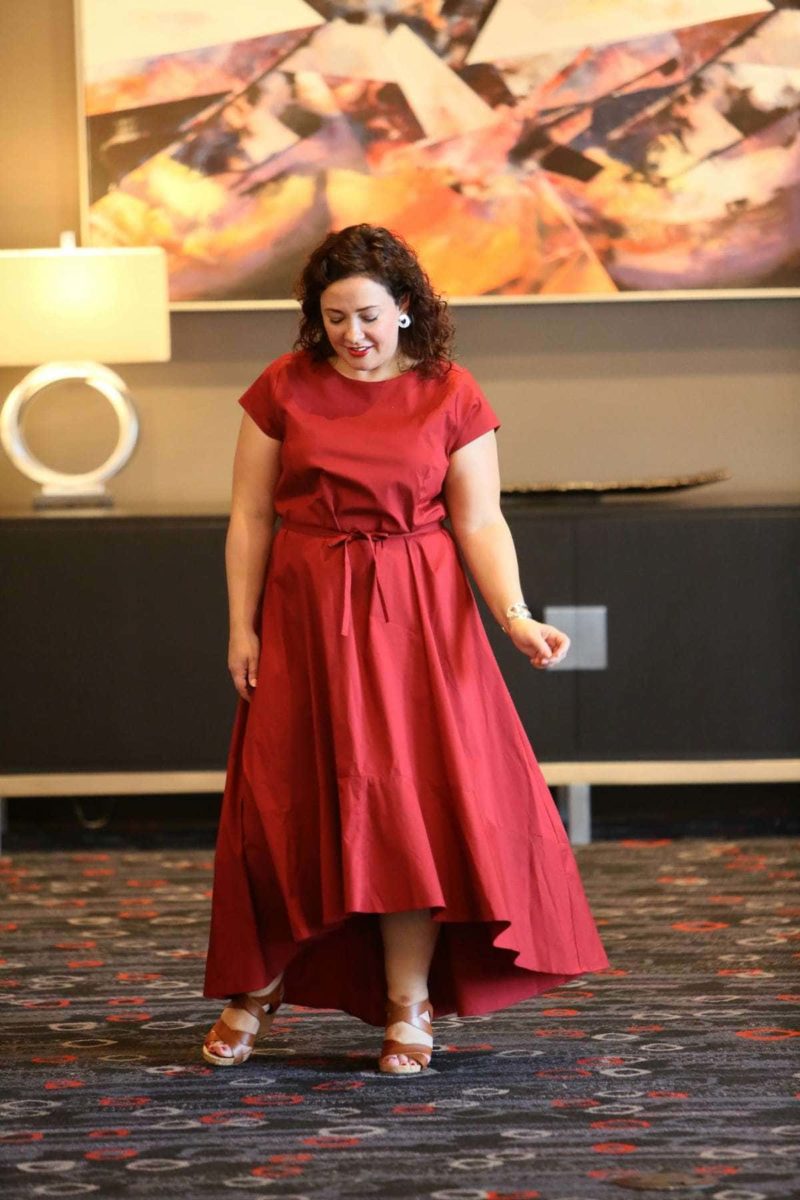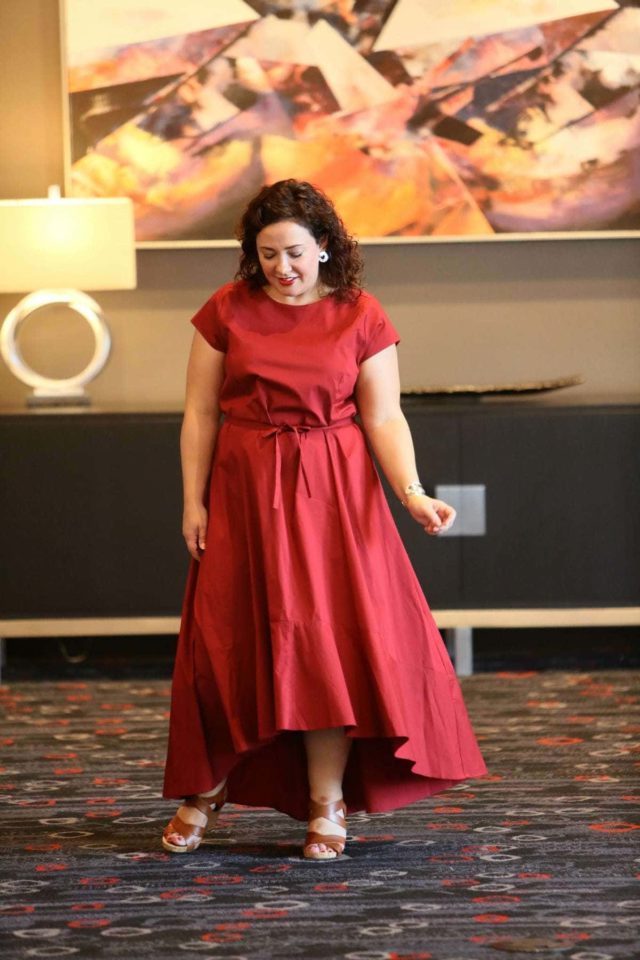 It looked like I got all Maria von Trapp on a handmaid's cape. I didn't like the sleeves, it reminded me of scrubs. I felt overwhelmed by the fabric, thinking it would be a better choice for someone larger. I tied the waist in the front, to the side, in the back. Nope nope nope. I was already writing the review in my head – only consider if you're over 5'6″ and the more curves the better this dress will look but for me, it's a miss. I tried on the other pieces, fell in love with these pants (they're currently at the tailor being shortened to my 5'3″ existence), and didn't take another glance at the red dress until the day before the shoot.
I pulled the dress and the other pieces from the rolling rack in my office (when you're a fashion blogger, you have things like rolling racks of clothes in random rooms of your house) to steam them, the red dress the first item. As the steam softened the creases, it also softened the fabric. No longer did it look to be made from very stiff percale sheets, it had a bit more drape and you could see the detail in the seaming, the tailoring. I hung the dress on the back of my bedroom door to cool and dry for the next day.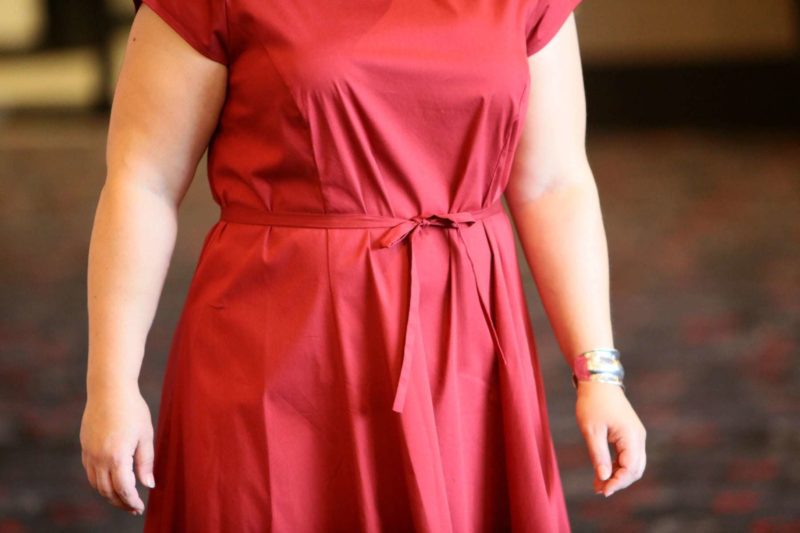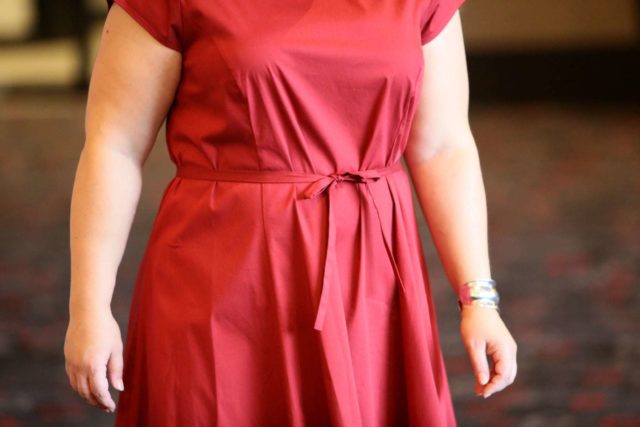 I didn't put the dress back on until I was at the hotel where we shot these photos. The hotel bathroom didn't have a full-length mirror. I decided to tie a bow in the front, liking how its sweetness complemented the flared skirt while contradicting the stark minimalism of the sleeves and bodice. Since this wasn't an outfit shoot but for a product review, I didn't think about styling with shoes, jewelry, and accessories. In fact, I didn't bring any for the shoot, these shoes were for a different outfit I planned to have photographed at the next location, the earrings and bracelet what I had on that day.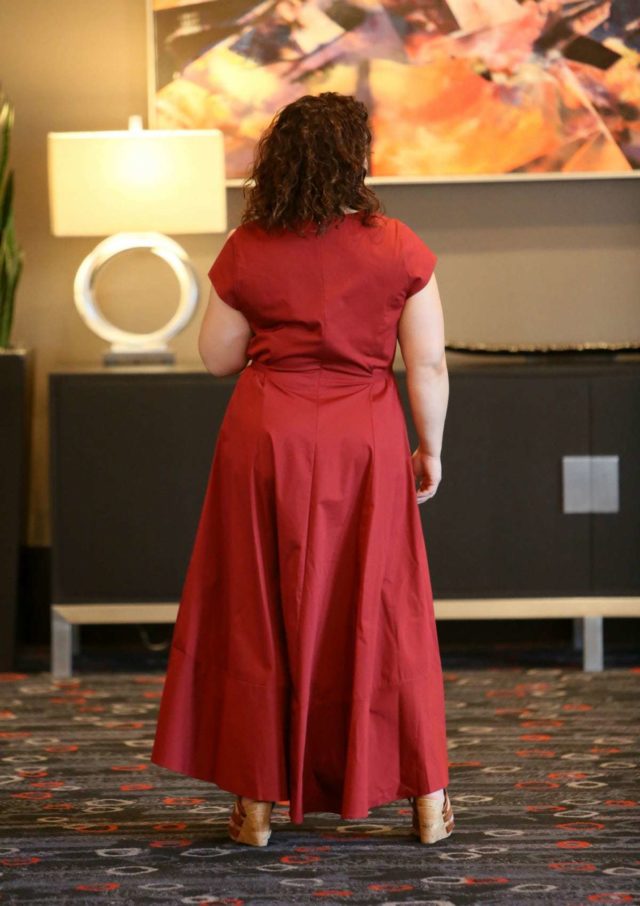 I didn't look at these photos until after I carefully folded up all my returns and mailed them back to J. Crew. Looking at these photos I wonder if I should have kept this red dress. I really think steaming this dress transformed the fabric. And this fabric's crispness is what will feel amazing in the summer heat, will soften in the humidity, and with washings over the season and into future years, the fabric will soften more, possibly fade a bit, and with it possibly become even more badass than it already was in 2018.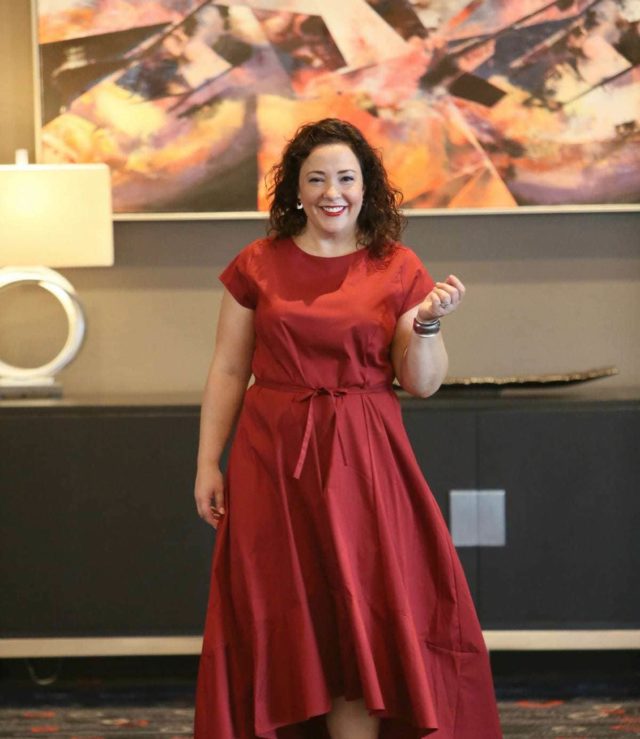 If you decide to get it, for reference I am wearing a size Large. I usually wear an XS in Universal Standard and a petite whenever it is available. In other brands I am usually a 14, sometimes a 12. I am 5'3″, and while I have collaborated with Universal Standard in the past, I was not paid for this post, I bought the dress with my own money, and no brand knew I was writing this. If you click on a link and make a purchase, I may make a small commission.