This article may contain affiliate links; if you click on a shopping link and make a purchase I may receive a commission. As an Amazon Associate, I earn from qualifying purchases. 
The days are blurring together and with it, the outfits. Sometimes it's bedtime and I realize I never captured my outfit. And to be honest, some days are the same outfit, just with different underwear and occasionally a different base layer. But this week is also one where I got a little more adventurous with my wardrobe. The looks from this week I remembered to capture: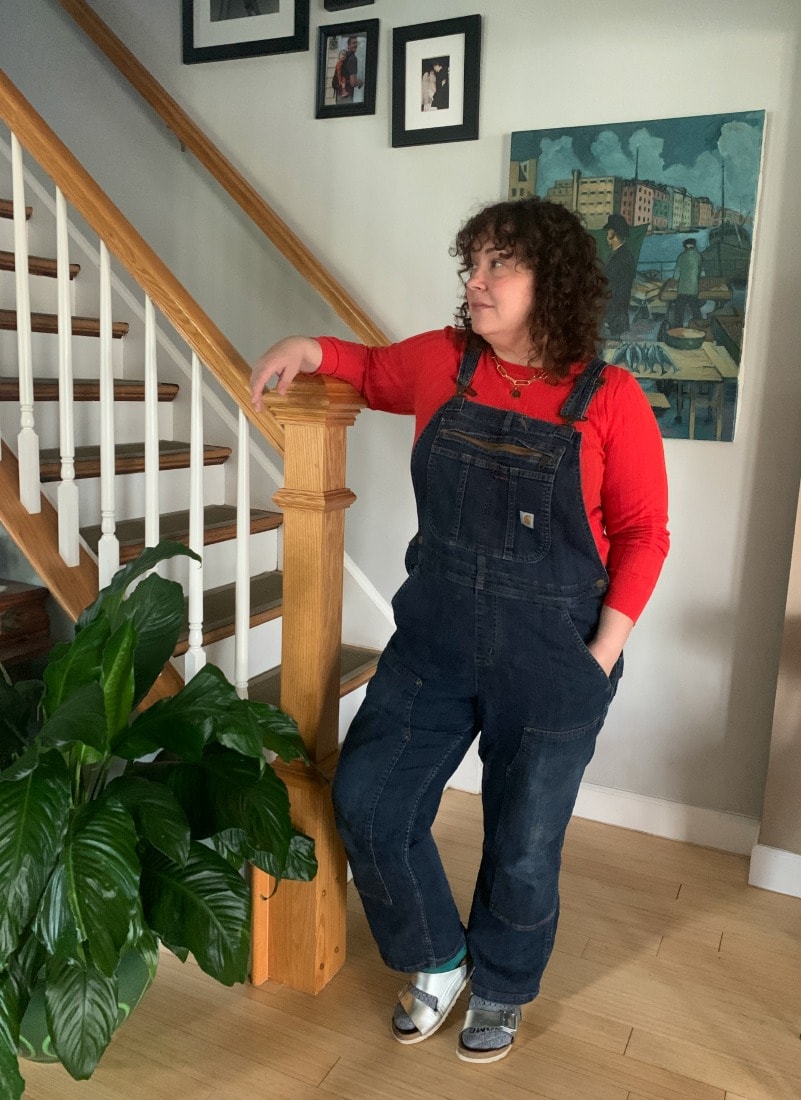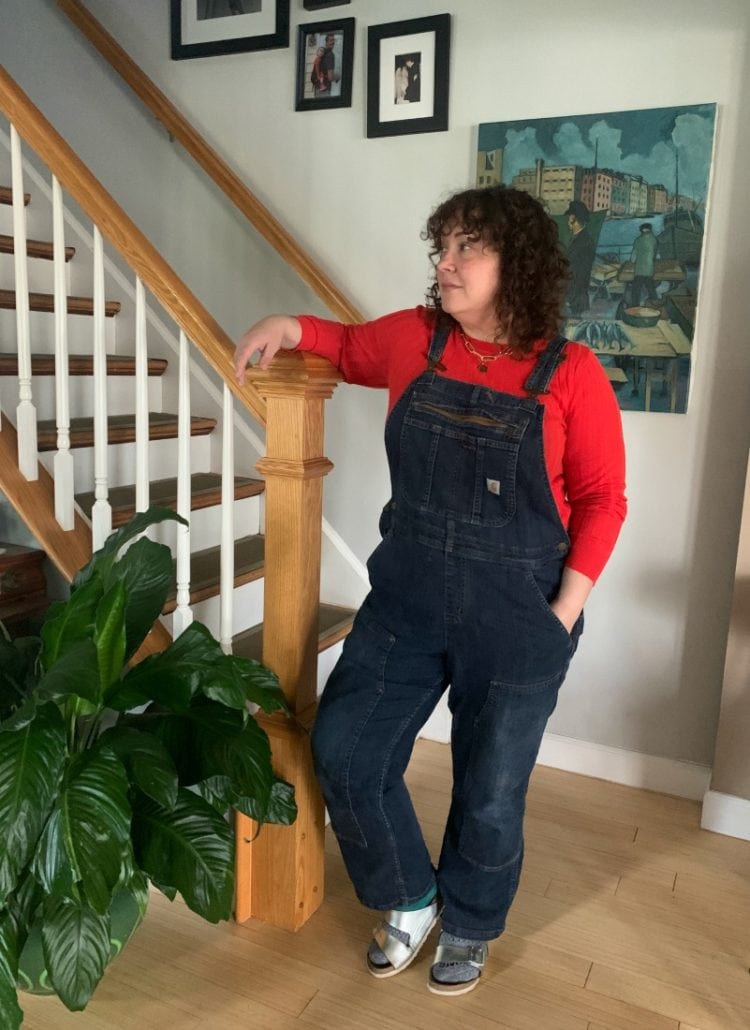 overalls | similar sweater | Birkenstocks | socks | link necklace | initial necklace
I've had these overalls from Carhartt since March 2018. They are a fave because they're not heavy but still enough that they don't cling. They come in lengths; these are a Large Short. I appreciate the zipper pocket at the top so I can put my smartphone in there and know it won't fall out if I bend over or use the facilities. Under it is the machine-washable merino sweater from this blog post; it's now sold out but this is another washable merino also from Banana Republic in the same color. These Bombas socks are the very first pair I ever bought from the brand and are still going strong many years later. And shocker, the silver Birkenstocks again! They are officially my house shoes and a new pair of the EVA style in orange have become my yard shoes. The only time I'm leaving the house is to visit our plots at the community garden a couple of blocks away and for that I'm wearing my BOGS boots. I think I need to write about those boots… I got them as part of a sponsored post way back in 2015 and they are one of the most loved shoes I own. Mud, rain, snow, none of them are a problem with these. My mom even got a pair after hearing me constantly rave about them.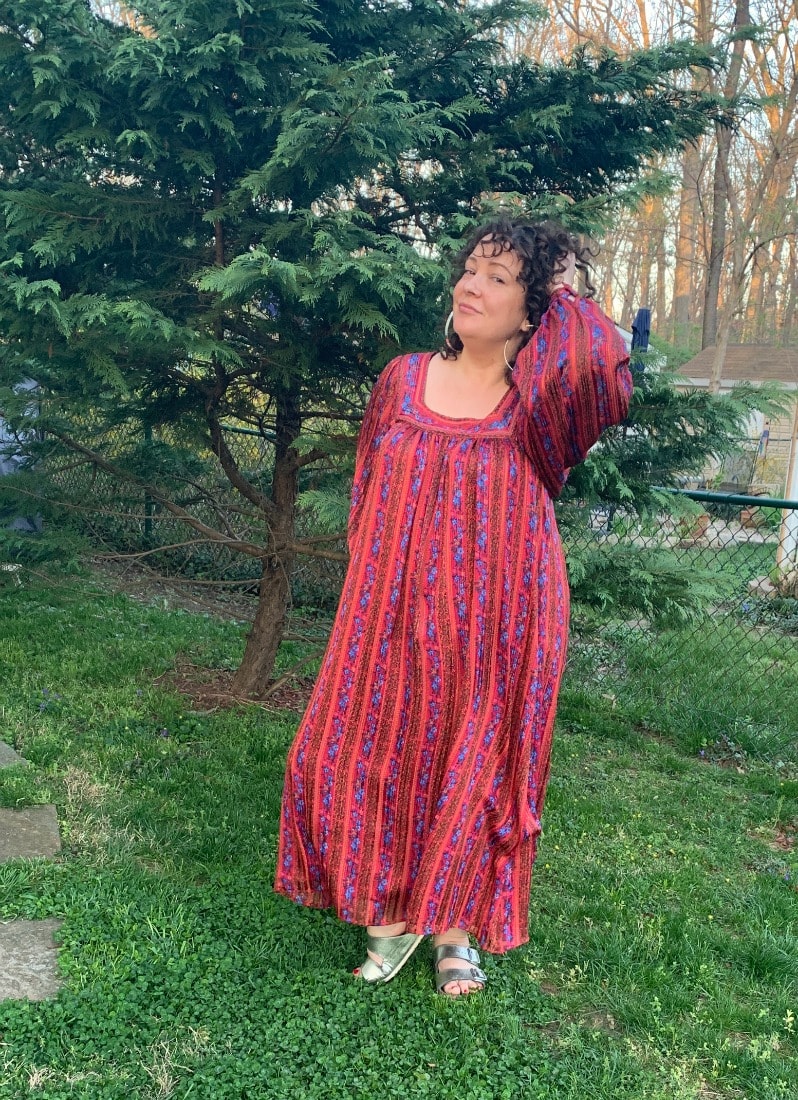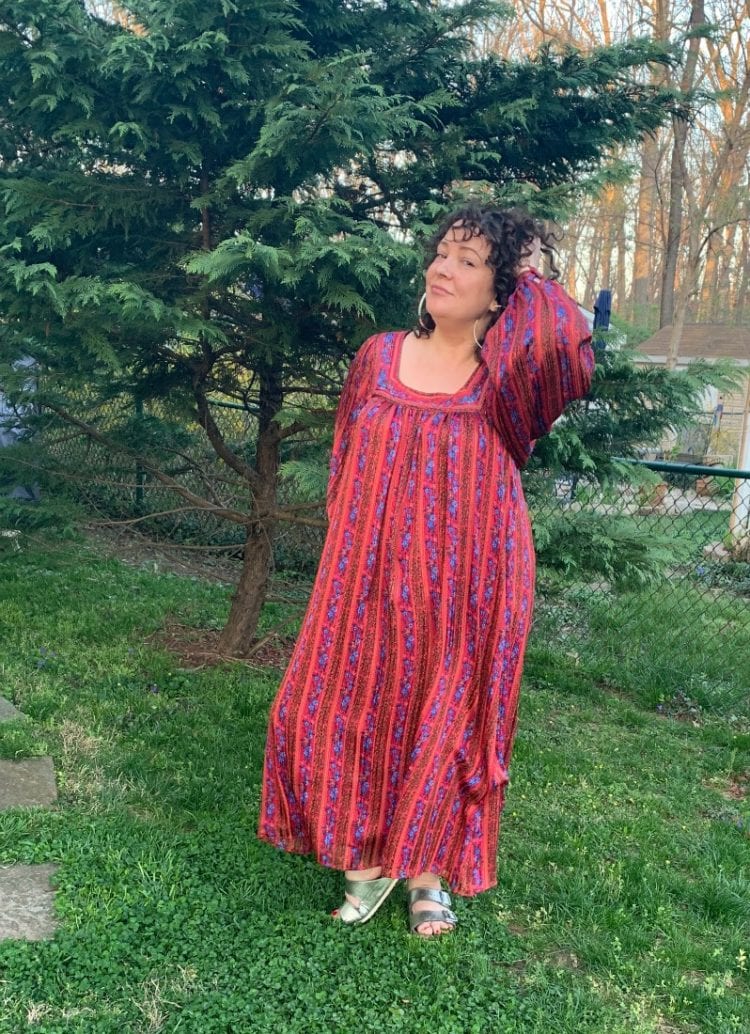 dress | Birkenstocks | similar hoops
Cleaning up my neglected closet I realized I got this dress from my last Rent the Runway Unlimited delivery. It is an exclusive collection for Rent the Runway from Sweet Baby Jamie. It has a sheer overlay and sheer sleeves with metallic threads going through it. When I got it, I planned on wearing it cinched with a brown leather vintage belt and brown leather boots. Now it's comfy and feels glam and festive with Birkenstocks and a bare face!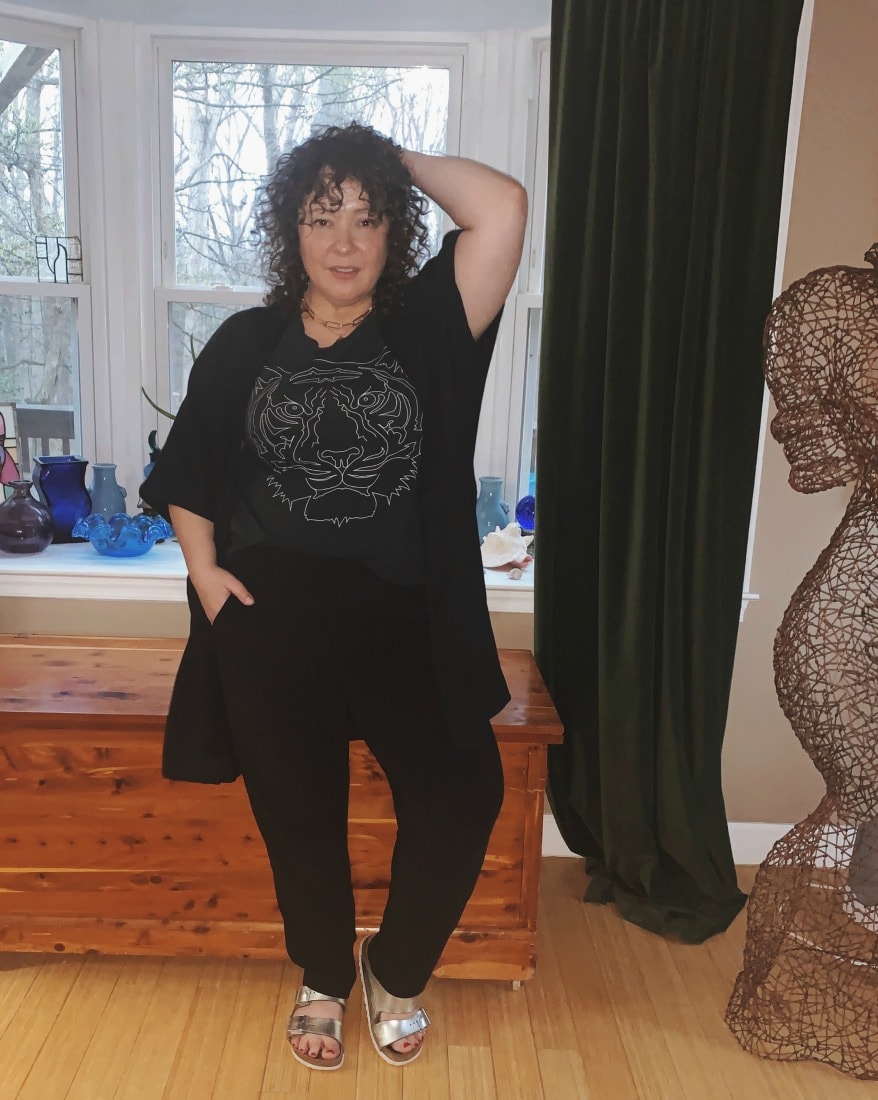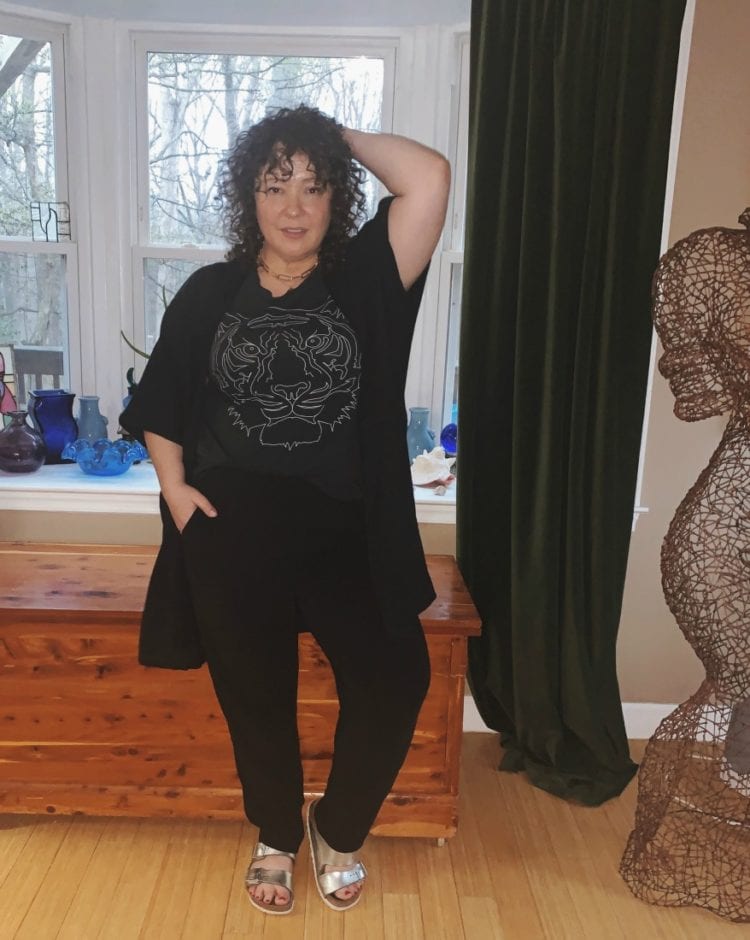 jacket wrap thing | similar t-shirt | joggers | Birkenstocks | link necklace
This was my look for multiple days, just with different t-shirts underneath. The wrap gives a bit of warmth, just the amount I need for the weather right now in Maryland. It's fleecy inside so wash it before wearing with other fleecy things that can handle some black lint (I washed it with a load of towels). It has deep yet narrow pockets so I can put in my iPhone Max and it fits but doesn't spill out when I sit or lie down on the couch. The sizing is S/M or L/XL; I have the L/XL but if I were a 10/12 or smaller I'd go with the S/M and I think the L/XL would work up to a 16. The joggers have been on repeat; they are super soft but not too thin and I love that they have zipper pockets so I don't lose things like my lip balm. They are a size Large. The t-shirt I've worn on the blog before; it's sold out but this one from Etsy is similar.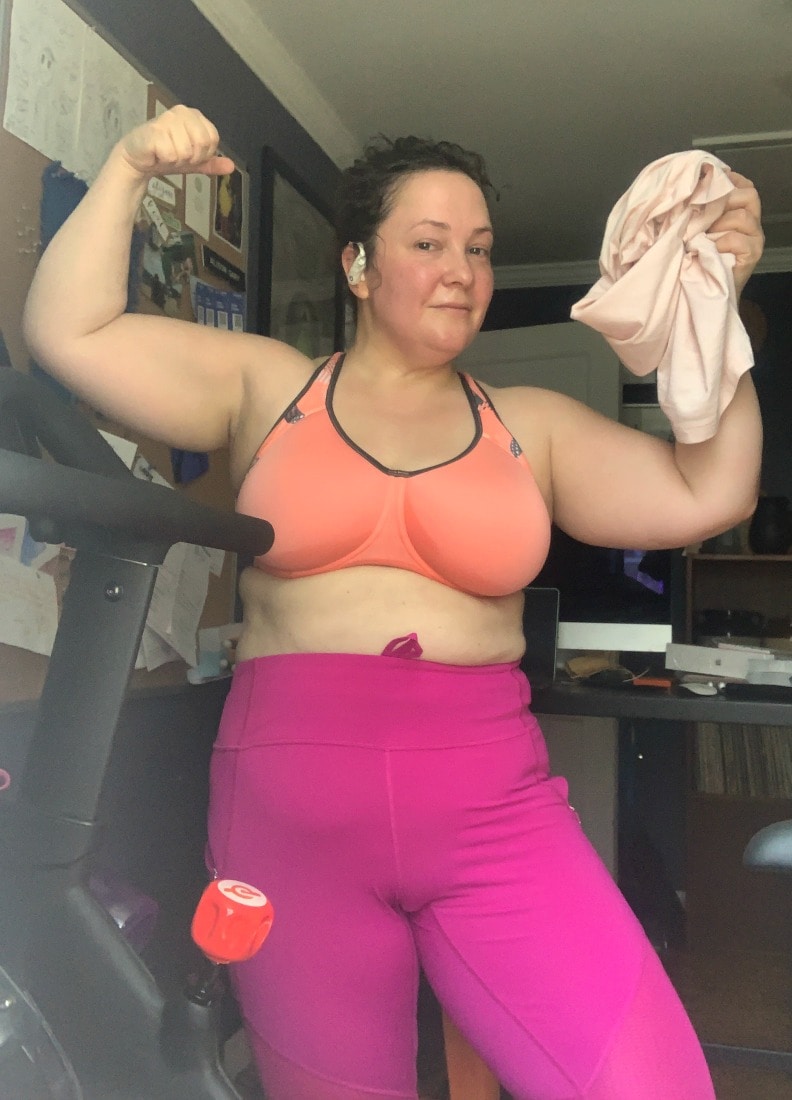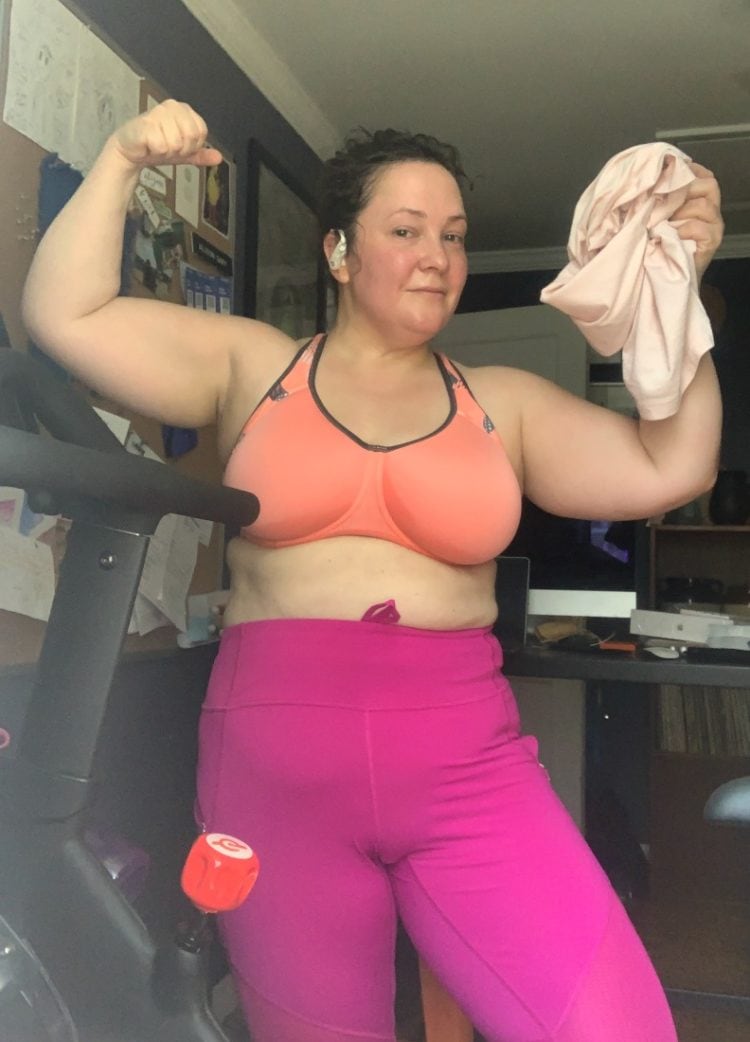 sports bra | leggings | similar t-shirt from a different retailer
I believe this day I wore the same thing as the previous photo, just with this white v-neck from Soma (a few of you asked about good v-neck t-shirts, this one is a fave, I wear it in Large). I didn't capture any photo except this one after my Peloton ride. It was my best output on the bike, and I sweat so much I ended up yanking off my t-shirt. I've never been a cardio person and I've never been to a spin class but I am really liking my Peloton! Post about it coming soon! The t-shirt is from Everlane, I'm not terribly happy with Everlane right now so I linked to a similar t-shirt from Universal Standard above. Everlane sent me the shirt as a gift at the beginning of March and honestly, it's not anything to write home about anyway hence it being used for working out. I don't even know which tee it is, it's paler pink than anything on the website and it's cropped (at least cropped on me) with standard short sleeves and no pocket. Anyway, the one from Universal Standard I linked to is a better choice.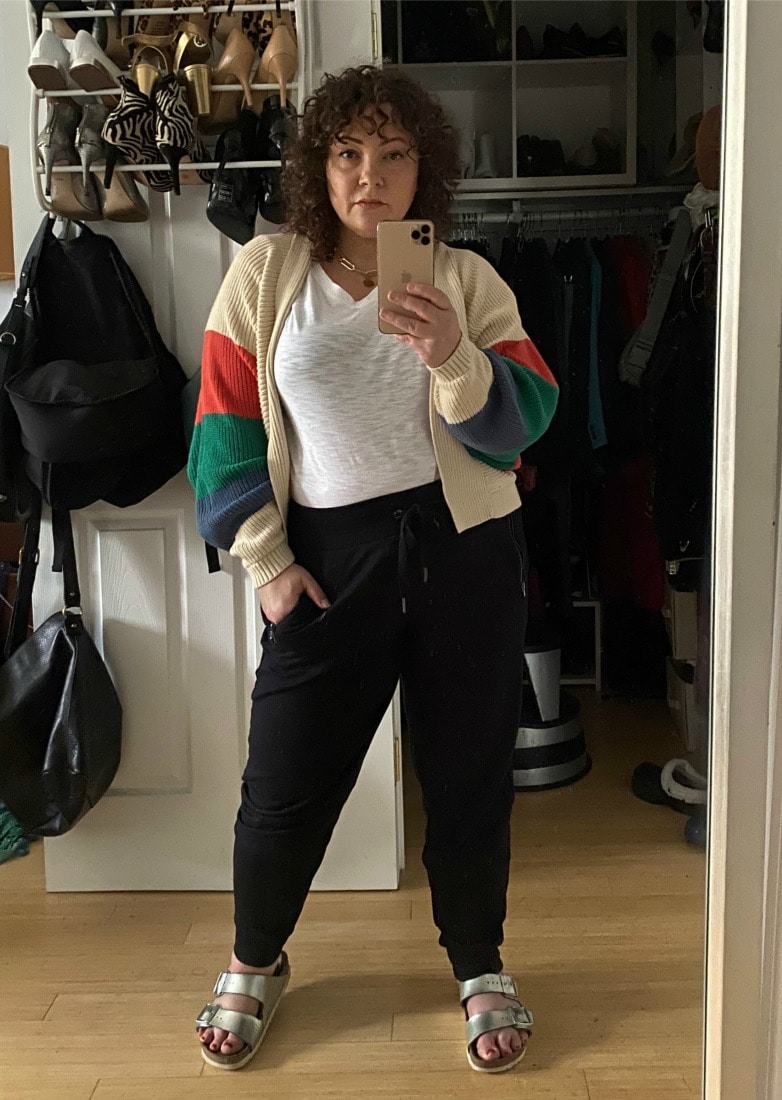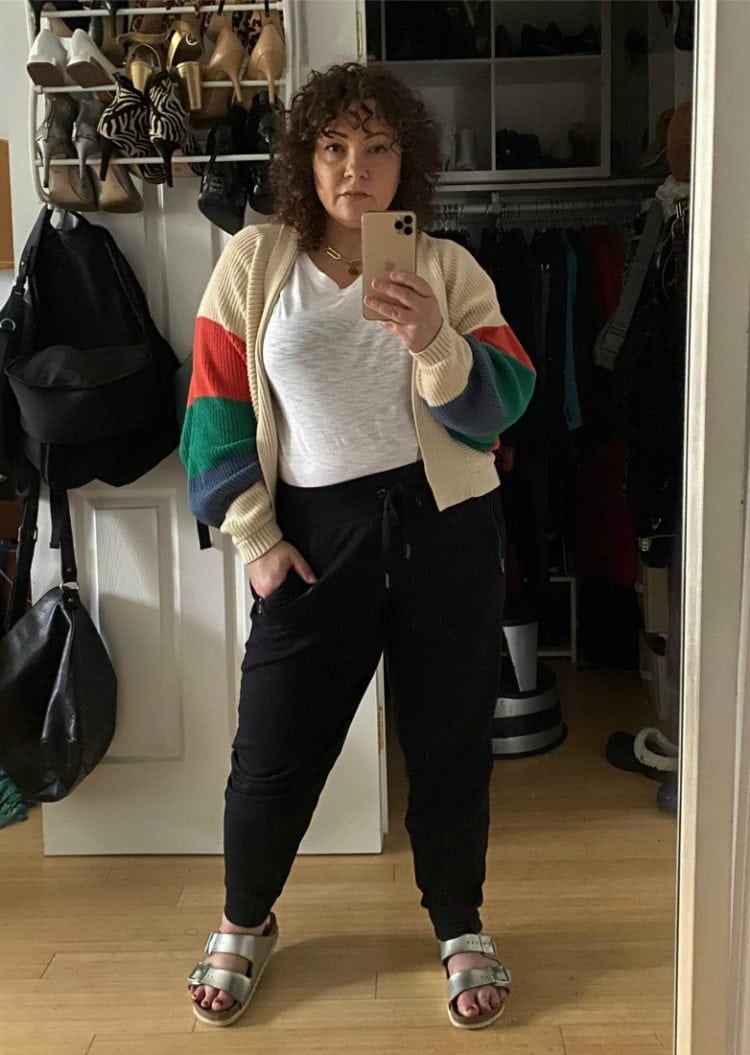 sweater | t-shirt | joggers | Birkenstocks | link necklace | initial necklace
This is my favorite outfit from the whole week. I love this sweater, I think it's so fun, like Joey from Full House would have worn it. And again the joggers and the Soma slub v-neck tee I like so much. This tee looks transparent but is pretty opaque, it's soft but not floppy, washes well, keeps its shape, and I think has a great fit for curves. And I'm all about wearing jewelry; if I have it I should wear it and it makes me feel more me.
Shop the Post: