This article may contain affiliate links; if you click on a shopping link and make a purchase I may receive a commission. As an Amazon Associate, I earn from qualifying purchases.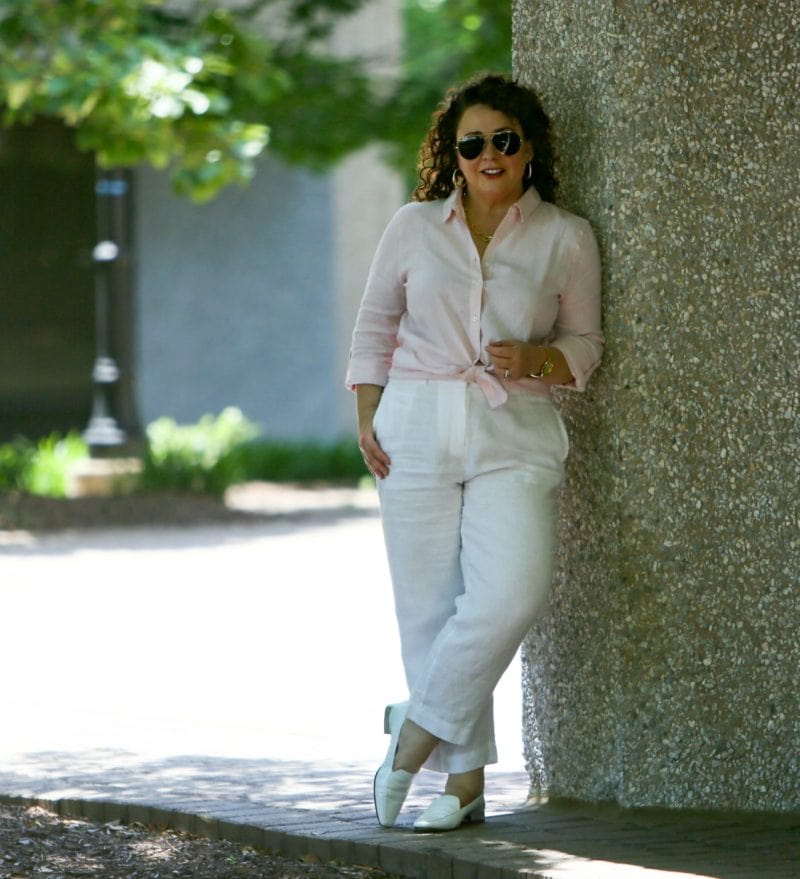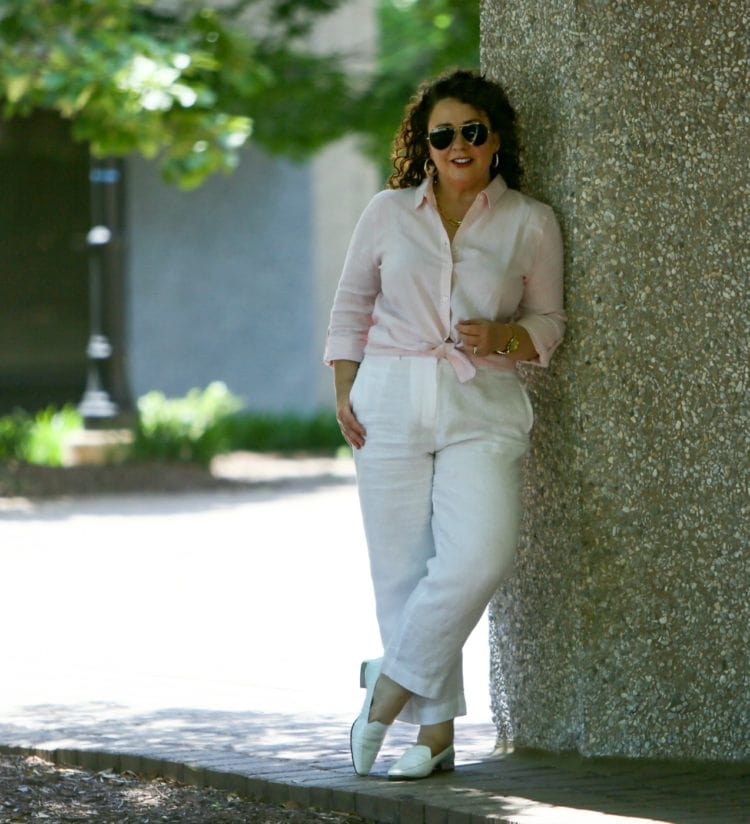 Back in 2018, Wardrobe Oxygen readers asked if I could review Chico's Wrinkle-Free Linen collection to share the quality, feel, and if it lived up to its name or like other linen, looked like a crumpled paper bag by noon. Not only did the linen hold up to the test, that linen shirt still resides in my closet, white much softer it's still in great shape through many many washings. Last summer when we did a two-week road trip, that linen shirt went with me because I knew it could handle being washed in a sink and hung to dry overnight, it would be comfortable staying in a cabin without air conditioning, and wouldn't be a mess after a long day in the car. Chico's invited me to check out their linen collection for Spring/Summer 2020 to share on Instagram; I decided to try a few pieces to see if the collection is still as great as it was in previous years and to also try out the new silhouettes for the season and review it for you here on the blog.

I liked the idea of the Linen Tie-Front Crops, knowing they could work with flats and heels, and I could customize their length once my tailor is open again. I also liked that the self-belt was removable, meaning I could have a sleek look for untucked tops or switch it out with a belt in my closet. I asked for the pants in both Navy and Alabaster to see how they held up with wear and how transparent the white may be. Both pairs are in size 2 which in Chico's sizing is a 12. While I am more a 14 in pants, I have found linen to stretch out and stay stretched out so I sized down.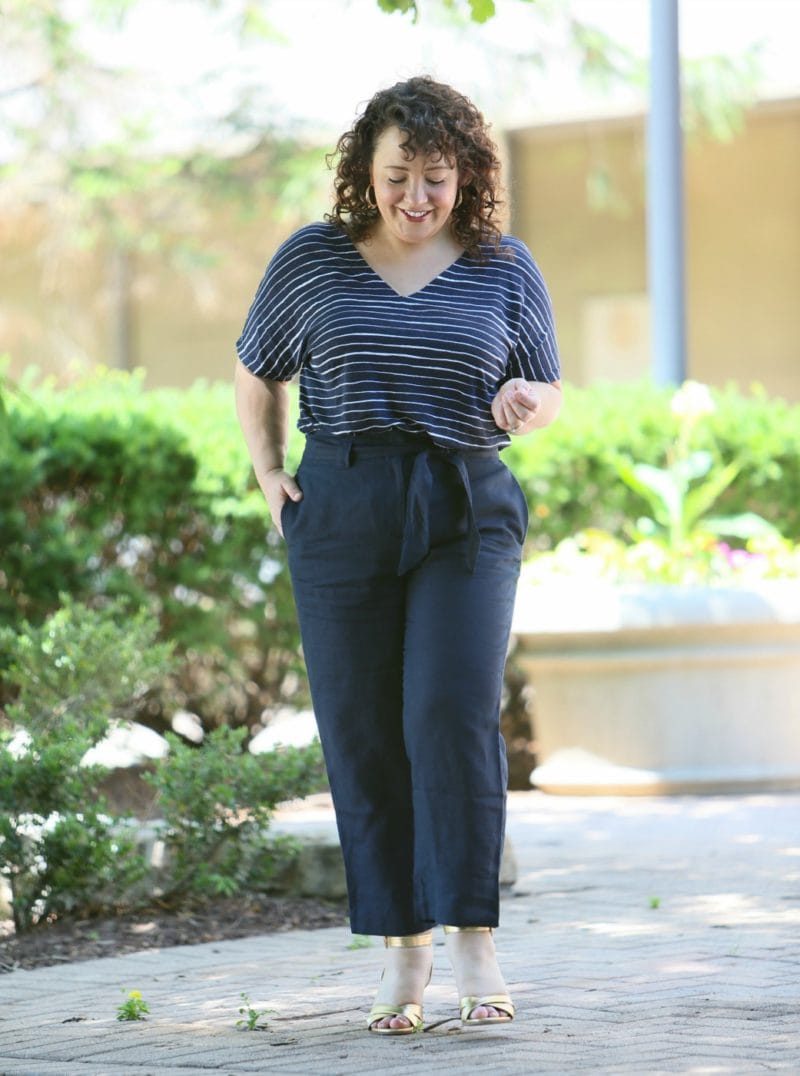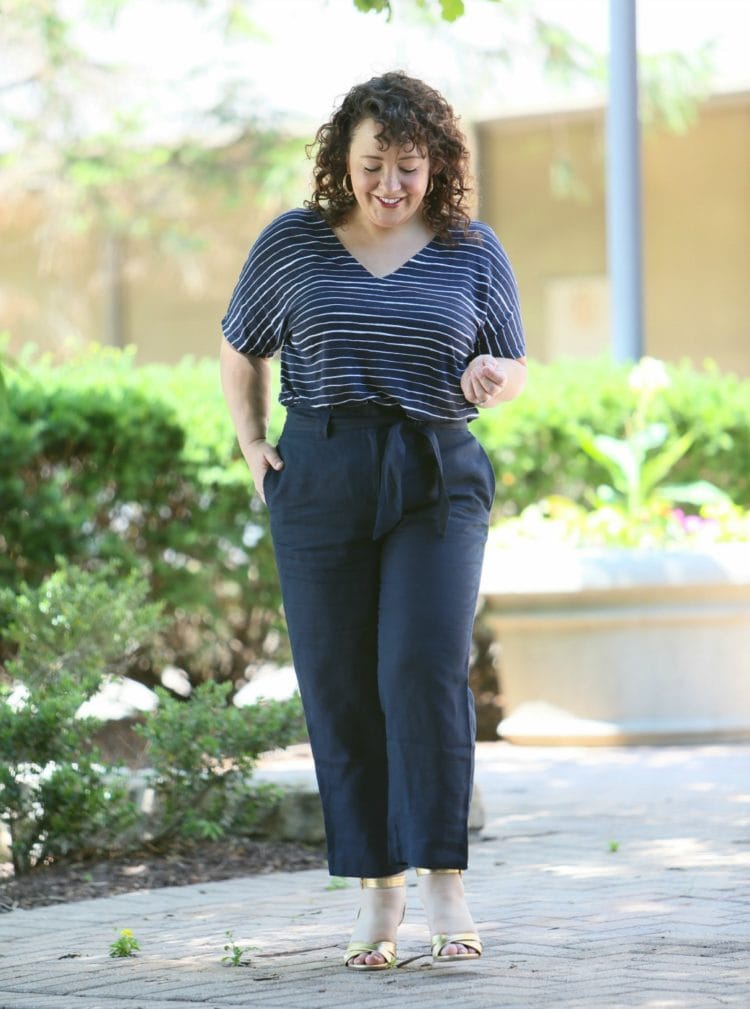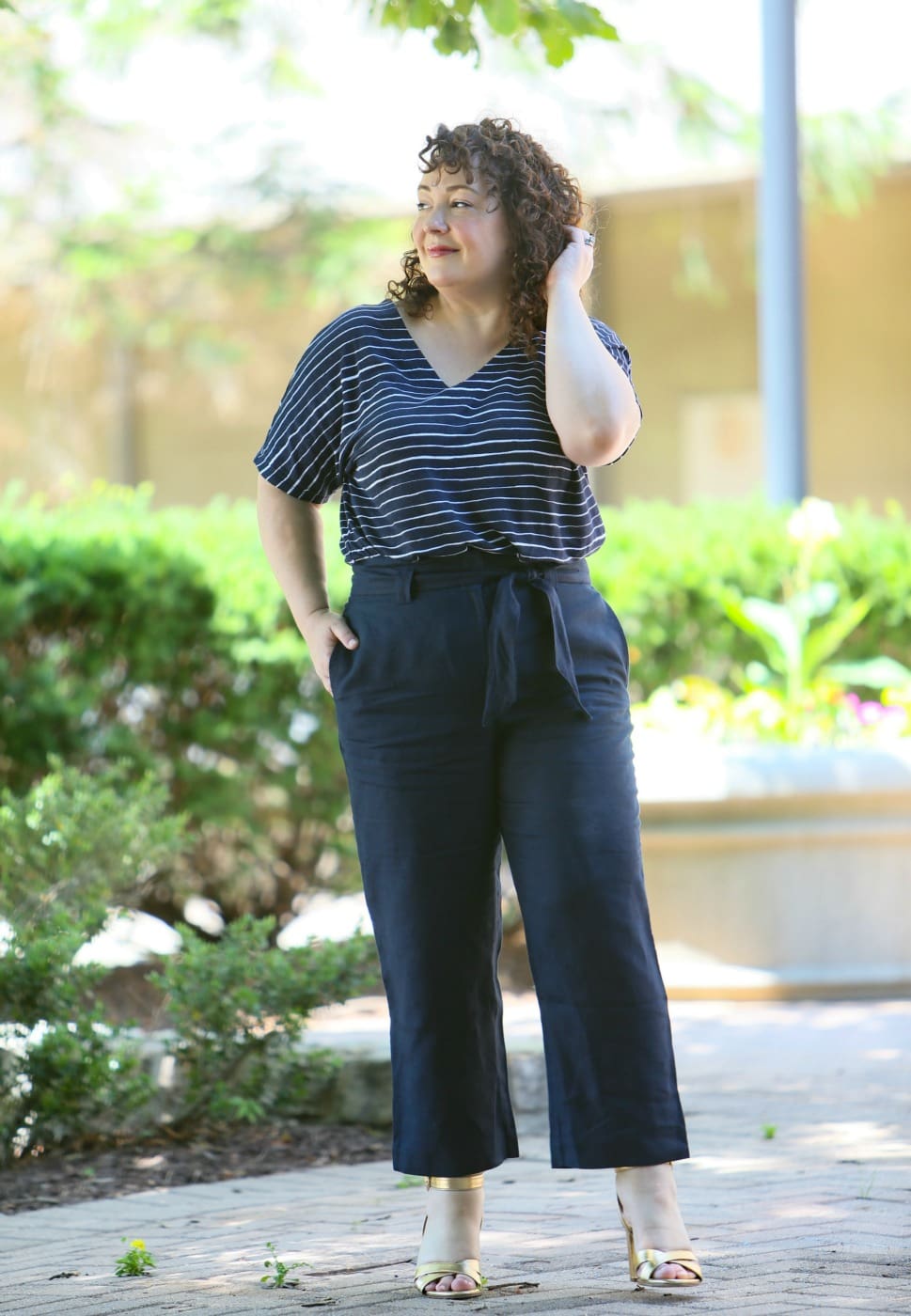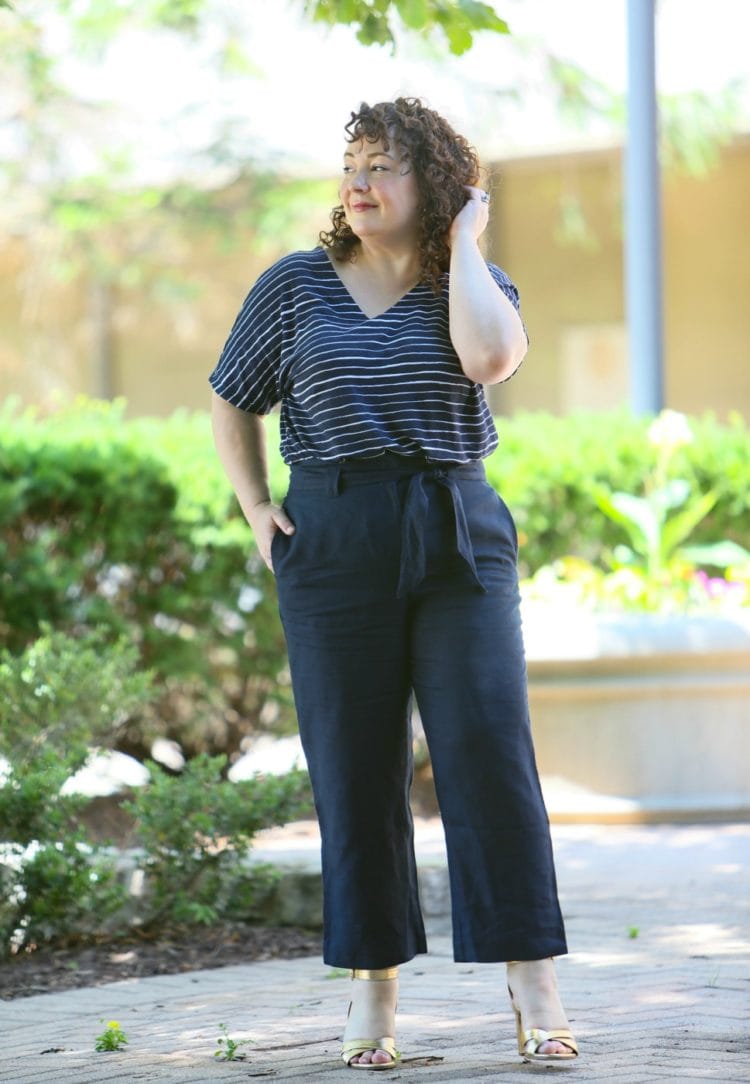 If you follow me on Instagram, you may have seen this striped linen tee on my Stories this past weekend when I wore it with my navy J. Crew shorts. The tee has a v-neck front and back, dolman sleeves, and a subtle stretch; I am wearing a size 2. Since it is a linen knit, there is a nubby texture and at least before being washed a couple times, can feel a bit rough. I don't find it scratchy or uncomfortable, and the shirt felt cool on a very hot day and didn't get all creased and crumpled. Here, I tucked it into the Linen Tie-Front crops for more of a polished look.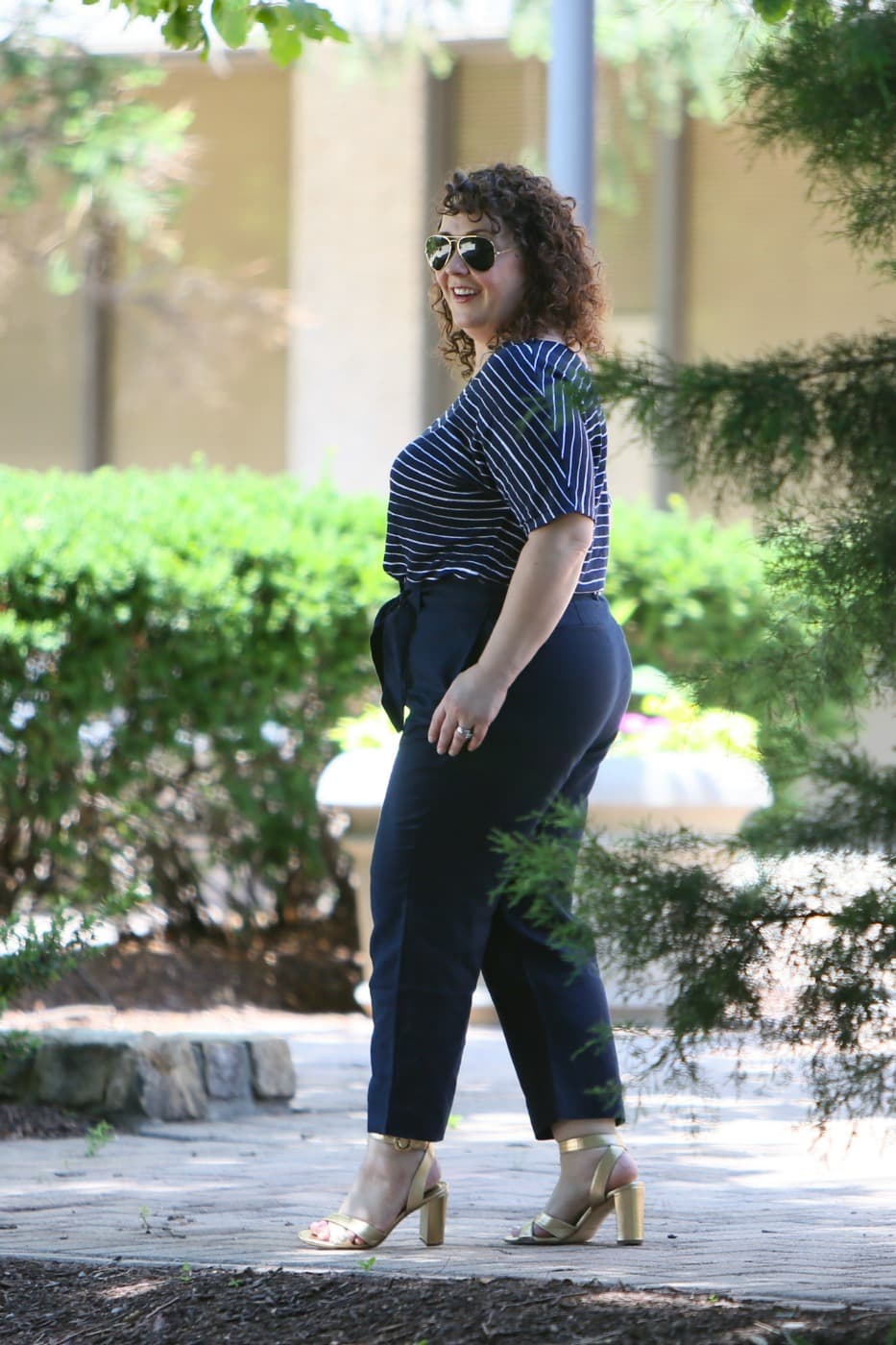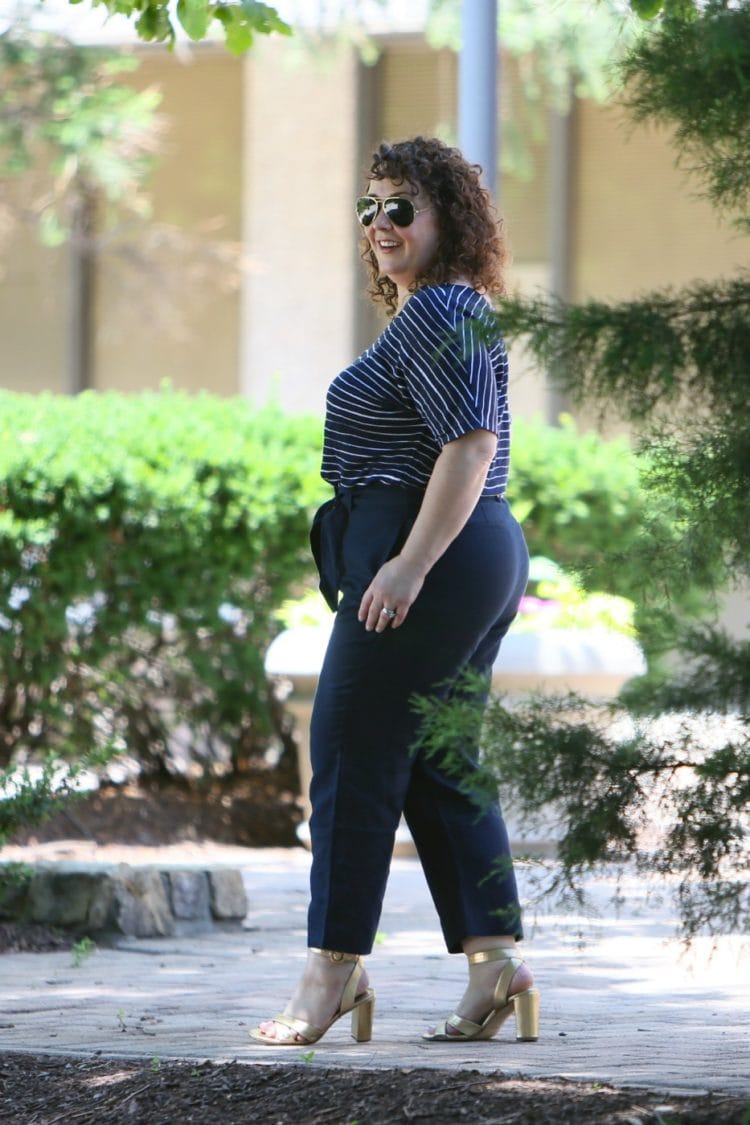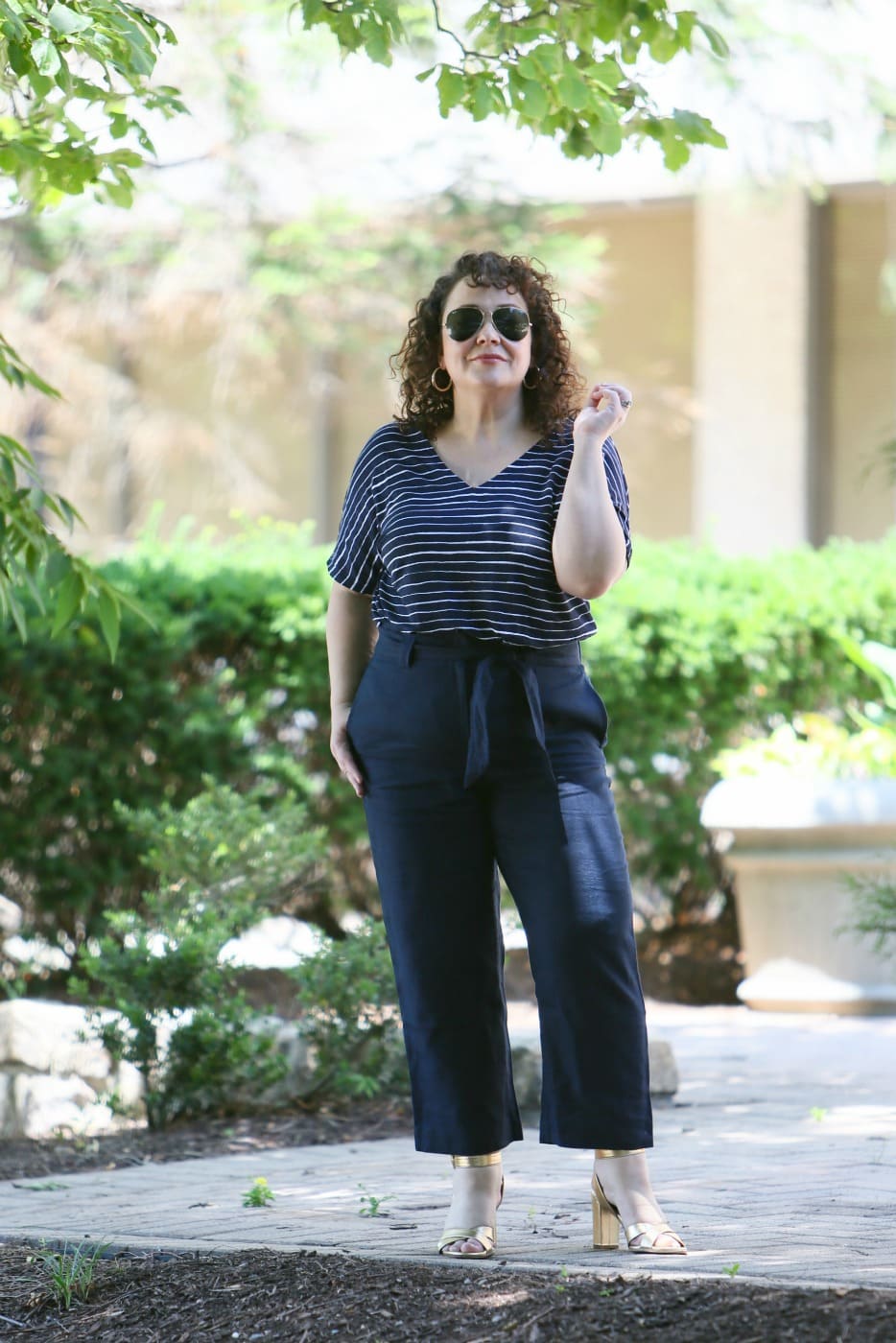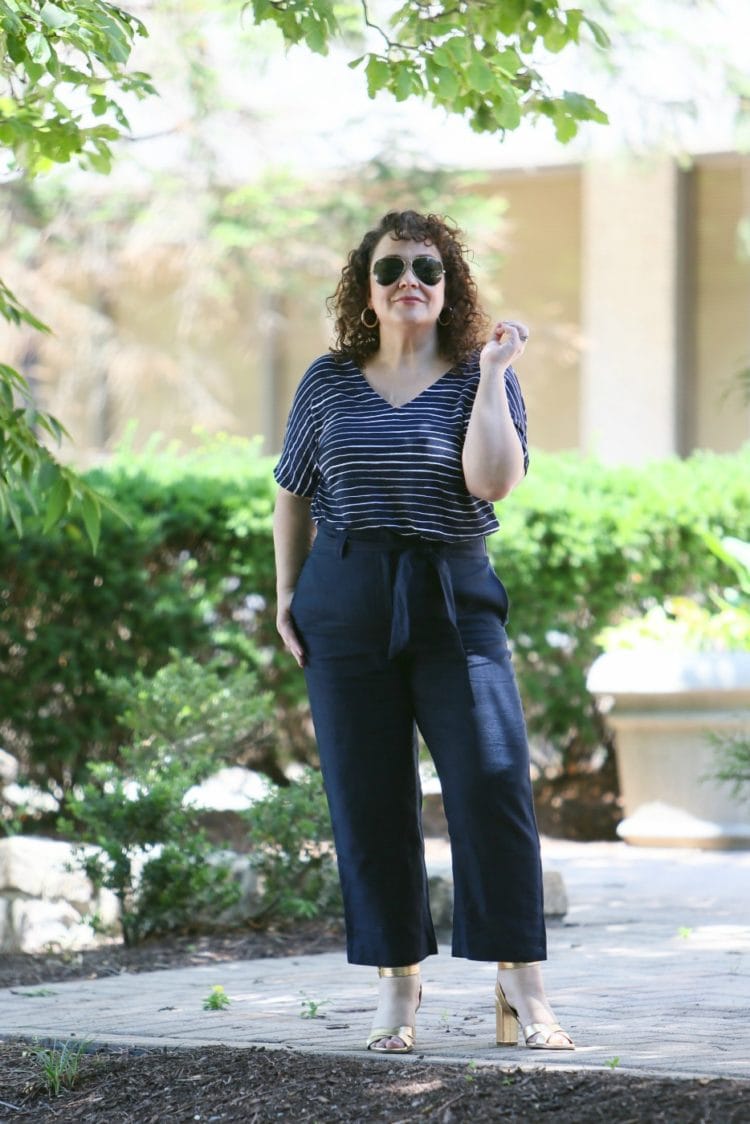 I glammed it up even more with gold hoops and my gold Margaux heels (read my Margaux Uptown Sandal review). After months at home, my feet aren't thrilled to be in heels; my Margaux Uptown Sandals are the ONLY heels in my closet that slipped on no problem post-at home orders, and was comfortable standing and walking. They're more comfortable than shorter heels in my closet! While these heeled sandals aren't available in gold this season, they do come in a phenomenal range of other colors. Margaux makes comfortable yet stylish shoes in a range of sizes; these are the highest heeled shoes in their collection.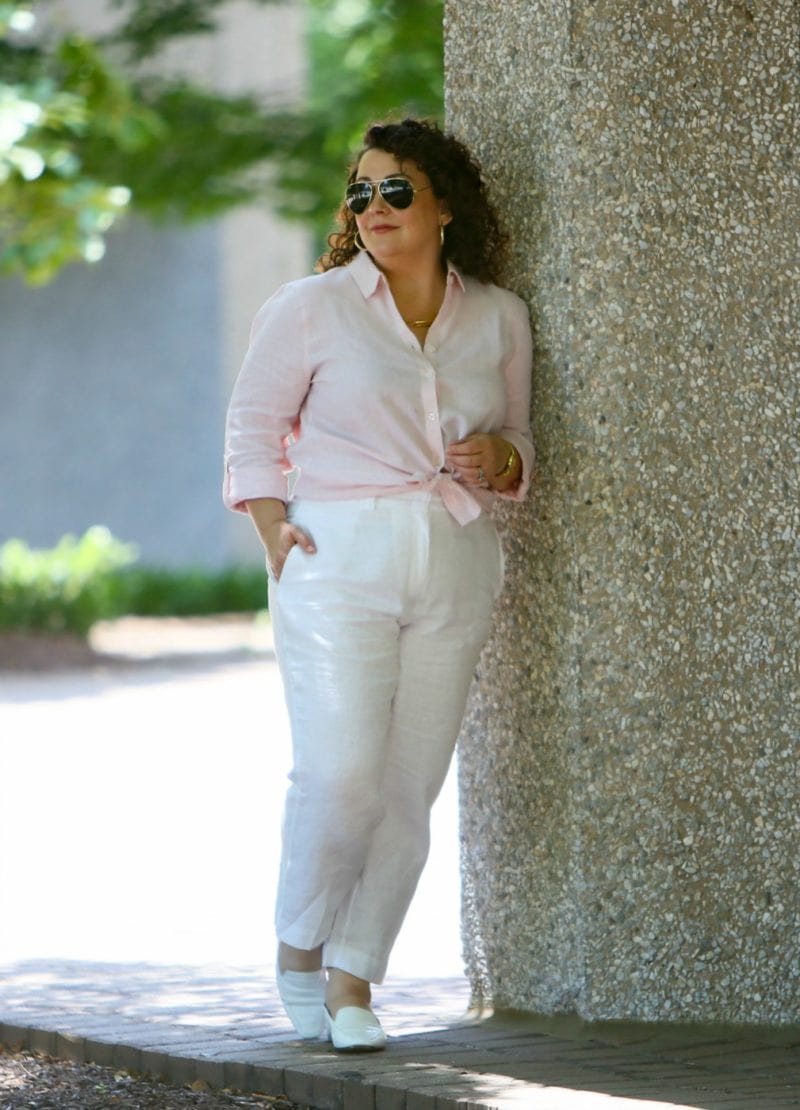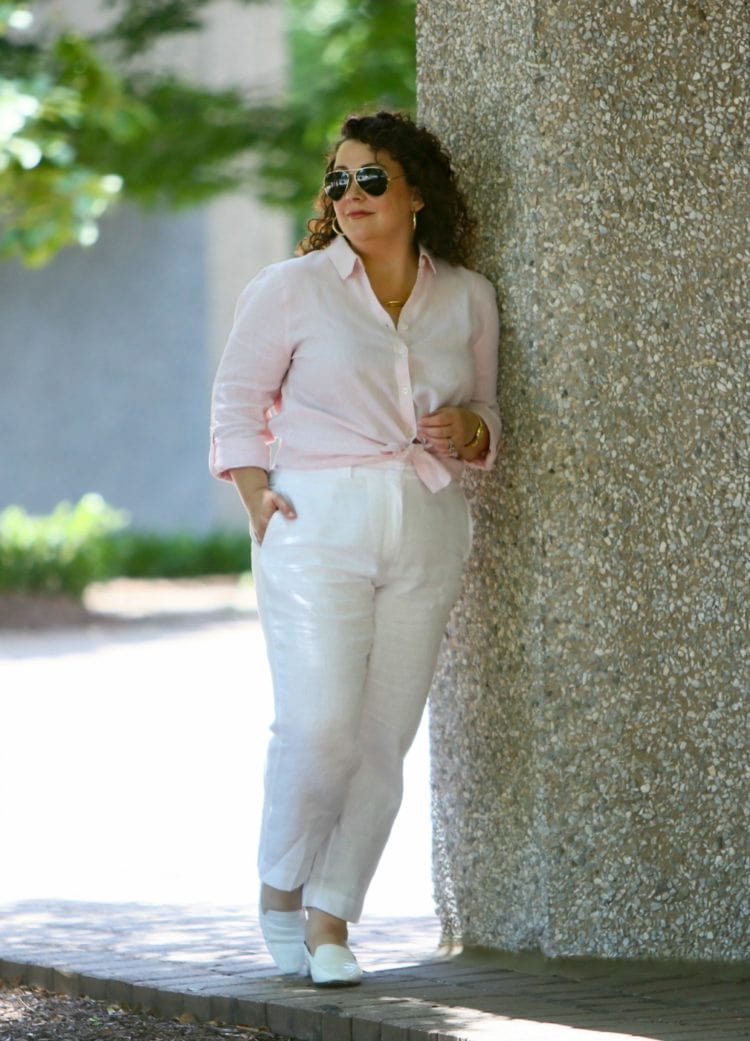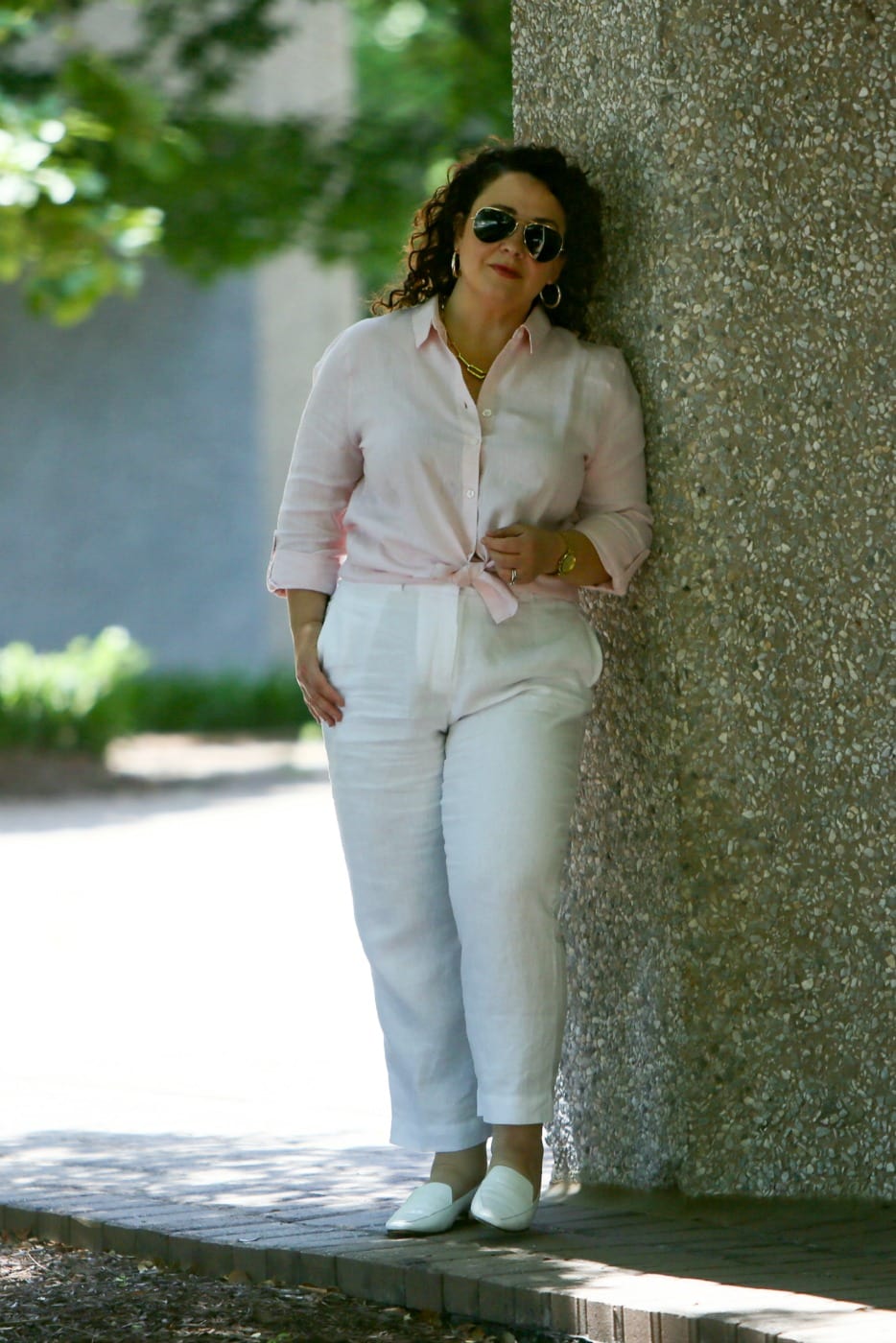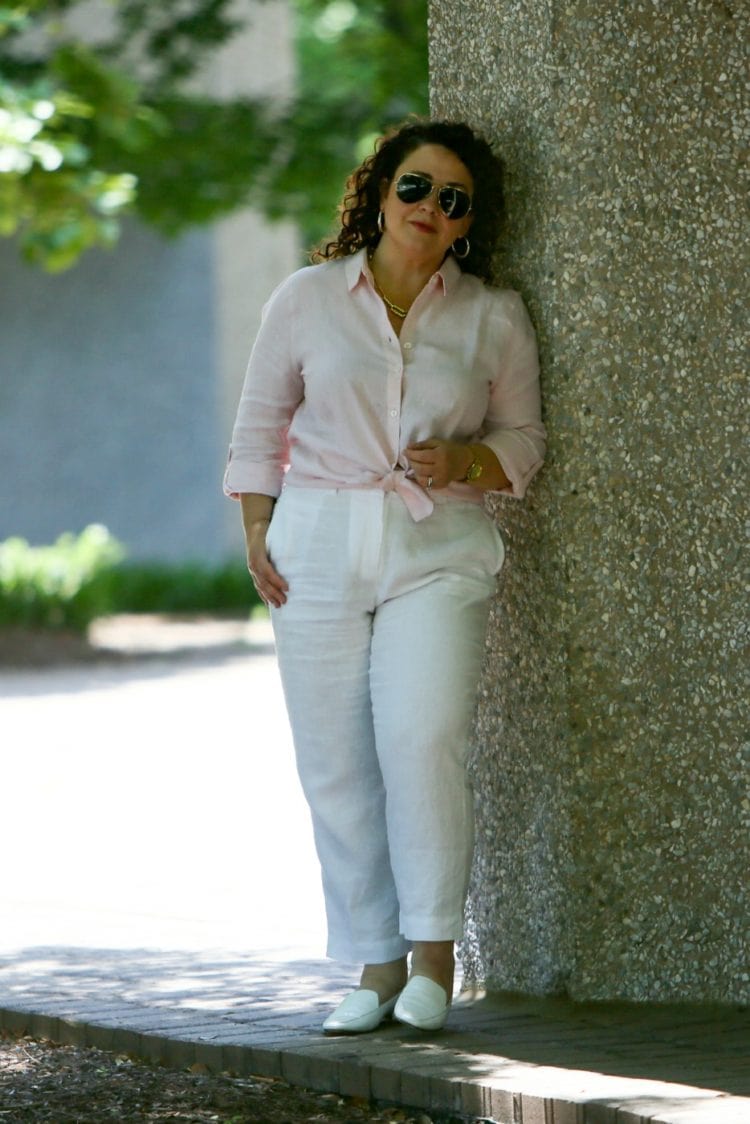 These are the same pants, but in Alabaster, with the self-belt removed. The reason these pants fit so differently from the navy is because while the navy was only worn for about 30 minutes before the shoot, the white were worn for about four hours of sitting and standing and walking. Seriously, if you aren't familiar with wearing linen pants or shorts, consider sizing down so they will be the right fit once they have been worn in. The white pants at first glance may look sheer because where the white linen is doubled up (pockets, fly), it's very obvious. However, you can't see through the pants. While I am wearing beige seamless underwear underneath (these to be specific which come in three skin tones and several other colors and prints), they still are thick enough that you don't look like you're rocking Saran Wrap. Though do know, the pockets and fly will be very visible.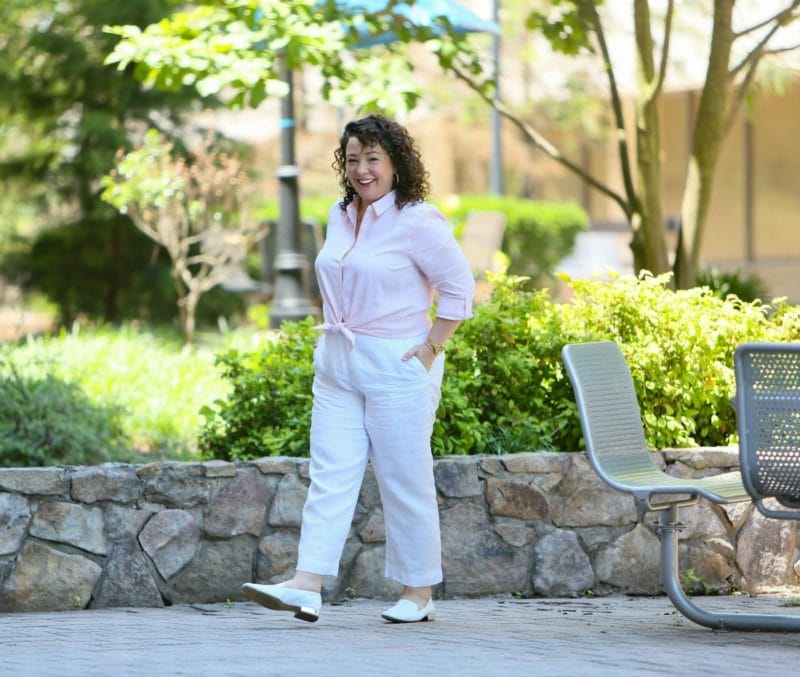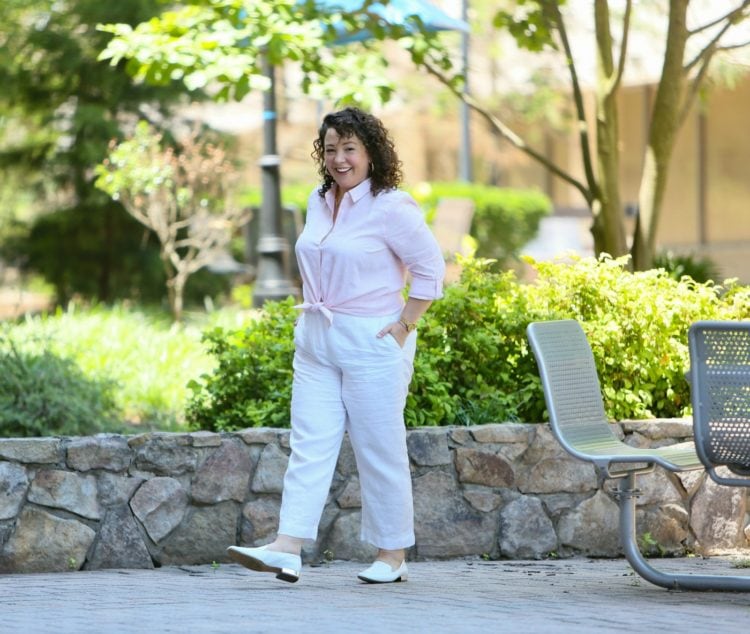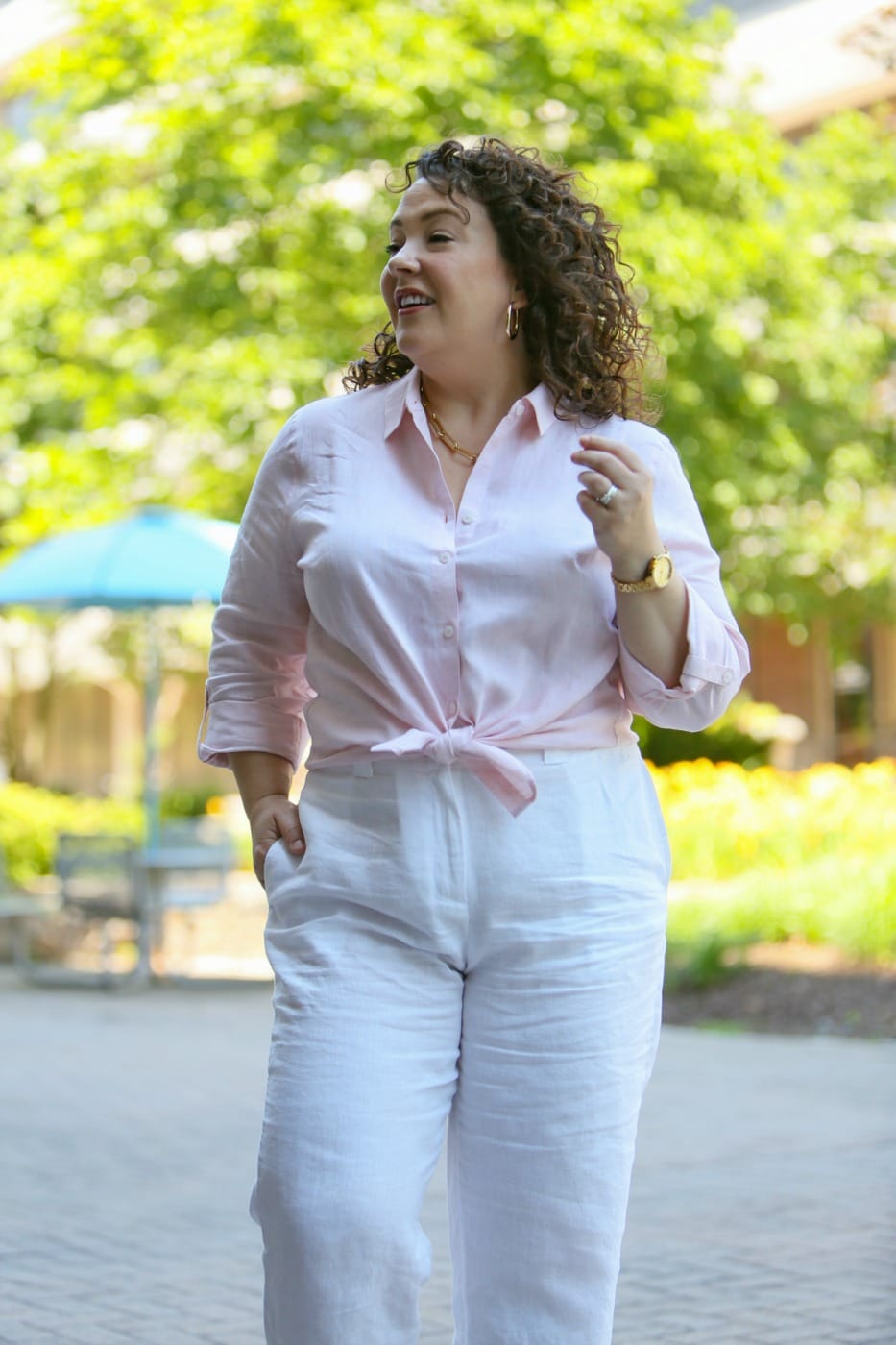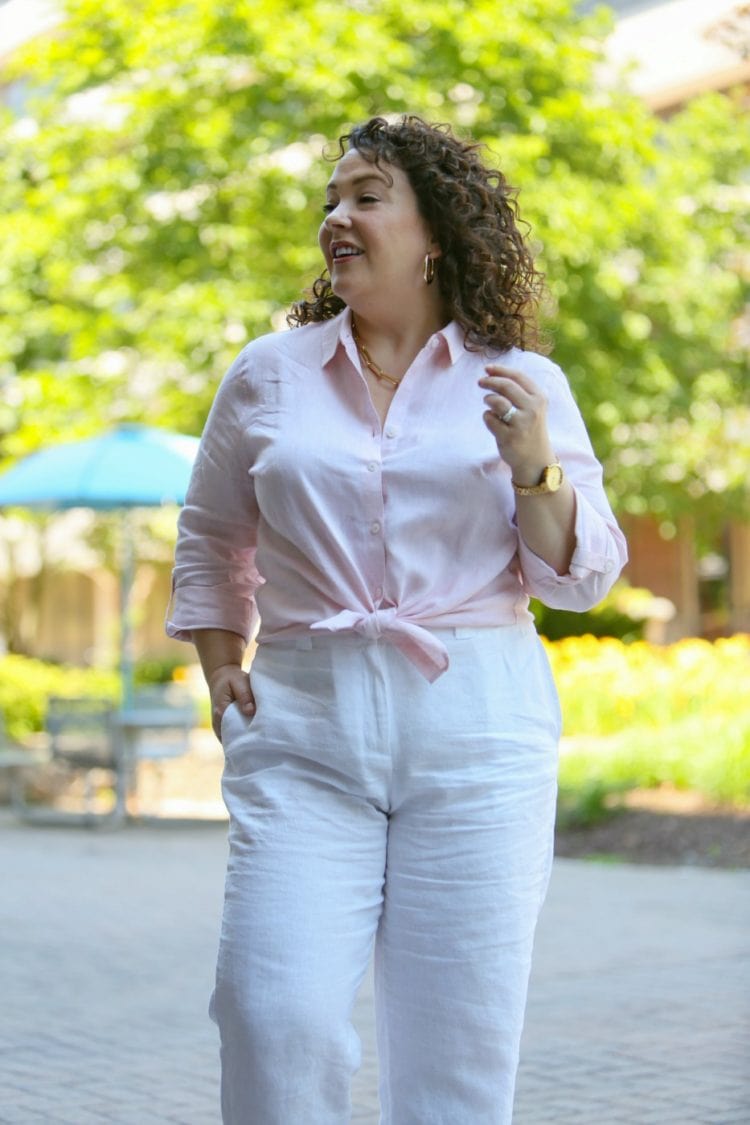 The shirt is Chico's No-Iron Shirt for 2020 and it seems to have the same fit and quality. I am wearing a size 2. While I am usually one to pick neutrals or bold colors, the Rose Petal color appealed to me. I think it works as a soft neutral and would be quite lovely with navy, khaki, olive, denim, washed red, and cream. It's a good length to wear untucked, tuck in, or tie at the waist as I did here. The shoes are these loafers from Naturalizer. It's so hard to find wide shoes that look modern and sleek; these are quite comfortable while also looking cool. I bought them at Zappos where they have a few colors; the Naturalizer website has the most extensive color range. Same earrings and watch, I just added this Baublebar necklace which I have been wearing nonstop since I got it at the end of February.
Shop the Post:

While I have a long-standing partnership with Chico's, this is not a paid/sponsored post. While I received the clothing for free for an Instagram campaign later this month, I chose to write this post to offer a detailed review.