This article may contain affiliate links; if you click on a shopping link and make a purchase I may receive a commission. As an Amazon Associate, I earn from qualifying purchases.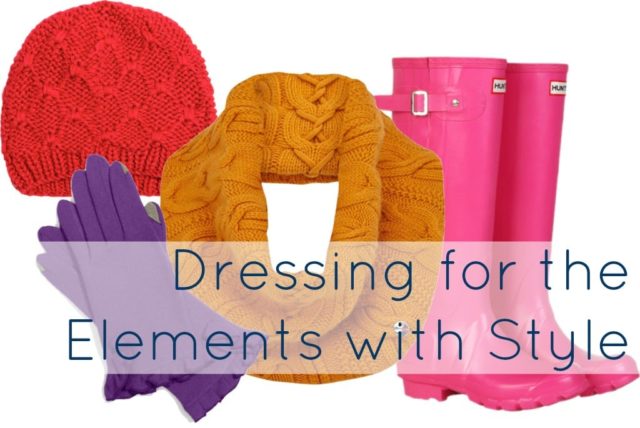 Wind, rain, snow, and sleet can wreak havoc on a morning commute… and your commuting style. When it comes to dressing for inclement weather I learn so much from my fellow DC office workers and commuters. Some is what not to wear, but more often than not it's tips and tricks on how to stay protected, comfortable and stylish when the weather outside is frightful. This week is cold, rainy, a bit windy and down-right gross in DC; here's some things I've learned on my walks to work:
Go Monochrome. Walking up the escalator from the Metro, I was behind a woman in all shades of blue and green. Teal tweed wool coat that almost hit her knees, dark jeans tucked into seafoam wellies, indigo leather tote, and a navy umbrella. The monochromatic look made each separate look so cohesive, so purposeful, and like a true ensemble. I am not a fan of wellies  (how often does one deal with water over the ankle when walking to the office anyway? And I am not asking those of you in Seattle and similar climates or those in rural areas…)but with her look… it worked. I could imagine flats or booties in that indigo tote ready to be slipped on once she reached her desk.
The other day, I saw a woman in a black belted wool coat, a raspberry chunky infinity scarf, plum knit beanie, and deep purple wellies. None of the colors were the same, but the consistent color story made the ensemble cohesive and downright stylish. If each piece was a different color the chunky knits and shiny boots would have looked childish; the consistent color gave it polish and professionalism.
Have Neutral Commuting Shoes. I was walking behind three women chatting with one another. They were varying sizes, ages, and personal styles but all had one thing in common – black tights or pants and black flats. I could tell that these were their commuter shoes – they didn't quite match their outfits, they looked well worn, and pretty comfortable. However, by them being the same color as their legs the shoes weren't on display and didn't take away from their outfits. I turned the corner and saw two women waiting for the light to change – one had gray tights and red flats, the other had black pants and yellow patent flats. While their shoes were in better condition than the women in black, their shoes looked just as out of place as a pair of white sneakers. While it's tempting to add "fun" to a pair of shoes you only wear on your commute, it can really detract from your personal style.
Own a Tiny Umbrella. While many companies claim that they sell travel umbrellas, what it essentially means is a non-Mary Poppins style that has a collapsible shaft. However, some brands sell really small umbrellas that are reliable, but take almost no space in your purse or laptop bag. While you want a durable umbrella that can survive strong gusts, having this little bitty umbrella tucked at the bottom of the bag is a lifesaver for unexpected showers or if you accidentally leave your big umbrella on the train.
Have a Spare Pair of Gloves. Same reason as the umbrella. Especially handy when the bus is late, you have to carry large things home, or you need to hold the rail on the train and you don't want to catch the flu. While I have gloves in my two work coats, I have lost a glove on the commute, have changed coats last minute, and have many times wished I had a pair tucked in the bottom of my purse or laptop bag.  Since I got another pair for Christmas, I have remedied this situation.
Wear a Hat. While you may be more likely to get Hat Head, a hood flies off in the wind, and the weather will already destroy your hairstyle. Having a hat, be it a cloche, beanie, fedora or otherwise will keep your ears warm, your hair in place, and your body far warmer than a bare head. If you loosely tuck your hair in your hat, you'll be less likely to get dents in your 'do.
Wedges Rock. While they give a bit of lift, they are far kinder on the foot when standing, walking, and even dashing across the street to make a light. I see many women who seem to have wedge commuter shoes – they don't have to worry about cuffing their trousers but have more comfort than heels. Wedges have come back en vogue, be they on pump-like professional shoes or a pair of trainers or TOMS.
Own a Water-resistant Winter Coat. When there's frigid temperatures, there's often precipitation, and it's not always fluffy white flakes. A wet wool coat can be a drag; if you purchase a quilted, waxed, or water-resistant fabric coat, you will be far more comfortable on those days that are both cold and wet. Choosing a style with a unique detail (read this post for great examples) will prevent you from looking as though you just came from the slopes.
Have Matching Bags. I regularly see this woman on the train who has a gray leather purse and gray leather tote. The combination is so lovely and she doesn't look as hunkered down with multiple bags. Today walking to work, I saw a woman with a red leather purse and a red and navy print microfiber tote for her yoga mat and likely workout clothes. If you need to carry more than one bag, having the two bags match or coordinate really does add polish and cohesion to your ensemble. I wrote about work totes here, but this is something I hadn't before considered and will be thinking about the next time I am purchasing a tote or everyday purse.
You Never Know Who You Will Bump Into. So you're wearing a power suit and have a pair of sensible pumps tucked into your bag, yet on your commute you're wearing a knit cap with earflaps and cat ears, have a hot pink sparkly faux fur snood, and sequined boot liners under your polka-dot wellies. And then you bump into your CEO at Starbucks. Sort of defeats the purpose of your power suit. If your job is a career, work doesn't end when you walk out of that office door, and if you work in a city you are very likely to bump into a colleague on the train or street corner. Consider this when shopping for accessories and outerwear and have them match the professional style you show in the workplace.
Follow Me | Twitter | Facebook