This article may contain affiliate links; if you click on a shopping link and make a purchase I may receive a commission. As an Amazon Associate, I earn from qualifying purchases.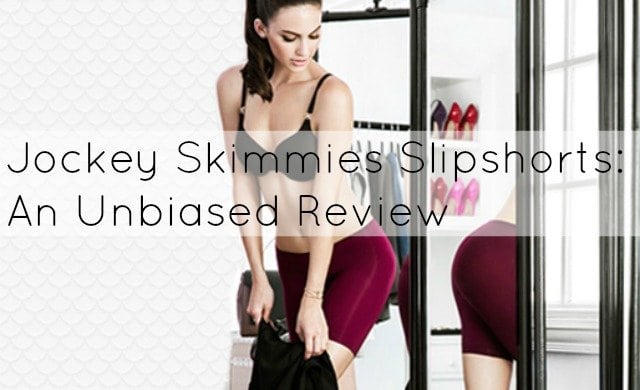 I'm a gal who deals with chub rub (chafing between the thighs especially during hot weather); when I saw so many bloggers recently promote the Jockey Skimmies Slipshort I was curious. I receive free product in exchange for reviews on Wardrobe Oxygen and know how hard it is to be unbiased in such a situation.  I decided to buy a pair with my own money so I can be as honest as I like and share with you!
Truthfully, I expected to be disappointed in the Skimmies because I've tried the Jockey "Preferred by Rachel Zoe" line before and was not impressed (and had to write a sponsored review hence my desire to try on my terms). But my beloved black Kmart bike shorts from 2007 (have never found a worthy replacement) are getting threadbare and summer is here so I was ready for a replacement to wear under dresses and skirts to prevent chafing.
There are four types of the Jockey Skimmies – regular, anti-static, wicking, and short length. I decided to go with the regular, and because I'm petite, also grabbed a pair of the short length. I purchased both in Light (beige) and both in size Large (Jockey says this is equal to a 10-12 or panty size 6, but reviews online said these slipshorts run large).
Both are made exactly of the same material, and fit pretty much the same except for leg length. On my size 14, 5'3″ frame, the regular ended 2.5" above the top of my knee, the short 6.5" above my knee. As for the fabric, it's opaque enough in case you have a Marilyn moment you won't look as though you're wearing cutoff pantyhose but obviously more lingerie than gym wear.
The Pros:
The fabric is awesome, it is silky enough to have knits slip over it, but doesn't get gross with sweat and heat. The waistband doesn't bind at ALL, they feel as though I'm not wearing anything. The legs don't dig and there aren't any visible seams; you could wear these under lightweight pants and slim knit dresses without any lines. "Light" is a perfect match to my light to medium skintone. They don't stretch out at the waist or legs and they don't make me feel hotter with an extra layer.  The Large is extremely comfortable from top to bottom.  I need to again mention how utterly comfortable these are, you truly feel as though you're wearing nothing at all.
The Cons:
They claim to have a cotton gusset, but it doesn't seem like it; it's same color, nubby, and doesn't breathe any better than the rest of the slipshort. This means on a hot day with a lot of walking, it can get a bit… swampy down there.
The regular length Skimmies didn't ride. AT ALL. I wore them for 11 hours straight and they didn't shift or sag or bunch, they stayed exactly in place, even when I got hot and sweaty, even after walking for 20 minutes straight. However they are so long on me that they can only be worn with midi and maxi skirts.  Even a knee-length skirt is too short if I climb stairs or cross my legs.
The short Skimmies… they ride.  When I stand from my chair I want to tug at them, when I walk a block I want to tug at them. The good thing is that it's usually only one leg at a time that rides up so I still end up without chub rub, but if you don't get a chance to tug down that one leg and sit again, both will ride up and they become useless.
Final Verdict:
Close… and closer than anything else I have tried but not perfect. I like them enough that I'm going to try the wicking version in black, and for long days and music festivals will likely wear a pair of cotton underwear under them. However for shorter dresses, I'll wear my one pair of short Skimmies but I'm still on the hunt for something better.
Have you tried the Jockey Skimmies Slipshorts? Do you have another product you find perfect for battling summer chafing and chub rub?