This article may contain affiliate links; if you click on a shopping link and make a purchase I may receive a commission. As an Amazon Associate, I earn from qualifying purchases.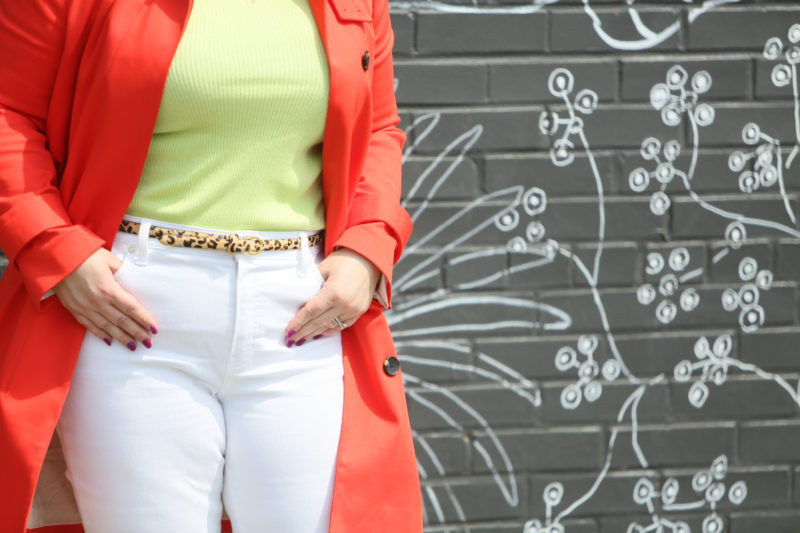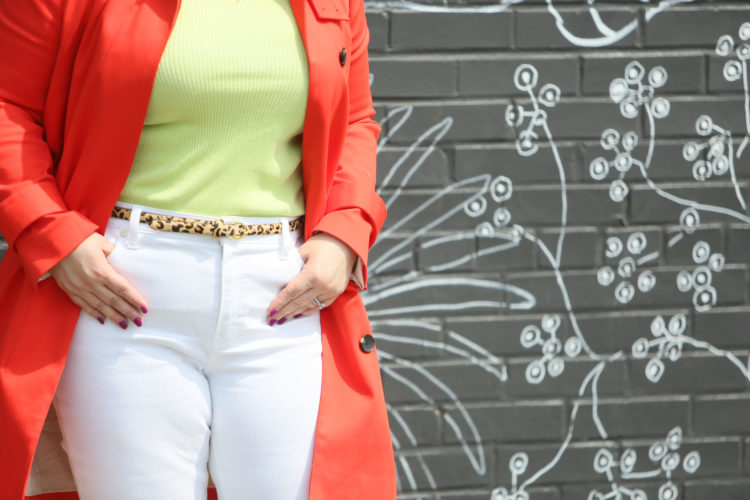 I know not everyone loves neon, but I do. When Wham! Came out with their video to "Wake Me Up Before You Go-Go" I was OBSESSED.  My parents didn't have a lot of money, but they got me a neon orange scarf to tie in a big bow on the side of my head and a boxy white t-shirt that said LIFE on the front.  I also ended up scoring some neon pink socks made of the cheapest polyester that make my feet sweat but I didn't care, they looked so cool with my white jelly sandals!  Neon returned a few years ago; go through my blog archives and you'll see me rocking neon in many outfits (for example, this one, this one, and this one).  Well, neon is back and it's not as easy to wear when you're a grown-ass woman as when you were a schoolgirl deciding who was cuter, George or Andrew.  If you love it, I have some tips for you.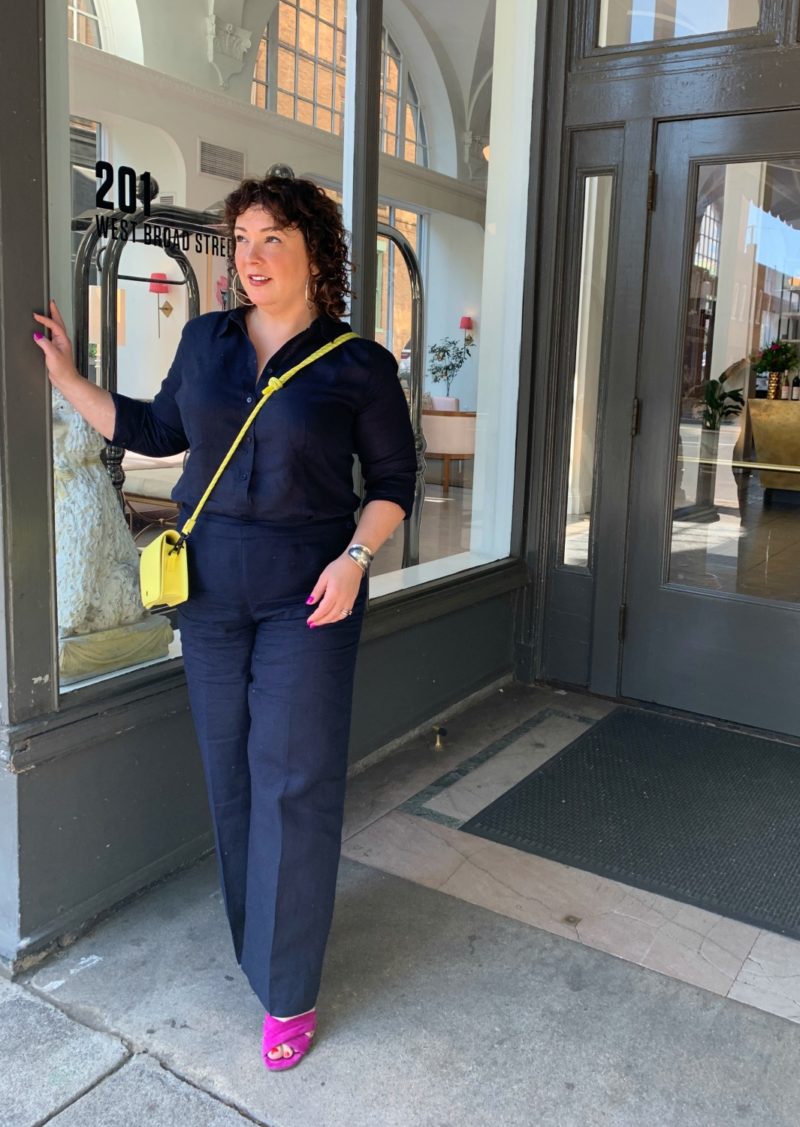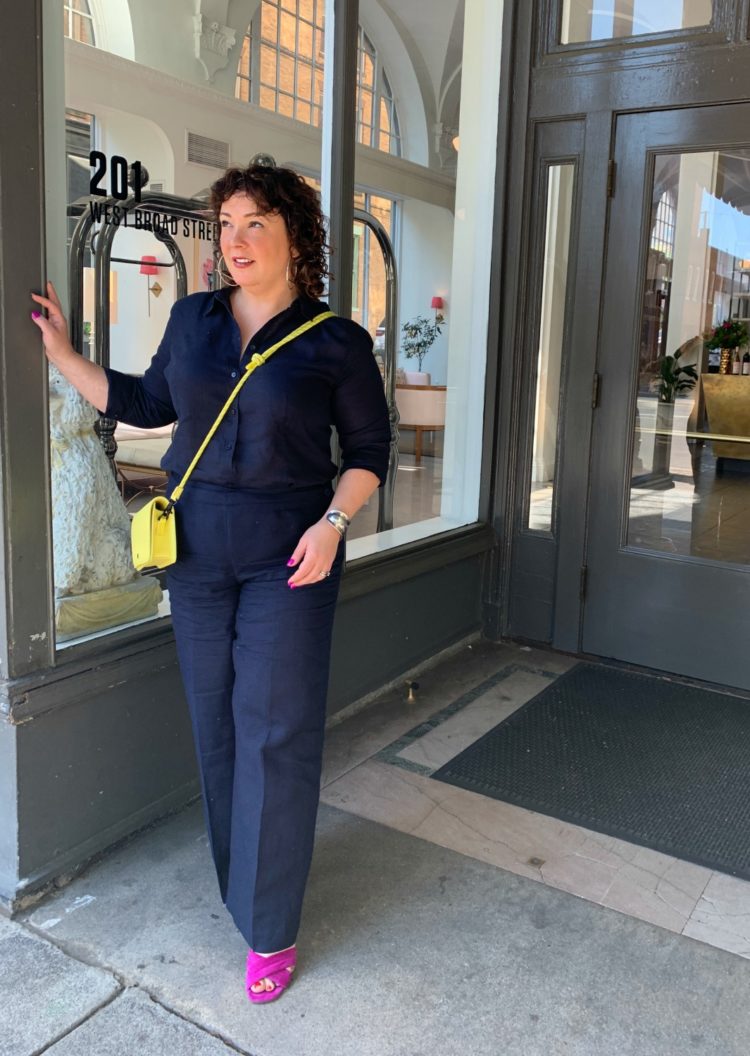 For this look, I balanced the bold highlighter yellow of the bag with a navy column of color. It would have looked great to style this with a navy or neutral shoe, but I decided to continue the pops of color with magenta suede sandals and matching nails. Since my look made such a statement, I kept my makeup subtle.
Shop the look: bag by Dagne Dover (small version), shirt by Talbots (size 14), pants by Talbots (size 14 petite), shoes by Vince Camuto (old; similar concept), earrings by Jenny Bird.
All but the shoes and earrings were gifted by the brands but chosen by and styled by me.
How to Rock Neon: Balance with Another Color
The first tip is to know that bloggers will be way more OTT (over the top) than you may find comfortable.  I love fashion and I love playing with color and pattern, and that means I will receive a highlighter yellow-green sweater from a brand and think, hey that would look awesome with my bright orange trench!  A green like this isn't the best color against my skin, but balanced with a color I love it tones it down and makes it more of an accent.  So if pairing neon with another bold color isn't your thing that's okay.  Try mixing it with a neutral.  Navy is always a safe bet for brights, as is gray.  However, my favorite is olive.  I think the mix of neon colors with a utilitarian color like olive is super chic so whip out your olive twill pants, your utility jacket, or your safari vest to balance the bright.  Or consider adding a neon belt to an army-green dress or a highlighter-pink or yellow top under an olive blazer.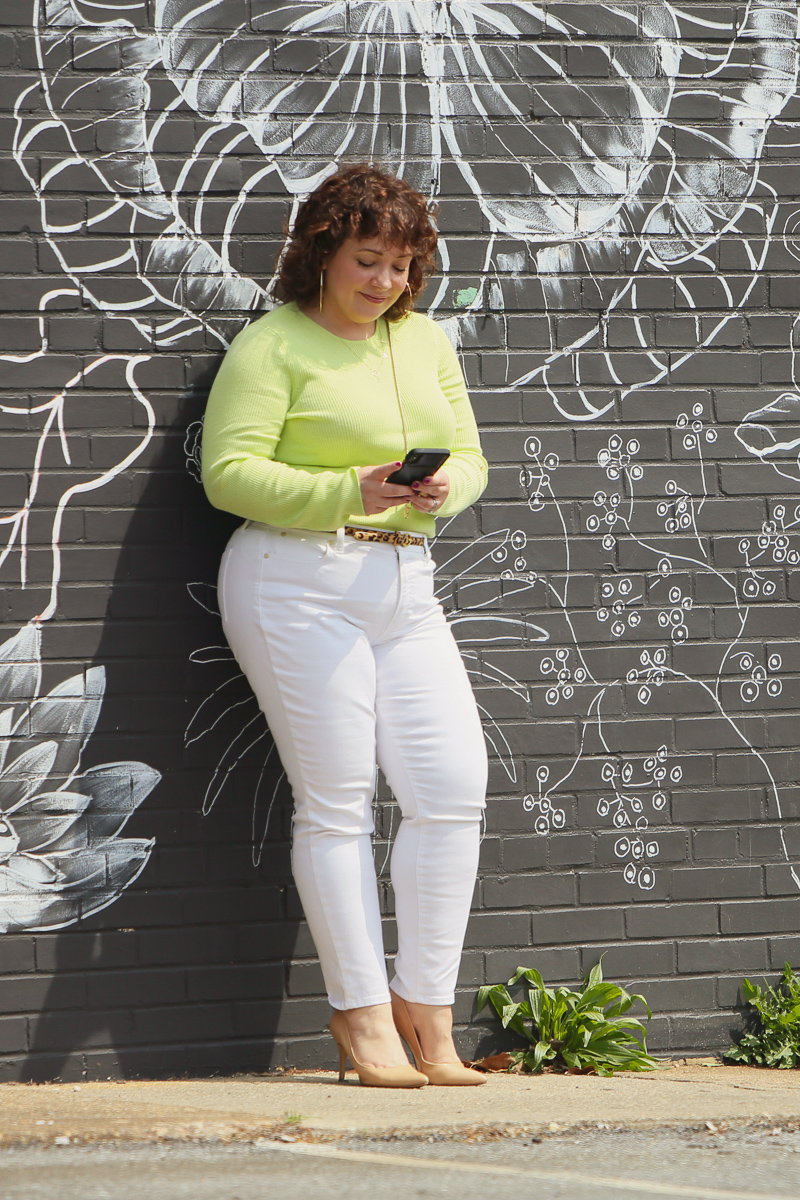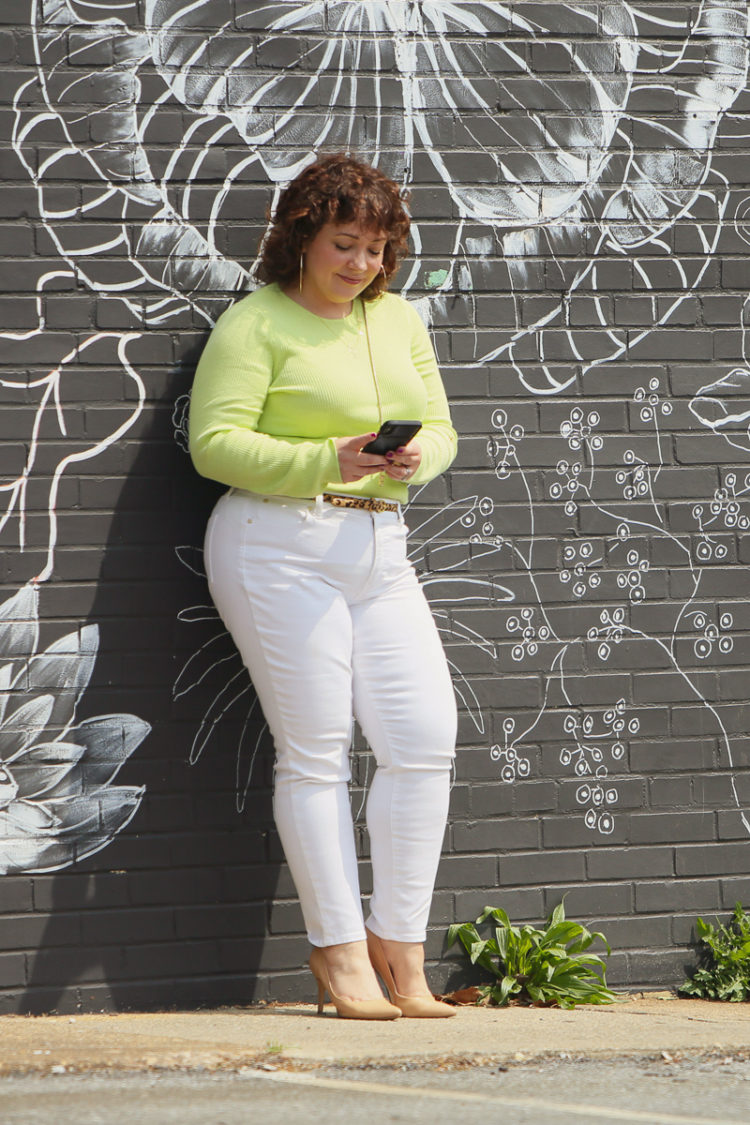 For this look, I toned down the acid green of this lightweight sweater with white jeans and nude-to-me shoes. For a bit of interest, I added a leopard belt, however previously I have worn this same look with a pink floral silk scarf as a belt and blush colored suede loafers.  The key is the white which slightly neutralizes the neon and creates a more modern effect.
Shop the look: cotton/cashmere blend lightweight sweater by Mott & Bow (XL), white jeans by cabi (size 12 and tailored to ankle length), leopard belt by Ann Taylor (old; similar), pumps by Nine West, chain strap phone case by Bandolier, gold hoop earrings by Jenny Bird, gold "LOVE" necklace by Adornia.
The sweater, jeans, necklace, and earrings were gifted by the brands but chosen by and styled by me.
How to Rock Neon: Wear with White
We've all been raised on pairing everything except the kitchen sink with denim.  And while neon with denim has been a style staple every time the bright trend has resurfaced, it can read, especially if you've done the trend before, a bit juvenile. Try pairing your neon with white.  This go round, neon is lighter, brighter, more transparent. Pairing it with white provides a more modern effect.  White jeans, white shorts, even a white pantsuit would be a great way to rock neon this spring and summer.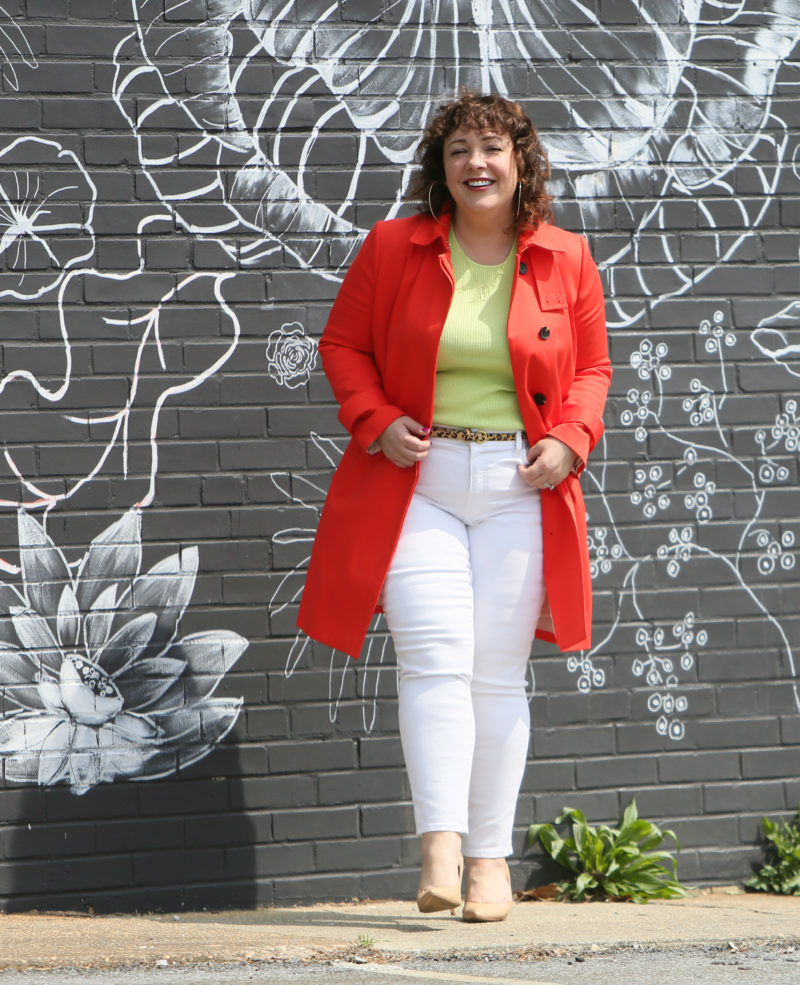 I regularly wear this exact same look but in different colors. Slim jeans, a classic ribbed-knit crewneck, and a longer jacket (in this case, a Macintosh or single-breasted trench coat). What makes it feel new is the bright color choices along with the pairing with white.
Shop the Look: trench by Banana Republic (old; similar idea) | ribbed crewneck sweater by Mott & Bow (XL), jeans by cabi (12), belt by Ann Taylor (old; similar), earrings by Jenny Bird, pumps by Nine West. 
The sweater, jeans, and earrings were gifted by the brands but chosen by and styled by me.
How to Rock Neon: Modern Color, Classic Silhouette
Another time I rocked the neon was in college during the whole rave scene. And the last thing I want to look like is a leftover raver who lost her way after one too many Burning Man fests. I'm a grown woman, a successful businesswoman, a badass who has fun with fashion but doesn't want to look try-hard.  I've found the best way to rock the neon trend is to wear the color in a more classic way.  A traditional bag, but make it practically glow in the dark.  A classic ribbed crewneck sweater, but in a shade made for a black light. This juxtaposition shows you're aware of trends but making them your own. You're not a slave to fashion, you're making a purposeful choice and nothing is more stylish. Below I share my picks of neon pieces in classic silhouettes, easy to incorporate into most wardrobes: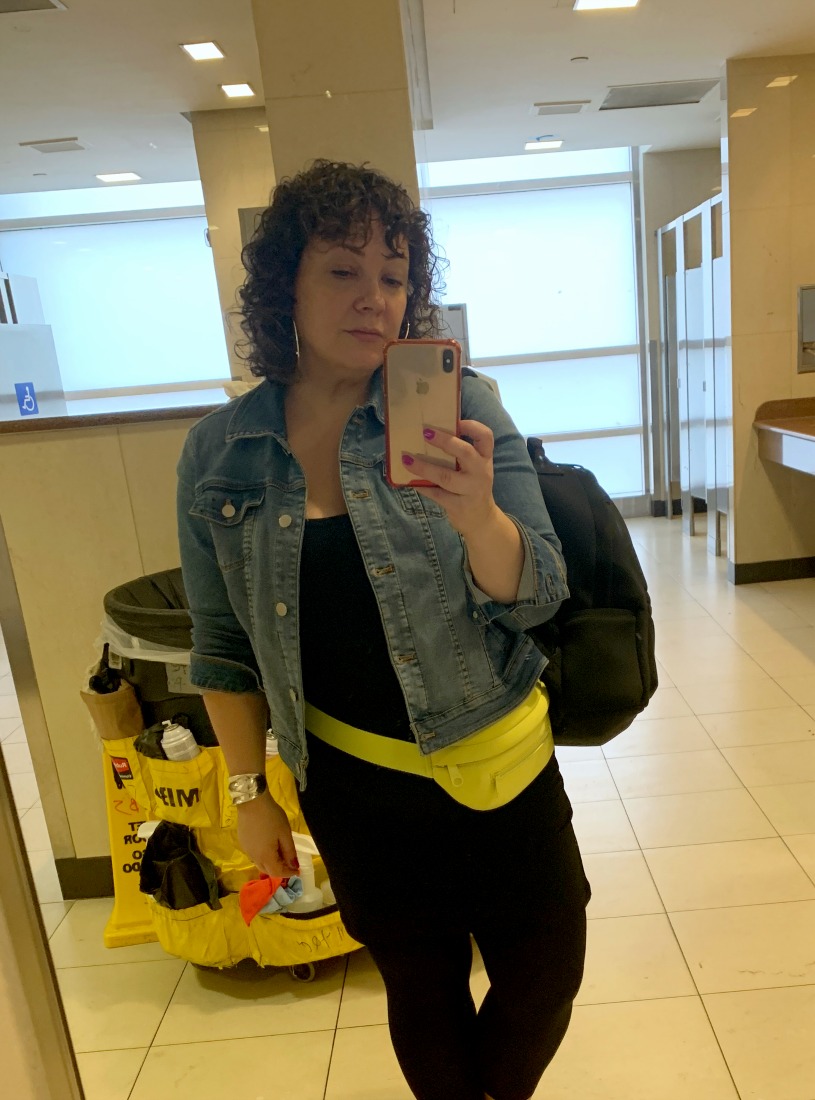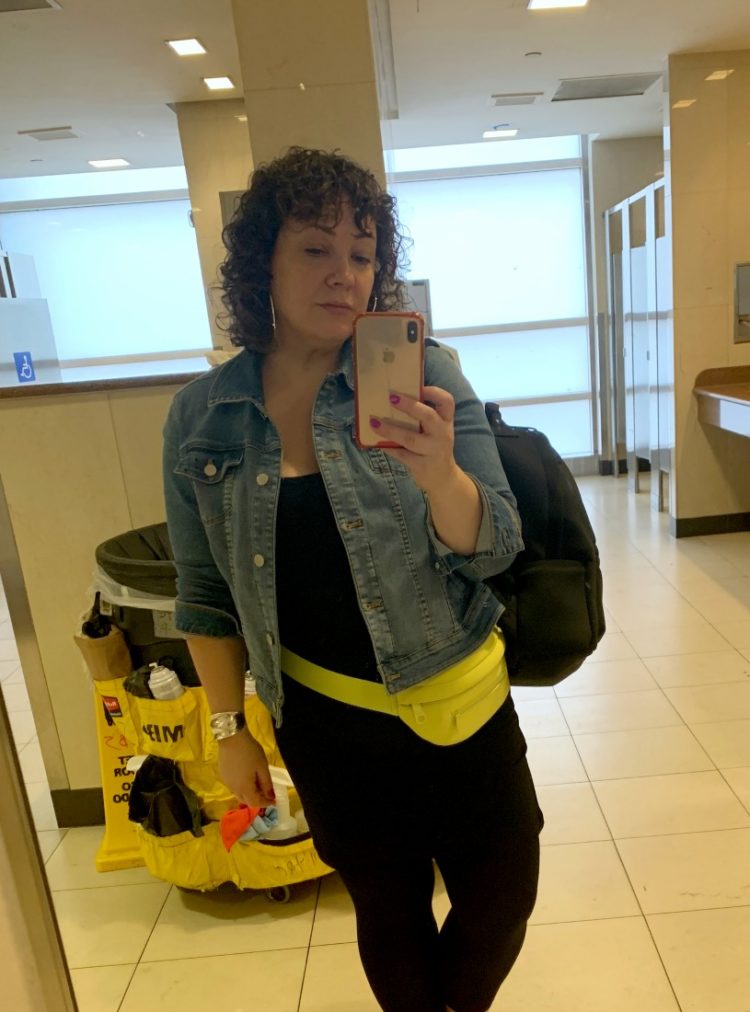 Whew, rocking TWO trends from our youth in one look – a fanny pack and a neon one at that! Excuse the less than glamorous location, I took this selfie to share my airport look from last week. A very popular look of denim and black, but with a pop of highlighter yellow. That fanny pack is full of beauty products! Easy access to eye drops, lip balm, hand cream, sanitizing wipes, and more while on a flight without having to dig into the bag under the seat in front of me.
Shop the look: denim jacket by Soma (large), long tank worn as a dress by Peruvian Connection (large), black leggings by Soma (large), fanny pack by Dagne Dover, black backpack by Dagne Dover (large version), silver earrings by Jenny Bird, bracelet is very old (budget-friendly alternative), not seen on feet are black flats by LISSOM (read my LISSOM Flats review).
Everything except the earrings and shoes were gifted by the brands but chosen by and styled by me.
How to Rock Neon: Start Small
An accessory in neon is a great way to embrace the trend without spending a lot or looking like you're reliving your youth.  I recently purchased these clear pink hoop earrings which aren't too bright but embrace the clear highlighter trend.  I have this bag from Dagne Dover (seen above) which is a traditional silhouette and smart design that would update your weekend Breton tees and jeans but also work with more creative workplace ensembles. Below I share my picks of neon accessories that can add a pop of highlighter color to your existing wardrobe: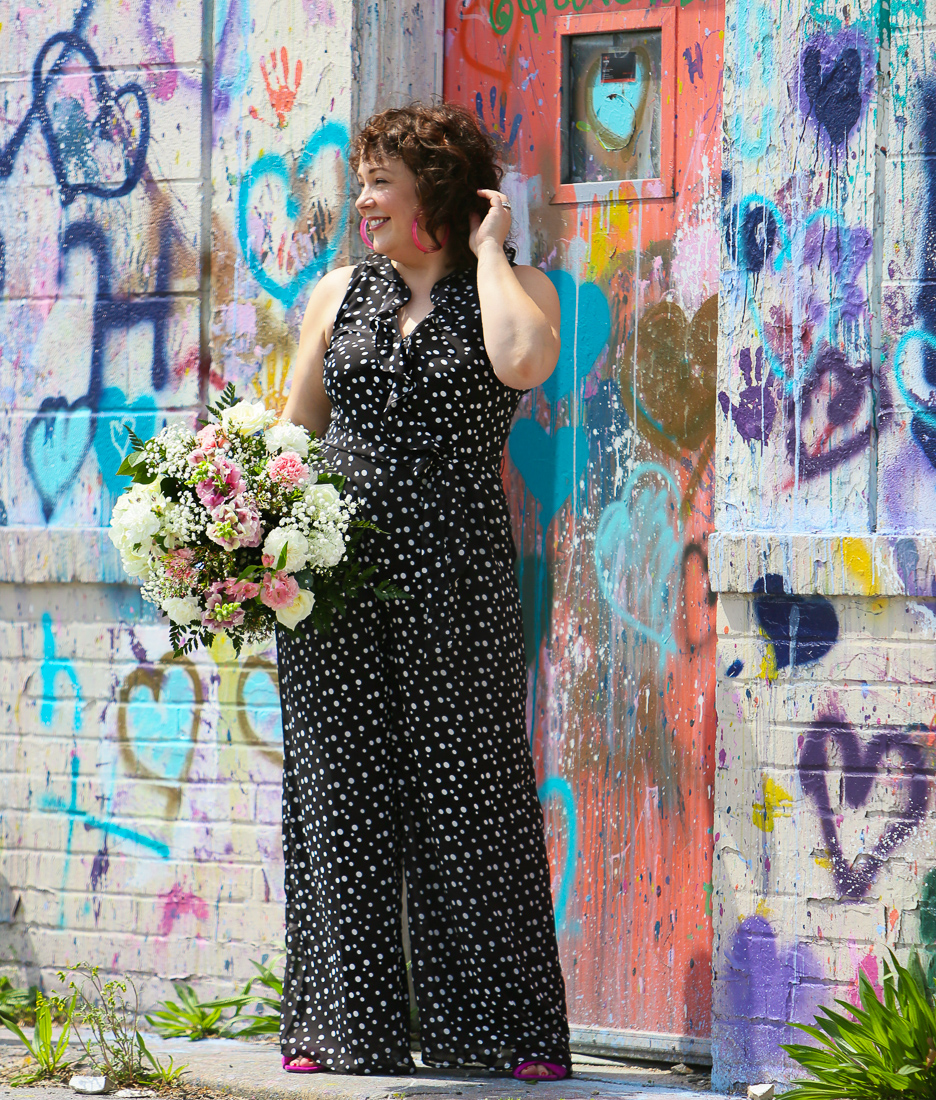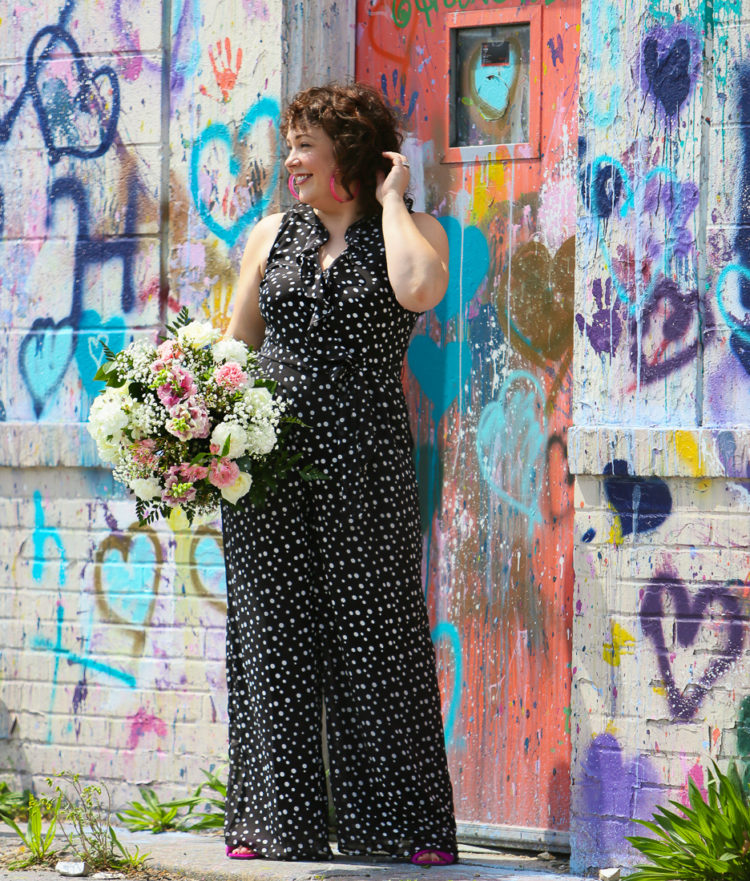 You all saw this look in a recent blog post, it features the pink hoop earrings I mention above and the same bright magenta shoes from the first photo. A pop of neon pink adds a feminine yet modern touch to a classic pattern and silhouette. Something simple like a pair of earrings, a strap on a shoe, or a skinny belt is a great way to dip your toe into the neon trend.
Shop the look: earrings by BaubleBar, jumpsuit by Dress Barn (14), shoes by Vince Camuto (old; similar).
The jumpsuit was gifted by the brand but chosen by and styled by me.
Shop the Looks in This Post:

Dagne Dover Promo Code
Use ALISON10 at checkout to get 10% off your order at Dagne