This article may contain affiliate links; if you click on a shopping link and make a purchase I may receive a commission. As an Amazon Associate, I earn from qualifying purchases. 
I may splurge on a great pair of shoes or bag, but I'm frugal when it comes to electronics. I don't have my own laptop, I'm still on an iPhone 4, and there's not a single tablet in the Gary household. When I ride the Metro or travel, I'm always jealous of my fellow travelers with their lightweight, easy to handle Kindles, while I poke yet another innocent commuter in the back with the edge of my hardcover novel. While they hold their Kindles in one hand, easily flipping the virtual page with their thumb while sipping a coffee, I'm a klutzy mess with bag on one shoulder, coffee going cold from being tucked into my armpit so I can hold my heavy hardcover novel with both hands and apologize to the innocent commuter who got stabbed in the back with its cover. I'm awkward, uncomfortable, and seething with jealousy yet I don't buy myself a Kindle.
Electronics to me are treats, toys, rewards. They're a perfect holiday present. The other day on the Metro, I gave up trying to read my book (for those who follow me on Instagram, yes I am STILL reading Zelda), stuffed it in my poor stretched-out purse (it's a darn big book), and considered asking Karl to buy me one for Christmas. While I prefer a true surprise gift, it's something I not only need, but would really enjoy. Not just for the commute, but when reading in bed after Karl has gone to sleep, taking the train or plane for business, lounging on the beach or beside the pool on vacation. It's compact, it's lightweight, the battery lasts for eons, and for something that weighs nearly nothing it can house an entire library.
I guess Amazon was reading my mind that day on the Metro, for they sent me an Amazon Kindle Paperwhite. My Christmas wish has been answered!
The Kindle Paperwhite is pretty darn awesome. A little smaller than my momAgenda but as lightweight as my smartphone; unlike my smartphone it's easy to read in bright sunlight and doesn't strain my eyes in the dark. Oh, and unlike using an eBook app on my phone and draining my battery before I get to work, the Kindle Paperwhite has eight weeks of battery life. The Kindle Paperwhite has a couple other cool features that differentiates it from other eReaders:
It's integrated with Goodreads, so you can see what your friends are reading, share highlights, and rate the books you read right from your Kindle.
In-line footnotes means I can read them in real-time and not lose my place in the book.
Vocabulary Builder makes a list of all the words I look up; I can then use these lists to quiz myself with flashcards and instantly see words in context.
Smart Lookup integrates a full dictionary definition with other reference information about a word, character, topic or book via X-Ray and Wikipedia. Instead of the definition of individual words, it comprehends important topics and phrases in a book and finds more appropriate information.
For parents like me, you'll love the new Kindle FreeTime feature on the Kindle Paperwhite. Kindle's built-in parental controls have been extended to give parents a simple, engaging way to encourage kids to spend more time reading. You can hand-select books for your kids to read and hand out achievement badges when they hit reading milestones. A progress report keeps you updated on total time spent reading, number of words looked up, badges earned and books finished.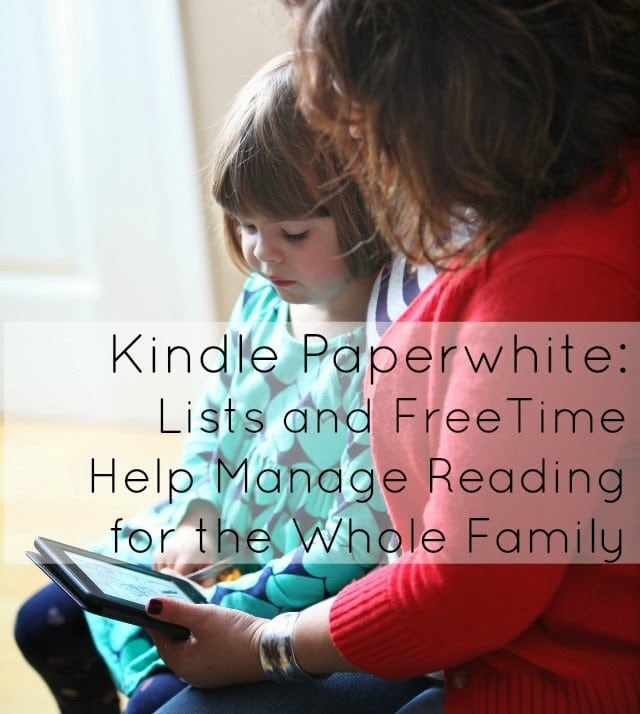 I've been enjoying my Kindle Paperwhite for my commute, and I even created some reading lists on it. I like being able to organize my books, and this means I can have a reading list just for Emerson's books – perfect when it takes longer than expected for a table at a restaurant or we're on vacation and don't want to cart a dozen books with us. The Kindle Paperwhite is a perfect holiday gift… and one of you will win some fundage towards a Kindle Paperwhite of your own, or give to someone else!
Giveaway
This giveaway is now closed and the winner notified, thank you so much for entering.
Follow Me | Twitter | Facebook | Instagram