This article may contain affiliate links; if you click on a shopping link and make a purchase I may receive a commission. As an Amazon Associate, I earn from qualifying purchases. 
I've been using Dagne Dover totes over a year and love them. Dagne Dover makes some of the smartest bags I have ever experienced; a place for everything and everything in its place. Without looking I can reach in and find my wallet, sunglasses, a pen, and more. Dagne Dover recently sent me their Legend tote in limited edition vermilion and I've been using it daily as my work bag as well as my weekend purse. I wanted to give you a peek into all I can fit in this bag, as well as what you can usually find in any of my purses on a given day.
A Review of the Dagne Dover Legend Tote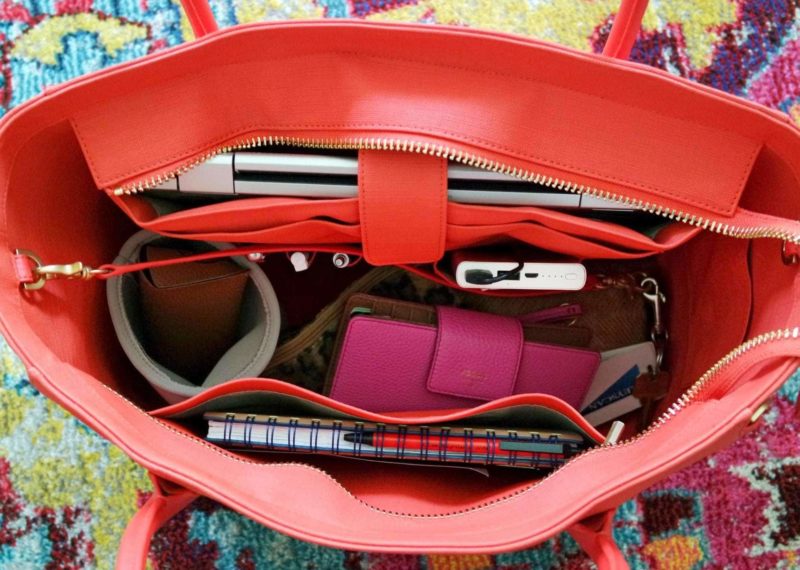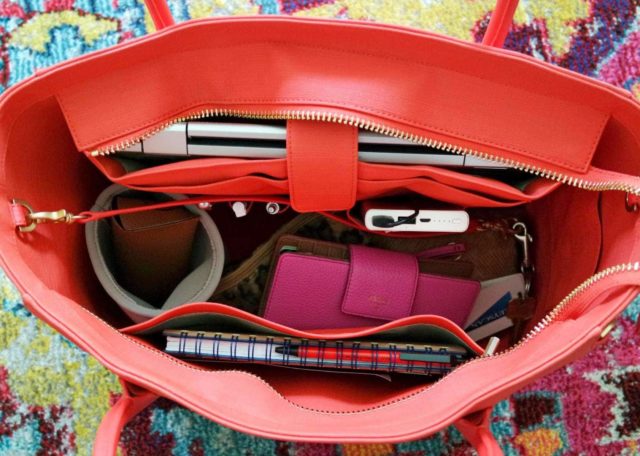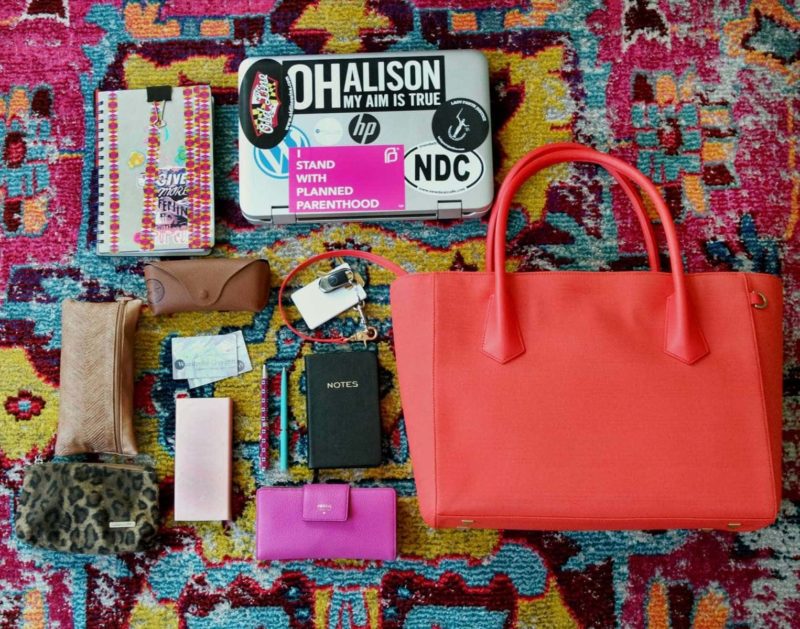 This is my "I need to get some blogging done and it won't happen with all the chaos in my house" setup  so I can head to a nearby cafe and work a couple hours to get the blog ready for the coming week.  We have my 13.3″ HP x360 laptop (read about it on my blog in this post), my planner, sunglasses, two pouches, business cards, backup battery pack, keys on the included key cord, a note pad, multiple pens, and my wallet.  That round thing in the bag is a detachable waterproof holder for a bottle of water or umbrella; while there is a pocket on the side specifically for sunglasses I use this holder to hold mine as well as my current day lipstick so they're corralled and easy to find even with one hand and the bag still on my shoulder.
What Fits in My Dagne Dover Legend Tote?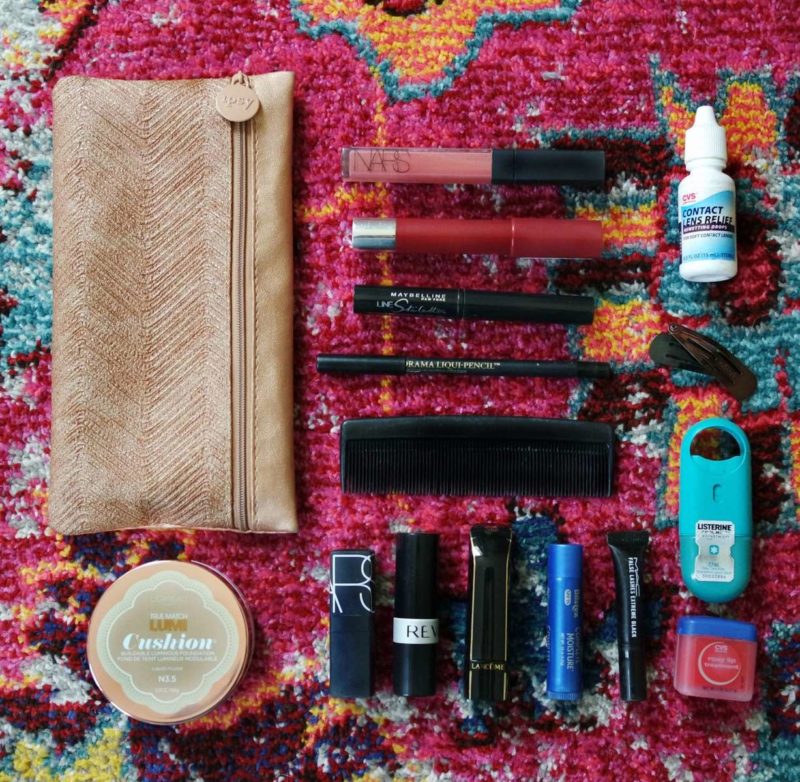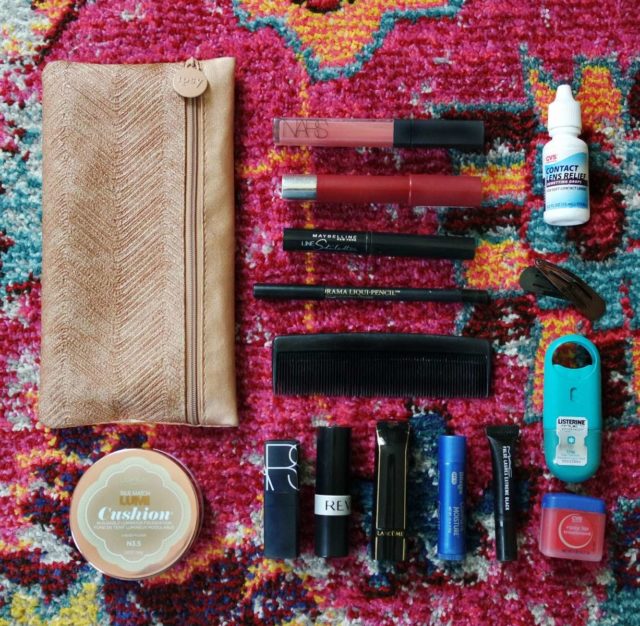 The shiny pouch (via my friend's Ipsy subscription) is my cosmetics bag.  As you can see, I have a bit of a lipcolor issue.  Let's see, there's NARS Viva gloss, Revlon Romantic balm stain, NARS Pigalle, Revlon Really Red, and Lancome Le Carmin.  Hey, I like to be prepared and able to switch up my look!  I also carry a travel-sized mascara, liquid and pencil liner for touch-ups and to amp up my look if I'm heading out after a day at the office.  The L'Oreal Lumi Cushion foundation is a fave and it does a great job with mid-day touchups.  The Blistex lip balm is for Karl, the drugstore-generic version of Vaseline Rosy Lips is for me.  Drops for my contacts, some spray for my breath, a small comb and barrettes in case my hair stops behaving and I'm ready for a long day.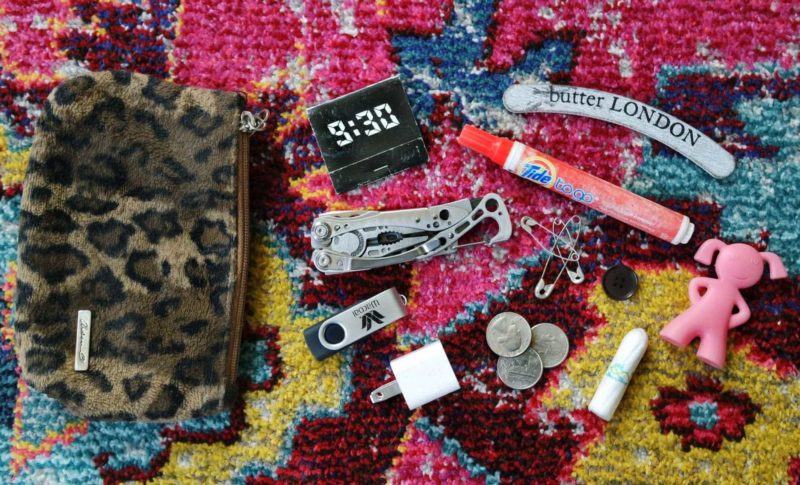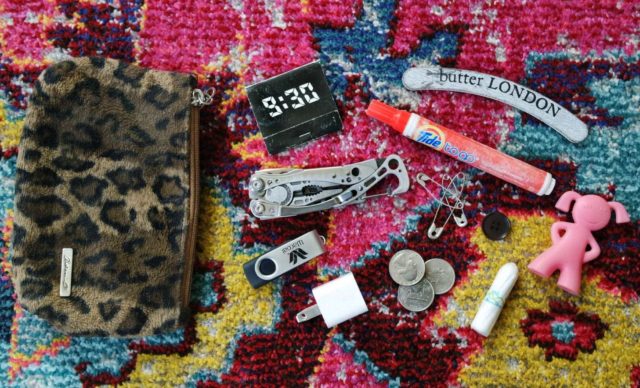 The leopard pouch I've had since 2000. It's from Arden B; I loved that store but even back then the only thing in that store that fit my body was their accessories!  I like that it's furry; having all the items in my bag with a different texture makes it easy to fish in and find exactly what I need, even if I'm in a rush or it's dark.  This bag holds all my randoms.  A pack of matches (never know when you'll need a light), nail file, Tide to Go pen, a Leatherman, thumb drive (swag from a blogger event), a USB cord plug, emergency quarters for meters, safety pins, a random button I don't know what from, emergency tampon, and a little gizmo my sister gave Emerson that turns chopsticks into tweezers (highly recommend).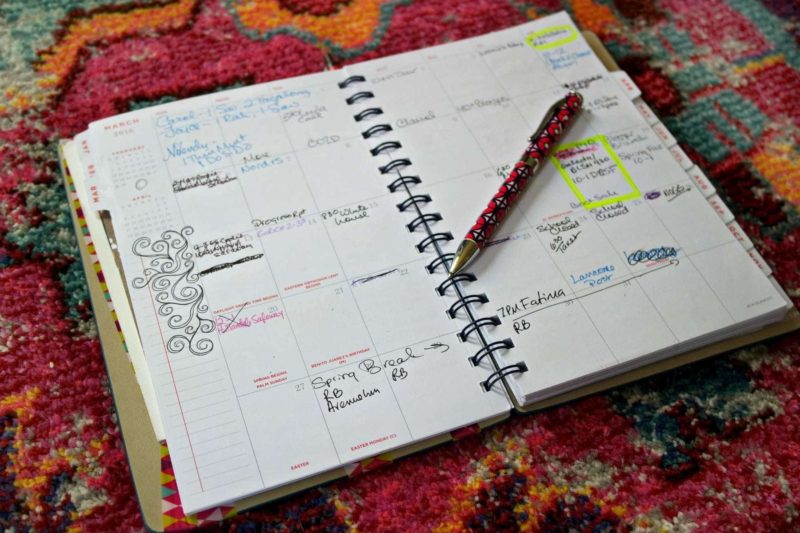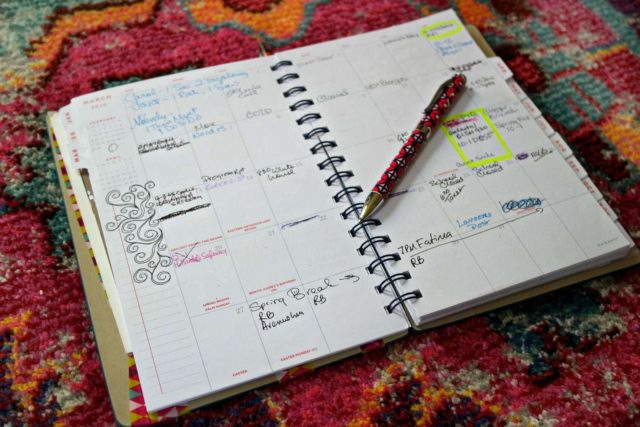 I love the MomAgenda MyAgenda except for the fact that it's 16 months instead of 12.  They end in December yet start in the summer so how can you end up using all of it?  I decided to go cheap and basic with this planner from At-A-Glance.  It's not Instagram worthy (especially after being washii-ed up by Emerson) but it has the month and week views, pockets in the back, a spiral binding that lays flat, and it fits in most of my purses.  I've toyed with covering it with Contact paper or something but honestly… it gets the job done.  Rarely does anyone see it except when I decide to photograph it for the blog!  The pen is Jonathan Adler, I got it on clearance at TJ Maxx because the box was damaged.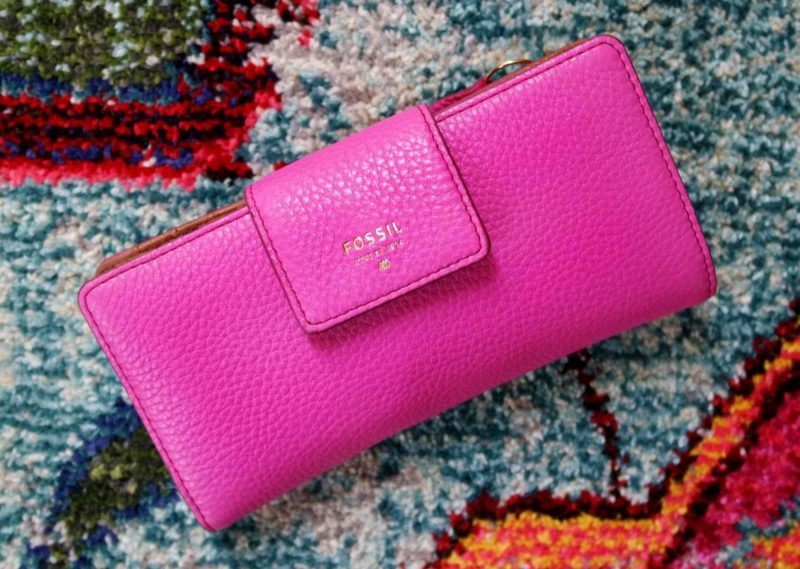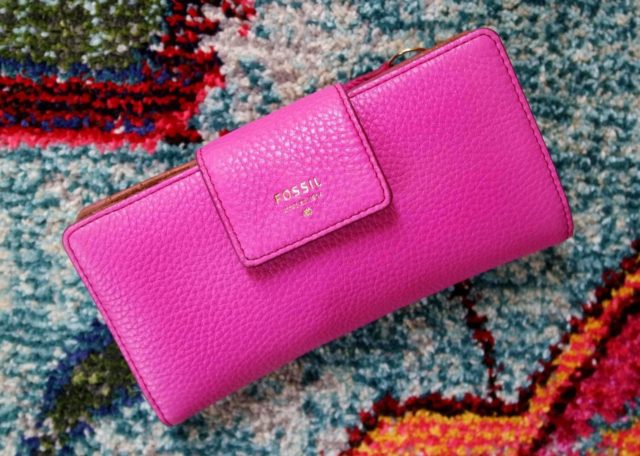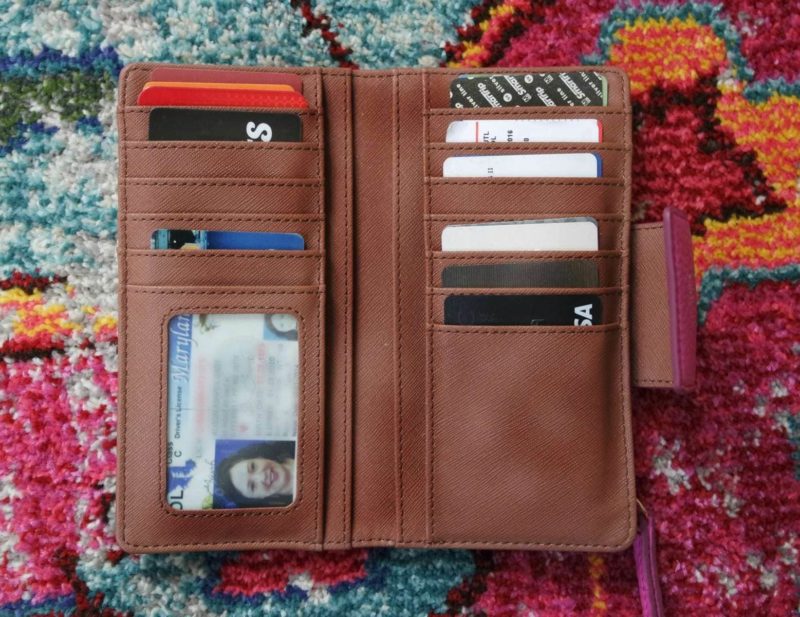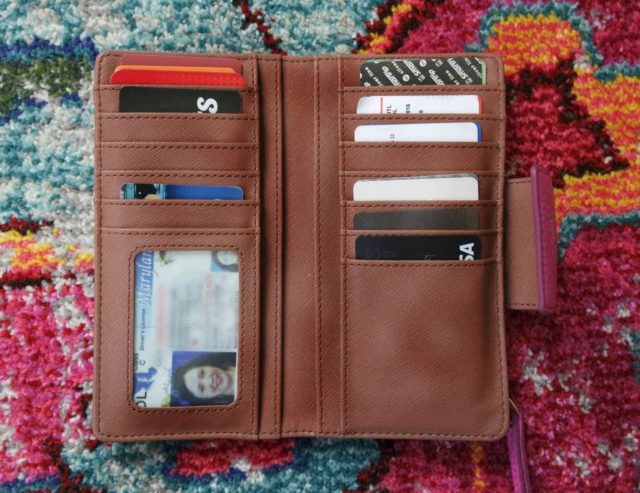 I've had my second HOBO 'Diane' wallet for many many years and while it's a perfect wallet (though others must not think so since they discontinued it), having it in black was a bad idea.  I can never find it in my purse!  It was also stretched out and worn with use so I got the 'Sydney' wallet from Fossil a few months ago.  This is a pretty great replacement; I like how it's set up as I prefer to have different pockets for all my cards, one for business receipts and one for personal, and a separate one for bills.  It can be pretty stuffed and still snap shut and it comes in a nice variety of colors.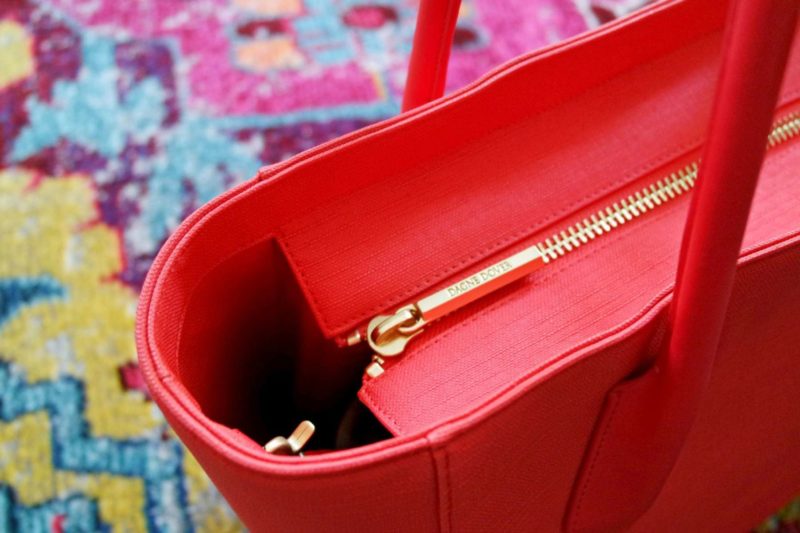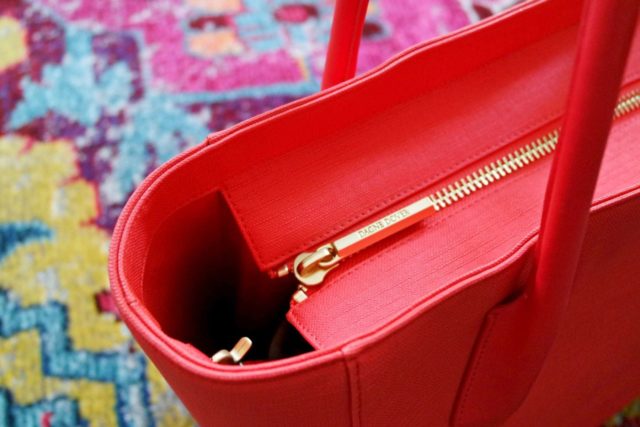 Many complain that the Dagne Dover Legend totes are heavy; while it's not light as a feather especially with all this inside, it's not a problem for me. I carry in my arms and also over my shoulder without issue. I love that the bag never tips over; it's structured and has feet to keep it upright even if it's heavier on one side thanks to electronics. It zips close to keep items protected, and the interior and exterior is easy to clean. My blue 15″ Legend (seen here) has been on many travels, thrown on the floor and in the trunk of my car, been stuffed to the gills and still looks as fresh as this one. If you've been thinking about getting a Dagne Dover, now's a great time.
Dagne Dover Promo Code
Use ALISON10 at checkout to get 10% off your order at Dagne