This article may contain affiliate links; if you click on a shopping link and make a purchase I may receive a commission. As an Amazon Associate, I earn from qualifying purchases. 
I am a 5'3″ 165lb 40DDD woman who has no hips or butt but a mommy/muffin top. While I have a few additional pounds I am not plus size. I look horrible in button down blouses but find that a fitted top shows the bulge and loose tops makes me look pregnant because of the bust. HELP!!!
I feel your pain. It seems that in the apparel world, curvy means plus size, or else you have hips/thighs/a rear. For voluptuous women who are not a true hourglass, it can be extremely frustrating. Earlier in your letter you also mentioned that your life needs more of a jeans wardrobe, but you're not afraid of trends, color, heels, or the occasional skirt.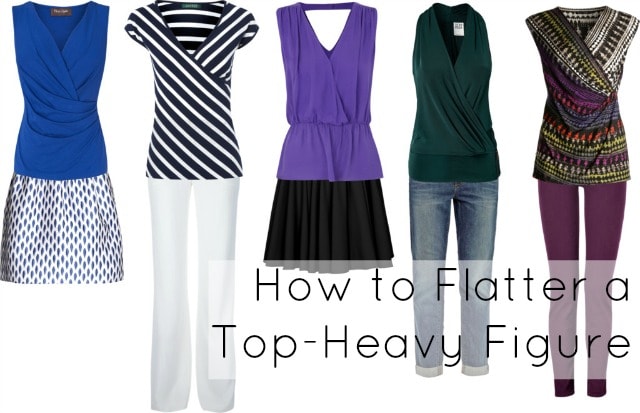 First thing, check out surplice and wrap tops. Such tops come in pretty much every fabric, from silk to cotton to jersey and they are awesome for a busty woman. While some styles may feel too low-cut, others will flatter (and some can be modified with a strategically placed safety pin or a camisole). These will elongate the neck, flatter the bust, and show that you have a figure and are not pregnant. The gathering is also great for disguising a muffin top. As you can see from my collage above, such tops can be dressed down or up with ease. If you do wear such a top with a skirt, one with a bit of fullness (a-line, swing, pleated) would be a good choice to balance your bottom half. Another great choice is a wrap style with a soft peplum (like the purple one above). I have this top from MICHAEL Michael Kors and love it because it flatters my bust, hides my tummy, and balances my figure without needing a lot of volume on the bottom. I've worn this top with white jeans and sandals, boyfriend jeans and booties, and silk harem pants with heels.
Keep this idea in mind when shopping for most anything. Wrap dresses are available year-round at every pricepoint. A simple jersey sleeveless wrap dress can be thrown on with sandals for running errands, a wrap maxi is a great summer staple even with flip flops.
To balance the body, trick the eye with choice of color. Have the color or white on the bottom which will draw the eye there and make that part look a bit bigger, and the dark color on top will minimize the bust and give an illusion of balance. This is a time where a contrast shoe can be good because it also tricks the eye into seeing more of an hourglass. A black top, white skinny jeans, and black or a bold color of shoe is a great combination for a figure like yours.
Your figure is made for belts, which give the illusion of an hourglass figure. A skinny belt in a contrast color, or a wide elastic belt will cinch the body (and will also gather the fabric to help disguise a muffin top).
Finally, get bra fitted at LEAST once a year. We busty women are more likely to have our size change on a regular basis, thanks to the occasional weight loss/gain and gravity. No offense to Lane Bryant and Victoria's Secret, but I highly recommend visiting a lingerie boutique where staff is professionally trained to deal with a variety of sizes, body needs, as well as a variety of brands. Not every brand will fit and flatter every woman, while one may swear by Wacoal, another may have loyal allegiance to Bali. A bra boutique or high-end department store's lingerie department will have the variety and expertise to help you find the perfect bra for your figure and wardrobe.
Follow Me | Twitter | Facebook | Instagram