This article may contain affiliate links; if you click on a shopping link and make a purchase I may receive a commission. As an Amazon Associate, I earn from qualifying purchases.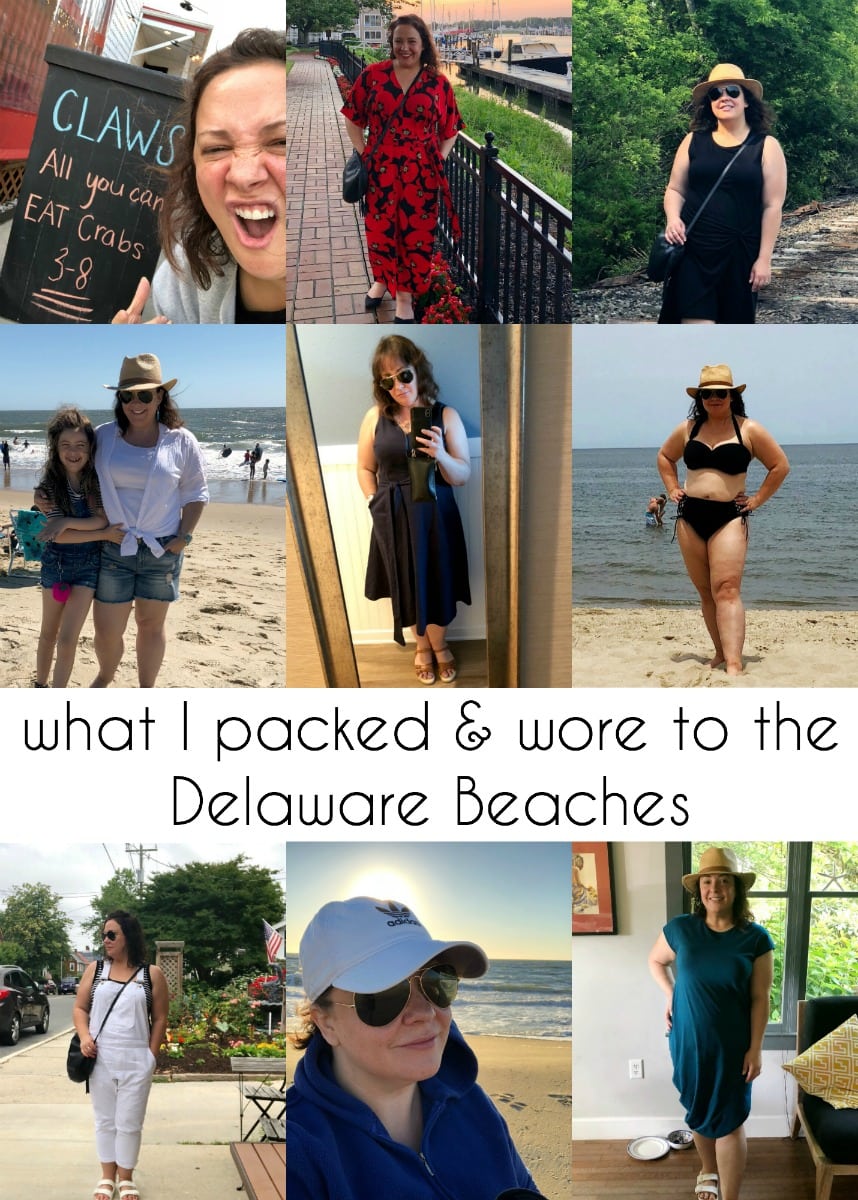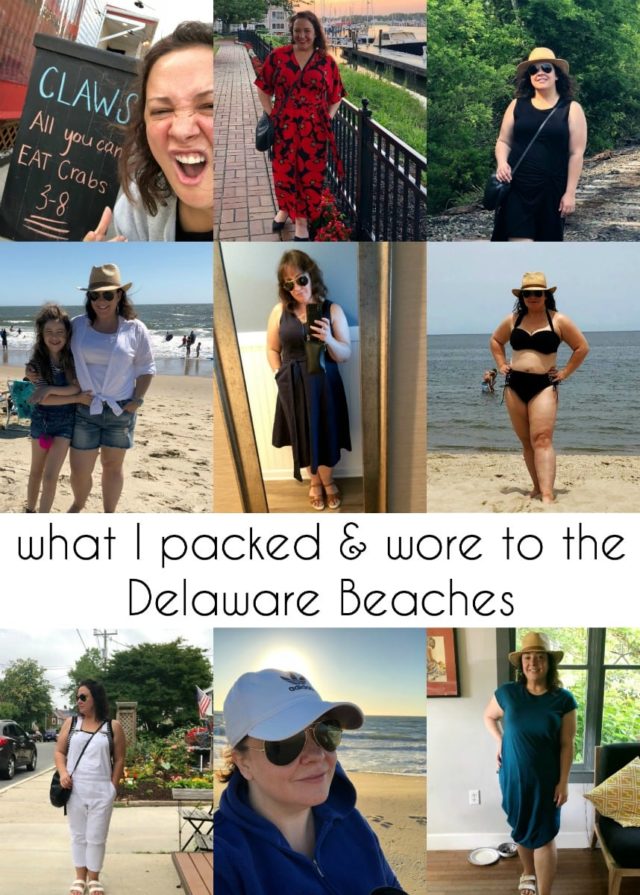 Last month I spent almost a week in Lewes, Delaware with my three friends. We stayed in a house in downtown Lewes, walking distance to restaurants and shops, a short drive to the Lewes shore. This past weekend I went to Rehoboth Beach, Delaware with my sister, mom, and daughter for our annual beach getaway. For this trip, we stayed in a hotel just two blocks from the ocean. I shared what we did on these trips in my Instagram Stories, but many of you asked me to recap what I packed and what I wore for these trips to the beach. Your wish is my command!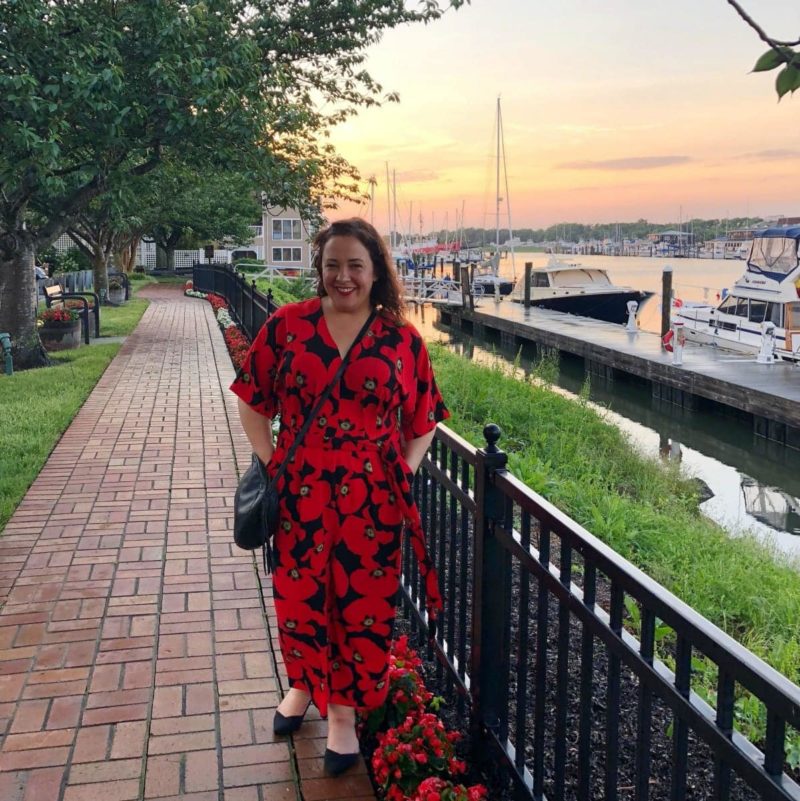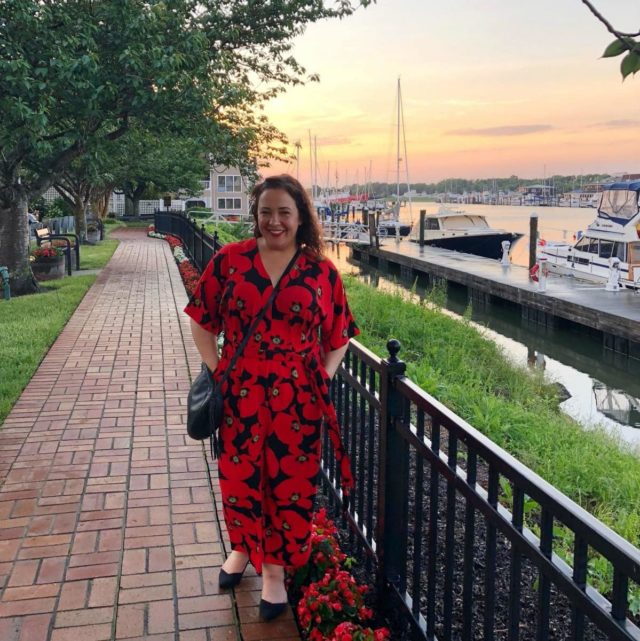 Dinner and drinks in Lewes, Delaware in an ELOQUII jumpsuit, Rothy's flats, and a Hobo crossbody bag
Week at Lewes, Delaware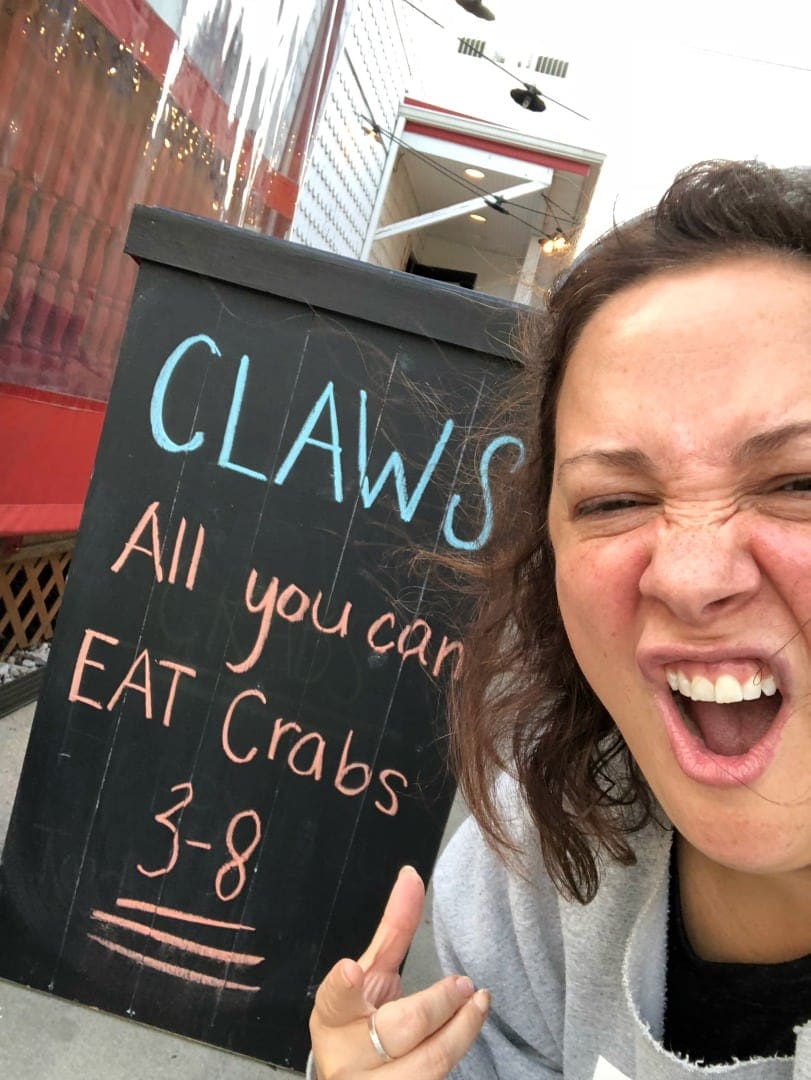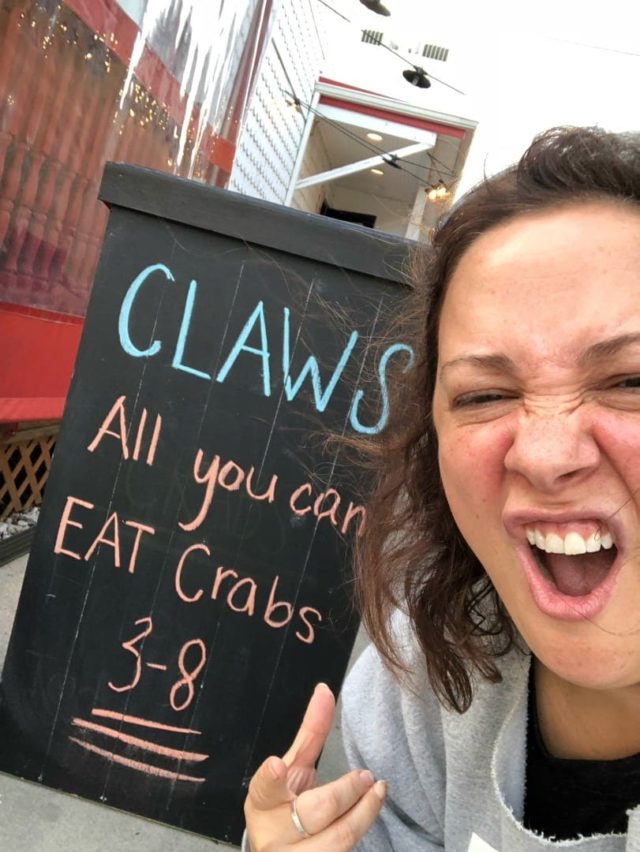 We took an Uber from Lewes, to Rehoboth and had crabs at Claws. It was a last-minute decision and I went in my loungewear!
The plan was R&R. No night clubs, no wild bars, no dancing until dawn. Relaxing on the beach, relaxing on the front porch, leisurely brunches at nearby restaurants, interesting restaurants for dinner, and some dining at the house.
What I Packed: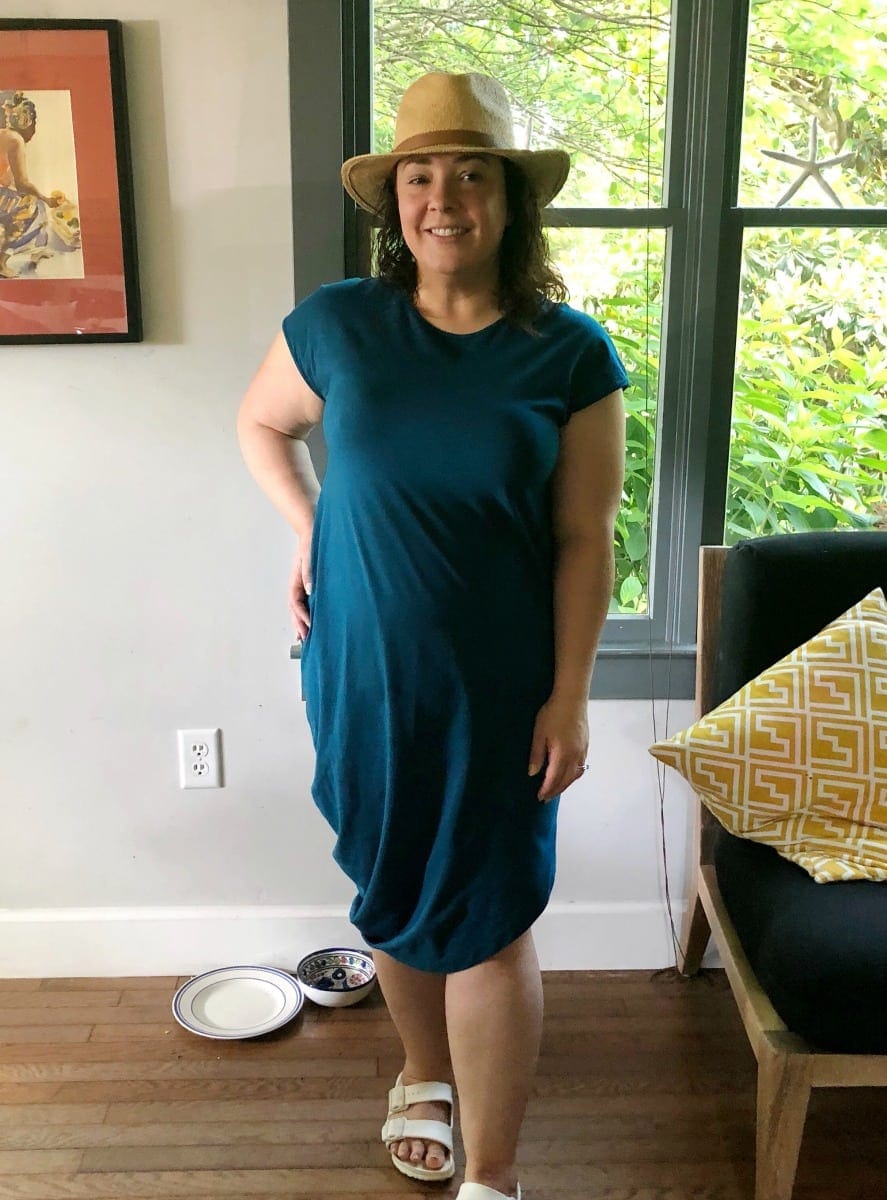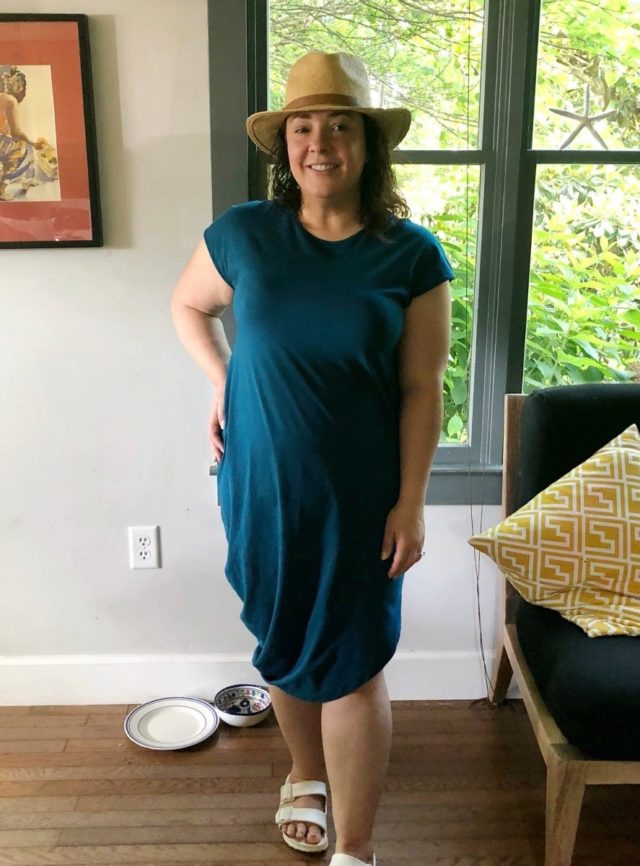 Walked to brunch one day in this look – Universal Standard dress, Birkenstocks, and a Banana Republic hat.
What I Wish I Brought:
A Bathrobe. The bathroom was across the hall, and it would have been nice to have something to wear there and back, when drying my hair, and when padding downstairs before everyone else (I'm an early riser) to make coffee.
More Shorts. I don't know what I was thinking but I forgot to bring any other pairs of shorts. Two pairs would have been perfect, one being denim.
A Jacket or Fleece. It was chilly some evenings and I would have loved something to throw on over my outfit. My sweatshirt had the neck cut out and said Feminist AF on it so it really wasn't appropriate to wear over a dress!
A Beach Bag. I usually go to the beach packing my clothes in an XL Lands' End or L.L. Bean canvas tote, but this time I used a suitcase. And I forgot a beach bag. But I found under the sink in one of the bathrooms a canvas tote holding a hairdryer so I borrowed that for our beach day.
Bug Repellant. The house rental was free as a gift to my sister from one of her clients. It hadn't been cleaned for the season yet though had been cleaned at the end of the previous season. Therefore the place was hella dusty and had a black fly issue. Out in the backyard mosquitoes were so bad we couldn't spend time out there. On the beach in Lewes sand flies are hardcore and we got nibbled on all day. Bullfrog makes an SPF 30 bug spray which I wish I brought. The second to last day, my sister hit Home Depot and bought a bug candle and one of those bug-zapping lightbulbs to improve the situation.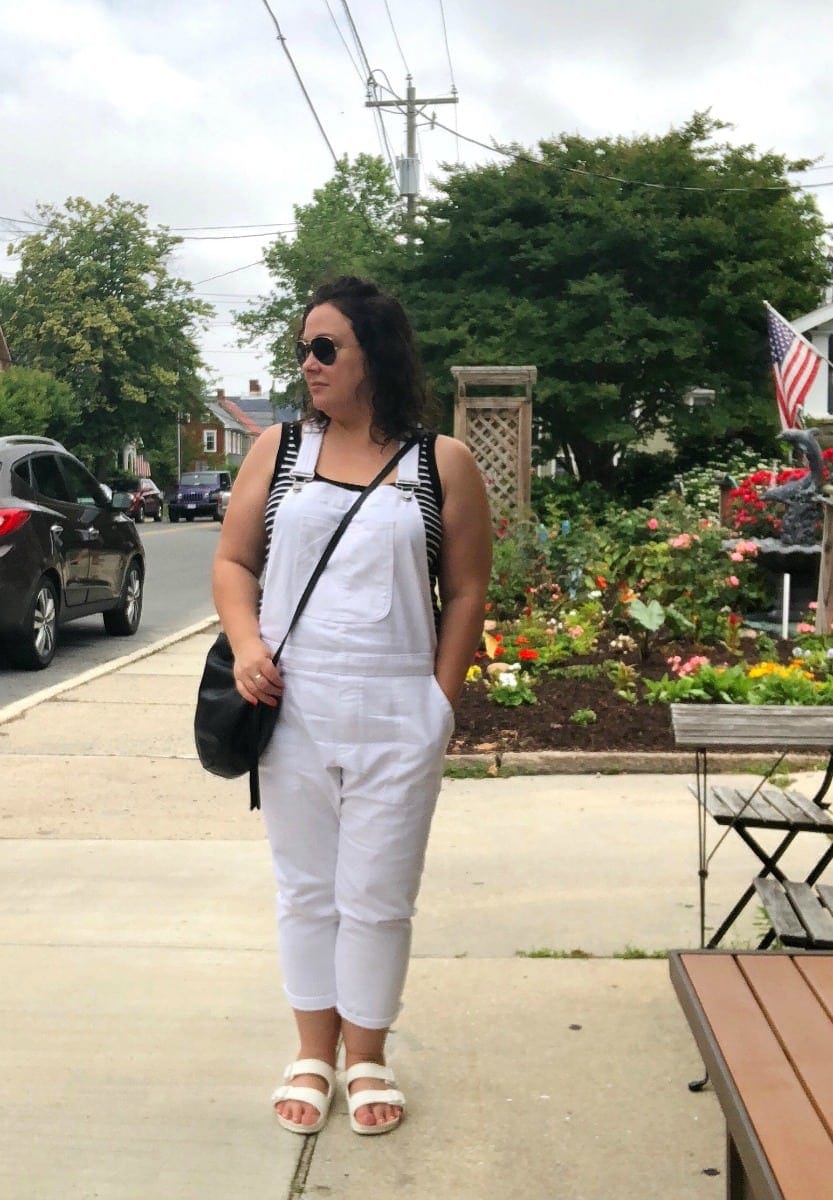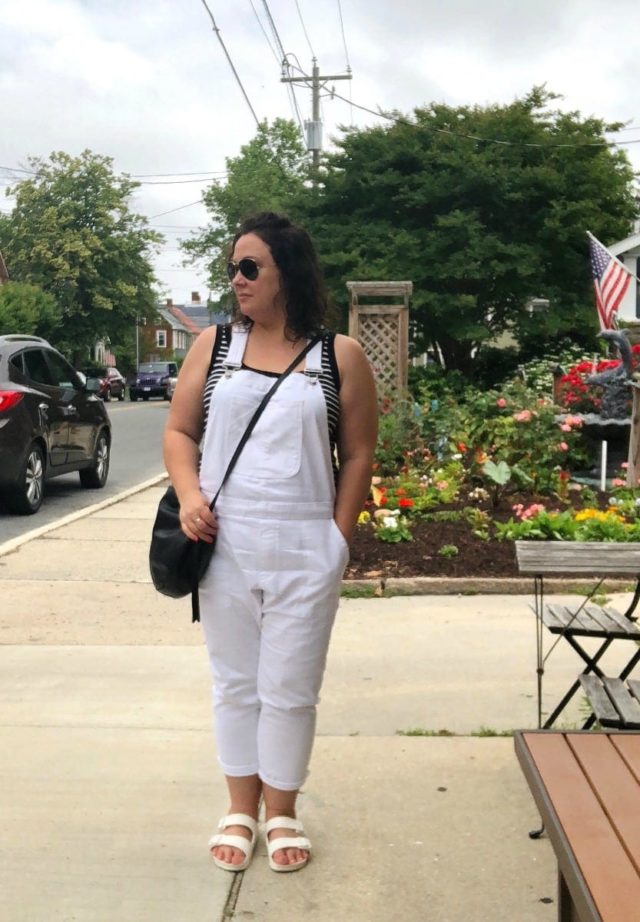 Always looking for an excuse to wear overalls! These are from Gap with a Caslon tank, Birkenstocks, and my Hobo bag
Dresses were fine for 99% of the situations. With a pair of Skimmies underneath and my supportive Birks, I could walk a half mile to and from restaurants and shopping without any issue. The heavy red ELOQUII dress came in handy the one evening it was chilly since I forgot a jacket. I wore every single dress, in fact, I wore everything I brought except the casual t-shirts.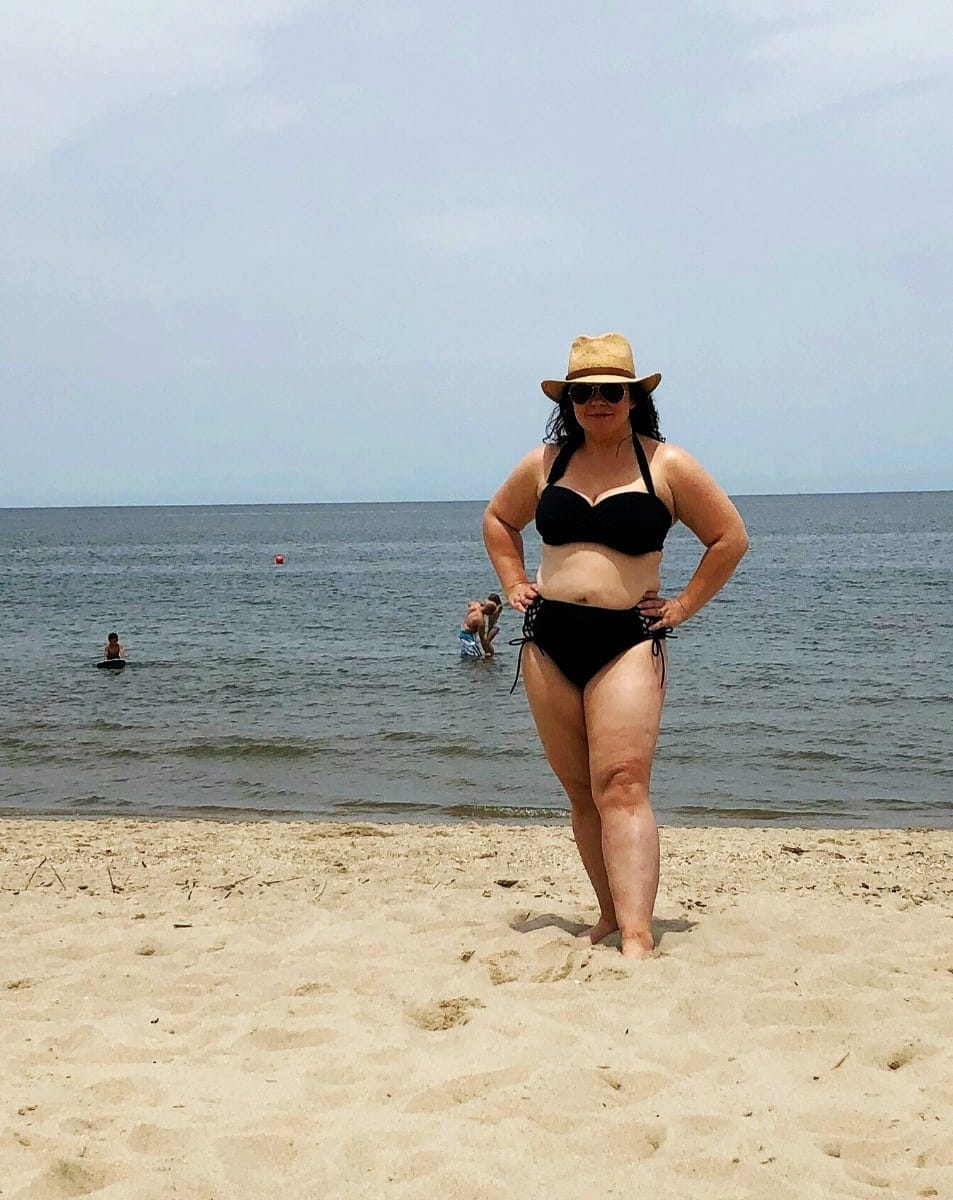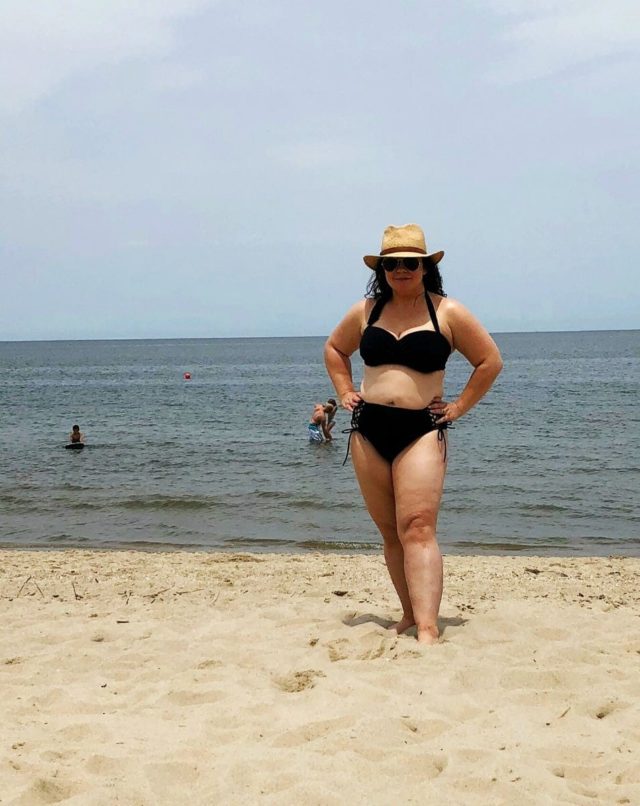 On the beach in Lewes in a Lands' End bikini and my Banana Republic hat
There was a market walking distance from our house, a local one that had a decent selection of foodstuffs, we also were able to walk to a liquor store. If we didn't have these, we would have definitely needed to bring groceries. I do wish I bought some breakfast foods. I woke way earlier than anyone else and wanted something more than coffee and a protein bar.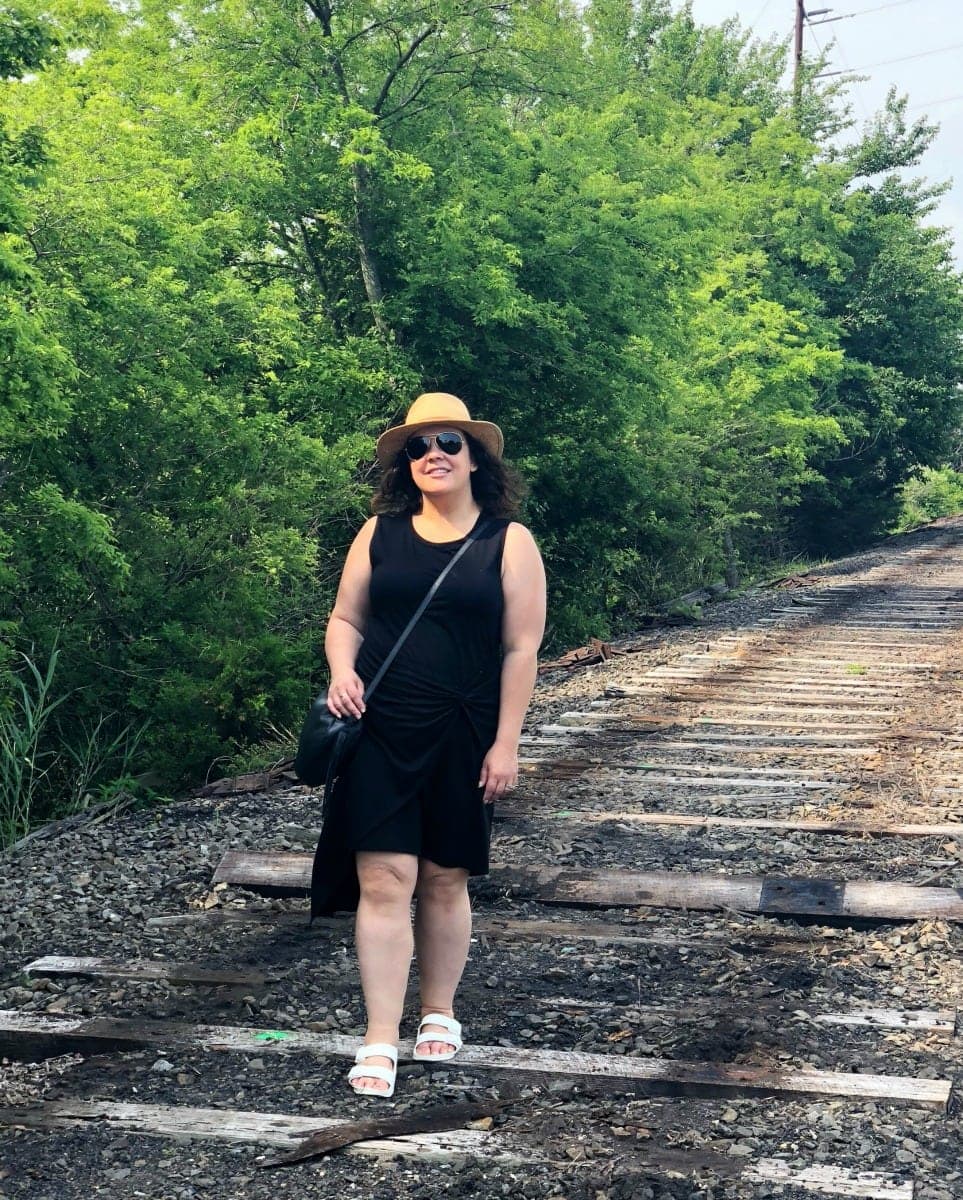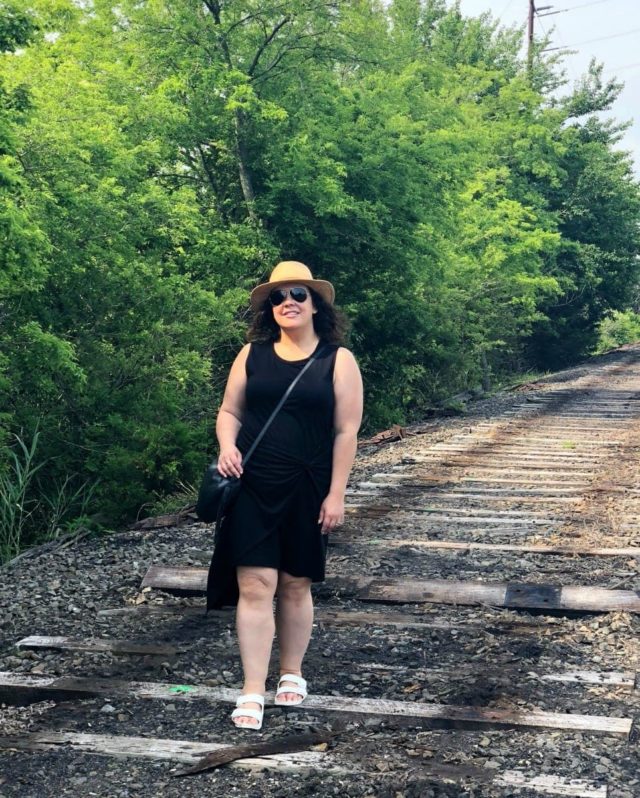 Walked the longest distance to breakfast in this outfit – Trouve dress, Birkenstocks, my Hobo bag and Banana Republic hat.
As I mentioned, I took a suitcase. I took my big Delsey which may seem excessive but it fit my pillow, my beach towel, all my clothes, and toiletries no problem. I also brought my Dagne Dover backpack which mainly held my laptop, work papers, and iPhone cords.
What to Pack for a Visit to Lewes, Delaware
Sunscreen, sturdy shoes, and a swimsuit. It's not a pretentious town, you can go to even the fanciest restaurants in a pair of shorts and Tevas. You will do a lot of walking, so find sandals or proper shoes that won't cause blisters and will give you support. I wore my straw hat almost everywhere and got a lot of sun just walking around. Wear sunscreen, even if you're not going to the beach.
When you go to the beach, dining options are minimal. There is a Dairy Queen, a hot dog stand, and occasionally a food truck or two. Bring water and snacks, or consider a picnic lunch. There are sand fleas so bring bug repellant. There was no place to rent umbrellas or chairs, so bring your own (our house supplied chairs). There are no waves in Lewes, so this is a place where you can bring your unicorn float. There's plenty of parking and it's easy to pay for it. There are public restrooms that are clean and well-maintained.
Second Street is the main drag in Lewes for shopping and dining. Essentially any kind of food you want is available, as well as some nice places for a cocktail or an ice cream cone. It's very relaxed like most beach towns, but the crowd does skew older, a bit preppy, and seems to be a lot of locals.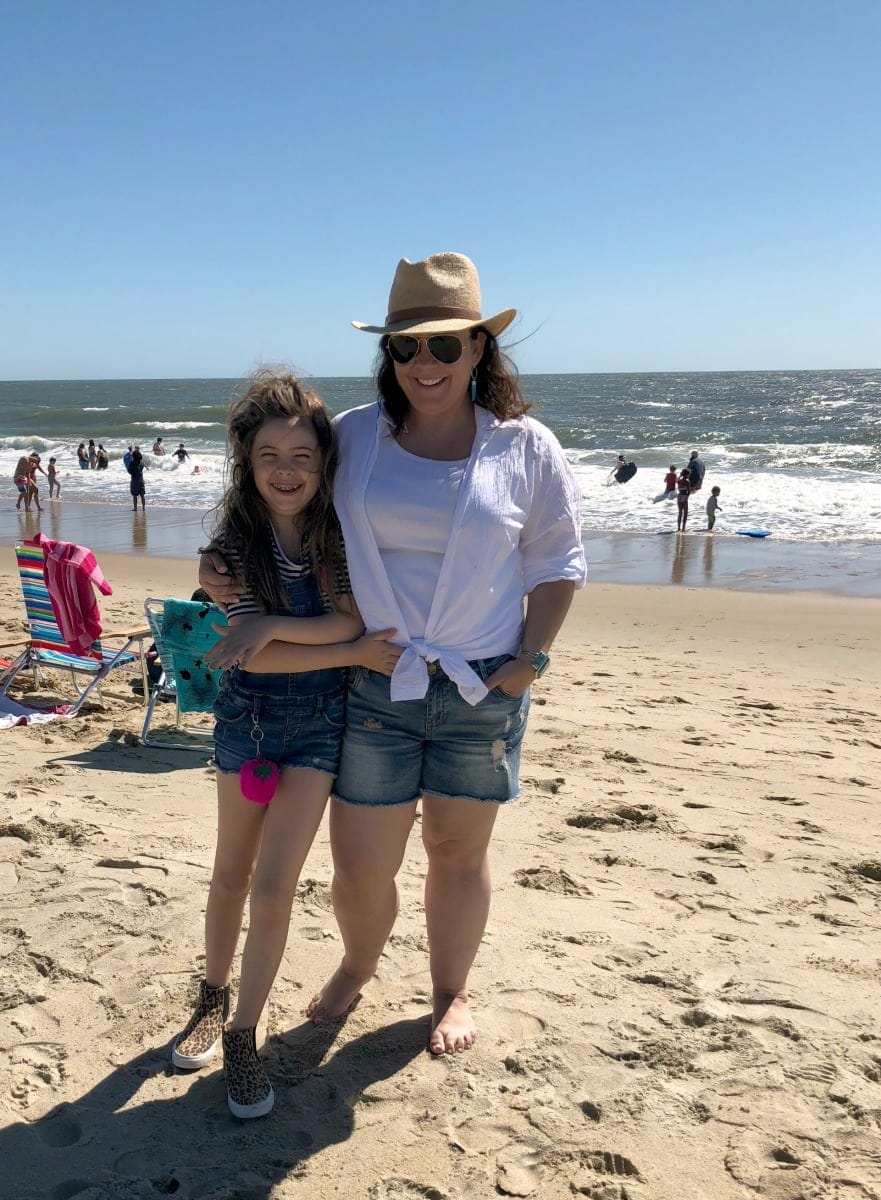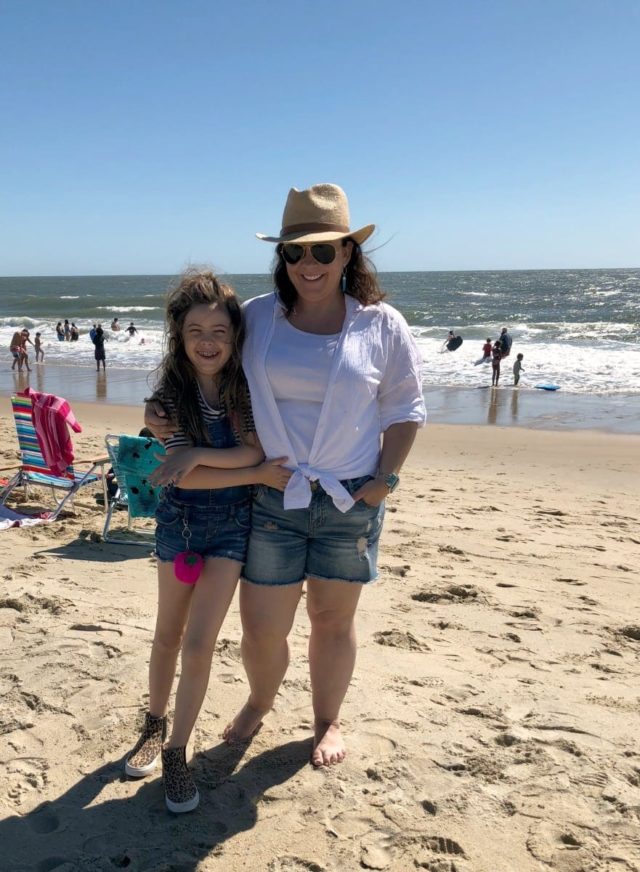 A very windy and slightly chilly day at Rehoboth Beach with my daughter.  Wearing my Tommy Bahama beach coverup as a shirt over a Universal Standard tank, Kut from the Kloth shorts, and my Banana Republic hat.
Weekend in Rehoboth Beach, Delaware
Our weekends in Rehoboth are pretty routine, but I pack for a variety of situations. Usually, we dine one night at a nicer restaurant, but at the beach, you can wear a t-shirt and khaki shorts to such an establishment. The second night we usually dine at a crab house which is even more casual. We spend the whole Saturday on the beach, so I pack for sun, surf, and something to wear when we leave the sand to grab lunch. Occasionally my sister and I hit a bar so I like to pack a cute top or dress for that. There's a lot of window and actual shopping up and down Rehoboth Avenue and occasionally at the outlets on Coastal Highway, so it's good to have comfortable shoes and an outfit that's easy to get in and out of in fitting rooms.
For this trip, I didn't have a lot of time to plan or pack and essentially just threw things into a tote the morning before we left. I made a few mistakes.
What I Packed:

A cloudy day at the hotel pool and rooftop deck in a Fantasie bikini, Ray-Bans, and Birkenstocks
What I Packed For Entertainment/Comfort: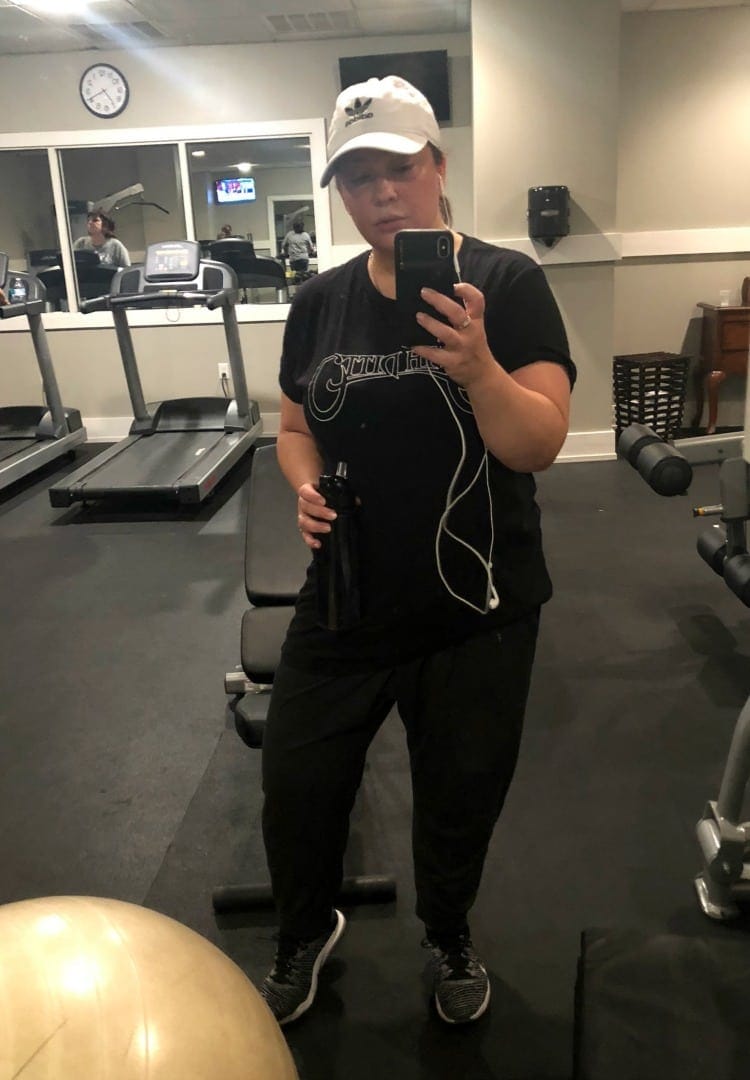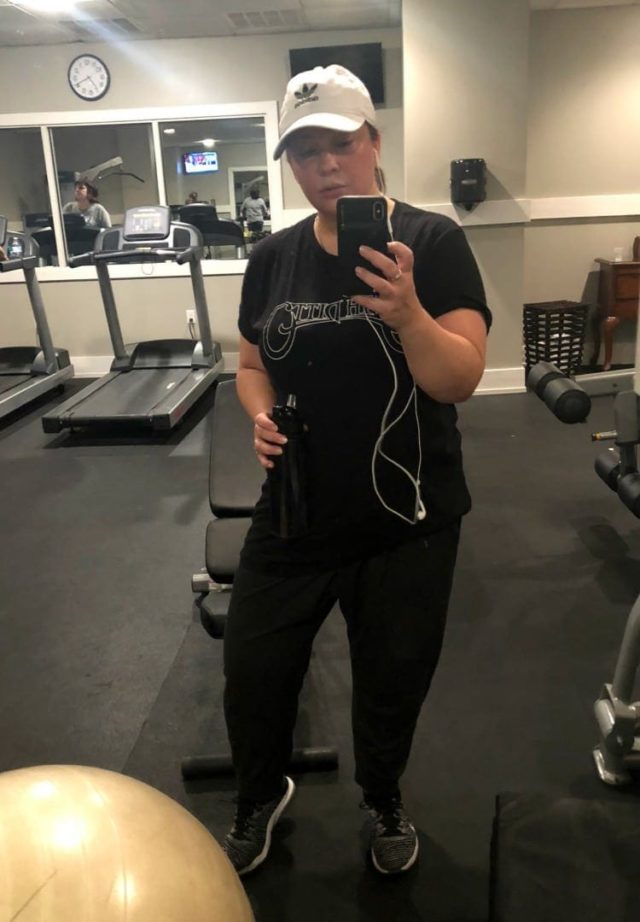 I somehow forgot to pack my gym clothes but made it work with a pair of Zella harem pants and a band t-shirt with my sneakers
What I Wish I Packed:
A Jacket or Fleece. I sense a trend! How do I not remember that the beach can get cold? And it got mega cold this weekend, like 65 degrees and major wind. For my morning walk Sunday before everyone woke, I borrowed my mom's fleece hoodie.
A Bathrobe. This trip made me order myself a lightweight robe that isn't jersey (I ordered this one, will let you know what I think). My everyday robe is too thick for travel, and my Natori robe is not only now too big but the jersey feels a bit icky on still-damp skin.
My Own Pillow. I meant to, I forgot it. I regretted it.
My Gym Clothes. I pulled them out, and somehow they missed being placed in the bag. I still made it work with my ponte knit drop-crotch lounge pants and a t-shirt (I did remember to pack my sports bra and sneakers!)
Shower Gel and Bath Pouf. All three of us adults forgot our shower gel somehow. Made it work with the hotel-provided shampoo!
My Allergy Meds. Again, it was pulled out to pack and somehow didn't make it into the bag.
Goggles. The pool at the hotel is large enough to swim some short laps, and it's fun to play mermaid with Emerson. My old eyes can't deal with being open under water any more.
More Snacks. My mom brought a few packs of crackers and cheese, a couple bananas, and some wine. I brought protein bars. It wasn't enough and the second day I went to the mini mart across the street and purchased some overpriced Ritz crackers and cheese. Since the hotel provided breakfast, what we were looking for was nosh food between meals. Since the weather was kind of sucky, we spent Saturday at the hotel and had a span of time between pool and a meal when we were hanging out in the room, my sister napping, Emerson playing on her tablet, and my mom and I chatting on the balcony and the cheese and crackers were very lovely to have.
I packed too dressy and too summery for this trip. It drizzled the first day, the second day it was too cold to spend at the beach, the third day we went to the beach but in clothes, sleeves, and jackets. But honestly, when it comes to Rehoboth Beach, I don't worry about being a fashionista. Chic at the beach is a Rehoboth Beach sweatshirt, a pair of shorts, and some sandals. I wear dresses because I'm a dresses kind of gal but really anything goes.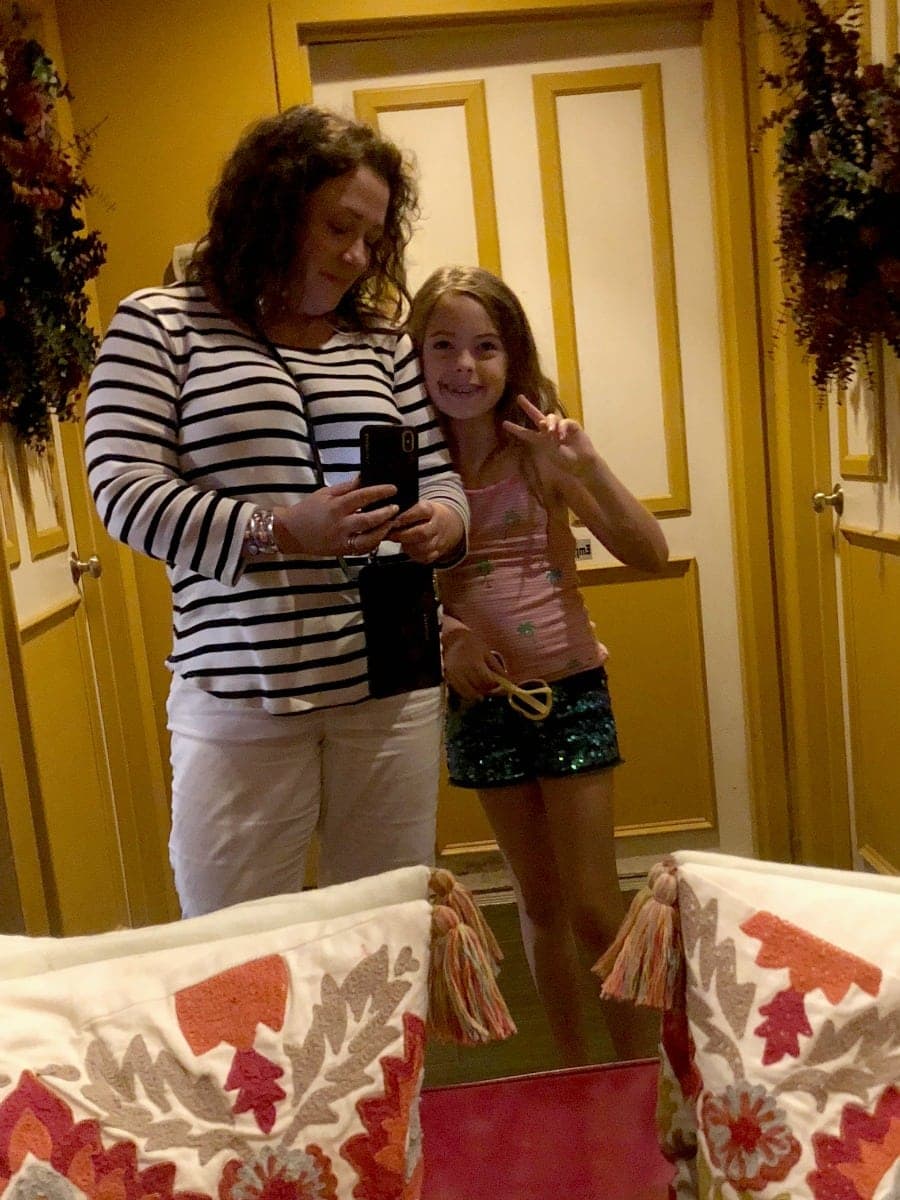 Dinner at Salt Air Rehoboth in a Chico's striped shirt and Talbots white cropped pants
Our hotel provides beach towels and chairs, as well as a golf cart shuttle to and from the boardwalk. We choose to spend the money on renting an umbrella on the beach instead of carting our own. If we didn't have these luxuries, I'd recommend a collapsible cart like this one and to bring your own chairs, umbrella, or sun shade (a family next to us had this one and it was so easy to pop open and set up). When Emerson was little, we used to bring this cot which kept her above the sand and cool for midday naps (it also proved useful for sleepovers, camping, and hanging out in the yard). We brought a baby pool this year because Emerson doesn't like going in the ocean but loves making sandcastles and playing in the sand. My sister and I spend a lot of the beach day carting up buckets of water for her. I saw another family do the baby pool and felt it genius to have a water source near the chairs, and also let her cool off and splash around.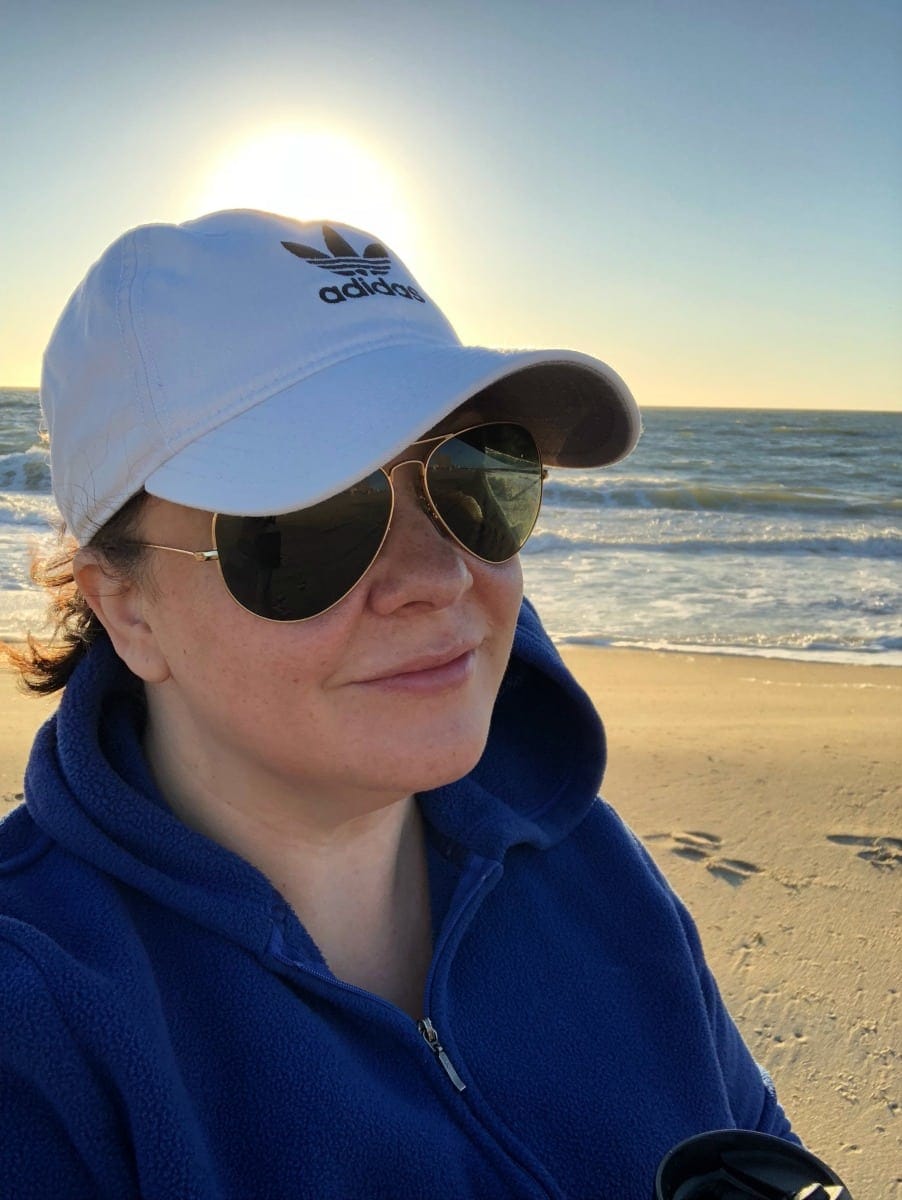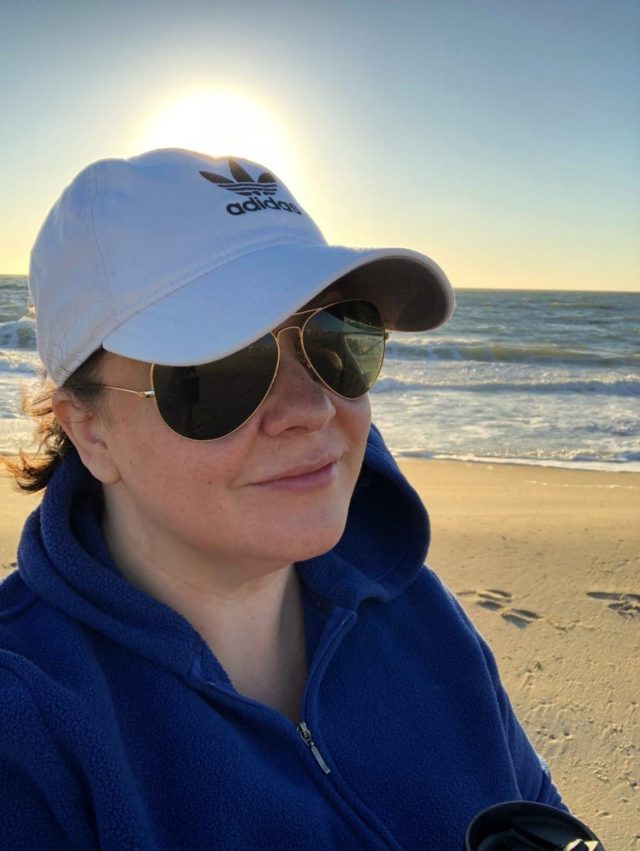 A 60 degree morning in Rehoboth meant a travel mug full of hot coffee, a baseball cap and my mom's fleece hoodie
Unlike my trip to Lewes, this trip I used my L.L. Bean Boat & Tote which doubled as my beach bag. Learning from my trip to Lewes, I didn't bring a proper purse. I had my Dagne Dover backpack for my laptop so that acted as my purse for the drive down and to hold my purse stuff. The Bandolier pouch was big enough to hold my sunglasses, lipbalm or gloss, a vial of eye drops, some cash and cards.
Shop What I Packed for Rehoboth Beach, Delaware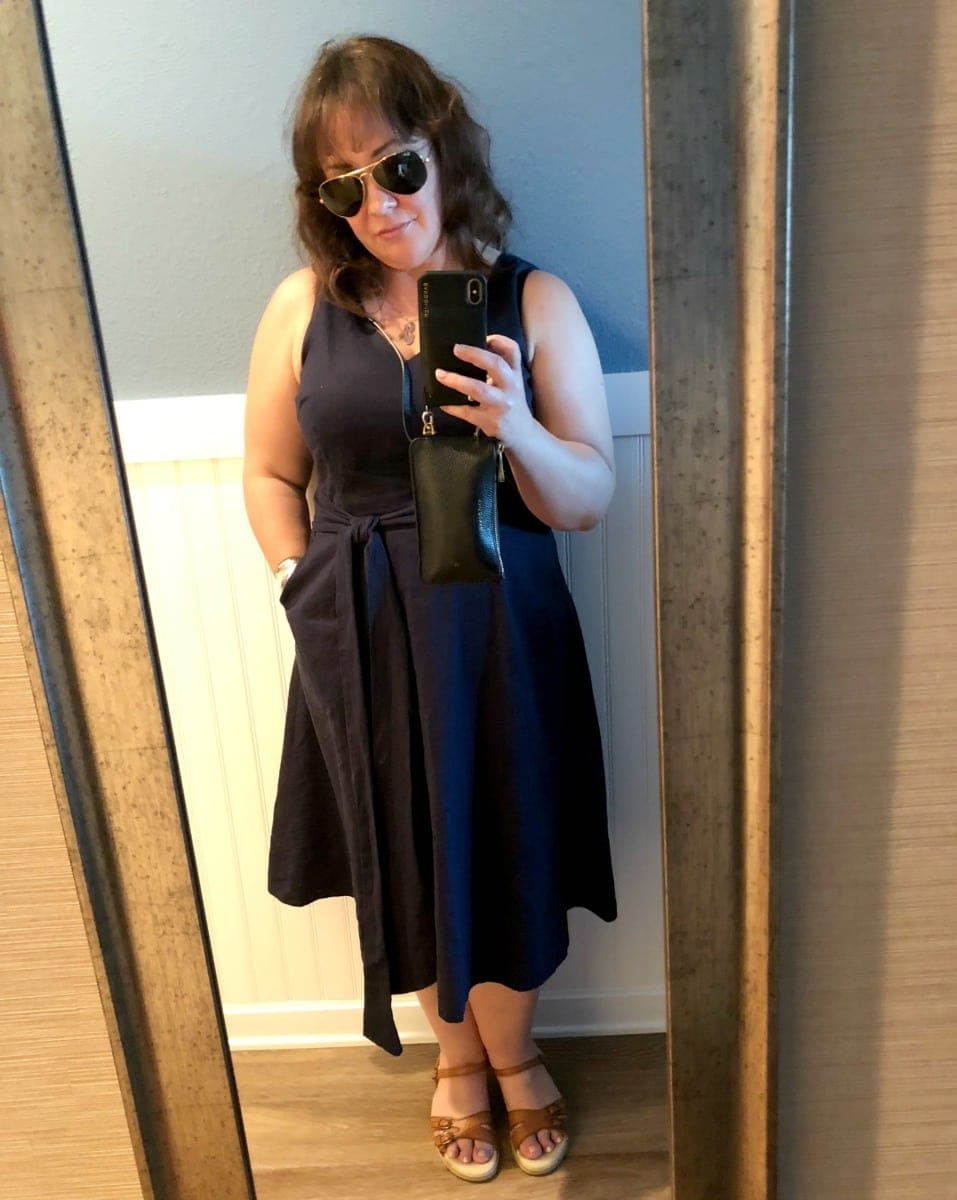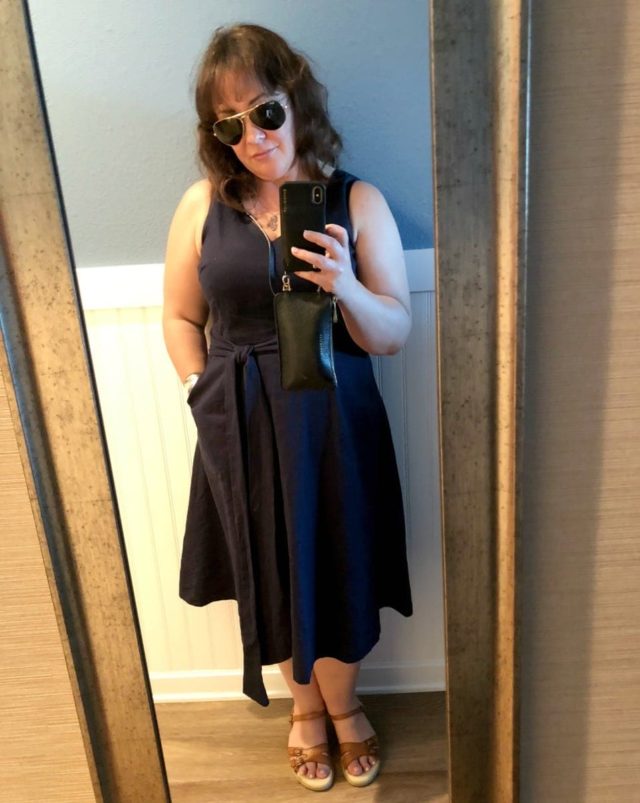 Even though we had dinner at Nicola Pizza I whipped out my cotton dress from Boden and wore it with my SAS sandals.
What to Pack for a Visit to Rehoboth Beach Delaware
Sunscreen, shoes that can get wet, and plenty of color. Walking down Rehoboth Avenue you'll see people in just their swimsuits and shoes, women in fancy club tops and heels, casual sundresses and sandals, and plenty of people in casual t-shirts, tanks, and sweatshirts. Maybe because it was unseasonably cold and everyone didn't pack properly, but it seemed like every other person was in a Rehoboth Beach sweatshirt, fleece, or t-shirt (or else one for a different beach or a brewery along the East Coast). My Birkenstocks and SAS sandals were the only day shoes I brought and both were perfect for dining, shopping, and visiting the pool and beach.
I like to pack two swimsuits and two beach coverups in case the first one is still damp the next morning. I wear the sturdier suit to the beach if I want to play in the waves and choose the beach coverup that can double best as streetwear for when we go to get lunch.
If you are staying at a house or a hotel with fewer amenities, you will want to bring chairs. While kids can lie out all day on a towel, I find it's worth it to haul a chair for a more comfortable time at the beach. Feel free to bring a cooler and dine right on the beach to save money and have healthier options. There's large canvas umbrellas for rent; bring cash to pay for them as well as to tip the guy who will shove it into the sand and set it up for you. My sister and mom both have one of these travel blankets; we usually set these up under the umbrella to keep a sand-free zone and put the chairs on the edges of it.
Visiting the Delaware Beaches?
You're in for a treat! Nice people, great dining, gorgeous beaches, and a great time.  Each beach has a different vibe but none are so defined that you'll feel excluded or not find great things to do.  I find Rehoboth to be the one with the most varied crowd but have enjoyed many of them.  On Coastal Highway, which is just a short drive from most of the beaches you can find grocery stores, home improvement stores, liquor stores, all sorts of restaurants, shopping, and entertainment (go-karts, movies, and more). I hope you have a wonderful time and if you have any specific questions let me know in the comments!