This article may contain affiliate links; if you click on a shopping link and make a purchase I may receive a commission. As an Amazon Associate, I earn from qualifying purchases.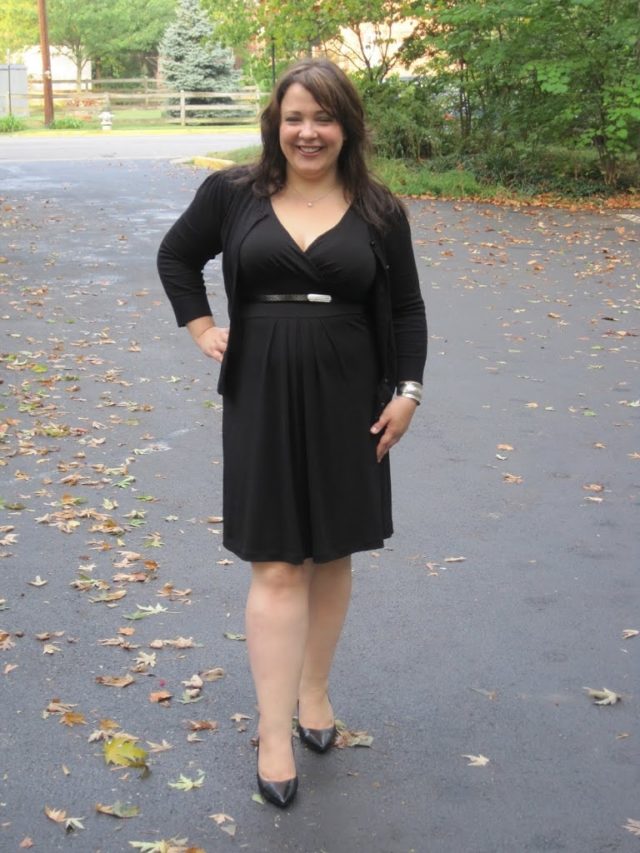 Hrm, I think I may have to fire my photographer husband. We were in a rush, he took one pic, said it was cute, we left. Belt crooked, weird pose… and EYES CLOSED! It reminds me of when my husband (then boyfriend) and I went to my first sorority formal. His father took a bunch of pictures of us posed, all prom style. I guess his dad really liked one picture, but my eyes were closed. So he Photoshopped open eyes on me. And green eyes at that! The most freaky, possessed-looking photo ever, and he had it in an 8×10 frame on his end table in the living room for like two years. Awful, awful, awful!
Well this is the only photo from today, so it will have to do…
Dress – Ann Taylor (last year)
Belt – Express (circa 1999 or so)
Shoes – Nine West
Cardigan – Only Mine
Silver Cuff
Hair is second day, I tried playing with some dry shampoo but think it made my hair look too dry. I do like this dry shampoo (review coming) for when my hair is limp, greasy, or sweaty. Just don't think my hair was icky enough today. So I took large sections around a curling iron.Makeup is the same as yesterday, just switched to "Pink Champagne" lipstick from Laura Mercier.